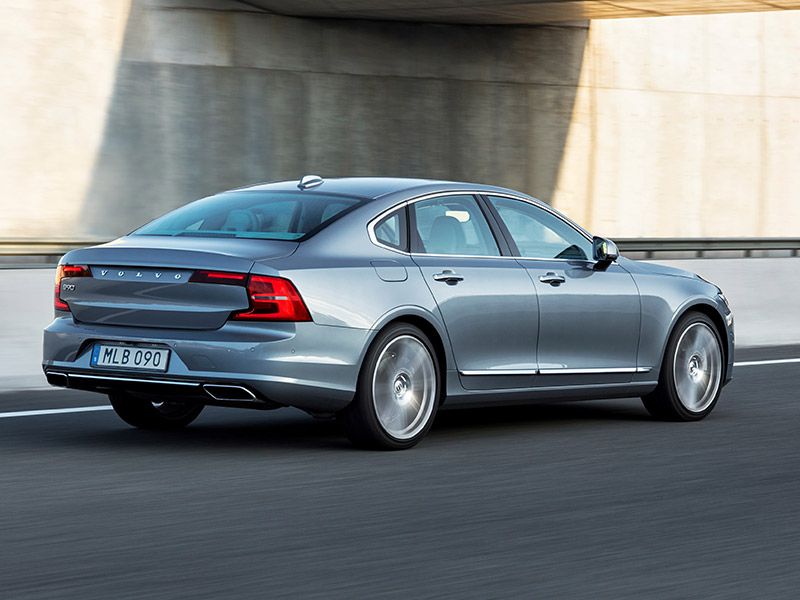 2017 Volvo S90 driving on highway ・ Photo by Volvo
It wasn't long ago that most Americans assumed the Swedes had completely removed themselves from the automotive industry. Saab vanished into the ether altogether, and Volvo was reduced to a trickle of cars and wagons. But with the emergence and all-around excellence of the full size XC90 SUV (winning illustrious awards like Motor Trend's "SUV of the Year"), Volvo has popped back on the radar of many luxury buyers.
The second vehicle to mark this resurgence of the storied Swedish brand is the midsize S90 sedan. It is the second vehicle to emerge from Volvo's studios since the company was bought by the Chinese automaker Geely, and the massive financial investment is evident throughout.
With a marked $11 billion in investment, all these new Volvos began with a clean-sheet design. Nothing was sacred; everything had to be re-imagined from the ground up. This revolutionary white-sheet rebirth is unprecedented in the automotive world and has allowed the Volvo brain trust to develop a thoroughly well thought-out and engineered foundation from which to be reborn. This is what we learned from our first test drive of the brand new Volvo S90.
2017 Volvo S90: SPA
SPA stands for Volvo's "Scalable Platform Architecture," and it is here we begin with the S90. SPA is a single adaptable chassis that will be the underpinnings of the first five vehicles that will mark Volvo's return to the US. With fullsize and midsize sedans, SUVs and wagons on that one single chassis, its adaptability is robust: length, wheelbase, width and height can all be pushed and pulled—only the distance between the engine firewall and front axle must remain constant. This is truly scalable architecture.
But to offer this level of scalability, there are compromises. All these new Volvos must be powered by a 4-cylinder engine (with the option of electrification baked in), and be front-wheel-drive (or AWD) models fitted with a universal 8-speed automatic transmission. These aren't necessarily bad compromises, but they restrict certain options—such as the use of a V6 or a V8 engine. In the luxury market, that is definitively limiting.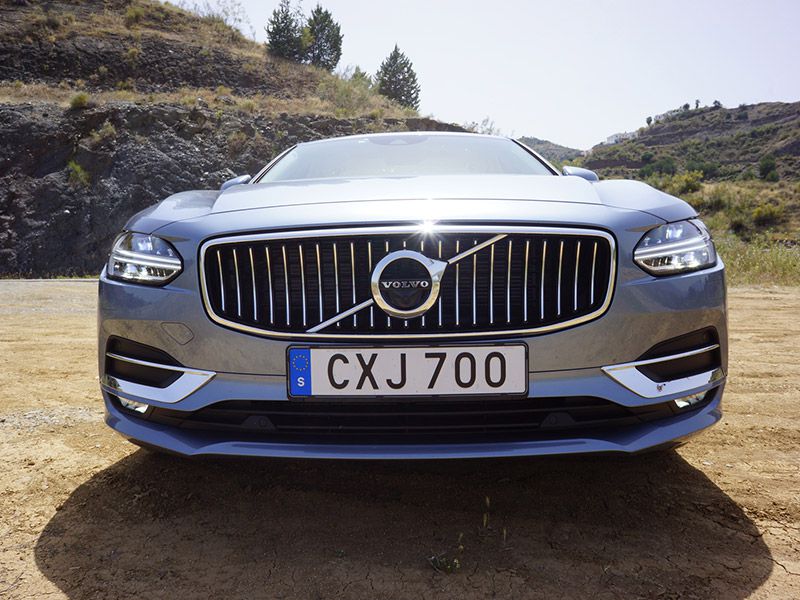 2017 Volvo S90: The Engines
Like the XC90 that precedes it, the new Volvo S90 comes with two powertrain options. But this is a bit deceptive, because both are turbocharged 2.0-liter 4-cylinder engines. One, however, comes with a supercharger. The base T5 S90 generates 250 horsepower and 258 lb.-ft. of torque, while the supercharged T6 S90 makes 316 horsepower and 295 lb.-ft. of torque.
The greater power is achieved via a larger turbocharger that boosts horsepower at mid and high revs. But the supercharger mitigates the increased lag of a larger turbo by forcing lots more air into the cylinders at low rpm. Interstingly, the supercharger stops working just as the turbo kicks in at about 3500 rpm.
The result is a punchy four-banger, one that feels like a larger displacement V6. This engine works just fine in the big XC90, so it gives the midsize S90 excellent performance. Of course, this performance gusto is achieved when the sedan is in "Sport" mode. In "Comfort" or "Eco" the S90 feels decisively latent; there's a lot of movement on the throttle before the engine kicks in.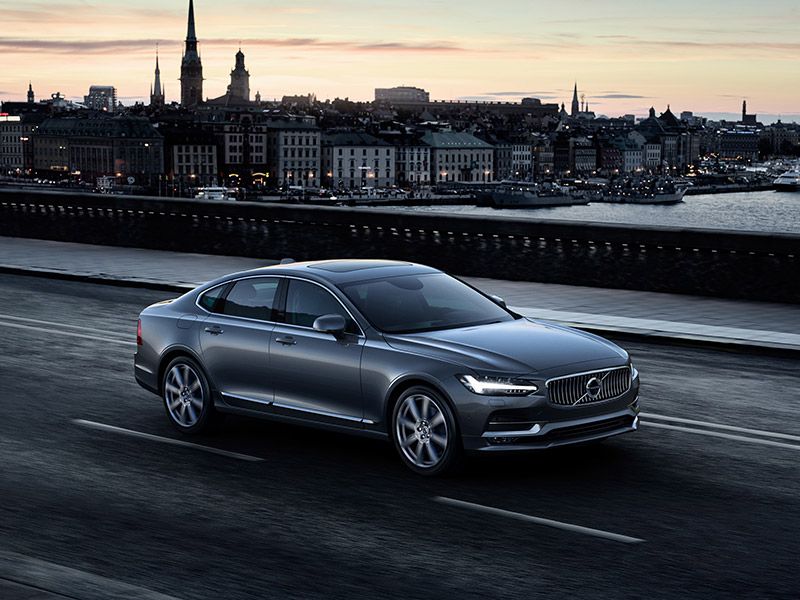 Photo by Volvo
2017 Volvo S90: Pop It Like It's Hot
All this forced induction can be trying on an engine, especially long term. Many experts wonder about the T6's longevity, given that it is both turbocharged and supercharged. This dual-forced induction is usually the providence of high-performance vehicles, so doubt arises whether a pedestrian 4-banger can handle this much additional pressure. In 100,000 miles, will it explode like a microwaved egg?
Volvo engineers say this isn't a concern. They say the boost pressure of the turbocharger and supercharger, while considerable, doesn't come even close to what their diesel engine must absorb. (There are also two diesel 4-cylinder options available in the Volvo S90 worldwide, although as of now their arrival in the U.S. is doubtful.)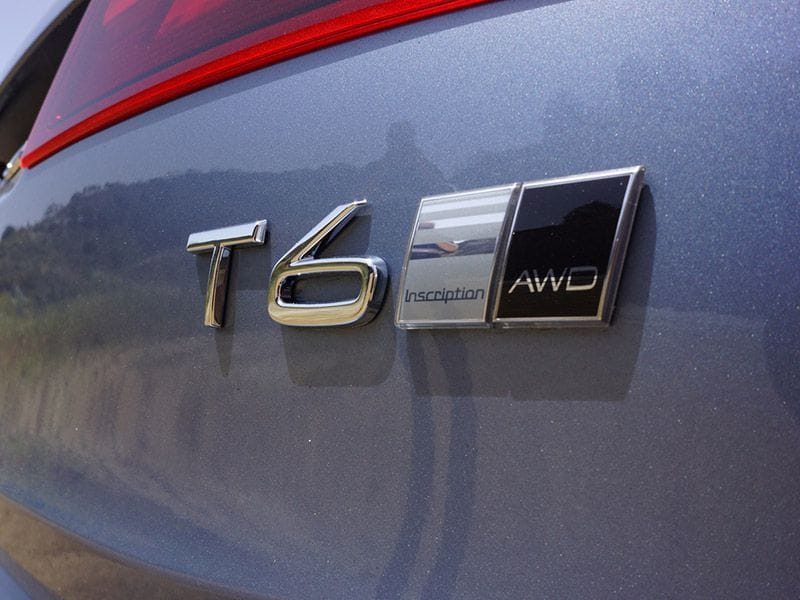 2017 Volvo S90: Exterior Design
Simply gorgeous. What Volvo designers have accomplished here is truly noteworthy, because the elegance and purity of the S90's design echoes the traditional Scandinavian school of aesthetics. It's minimal, but stirring, with plenty of road presence. We like how the handsome proportions hide the S90's front-wheel-drive architecture. A Volvo P1800-inspired concave grille on the square-jawed fascia is flanked by intricately designed "Thor's Hammer" headlamps that sparkle and hypnotize like the eyes of Alicia Vikander. There is a large pane of side glass, a low roofline with raked windshield, and a glorious lack of chromey nonsense.
Unfortunately, what the sedan gains with those headlamps, it quickly loses in the rump with garish LED tail beacons. They look like parentheticals sadly asking (why?). But overall that's a minor complaint; the new Volvo S90 is a gorgeous car with superb road presence, stance and proportions.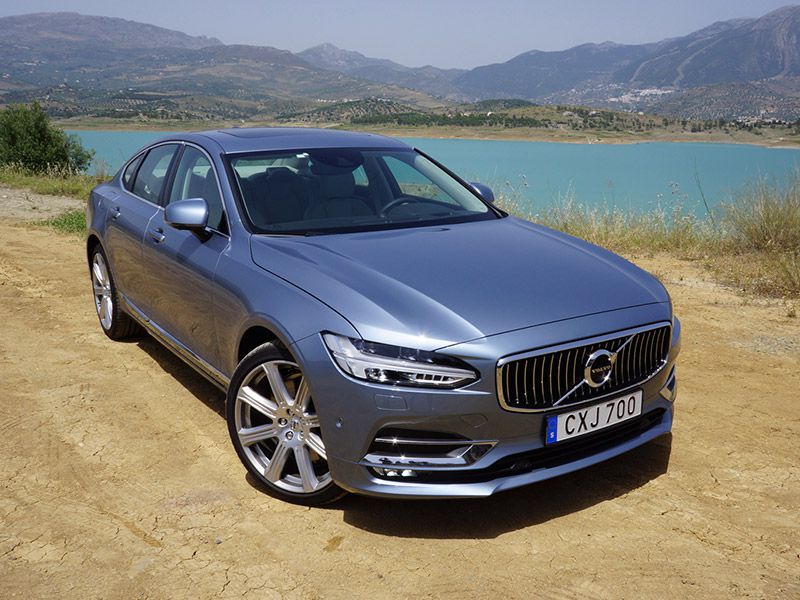 2017 Volvo S90: Interior
Like the XC90 (voted world's best interior by the English magazine AutoCar in 2015), the Volvo S90 has a superb cabin. Material quality is high, and we find the minimal and clean design to be exceptionally attractive. Hand-stitching on the soft dash leather is matched by wood beveled with the highest craftsmanship, and the knobs are all diamond-cut with a Swedish crystal pattern. Turn the crystal "Engine" knob clockwise to start the S90; under that is a crystal sculpted "Drive Mode" wheel and the gear lever introduced in the XC90.
There's lots of natural light in the S90 greenhouse, but even when it's dark out the ambient lighting treats surfaces evenly. The four-panel homescreen on the 8-inch center display is intuitive; swipe the display left and right like an agitated Tinder addict to access different controls (climate controls are moved to this display, further cleaning up the console).
Legroom in the rear is near the top of the segment, helping the new Volvo S90 comfortably accommodate four adults for long journeys.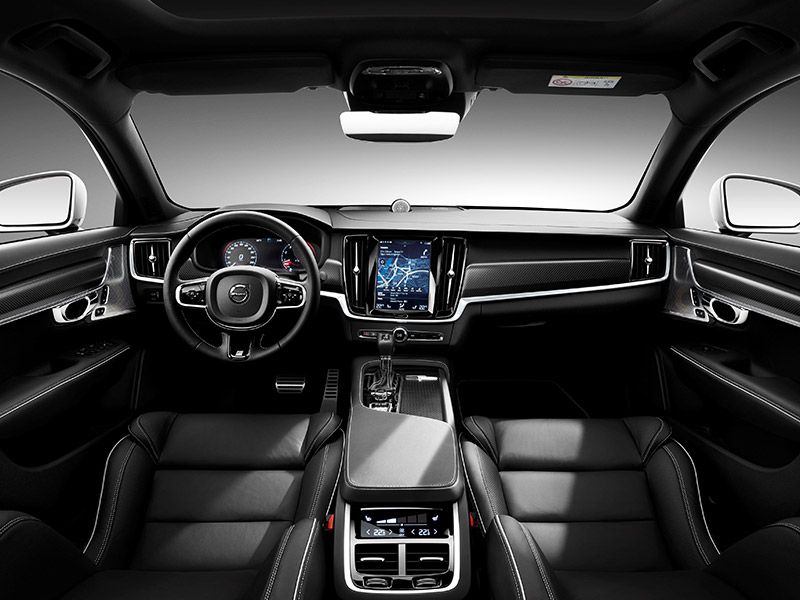 Photo by Volvo
2017 Volvo S90: Driving Dynamics
It's clear Volvo is trying to appeal to a new, younger buyer. Who isn't? But with its chassis-defined engine restrictions and their direct consequences, it's inevitable that cars like the 2017 Volvo S90 will attract a more relaxed, luxury-seeking buyer. Aka, older. Which is fine, as this is a rich consumer base for a car like the S90.
As a sort of pre-emptive salvo, Volvo execs are calling the overall mood of their vehicles "Relaxed Confidence," which sounds about as anti-performance as a mantra can be. If held under heavy interrogation, Volvo engineers surely would admit they would've liked the option of a V6 (or even a V8). But SPA simply won't allow for it.
Which isn't to say the S90 can't be a fun ride. Its optional rear air suspension offered comfort while not surrendering too much body roll. And while the T6's 130-mph limited top speed and 5.7-second 0-60 mph time won't set any pants on fire (6.5 seconds for the T5), the lengthy sedan has decent push in Sport mode. But the S90 leans more toward the softer, gentler entries as opposed to the BMWs and Jaguars of the world.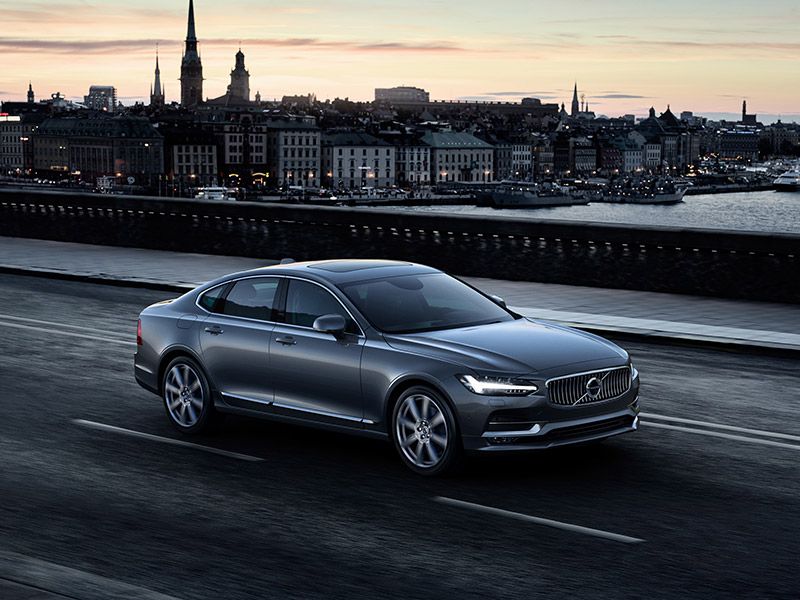 Photo by Volvo
2017 Volvo S90: Safety
Volvo built its name on safety, and in this area it continues to lead the industry. To that end, Volvo fits the new S90 with a stout unit-body chassis featuring lots of boron steel. This advanced metallurgy increases chassis strength while reducing its weight. Of note, Volvo is the first automaker to employ a system called Large Animal Detection with Autobrake. As Volvo execs noted, there are 1.4 million deer impacts a year in America, resulting in more than 200 deaths. This system, which makes its debut on the S90 sedan and V90 wagon, can sense the poresence of an elk, moose or large dog such as a Neapolitan Mastiff before automatically applying the brakes to mitigate a collision.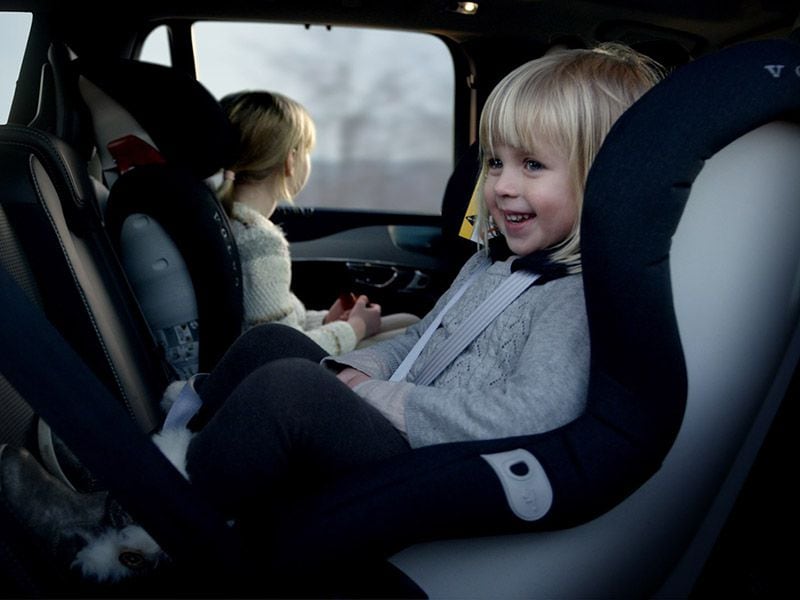 2017 Volvo S90: Pilot Assist
As most luxury brands are bringing to market their first forays into autonomous driving, Volvo is already unleashing their second-generation Pilot Assist system. The S90 is the first car to have semi-autonomous driving standard, and it works at speeds up to 80 mph. Using its camera sensors, the S90 reads the road and will gently nudge you back into the lane should you start to veer out. It does this by actually moving the steering wheel as opposed to many automakers that simply apply braking. But note: This is not supposed to be autonomous—you have to keep your eyes on the road and your hands upon the wheel. If 15 seconds passes without the steering wheel sensing your hands on it, you get a warning. After 30 seconds, the system totally disengages to ensure drivers stay alert and active.
Also, Pilot Assist is better suited for highway environments with slight bends in the road, not cutbacks or quick turns. In real-world driving, we say the system worked about 80 percent of the time, and sometimes just totally failed to notice you were leaving your lane. Despite the avalanche of press autonomous driving has gotten, it's clear we're still in the nascent stages of its development.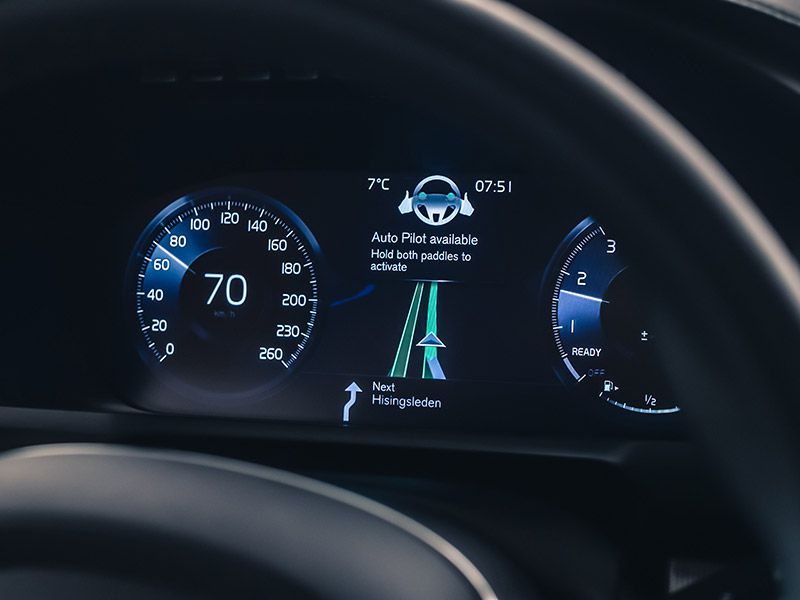 Photo by Volvo
2017 Volvo S90: Competition
Competition in this segment is brutal. The midsize luxury sedan segment is ruled with hegemony by the German Big Three (BMW 5 Series, Mercedes-Benz E-Class and Audi A6/A7), with additional heat coming in the form of the Cadillac CTS and Jaguar XF. Then there's the Japanese wing of the Lexus GS, Infiniti Q70 and Acura RLX, with the Hyundai Genesis also throwing its hat in the luxury ring.
So where does the S90 fit? It's a bit of an odd bird in this bunch, if only because it doesn't offer a V6 option. Even though its turbocharged and supercharged powerplant provides some kicks, it will never match the tightly wound performance vibe of the BMW 5 or the Jaguar XF. But for style, technology and what Volvo calls "Relaxed Confidence," it ticks a lot of boxes.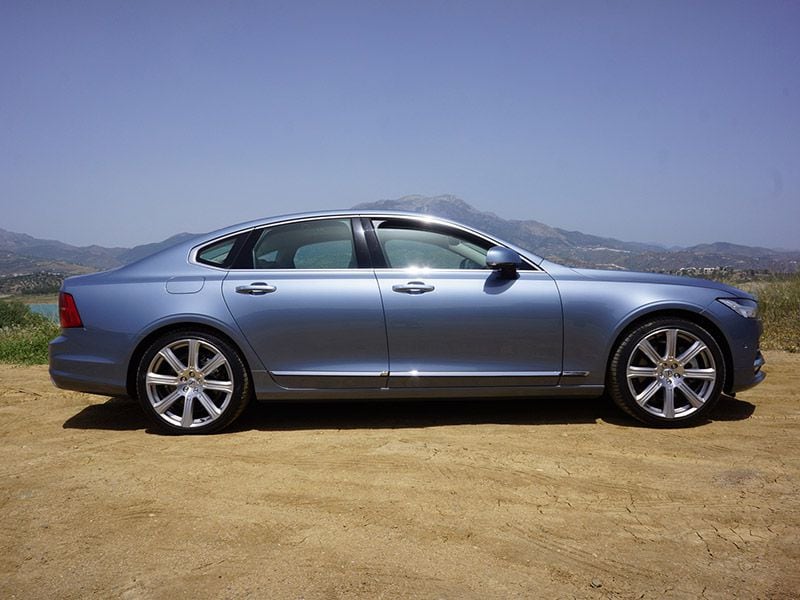 2017 Volvo S90: State of the Swedish-Chinese Union
For Volvo to grow into a legitimate contender, it needs the unwavering support of Geely. And given the Chinese company's robust investment in this historically Swedish company, we see this already happening. As Tata has done with its Jaguar/Land Rover offerings, Geely is gaining a foothold in the American luxury market by leveraging a long-trusted brand. This is priceless marketing for a Chinese automaker.