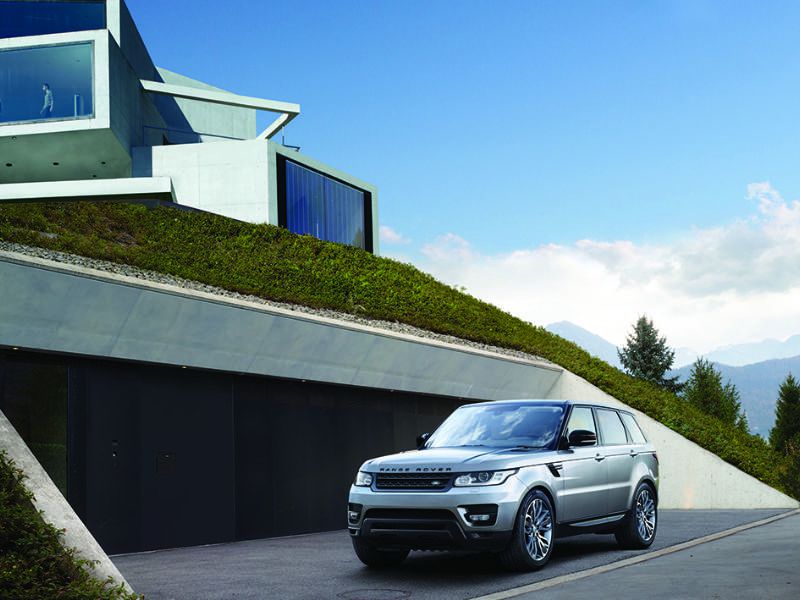 2017 Range Rover Sport House hero ・ Photo by Land Rover
The perpetual popularity of Sport Utility Vehicles like the 2017 Range Rover Sport has put every car company there is in the SUV business, from Kia to Bentley. But there's only one automotive luxury brand that sells SUVs exclusively, and that's Britain's Land Rover. SUVs are not only all Land Rover does, it's all it has ever done.   
Like Jeep, the first Land Rovers were for military uses, but in 1948, the brand began selling its unique civilian SUVs all around the world. In the past 20 years, sales have exploded as the luxury brand expands its family friendly lineup and builds upon its revered Range Rover model line.
A large part of its the success has been the fashionable Range Rover Sport, first introduced in 2004. Now in its second generation, the 2017 Range Rover Sport continues to compete very successfully against a long list of popular, high-quality luxury SUVs including the BMW X5, Porsche Cayenne, Volvo XC90, Audi Q7, and Mercedes-Benz GLE.
Let's take a closer look at the 2017 Land Rover Range Rover Sport.
Available in Six Trim Levels
Built in the West Midlands of Britain, the 2017 Land Rover Range Rover Sport is offered in six trim levels: SE; HSE; HSE Dynamic; Supercharged; Autobiography; and SVR. Each is equipped with all-wheel drive and an eight-speed automatic transmission.
Prices start at $65,645, including $995 for destination and handling, for the SE model and $71,645 for an HSE like our test vehicle. Both come standard with a 340-hp 3.0-liter supercharged V6 and such luxuries as Bluetooth, navigation and a power tailgate. A more fuel-efficient 254-hp 3.0-liter turbo diesel V6 is an option for $2,000.  
For $81,145, you can step up to the HSE Dynamic which offers quite a bit more performance. The supercharged V6 gets pumped up to 380 hp and the wheels and tires grow to 21 inches. But the horsepower bargain is the $81,645 Supercharged model, which replaces the V6 with a 510-hp supercharged 5.0-liter V8 for an additional $500. And for ultimate luxury, there's the $95,445 Autobiography, which adds appearance enhancements, interior appointments and even a drink cooler.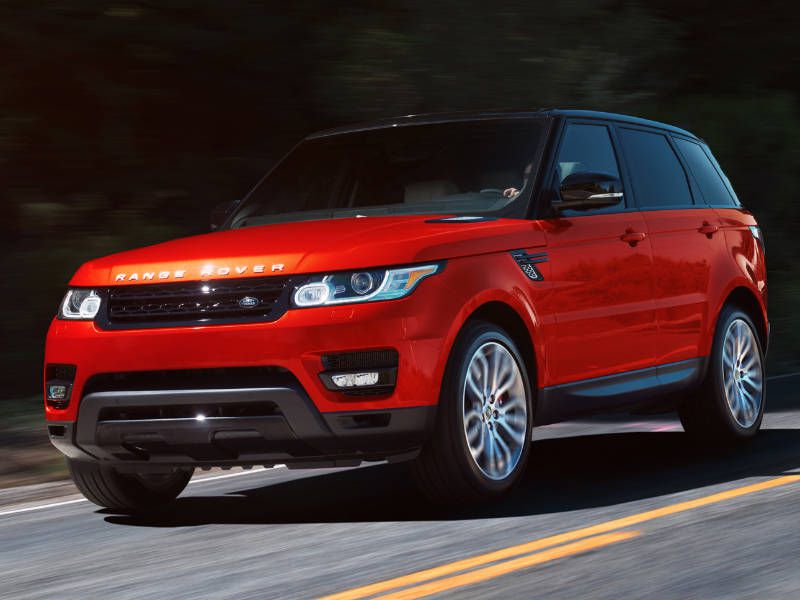 Photo by Land Rover
High-Performance 550-hp SVR
Land Rover calls the 2017 Range Rover Sport SVR the fastest and most powerful Land Rover ever. Hyperbole? More like hyperdrive. It's powered by a 550-hp version of the brand's supercharged 5.0-liter V8. Although that's a few ponies shy of the turbocharged BMW X5 M, Mercedes GLE63 AMG and Porsche Cayenne Turbo S, it is more than you get in a Porsche Cayenne Turbo. And the SVR's 0-60 mph time of just 4.6 seconds is competitive for the class.
SVR is Land Rover's new Special Vehicle Operations department. Think of them as an in house tuner or hot rod shop much like AMG at Mercedes-Benz or BMW's M division, known for cars like the M3 and X5 M SUV. They build high-performance versions of Land Rovers and the new $112,345 Range Rover Sport SVR is their first product.
This model was developed on the world's racetracks, including Germany's famed Nurburgring. Alongside the additional thrust, the SVR gets a sport-tuned suspension, stickier tires, a special exhaust system and sport seats.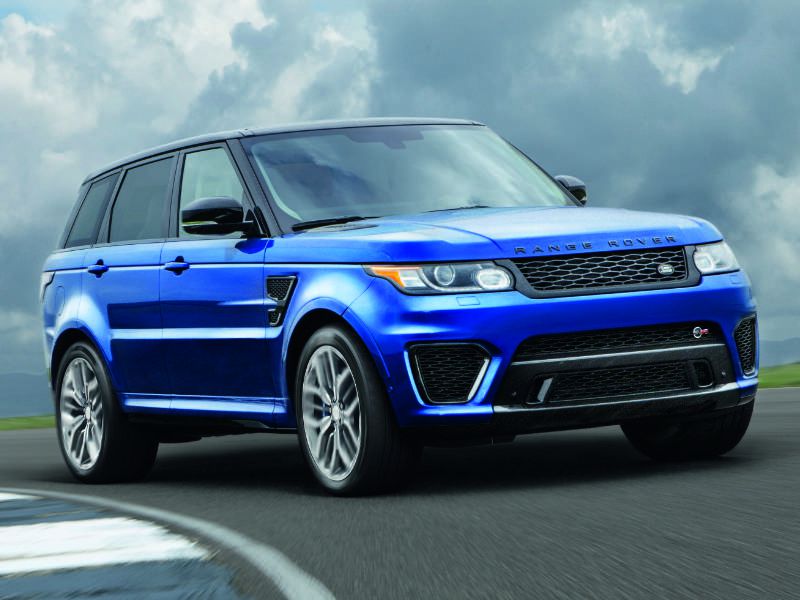 Photo by Land Rover
Extremely Family Friendly
Built on the same all-aluminum structure as the full-size Range Rover, the 2017 Range Rover Sport shares that model's generous 115-inch wheelbase, which provides plenty of interior space. The Range Rover Sport comes standard for seating for five, but a small third row, which is not available on the larger Range Rover, is optional.
If you carpool with Aaron Judge, Dellin Betances and Jordan Montgomery you won't have any problems. There's more rear seat space than you'll find in many of its competitors. However, the optional third row is a kids-only zone. Rear-seat air conditioning vents are standard, while on board Wi-Fi and heated rear seats are available.
Young parents will appreciate the Range Rover Sports easy-to-reach LATCH connectors in the outboard seats and an easily accessed upper tether anchors on the seat backs. Crash test scores for this model are not available.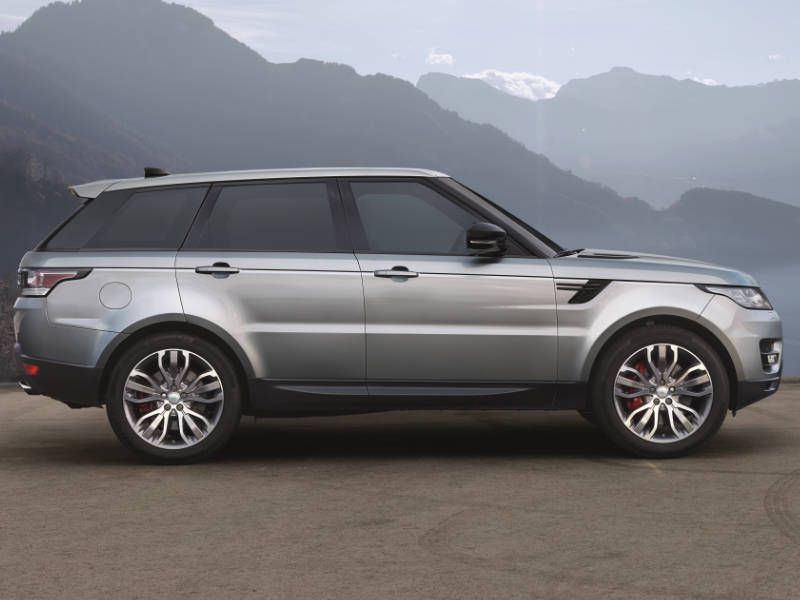 Photo by Land Rover
Big Cargo Volume
Space behind the optional third-row is tight, but with the third row folded flat, cargo space behind the Rover's second row is extemely generous. The Range Rover Sport offers 27.7 cubic feet of cargo space back there, and it's easily accessed by its standard power liftgate. That's more than enough room for when you burn the credit card at Costco. Plus the truck's air suspension can lower the vehicle to make loading items easier.
The second row is split 60/40, and it easily folds flat opening up an impressive 62.2 cubic feet of space, which is about average for the midsize luxury suv class.
Storage inside the Rover's interior is also plentiful. The center console bin is deep enough to swallow an iPad and there are large bins on each door for small items. The well-placed front seat cupholders are also deep for that morning coffee and they accommodate cups with handles. The backseat cupholders are in a fold down armrest that accommodates the middle seat when in use.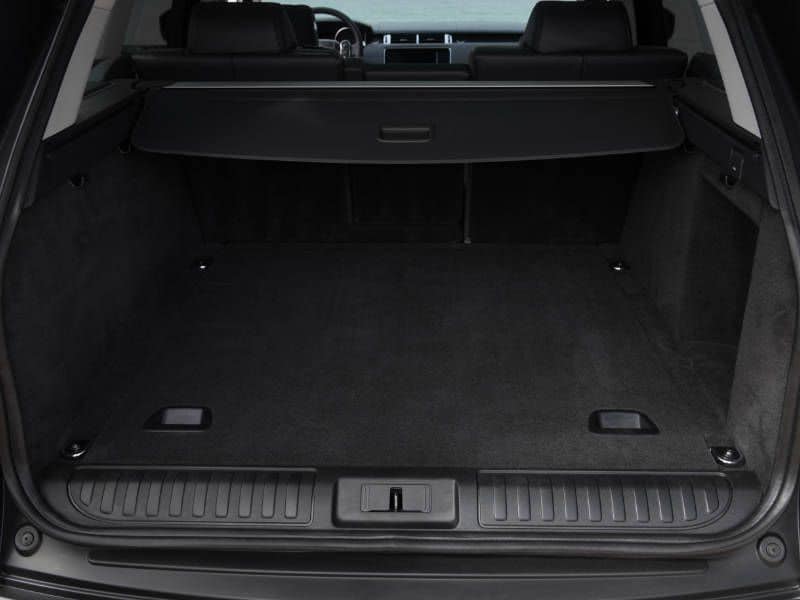 Photo by Land Rover
Well-Appointed and Comfortable
Much like its exterior, the Rover Sport's interior is simple, understated, but very well-appointed and exceptionally modern. It's also extremely comfortable with large, well-shaped seats and seat heaters with incredible might. Save the highest setting for the next blizzard.    
This is one of the best interiors in the segment. All the surfaces are soft to the touch and all the knobs and switches function with precision. Nothing feels cheap or flimsy and the thick, leather wrapped steering wheel feels good in your hands. I'm also a huge fan of the Rover's muted aluminum trim, which is everywhere. The driver's seat is height-adjustable for shorter drivers and a tilt-and-telescopic steering wheel is standard.
Land Rover has improved its infotainment system for 2017 and it has gone from zero to hero. What was once painfully slow and frustrating to use, is now quick to respond and easier to navigate. Land Rover still uses an intuitive touchscreen, which has grown from 8.3-inches to a more modern 10.2 inches.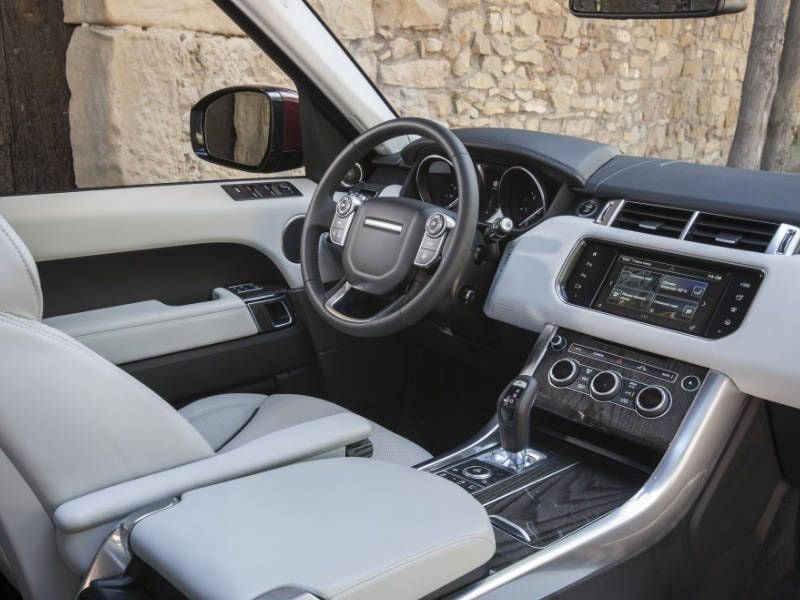 Photo by Land Rover
Fun to Drive
Our Range Rover HSE test vehicle was athletic, powerful and surprisingly agile for such a large, heavy SUV. If it weren't for the Rover's tall seating position, which gives you a commanding view of the road, you'd swear you were driving a full-size sports sedan like a Jaguar XJ.
It's easy to pilot around town, thanks to a tight turning circle which makes parking easier, and it's fun to hustle this big SUV through traffic. There's plenty of power from the Rover's supercharged V6, and the automatic transmission is well geared and pleasingly responsive. It also has a Sport setting, which allows it to hold gears longer for more immediate performance.
Around town the ride is firm and you can feel the roads surface through the large diameter steering wheel. Body roll in corners is well controlled, and larger road imperfections, including the harshest inner city potholes, are soaked up nicely by the Rover's off-road ready long-travel air suspension.
Out on the highway it rides like a dream. This would make a great road-trip car.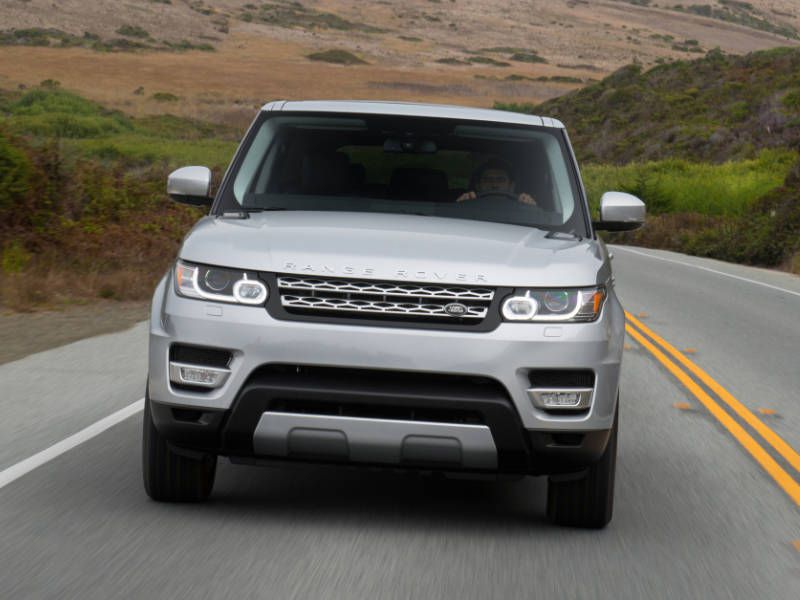 Photo by Land Rover
Awesome Off-Road
Although most buyers will never explore the Sport's full over-Earth capabilities, we took our test vehicle out to a local off-road park to play in the dirt and were blown away and how much this luxury SUV can handle. With its height-adjustable air suspension in its highest setting to increase ground clearance, the Sport has the ability to tackle obstacles you'd avoid altogether in other luxury suvs
I drove it up some challenging trail sections which were no problem thanks to its generous wheel travel, steep approach and departure angles and big 20-inch tires. And I tested the all-wheel-drive system, which offers four settings for different surfaces, and its quick-acting traction control system by driving through some deep sand and climbed some hills. We always made it to the top and the Rover's Hill Descent Control allowed us to get back down slowly and safely.
Although Land Rover says the Sport can drive through 33.5 inches of water, we didn't give it a try.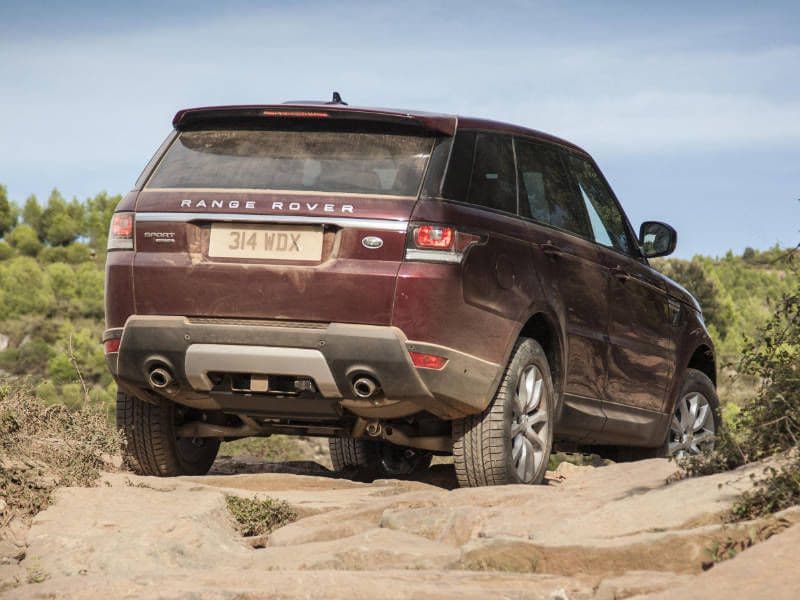 Photo by Land Rover
Good Fuel Economy for its Class
Fuel economy is also good for this class. As expected, the SE or HSE with the 3.0-liter turbo diesel V6 is the fuel sipper of the bunch, with fuel economy ratings of 22 mpg city/28 mpg highway. That's on par with BMW's diesel-powered X5 which is rated 23 mpg city/29 mpg on the highway.
The standard supercharged V6 is rated at 17 mpg city/23 mpg highway. I averaged 18.3 mpg during a week of mixed driving, and I continuously used the Rover's start/stop feature which shuts off the engine at red lights to save fuel.
Opt for the big and burly supercharged V8 and you're looking at ratings of 14 mpg city/19 mpg highway.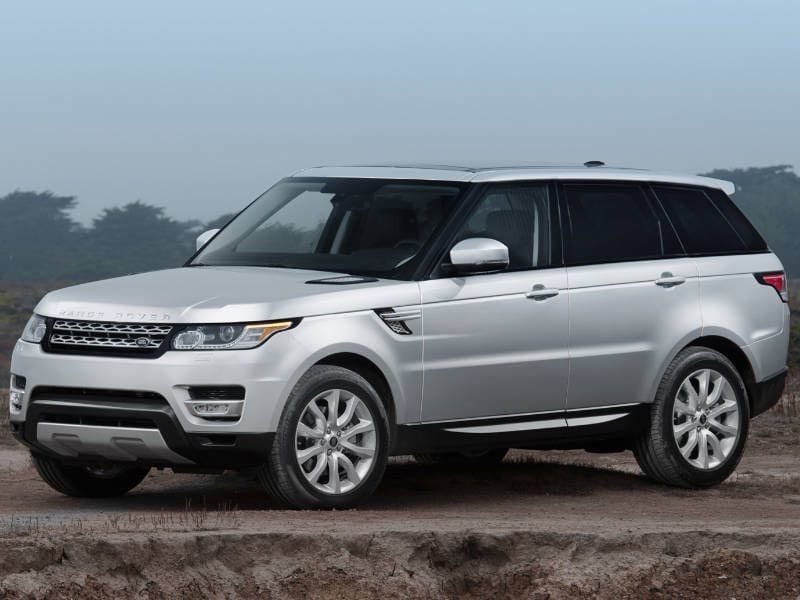 Photo by Land Rover
Final Thoughts
I've always been a fan of vehicles with multiple personalities, and the Range Rover Sport is downright schizophrenic. It's a sport sedan in the city, a luxury cruiser on the highway, a roomy family-friendly SUV for the day to day, an all-weather security blanket for those long winters, and an off-road racer for those muddy weekend getaways. It will also look fantastic in the VIP parking lot at Coachella.
If you're looking for a luxurious and capable midsize luxury suv, the 2017 Land Rover Range Rover Sport is a solid overall choice.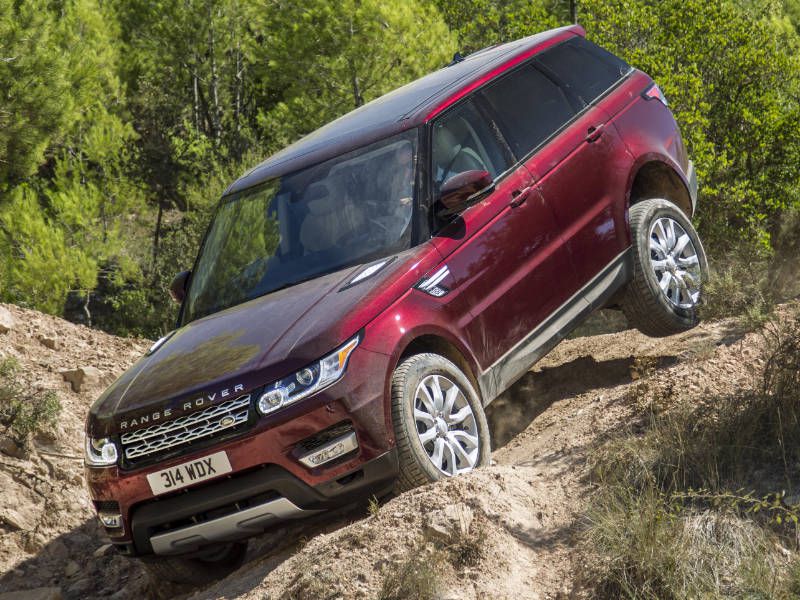 Photo by Land Rover