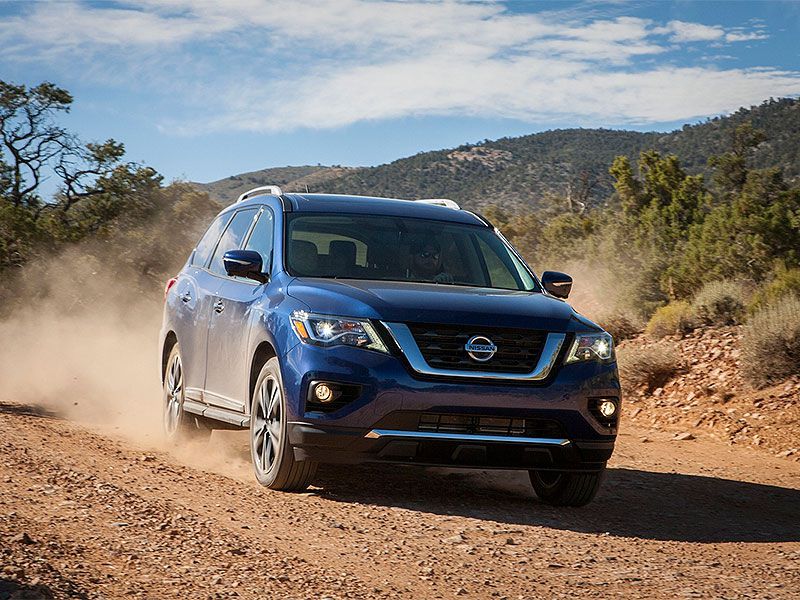 2017 nissan pathfinder off road ・ Photo by Nissan
Whenever I begin writing a review with a personal bias, it's important to state it up front, so here goes: I haven't much liked the Nissan Pathfinder since its redesign in 2013. It was nice enough, but too bland—especially given its position in the Nissan lineup between the Rogue and the Murano, both of which are excellent SUVs. Knowing that the 2017 model was scheduled for a mid-cycle refresh—which normally consists of a few styling changes, some new mechanical bits, and a few new features—I didn't expect my opinion to change much.
Boy, was I wrong.
The changes to the 2017 Pathfinder may be subtle, but these well-thought-out tweaks completely transform the Pathfinder's look, feel, and attitude. Much to my surprise, I like the new 2017 Pathfinder. I mean, I really like it.
A Once-Great Name, Somewhat Sullied
The Pathfinder came out way back in the mid-1980s, and like most SUVs of the time, it was basically a pickup truck with a wagon body. Although Nissan switched to a unit-body design for the second-generation Pathfinder,  the third-gen marked a return to rugged, off-road-ready truck-based construction, even as newer SUVs like the Toyota Highlander and Nissan's own Murano opted for car-based unit-bodies. For the fourth-generation Pathfinder, which appeared for the 2013 model year, Nissan has returned to unit-body construction and turned the model into a so-called crossover. This new Pathfinder was certainly more civilized, but it had lost some character. Devoid of its off-road abilities, it was just too similar to Nissan's other crossover-style SUVs, the Rogue and the Murano.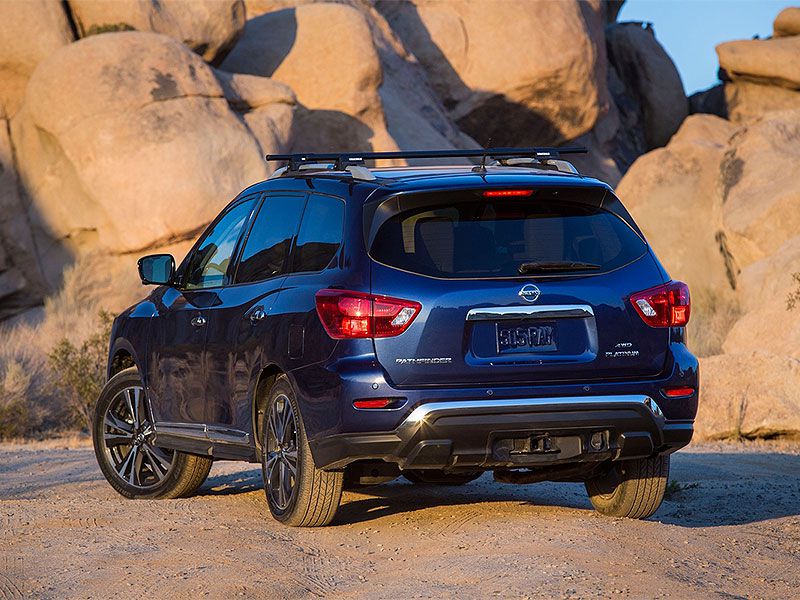 Photo by Nissan
Owners Had the Same Gripes
Criticism of the Pathfinder didn't just come from hacks like me—it also came from Pathfinder owners, who thought the vehicle should be more masculine (their words, according to Nissan). That's not the testosterone talking, by the way; the Pathfinder has a higher share of female buyers than its rivals (47 percent of Pathfinder buyers are women, vs. 40 percent for the competition), and women were the ones telling Nissan that the Pathfinder needed to get back to its roots. They wanted something that looked more like an authentic SUV, and they used words like "tough" and "rugged." Making such changes to an existing vehicle is a tall order; the typical mid-cycle refresh (a restyling job done every three years or so) is generally limited to minor changes to the sheetmetal and bumpers. But I'll be darned if Nissan hasn't pulled it off: The new Pathfinder looks tougher and more rugged, more like an authentic SUV.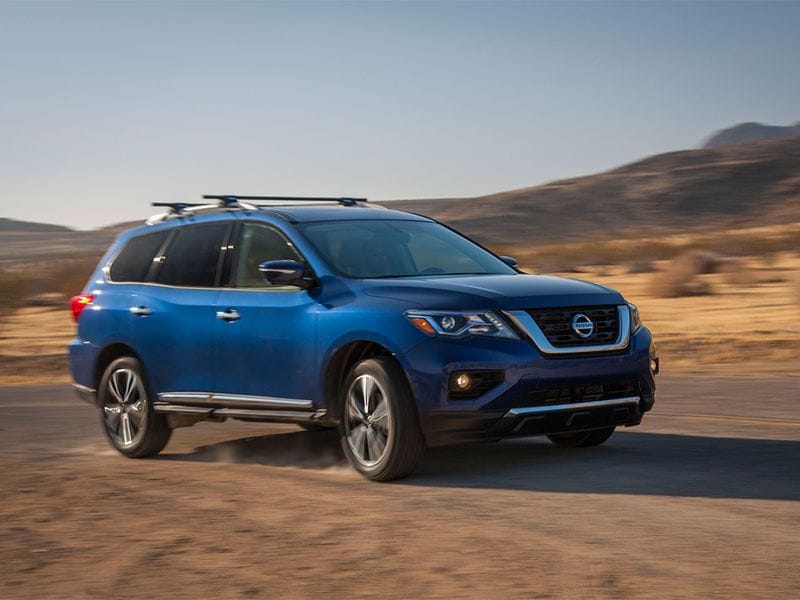 Photo by Nissan
Small Changes, Big Difference
So what, exactly, did Nissan do? One big change was getting rid of the curves. Up front, the Pathfinder's rounded front bumper has been squared off and given more creases. The grille is new, with a prominent U-shaped chrome trim piece that floats in the center instead of clinging to the edges. The headlights have a more complex shape as well. Out back, the rear bumper has been widened and squared off, so that it now looks like—well, like a bumper. The taillights are the same shape, but they are now solid red. Believe it or not, that (and new wheels) comprise all of the changes—and yet the change in the Pathfinder's look and feel is really something to behold. Nissan's stylists don't always get things right, but this one is a home run. As an added bonus, the new shape makes the Pathfinder slightly more aerodynamic.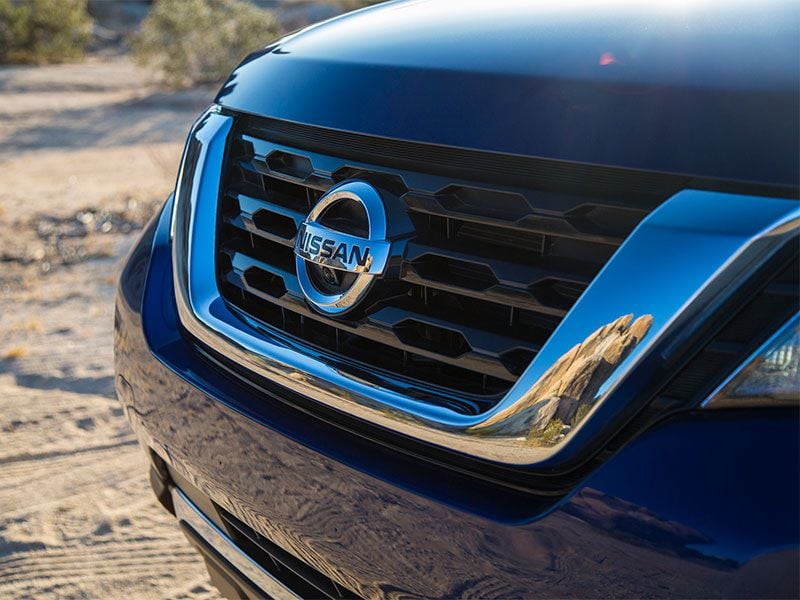 Photo by Nissan
Nissan Knows When to Leave Things Alone
The interior isn't changed, and that's okay; I've always thought the Pathfinder's interior felt like it was designed by Infiniti, Nissan's luxury brand. The control layout is not the simplest I've seen—that's a pet peeve—but the layout is easy to learn, and I appreciated the good all-around outward vision and big side mirrors. It did not take me long to settle in and learn my way around the Pathfinder's cabin. Like most SUVs in this class, the Pathfinder has a roomy second-row seat, but the third-row seat is best used in a pinch; it's tiny and cramped, even for kids, and when deployed it takes up most of the Pathfinder's cargo space, reducing available luggage area from 47.8 cubic feet with the seat folded down to just 16 cubic feet, enough for a few grocery or gym bags, but certainly not a vacation's worth of luggage.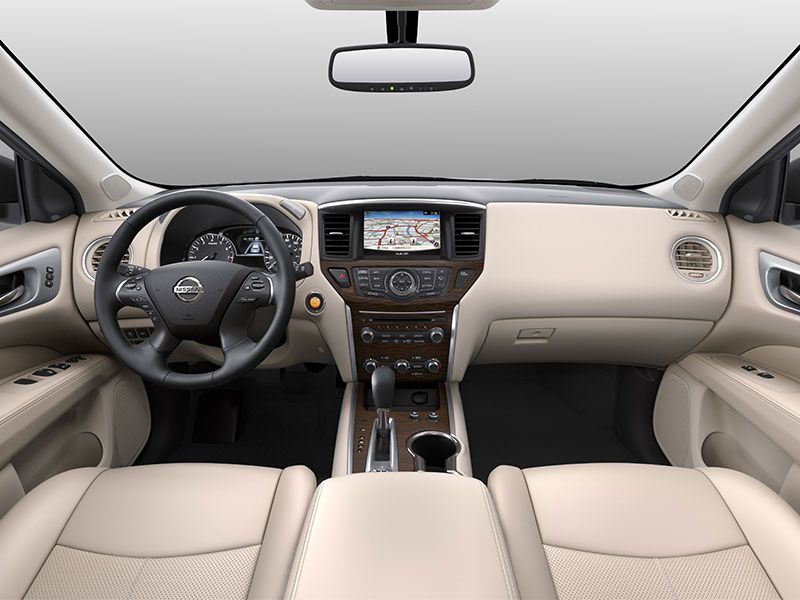 Photo by Nissan
New Gadgets, Including a Handy Self-Opening Tailgate
The mid-cycle refresh always brings new gadgetry, and among them is the "kick-to-open" tailgate, which we've seen on other vehicles (most notably Fords). If your hands are full, all you need do is stand behind the Pathfinder and kick your foot under the bumper, where it can be "seen" by the parking sensors. Provided the key is somewhere on your person, the tailgate will open automatically. I like this feature better than, say, the Hyundai system, which doesn't require the kick but simply detects your presence and opens the trunk if you stand there long enough. Every time I stop to have a conversation with my neighbor, the trunk opens. Thanks, but I'll take the kick-to-open system. Another nice feature is that you can set how high the tailgate opens—a boon for short folks or those with minimal overhead clearance in their garage.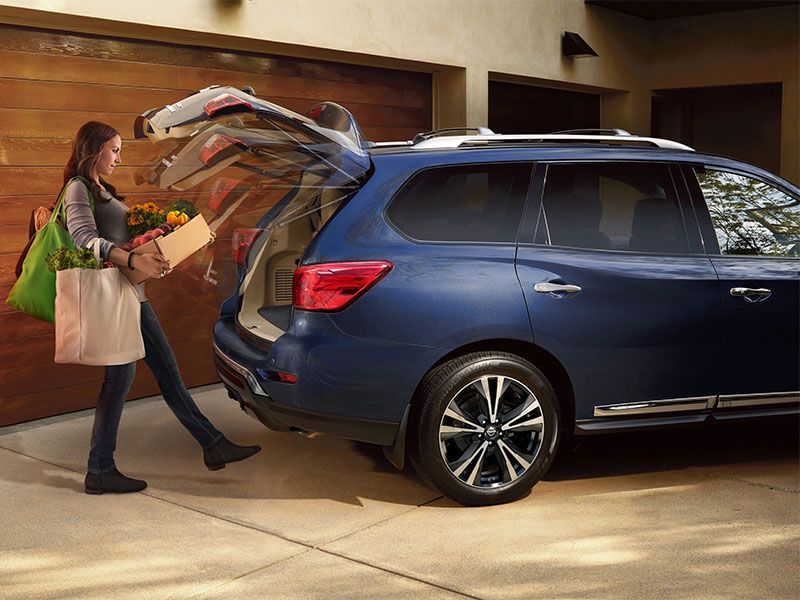 Photo by Nissan
More Safety Equipment
As you'd expect, safety gets a boost for 2017. Base Pathfinders now have a backup camera as standard (as should every new vehicle), and higher trim levels get Nissan's useful AroundView Monitor, which uses strategically placed cameras to give a virtual top-down, bird's-eye view of the vehicle—a big help when parking, especially for new owners. The system now has moving object detection, allowing it to pick out and highlight obstacles in the Pathfinder's way. New for 2017 is a collision detection system with automatic braking. Adaptive cruise control, blind-spot detection and rear cross traffic alert systems carry over from the previous Pathfinder, but unlike many of its rivals, there is no lane-departure warning or assistance system. The outgoing Pathfinder had a five-star crash-test rating from the government and "Good" (the best score) on all tests from the Insurance Institute for Highway Safety, though it lacked a Top Safety Pick award owing to its lack of automatic crash prevention hardware. Nissan expects similar ratings, and the available auto-braking system could make it eligible for an IIHS award.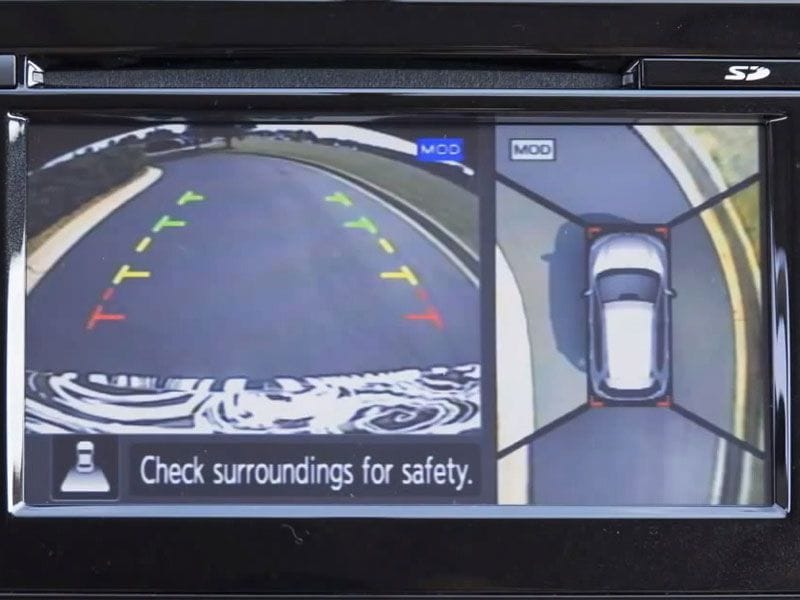 Photo by Nissan
Pathfinder Didn't Need More Power, but That Didn't Stop Nissan!
The Pathfinder has, in recent years at least, always been a powerful SUV, eschewing 4-cylinder power and packing a stout V6 under the hood. For 2017, the Pathfinder's 3.5-liter engine gets some extensive reworking designed to increase power and fuel economy. Most notable is direct fuel injection, an expensive fuel-delivery system that allows gasoline to be burned more completely. As a result, the engine output rises to 284 horsepower (up from 260) and 259 lb.-ft. (up from 240). And you will definitely feel that extra power: The Pathfinder is an SUV in a hurry. EPA fuel economy estimates are unchanged from last year: 20 MPG city/27 MPG highway/23 MPG combined for front-wheel-drive models and 19/26/22 for all-wheel-drive versions. So where's the increase, you (rightly) say? Well, the EPA changed its testing methodology for 2017, and the new numbers are slightly lower. Drive them back-to-back, and the 2017 Pathfinder will deliver better real-world fuel economy than the 2013-2016 version.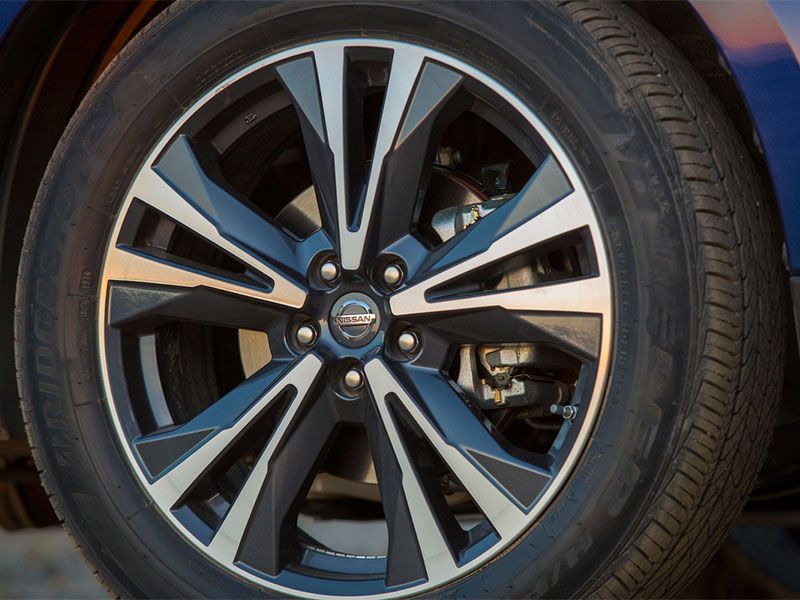 Photo by Nissan
Suspension Tweaks Make Pathfinder Better to Drive
Along with the revised engine, Nissan has made some tweaks to the suspension to make the 2017 Pathfinder more responsive. The outgoing 2016 Pathfinder wasn't  much of a driver's vehicle, but oh, what a difference a few suspension changes can make: This new version feels sharper and more responsive, and yet it hasn't given up the previous vehicle's smooth, comfortable ride. I had more fun driving the Pathfinder than I ever expected. Nissan says the Pathfinder can tow up to 6000 pounds. All-wheel-drive models have a "lock" mode that distributes power evenly to front and rear axles, making it easier to get up slippery boat ramps. Unfortunately, Nissan has not published the GCWR (Gross Combined Weight Rating, the safest allowable maximum weight of the vehicle, trailer and contents), so we don't know if it can tow a fully loaded trailer while carrying passengers, something most crossovers cannot do.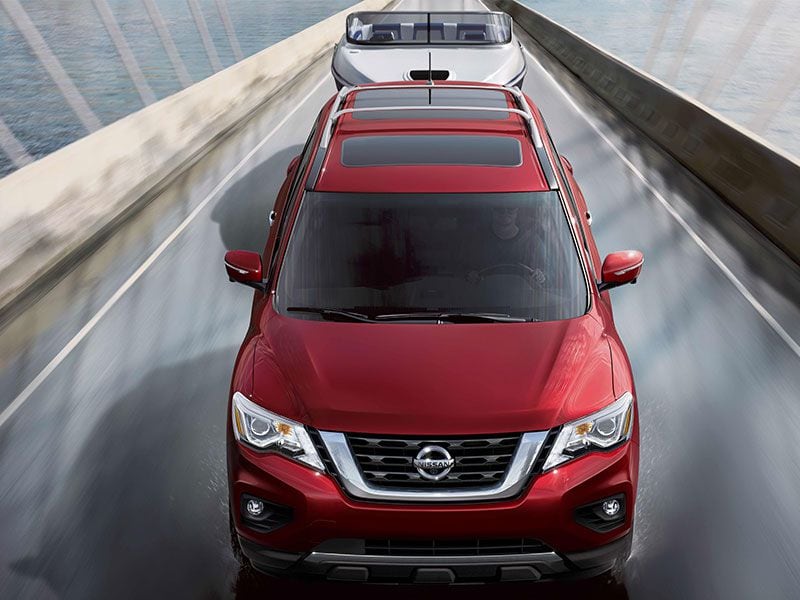 Photo by Nissan
Bottom Line: A More Appealing Pathfinder
Nissan had not yet announced pricing when I wrote this test and review of the 2017 Nissan Pathfinder, but we at Autobytel expect it to be priced similarly to the 2016 model, which starts just under $31,000 (including the mandatory destination fee) and tops out at $44,605. Nissan is offering more standard equipment on the Pathfinder, so it will likely represent a better value for the money. The Pathfinder faces stiff competition. The Toyota Highlander does most of what the Pathfinder does, and does it well. If you need more room in that third-row seat, check out the Honda Pilot and the Ford Explorer. For driving dynamics and sheer attitude, though, the Pathfinder (finally!) pulls ahead. And that's what you should take away from this review: Nissan has made the new Pathfinder a much more appealing vehicle. It's better looking, better equipped, and better to drive than the outgoing vehicle, and more differentiated from the Rogue and Murano. Although at one point it looked like the Pathfinder was headed in the wrong direction, Nissan hasn't reworked this SUV to make it worthy of the name on its flanks. Nice job, Nissan!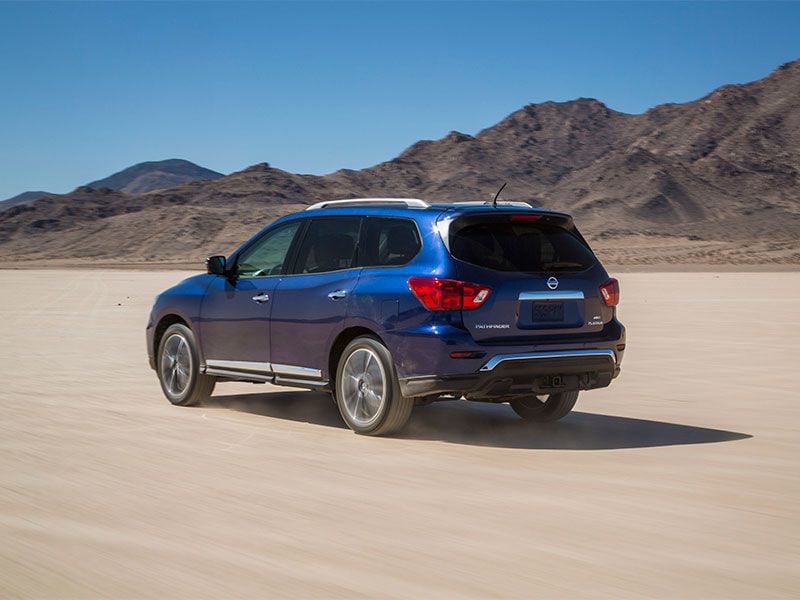 Photo by Nissan