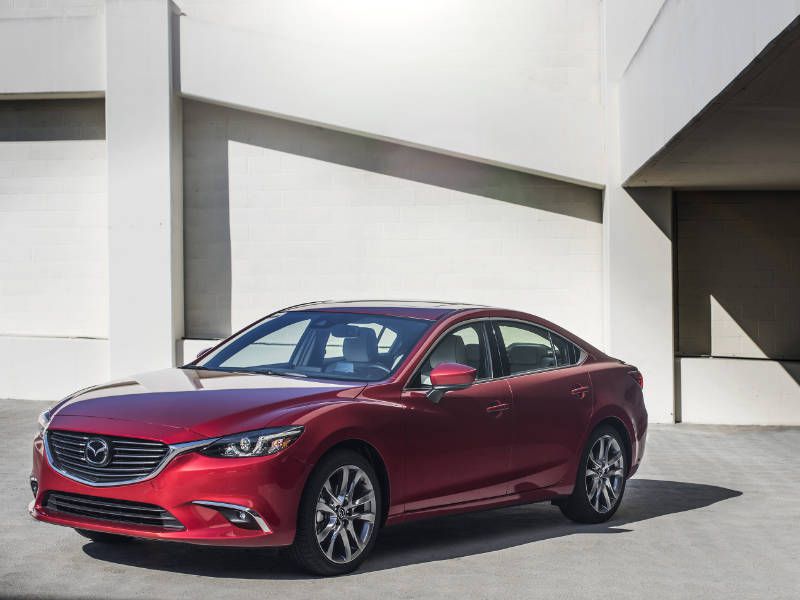 2017 Mazda Mazda6 Front Quarter Hero ・ Photo by Mazda
Everyone who lives in any city — or town, or village, or hamlet, or whatever — has their own list of best places. They know where to find the best coffee, or which theater offers cheap tickets, or where there's a magnificent used book shop, and chances are they're going to keep that intel to themselves, because why invite a crowd? People in the car business have their own lists of bests as well—and among mid-size sedans, many will tell you it's the 2017 Mazda6. Though not the flashiest or the most popular, the Mazda6 is popular with people in the know. Let's drive it and find out why.
A car that doesn't get the attention it deserves.
Not long ago, mid-size sedans were the most popular vehicles on the new-car market. Now our tastes are shifting towards small- and medium-sized SUVs, and if you see a Mazda ad, chances are it will be for one of their CX-series SUVs. If it's a car ad, it'll probably talk about either the compact Mazda3 or the sporty new MX-5 Miata. Mazda is one of the smaller automakers, and their ad budget isn't unlimited — and that means the mid-size Mazda6 often gets short shrift. That's too bad, because if you're shopping for a car (as opposed to an SUV), this is one you definitely don't want to miss. The ads may not be screaming about it, but the Mazda6 is a favorite of enthusiasts and automotive journalists like us — and with good reason.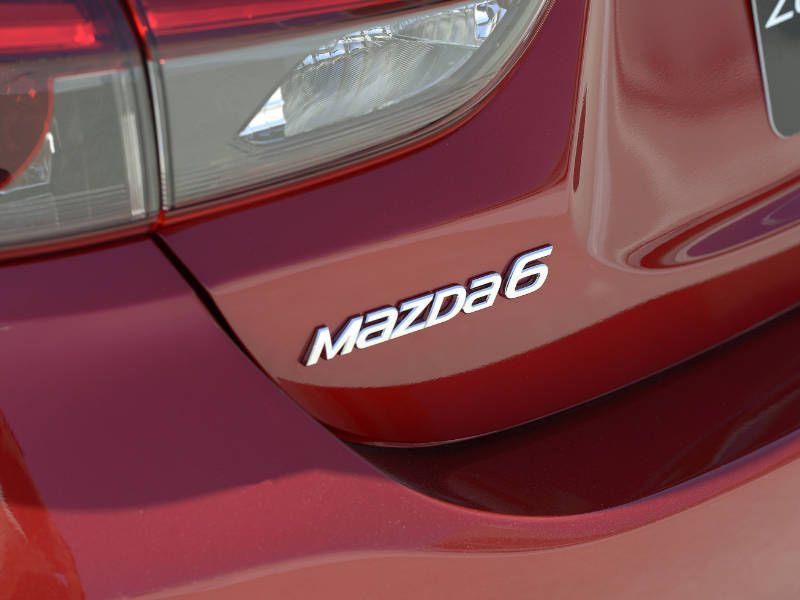 Photo by Mazda
Truth in advertising.
We've said it before and we'll say it again: There is truth in Mazda's "Zoom-Zoom" advertising tagline. Mazda designs its cars to be engaging to drive, which they do by sharpening their suspensions and engineering their cars for light weight. The latter helps fuel economy — the less weight a car has to move around, the less fuel it needs to move it — and it also helps agility. That's why enthusiasts love Mazdas — they are simply better to drive, to the point that they give some high-priced German cars a run for their money. But even if you are as far from a driving enthusiast as it is possible to be (if you see a car as nothing but a means from getting from Point A to Point B), you'll notice the difference between the Mazda6 and, say, a Toyota Camry or a Nissan Altima. And is there any good reason not to have more fun when you drive?
Photo by Mazda
Good looking outside.
The Mazda6 wears the same basic "Kodo" design language as other Mazda models, and there's a strong resemblance to its compact sibling, the Mazda3. We actually think that of the two cars, the Mazda6 wears the look better: The flowing lines of the hood blend nicely with the front fenders, and the longer length gives the car better proportions through the roof and trunk.
Photo by Mazda
Good looking inside.
Inside, the Mazda6 is equally attractive, with smooth shapes, flowing lines and sensible ergonomics (once you get used to them — more on that shortly). One of the very few things we would criticize in this car is the similarity in trim between models. Aside from upholstery, the interior of the base-model Sport looks nearly identical to the mid-level Touring and high-end Grand Touring. That's great for people who buy the base model, but might be a bit irksome for those who spring for the top-of-the-line model. Interior color choices are limited. The light-colored seats in our test car came with a black-top dash and door panels. The former cuts glare in the windshield, which is nice, but the latter makes the interior feel darker than most light-colored cabins.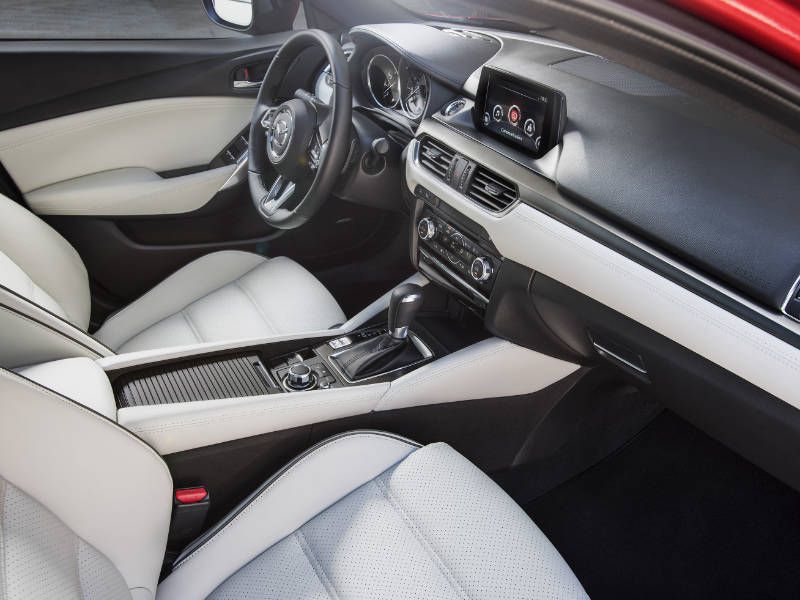 Photo by Mazda
Ergonomics: Strange, but good.
Mazda's ergonomics take a bit of getting used to. For one thing, the infotainment controls — including the volume knob and power switch for the stereo — are located on the center console, just aft of the shift lever. It takes some familiarization, but it's an incredibly sensible location once you become accustomed. Same for the dial controller that runs the other stereo and navigation controls. The stand-up screen also has touch-screen functionality, and we like having a choice. We wouldn't call this the most intuitive or advanced stereo and navigation system we've used, but it didn't take us long to learn our way around, and we found it fairly easy to operate.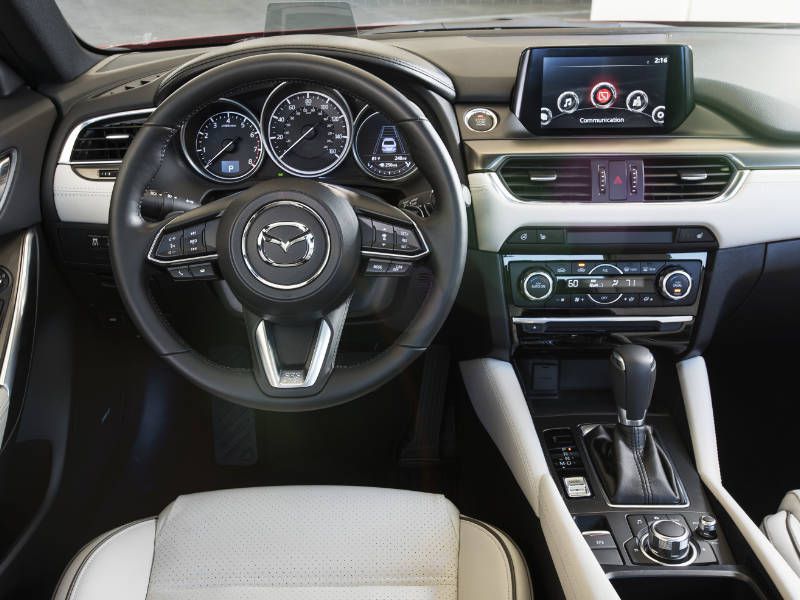 Photo by Mazda
Head-up Display
Along with clear, easy-to-read gauges, our Mazda6 had a head-up display that projects speed, next-turn directions, and other information onto a small plastic panel that pops up from atop the instrument binnacle. It's a simple system that works fairly well, though we wonder if that little plastic screen is in danger of getting broken. That's a consideration about which we need not worry in a car with a a head-up display that projects into the windshield, as most other systems do.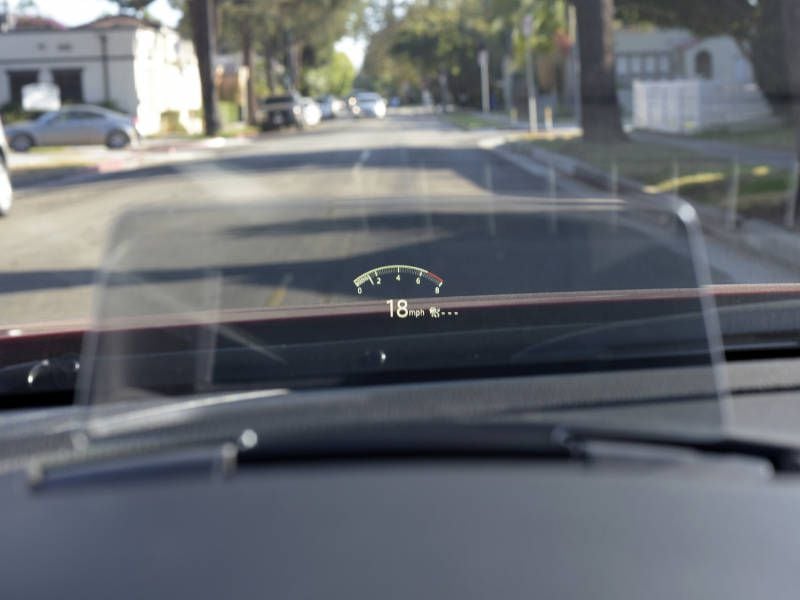 Photo by Mazda
Back seat offers quality over quantity.
If you go purely by interior measurements, the Mazda6 takes a back seat (pun intended) to some of its competitors. But the room back there is still generous, and if you're looking at quality vs. quantity, you may well find the Mazda's second row to be more comfortable than the competition — and isn't that why we buy mid-size sedans in the first place? The Mazda6's trunk measures out to 14.8 cubic feet, which is just okay by mid-size sedan standards. Many competitors offer trunks of 15 cubic feet or more, but it's not as if we had trouble stuffing our suitcases into the Mazda's cargo bay.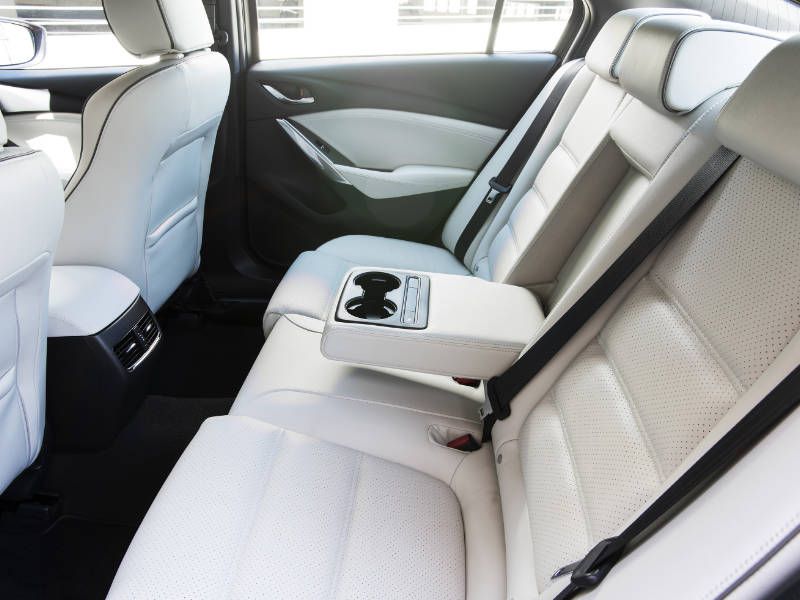 Photo by Mazda
A nice enough engine…
The Mazda6 is powered by a 2.5-liter 4-cylinder engine that develops 184 hp and 185 lb-ft of torque, which is par for the course among mid-size sedans. The Mazda6 is one of the few mid-sizers left to offer a manual transmission; our test car had a six-speed automatic transmission, Mazda's Skyactiv design that provides a more directly-connected feel than typical automatics. Acceleration is brisk and similar to the base-model four-cylinder engines in other mid-size cars. Fuel economy is respectable, thanks to both the Mazda's lightweight and some nifty powertrain engineering; the EPA rates it at 24 MPG city/34 MPG highway with a manual transmission and 26/35 with an automatic (or 27/35 with an optional i-ELOOP package, which improves aerodynamics and only charges the battery when the car is decelerating). Still, those numbers fall short of the Nissan Altima, which is rated at 27/39 with an automatic transmission.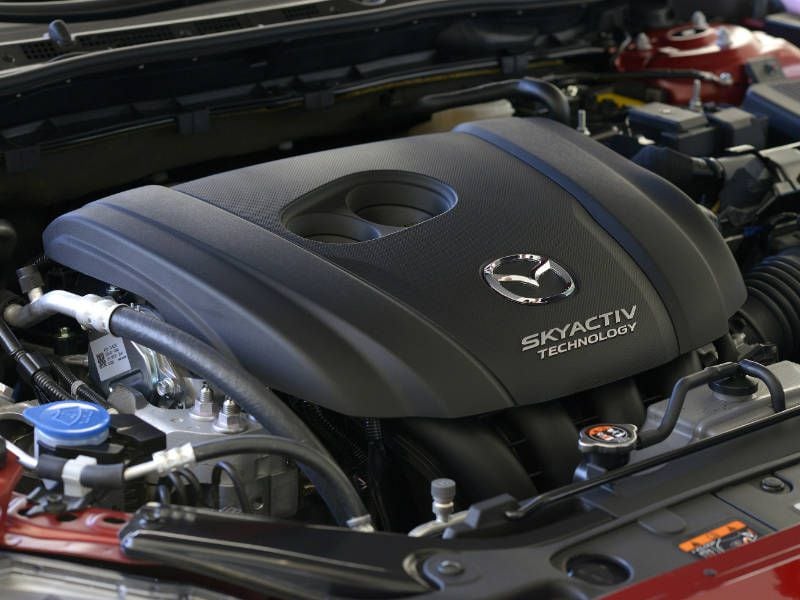 Photo by Mazda
…but we'd like more choices.
That brings us to another complaint about the Mazda6: The 2.5-liter engine is the only choice. Nearly all of the Mazda6's competitors offer a more powerful option (either a V6 or a turbocharged four), but the Mazda does not — the 2.5-liter engine is the only choice. The fuel economy is  Buyers who want more power — and that's not an unreasonable thing to desire — will have to shop for a different car.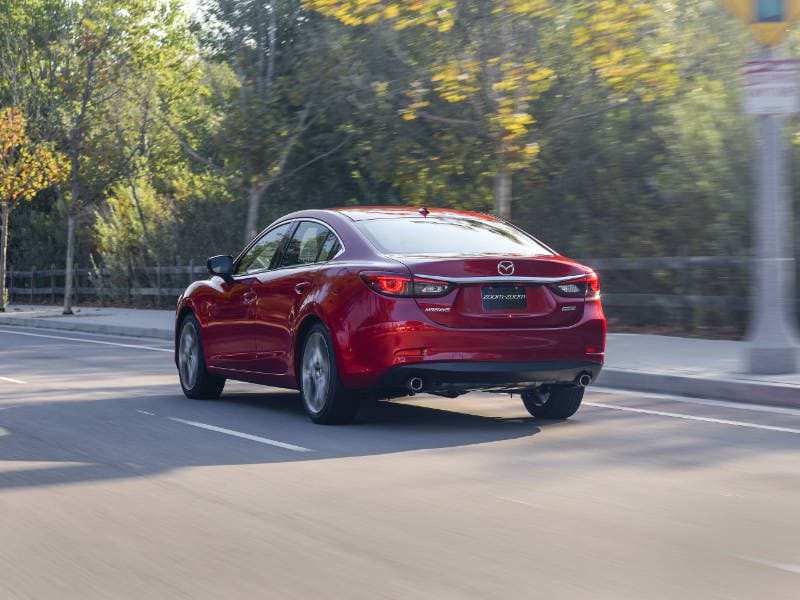 Photo by Mazda
A brilliant drive.
It's the way the Mazda6 goes down the road that endears the car to us enthusiasts. It's brilliant to drive, with steering that responds sharply and delivers good feedback and a chassis that is eager to grip the road and take the turns a little faster. Crank up the speed on a curvy road—not that we would ever recommend such frivolous behavior, especially not when our lawyers are reading these reviews—and the Mazda6 is happy to scamper around bends like a horse in a barrel race. The Mazda6 toes the line between family sedan and sports car, but it always stays on the correct side of the line—the ride, while firmer than some of its competitors, remains steady, comfortable, and reasonably quiet.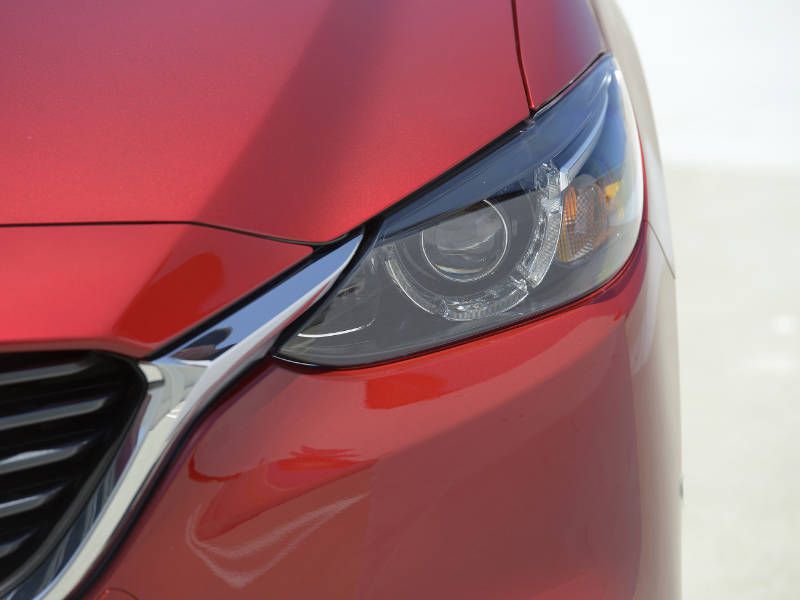 Photo by Mazda