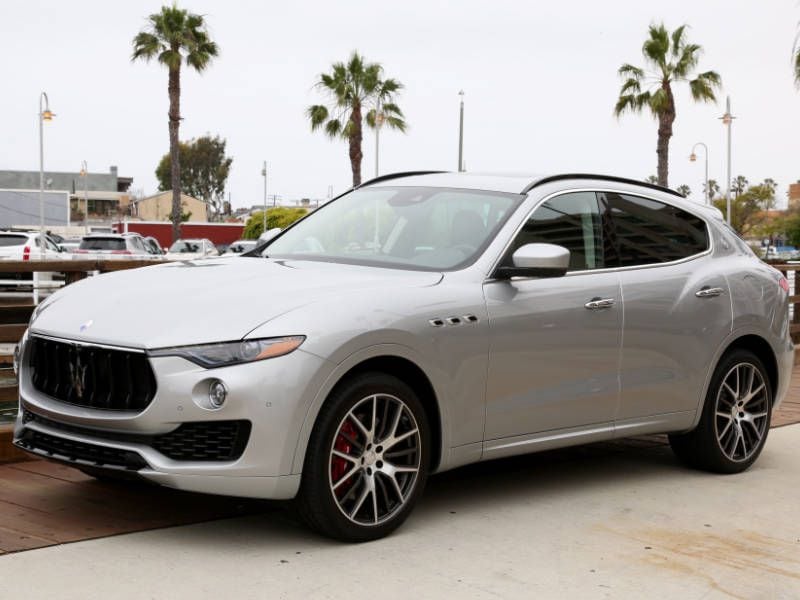 2017 Maserati S Q4 Front 3 4 ・ Photo by Miles Branman
The day has long passed when an automaker could exist in a silo, churning out one segment of vehicle and reeling in profits. Consumers demand more of each brand than ever before; they don't just want a sports car; they want a sedan; and an electric vehicle; and an SUV.
One by one, performance manufacturers have bent to the wills of their constituents. Porsche has its Cayenne, Macan and Panamera; Aston Martin its Rapide Bentley its Bentayga; BMW its… everything. Even those that have resisted will soon change. If you believe McLaren will only make two door sports cars forever, take a look at Lamborghini's product roadmap.
It comes as no surprise, then, that Maserati now builds an SUV. The Levante is attractive, powerful, and luxurious to be sure, but so are its numerous rivals. To be successful, the Levante mustn't just meet performance SUV standards; it must dictate them.
Uncharted Territory
An SUV is an uncharted territory for Maserati, making the Levante an entirely fresh spectacle. Underpinning the stilted five-seater is a Ghibli platform, paired with a Ferrari-derived V6 and standard all-wheel drive. Maserati benefits from parent company Fiat Chrysler automobiles' parts reserves for interior technology, but the rest is all-Italian goodness. Design cues echo Maserati's sedan and sports car offerings, integrated within a taller figure.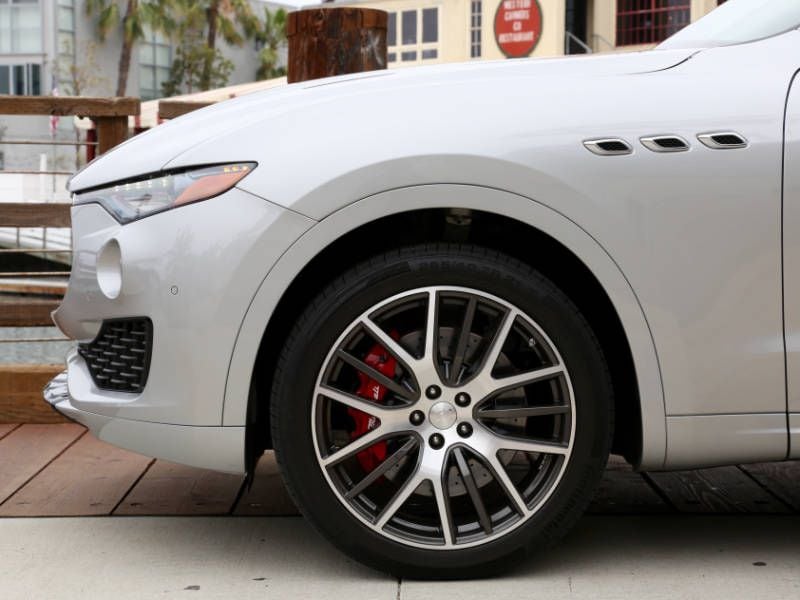 Photo by Miles Branman
Exterior Styling
Even without the Trident badging, it takes little effort to identify the Levante as a Maserati. During my week with the luxury suv, all manner of onlookers murmured commentary about the "new Maserati" — without my confirmation. The Levante's silhouette doesn't break the mold for this class of vehicle. Its long bonnet, sloped roofline, and defined wheel arches are echos of other performance crossovers; but details like the pronounced hexagonal grille, signature tri-port accents, oval LED taillights, and integrated quad-pipe exhaust are Maserati-exclusives. My sport package-equipped Levante S Q4 adds dazzling 21-inch wheels and subtle black accents to the mix. Judge not the Levante's design by its Grigio Metallo (silver) paint scheme pictured above, especially set before a June gloom sky; the available Blu Emozione metallic is flat-out gorgeous and highlights the SUV's character lines perfectly. Furthermore, Maserati offers no less than 13 exterior colors, all but guaranteeing compatibility with your local sky.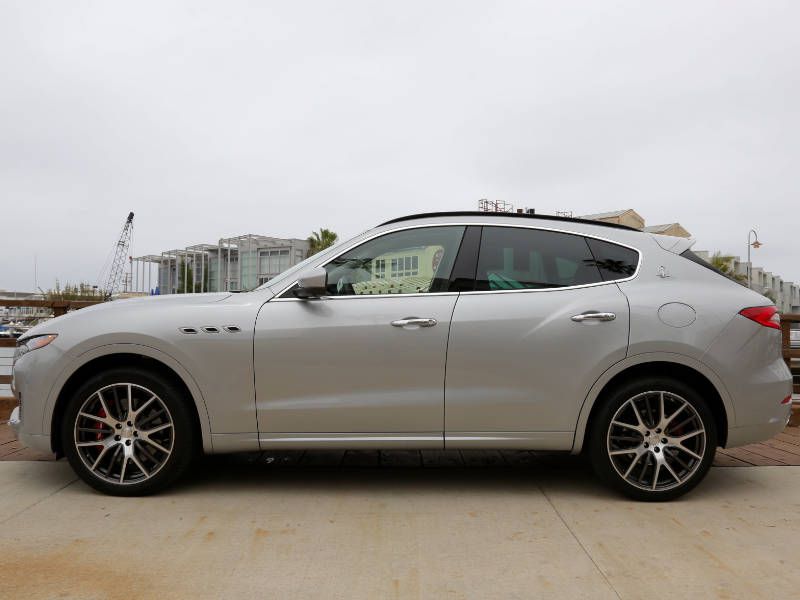 Photo by Miles Branman
Interior Comfort
If the Levante's exterior doesn't enchant you, its interior should do the trick. Rich leather lines the seats, dashboard, door panels, and center console. Optional carbon-fiber trim covers the door panel inserts and center stack. Red contrast stitching (specific to the Sport package) adds a splash of color to the dark-themed cabin. Heated sport seats offer front passengers more comfort than lateral grip, though most SUV customers prefer breathing room and ergonomics to side-crushing support. Rear passengers have no shortage of head and legroom. An available panoramic sunroof complements the cabin's generous space with an added sense of it. Apart from the interior's leather and carbon fiber touch points, quality plastics are used for the window switches, center stack buttons, cup holders, and lower door moldings. Though I'd prefer to see less un-textured material in a luxury vehicle, the interior's premium impression remains untarnished.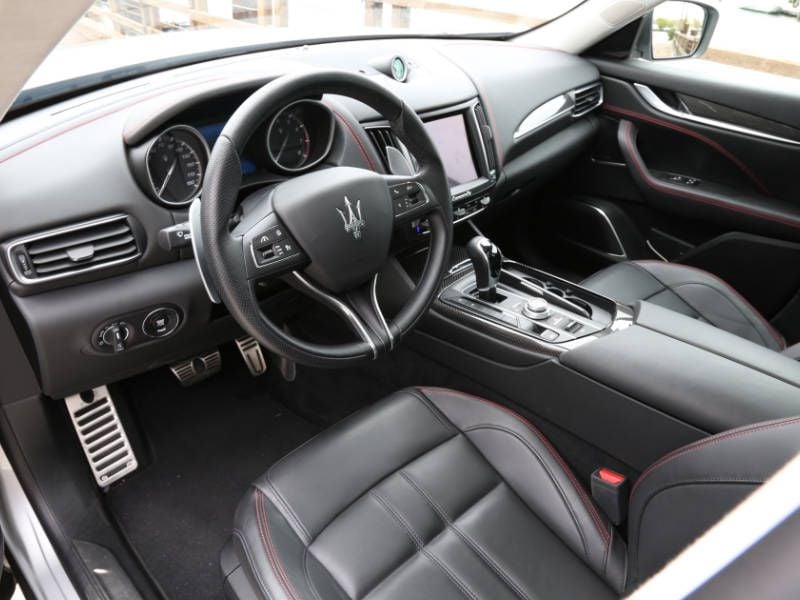 Photo by Miles Branman
Powertrain
Like other Maserati models, Levante uses a Ferrari-sourced engine – this one a 3.0-liter turbocharged V6, tuned to deliver 345 hp and 369 lb-ft of torque in the base, 424 hp and 428 lb-ft of torque in the S model, hooked to a ZF 8-speed automatic transmission with manual shifting mode. Fuel economy ratings are 14 mpg city/19 mpg highway/17 mpg combined (16 for the S). 0-60 is a 5.8-second exercise in the base car and a 5.0-second sprint in the Levante S. Power is distributed to the rear wheels by default, but up to 50 percent of available torque can be sent to the front wheels when needed. A limited-slip differential is used to facilitate maximum traction under hard acceleration. And unlike many contemporary performance vehicles, the Levante's exhaust music is all-natural.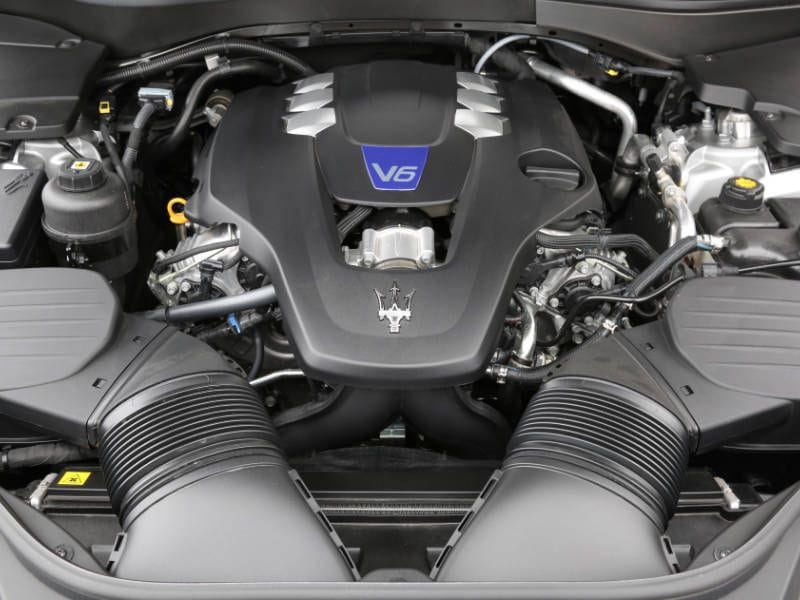 Photo by Miles Branman
Driving Dynamics
As ferocious as the Levante is in a straight line, it impresses most in a corner. Maserati manages its mission in part via a brake-based torque vectoring system, which applies braking to the inner wheel to help the vehicle rotate mid-corner; the other piece of the handling puzzle is a sophisticated adaptive suspension combined with four drive modes: Normal, I.C.E., Sport, and Offroad. Levante employs a traditional hydraulic steering setup. While this decision eliminates the opportunity for lane keeping driver aids, it means honest communication from the front axle, and less steering wheel chatter while cruising. Balance in the corners, restrained body roll, and intelligent power delivery put the Levante at the top of its crossover class. Only the most expensive versions of its competitive set can keep pace.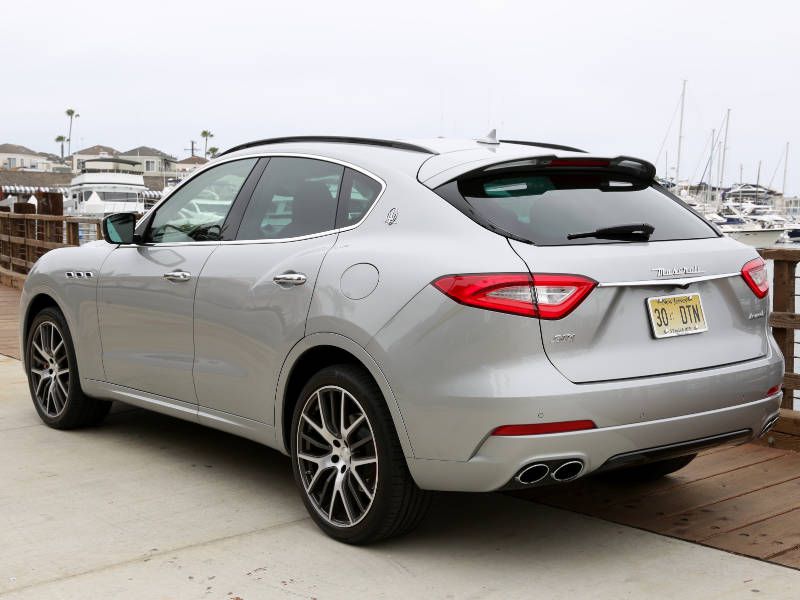 Photo by Miles Branman
Convenience and Safety Features
The Levante's performance is very clearly the doing of Maserati's sports car-obsessed engineers, but the interior technology is borrowed goods. Make no mistake, however – that's good news for buyers. Unlike the overly complicated systems some auotmakers develop in-house, the Levante's UConnect-based interface is both advanced and intuitive. A crisp 8.4-inch center display with an app-based menu accesses climate controls, navigation settings, surround view camera angles, and media. Apple CarPlay and Android Auto are also on board. An available 10-speaker Harmon Kardon sound system or 17-speaker Bowers & Wilkins stereo will put music lovers in the right state of mind. Though IIHS and NHTSA have yet to rate the Levante's crash safety, the SUV is available with a number of driver aids. Apart from a standard backup camera, options include blind spot monitoring, rear cross traffic alert, front and rear parking sensors, a 360-degree camera, lane departure warning, adaptive cruise control, and forward collision warning with brake assist.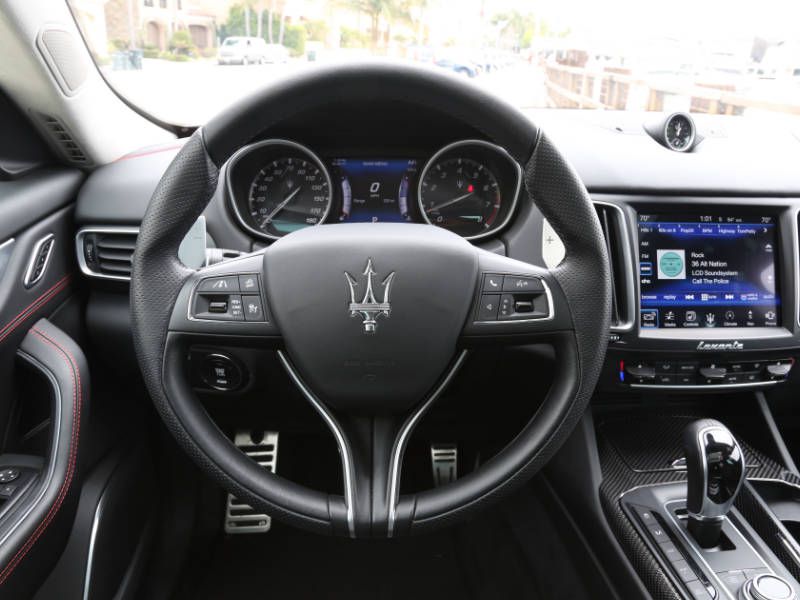 Photo by Miles Branman
Pricing and Packages
Maserati prices its Levante from $72,600 and the feistier Levante S from $83,300. Though the base spec starts at a higher price point than its rivals, it comes better equipped as standard.
In addition to aforementioned features, the Levante ships with navigation, Bluetooth, USB and SD card slots, an eight-speaker audio system, satellite radio, dual-zone automatic climate control, proximity keyless entry, push-button start, cruise control, leather upholstery, heated and 12-way power-adjustable front seats, a power-adjustable steering wheel, power liftgate, and adaptive air suspension. The S adds upgraded leather upholstery, a panoramic sunroof, shift paddles, blind spot monitoring, rear cross-traffic alert, and front and rear parking sensors.
Beyond the main trims, there are several packages and standalone options. Many of the package features can be added independently.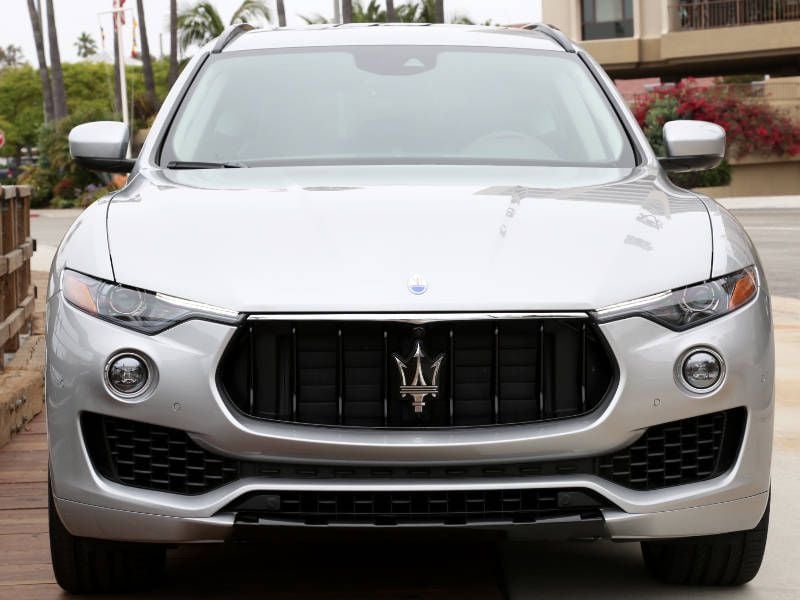 Photo by Miles Branman
Highs and Lows
Highs: -    Weight-defying handling -    Sinister exhaust note -    Comfortable, sophisticated cabin -    Flawless interior technology -    Brand pedigree Lows: -    Unavoidably firm ride -    High starting figure for the segment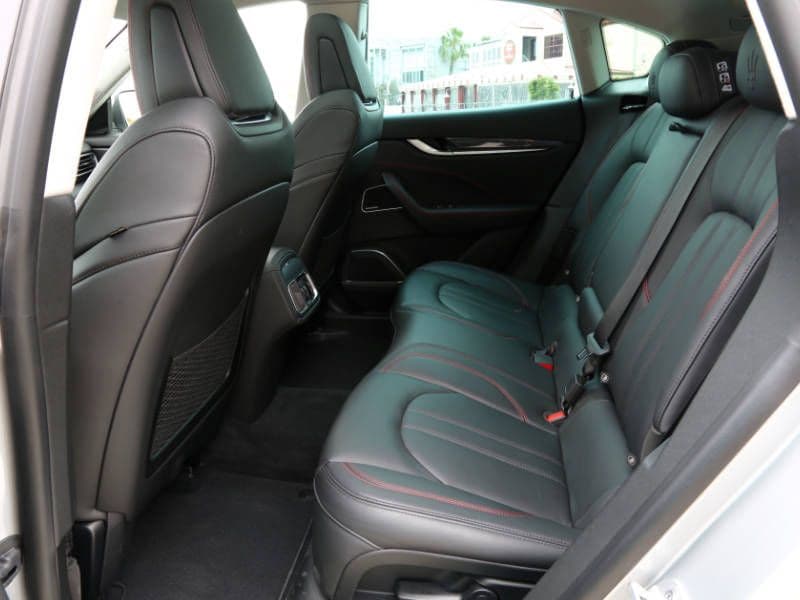 Photo by Miles Branman
Competition
The 2017 Maserati Levante competes most directly with the Porsche Cayenne, BMW X5, and Land Rover Range Rover Sport. Comparably equipped, the Levante S falls between the BMW X5 xDrive50i's $73,650 price point and the Porsche Cayenne GTS's $97,200 figure. In terms of power, the Levante S matches the X5 xDrive50i and Cayenne GTS, but falls short of the Range Rover Sport Supercharged's 510 horses. The Levante is the lightest vehicle in this competitive set by a good margin.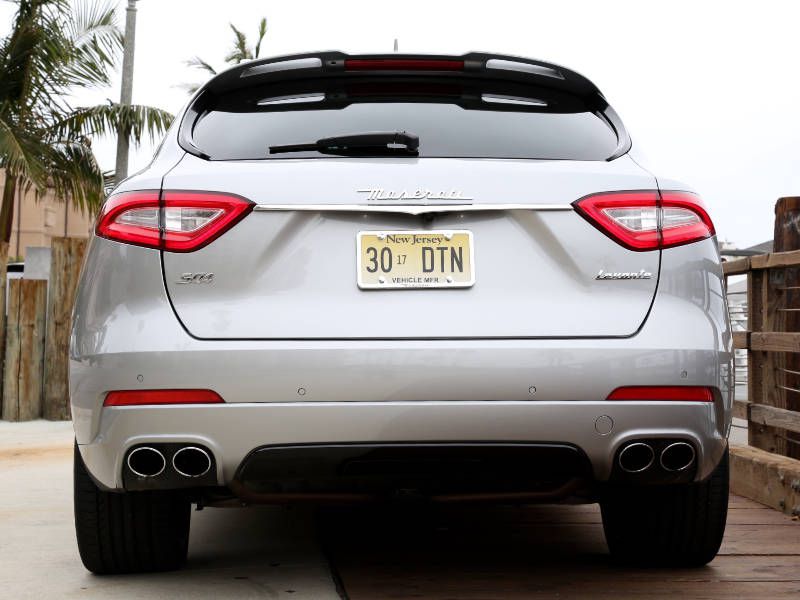 Photo by Miles Branman
Our Take
Maserati took its time getting here, but it's clear the Italian automaker hasn't been sitting on its hands. The Levante isn't just another performance luxury suv, despite its appearance. Where tires meet the tarmac, the Levante is a superlative sounding, handling, and coddling machine. The price may be steep, but so is the hill competitors must climb to match Maserati's latest.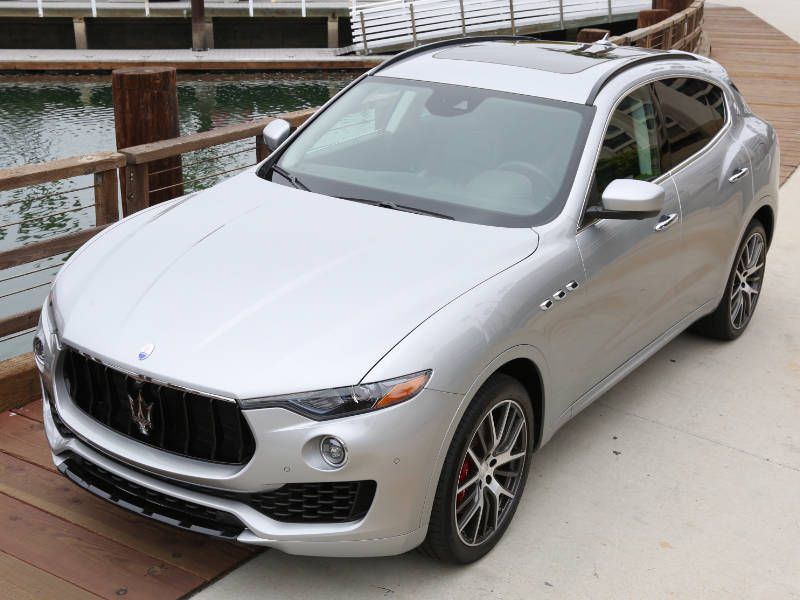 Photo by Miles Branman