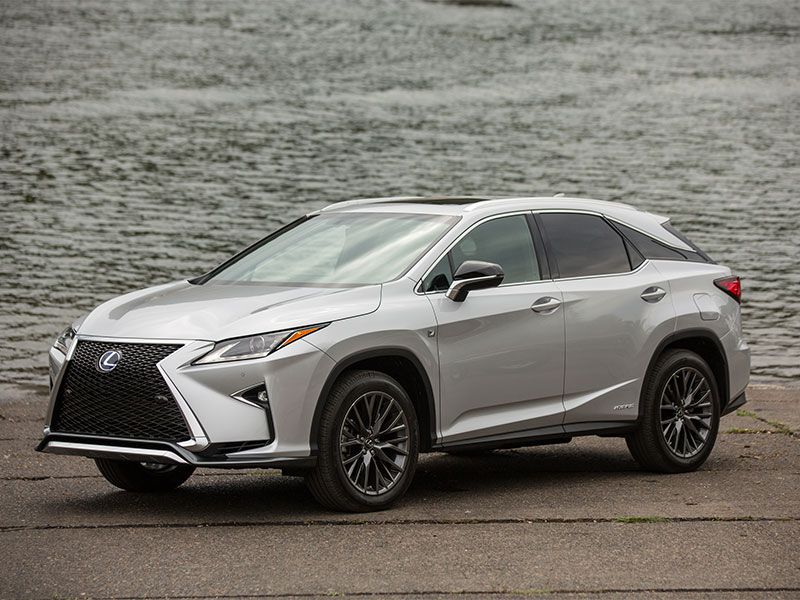 2017 Lexus RX 450h F SPORT exterior front angle ・ Photo by Lexus
Last year, Lexus took one heck of a gamble: The company made fundamental changes to its 5-seat SUV, the RX, giving it more aggressive styling and more aggresive road manners. One year on, how is this radically different RX holding up? Let's drive it and find out.
Big Changes for a Big Seller
The big LS sedan may be the Lexus brand's flagship, but one could argue that the RX is its standard bearer. A 5-seat SUV aimed at the heart of the luxury market, the RX has for years encompassed Lexus' brand values. It's a vehicle that is quiet and comfortable, posh and unobtrusive, a rolling cocoon for a hectic world. So the RX's transformation comes as a bit of a surprise. Lexus is looking to lose its somewhat stodgy image, and its latest vehicles have emphasized daring design and a sportier driving demeanor. This new image works like crazy on the small IS sedan, but applying this new sporty demeanor to the RX—now that's a bold move.
Photo by Lexus
To spindle or not to spindle?
We generally write our Autobytel reviews form the viewpoint of the Royal We, but I may be alone here: I like the way the new RX looks. It seems like everyone I talk to has a problem with the big spool-shaped grille, and I must admit they have a point: If one of these somehow got buried in peat and was dug up a hundred thousand years later by archeologists, they would most likely assume it was some sort of sea-going creature that skimmed the water for krill in much the same manner as a baleen whale. I have never been the most aesthetically-aware person, but I don't mind the big grille, and I think it goes quite nicely with the RX's edgy sheetmetal. But perhaps my taste for the new shape stems from my utter boredom with the third-generation (2009-2015) RX, which couldn't have been more anonymous if it wore a paper bag over its hood.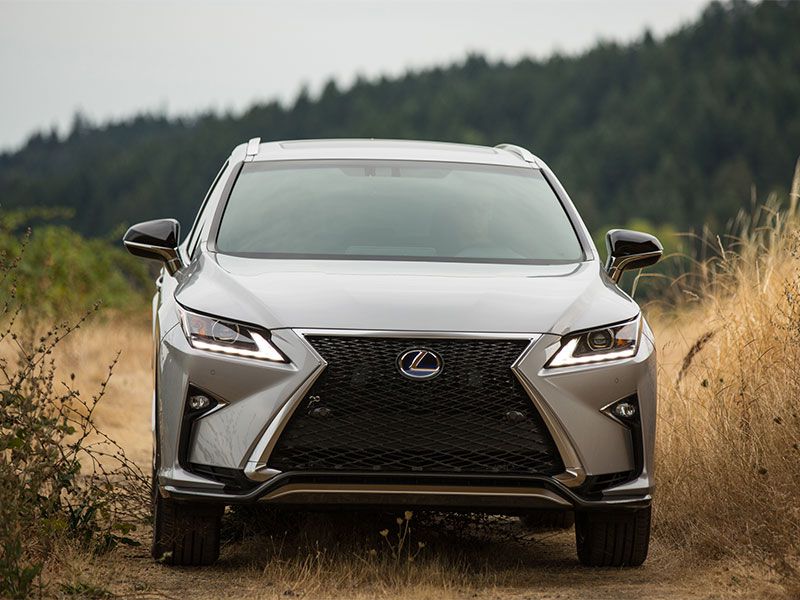 Photo by Lexus
A look inside the RX...
As for the interior styling—I'm a bit indifferent, really. I spent nearly two weeks and some 2,000 miles behind the wheel of the RX, and while I didn't dislike the interior, nor did I fall in love with it. Not disliking it is a major accomplishment, because the RX does exhibit one of my pet peeves: Lots and lots of buttons. They are big, labeled well, and easy to find, and I can live with that. I like colorful interiors, and the RX certainly scores points there: My test vehicle had a black dash with silver trim—and red leather upholstery! I love red interiors, and the red leather on my Lexus RX extended to the center and door armrests. The materials are as nice as can be, and while the design is certainly pleasant and attractive, it didn't take my breath away.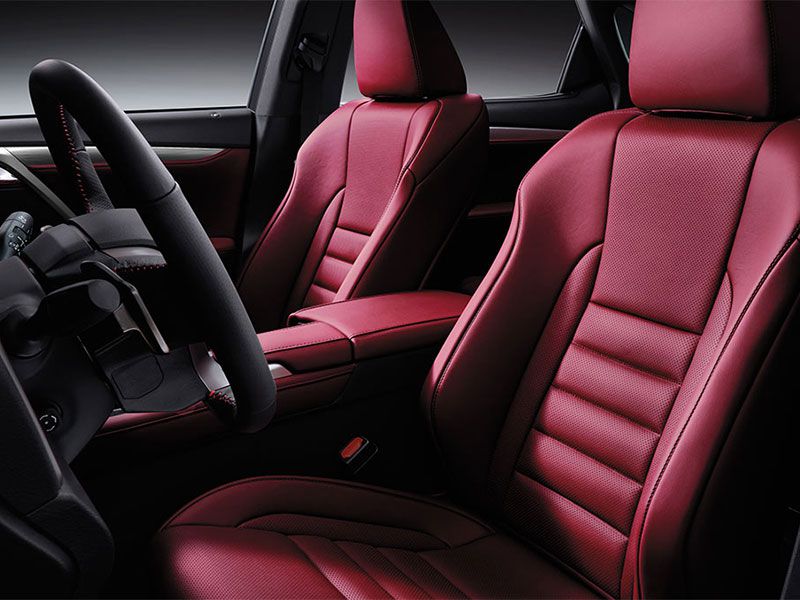 Photo by Lexus
Adventures with Remote Touch
One controversial bit of the 2017 Lexus RX is the Remote Touch interface, which uses a small moving pad that works a bit like a mouse, controlling a cursor on the screen. The system uses haptic feedback; when you get to one of the buttons on the screen, the pad feels as if it drops into a little divot. (It's a nifty bit of technological trickery, as there are no divots there.) But the system has the same problems that one might encounter if, say, one decided to use a laptop computer while driving a car, which I'm sure we all can agree is a terrible idea.
You have to look at the screen to position the cursor, when in fact you should be looking at the road. The Lexus won't let you program the navigation system while the vehicle is moving, which, given the complexity of the system, is undoubtedly a good thing. But pulling over and trying to type in a street name with the mouse-like thingie proved to be an infuriatingly slow experience. The week after I turned in the RX, I test-drove a Toyota Tacoma pickup, which uses similar software pared to a normal touchscreen. I could program an address in half the time. The RX does have a touchscreen function, and it's a better way to program.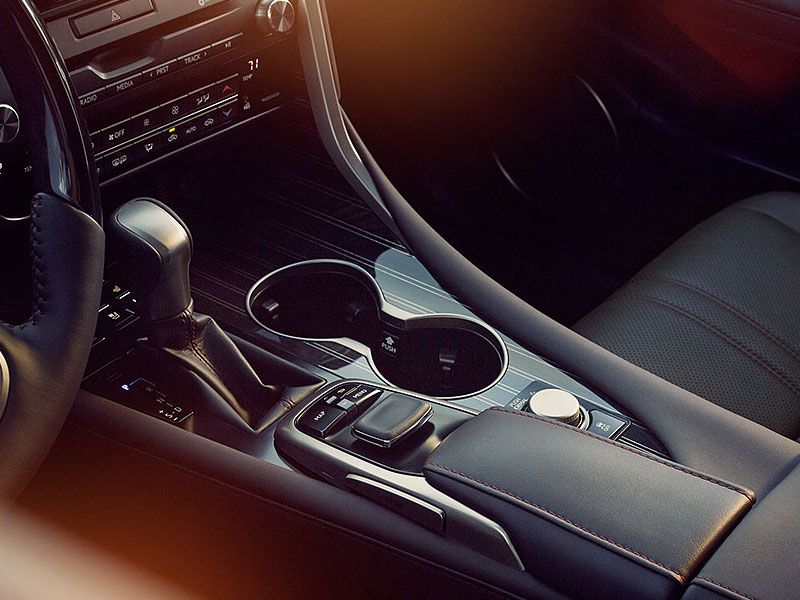 Photo by Lexus
Seating and Cargo
In seating and cargo space, I have no complaints. I found the Lexus RX Hybrid's front seats very comfortable, even after spending up to 10 hours a day in the driver's seat (I like to meander on back roads). Driving solo, I felt as if I was wasting a perfectly good back seat. There's plenty of room, the floor is flat, and the seatbacks recline. My test car had a panoramic sunroof, allowing back-seaters to enjoy the view above. In cargo capacity, the RX 450h test vehicle offered 18 cubic feet; non-hybrid models get a bit more space. This is less trunk space than is offered by rivals, but I had plenty of room for my suitcase and all the bits and bobs I wound up buying during my road trip.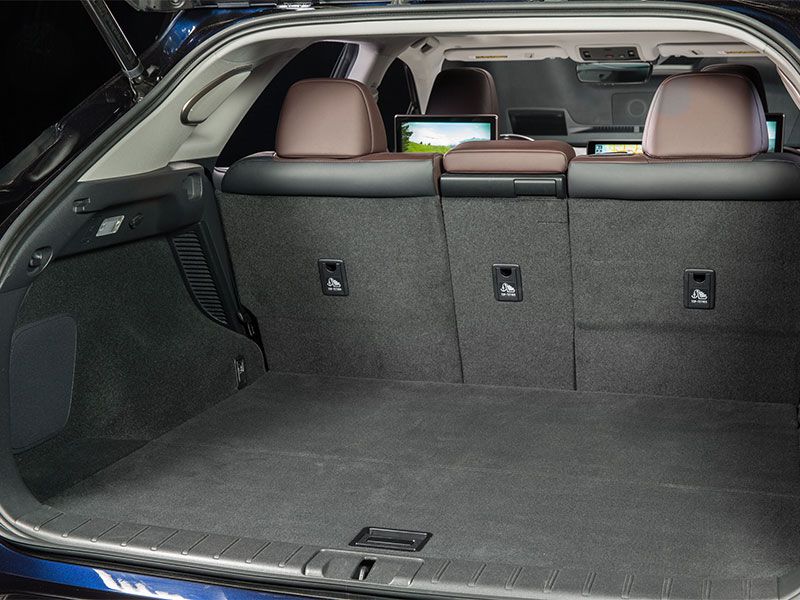 Photo by Lexus
Unusual AWD
The "h" in a Lexus model name denotes a hybrid; in the case of the RX, that means you get a 259-horsepower 3.5-liter V6 coupled to a Lexus' Hybrid Synergy Drive, which incorporates a 165-hp electric motor. Hybrid RXs come standard with all-wheel drive, but instead of having a mechanical coupling they employ a 67-hp electric motor to drive the rear wheels. I was curious to see how this system worked in the snow, and Mother Nature obliged: My drive from New York City to Detroit via Erie, Pennsylvania, took me through a blizzard, and I was impressed with how well the RX's hybrid all-wheel-drive system worked in thick snow. The system seems to sense wheelslip early, and sends power to the rear axle before the front wheels can start spinning. Several times—purely in the name of investigative reporting, mind you—I tried flooring the accelerator pedal on slippery roads, and each time the RX would pull smoothly away. Very nice!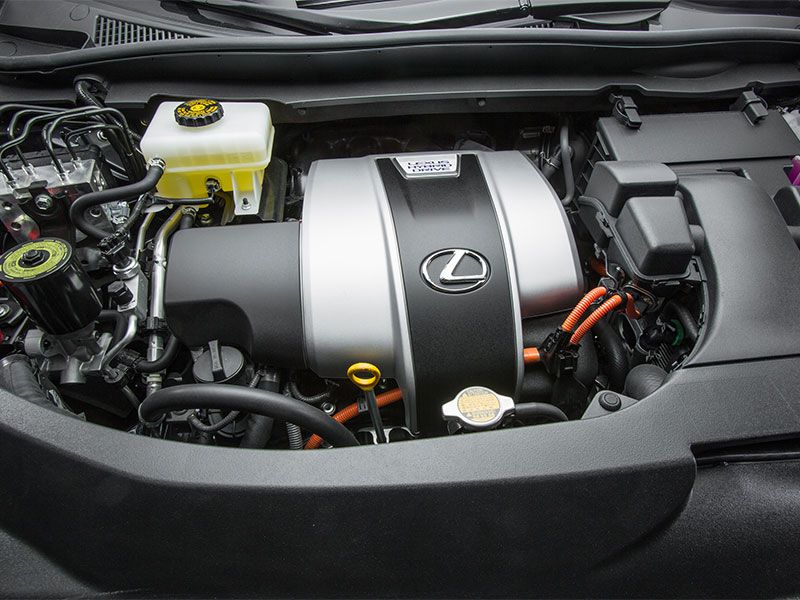 Photo by Lexus
Shouldn't a hybrid save you money?
Rain washed away the snow for the second half of my trip, so I got to drive the 2017 Lexus RX 450h under more typical "rest-of-the-year" conditions. The RX's hybrid powertrain is a strange compromise: One expects a hybrid system to either deliver great power or great fuel economy.
Power was just OK: The RX 450h felt quick, but it didn't exactly knock my socks off. EPA fuel economy for the RX 450h is 31 mpg city/28 mpg highway, which is certainly better than the non-hybrid RX 350's 19/26. I averaged 26.7 mpg in mostly city driving, which is good but not great for a big SUV—but the RX 450h uses premium fuel, which greatly increases fuel costs (in some places I was paying 60 cents per gallon more than for regular). Many luxury manufacturers have switched their V6s to direct fuel injection, which, among other things, allows them to use regular fuel. It'd be nice if Lexus (Toyota) would do the same.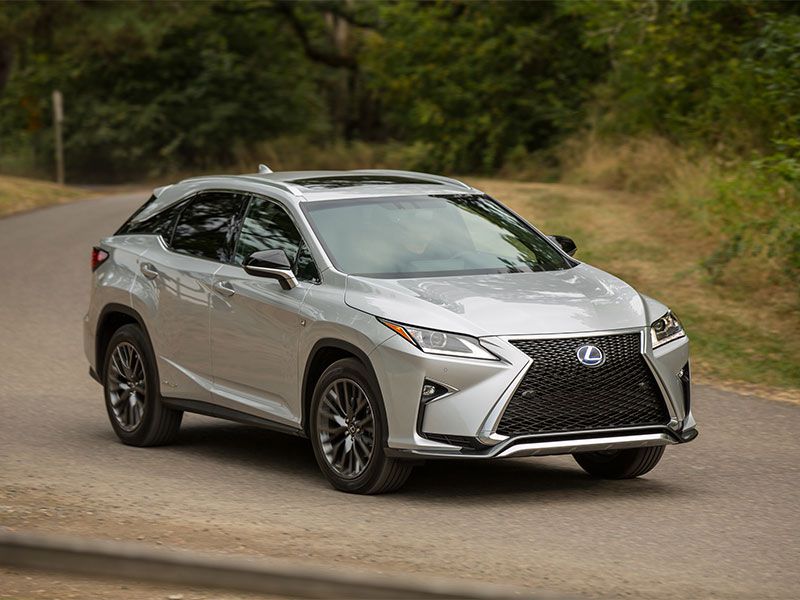 Photo by Lexus
Sportin' along in the F-Sport.
My test Lexus had the F Sport package, which jazzes up the RX with racier interior and exterior styling cues and enhances the drive with an adaptive suspension and performance shock absorbers. The old RX drove much like it looked—bubbly and anonymous—and the new one has road manners that match its attractive new shape. The 2017 Lexus RX Hybrid responded promptly and crisply to the steering wheel, and it stayed composed and controlled when I took turns with a little speed. And while ride and handling are usually a trade-off, that isn't the case in the RX. There was a definite difference in ride quality as I switched the adaptive suspension through its different modes, but even in the most aggressive setting the RX remained quiet and comfortable. It's great to see Lexus imbuing the RX with some handling chops, and even better to see that it doesn't impact ride quality or serenity.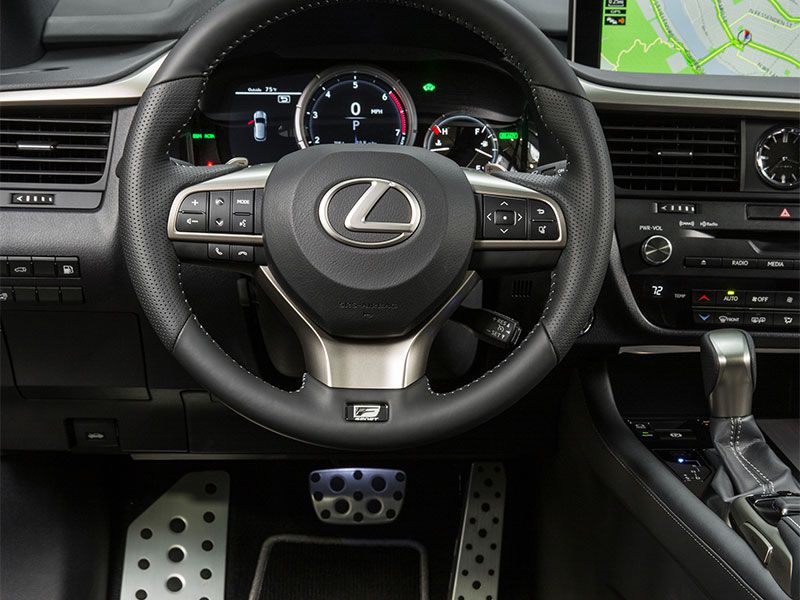 Photo by Lexus
Price and Competition
Pricing for the RX starts at $44,115 (including a $995 destination charge) for the front-wheel-drive RX 350 and goes up to $57,640 for the all-wheel-drive RX 450h F-Sport Hybird I drove, but that's before you add options; click enough option boxes and the price can top $60,000. Shop around in this segment, and you'll see that's par for the course—in fact, the Mercedes GLE and BMW X5 will easily top those numbers. The Audi Q5 is closer to the Lexus in price, as is the Cadillac XT5, but all of these SUVs lack a hybrid option, so if a gas-electric powerplant is what you want, you'll need to check out the Infiniti QX60 (Acura has a hybrid version of its MDX on the way, but it wasn't in dealerships at the time of writing).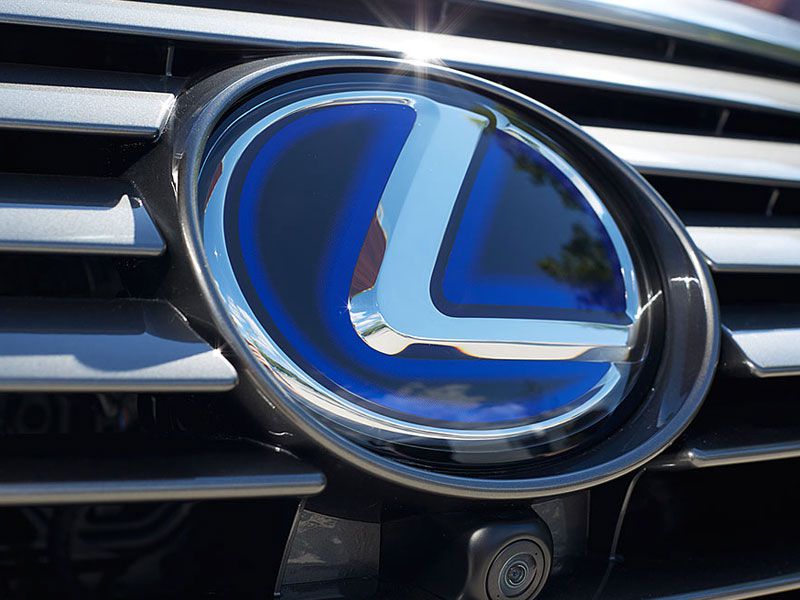 Photo by Lexus
Our Final Take
I'm a huge fan of the changes Lexus has made to the RX. I like the way this Lexus suv looks, I like the way it drives, and I don't mind the giant grille. In fact, I don't miss the old RX at all. If you like your SUVs to be staid and boring, you might not like the new RX, but if you can stand a little visual excitement, you'll enjoy this well built Lexus every bit as much as I did.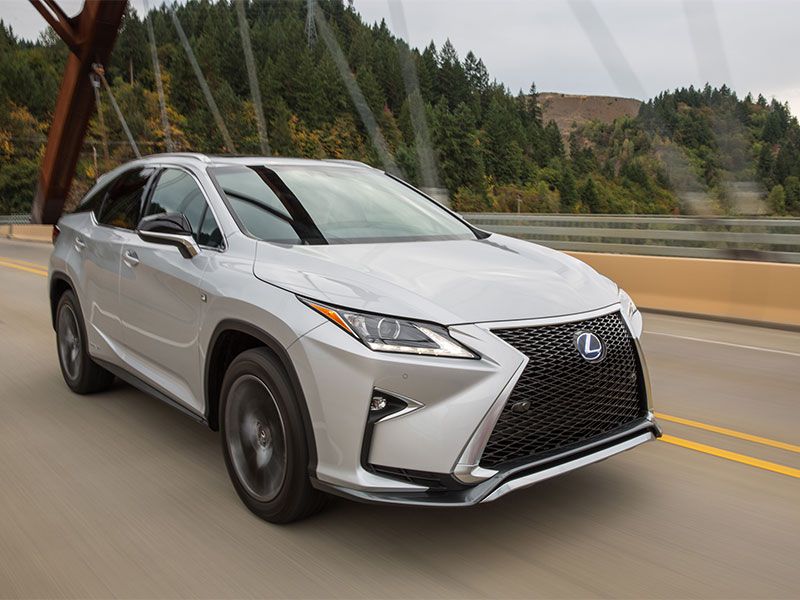 Photo by Lexus