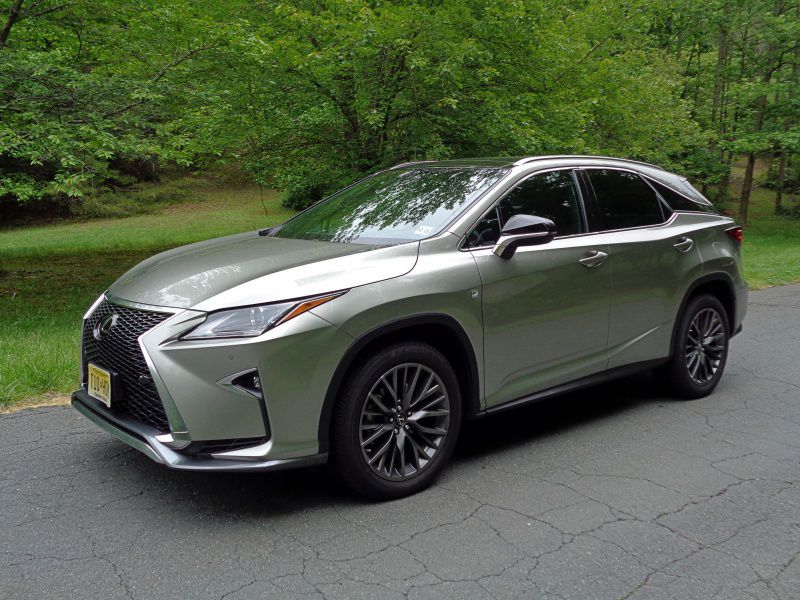 2017 Lexus RX 350 FSport by Brady Holt ・ Photo by Brady Holt
The Lexus RX crossover isn't only the most popular model from Toyota's luxury brand. Nor is it merely America's most popular premium crossover. It's also the best-selling luxury vehicle in the country. Despite its overwhelming popularity, Lexus became concerned that some prospective customers were finding the RX too stodgy. Accordingly, this midsize crossover's 2016 redesign adopted edgier, more aggressive styling, particularly on the tested F Sport version. Even so, it continues to deliver the model's tried-and-true flavor: a premium experience and a usefully roomy interior at a comparatively affordable price.
What it Costs
The RX's most direct competitors are two similarly sized, similarly priced American models: the Cadillac XT5 and Lincoln MKX. The Lexus also competes with smaller but comparably priced European models like the Audi Q5 and Mercedes-Benz GLC, along with the pricier mid-size Mercedes GLE. In this crowd, it delivers respectable value for the money.
Specifically, the 2017 RX starts at $43,220. The base model is the RX 350, powered by a 295-horsepower 3.5-liter V6 mated to an eight-speed automatic transmission. Standard features include a nine-speaker sound system, a power liftgate and a generous complement of safety equipment. The tested RX 350 F Sport has a performance-tuned suspension and various aesthetic changes, along with additional luxury equipment; it starts at $49,120.
There's also an RX 450h hybrid, which combines the V6 engine with an electric motor to return 308 horsepower and outstanding fuel economy. It starts at $53,055, with more standard features than the RX 350.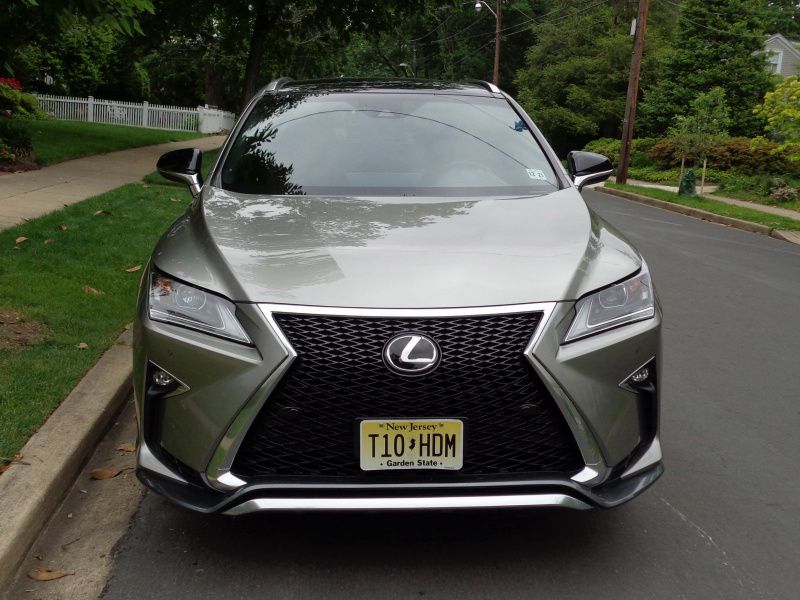 Photo by Brady Holt
Edgy Exterior
A big dramatic grille and sharp creases and angles make a clean break from the gently rounded RX models of the past. Lexus has been rolling out an hourglass "spindle" grille across its lineup — even the previous RX generation was retrofitted with a subdued version — and this RX 350 F Sport is especially hard to miss. (The ordinary RX, as opposed to this F Sport, has a slightly more muted grille and smaller wheels: 18 inches instead of 20.) All RX models also include a trendy "floating roof" side profile, created by blacking out a connection between the rear windshield and side windows. The overall silhouette hasn't changed too much since 2004, when Lexus introduced a gently sloping rear windshield to avoid the boxiness of many competing crossovers at the time. That shape has become more of the norm in the intervening years, but the new RX's design details distinguish it from past models and the more quietly styled competition. While buyers' aesthetic tastes may vary, it's impossible to call the new RX anonymous.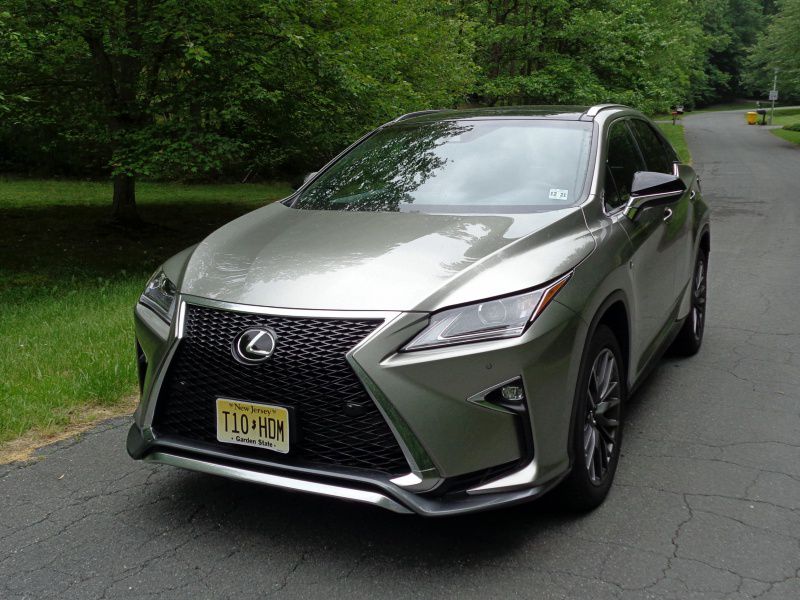 Photo by Brady Holt
Car-Like Cabin Design
Compared to the exterior, the RX 350's interior has a contemporary but restrained appearance. The infotainment screen sits atop the dashboard, allowing for a lower, slimmer dash than designers had needed to make room for the screen within the instrument panel. The result is that the cabin looks like an excellent luxury sedan instead of a big, bulky SUV.
The RX cabin makes a good first impression for its style and build quality, though some secondary buttons on the center console and steering wheel are basic plastic that looks and feels less luxury-grade. The tested vehicle's Rioja Red leather upholstery will also turn heads. Offered only on the F Sport, it adds some liveliness to the otherwise understated cabin. More muted colors are also available.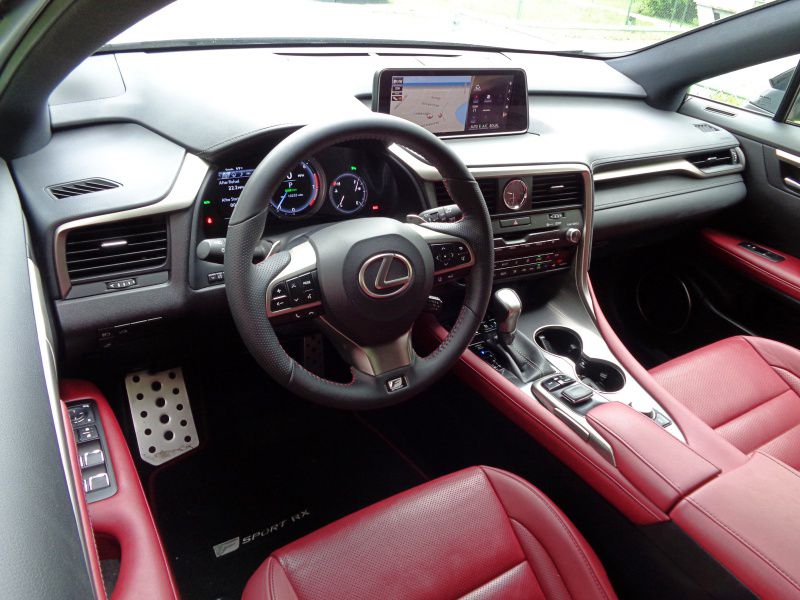 Photo by Brady Holt
Control Layout
Like every modern luxury car — and many cheaper ones — the 2017 RX includes an infotainment system that controls complex settings and displays information on a dashboard screen. But while most competitors use either a touchscreen or a rotary knob (or both) to operate this system, Lexus charts its own path. In the RX, a pointing tool, not unlike a computer mouse, sits near the shifter between the front seats; it's used to navigate around the display screen and make selections. While this setup is familiar to owners of recent Lexus models, it slows down some processes compared to some competitors. While we're nitpicking, the F Sport's sport-themed gauge cluster doesn't look as fancy as the standard RX model or most other premium crossovers.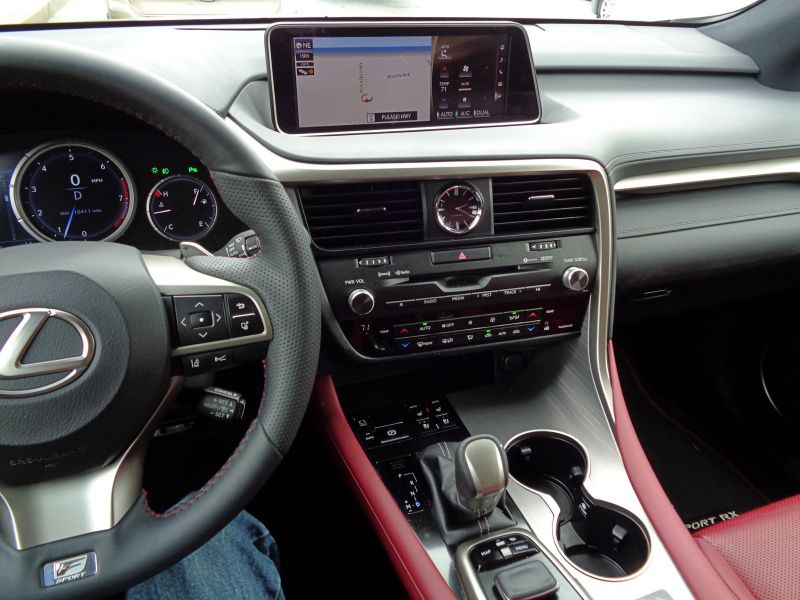 Photo by Brady Holt
Interior Room
The RX is a fairly large vehicle in the field of five-passenger premium crossovers. Its sheer size ensures that there's comfortable seating for up to five adults, provided that the front seats are raised above their lowest positions to ensure adequate foot space for rear passengers. The front seats pull off a particularly good balance between cushy and supportive. Cargo room is on the skimpy side for a midsize crossover, though — especially behind the rear seat, where there's relatively little room between the high floor and sloped windshield. Even so, the volume is competitive with some smaller but similarly expensive models like the Mercedes-Benz GLC. Unlike an Acura MDX, Infiniti QX60 or Volvo XC90, the RX isn't offered with a third-row seat. That's due to change for the 2018 model year when a longer-wheelbase version of the RX is due to hit the market with seven-passenger seating.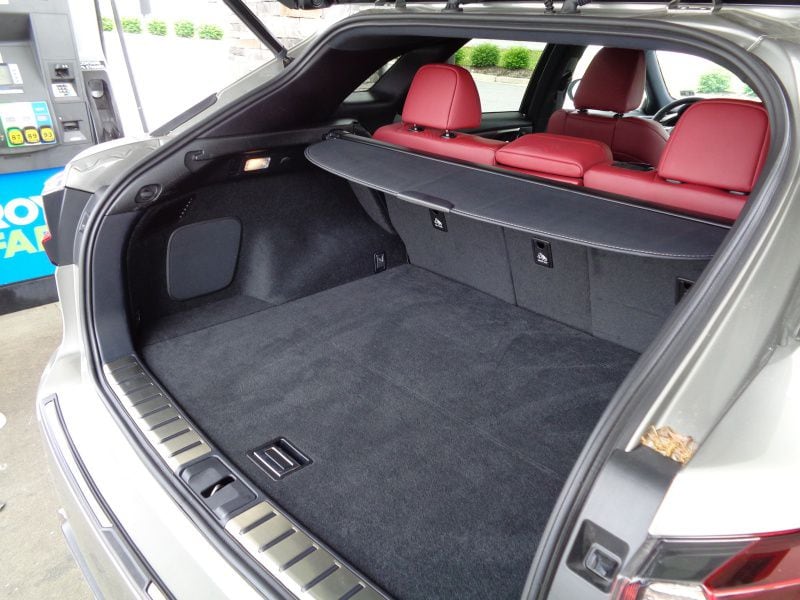 Photo by Brady Holt
Not a Sports Car
The Lexus RX has always been a crossover that's focused more on comfort and refinement than performance. It's always excelled in that regard. The F Sport tries to inject some additional excitement into the mix with suspension revisions and a "Sport+" driving mode, but the handling remains, well, like you'd expect from a comfort-focused midsize crossover. Furthermore, as with many vehicles' sport packages, be aware that you'll feel the RX F Sport's big wheels and stiffer suspension when you hit a bump. The RX does stand out from most luxury competitors for offering only V6 engines; most of today's competitors have turbocharged four-cylinders that offer similar specifications but don't sound as nice as a six-cylinder. But otherwise, if you expect your luxury crossover to have the handling of a sports sedan, you'll probably want to focus your attention on European competitors that include the agile Alfa Romeo Stelvio and the extra-composed Mercedes-Benz GLC. Many of these models do also have respectable ride quality.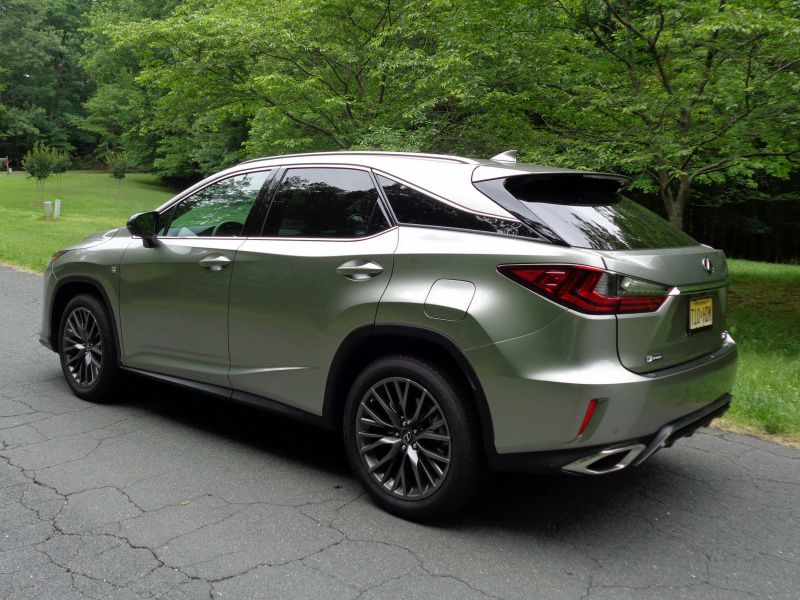 Photo by Brady Holt
Respectable Fuel Economy
Though quiet, the RX 350's V6 engine doesn't deliver truly invigorating acceleration. But perhaps more importantly, it does have excellent EPA fuel economy estimates. It's rated for 20 miles per gallon the city, 27 mpg on the highway and 23 mpg overall with the standard front-wheel drive, and drops by 1 mpg with the optional all-wheel drive. A few four-cylinder competitors do a little better, but the Lexus offsets their cost savings by demanding only regular fuel rather than premium. Meanwhile, the RX 450h hybrid offers the enviable balance of power and efficiency. With ratings of 31 mpg city, 27 mpg highway and 30 mpg overall, the RX 450h is well-suited to drivers who spend a lot of time around town or in other stop-and-go congestion — but it offers minimal advantages in steady highway cruising. Its higher price and premium fuel requirement do count against it on the value front. Like the RX 350, the RX 450h has an F Sport variant.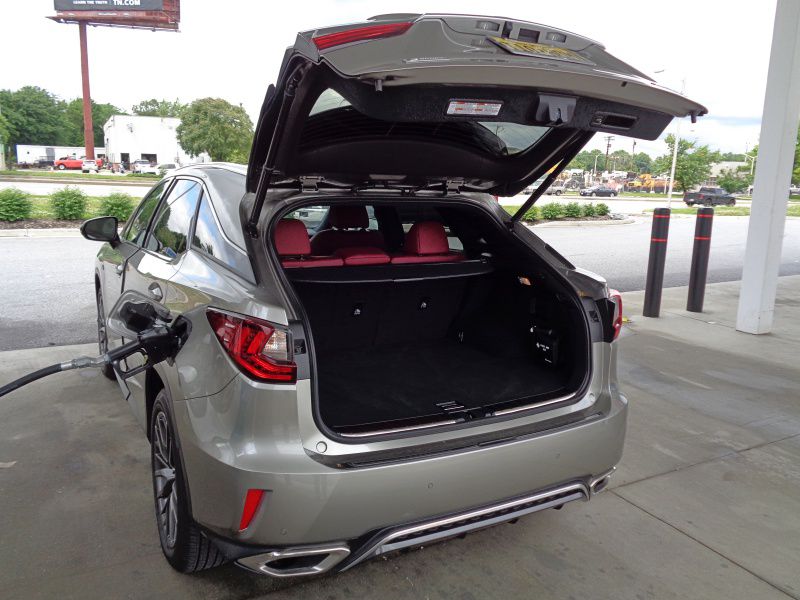 Photo by Brady Holt
Generous Safety Gear
Toyota and Lexus have taken the lead on offering a comprehensive suite of standard safety features, and the 2017 RX benefits from this corporate philosophy. Radar-based cruise control, automatic emergency braking, lane-departure warnings and even automatic lane-keeping steering are included on every RX.
Crash-test scores are also generally impressive. The RX was a standout in the Insurance Institute for Highway Safety's crash testing, winning the IIHS Top Safety Pick+ designation. In National Highway Traffic Safety Administration testing, however, it earned only four out of five stars for frontal-impact protection (though the maximum five stars for side impacts).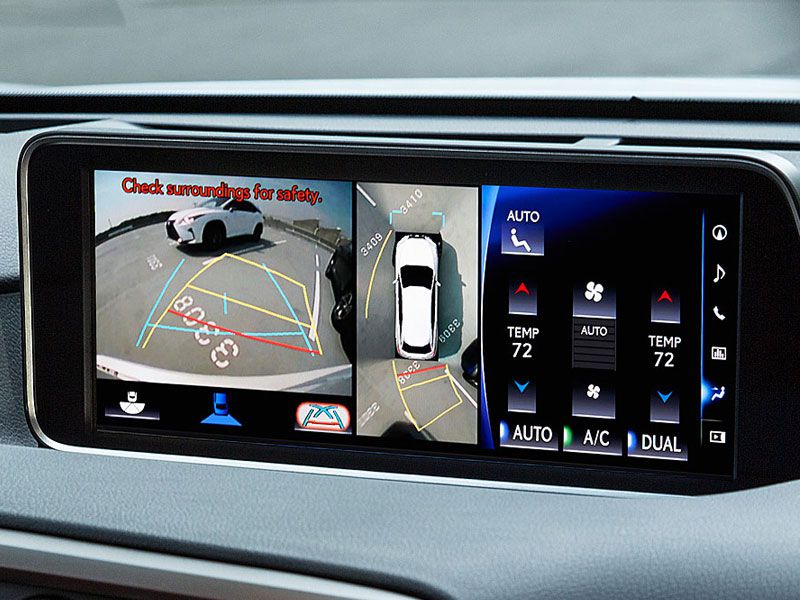 Photo by Lexus
Final Thoughts
The 2017 Lexus RX delivers an impressively modern design aesthetic and, on most models, a cushy driving experience. The RX 450h hybrid model is a particularly strong choice for eco-conscious buyers who'd spend a lot of time in low-speed stop-and-go traffic. But the RX F Sport isn't as sporty as its name might imply. The SUV's tempting aesthetic perks lack an aggressive, fun-to-drive experience while reducing its standard dose of relaxing comfort. And depending on your priorities, you can probably find a competitor with more meticulously crafted interior details; additional suspension composure; an infotainment system with slicker controls or more interior space — though not all at once. As long as you like how the RX looks, it provides a compelling blend of comfort, refinement and premium-grade ownership experience at a reasonable price.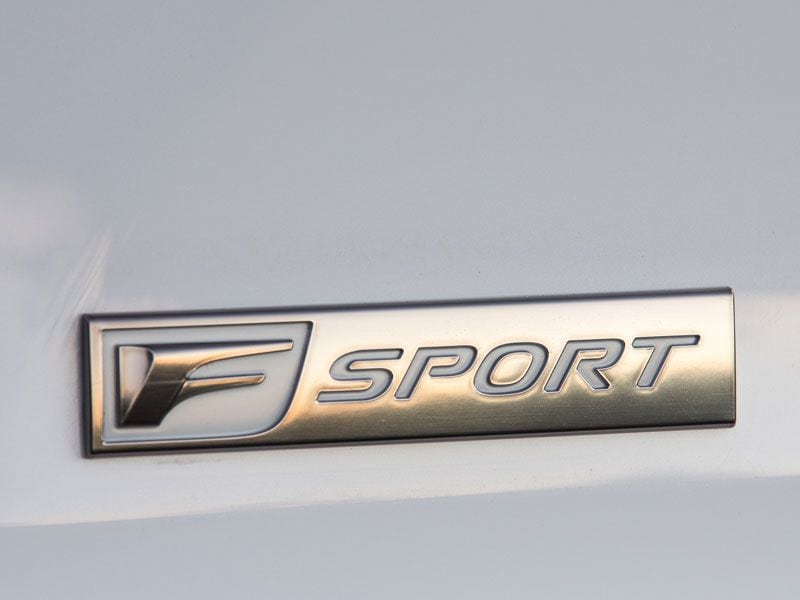 Photo by Lexus