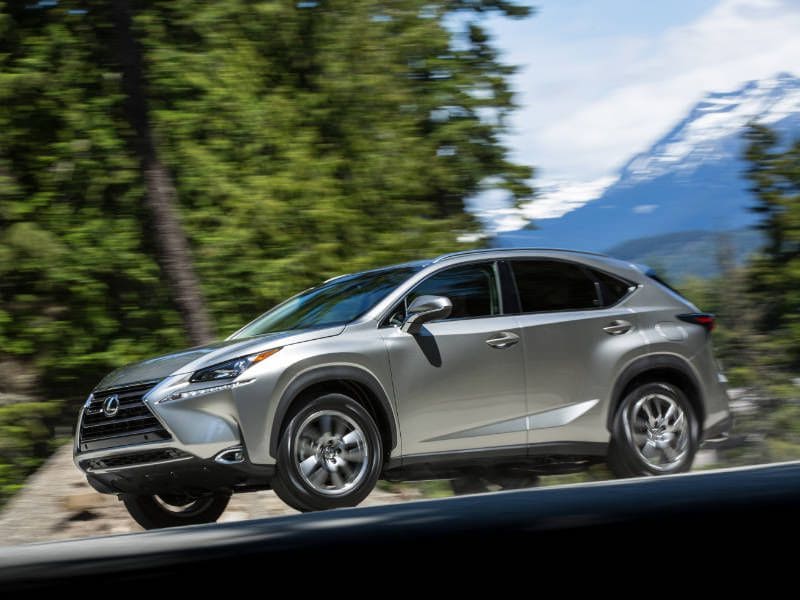 2015 Lexus NX 200t profile road ・ Photo by Lexus
The hot-selling 2017 Lexus NX is the luxury brand's smallest, sportiest and least expensive SUV. It continues a tradition of successful and desirable Lexus SUVs that began with the larger and extremely popular RX almost 20 years ago.
Before the RX, many luxury brands like Cadillac and BMW were unconvinced SUVs could be luxury vehicles. The success of the Lexus RX helped redefine automotive luxury and luxury SUVs have been a fast growing segment ever since. 
Built in Japan, the 2017 Lexus NX delivers a unique combination of style, luxury, performance, and technology. It's a consistent favorite in the extremely hot compact luxury SUV class, where it successfully competes against the BMW X1 and X3, Mercedes-Benz GLA and GLC, Audi Q3 and Q5, Acura RDX, Infiniti QX30 and QX50, Buick Envision and the soon to be introduced Alfa Romeo Stelvio.
Let's take a closer look at the 2017 Lexus NX.
Models and Pricing
Three trim-levels are available on the Lexus NX: The NX Turbo; NX Turbo F Sport; and the NX 300h hybrid. Although officially called the NX Turbo, the badge on its tailgate says NX 200t. It's powered by a 235-hp 2.0-liter turbocharged four-cylinder engine, which Lexus also uses in the IS sports sedan and the sexy RC coupe.
Prices start at $36,280 (including $995 for destination and handling) for the NX Turbo, which makes it the most affordable Lexus except for the much smaller CT hybrid. A 6-speed automatic transmission and front-wheel drive are standard, while all-wheel drive is available for an additional $1,400.
Prices top out at $40,715 for the NX 300h hybrid, which comes with standard all-wheel drive. This model combines a 2.5-liter four-cylinder gasoline engine with a small electric motor and a battery pack mounted near the rear suspension. Total output is 194 hp, and Lexus says this model can accelerate from 0-60 mph in 9.1 seconds. That's two seconds slower than the NX 200t.   
Standard features on the base NX Turbo include Bluetooth, a 7-inch infotainment screen, power front seats, a dual-zone automatic climate control system, a backup camera and keyless entry.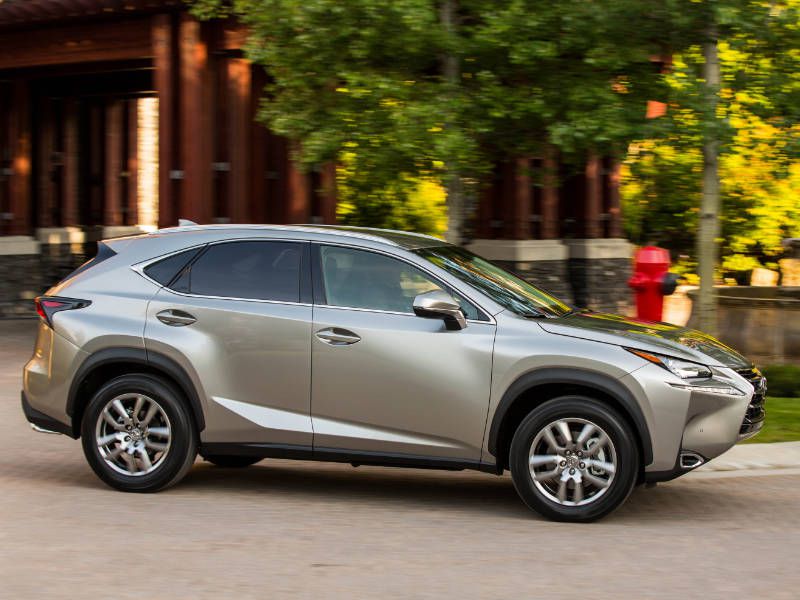 Photo by Lexus
Drivers Want the F Sport
Drivers want the 2017 Lexus NX 200t F Sport, like our test vehicle. The F Sport is the sportiest version of the NX and its upgrades include a sport-tuned suspension, more aggressive styling, perforated leather, F Sport badging, paddle shifters, and larger 18-inch F Sport-specific wheels.
Think of F as Lexus' in-house tuner or hot rod shop, like BMW's M division, known for cars like the M3 and M5, or AMG at Mercedes-Benz. F is not as well-known as those German efforts, but its engineers who develop Lexus' high-performance models like the RC F and GS F, have been applying some of their performance technology to other Lexus models since 2007. These F Sport packages aren't as extreme as a full blown F model, but they increase the performance and sport image of the vehicle.
Available with front- or all-wheel drive, prices for the NX 200t F Sport start at $38,380 with front-wheel drive. Our all-wheel-drive test vehicle was equipped with a long list of options, including a Navigation package and LED headlamps, which drove its sticker price up to $48,227.
Photo by Lexus
Plenty of Curb Appeal
Boring Lexus' that get lost in the crowd are a thing of the past. Lexus' designers have taken the gloves off and are now creating some of the most radical and most striking designs on the road. Even the colors they offer have gone from staid to stimulating.
Our bright orange NX 200t F Sport turned heads like a supercar around Los Angeles. Although its shape debuted back in 2014, the NX still looks fresh. And one thing's for sure, it's anything but boring. Not with that gaping Darth Vader grille, broad shoulders, and flared fenders. Its angular styling has proven so successful, it's making its way across the entire Lexus line, and now appears on the RX and the brand's new LC $100,000 super coupe.
But it's the details on the NX that draw you in. The artful strips of light that illuminate its door handles at night are just cool and the SUV's oversized dual exhaust pipes and beautifully integrated rear spoiler give its backside a sporting flair.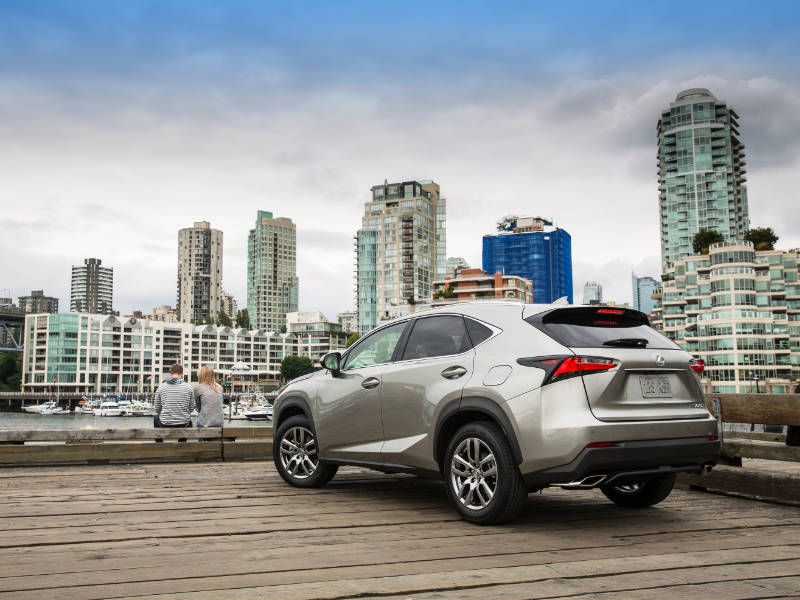 Photo by Lexus
Interior Hits and Misses
If you like the Lexus' sporty exterior you'll love its interior, which perfectly combines the beautiful materials and high build quality you expect from Lexus with a dynamic design and modern, even futuristic, shapes. The heated front seats in our test vehicle were extremely comfortable, and the analog clock in the center of the dash is an appreciated touch of class.
Outward visibility is good, and the outside mirrors are nicely oversized. The driver's seat is also height-adjustable for shorter drivers. In combination with the tilt-and-telescopic steering wheel, it's easy to find the perfect driving position. Another nice touch is the auto ebrake, which engages and disengages for you when you put the SUV in and out of gear.
Misses include the model's 7-inch infotainment screen which seems a bit small and out-dated, especially on a luxury suv costing nearly $50,000. Lexus' Remote Touchpad infotainment interface can also be frustrating to use, and its missing onboard Wi-Fi, Apple Carplay and Android Auto should be ubiquitous at this point.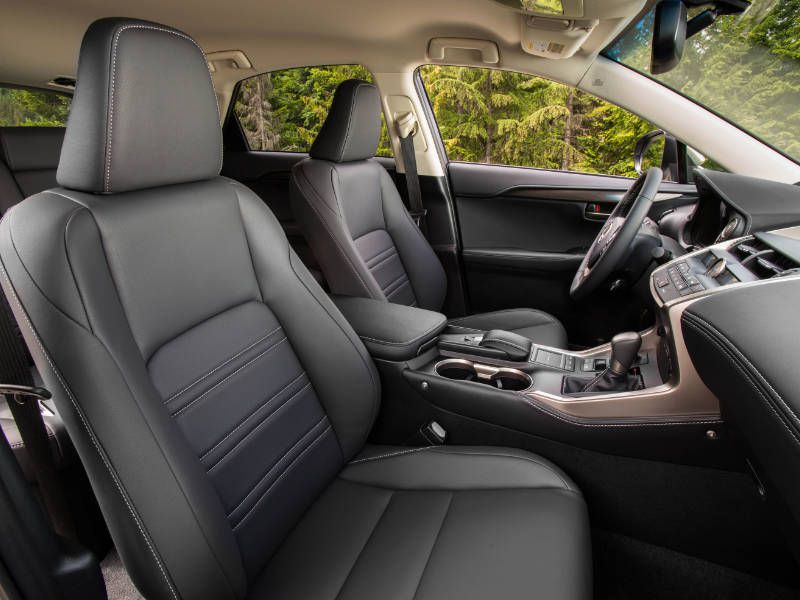 Photo by Lexus
Cupholders and Cargo
The NX's two front seat cupholders are large and well-placed so tall drinks don't interfere with any of the switchgear, and they accommodate cups with handles. Lexus calls them self-gripping and says they can keep the beverage from spinning so you can unscrew the bottle cap with one hand while you drive -- but I couldn't get it to work. The two rear-seat cupholders are part of a center pull-down armrest.
Storage inside the Lexus' interior is sufficient and well thought-out. The center-console bin is large enough and felt-lined, and the sizable door pockets have slots for water bottles.
Cargo space isn't exactly commodious. The 2017 Lexus NX offers just 17.7 cubic feet of trunk space, which is about average for its class. The Acura RDX and Buick Envision offer significantly more. Every NX comes standard with 60/40-split fold-down rear seats, which are easily folded flat for your larger items. With the seats down, there are 54.6 cubic feet of space.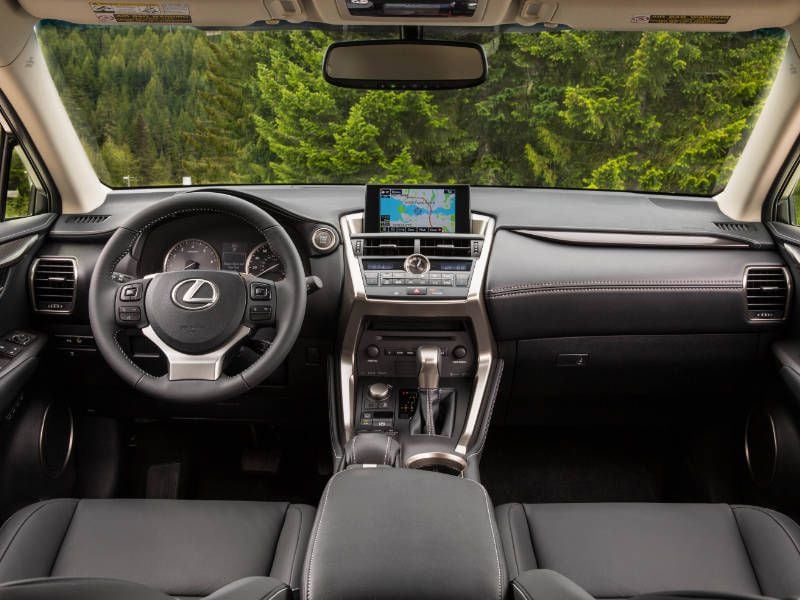 Photo by Lexus
Top Safety Pick
Rear passengers can spread out and enjoy the rear air-conditioning vents, adjustable headrests and reclining rear seat. The 2017 Lexus NX seats five comfortably, rear-seat headroom is abundant even with the optional sunroof.
Younger families will appreciate the NX's easy to reach LATCH connectors in the outboard seats, and three easily accessed upper tether anchors. And the Lexus earned an overall rating of five stars from the National Highway Traffic Safety Administration and a Top Safety Pick+ rating from the Insurance Institute for Highway Safety.
Overall, fuel economy is above average for this class. The NX Turbo is rated 22 mpg city/28 mpg highway, while the sportier F Sport is rated 22 mpg city/27 mpg highway. I averaged 23 mpg during a week of mixed driving. Unfortunately, the Lexus' turbocharged engine does require premium fuel. The more fuel-efficient NX 300h hybrid is rated 33 mpg city/30 mpg highway.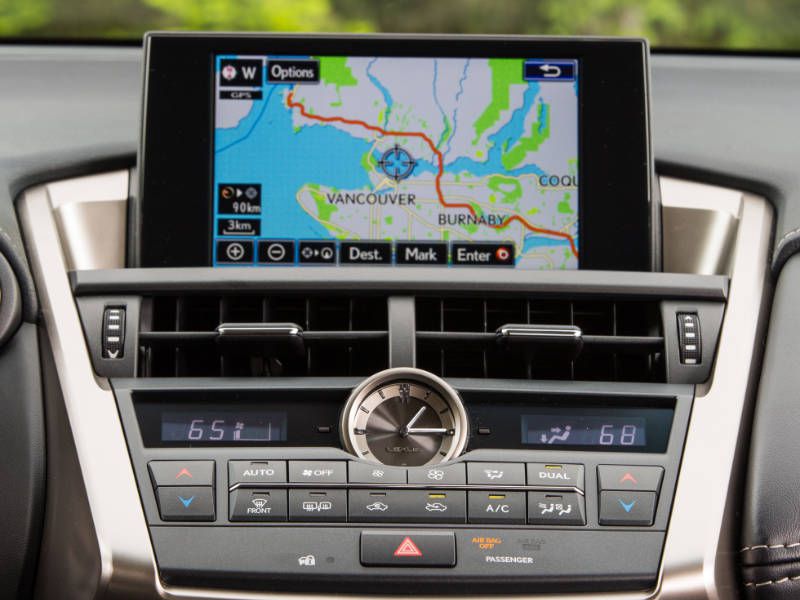 Photo by Lexus
Performance
Our 2017 Lexus NX 200t F Sport backed up its bright orange, aggressively styled exterior with an engaging driving experience and sporty performance. Around town, the NX is quick to maneuver and satisfyingly athletic. With its 18-inch wheels and sport-tuned suspension, its handling is more than enough for most buyers, and its turbocharged 2.0-liter packs enough punch if you're liberal with the throttle. Out on the highway at 80 mph, it's compliant, comfortable and quiet.
The NX comes standard with Lexus' Drive Mode Select system, which allows you to tune the car's personality with the twist of a knob on the SUV's console. There are three modes, Eco, Normal and Sport, with the car defaulting to Normal mode every time you start the engine. Eco mode helps you maximize fuel economy, but I like Sport mode, which increases the SUV's throttle response and livens up the driving experience.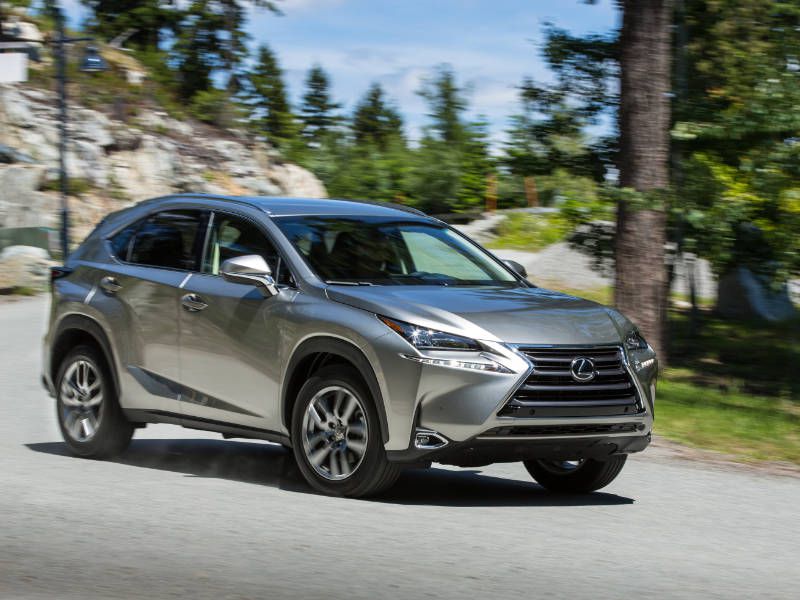 Photo by Lexus
Optional Advanced Safety Systems
Lexus offers a long list of valuable active safety systems on the NX as extra-cost options. They include adaptive cruise control and lane-departure alert. The brand's Pre-Collision System is also available. It warns if vehicles and pedestrians are in your path. Should it determine an imminent frontal collision, it will automatically begin braking before impact to scrub speed and minimize the severity of the crash.
Rear Cross-Traffic Alert, which warns you if a vehicle approaches from either side when you're backing out of a parking space, and Blind Spot Monitor are also available.
With the Lexus Enform Remote mobile app, which is complimentary for the first year, you can use your phone to remotely start the engine, lock and unlock doors, check your fuel level, and find your vehicle in a parking lot. You can also receive instant alerts if a preset speed- or mile limit is exceeded, a feature surely appreciated by parents of teenagers.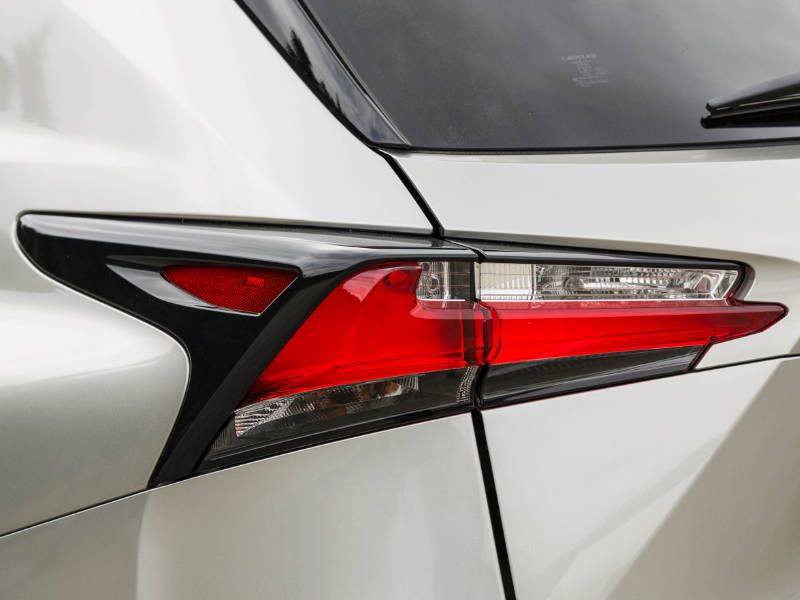 Photo by Lexus
Final Thoughts
If you're looking for a sporty small luxury SUV, the 2017 Lexus NX is a very desirable overall choice. The NX is comfortable, it performs well, and it's certainly fun to drive. It's also beautifully appointed, attractively styled and Lexus' reputation for reliability remains the envy of the industry.
Although its infotainment offerings fall a bit behind the competition, the family-friendly NX offers a long list of optional safety technology and it has received the highest of crash-test ratings. Overall, it delivers a unique combination of luxury, performance, and style, which has made the Lexus NX one of the most popular compact luxury suvs available.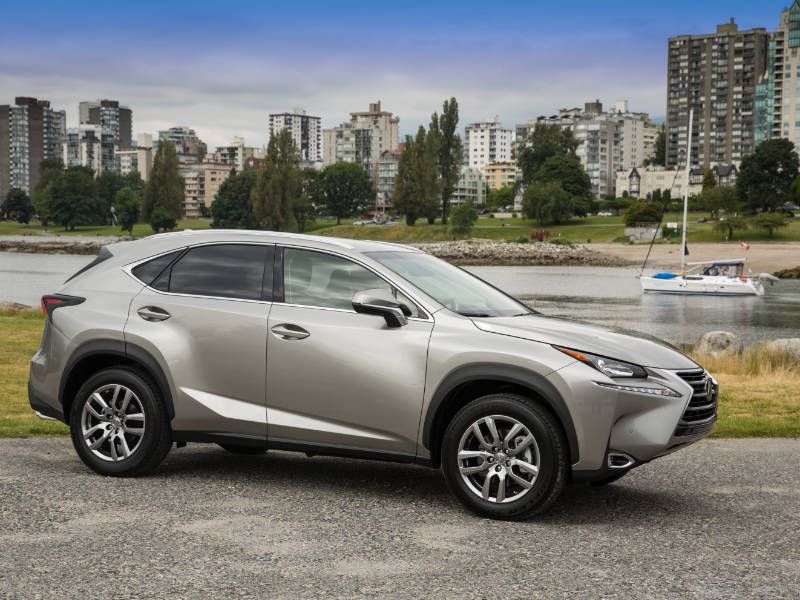 Photo by Lexus