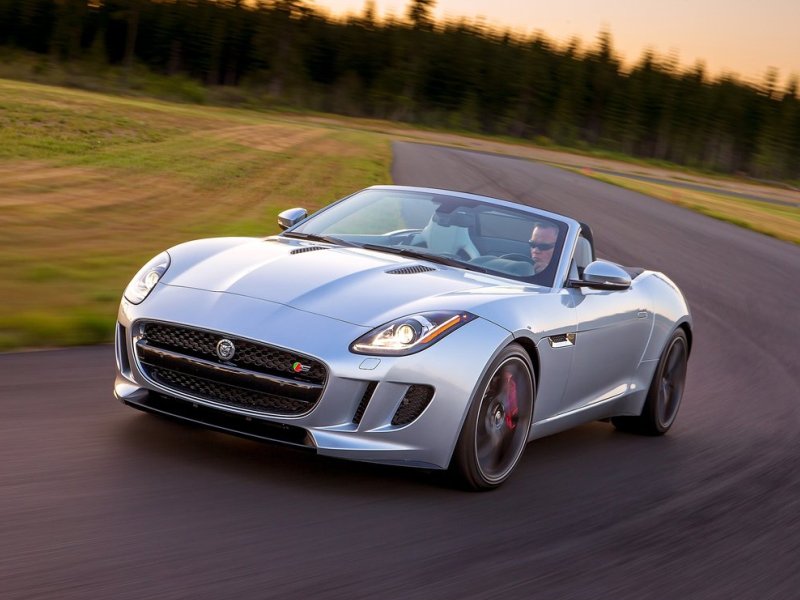 2017 Jaguar F-TYPE Convertible exterior front view on road ・ Photo by Jaguar Land Rover
In the four years since the F-Type was introduced, Jaguar has pumped its sports car full of power and sophistication. What was once a quick car with a tenacious exhaust note is now an outright supercar in its least fettered form.
Alas, simply dowsing a car with horsepower is not a holistic performance strategy. Thus top-spec F-Type models have adopted an all-wheel drive system and other grip-enabling technologies to extract the most from a titanic powertrain. These enhancements permit drivers of reasonable skill to put down blistering lap times and breeze through twisty sections of roadway.
But what about those who prefer a less empirical version of performance? Gaining tenths of a second on a track is great, but precision often comes at the cost of mischievous fun. Thankfully, Jaguar will still sell you an F-Type with all the purity of a classic sports car.
Here's what we learned after spending a week with the 2017 F-Type S convertible.
What's new for 2017?
Aesthetically and mechanically, the Jaguar F-TYPE remains unchanged for the 2017 model year, but thanks to new pricing tiers the entry-level model is much more affordable. Base models feature the same supercharged V6 and 6-speed manual transmission as before, but lose a few standard features. As a result the cheapest F-Type will now retail for $61,400 – a savings of $3,600 compared to the previous model year. The convertible will now start at $65,400, making it $2,700 less expensive than last year. Jaguar will continue to offer a ZF 8-speed automatic for all trims.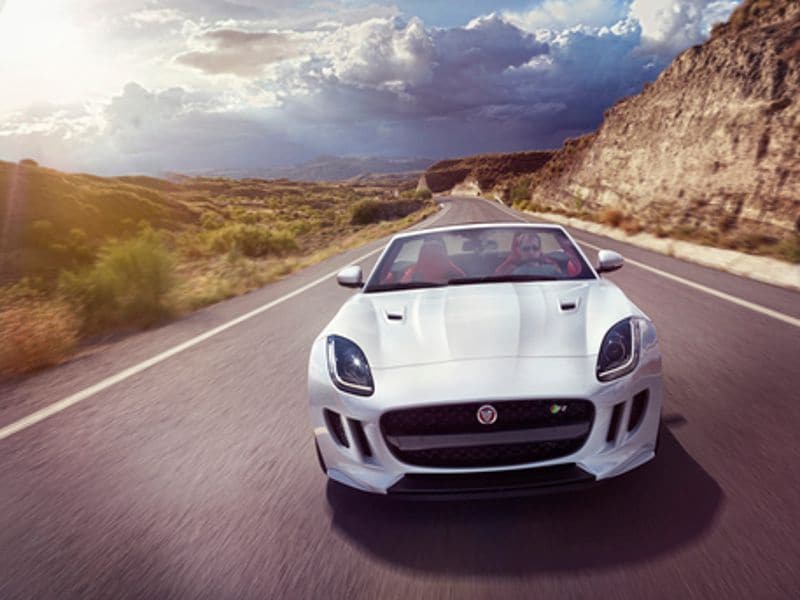 Photo by Jaguar Land Rover
Exterior Styling
Considering how well the F-Type has sold for the British luxury manufacturer, one might imagine the wow-factor would fade over time, yet the two-door continues to command attention wherever it ventures. In particular, our Salsa Red tester seemed to raise the heartbeats of all passersby. At the front, a wide, black-painted grille sits between shark gill intake slats and sweptback headlights with LED daytime running lights. Black mesh hood venting and subtle S badging hint at the robust engine tucked beneath a clamshell bonnet. With the ragtop stowed, the slick profile features a long hood, intricate 20-inch wheels with red center caps, bulging hips, silver painted roll hoops, and a slow-sloping boot lid. At the rear, slender LED taillights look sharp above a prominent black diffuser. Far and away the most distinguishable visual cue is a pair of chrome center-exit exhaust ports. Coming or going, the F-Type is worth a long, lustful stare.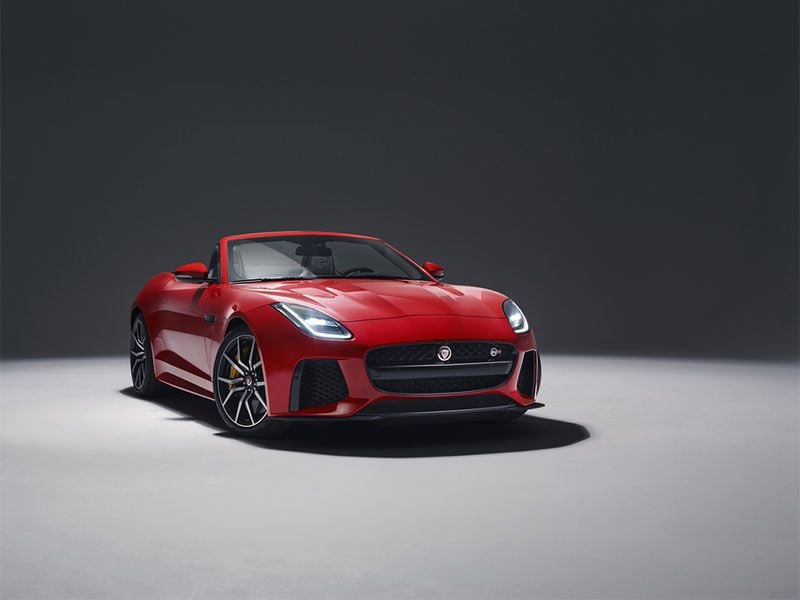 Photo by Jaguar Land Rover
Interior Comfort
Inside, the F-Type weighs heavy on the sporty end of its premium performance segment. A thick, flat-bottomed steering wheel with copper-painted shift paddles, starter button, and drive mode selector, double-bubble driver display housing, and protruding passenger grab handle recommend spirited driving rather than leisurely cruising. That's not to say the F-Type cabin isn't refined. Soft leather covers most touch points and the supportive, plush seats – our tester was equipped with optional performance buckets. Brushed metal surfaces, piano black accents, textured inlays, and body color contrast stitching enhance the interior aesthetic without looking flashy. Passenger volume is excellent, with ample head and legroom for a pair of tall riders. However, The F-Type convertible offers just 7-cubic feet of cargo space with an awkward trunk depression and narrow lid opening. Couples planning a trip might find themselves sharing a suitcase.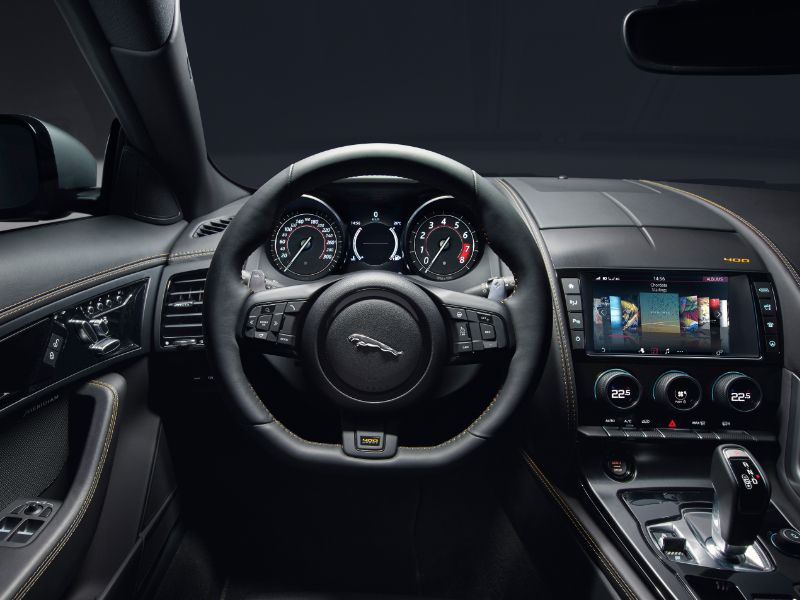 Photo by Jaguar Land Rover
Power Train and Fuel Economy
The F-Type S features an uprated version of the base model's 3.0-liter supercharged V6, tuned to deliver 380hp and 339 lb-ft of torque. Power is routed to either the rear wheels or all four wheels via a choice of six-speed manual or ZF 8-speed automatic transmissions. Automatic-equipped F-Type S models return a solid 20-mpg in the city and 28-mpg on the highway. Those who prefer to row their own gears will be penalized with 16-mpg city/24 hwy. The heavier all-wheel drive system cuts these figures further. The quickest F-Type S configuration pairs automatic gear shifts and rear-wheel drive for a 0-60 sprint of 4.8 seconds. Manual-equipped versions trail by half a second. Provided sufficient runway, the F-Type S Convertible will hit 171 mph. These numbers are impressive, but can't adequately communicate the thrill of an F-Type at wide-open throttle. Foot to the floor, the British-built sports car feels fast, and sounds faster. A ferocious exhaust note almost completely drowns the supercharger whine – and any other ambient noise – as the two-door tears ahead. Acceleration? More like intoxication.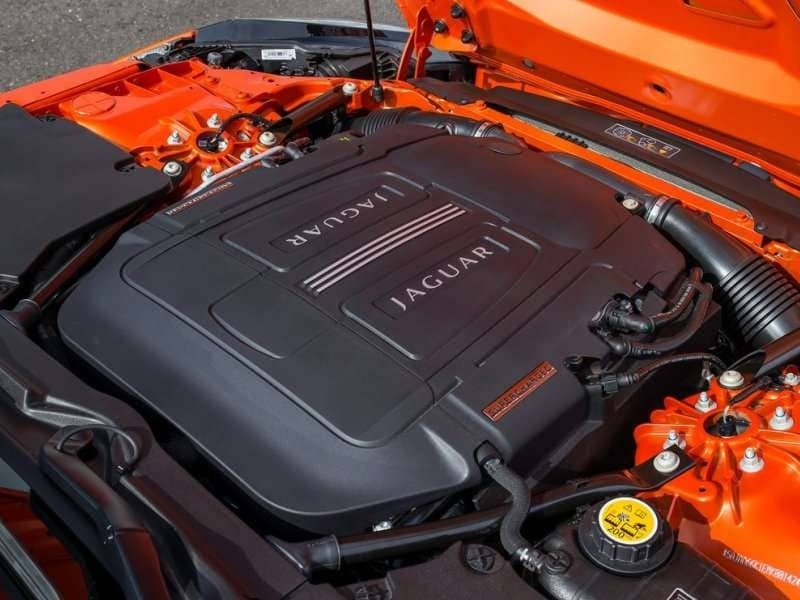 Photo by Jaguar Land Rover
Driving Dynamics
The Jaguar F-TYPE S clings to the essence of a front-engine, rear-drive sports car. Compared to the base model, the S adds a limited slip differential, Adaptive Dynamics suspension with variable damping, beefier brakes, and stickier Pirelli P Zero tires. Working with a stiff, aluminum-intensive platform, these performance upgrades pay dividends when the road starts to bend. As a general rule, convertible variants give up some chassis rigidity and therefore cornering stability compared to fixed roof counterparts. While that may be the case to a marginal degree with the F-Type S convertible, distinguishing any torsional give is all but impossible. Pirelli makes an excellent set of tires, yet the P Zeros feel like a limiting factor to the car's lateral grip – it's that confident in corners. Engaging Dynamic mode stiffens an already taut ride and permits the traction control system to allow for minor oversteer before robbing the engine of power. Braking is superb and perfectly matches the F-Type's handling threshold. Feedback from the electronically assisted steering system is limited on-center, but becomes dialed in with greater input. Never did we find ourselves craving the assistance of all-wheel drive, which speaks to the talent and hard work of Jaguar's engineers. Equal parts lively and controllable, the rear-drive F-Type S is the best handling Jag in years.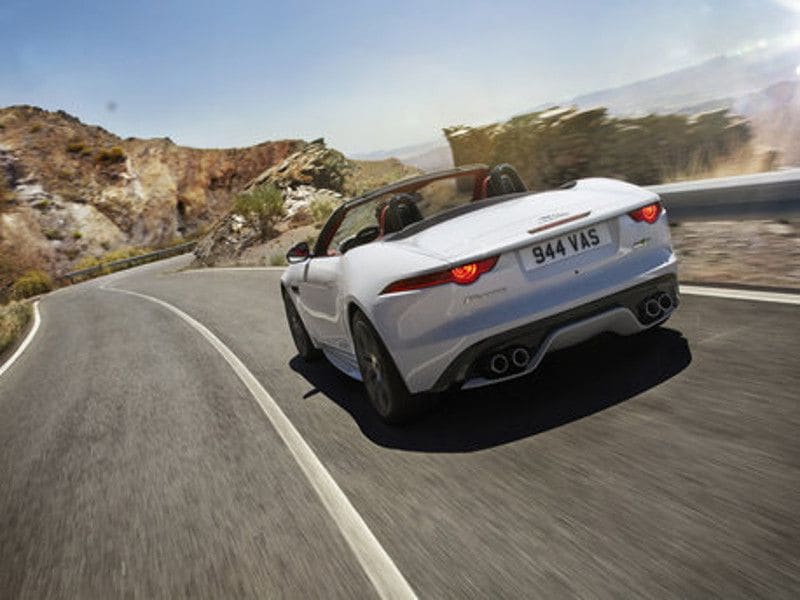 Photo by Jaguar Land Rover
Convenience and Safety Features
While many of Jaguar's new and redesigned models use the latest version of the automaker's InControl infotainment system, pairing a 10-inch center display with a host of cool features, the 2017 F-Type holds onto the last generation of software. Fortunately, the now-outdated system is still among the best in the luxury segment. Using tiles to display key information like audio, navigation, traffic, and weather, the 8-inch touch display is simple to operate, responsive, and crisp. Though the F-Type lacks a control wheel like BMW's iDrive or Mercedes-Benz's COMAND system, physical buttons on the center stack and steering wheel are available as an alternative to touch inputs. Voice commands can also be used to avoid distraction. The 2017 Jaguar F-TYPE has not been crash tested by the IIHS or NHTSA and lacks much in the way of standard safety features. Every F-Type features two front airbags, two side airbags, ABS, traction control, and rollover protection. Available options include rear park assist, rear cross traffic alert, a rearview camera, blind spot monitoring, front park assist, and adaptive front lighting.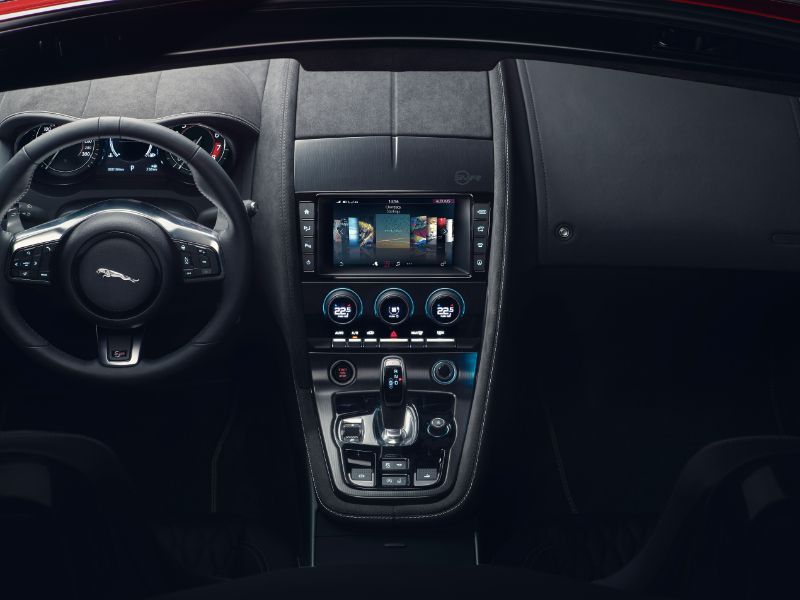 Photo by Jaguar Land Rover
Pricing and Packages
Next year, Jaguar's F-Type model range will expand considerably with new versions and the introduction of a 4-cylinder turbocharged engine. The 2017 model year range, however, is fairly concise. Entry-level F-Type coupe ($61,400) and convertible ($65,400) variants come standard with a Meridian 770W surround sound audio system, navigation, push-button ignition, SiriusXM Satellite Radio, leather and suede sport seats, and Jaguar InControl apps. F-Type S coupe ($79,100) and convertible ($82,200) models add the aforementioned performance and styling goodies. Available options and packages include performance seats ($1600,) extended leather ($2,325,) and a premium/vision package ($3,700) that bundles safety technology with heated seats, a heated steering wheel, and dual-zone climate control. All-wheel drive and an automatic gearbox add $3,000 and $1,300 to the bottom line, respectively. Above the F-Type S sits the F-Type R coupe ($105,400) and convertible ($108,250) with all-wheel drive, a supercharged 5.0-liter V8, a ZF automatic transmission, unique 20-inch wheels, wider P Zero tires, larger steel brakes, 14-way performance seats, and aluminum interior trim. Finally, the F-Type SVR coupe ($125,950) and convertible ($128,800) raise output to 575hp and 536 lb-ft of torque while adding a dual-position carbon fiber rear wing, titanium exhaust, chassis enhancements, and unique bodywork.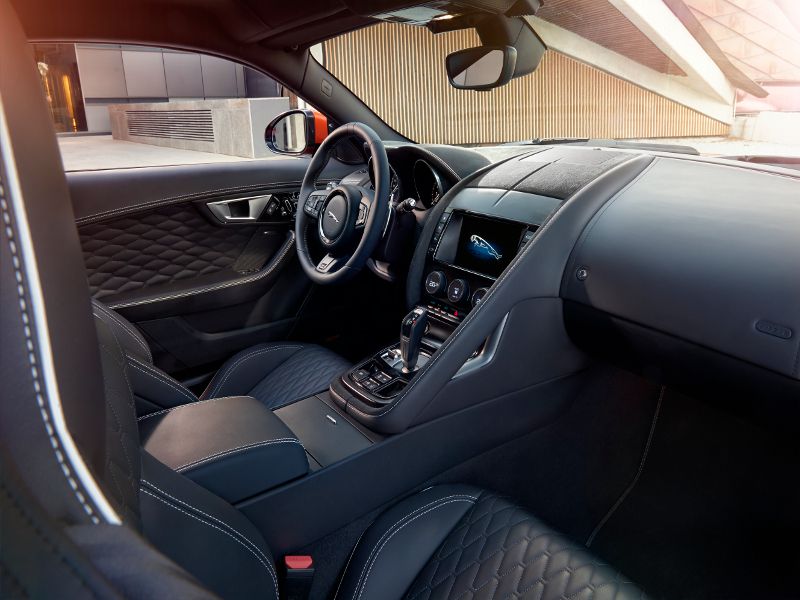 Photo by Jaguar Land Rover
Highs and Lows
Highs: -    Sultry physique -    Cornering composure and tractable oversteer -    Irresistible exhaust note -    Comfortable, driver-focused cabin Lows: -    Minimal cargo capacity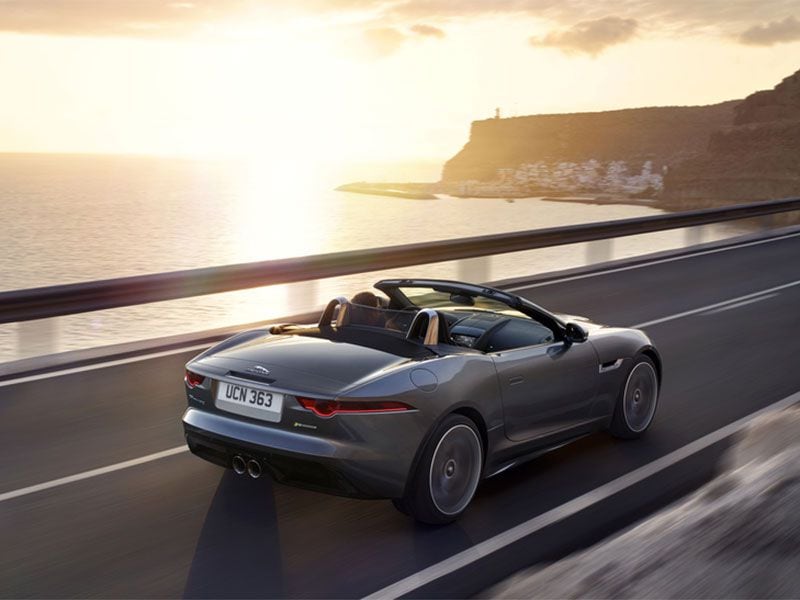 Photo by Jaguar Land Rover
Competition
The 2017 Jaguar F-TYPE S convertible competes most directly with the Chevrolet Corvette Convertible ($59,450) and Porsche 718 Boxster S ($71,600.) Among this crop, the F-Type slots between the Corvette and Boxster S on power, while costing more than both. In a race to 60 mph, the F-Type S convertible would trail its rivals, but a technical road would be a closer contest. Styling is ultimately in the eye of the beholder, and we strongly favor the Jag's design language.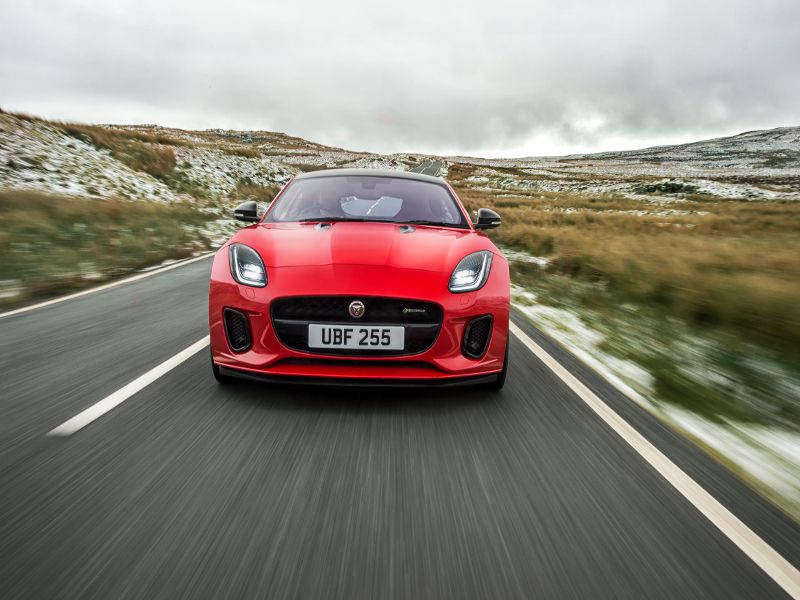 Photo by Jaguar Land Rover
Our Take
The two-door sports car segment isn't lacking for talent. Every luxury and performance manufacturer wants to sell you on its design and engineering philosophy — actualized via an unnecessary yet compelling motor vehicle. Perhaps more than any other big-ticket purchase, a sports car either harmonizes with a buyer's indefinable desires, or it doesn't. Objectively, the F-Type S convertible is not the fastest or most affordable option, but objectivity is meant for refrigerators and bank loans. Where it counts – in terms of allure and emotion – the Jaguar F-TYPE is unbeatable.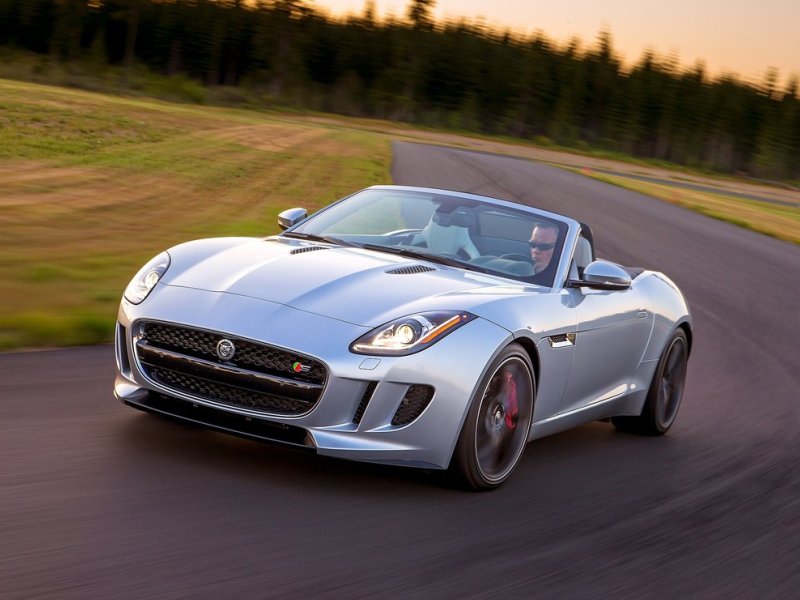 Photo by Jaguar Land Rover