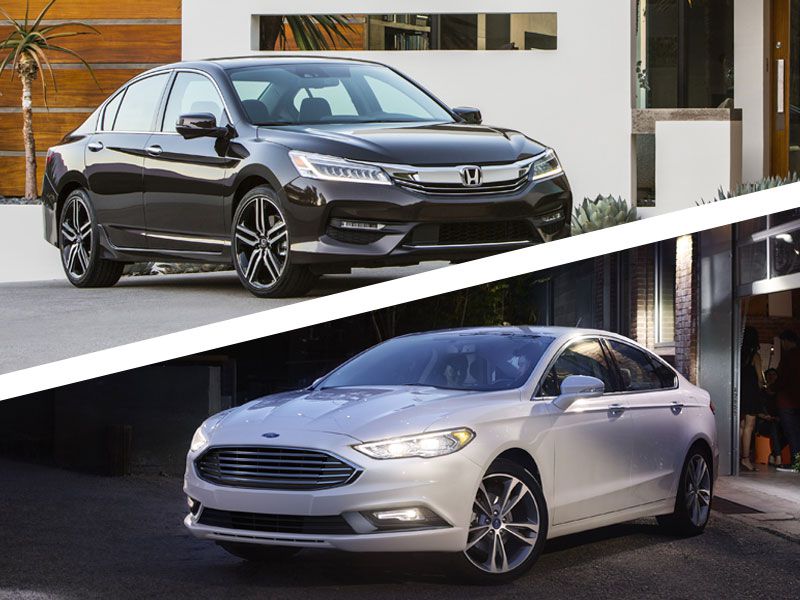 2017 Honda Accord vs 2017 Ford Fusion front angle ・ Photo by Ford and Honda
The Honda Accord and Ford Fusion have long been two of the most popular midsize sedans in the country, and that certainly hasn't changed for the 2017 model year. True, their overall sales have been down recently, but that's no fault of their own. It's more a reflection of growing customer interest in SUVs. The Accord and Fusion actually are at the top of their game, with the former all-new for 2016 and the latter getting a significant update for this year. Both also have dedicated new "Sport" editions on the menu for 2017, although one is distinctly sportier than the other. As for their other similarities—and differences—those will be addressed below in today's battle of midsize heavyweights.
Pricing
The 2017 Honda Accord and 2017 Ford Fusion have, at first glance, very similar pricing: The entry-level Accord LX has an MSRP of $22,455, while the Fusion S opens at $22,120. And they have fairly similar levels of content, since both come standard with rearview cameras, LED taillights, and handsfree calling systems. However, there's a key difference, as the Honda has a standard six-speed manual, and the entry-level Ford features a six-speed automatic. Enthusiast owners may enjoy the Accord's setup, but those that don't have to pay an extra $800 for a continuously variable transmission (CVT). Ford also supplies a more affordable Fusion Hybrid that's priced from $25,295; the admittedly better-equipped Accord Hybrid starts from $29,605.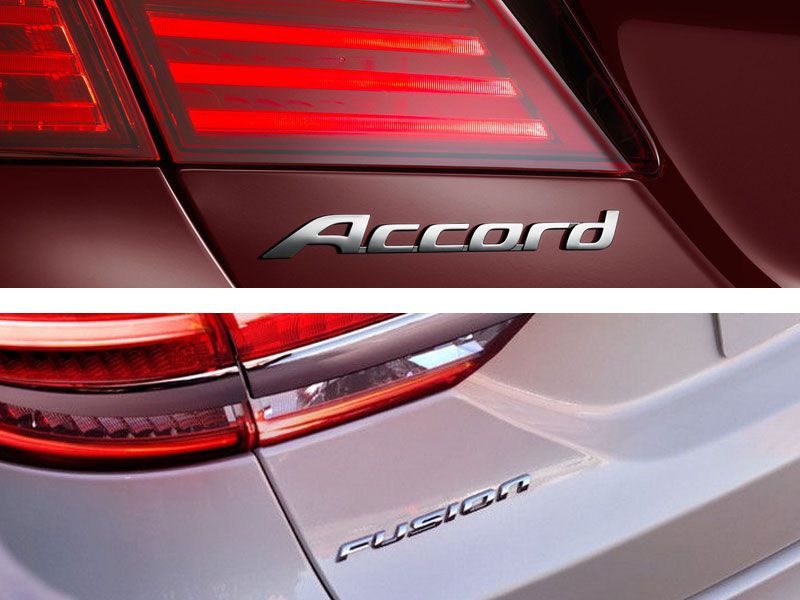 Photo by Ford and Honda
Standard Performance and Efficiency
The Honda Accord and Ford Fusion have vastly different approaches to powertrains. Looking solely at the non-hybrid sedans, the Accord follows tradition with a standard four-cylinder engine for efficiency and a larger V6 for performance. The Fusion offers twice that number of engines, with a standard four-cylinder choice, two four-cylinder EcoBoost twin-turbo engines, and an EcoBoost V6. Honda has the advantage in terms of standard configurations, delivering a 2.4-liter engine, 185 hp, 181 lb-ft of torque, and an EPA line of 23/32/26. The tale of the tape for the Fusion is 175 hp, 175 lb-ft of torque, and EPA grades of 21/32/25. Moreover, in the entry-level Accord LX with its optional CVT, ratings reach 27/36/30.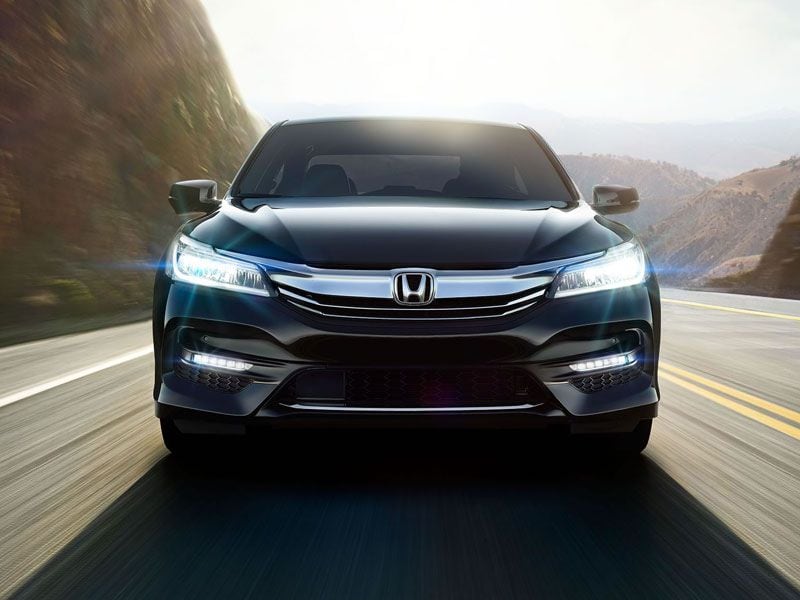 Photo by Honda
Available Performance and Efficiency
Though the Ford Fusion and Honda Accord each can be ordered with a V6 engine, it's the Blue Oval that boasts true sport-sedan performance. The Fusion Sport's 2.7-liter EcoBoost V6 can belt out 325 hp and 380 lb-ft of torque, and that's sent to all four wheels for enhanced traction. The Accord's naturally aspirated 3.5-liter V6 is limited to 278 hp and 252 lb-ft of torque, and even the Accord Sport is a front driver. Of course, the Fusion also broadens its appeal with two more engine options: An efficient 1.5-liter EcoBoost unit that combines 181 hp and EPA marks of 23/34/27, and a peppy 2.0-liter EcoBoost with 245 hp and 275 lb-ft of torque.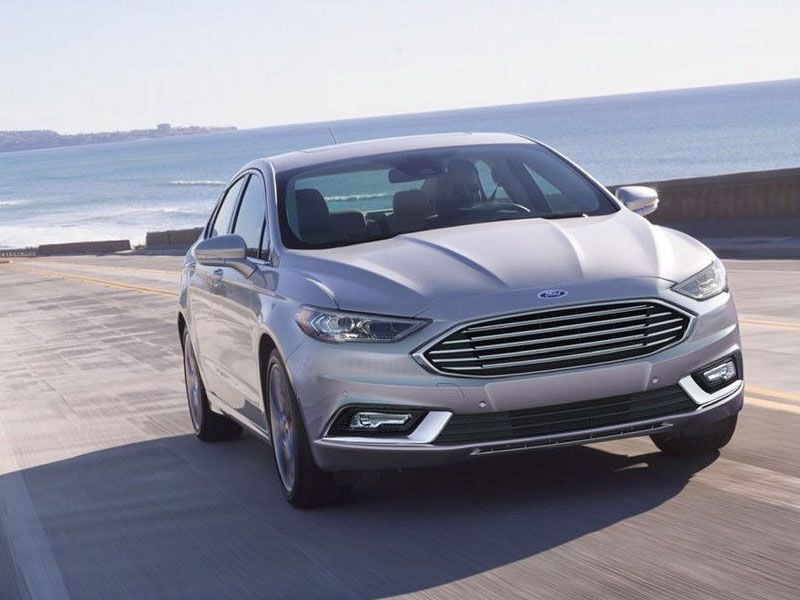 Photo by Ford
Hybrid vs. Hybrid
The Ford Fusion and Honda Accord have hybrid options, too, and this time, it's the Honda that sets the pace. The Accord Hybrid has EPA ratings of 49 mpg city/47 mpg highway/48 mpg combined, which compares to the Fusion Hybrid at 43 mpg city/41 mpg highway/42 mpg combined. Further, the Accord Hybrid provides noticeably more output, squeezing out 212 total hp from its 2.0-liter four-cylinder engine and lithium-ion battery. The Fusion makes 188 hp from a similar setup. On the other hand, Ford does make its hybrid technology available at a lower MSRP of $25,295. The admittedly better equipped Accord Hybrid has an MSRP of $29,605. Then there's the plug-in Fusion, featured below.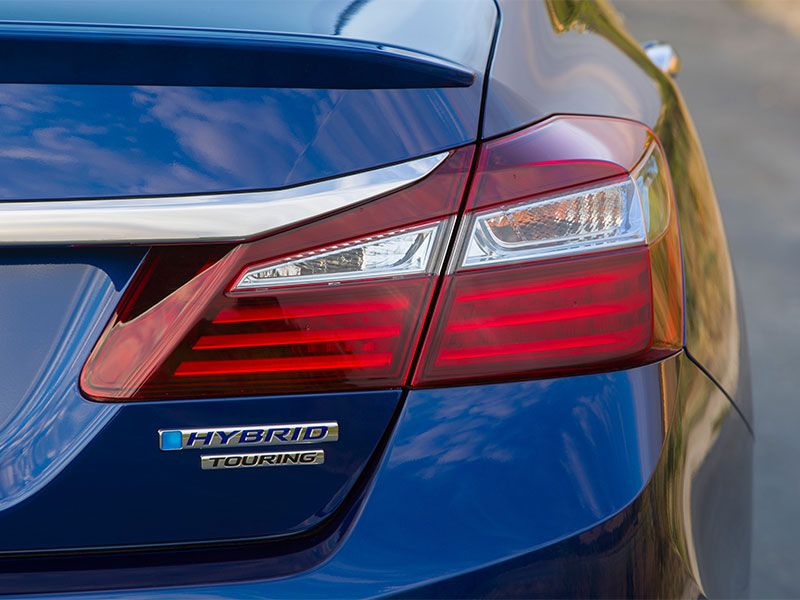 Photo by Honda
Unique Models
The Ford Fusion and Honda Accord match up pretty well in most respects, but each also offers a unique model that's missing from their rival's lineup. For the Fusion, as just mentioned, it's the plug-in hybrid Energi model. Stickered from $31,120, the Fusion Energi has an EPA rating of 42 mpg combined and a range of 588 miles, just like the hybrid, and then adds a plug-in system for a 21-mile all-electric driving range. The Accord, meanwhile, caters to enthusiasts with one of the few midsize coupes on the market — complete with aggressive good looks, a standard six-speed manual transmission, and available content like a 278-hp V6, dual exhaust tips, a leather-wrapped steering wheel, and heated and leather-trimmed 10-way power adjustable driver's seat.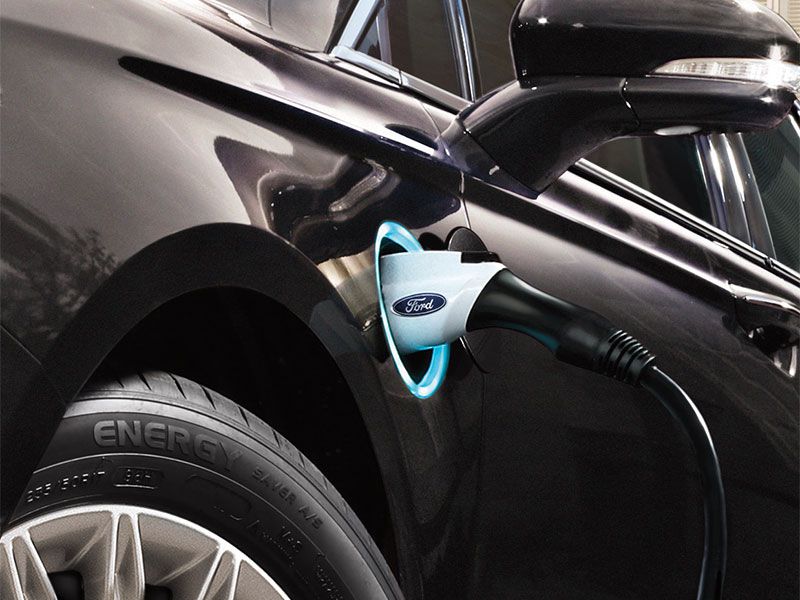 Photo by Ford
Interior
Showing just how close the Ford Fusion and Honda Accord are when it comes to cabin space, the Fusion has 102.8 cubic feet of occupant volume to the Accord's 103.2 cubic feet. Headroom and legroom measures are likewise quite close, and the Fusion's 16-cubic-foot trunk is a tad larger than the Accord's, at 15.8 cubic feet. Comfort-wise, it's the Fusion that raises the bar highest, showcasing quilted leather seating, a heated and cooled front row, a heated steering wheel, and a 10-way power-adjustable passenger seat, none of which is offered by the Accord. That said, the Accord serves up heat for the outboard rear seats, something that can't be said about the Fusion.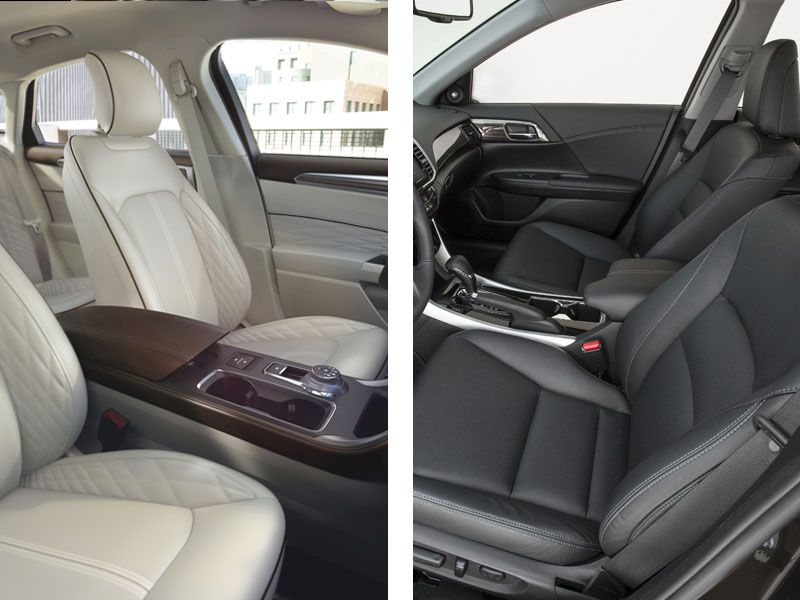 Photo by Ford and Honda
Infotainment Technology
Family-friendly sedans need family-friendly infotainment technologies, and both the Ford Fusion and Honda Accord have plenty, from standard USB ports to available navigation systems. In the Blue Oval product, a standard SYNC voice-recognition communications and entertainment system is a notable benefit, bolstered by a 4.2-inch LCD screen, Ford's AppLink interface, and a subscription-free 911 Assist. Next-gen SYNC 3 technology also is available for the Fusion, with an eight-inch screen, and the top sound system is a 12-speaker setup from Sony. Yet if audiophiles may prefer the Fusion, only the Accord can furnish the latest smartphone integration capability, supporting Android Auto and Apple CarPlay. This could seal the deal if mobile connectivity is your most important purchase consideration.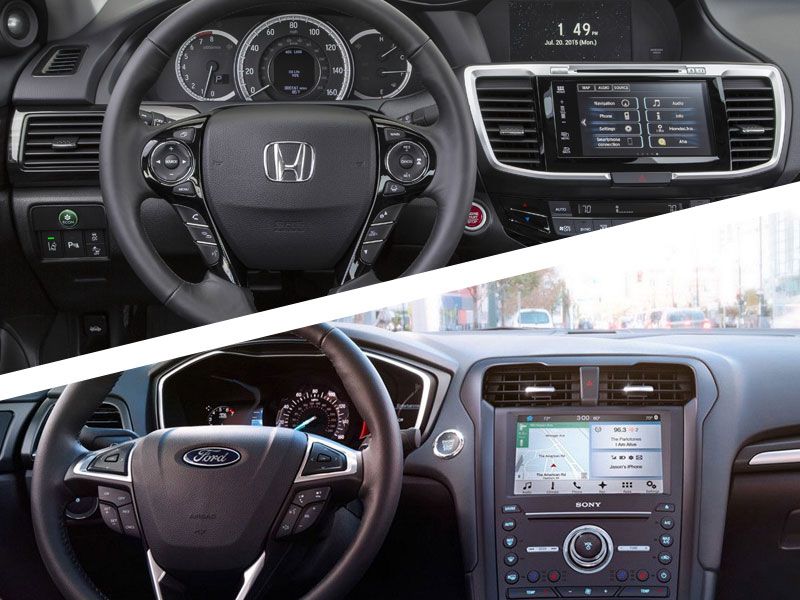 Photo by Ford and Honda
Safety Ratings and Technology
Given the family focus of the Honda Accord and Ford Fusion, it's no surprise to learn they also can be ordered with a slew of driver-assistance technologies. For example, adaptive cruise control, a blind-spot monitor, lane keeping, forward collision warning, automatic forward braking, and a standard rearview camera are in the mix for both vehicles. The Accord additionally fine-tunes its driver-assistance tech for a specific road-departure braking function, and on the Fusion's part, pedestrian detection, parallel parking assistance, and a drowsy driver alert make an appearance. Also relevant: The Accord owns a full Top Safety Pick+ rating from the IIHS, along with a 5-Star Overall Safety Rating with five stars for side-crash and rollover resistance tests. The Fusion has a "regular" TPS rating and four-star rollover resistance.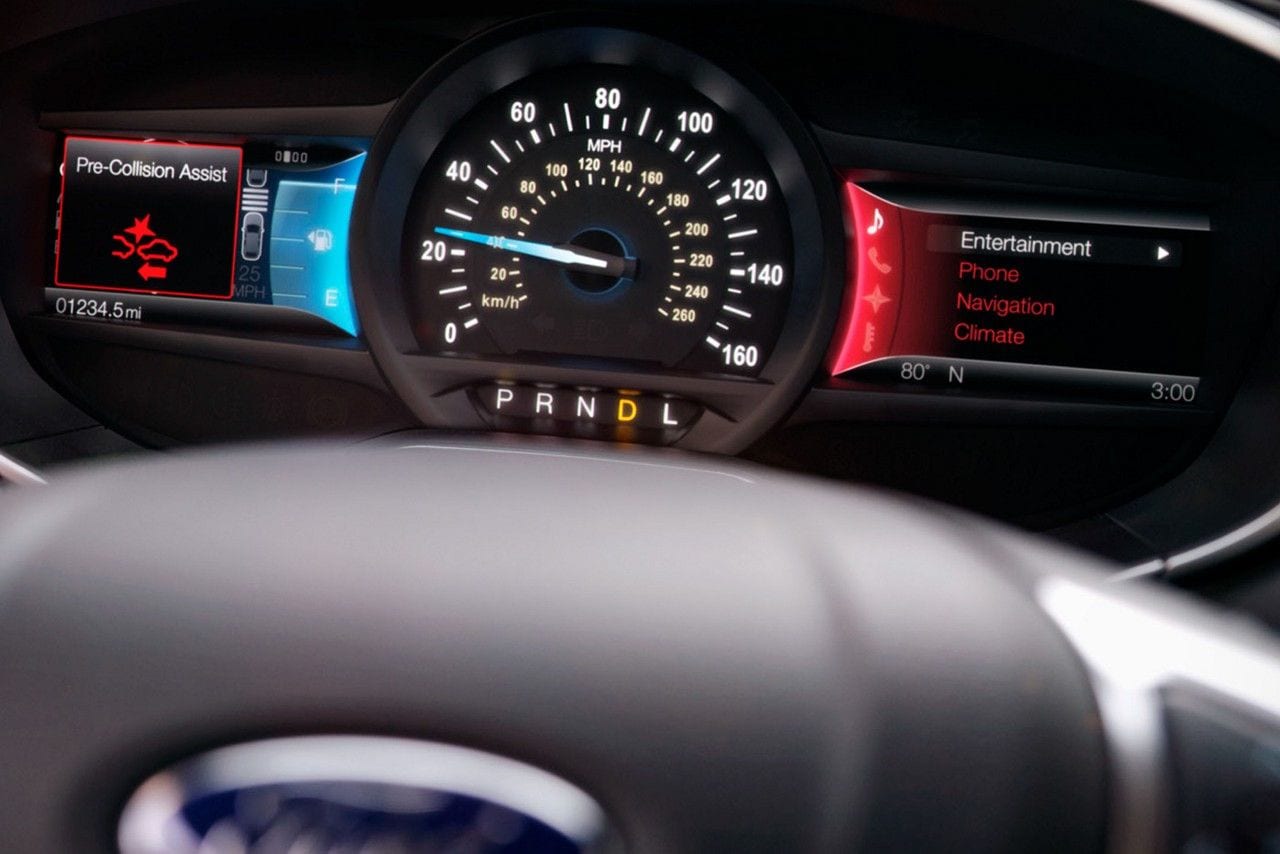 Photo by Ford
Exterior Design and Lighting
The Honda Accord and Ford Fusion are no doubt good-looking cars, displaying detailed design cues that will attract their share of owners. The Accord's more technical appearance is highlighted up front by a thick upper grille bar that connects the swept-back headlamp treatments. The Fusion's sophisticated sheet metal is complemented by Ford's aggressive hexagonal grille shape and angry headlights. On the topic of lighting, both the Fusion and Accord can be configured with LED headlights, fog lights, and taillights. Helping the Fusion earn the nod here—at least according to Autobytel experts—is an extensive array of wheel choices. Honda does have a stylish trio of 16-, 17- and 19-inch aluminum wheels for the Accord, but Ford features seven designs for the Fusion, in 16- through 19-inch sizes.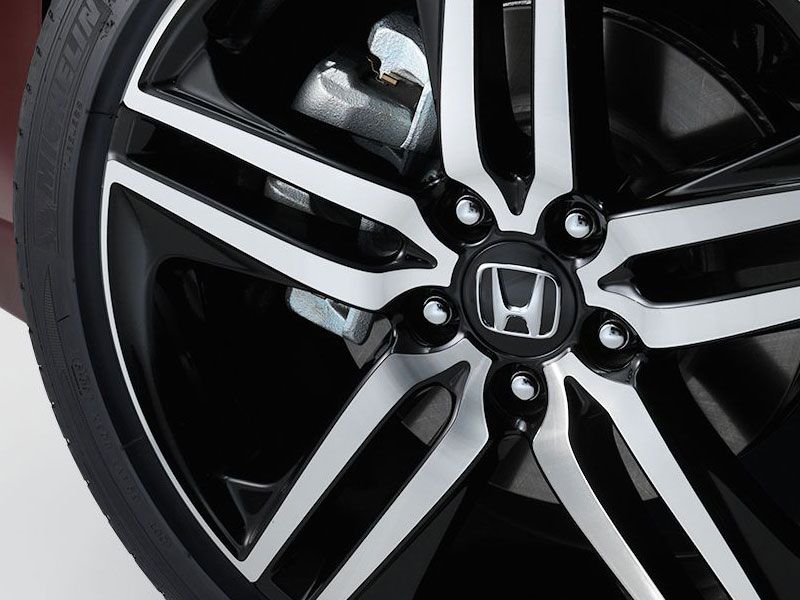 Photo by Honda
The Verdict
The Honda Accord and Ford Fusion are obviously two of the industry's finest midsize sedans. The Accord does stand out with a few core advantages that are particularly important for modern-day families, like slightly higher safety grades and the availability of Android Auto/Apple CarPlay smartphone integration. But the Fusion brings a much wider range of powertrains, wheels, and luxuries, allowing it to appeal to an equally wider range of customers. As a result, you can consider the Accord as the better mainstream sedan for mainstream drivers, and the Fusion as a favorite for those who prefer to push the envelope.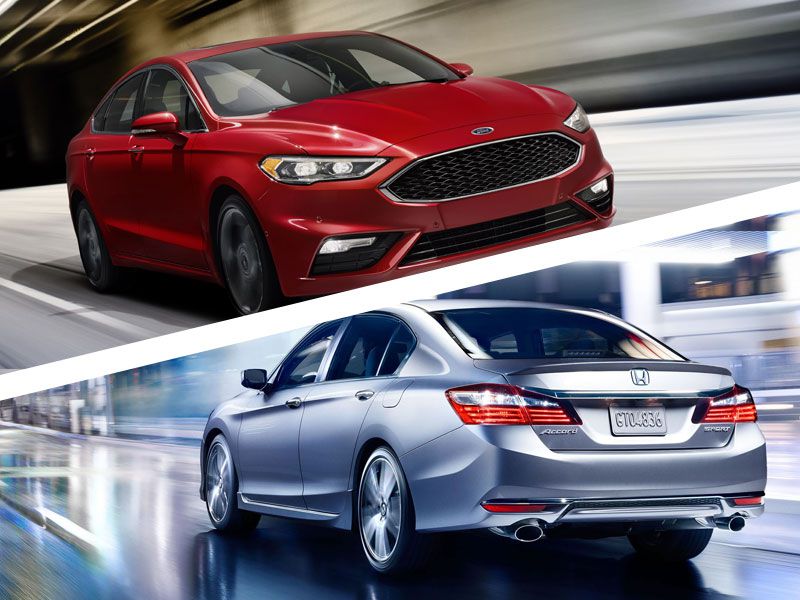 Photo by Ford and Honda