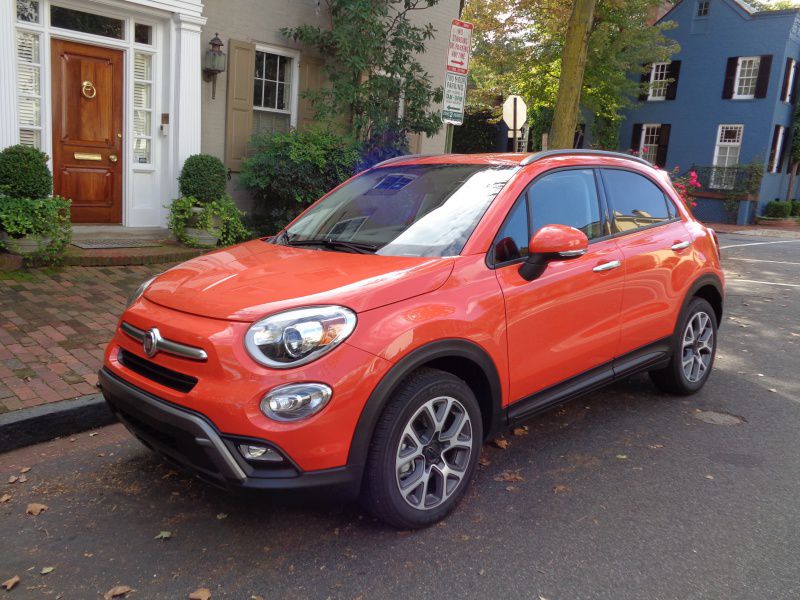 2017 Fiat 500X Trekking hero ・ Photo by Brady Holt
In many cases, the smallest vehicles on the market are targeted at buyers who are shopping on a tight budget. Cars designed with that priority in mind are often functional but joyless, vehicles that you settle for rather than desire. But it takes just one glance at the 2017 Fiat 500X to recognize that this is no dull purchase. Particularly dressed in the tested Arancio Orange paint, the 500X draws you in with its styling rather than just its base price.
Unlike many head-turning vehicles, the 500X subcompact crossover is both affordable and functional. While it's not the roomiest vehicle even in its subcompact class, this Fiat still boasts the utility of a high seating position, available all-wheel-drive, a versatile cargo hold, and tidy city-friendly dimensions. If the 500X draws you in with its retro Italian styling, and you're looking for something spunkier than a humdrum Chevrolet Trax, Honda HR-V or Nissan Rogue Sport, this subcompact crossover may be an appealing fit.
Affordable Pricing
The 500X looks most similar to the MINI Countryman, another retro-styled European subcompact crossover. But unlike MINI, Fiat doesn't charge a big premium for its cool factor. Prices start at an attainable $19,995 for the base Pop model, although an automatic transmission costs an extra $1,500, coupled with a larger engine.
Most buyers will step up to the tested Trekking model, priced from $23,350, which adds alloy wheels, a proximity key and a touchscreen infotainment system, along with a standard automatic and bigger engine. The more significant difference is the Trekking's wealth of options, including advanced safety features, leather upholstery, automatic windshield wipers, and a navigation system. So equipped, the tested 500X had a sticker price of $28,410. The top-of-the-line Lounge model starts at $25,150. All-wheel drive costs about $2,000 extra on all models, though it requires the automatic transmission.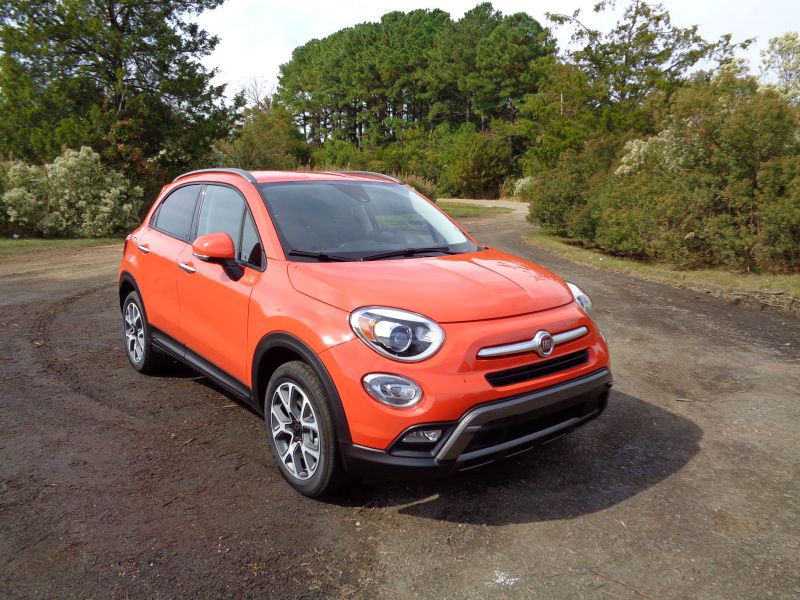 Photo by Brady Holt
Cheery Styling
Like most of the Fiats of today, the 500X draws its design inspiration from the company's iconic 500, Italy's answer to the Volkswagen Beetle (sold from 1957 to 1975) with round headlights sitting aside a chrome-strip grille. This model looks more like a hatchback than an SUV, with a rounded curving profile, but you do get the unmistakable higher seating position of a crossover. While the 500X is distinctively styled, its body is also kept clean of the trendy swoops and creases that define such competitors as the Nissan Juke and Toyota C-HR. The tested Trekking model adopts what Fiat calls "rugged off-road front and rear fascias." Basically, this means some extra gray plastic trim on the bumpers. We'd question whether it truly suggests "off-road," but this subtle cue does add visual interest. If you're interested in a more extroverted expression of off-road capability, consider the 500X's mechanical twin: the Jeep Renegade.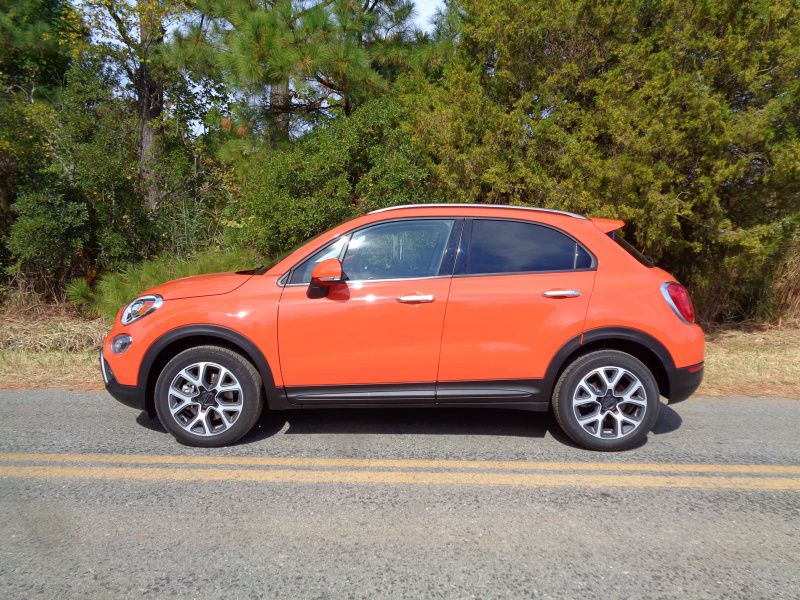 Photo by Brady Holt
Sensible Ergonomics
Many style-focused vehicles carry their design exuberance to the dashboard, which can sometimes result in awkward control layouts. That's a well-known quirk in the MINI lineup, but Fiat has kept things more conventional and classy inside the 500X. Buttons and knobs are located where they should be, and the UConnect infotainment system works well despite having a screen that's on the smaller side. The tested 2017 version lacked Android Auto and Apple CarPlay smartphone integration, though it's coming in the 2018 model that's due in dealerships in the near future.
The 500X's interior build quality didn't blow us away, but it's still quite good for a subcompact crossover. The overall ambiance is pleasant, and the tested car's brown leather upholstery provokes a double-take at the window sticker, "shouldn't it cost more?" Cabin storage isn't ample, a concession to the 500X's petite size, but there is a clever second glovebox in the dashboard.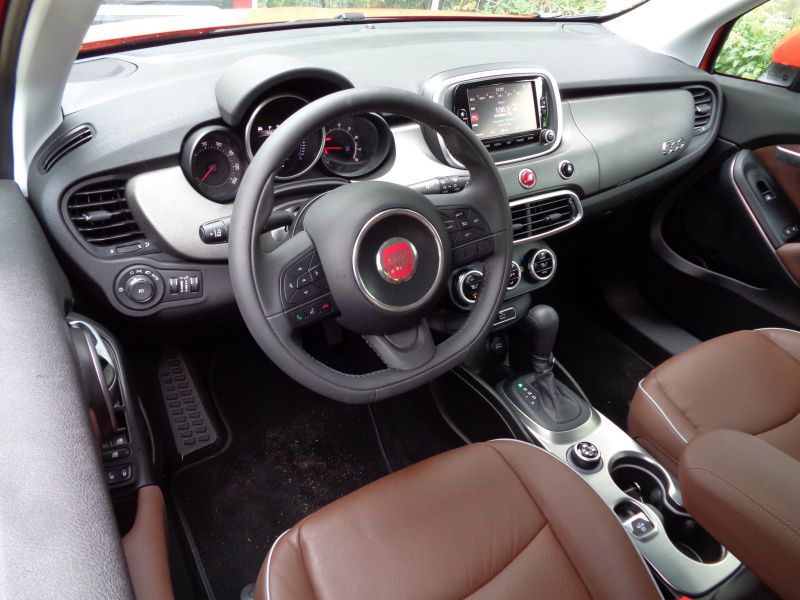 Photo by Brady Holt
Driving Dynamics and Fuel Economy
With lively styling and its Italian heritage, the 500X looks like it would be the sports car of the subcompact crossover class. But while the Fiat does boast respectable handling composure for a crossover, it doesn't have the same zest as you'd find in the Mazda CX-3, MINI Countryman or Nissan Juke. Most drivers will be satisfied, but enthusiasts may want to check those competitors first, keeping in mind that the Mazda and Nissan have less space and the MINI is significantly more expensive.
Meanwhile, although it looks powerful on paper, the 500X's 180-horsepower, 2.4-liter four-cylinder engine, standard on all but the base model with a manual transmission, isn't terribly potent or quiet. It's rated for just 25 mpg in mixed driving (22 city/30 highway,) trailing most competing subcompact crossovers.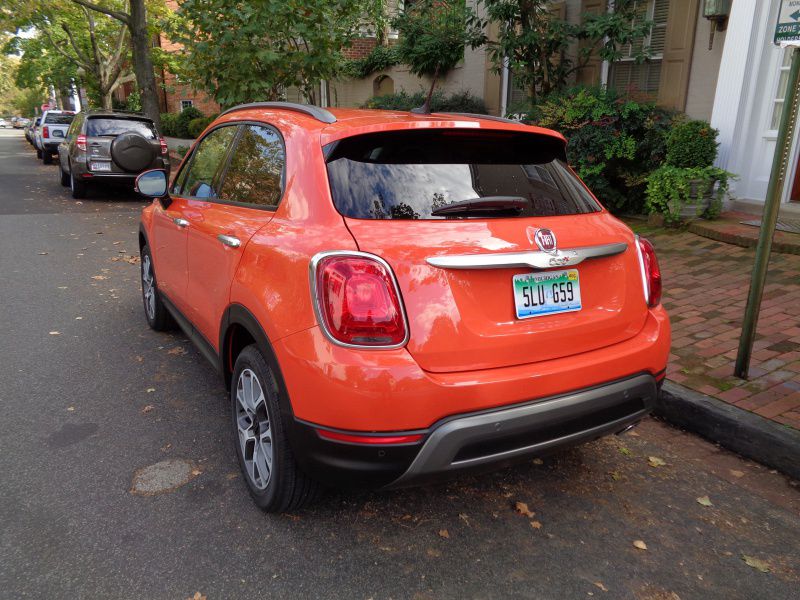 Photo by Brady Holt
Passenger Accommodations
A number of subcompact crossovers are little more than glorified hatchbacks, where automakers make a few styling tweaks and raise the body slightly, then charge a substantial SUV premium. But drivers can enjoy a relatively commanding view from the 500X, unlike in a Mazda CX-3. Fiat provides comfortable front-seat accommodations, though as in most subcompacts, the driver and front passenger need to carefully coordinate while sharing the narrow center armrest.
The rear seat is on the small side, even for a subcompact crossover. The 500X beats the sportiest competition (the CX-3 and Juke,) but not by much. The cushion itself is comfortable, but unless the front seats move forward, rear passengers' knees are pressed against the front seatbacks. An adult in the center-rear position may have to squeeze his or her knees into the gap between the front seats.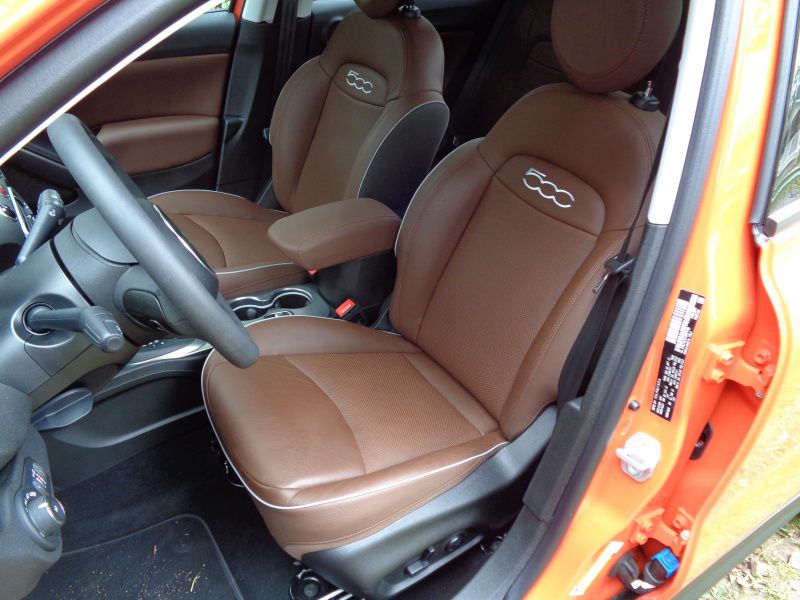 Photo by Brady Holt
Carrying Cargo
The 500X is rated to hold 14.1 cubic feet of cargo behind the rear seat, but it feels roomier than the specs suggest. The likely explanation? There's a good amount of useful floor space, but the sloping windshield reduces stack-to-the-ceiling space. A clever configurable cargo floor can sit low for maximum volume or a few inches higher to be flush with the folded rear seatbacks.
Folding the rear seat increases cargo capacity to 39.8 cubic feet. Most competitors do better, and the extra-spacious Honda HR-V even hits 58.8 cubic feet, but the 500X still has enough room to carry everyday cargo. Just keep its limits in mind if you take frequent four-person road trips or major Ikea raids. Our test car did fit a good-sized bicycle without taking the front wheel off, though the front passenger had to move the seat forward a bit.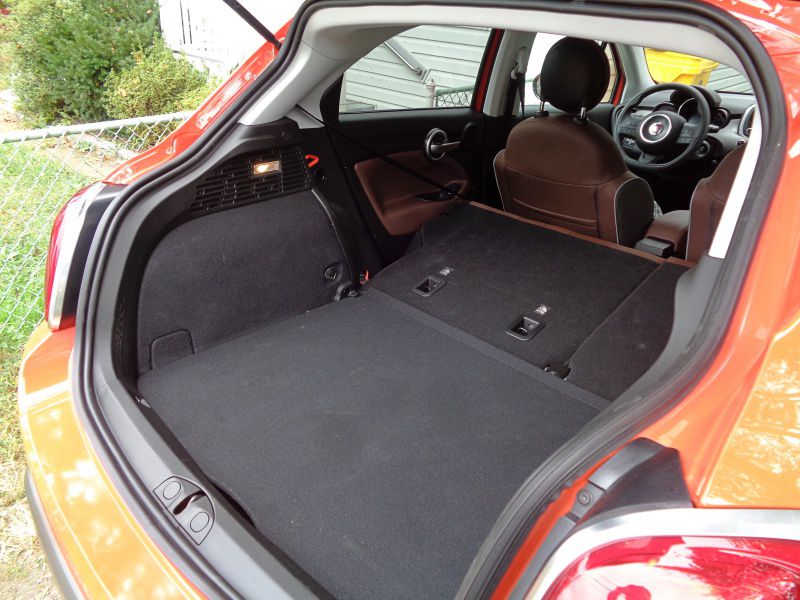 Photo by Brady Holt
Safety Scores
The National Highway Traffic Safety Administration (NHTSA) hasn't tested the 500X, but the Insurance Institute for Highway Safety (IIHS) rated the 500X as a Top Safety Pick. It earned the top score of Good in every crash test, and the IIHS judged its optional emergency automatic braking system "Advanced," four points out of six. To mitigate the force of an impending collision, the system slowed the 500X from 25 to 20 mph in one test and brought it almost to a stop before impact in a 12-mph evaluation. 
Emergency automatic braking is optional on the 500X's Trekking and Lounge trims, part of a $1,295 Advanced Safety Package. This well-priced package also includes blind-spot monitoring with a rear cross-traffic alert, a lane-departure warning with automatic steering corrections, rear parking sensors, and automatic high beams. This is a generous suite of safety features, several of which are hard to find in the subcompact crossover class.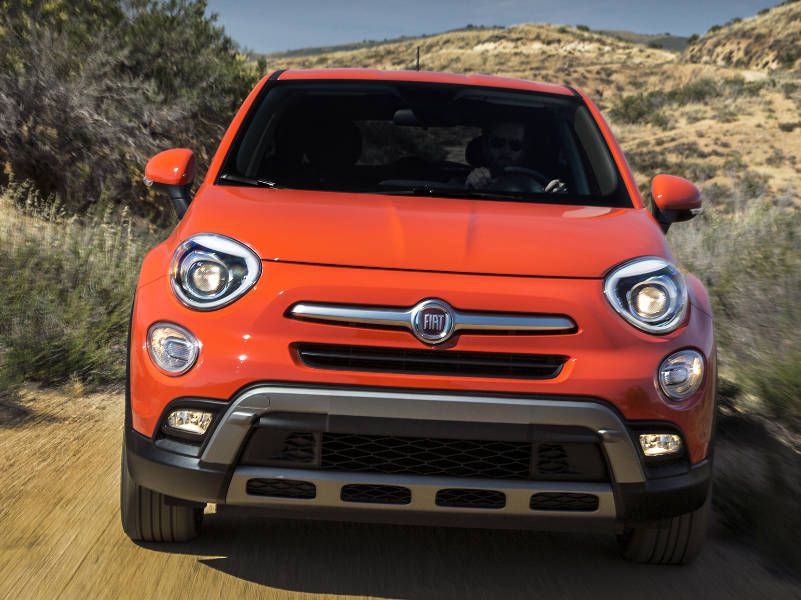 Photo by FIAT
The Competition
In its class, the 500X compares well for its handling, seating position, interior ambiance, feature availability, and safety. But other models can offer more space for passengers and cargo, better gas mileage or a sportier driving experience.
Notable alternatives include the Kia Soul, whose odd mix of strengths include funky styling, refinement, interior space and value, however, it has no all-wheel-drive option and isn't sporty to drive. The Mazda CX-3 is the class leader for performance, luxury, and fuel economy, but it's low and cramped, basically a car with all-wheel-drive rather than a true crossover. The Buick Encore delivers a posh, hushed interior by the class standards, but it's not sporty or distinctive-looking. Solid all-around choices are the capable but dull Honda HR-V and Nissan Rogue Sport. Also keep in mind that some larger crossovers don't cost much more, and consider hatchbacks like the Honda Civic and Mazda3 if you don't need a high seating position and all-wheel drive.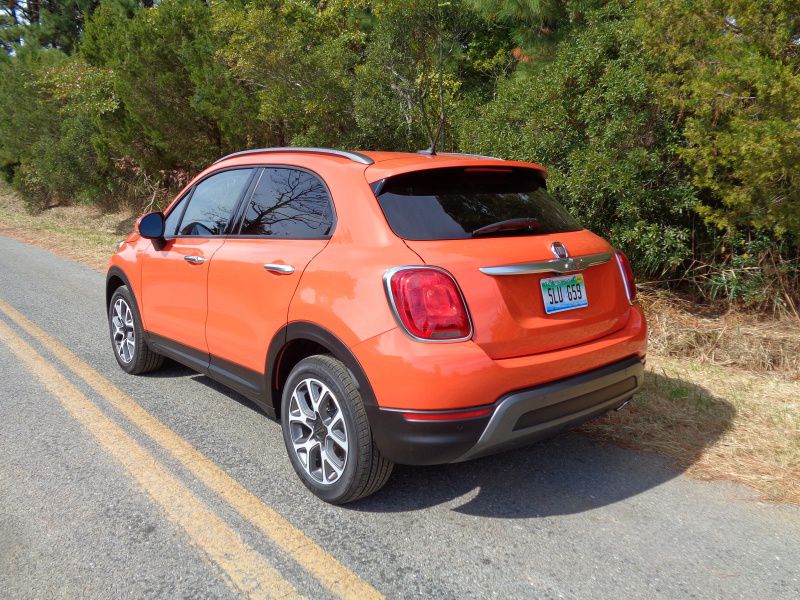 Photo by Brady Holt
Final Thoughts
While the 2017 FIAT 500X isn't perfect, this subcompact crossover delivers respectable levels of value, functionality, and personality. Some shoppers will demand a roomier interior and better gas mileage, or just prefer a different look. But if you find the Fiat endearing, it's an easily attainable option and a decently practical little crossover that fits easily into your life without taking up too much space or too much of your paycheck.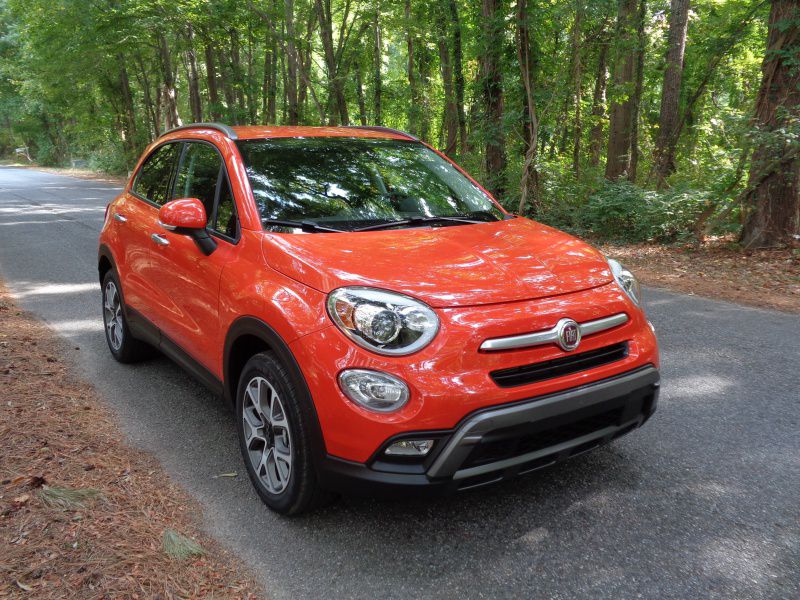 Photo by Brady Holt