2017 FIAT 500L exterior profile ・ Photo by Fiat Chrysler Automobiles
Perhaps recognizing that the original 500 was a bit too small to earn big business here in the United States, the FIAT brand decided to upsize the Cinquecento with cars like the 2017 FIAT 500L Lounge. That "L," of course, refers to the vehicle's larger size: It delivers 42 percent more cabin space than in the 500 proper. In fact, there's room for five occupants with a fair amount of comfort, as the 500L has noticeably more interior room than typical mainstream subcompacts such as the Ford Fiesta or Toyota Yaris. Meanwhile, "Lounge" is FIAT-speak for the 500L's range-topping trim, which is complemented for 2017 by the entry-level Pop and adventure-ready Trekking models. Nor is there any shortage of Italian flair on board. The 500L showcases distinctive style elements inside and out, dynamic driving capabilities, and some hard-to-beat infotainment resources—giving it some impressive premium advantages as compared to its more run-of-the-mill rivals.
Pricing
Okay, the thing about those just-mentioned premium advantages is that they do require a bit of a price premium. Thus, the base 500L Pop has a starting price of $20,995, and that's more expensive than any mainstream subcompact or compact. On the other hand, the FIAT is hardly a mainstream car. When you compare the 500L to a similarly-sized entry with the same sort of semi-premium positioning, like a MINI Clubman, the FIAT undercuts its British-branded competitor by more than $3,000. Then, the MSRP of the 2017 FIAT 500L Lounge—the nameplate's top trim, remember—is $23,695. That's still less than the least expensive Clubman, even though the FIAT has a hefty assortment of standard luxury cues. (For the curious, the third member of the 500L family, the Trekking edition, naturally splits the difference in pricing with the other two trims, and it opens at $22,995.)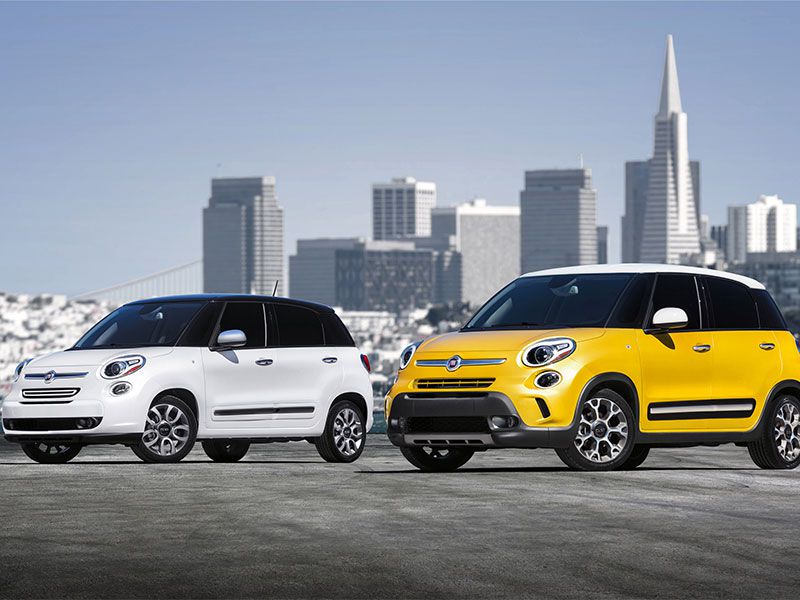 Photo by Fiat Chrysler Automobiles
Power, Performance, and Fuel Efficiency
The 2017 FIAT 500L Lounge, like all 500L trims, relies on a 1.4-liter 4-cylinder engine and 6-speed automatic transmission. Don't let the size of that engine fool you, however. Despite less displacement than a large bottle of pop, this unit can yield up 160 horsepower and a particularly robust 184 lb.-ft. of torque. The secret? A combination of turbocharging and FIAT's MultiAir variable valve-timing technology. Again, that's more standard output than in bigger mainstream cars, including the Ford Focus or Chevy Cruze, and it's also more than come standard in that MINI Clubman. To make the most of the 500L's nimble dimensions, FIAT also fits each car with a sophisticated suspension system that's bolstered by Koni frequency-selective damping, a MacPherson strut setup in the front, and torsion-axle structure at the rear. Yet owners will still see EPA ratings of 22 mpg city/30 mpg highway/25 mpg combined in the 500L.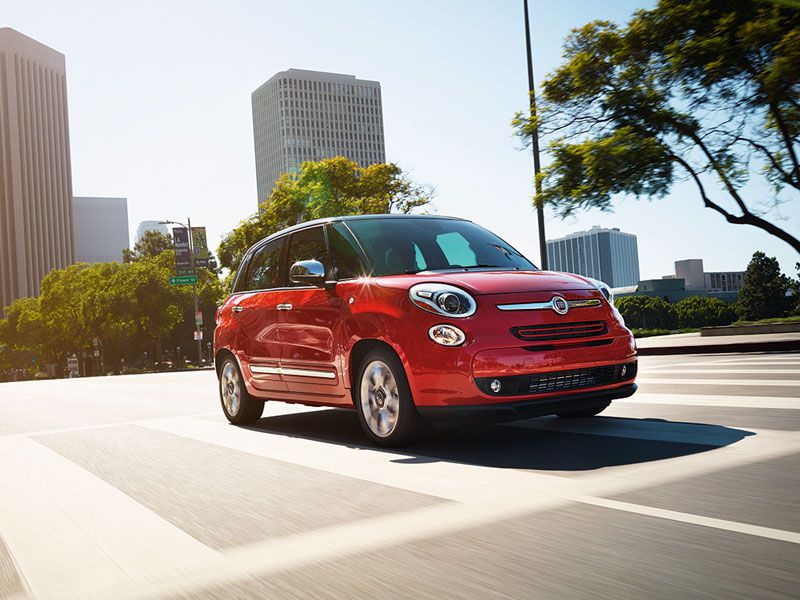 Photo by Fiat Chrysler Automobiles
Exterior Design and Lighting
From the front view, the 2017 FIAT 500L Lounge is immediately recognizable as a member of the FIAT 500 family, complete with its round, distinctly isolated headlights and daytime running lights, a chrome bar slashing through the front FIAT badge, and a small, tidy front grille. But behind the 500L's face, designers created a stronger, more upright shape, with plenty of glass all around. Next, that's nicely set off by gently rounded wheel openings and, at the rear, a roof-mounted spoiler and generously sized liftgate. The 500L Lounge model further refines that look with standard fog lights, chrome fold-away exterior mirrors, and 17-inch "Ecoreflex" aluminum wheels with a glossy painted finish and 5-oval-spoke design. Also worth pointing out is that those wheels are wrapped in upgraded all-season performance tires in the Lounge edition. The finishing touch is an eye-popping palette of exterior colors that includes Graphite Metallic, Blue Tornado, and Deep Lava Red.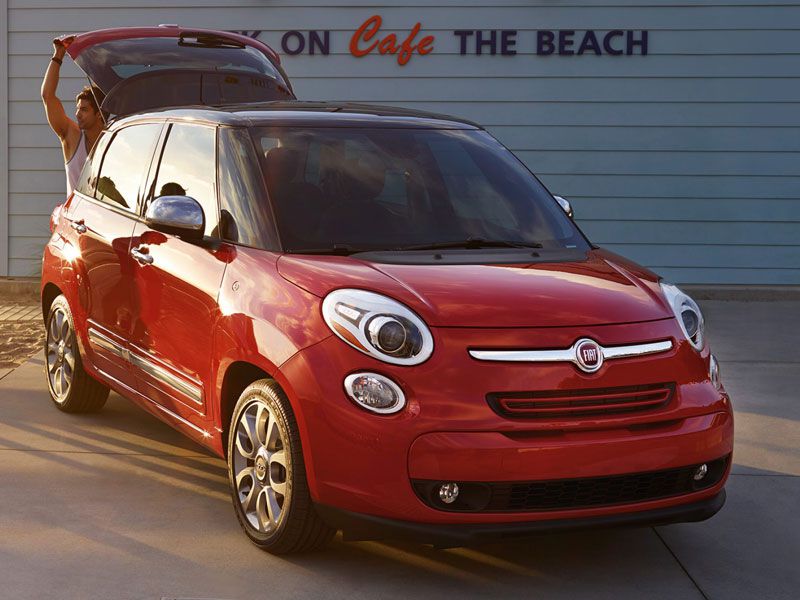 Photo by Fiat Chrysler Automobiles
Interior Design and Capacities
An eclectically designed yet highly functional cabin is an important highlight for the 2017 Fiat 500L Lounge. The steering wheel, for instance, has a thick rim for a comfortable driving grip, but it also has a unique "square-in-circle" design for visual appeal. For the dashboard, the driver benefits from a clean and simple instrument panel, while an integrated storage space has been carved out on the passenger side. Lounge-level comforts run to such features as premium leather seating with a heated front row. In terms of interior versatility, the 500L provides one indication of its roominess by offering 36.7 inches of rear legroom; the Ford Focus and Toyota Corolla hatchbacks, both of which are longer than the Fiat, have 32.7 and 33.2 inches. As for the Fiat's cargo capacity, that stretches to 68 cubic feet when its rear seats are folded—more than in some small SUVs.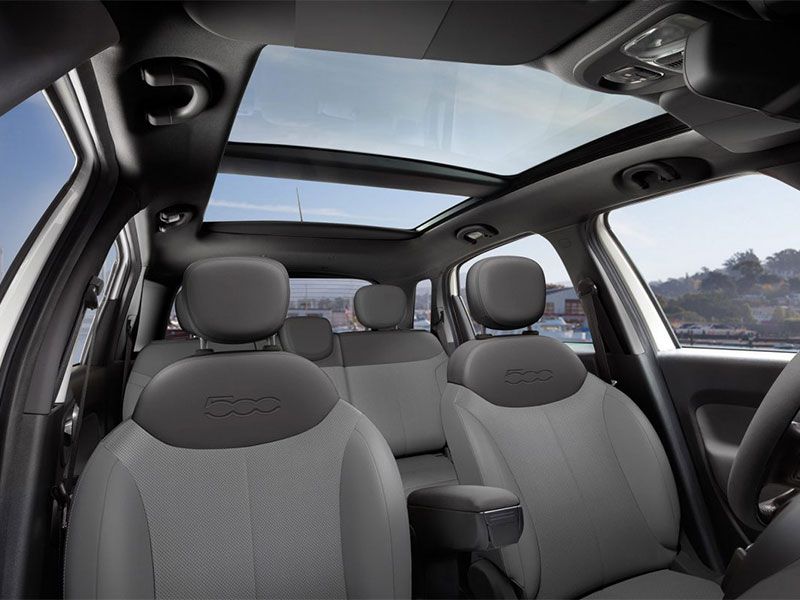 Photo by Fiat Chrysler Automobiles
Infotainment and Audio Technology
The 2017 Fiat 500L Lounge is well equipped with infotainment and audio tech, furnishing a standard Uconnect 6.5 system with a 6.5-inch touchscreen display, voice recognition, Bluetooth connectivity for hands-free calling and audio streaming, and the ability to "read" text messages out loud through the vehicle's audio speakers. And about those speakers: There's seven of them, as part of the Lounge model's standard BeatsAudio sound system, and they include an 8-inch dual-voice coil woofer in its own trunk-mounted enclosure. Additionally in the mix with that system is an 8-channel amplifier that leverages the BeatsAudio digital signal-processing algorithm for an incredible listening experience. The 500L Lounge also expands audio opportunities with a USB port, auxiliary input jack, and a 1-year trial subscription for SiriusXM Satellite Radio. A GPS-based navigation is one on the options menu for the car, as well. In the entry-level 500 Pop, a 5.0-inch touchscreen-based infotainment system is standard.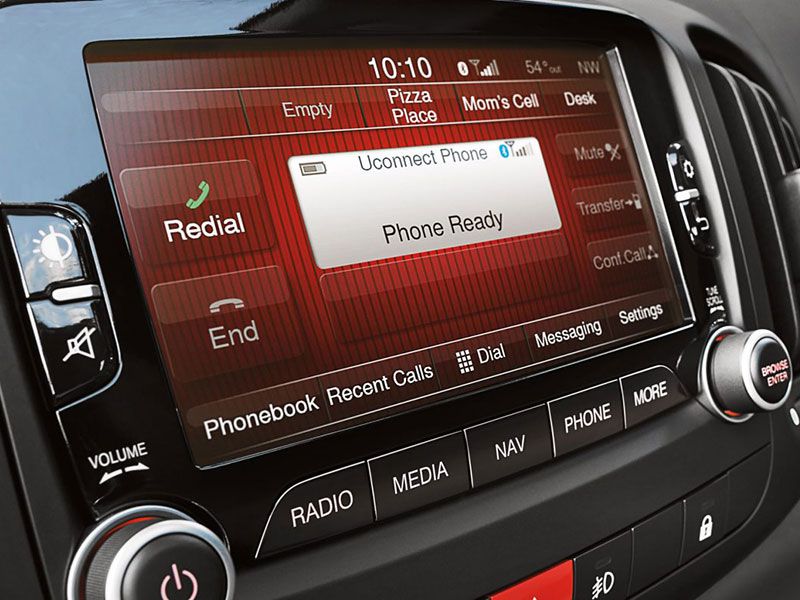 Photo by Fiat Chrysler Automobiles
Safety Ratings and Technology
Now, it must be noted that the 2017 FIAT 500L Lounge model has not been rated as part of NHTSA's 5-Star safety program; it hasn't been recognized as a Top Safety Pick of the IIHS, either. Yet FIAT does boast of having "more than 40 available safety and security features" for the 500L, from a safety-cage body structure to specially engineered crumple zones to channel crash forces away from the cockpit. Included specifically as standard in the Lounge model are tech-based driver-assistance measures such as a rearview camera and rear parking sensors. All 500L trims also have front-row active head restraints and a standard 7-unit airbag array with driver's-side knee protection, advanced multi-stage air bags for the driver and front seat passenger, supplemental front and rear side curtain units, and more. Finally, helping owners enjoy the 500L's fun-to-drive nature are electronic stability control, all-speed traction control, and anti-lock 4-wheel disc brakes with FIAT's Vehicle Dynamics Controls/Systems.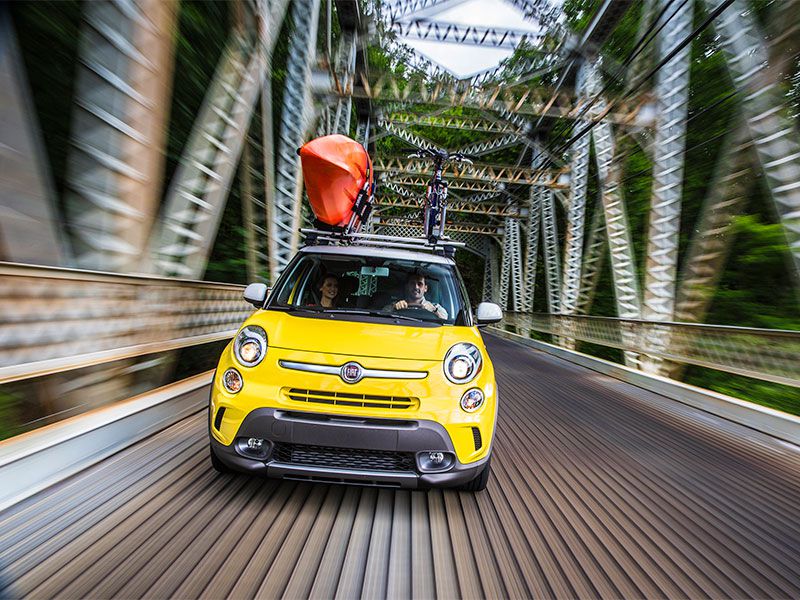 Photo by Fiat Chrysler Automobiles
Available Equipment
Beyond what was covered in the Exterior and Interior Design sections of our 2017 FIAT 500L Lounge road test and review, the car plays to its strengths with its selection of expressive style enhancements. For example, FIAT allows owners to create a custom 2-tone exterior look for the 500L by pairing one of the previously mentioned body colors with either a Nero (black) or Bianco (white) roof. Solid and metallic roof finishes are both available, too, and in the Pop and Trekking trims, the 500L's mirror caps are painted to match the roof; in the Lounge edition, they keep their sparkling chrome finish. Another top benefit for the 500L is an optional—and surprisingly massive—dual-pane sunroof. The front panel opens, to let the wind and sun come pouring in, and taken together, the two panes combine for 20.7 square feet of glass. 2-tone color themes for the cabin also are available.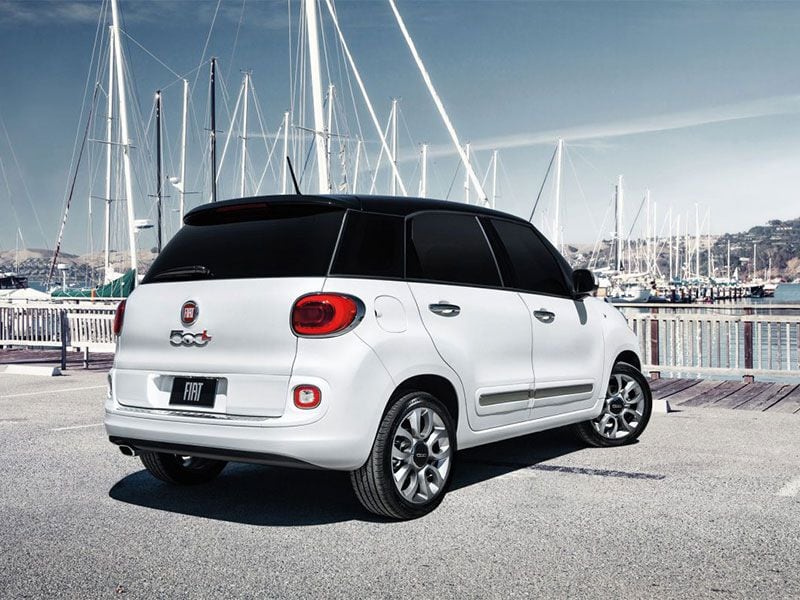 Photo by Fiat Chrysler Automobiles
Other Cool Info
To be clear, the 2017 FIAT 500 also comes in a Lounge trim, so shoppers should be aware of the differences between the two: The 2017 FIAT 500L Lounge is, obviously, larger, with a length of 167.3 inches that compares to the 500 Lounge at 139.6 inches. For some context, a Chevy Sonic hatchback is 159.8 inches long, and a smart fortwo is 106 inches in length. Moving inside, the 500L Lounge has an extra 3.1 inches of rear seat headroom versus a "regular" 500, plus 5 additional inches of rear seat legroom. Moreover, the smaller FIAT only offers a 5-inch Uconnect touchscreen, not the 6.5-inch version in the 500L Lounge. It's a similar story beneath the hood, where the 500's standard engine has 59 fewer horsepower and a torque disadvantage of 87 lb.-ft. Bonuses for the 500 are its available convertible top and an EPA line of up to 31/38/34 (with a standard 5-speed manual transmission).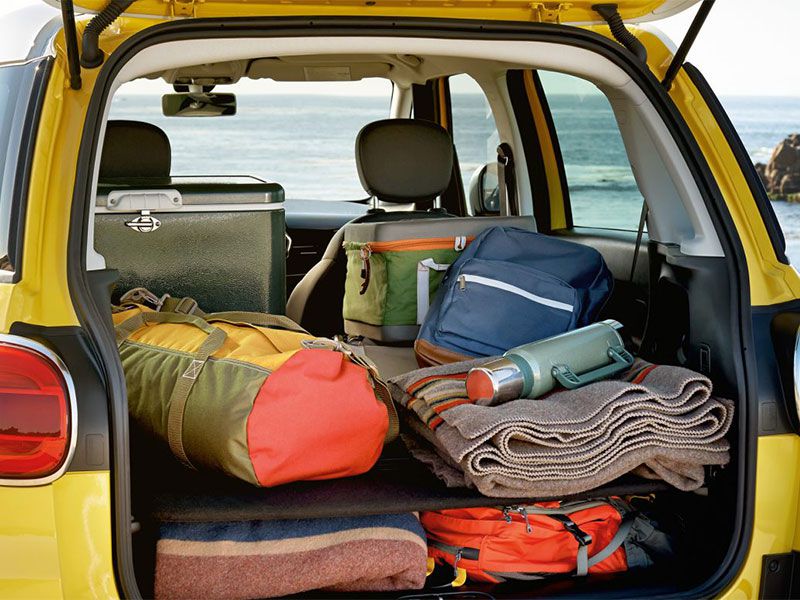 Photo by Fiat Chrysler Automobiles
Final Thoughts
Small car shoppers have a lot of very competitive choices nowadays, but the 2017 FIAT 500L Lounge stands out from those entries in a lot of ways. For instance, the 500L has a lot of cargo space for a small car, which is an especially strong selling point in the segment. FIAT also goes big with the 500L's styling cues, from the car's available contrast-color roofs to its detailed cabin environments. True, it's a little pricier than small cars from the mainstream brands, yet it's a value when you contrast it with smaller premium choices from the likes of the MINI. The bottom line for this Italian hatchback: There's no getting around its fuel efficiency ratings, but if you want to get around in a stylish and dynamic small car that features uncommon design cues and unexpected versatility, the 500L is a credible choice.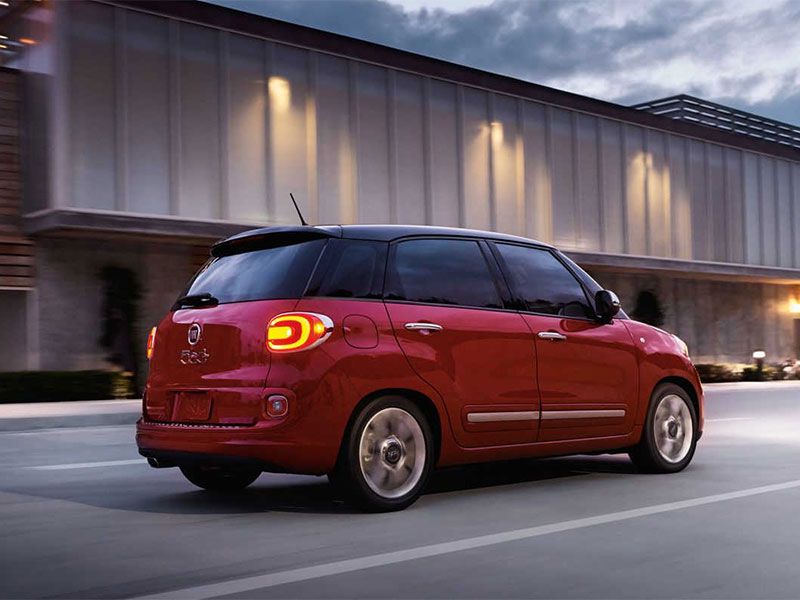 Photo by Fiat Chrysler Automobiles