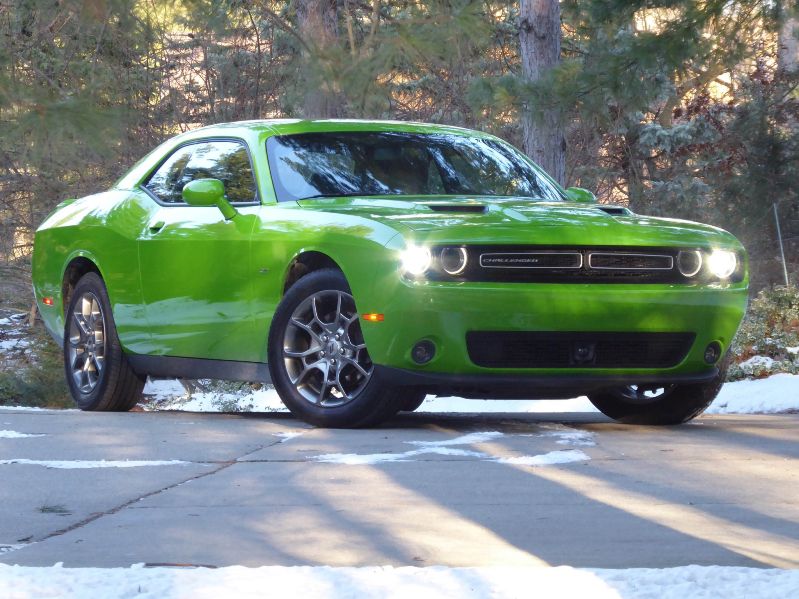 2017 Dodge Challenger GT awd green go color
It doesn't quite rank up there with Confucian riddles but the question remains: which came first, the American muscle car or the smoky burnout? Sure enough, the two have been inexorably linked ever since U.S. automakers began making large numbers of popularly priced sporty coupes with large-displacement engines in the 1960s.
The muscle part came from putting the engine from a larger, heavier car into a smaller, lighter one; the smoky one from the fact that in most cases less than 40 percent of the car's weight was over the rear driving wheels. Stickier tires helped. But anyone who spent much time in a 1960s or 1970s-vintage muscle car knows they could be a handful in wet or snowy weather. Many a Mustang or Camaro ended up in a ditch by the side of the road—or worse.
Yet the ability to lay a pair of black stripes on the pavement with a squeeze of the throttle can be an irresistible allure. In modern-day muscle cars, the standard stability control system helps mitigate traction loss in most cases—as long as the driver doesn't switch it off. And that's just it: Many of these systems apply the brakes or cut power to prevent wheelspin, slowing the car. That's buzzkill for a driver looking to spin doughnuts in a parking lot or grab a little tail-out fun on a favorite back road.
Hooking Up on the Road
Enter the 2017 Dodge Challenger GT—the first American muscle-car coupe with all-wheel drive. It has neither a big V8 nor an innate ability to smoke the rear tires. And with the tires of all driven wheels gripping the tarmac, it doesn't have to cut power to maintain traction. What is does have is a fairly lively 305-hp 3.6-liter DOHC V6 that together with a slick-shifting wide-ratio ZF 8-speed automatic transmission can reel off no-drama 6-second 0-60 mph sprints all day long, which incidentally is a performance statistic that many late-1960s or early-1970s smallblock-V8 Camaros, Mustangs, Barracudas and such would be hard-pressed to match today. The Challenger GT won't rattle the china like a 392 Hemi Scat Pack or SRT Demon, but it's also a muscle car that you don't need to park when the weather turns sour.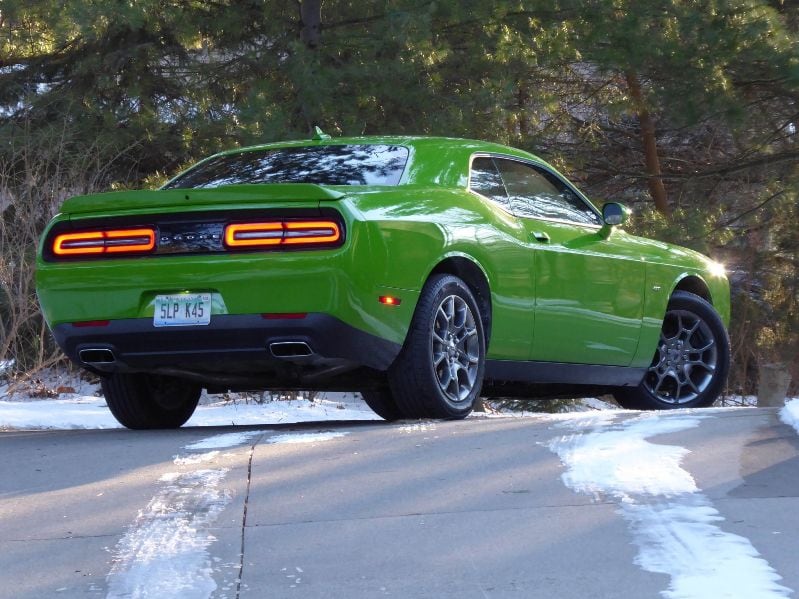 On-Demand AWD System
Any drag racer knows that a deep well of power is useless if you can't get it to the ground. For the Challenger GT, Dodge adapted the all-wheel drive system that's available in the Charger. It's an on-demand system that defaults to rear drive except in low-traction situations, low ambient temperatures or when the transmission is in Sport or manual-shift mode. Then, as-needed, the system can send up to 38 percent of drive torque to the front wheels. That means at least 62 percent still goes to the rears, thus maintaining a rear-biased front-to-rear torque split. This helps preserve the Challenger's rear-drive feel, allowing the rear tires to step out a bit before directing the fronts to help pull the car through a turn. Rounding out the GT's chassis hardware are suspension bits from the Charger Pursuit police car and upgraded brakes from the Hemi V8-powered R/T model. Michelin Primacy MXM4 all-season skins wrap ten-spoke 19-inch alloys. The GT rides firmly but handles body motions well.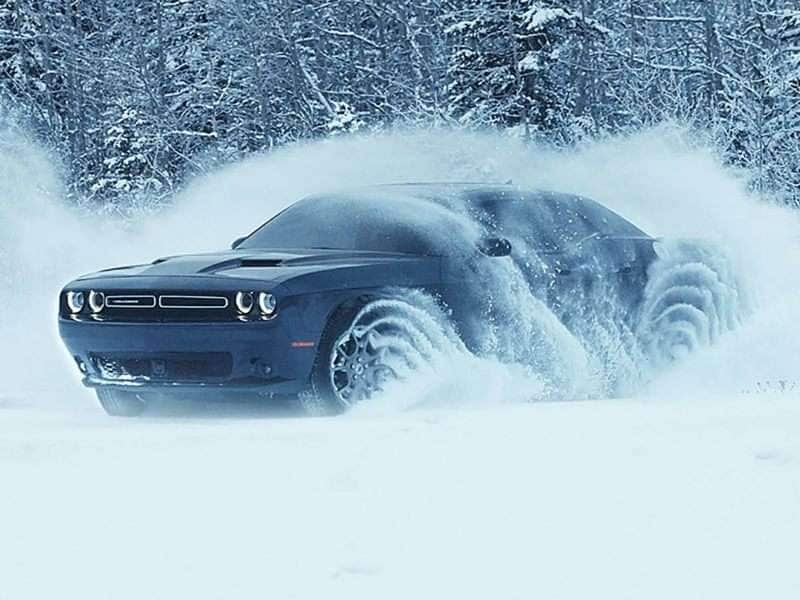 V-6 Only
Under the hood, the 3.6-liter VVT port-injected V6 is quiet and subdued in operation. Despite the generously sized dual exhaust outlets, there is no exhaust burble or intake moan at wide throttle openings to be heard. If you are looking for Hemi rumble to validate your muscle-car experience, the GT isn't your ride.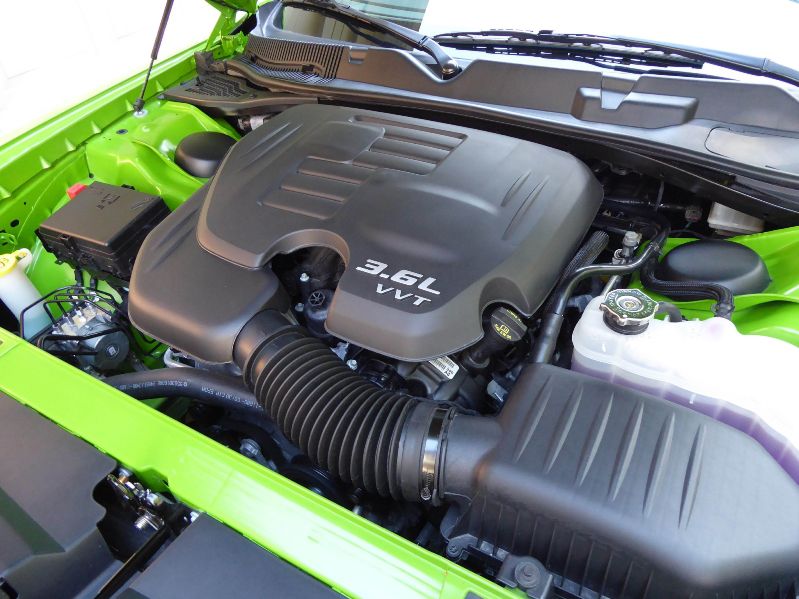 Muscle Car Looks
The Challenger itself is a larger ponycar proposition. Your mind's eye thinks it's seeing a modern incarnation of the classic 1970-74 Challenger, but the 2017 model is really about a half foot longer and taller than its vintage namesake—closer in size, actually to today's Charger sedan. A high beltline and more upright seating make the Challenger feel bigger than a contemporary Mustang or Camaro because it is—nearly 10 inches longer, 3 to 4 inches taller and 300-400 pounds heavier than the Ford or Chevy (and that's not counting the additional 200-or-so pounds of AWD hardware).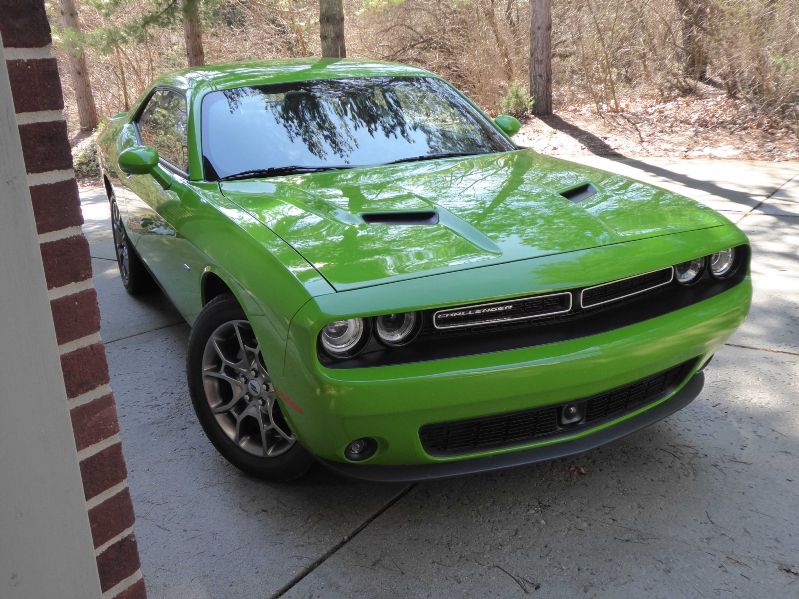 Spacing Out
Dodge says the Challenger is a 5-passenger car and there are safety belts for three-across seating in the rear, but you wouldn't want to be the unlucky soul riding the hump in the middle. Two adults will fit back there comfortably once they tilt the front seatback forward and climb under the front-seat safety belt. There's easily 3-4 inches more rear headroom and rear legroom in the back of a Challenger compared to a Mustang or Camaro. Same story in the trunk with a Charger sedan-like 16.2 cubic feet of luggage space available—nearly double that offered in the Camaro. The only downside is no rear spare tire, the well it normally would reside in taken up by the car's 12-volt battery, a tire-repair/inflation kit and on upscale models, big Harman/Kardon amp and subwoofer. A 60/40 split fold-down rear seatback allows the flexibility to carry longer items inside the car.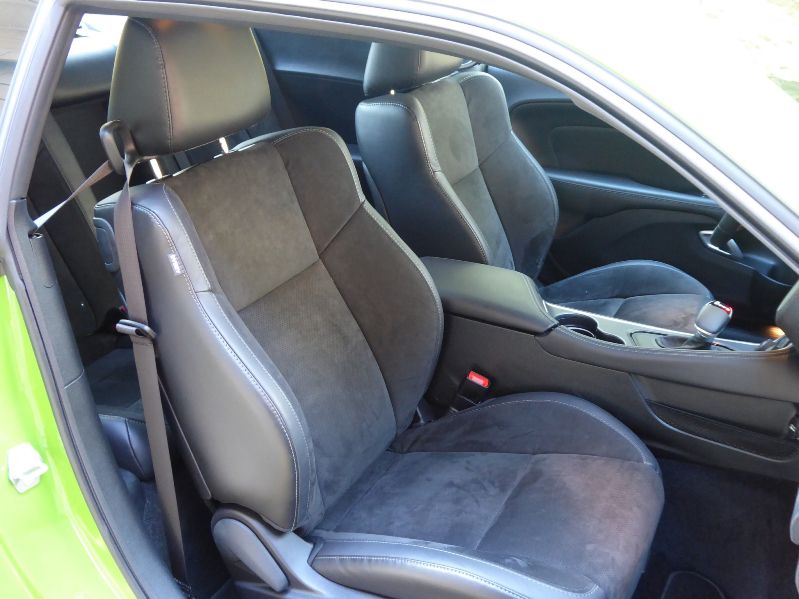 Old-School Cabin
Inside, the Challenger's cabin feels old-school with its high cowl and Charger sedan trickle-down design. But the GT adds upgrades in the right places with nicely contoured and supportive heated sport seats, a grippy, thick-rimmed heated sport steering wheel, alloy paddle shifters, pushbutton start, dual-zone automatic a/c, and an Apple Car Play or Android Auto-ready Uconnect infotainment with a large, 8.4-inch touchscreen. Pressing the GT Super track button activates launch control for flawless stab 'n steer acceleration runs and the performance pages, which can display 0-60 times, G-forces, reaction times and such.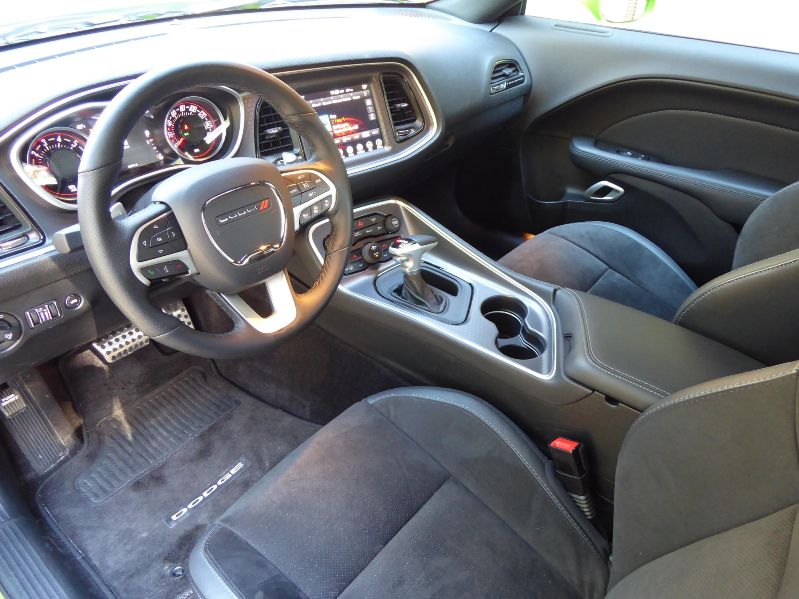 Crazy Like a Fox
At an MSRP of $33,395 the AWD V6-powered Challenger GT is more expensive then the Hemi V8-packing R/T. So the question might be, is Fiat Chrysler crazy for offering a tough-looking American muscle car that can't manage a smoky burnout? Or is FCA crazy like a fox for introducing a stylish and quick all-wheel-drive American coupe that can be driven briskly with full control in any kind of weather? If you only roll Fast 'n Furious style, then the Challenger GT probably isn't for you. But if you like the idea of a car that can handle say a surprise patch of gravel in the middle of a high-speed turn or whatever changeable weather Mother Nature might throw at you without having to get out the lumbering SUV, the Challenger GT might be worthy of your consideration. Sure, there are plenty of performance sedans available today with all-wheel drive, but as of this writing, there's just one with classic American muscle coupe styling.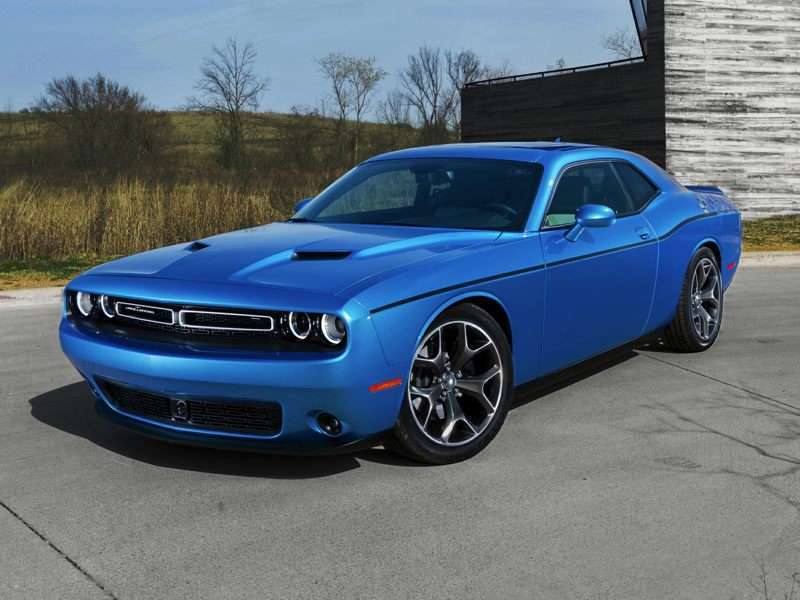 Photo by Fiat Chrysler Automobiles