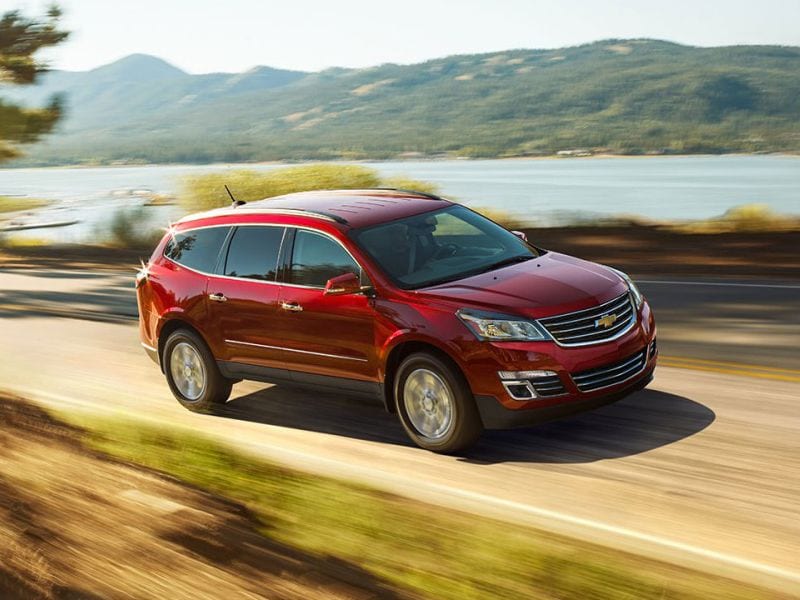 2017 Chevrolet Traverse on road profile ・ Photo by Chevrolet
There are lots of three-row, 7-seat SUVs on the market, but many are half-hearted efforts with cramped third-row seats that eat up most of the available cargo space. What if you need seven (or even eight) seats and luggage? Most buyers think they need a minivan or a giant full-size SUV like a Suburban—but Chevrolet has an answer in the Traverse, a three-row crossover that offers lots of interior room in a reasonably sized package.
A good idea, but for how long?
GMC introduced its "Lambda" SUVs—the Chevrolet Traverse, Buick Enclave, GMC Acadia, and now-discontinued Saturn Outlook—between 2007 and 2009. Their mission was simple and sensible: Deliver the interior space and passenger capacity of a large SUV like the Chevrolet Suburban or Ford Expedition, but in a smaller, lighter, and more fuel-efficient package. It was—and is—a good idea, since the Lamdas seat up to eight with plenty of room for luggage. They can't tow a heavy trailer like a full-size body-on-frame SUV, but they also get better fuel economy and don't require you to call the harbor pilot when it's time to park.
For 2017, the GMC Acadia has broken rank; it's now a smaller vehicle with seating for seven. The Chevrolet Traverse (and Buick Enclave) retain the larger format, though how long that will last we just don't know.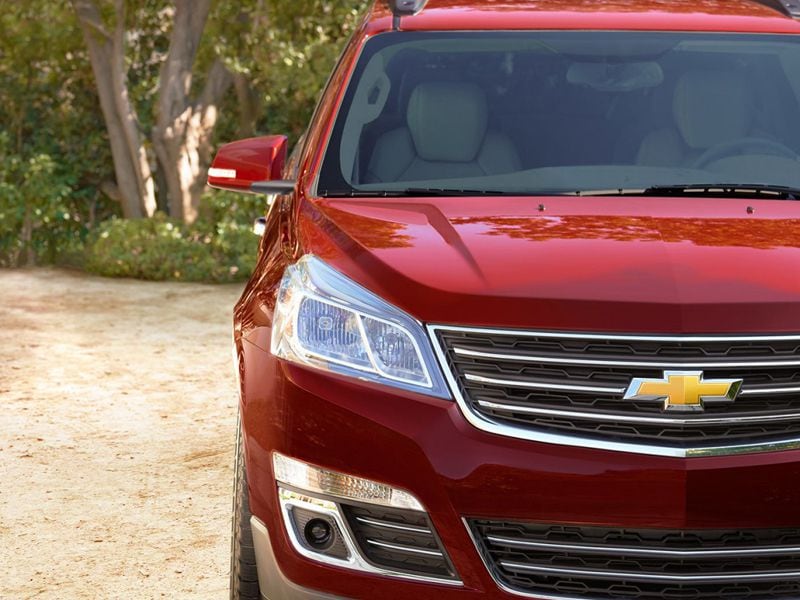 Photo by General Motors
The Traverse's Secret Sauce
Let's talk a bit about how the Traverse is constructed, because that is the secret to its roomy interior. Most fullsize SUVs are basically pickup trucks with station wagon bodies; they have a separate frame to which the body, powertrain, and suspension are bolted. Body-on-frame construction is rugged enough for heavy towing and serious off-roading, hence its use in pickups and very large SUVs.
Automakers know that most SUV owners don't tow heavy trailers or drive off-road, so they build most of their SUVs like cars—they use unit-body (unibody) construction, in which the body itself is the chassis and carries the load, reducing weight and bulk. These vehicles, known as crossover utility vehicles (CUVs) or simply crossovers—although the general public generally refers to them as SUVs—deliver better fuel economy and more interior space. And that's what the Chevrolet Traverse delivers: It's one of the largest crossovers made, and it provides seating for up to eight with plenty of luggage room, sacrificing the rarely used off-road and towing abilities of a body-on-frame SUV.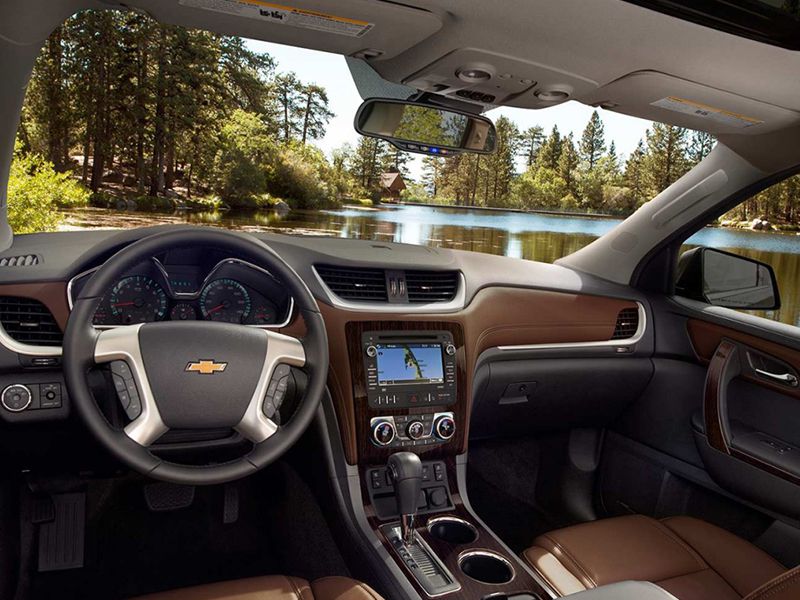 Photo by General Motors
Styling That is Aging Well
The Chevrolet Traverse hasn't changed much since its 2009 introduction; the exterior got a re-do in 2013 that gave it a more beak-like nose and Camaro-like taillights. Normally we'd chide a manufacturer for leaving a vehicle unchanged for so long, but the Traverse's styling has aged well, and we think it looks contemporary both outside and in. That we still like the interior is saying a lot considering how far General Motors' interior design has come along in the last few years; the Lamdas were among GM's best efforts of the time and we think the Traverse's cabin still looks good. We are particularly fond of the dashboard layout, which features a big touch-screen stereo, simple-to-use climate controls, and adequate storage space. And Chevy has modernized the electronics; we're particularly fond of the subscription-based 4G LTE system, which allows passengers to stay online on the go.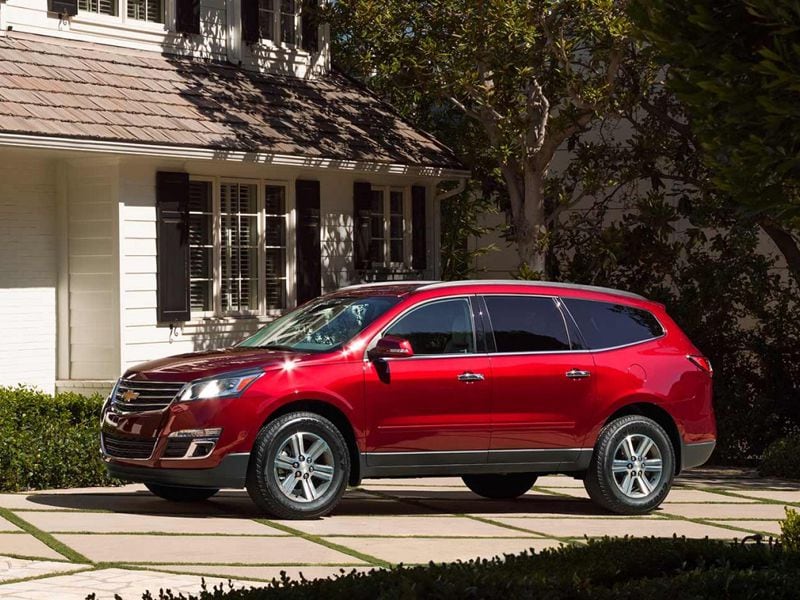 Photo by Chevrolet
Fullsize Interior Space
Satisfied as we are with the Traverse's form, it's the function we really like. When it comes to space efficiency, few vehicles do a better job exploiting the crossover format than the Traverse. The second row is generously sized, with a flat floor that makes three-across seating possible (though higher trim levels get individual buckets in the second row, reducing seating capacity to seven). The third row is surprisingly tolerable; it's not the most comfortable seat in the world, but neither is it the cramped, temporary, kids-only perch that most three-row SUVs offer. The Traverse's third row is sized for owners that will use it on a regular basis. Access to the third row is good thanks to GM's "Smart Slide" second-row seats, which collapse against the front row, but we find the mechanism can sometimes be a little sticky and reluctant to slide.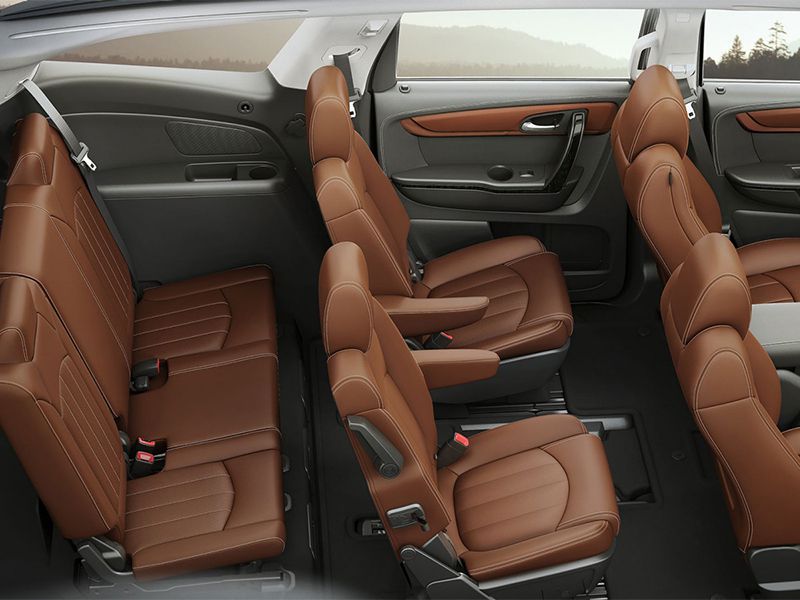 Photo by General Motors
You Can Have Your Passengers and Cargo, Too
Another key element that separates the Traverse from other three-row SUVs (and groups it with biggies like the Chevy Suburban and Ford Expedition) is that the third row seat does not eat up all of the luggage space: Even in 8-seat mode, the Traverse holds 24.4 cubic feet of cargo. That's about two-thirds of the capacity of a mid-size 5-seater like the Honda CR-V or Toyota RAV4 and significantly more than the 14 to 16 cubic feet behind the third row of seven seaters like the Toyota Highlander and Nissan Pathfinder. In practical terms, that's enough space for suitcases, art projects and lots of groceries. With the third row folded down, the Traverse will hold a generous 70.3 cubic feet, about as much as most five-seat SUVs will carry with their back seats folded. Stow the second row and the Traverse carries a van-like 116.3 cubic feet of cargo.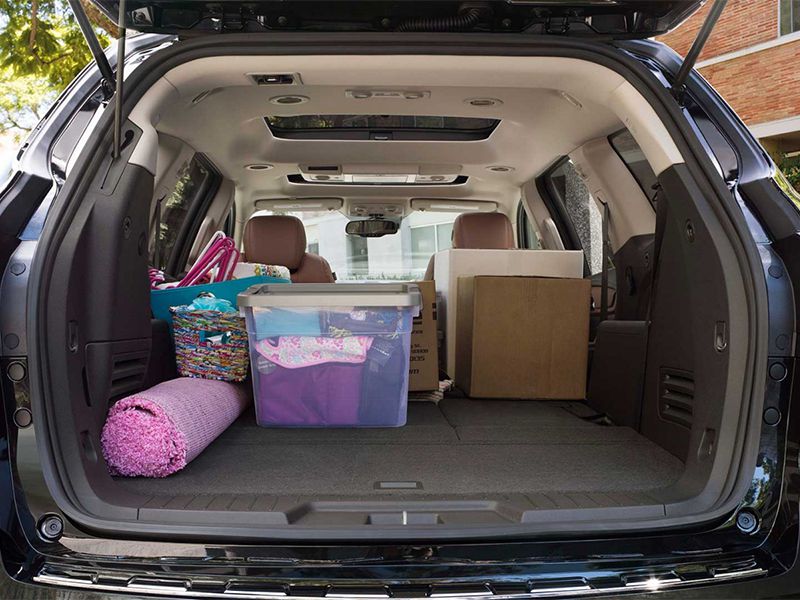 Photo by General Motors
Can you tow with a Traverse? Sort of...
The Traverse's interior capacity figures are what we'd expect to find in a giant SUV; the difference is that those body-on-frame SUVs can tow a big trailer. What about the Traverse? On paper, Traverse can tow up to 5200 lb. when equipped with a $575 trailering package, though in real life that requires limiting what you carry inside.
The Traverse's Gross Combined Weight Rating (GCWR, the maximum safe limit of the vehicle, its contents, and a trailer) is 10,250 lb. (10,450 for all-wheel-drive models), and the Traverse itself weighs 4,713 lb. (4,956 lb. with AWD). With a 5200 lb. trailer, that leaves only 337 lb. of carrying capacity, barely enough for two well-fed occupants, let alone their luggage. In the all-wheel-drive Traverse, capacity drops to 294 lb. The Traverse is better suited to light-weight trailers—jet skis, small boats, maybe a lightweight camping trailer. If you need to tow anything bigger, for the sake of your family's safety, you'll want a body-on-frame SUV or a pickup truck.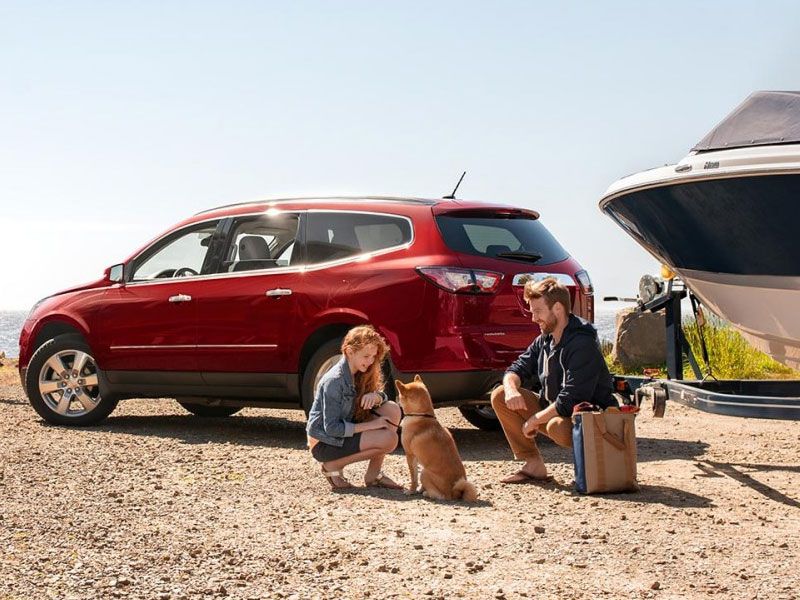 Photo by General Motors
Lighter Weight = Smaller Engine = Better MPG
The chief advantage to the Traverse's crossover format is light weight. The Traverse is around the same size as Chevrolet's body-on-frame Tahoe, but it weighs 700 lb. less (and provides more cargo and third-row space). This allows it to make do with a V6 engine, specifically GM's ubiquitous 3.6-liter V6, which delivers a strong 281 horsepower (288 in Premier models). It's reasonably quick, if not a rocket ship. EPA fuel economy estimates are 17 MPG city and 24 MPG highway with front-wheel-drive and 16/23 with all-wheel-drive, making it more frugal than a big body-on-frame SUV, but thirstier than smaller 5- and 7-seaters.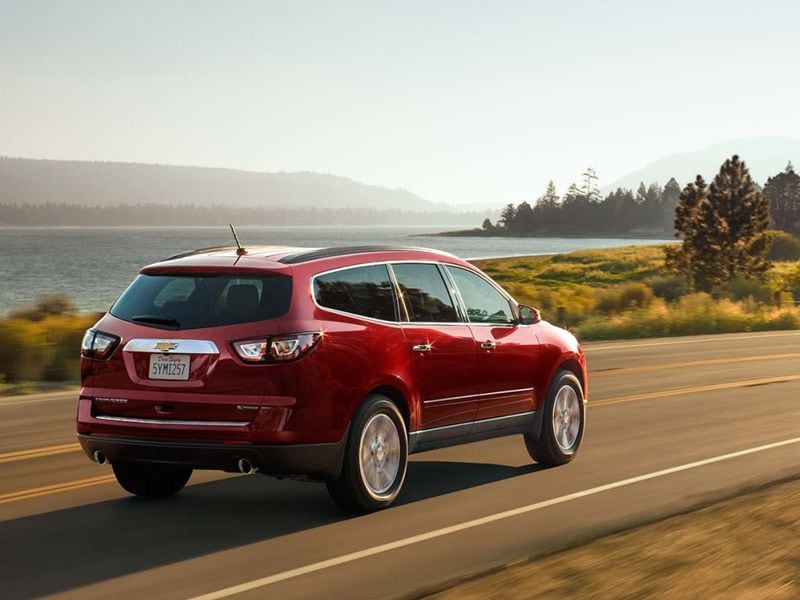 Photo by General Motors
Safety: Good, But a Bit Dated
In terms of safety, the Traverse acquits itself well: A perfect five stars from the government and "Good" (the best rating) in all of the Insurance Institute for Highway Safety's tests to which it was subjected. But the Traverse has not tried the IIHS' tough new small-overlap crash test, and with only basic collision-avoidance features—for example, although the Traverse does have a forward collision alert system, it only warns the driver and does not apply the brakes automatically—this Chevrolet misses out on their Top Safety Pick award. One safety feature unique to the Lamdas is a center airbag, which inflates between the front seats to provide extra protection in a side impact.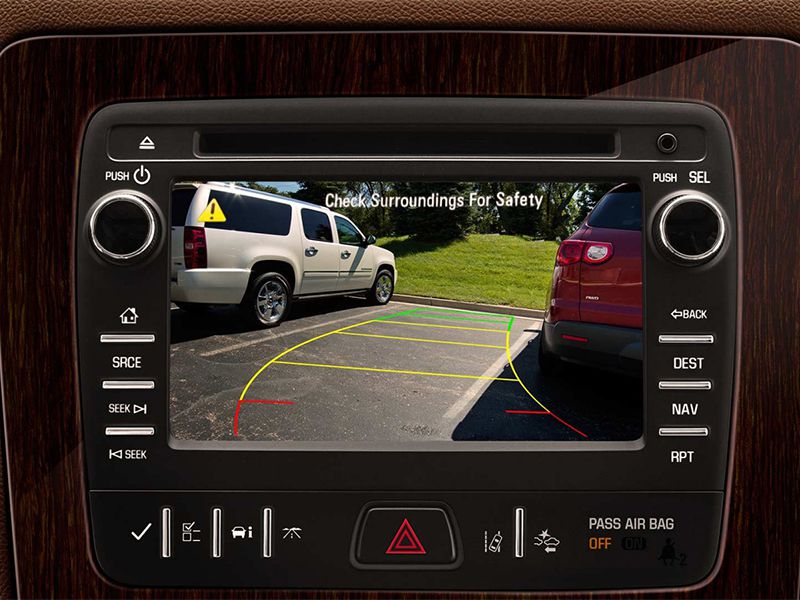 Photo by General Motors
If You Need Space, Traverse is Your Pick
Pricing for the 2017 Chevrolet Traverse starts at $29,595 (including destination fee) for the base LS model, and a top-of-the-line all-wheel-drive Traverse Premiere will set you back $49,970 with all of the options. If you're shopping for a Traverse, we'd recommend test-driving the Honda Pilot and Ford Explorer; they are newer designs with roomy third-row seating, but they don't provide as much overall space as the Traverse. And at the end of the day, that's the Traverse's ace in the hole: Lots of space in a reasonably sized package. If you need a roomy SUV with lots of seats but don't want (or need) the abilities of a cumbersome full-size vehicle, the Chevrolet Traverse may well be the best choice for you.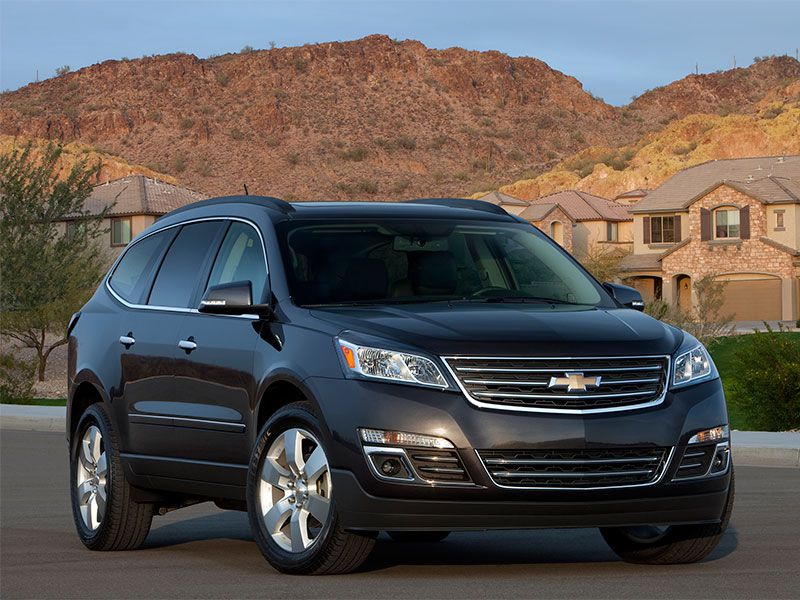 Photo by General Motors