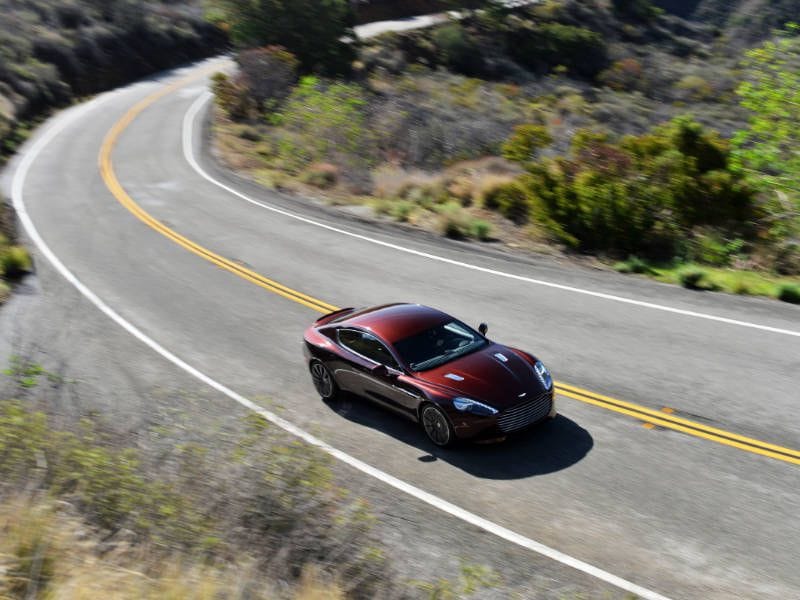 2017 Aston Martin Rapide S front over head ・ Photo by Aston Martin
Eventually James Bond will settle down. He'll meet that certain special Russian double agent and have a couple of little spies. He'll hang up his Walther PPK, trade his martinis for baby formula, shaken not stirred, and replace his license to kill with a license to drive Jimmy Jr. to soccer practice. Daddy 007 is going to need a more practical Aston Martin than his classic DB5 or his more recent DB10, and that's where the four-door 2017 Aston Martin Rapide S comes in.
This is no frumpy family four-door. As if Aston Martin would ever. The V12-powered Aston Martin Rapide S is basically an Aston Martin Vanquish with a longer wheelbase and two extra doors, and the result is undoubtedly the most beautiful sedan on the market. It's also one of the fastest and most expensive cars in the world. It's a true exotic. A supercar for the carpool.
Let's take a closer look at the 2017 Aston Martin Rapide S.
Models and Pricing
Some think the 2017 Rapide S is the top-of-the-line in a repertoire of several trim levels offered. That is not the case. Every Rapide is a Rapide S. There are no other trim levels available, although there is a fairly long list of extra cost options.
Prices start at $208,825, including a $2,825 destination fee. Standard equipment includes Bluetooth, Navigation, power seats, front and rear climate control, a backup camera and 20-inch wheels and tires. Extra-cost options include a 1000-Watt Bang & Olufsen audio system, hand crafted fitted luggage, a rear entertainment system with two small screens built into the front seatbacks and a carbon-fiber exterior package that adds the weave to the mirrors, front splitter, and side strakes. Oddly a sunroof is not available.
Mr. and Mrs. Bond should step up to the Rapide S Shadow Edition, like our test vehicle. The optional package is available in nine unique color and trim combinations. It also gets an increase of 13 hp, a Sports Exhaust system, black tailpipes, 10-spoke graphite wheels, painted brake calipers and an adjustable suspension. With other options, our test car's sticker price approached $230,000.
Photo by Aston Martin
V12 Power
Power for every 2017 Aston Market Rapide S comes from the same all-aluminum 6.0-liter V12 used in Aston's Vantage S and Vanquish. Here, it's backed by an 8-speed automatic transmission with paddle shifters. There are no turbochargers like you'll find under the hood of the Aston's competitors. This V12 is naturally aspirated and pumps out a very healthy 552 hp (565 hp with the Shadow Edition Package).
Every Rapide S is rear-wheel drive, just like Aston's two-door super coupes, including the new DB11. Aston says the combination is good for a 0-60 mph time of 4.2 seconds and a top speed of 203 mph. The EPA rates the Rapide S at 14 mpg city and 22 mpg highway. I averaged 12.8 mpg in mixed driving.
Just looking under the Rapide's long aluminum hood is pulse-quickening. The big V12 is as beautiful as the car it powers, with large white intake plenums, each embossed ASTON MARTIN, two throttle bodies and a 6.0 V12 badge sitting front and center. There's also a plaque that reads HAND BUILT IN ENGLAND Final Inspection by Matt Robbins.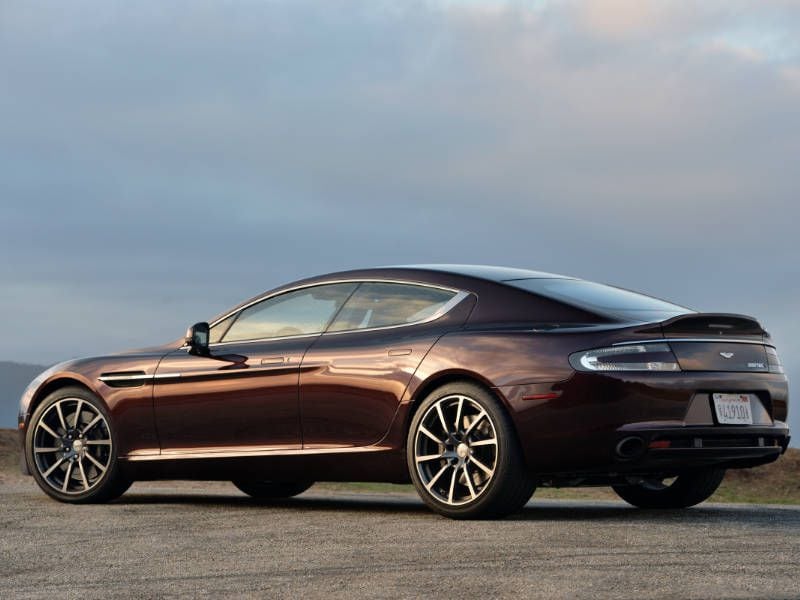 Photo by Aston Martin
Drop Dead Gorgeous
When you're driving an Aston Martin Rapide S, everyone notices. Everyone. Moms in minivans. Dads in Dodges. Hipsters, seniors, high school kids, people in Priuses, wealthy people in Teslas. When a guy in a new Ferrari 488 Spyder gives you a thumbs-up, you know you're driving a cool car. Welcome to Los Angeles.
Aston Martin doesn't do ugly. The company never has. And the design of the 2017 Aston Martin Rapide S, although it debuted back in 2010, still makes people stop and stare. It still looks fresh, and few cars have as much presence as the Rapide.
This is not a small car, but it wears its size well with perfect proportions, an aggressively raked windshield, and low roofline. My favorite view is from the rear. I just love the Rapide's two sewer-sized exhaust pipes, wide shoulders and beautifully integrated rear spoiler, which kicks up at just the right angle. Other details to make you drool are the side vents in the front fenders, which are artistically split by a lot strip of chrome, and the flush body-color door handles.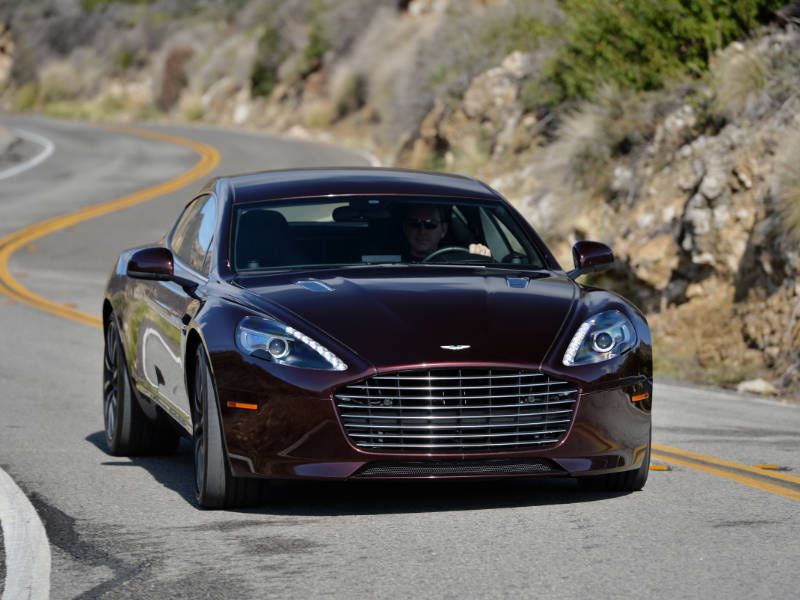 Photo by Aston Martin
A Sports Car with Four Doors
This is basically a sports car with four-doors. Unlike most of the Rapide's competitors, which are often bought to the driven in, the Aston Martin is meant to be driven. And it likes to be driven quickly.
The suspension is firm. The ride isn't uncomfortable, but if you're expecting a plush ride like you get in an S Class or a Lexus, you're going to be disappointed. You feel the road in the Rapide, but it's a very livable ride and handling compromise, with impressive amounts of road holding and a sporty ride most could live with every day. Steering feel is excellent.
In Normal mode, the V12 is there when you need it, but throttle response and the action of the 8-speed automatic are a bit lazy. Pushing the Sport button wakes them right up. Use the paddle shifters and the 8-speed matches revs on downshifts beautifully and the V12 surges to its 6,750 rpm redline with an intoxicating growl. In Sport mode, this is possibly the most fun-to-drive four-door in the world.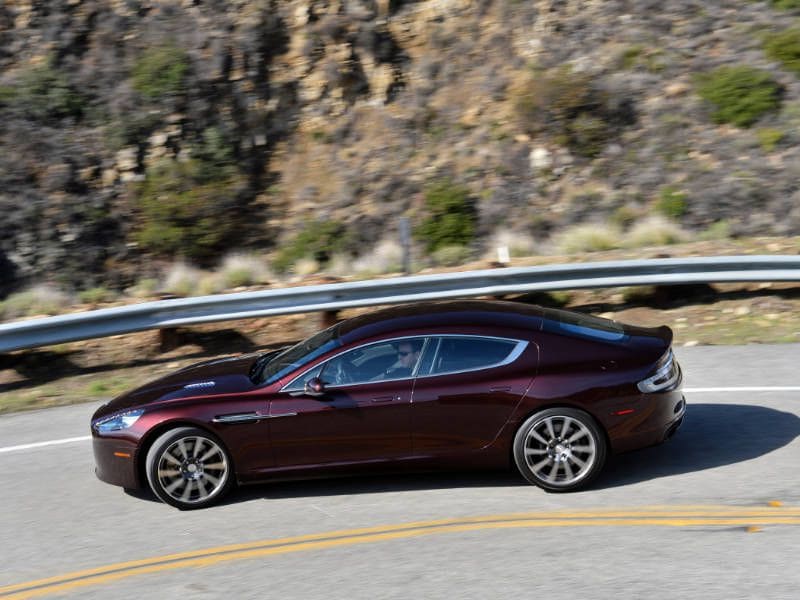 Photo by Aston Martin
Interior Pros and Cons
Slide behind the Aston's three-spoke steering wheel, and you'd swear you're in a sports car. You sit low in a firm and heavily bolstered bucket seat and peer out over a 220 mph speedometer and a long hood that never seems to end. There's so much premium leather you can smell it and enough piano black trim to take you back to the 1980s. I like the contrasting white stitching on the dash, seats, and doors, and the leather and suede headliner is a masterpiece.
Build quality is high, and the gauges are cool if a bit old school, unfortunately, they're mixed with odd ergonomics that include some undersized air conditioning vents and a single leather lined cup holder just big enough for a small water bottle.
Large and well-placed side-mirrors keep rear visibility from being a problem, but parking this long and wide sedan can be challenging.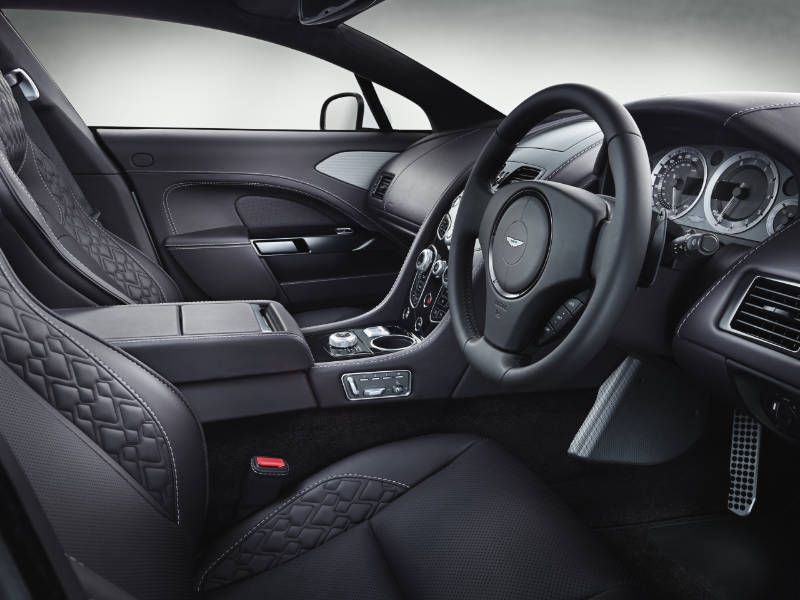 Photo by Aston Martin
Small Cargo Space and Backseat
This is a four-seater. And it's best if your rear-seat passengers are under six-feet tall. My two teenage daughters fit, but felt cramped by the Rapide's huge rear-center console, small doors, and low roofline. They did appreciate the separate rear air conditioning controls, two rear air conditioning vents, and the two small rear cup-holders. I also heard no complaints about the rear seats being heated and cooled.
Cargo space is equally tight. Open the rear hatch, and there are just 7.8 cubic feet of space behind the back seat. There's more than twice that in a Porsche Panamera. Our test car was equipped with the optional folding rear seats, which increases the space to 31 cubic feet, but you'll be laying your cargo on the delicate leather covering your console and seatbacks.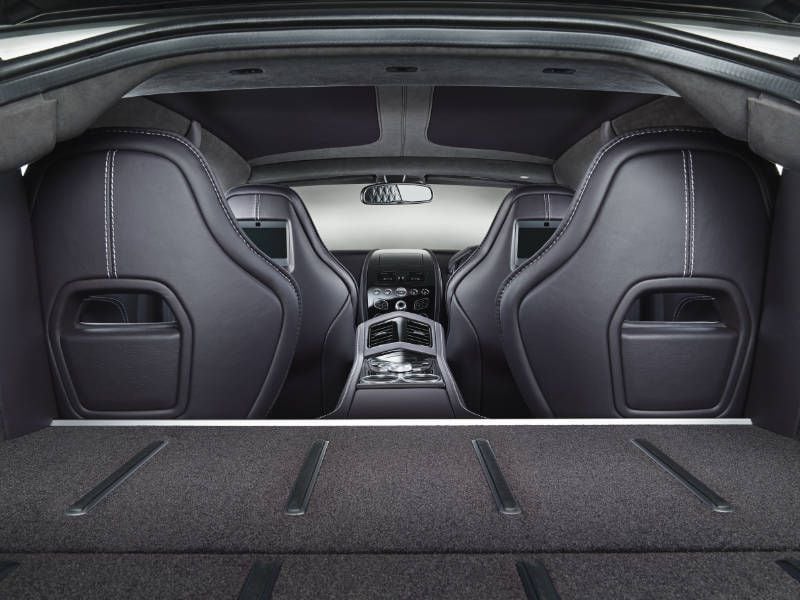 Photo by Aston Martin
Light on Tech
Although the Rapide's infotainment package is an improvement over its previous system, it's still disappointing, with a small 6.5-inch screen, cryptic controls and graphics borrowed from the original Atari. Can I play Pong on this thing?
Programming an address into the navigation system was easy enough, but it literally took over a minute for the computer to find the address and plot the route. In most cars, this takes a few seconds.
The 2017 Aston Martin Rapid S is also without active safety systems tech savvy buyers expect at this price point. Things like radar cruise control, blind spot monitoring and a collision avoidance system are not available on the Rapide. Neither is there an available lane departure warning system or a rear cross-traffic alert system. These are driver aids available on cars costing much less.
Front and rear parking sensors are standard.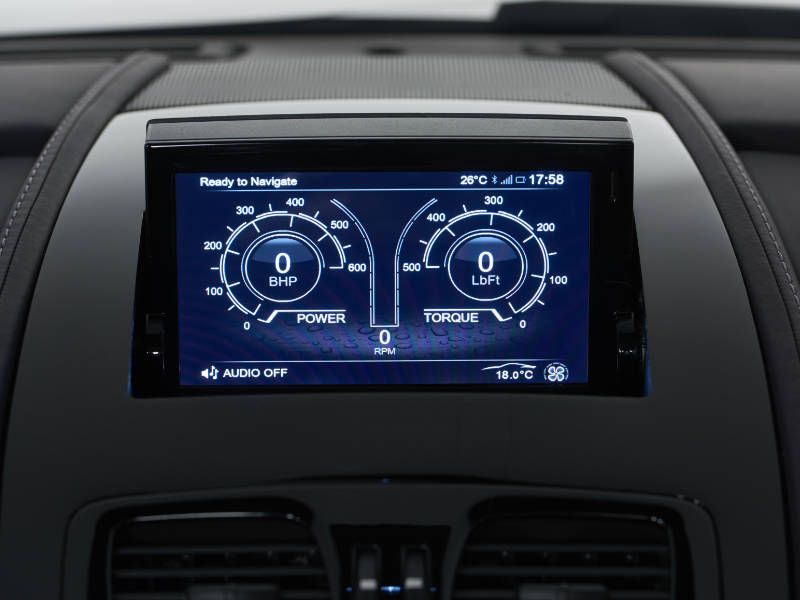 Photo by Aston Martin
The Competition
Designed and built at Aston Martin's headquarters in Gaydon, England, the new Rapide S competes with the Mercedes-Benz S600 and S65 AMG, Mercedes-Maybach S600, BMW M760i, Bentley Flying Spur and the Rolls Royce Ghost. All of these sedans are more comfortable, more spacious and more technically advanced than the Aston. But they're not as fun to drive as the Rapide nor are they as fun to be seen in.  
The Aston's main competition is the very desirable and newly redesigned Porsche Panamera Turbo. This is the car that should keep Aston Martin's executives up at night. It may not be quite as sexy as the Rapide, or as exclusive, but it's larger, more comfortable and it can outperform the Aston. The Porsche is also all-wheel drive, equipped with a state of the art infotainment system, and it offers the latest in tech-based safety systems.
And just to kick a little more sand in the Rapide's large grille, the Porsche's pricing starts at $150,000, undercutting the Aston by about $60k.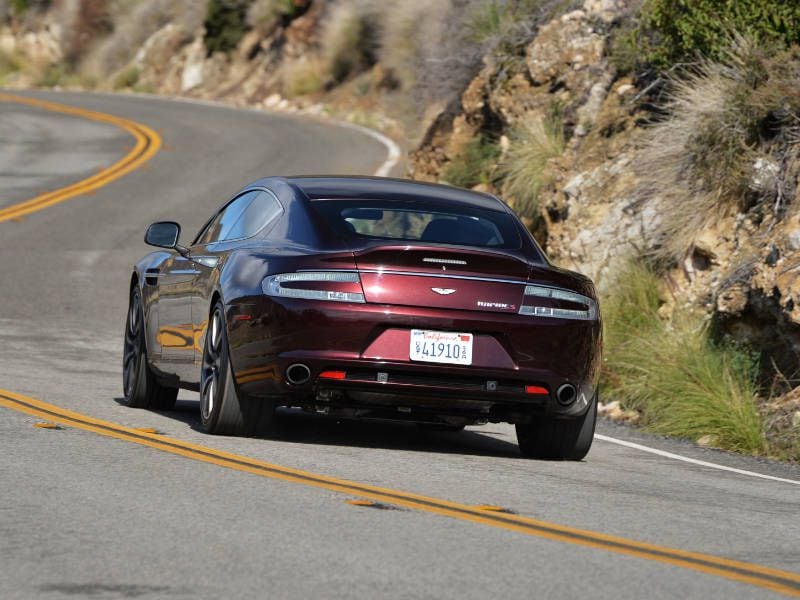 Photo by Aston Martin
Final Thoughts
The 2017 Aston Martin Rapide S is something special. It's more than the sum of its parts. It's packed with personality, and its performance will satisfy. Although the interior isn't as modern as some of its competition, and the car's driving experience isn't as refined, the Rapide is comfortable enough to be driven every day, and it's one of the sexiest sedans ever to take the road.
If you're in the market for a sexy, high-performance, exotic four-door, the 2017 Aston Martin Rapide S is a very desirable overall choice.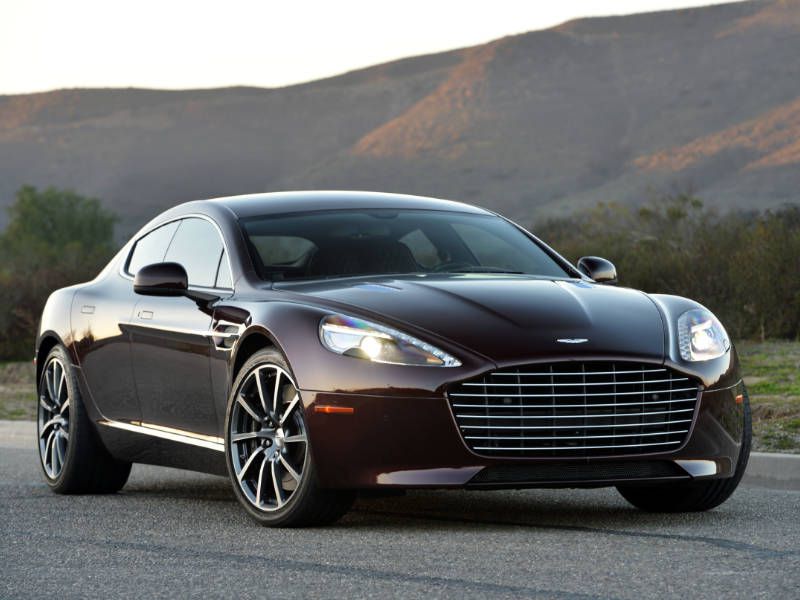 Photo by Aston Martin