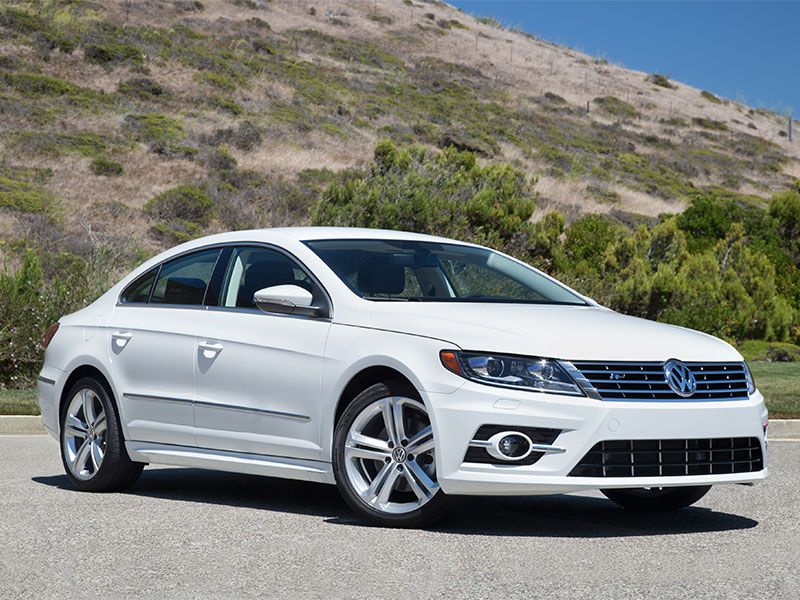 2016 Volkswagen CC exterior front angle view
A lot of cars claim to compete with the premium German sport sedans, but among them, only the 2016 Volkswagen CC R-Line is a premium German sport sedan in its own right. It even has the sophisticated styling of a "4-door coupe," a standard turbocharged engine and an aero-friendly body kit. Additionally, for the 2016 model year, the CC gets key technology upgrades for both its safety and infotainment systems. And though the car's platform dates back to 2008, it also ensures the same athletic European feel as in the products that VW sells in Germany. Cars like today's VW Jetta and Passat are more tailored to traditional U.S. driving preferences. But as you'll see, untraditional advantages are a big part of the CC's charm.
Pricing
Th main difference between the 2016 Volkswagen CC R-Line and its Teutonic rivals has to do with cost of entry. The standard CC starts at $31,570, while the R-Line package requires an extra $3,085. At that point, owners are looking at an MSRP of $34,655, complete with navigation, the R-Line appearance cues, and VW's new infotainment setup—which boasts the latest smartphone integration technologies. That gives the midsize CC R-Line significant cost benefits as compared to even the smaller German compacts, such as the Audi A4 or Mercedes-Benz C-Class. (And to be clear, that's where the CC's real advantages lay, since the midsize sedans from the likes of Audi, BMW, and Mercedes are all noticeably more upscale—and more expensive—than the VW.)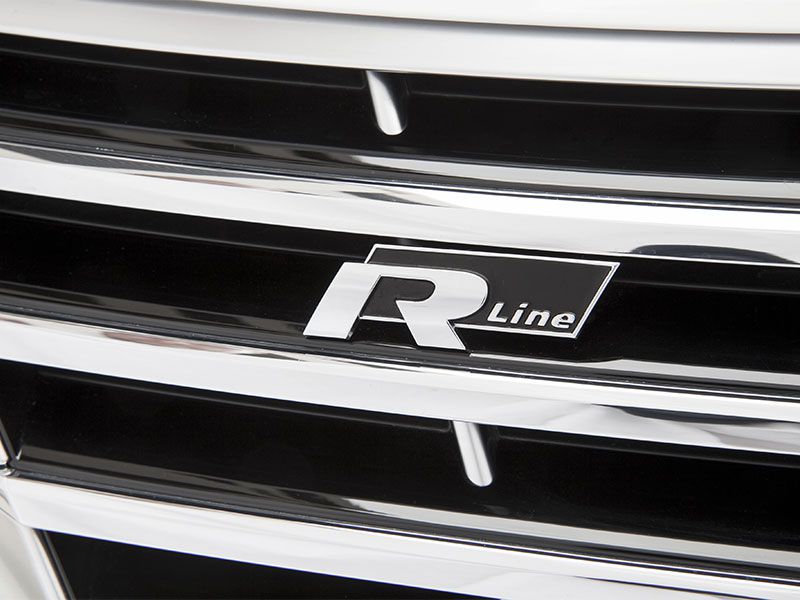 Power, Pricing, Fuel Efficiency
Providing motivation for the 2016 Volkswagen CC R-Line is a 2.0-liter 4-cylinder engine that's been turbocharged to deliver 200 horsepower and 207 lb.-ft. of torque. True, this isn't the next-gen 2.0-liter unit found in fresher VW entries like the GTI, but it still supplies the sport-tuned CC with notably more standard output than many conventional midsize sedans.
The CC's engine feels fairly peppy, too, especially when mated to a 6-speed manual transmission. Also available is a 6-speed dual clutch automatic, with both gearboxes serving up similar EPA grades. The DIY transmission is good for fuel-economy marks of 22 MPG city/31 MPG highway/25 MPG combined, and the automatic comes in with similar numbers of 21/32/25.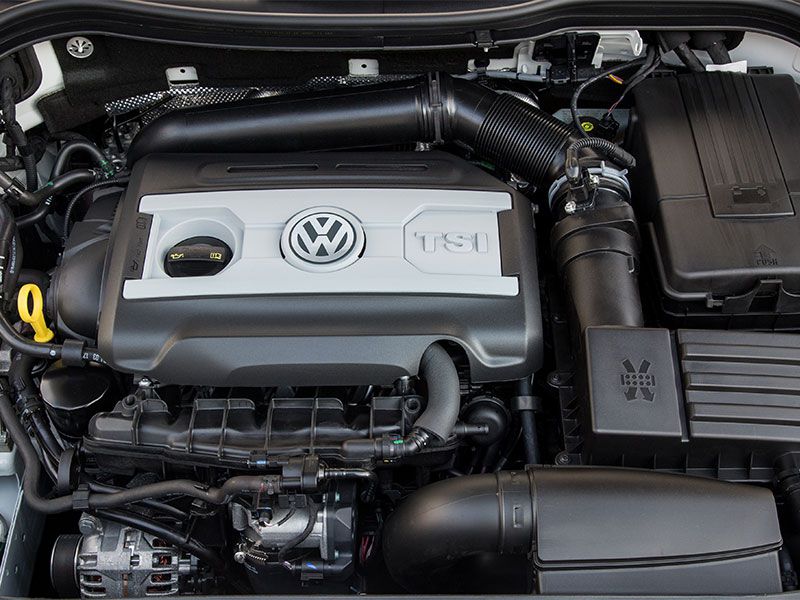 Exterior Design and Lighting
The coupe-ish silhouette of the 2016 Volkswagen CC R-Line comes from its curvy roof and dramatically shaped side-window frames, which seem to sweep back along the lines set by its sculpted hood. Up front is a contemporary VW grille that matches the look on the brand's other sedans, with angular design elements in the standard LED taillights to set off the CC's curves. The R-Line also wears a standard LED license-plate light, as do all CC models, and it further gains standard LED daytime running lights as part of its specific trim package.
Also distinguishing the R-Line from its less sporty siblings are a restyled front bumper, aero-style side skirts, 18-inch alloy wheels and, on the thresholds, "R-Line" door-sill plates that let you know exactly what you're getting.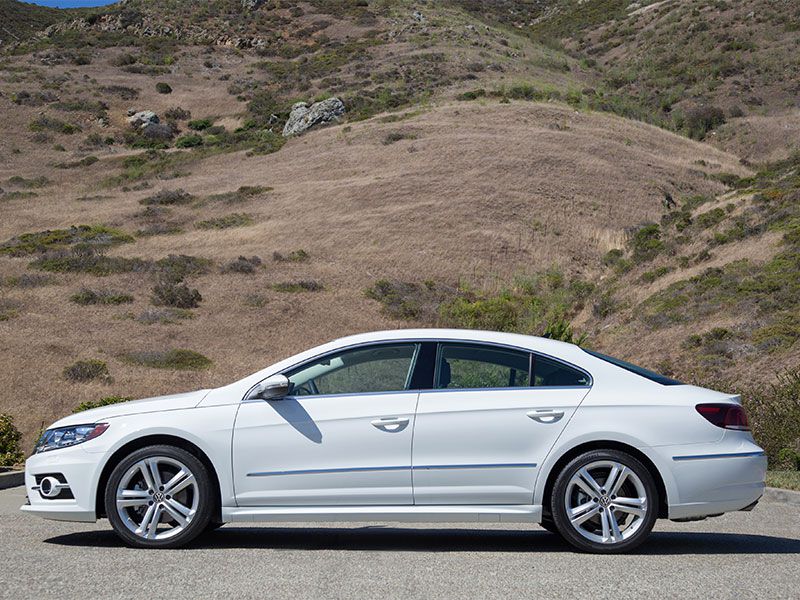 Interior Design and Capacities
The aggressive roofline of the 2016 Volkswagen CC R-Line does mean some sacrifices in headroom, although it's worth pointing out that the car's front legroom is the same as in a Toyota Camry. Also, in back, the CC has more claimed legroom than mainstream mid-sizers like the Nissan Altima and Hyundai Sonata. The CC is a bit short on trunk space as well: At 13.2 cubic feet, it's about 20 percent less spacious than average for the midsize segment.
That said, the cabin of the CC is anything but average. Standard upscale design touches include brushed-metal trim and an analog clock that echoes the circle motif used for the gauges and controls. As for the seats, the fronts are heated and feature 12-way power adjustability, while VW's "leatherette" material—with an available two-tone look—covers both rows.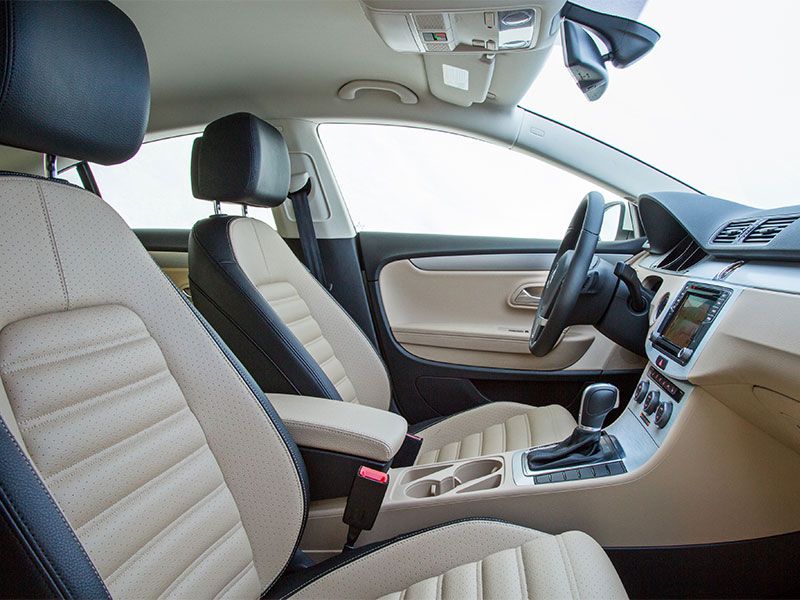 Audio and Infotainment
As you might expect, VW brings an uplevel approach to the CC's infotainment technologies. The standard setup includes navigation, for instance, along with a 6.3-inch touchscreen with built-in proximity sensors. With this technology, pop-up menus appear on the screen as the user's hand approaches, for added functionality and information, but then disappear when not needed for a cleaner look. The CC R-Line also showcases VW's Car-Net with App-Connect as standard equipment. This allows owners to enjoy a variety of telematics services, from the ability to remotely lock/unlock the car's doors to a facilitated connection with first responders in case of an emergency.
The App-Connect feature is VW's resource for smartphone integration, including not just Android Auto and Apple CarPlay, but also MirrorLink.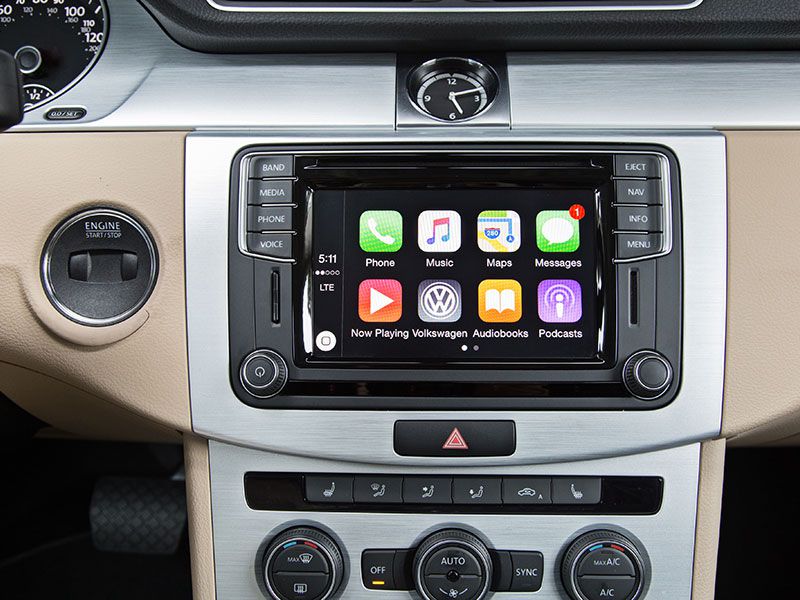 Available Equipment
For owners who want to emphasize the premium credentials of the 2016 Volkswagen CC R-Line, VW offers two special-order enhancements.
The R-Line Executive trim, priced from $37,820, gets things started with a power-tilting panoramic sunroof and a gloss-black exterior finish for the grille, mirror caps, and window trims. And, it swaps out the R-Line's "Mallory" design wheels with those from the "Montauk" line with five sets of triple spokes. The seats, meanwhile, have true leather surfaces for even more comfort. Less effective are the Executive line's woodgrain-style dashboard accents, yet that issue is resolved in the Executive Carbon edition.
With all the same content as the CC R-Line Executive series and the same starting price, the Carbon model naturally comes highlighted by carbon-fiber-look accents.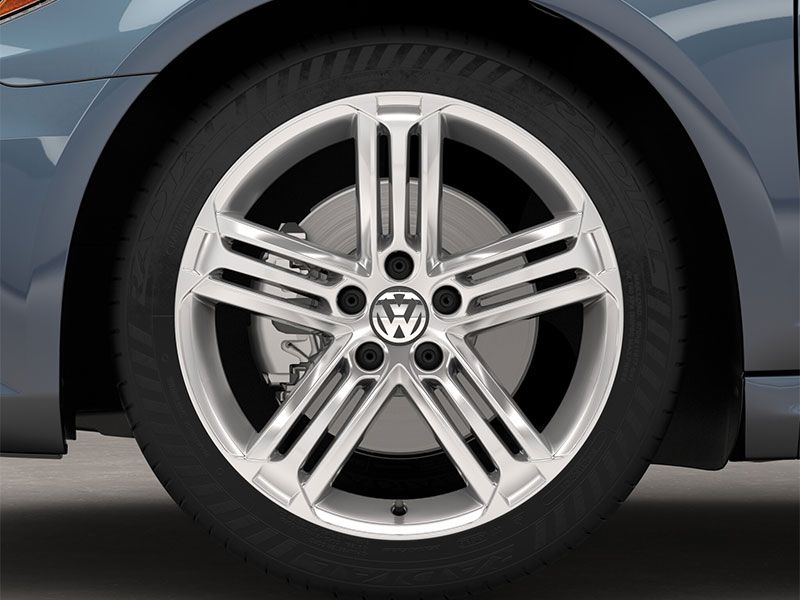 Safety Ratings and Technology
The 2016 Volkswagen CC R-Line also furnishes a pair of pro-active driver-assistance measures, the expected rearview camera system, and the somewhat surprising adaptive front lighting technology. This last feature turns the headlights up to 15 degrees into the turn for a better view of the road ahead while cornering. VW has additional occupant-protection features for the CC, but they're rather oddly reserved for the V6-powered models.
Moreover, like a number of current cars with older underpinnings, the 2016 Volkswagen CC R-Line hasn't received its IIHS Top Safety Pick certification. It did just fine in the moderate front-overlap, side-impact, roof-strength and seating evaluations, but stumbled in the small front-overlap test. Nor has the CC been tested by NHTSA for that group's New Car Assessment Program.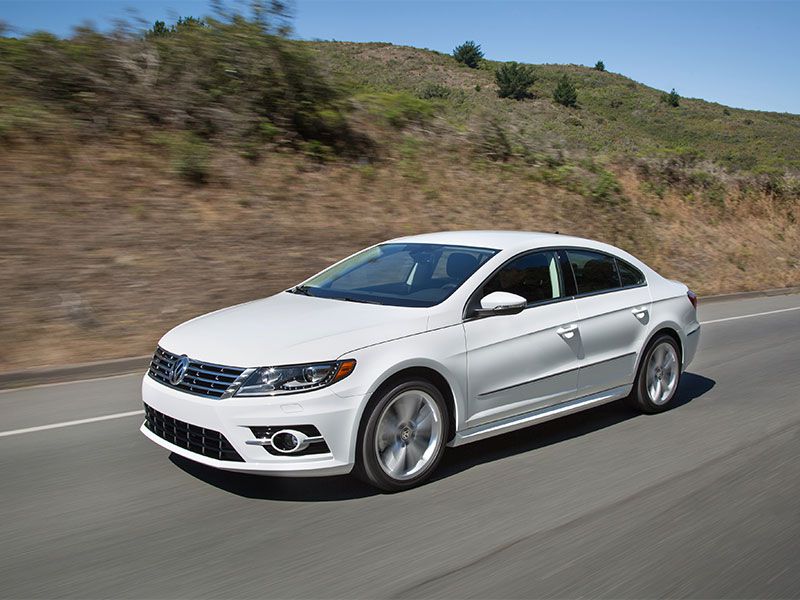 The CC V6 Executive 4Motion
As mentioned, there's a V6 available for VW's sport sedan—just not for the sportiest model. The CC V6 Executive 4Motion is for customers who want serious luxuries such as heated and ventilated front seats with a massage function for the driver, along with a hands-free power-opening trunk and a more competitive range of safety technologies. Thus, adaptive cruise control, lane-departure warning, autonomous emergency braking, and front and rear parking assistance are standard.
Besides the standard V6—making 280 horsepower and 265 lb.-ft. of torque—this opulent CC is fitted with VW's 4Motion all-wheel-drive system. At $44,355, this model is not exactly the value the R-Line is.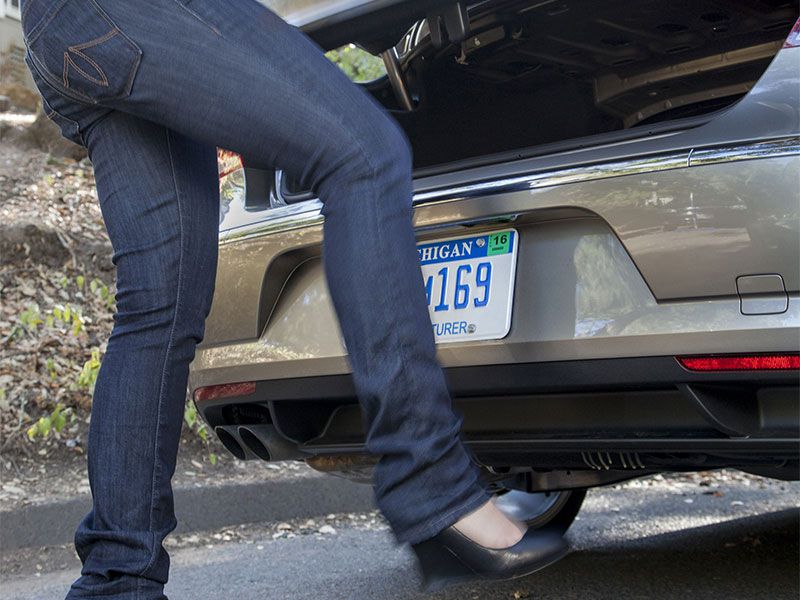 Final Thoughts
German sport sedans have an aura of prestige about them, and it usually comes at a premium cost. The 2016 Volkswagen CC R-Line, however, remains in the comfort range for many customers. After all, the average transaction price for a new vehicle this summer cracked the $34,000 barrier, which is within a few hundred dollars of the R-Line's MSRP. The CC also has strong European roots, thanks to hardware developed before VW started to "Americanize" its other sedans. Do keep in mind that, when the 2017 CC lineup reaches dealerships, this high-value R-Line model will be gone, and only the Executive edition will be available—albeit with the same advanced safety technology as the CC V6.