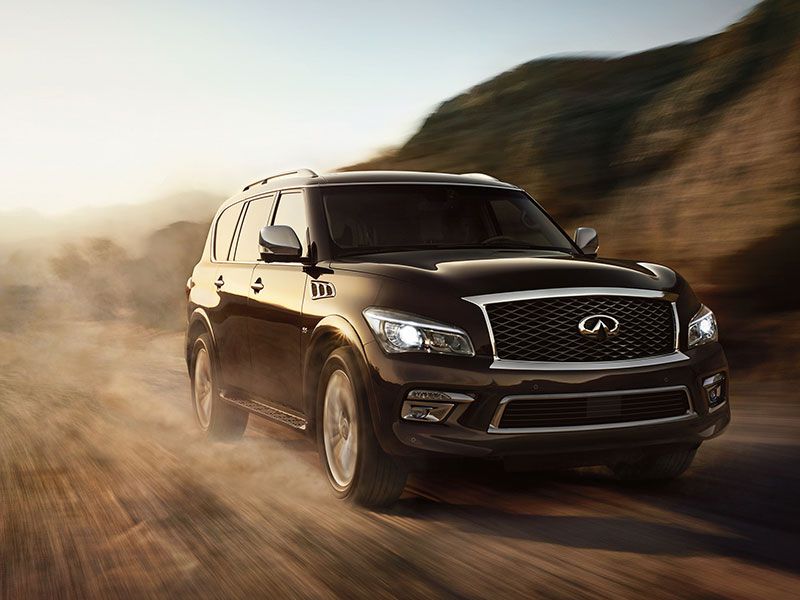 2016 Infiniti QX80 in motion ・ Photo by Infiniti
Infiniti struggles to get its message across. As the luxury offshoot of Nissan, Infiniti's brand image remains indistinct to the public, even after nearly three decades in business. This struggle leads to some desperate measures, like renaming the entire lineup with a new alpha-numeric scheme. It's a shame, because there are some great vehicles in the lineup, and they sometimes get overlooked when the competitors are gathered.
At a time when there's a general retreat from fullsize SUVs, the 2016 Infiniti QX80 proudly sports a big engine, three rows of seating and robust body-on-frame construction. The QX80 (formerly QX56) is a worthy flagship for a performance luxury brand.
Pricing and Trim Levels
QX80 prices are pretty much unchanged from 2015, with a new Limited trim level (formerly a package of extras) added to the mix. The base QX80 starts at $62,250 with rear-wheel drive. QX80 AWD prices begin at $66,250. The QX80 AWD Limited carries an $88,850 sticker price, which is kind of a bargain when measured against its competition. There are two Signature Editions available as well: QX80 Signature Edition ($64,250) and QX80 AWD Signature Edition ($67,250), each of which add a Driver's Assistance Package, contrast leather seating and some exterior flourishes to the SUV. Our test vehicle was a top-of-the-line Limited, with a retail price of $89,845 as tested, including a $995 destination charge.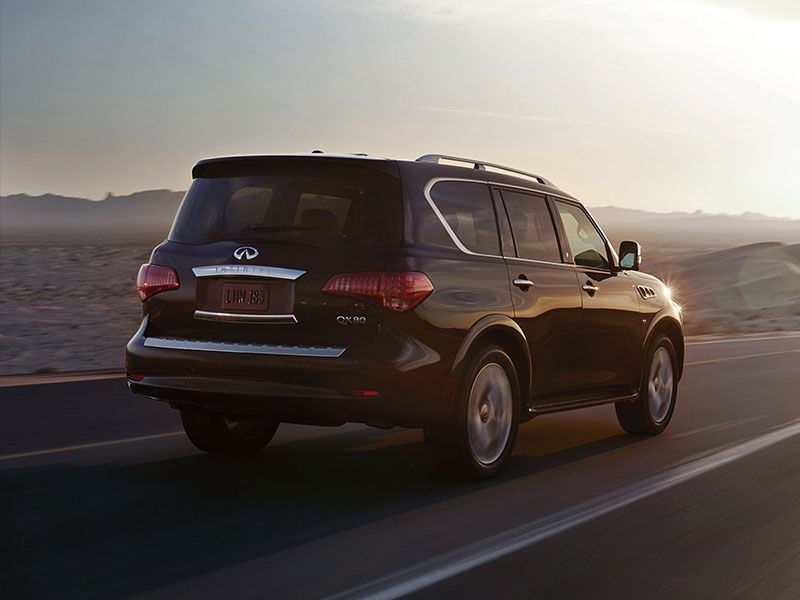 Photo by Infiniti
Exterior Design and Dimensions
While many of the other fullsize luxury suvs soldier on with boxy, angular exteriors, QX80 swoops and curves. The rounded front end shares the look of the rest of the Infiniti lineup with a big open grille and bulging hood. Full LED headlights are standard, with signature LED daytime running lights. Running boards are standard, with stainless steel accents on the Limited (optional on others). Roof rails are also standard. A level shoulder line defines the bottom of the windows and the greenhouse. Rounded corners with big LED taillights lend presence to the rear. Dimensions are 208.9 inches long/79.9 inches wide/75.8 inches tall, so measure your garage carefully. QX80 doesn't look like every other SUV, and that's a good thing.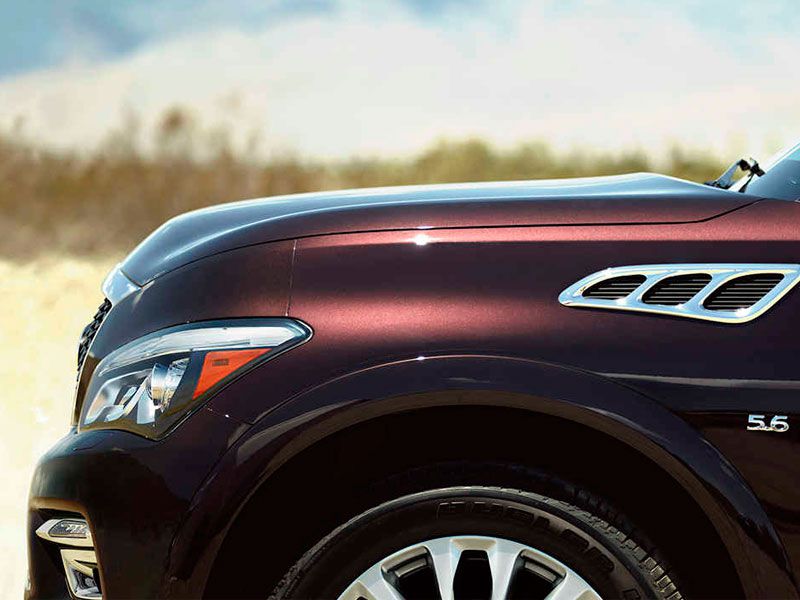 Photo by Infiniti
Comfort and Convenience
Infiniti always impresses with materials selection. Our QX80 came with Truffle Brown semi-aniline leather, enhanced with quilted stitching in high contact areas like the center console armrest, and open pore matte finish ash wood trim that puts glossy finished veneers to shame.
By default, the second row is set up for two passengers in captain's seats separated by a center console. A 60/40 split bench seat is available as a no-cost option on the base trim levels to increase seating capacity from 7 to 8. The third row is genuinely accessible, thanks to easy fold and flip operation of the second row, and three children or small adults could actually ride in comfort, complete with 3-point seatbelts and headrests.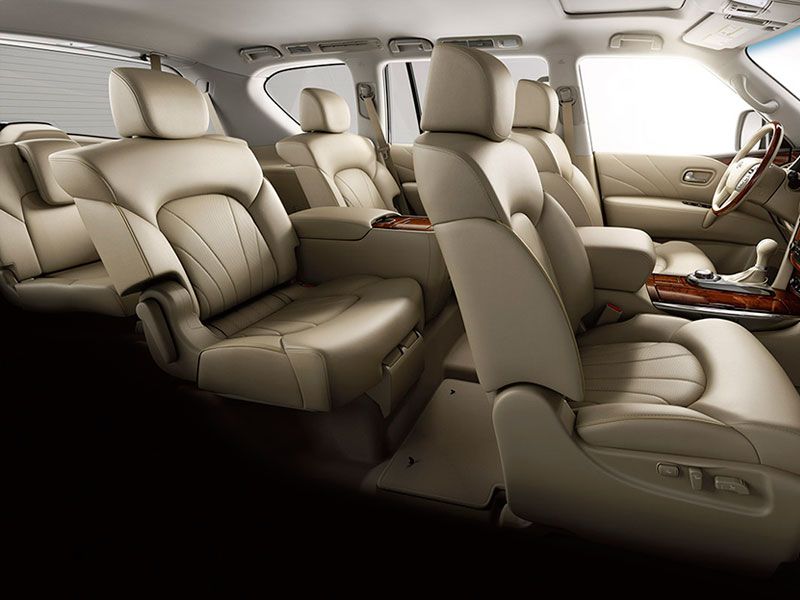 Photo by Infiniti
Features and Controls
QX80's center stack, like all Infiniti setups, is loaded with technology and logically arrayed. The 8-inch color touchscreen is at the top of the stack, and buttons and controls are grouped by function below. Bose 13-speaker Premium Audio is standard on the base models, and Bose Cabin Surround with 15 speakers is standard on Limited and available on base for a concert hall experience and great sound. Bluetooth with streaming audio, iPod interface and AM/FM/SiriusXM radio deliver the tunes. A Theater Package (standard on Limited, optional on others) puts dual 7-inch monitors in the front headrests and includes an in-dash CD/DVD player, two pairs of wireless headphones and a remote control. And there's more, much more.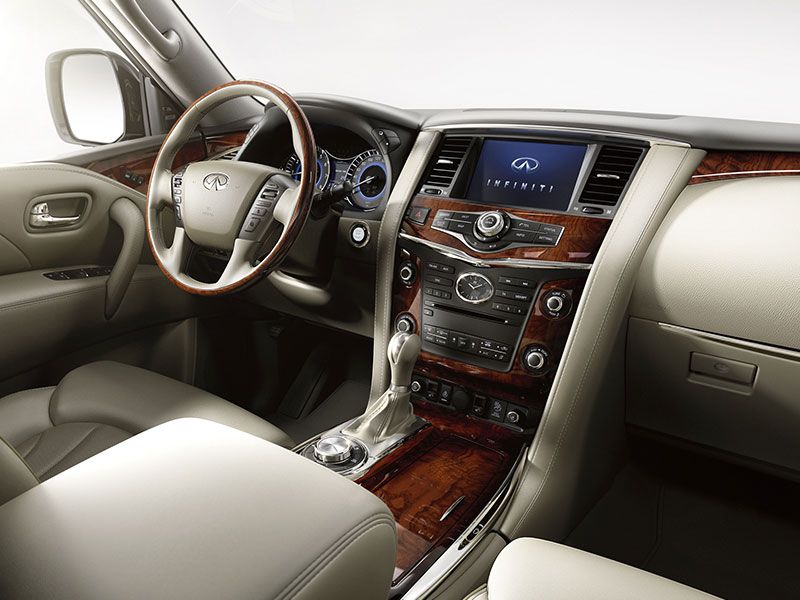 Photo by Infiniti
Safety
Big SUVs have some safety advantages over smaller vehicles, and some disadvantages. QX80 has not been tested or rated by the Insurance Institute for Highway Safety (IIHS) or the National Highway Traffic Safety Administration (NHTSA) yet, so we can only report our observations about equipment and operation. A major concern for big SUVs is outward visibility, and QX80 addresses this with an excellent around-view monitor, blind spot warning and intervention system, and lane departure warning and intervention system. Additionally, predictive forward collision warning with intelligent brake assist work with the adaptive cruise control. All of these safety features are standard on Limited and available as packages on other models.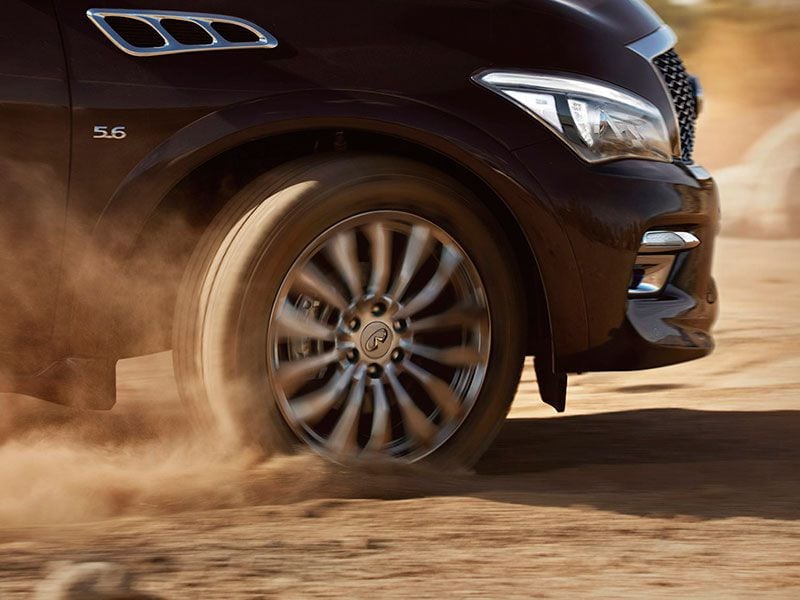 Photo by Infiniti
Engine
Each model of QX80 comes equipped with a 5.6-liter V8 gasoline engine hooked up to a 7-speed automatic transmission with either rear-wheel drive or all-wheel drive. The engine employs direct gasoline injection, a technology that shoots fuel at high pressure directly into the combustion chambers. With direct injection, fuel burns more completely, and higher compression ratios can be used – which means more power with greater efficiency. QX80's engine is rated at 400 hp and 413 lb-ft of torque, which is a boon for the 5,644-lb (RWD)/5,888-lb (AWD) SUV. QX80 has a payload of over 1,500 lbs, and can tow up to 8,500 lbs. Tow mode is standard, as is low-range 4WD in all-wheel drive models.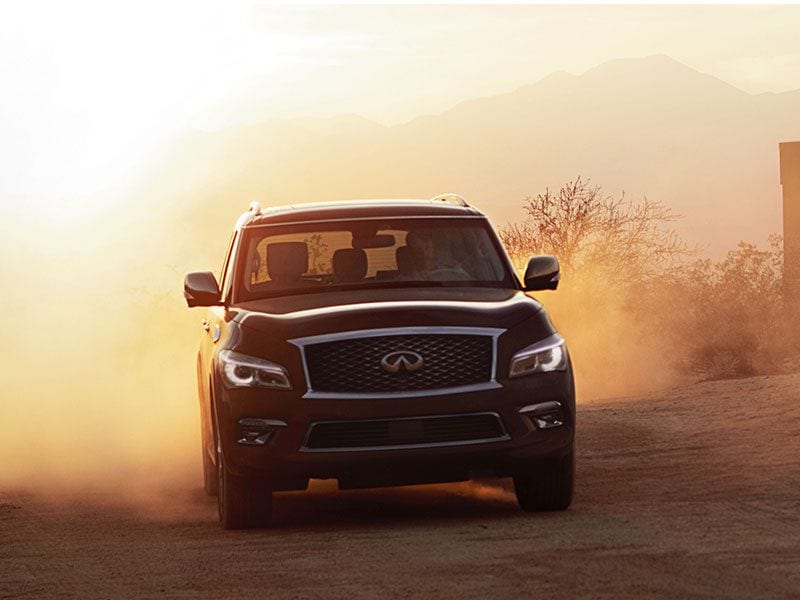 Photo by Infiniti
Performance
All of the numbers in the world don't mean a thing if a luxury SUV doesn't drive well. QX80 accelerates with authority, and handles like a dream. Despite ample ground clearance (9.2 inches), it never feels floaty or tippy, maintaining flat performance through the curves. Unlike most of its competitors, QX80 comes with 4-wheel independent suspension (double-wishbone front and rear), which makes for a smooth ride over rough pavement and improved handling over a solid rear axle. A surprisingly tight turning diameter (41.2 feet) makes parking lot maneuvers a breeze for such a big vehicle. Electronic aids like Vehicle Dynamic Control (VDC) and Traction Control (TCS) add confidence to the driving experience.
Photo by Infiniti
Fuel Economy and Capacities
One of the sacrifices that comes with driving a big luxury SUV is fuel economy. QX80 does its best, but can only manage to achieve 14 mpg city/20 mpg highway/16 mpg combined, which puts it slightly behind the class leaders. With its 26-gallon fuel tank, your maximum range is about 520 miles on a tankful of premium (91-octane) gas.
Still, considering the 7- or 8-passenger capacity, and the weight of the vehicle, it's not unexpected. You can carry 16.6 cubic feet of luggage behind the third row, and way more if you fold the third row flat.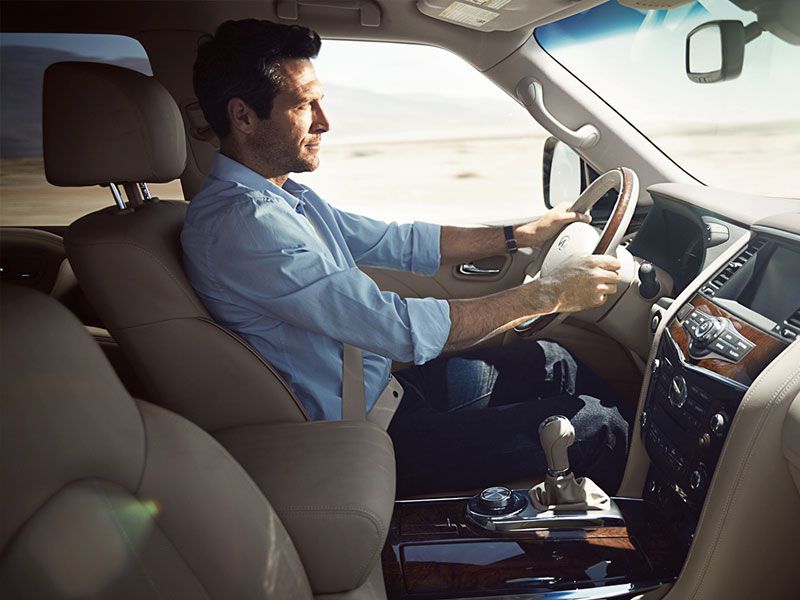 Photo by Infiniti
Final Thoughts
Infiniti has made picking the right QX80 easy. The Limited trim level is loaded with all of the features that a luxury buyer could want -– there aren't even any optional packages available to add on.
The large luxury SUV class is still quite competitive. Cadillac's Escalade remains a strong entry, and the Lincoln Navigator has benefitted from recent upgrades. Lexus' LX, Mercedes-Benz's GLS-Class and Land Rover's Range Rover nail the luxury equation, and Maserati's upcoming Levante has promise.
The 2016 Infiniti QX80 may not get all of the attention when the topic of large luxury SUVs gets discussed, but it is a mistake to overlook it. With unique, elegant design and a slew of high-tech features, QX80 deserves serious consideration.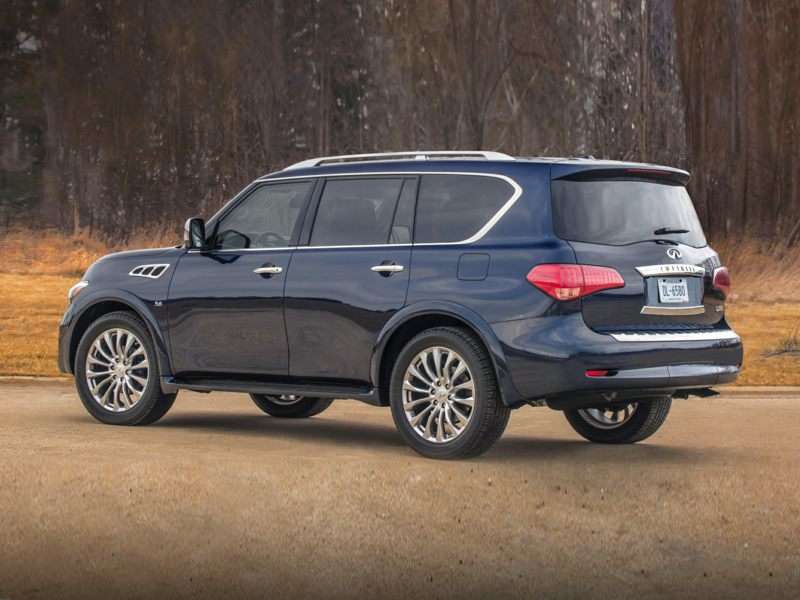 Photo by Infiniti