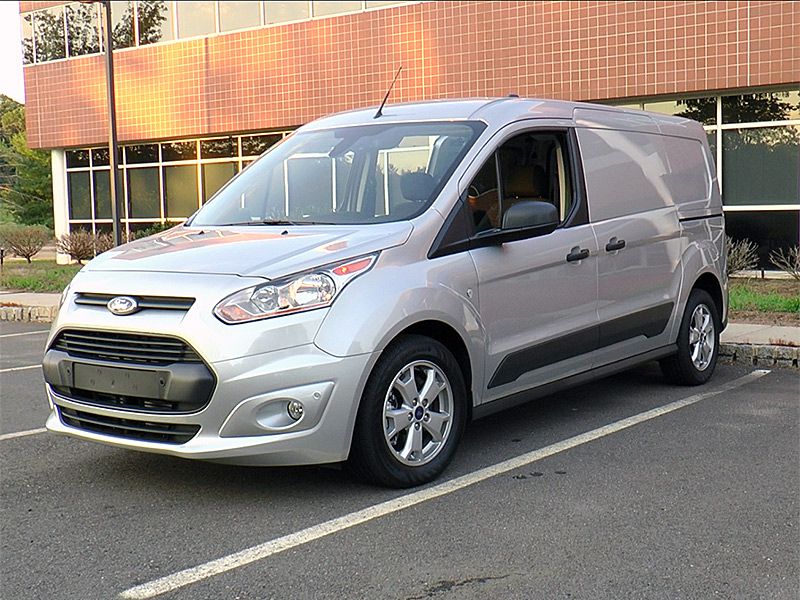 2016 Ford TransitConnect Cargo XLT 3 4 frontprofile ・ Photo by Dan Gray
The landscape was ripe for change when the Ford Transit Connect cargo van first hit our shores in 2010. While the ubiquitous Ford Econoline held a whopping share of the conventional cargo van market for decades, it didn't fit with then-CEO Allan Mullally's One Ford world vision. The Euro Transit Connect was somewhat exotic at the time, with its closest competition being the Dodge Caravan C/V, and its arrival kicked off the small commercial van revolution in America.
Flash forward half a decade or so and it's clear that conventional American cargo vans will soon be a thing of the past. The Econoline cargo van is gone, replaced by the Transit Connect and its big brother, the jumbo-sized Ford Transit. The Transit is the top dog among large vans, while the Transit Connect rules the small van playing field, competing with the Ram ProMaster City, Nissan NV200, and Chevrolet City Express (a rebadged Nissan NV200).
If you want an old-school cargo van, the Chevrolet Express is your only choice, but the Mercedes-Benz Metris seeks its own niche with dimensions that fall between large and small.
Gen Two: A Big Step Up
When I tested the first generation Transit Connect years back, I was impressed by the vehicle's versatility and maneuverability but disappointed by the lackluster performance of its naturally aspirated 2.0-liter inline 4-cylinder engine and 4-speed automatic transmission. While it prowled the tight streets of Hoboken like it was born there, the Transit Connect's power train lacked oomph on the open road. It also held the dubious honor of being one of the most odoriferous vehicles I've tested over the years. (I'd reckon it was due to off-gassing from the interior plastics.)
The first gen Transit Connect was built at Ford's plant in Kocaeli, Turkey. Production moved from Turkey to Valencia, Spain for the second-generation Transit Connect and the little hauler took a big step up in 2014 with a significant revamp. The crisply restyled nose contains the gold. Buyers now have the choice of a naturally aspirated 2.5-liter inline four or an optional 1.6-liter EcoBoost four, each mated to a 6-speed automatic transmission. And most importantly, the olifactory issues have been solved.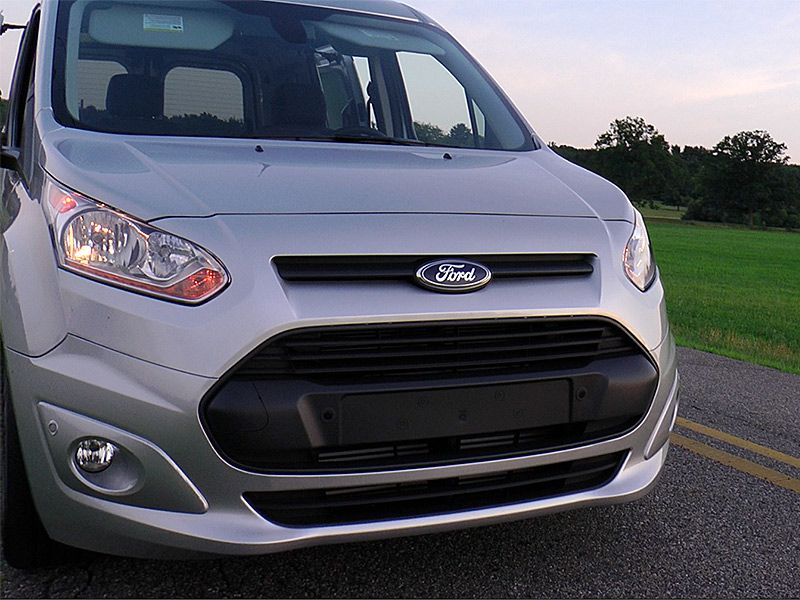 Photo by Dan Gray
Behind the Wheel
Jumping from a typical U-Haul-spec Econoline cargo van into the 2016 Transit Connect is like upgrading from coach to business class. It's not first-class plush, but it's far more car-like than you'd expect. Settle in behind the familiar beefy Ford steering wheel and you'll feel a sense of deja vu… if you've spent any time in the Ford Focus. Which should not be a complete surprise, as the Transit Connect is based on the Focus platform. There's a reason that dashboard looks so familiar. The bucket seats are comfy and driving experience is rewarding. Quite simply, it doesn't feel like you're driving a truck. The ride is smooth, the handling is surprisingly tight, and the little EcoBoost engine delivers a remarkable amount of punch, considering its displacement.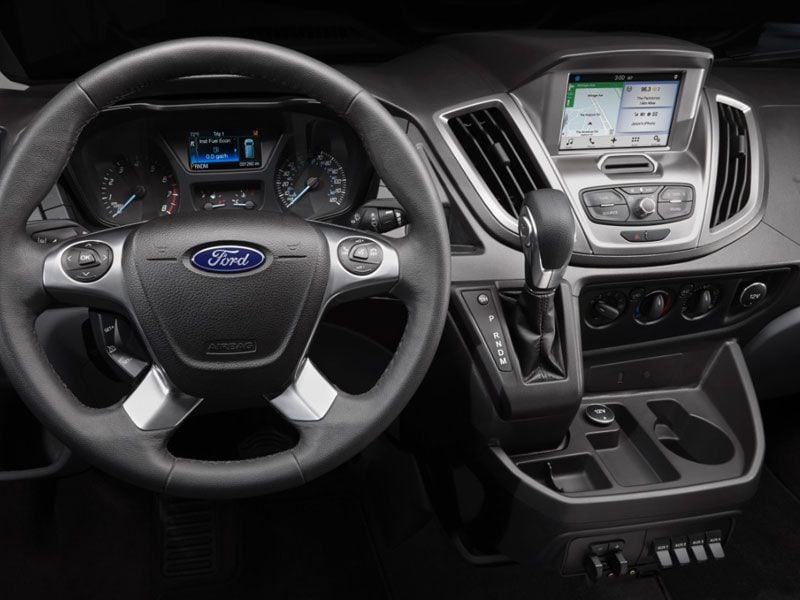 Photo by Ford
Built for Tight Quarters
The Transit Connect is a champ when it comes to maneuvering in tight spaces. It offers the tightest turning radius in the class by a slim margin at 18.1 feet, while the Ram ProMaster City is the widest, at 21 feet. The Chevy City Express and Nissan NV200 are just two-tenths of an inch off the Transit Connect, with a turning radius of 18.3 feet. The significantly larger Mercedes-Benz Metris makes the spin in an impressive 19.4 feet. As with most windowless cargo vans, visibility out the Transit Connect's sides and rear quarters is tough, but those worries are eased through a trio of technologies. A rear view camera is standard in the Transit Connect XLT and Titanium. The optional Blind Spot Information System includes blind spot mirrors along with rear cross-traffic alert. The optional Forward and Rearward Sensing Systems ($495) provide assurance, whether creeping up to a curb or loading dock. While adding windows always helps, business requirements often make that impossible. Second row fixed glass is a $70 option ($35 for the passenger side only).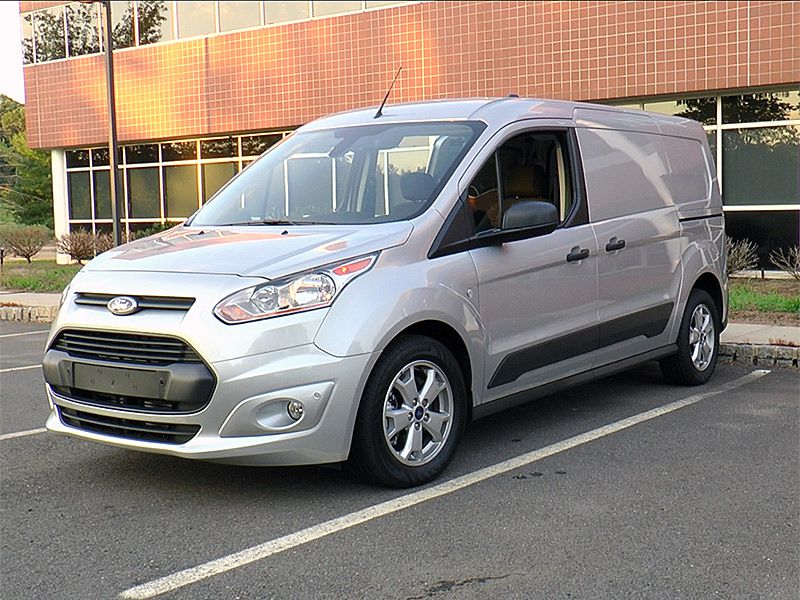 Photo by Dan Gray
To EcoBoost or Not to EcoBoost, That is the Question…
The Transit Connect's engine options set the standard for the class. The base 2.5-liter naturally-aspirated Duratec 4-cylinder engine delivers 169 horsepower and 171-pound feet of torque, with official EPA fuel economy ratings of 20 city/28 highway/23 combined MPG. The optional 1.6-liter EcoBoost four bumps up the numbers to 178 HP and 184 lb-ft (when using 93-octane fuel), with an EPA rating of 22 city/29 highway/25 combined. The turbocharged EcoBoost engine is punchy, fun to drive, and brimming with potential. Where can we find an EcoBoost engine with that displacement? Why, the zippy Fiesta ST, of course, where the spunky 1.6T is tuned for 197 HP and 202 lb.-ft of torque on 93-octane fuel. The Duratec four is a FlexFuel engine, capable of using ethanol blends up to E85. It can also be converted to run on compressed natural gas (CNG) or propane. Overseas, the Transit Connect is also available with Ford's tiny but mighty 1.0-liter EcoBoost 3-cylinder gas engine and 1.5-liter Duratorq turbodiesel engine. But there's no word on when we might see either under the Transit Connect's hood here in America. If ever.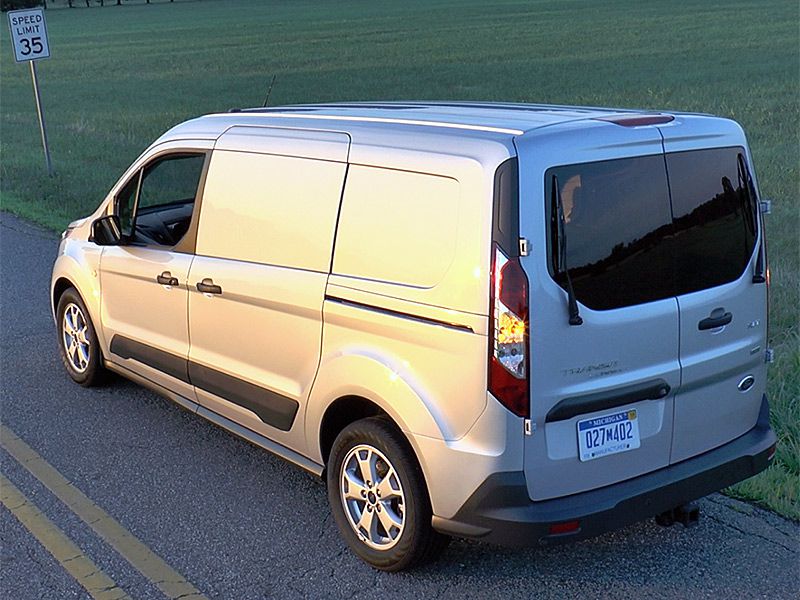 Photo by Dan Gray
Cargo-A-Go-Go
The Transit Connect cargo van is offered in short (XL) or long (XLT) wheelbase versions. The XL provides 103.9 cubic feet of cargo room behind the bucket seats and a total of 128.6 cubic feet with the front passenger seat folded down. The XLT stretches out to 124.3 and 149 cubic feet, respectively. We tested an XLT. The long-wheelbase Transit Connect's dual side sliding doors allow easy access to the cargo area. The XL and XLT models are offered with either the minivan-like liftgate or conventional dual swing-out rear cargo doors that swivel open 180 degrees. The floor is equipped with cargo hooks, along with exceptionally grippy vinyl flooring. The LED interior lighting is excellent and the cargo bay begs to be upfit. Maximum payload is 1,620 pounds with the 1.6-liter EcoBoost engine. Can't fit it all in back? Select the Trailer Tow option package to gain a 2000-pound towing capacity.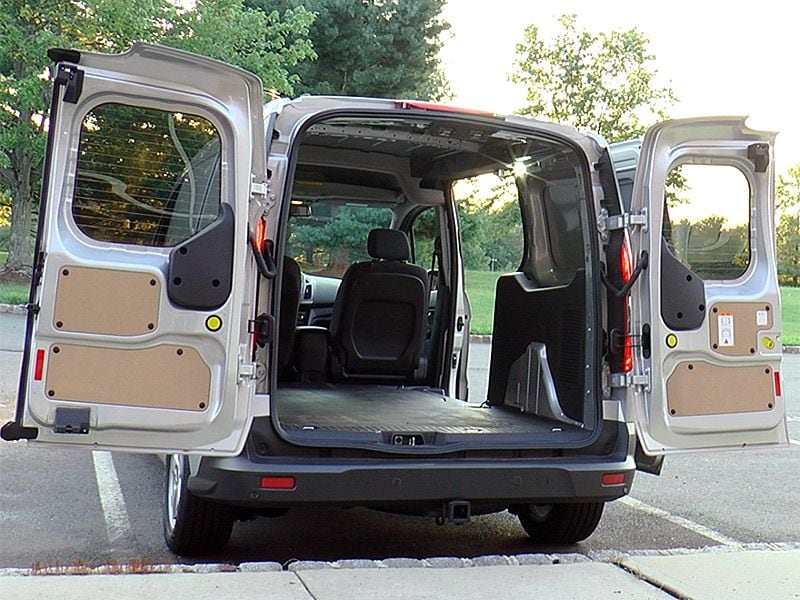 Photo by Dan Gray
Infotainment and Weather Options
The Transit Connect XLT is equipped with a pint-sized 4.2-inch LCD infotainment screen. Our XLT tester was equipped with the voice-activated MyFordTouch option ($1,360) with a full size screen. The system is running on the Microsoft-based Sync 2 platform. It includes hands-free Bluetooth, SiriusXM and HD Radio, along with a single-disc CD player. Audio quality is acceptable for a work truck. Audiophiles will want to add more speakers. There's one 12-volt outlet in the center console alongside the USB input, and a second 12-volt outlet in the rear cargo area. Does your day start before the sunrise? The Quickclear Electric Windshield Defroster ($300) is a handy option for cold climates. Your co-pilot will be happy you chose the Dual-Zone Front Temperature Control option ($275) — it's an unexpected nicety in a cargo van.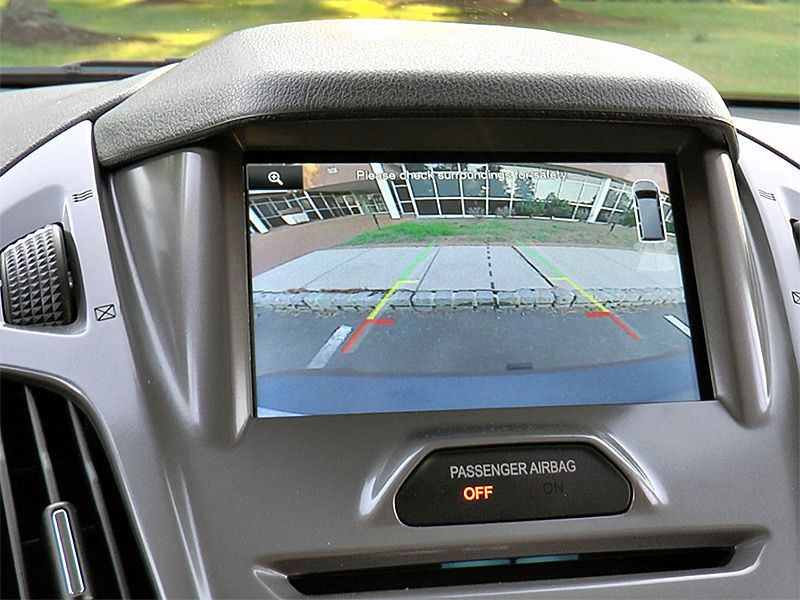 Photo by Dan Gray
Face Off
So how does the Transit Connect stack up to the competition? The Nissan NV200 ($20,870) and Chevrolet City Express ($21,955) are equipped with a 2.0-liter inline 4-cylinder engine, mated to a continuously variable transmission (CVT). While there're a scant 131 horsepower and 139 lb-ft of torque on tap, the combo returns an efficient 25 MPG combined. Both the NV200 and City Express provide 122.7 cubic feet of cargo space. The NV200s 60-month/100,000-mile basic warranty is unrivaled in the class. The RamProMaster City ($23,445) is fitted with a 2.4-liter engine and an efficient 9-speed automatic transmission. The Tigershark MultiAir inline four compares favorably, with 178 horsepower and 174-foot pounds of torque, along with a fuel economy rating of 21 city/29 highway MPG. There're 131.7 cubic feet of cargo capacity. The Mercedes-Benz Metris slots into a different space, seeking out a premium niche between the small cargo vans and the traditional Chevrolet Express van. The Merc's significantly higher MSRP ($28,950) buys more capacity than the small vans, with an 186 cubic foot cargo volume and a maximum tow rating of 5,000 pounds. It also offers safety technologies like crosswind and lane-keep assist, along with Load-Adaptive Electronic Stability.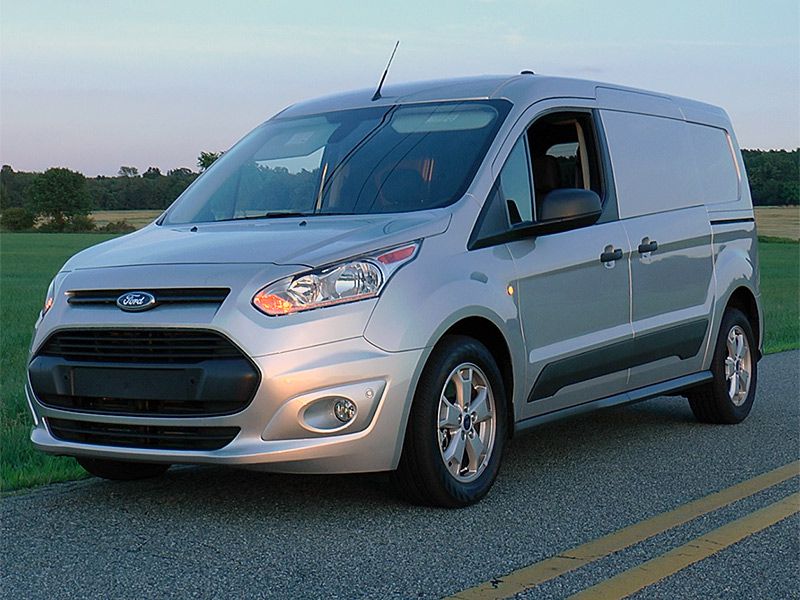 Photo by Dan Gray
Summary
The Transit Connect is clearly a sales success, but the field is heating up. Ford sold over 52,000 Transit Connect in 2015, roughly 20 percent more than the previous year. Sales are off slightly in the first half of 2016, with competition from the ProMaster City, NV200, and City Express.
I've spent a week with the Transit Connect, ProMaster City, and City Express and so far, of the three, I prefer the EcoBoost-powered Transit Connect for its overall ride and performance, followed closely by the ProMaster City. While the NV200/City Express are fuel efficient, the overall experience feels less refined. That said, I have a hunch that the high-end Mercedes-Benz Metris may ruin my cargo van expectations for life. Although the Transit Connect's EcoBoost engine's preference for high-octane premium fuel will cost more at the pump (should you indulge), the engine is E15-capable. This may have a positive effect on performance and overall fuel costs, where available. As always, your mileage may vary.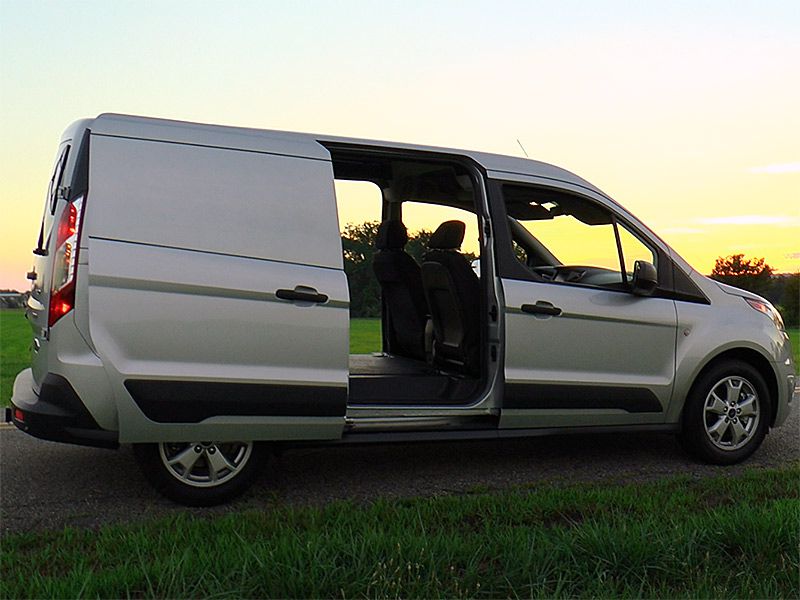 Photo by Dan Gray