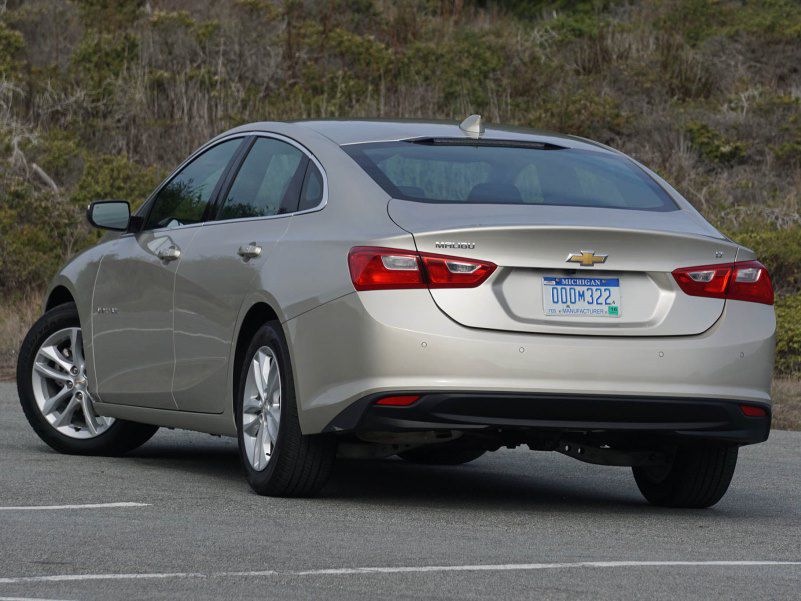 2016 Chevrolet Malibu 003
It's funny how some Americans judge which car to purchase. Travel to France, and you'll see the roads clogged with Renaults, Peugeots and Citroëns. Japanese and South Korean shoppers favor home-made cars as well (though government regulations have quite a lot to do with that), but here in the United States, buying American (or not buying American) seems to have more to do with making a personal statement than adhering to a national loyalty, but it still might struggle in a tough market segment due just to public perception. I think that if Nissan were to produce a clone of the new Malibu, it would sell like Bluefin tuna at a trendy sushi joint, but because it's from an American company, the Malibu comes with a good deal of baggage pre-packed into its 15.8 cubic foot trunk.
All-New Platform
So, let's set aside the politics and erase our memories for a moment and see what GM brings to the table. The Malibu is an all-new design riding on an all-new platform that benefits from GM's weight-reduction strategies previously applied only to higher-end and more profitable models. One result is a new Malibu that is slightly larger than the outgoing model and yet weighs about 300 pounds less. The wheelbase has been stretched, too, to provide additional rear-seat legroom, and while the Malibu is not top of the class in interior space, it's at least in the same neighborhood as the Volkswagen Passat, Honda Accord, and Toyota Camry.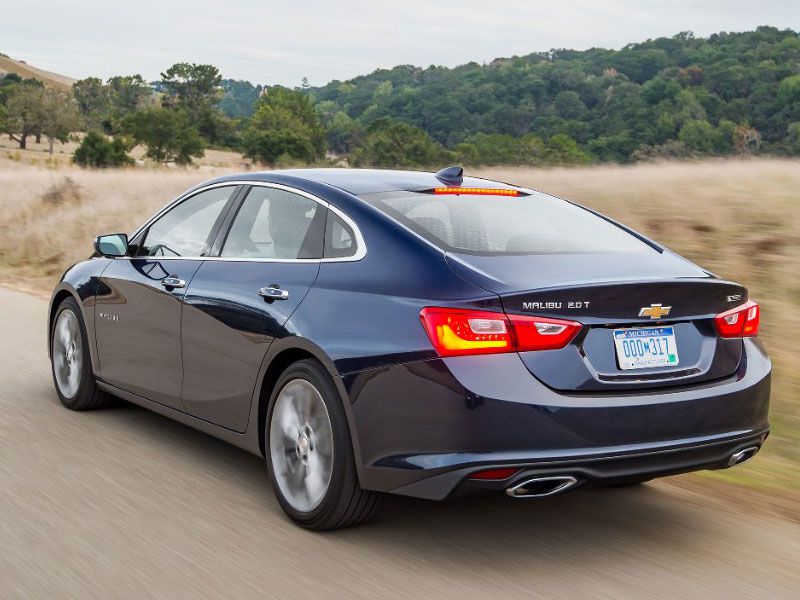 Styling
The Malibu's styling received some much-needed attention as well. I rarely comment much on a car's looks, and try to avoid such hackneyed observations as "beauty is in the eye of the beholder" (I can't forget that even monstrosities like the bustle-backed Cadillac Seville were strong sellers), but I do like the Malibu's styling, its sharp creases emphasizing athletic lines that evoke a faint family resemblance to both the Camaro (front end) and Impala (back end). It's handsome enough to avoid anonymity but also avoids extraneous flourishes for a nicely balanced presentation, which is an apt description of the rest of the car. The interior is equally well designed, with artful touches and high-quality materials, though there is evidence of cost-cutting here and there.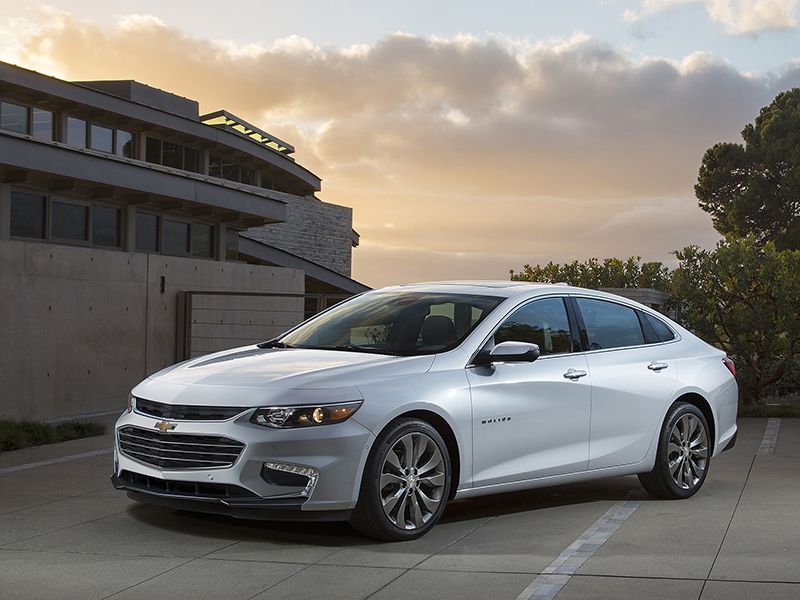 Photo by General Motors
1.5T Engine
Something cool is cooking under the hood: Chevy has gone to an all-turbo engine lineup. The entry-level engine is now a 1.5-liter turbocharged four-cylinder that produces 160 horsepower and 184 lb.-ft. of torque, replacing the undistinguished naturally aspirated 2.5-liter four-cylinder that powered the previous Malibu. EPA fuel economy estimates are 27 city/37 highway mpg, right on the heels of the best-in-class Nissan Altima (27/39).
Hyundai and Kia offer a similarly sized turbo engine in the "Eco" models of their mid-size cars, but they pair it with a twin-clutch automatic transmission, which results in notable turbo lag (that lack of low-rpm power that can afflict turbocharged engines). Chevy pairs its 1.5T with a traditional torque-converter six-speed automatic, which unlike a twin-clutch allows some slippage at low speeds so the engine can quickly speed up to the point where the turbo starts building boost. Contrast this with the twin-clutch, which connects the engine directly to the tranny at low rpm, bogging it down until the turbo can start doing its thing. The happy result is that the 1.5T drives almost exactly like a traditional non-turbo four-cylinder, and in terms of its transmission illustrates the point that older technology sometimes still works best.
Worthy of note is the 1.5T's auto-stop system, which shuts the engine off at stoplights and restarts it when the driver lifts off the brake. Auto-stop can be annoying — ask anyone who has this feature in a BMW or some other high-line European models — but GM's system is smoothly seamless, and there's no vibration when the engine starts or stops— absolutely none. Score one for Team America.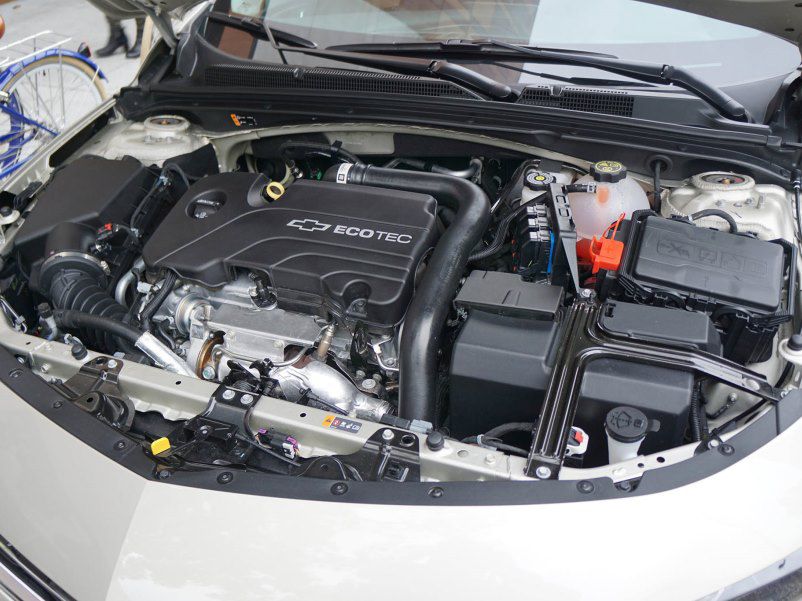 So Long V-6
The Malibu was one of the first cars to dump the traditional V6 for a 2.0-liter turbo, and that new tradition continues with the 2.0-liter rated at 250 horsepower and 258 lb.-ft. It is now paired with an eight-speed automatic, though EPA fuel economy estimates are a less than impressive 22 city/33 highway mpg. Chevy also has fitted the 2.0-liter engine with firmer steering, which gives the car a sportier feel. A setup likes this makes me wonder why some automakers still stick with a V6 (although it doesn't help my argument that the six-cylinder Honda Accord isn't far behind in fuel economy ratings of 21/34 (and this with only six gears in its automatic transmission).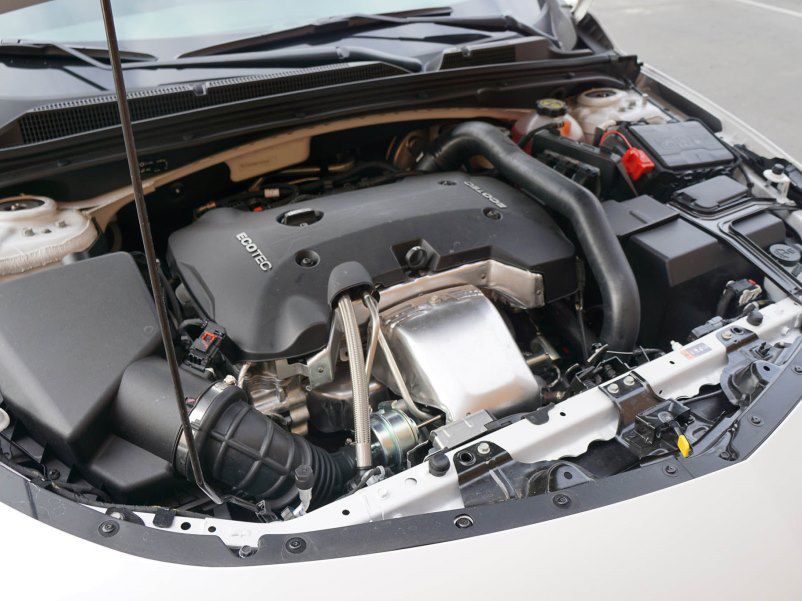 Safety
I've always liked Chevrolet's approach to safety. As with its other cars, Chevy gave the Malibu ten airbags (about as many as you'll find in any car nowadays) and the subscription-based OnStar system. I happen to think OnStar is the most underrated safety system on the planet: If you get into a crash, OnStar automatically places a call to a human being at its call center, and if you need help (or if you don't respond), the representative can pinpoint the location of the car using OnStar's built-in GPS puck and send emergency services. If that's not peace of mind, I don't know what is.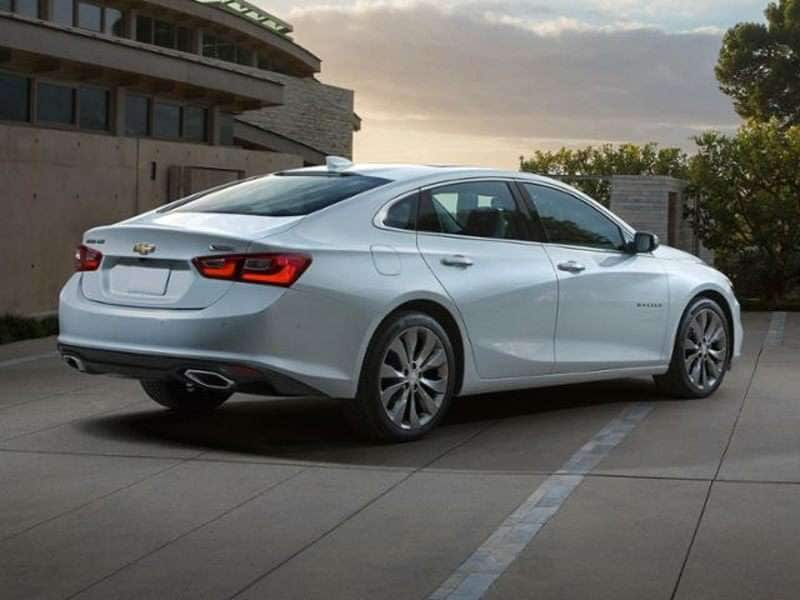 Packages
Chevy offers a host of active safety features in two packages. The Driver Confidence Package bundles lane-departure warning and correction, blind-spot warning, forward collision alert, low-speed collision avoidance with automatic braking and pedestrian detection, parking sensors, and automatic high beams. With that package, you can also upgrade to the Driver Confidence Package II, which adds high-speed collision mitigation, adaptive cruise control, and an active parking assistance system.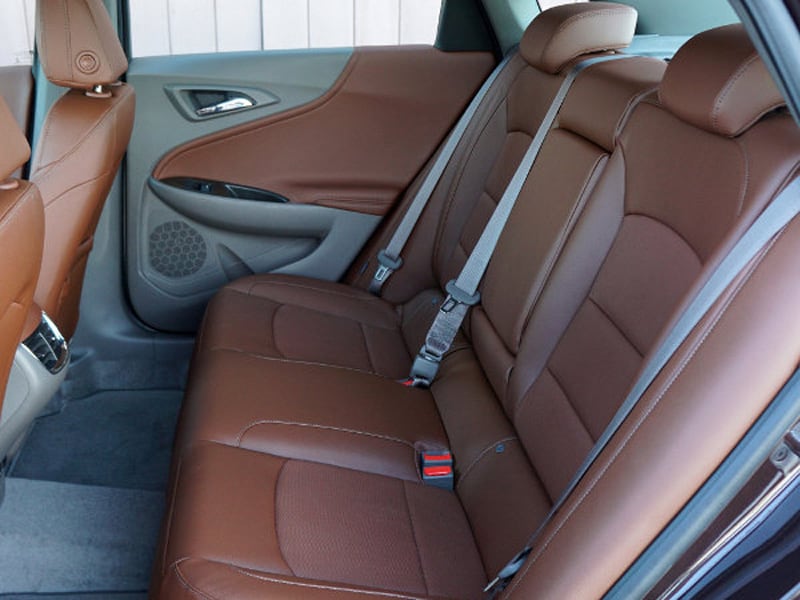 Teen Driver Feature
Also worthy of mention is the Malibu's Teen Driver feature. Parents can designate a key for young drivers, with which they can limit stereo volume (in teen mode, the Malibu mutes the stereo until the front seat occupants fasten their seat belts) and set a max-speed warning. Once Speed Racer Jr. is home, the Malibu provides a full report: Distance driven, highest speed driven, number of maximum speed alerts, and how many times each of the Malibu's safety systems (electronic stability control, antilock brakes, forward collision alert, auto braking, blind-spot and lane-departure warnings, and even the parking sensors) were triggered. The reports require a password to reset.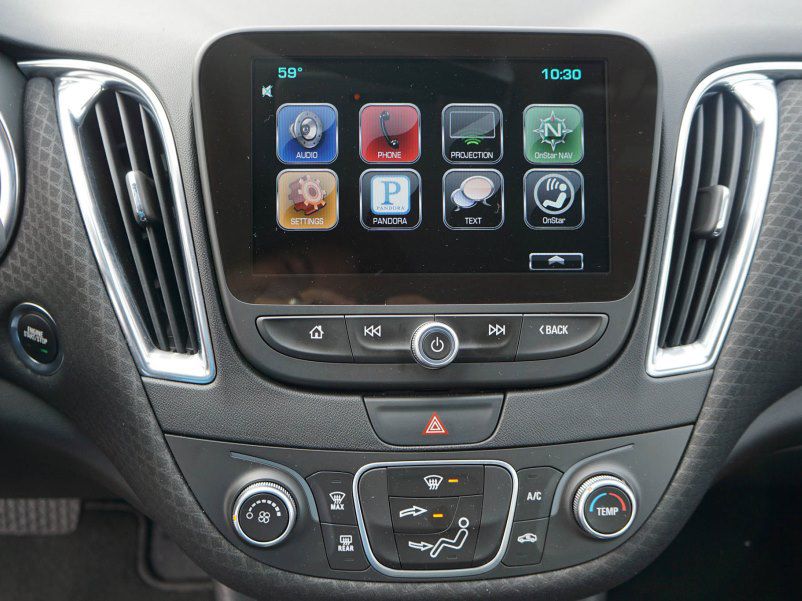 Conclusion
In terms of raw numbers, the Malibu's pricing structure roughly parallels that of the Hyundai Sonata, which is one of the better values in the market. And that is the keystone that gives the Malibu its strength. Here is a car that rivals the best in class in styling, amenities, safety, ride comfort and value. I can't honestly say it's the best mid-size car you can buy; its competitors beat it in certain areas (the VW Passat is the rear-seat-comfort king, for example, while the Mazda6 has the highest fun-to-drive factor in the segment). But as an all-rounder, the 2016 Chevrolet Malibu sits right up at the front of the pack. It's a thoroughly modern car, and one I'd consider seriously were I to shop from this segment. It also happens to be American—and whether that's help or hindrance is up to you.