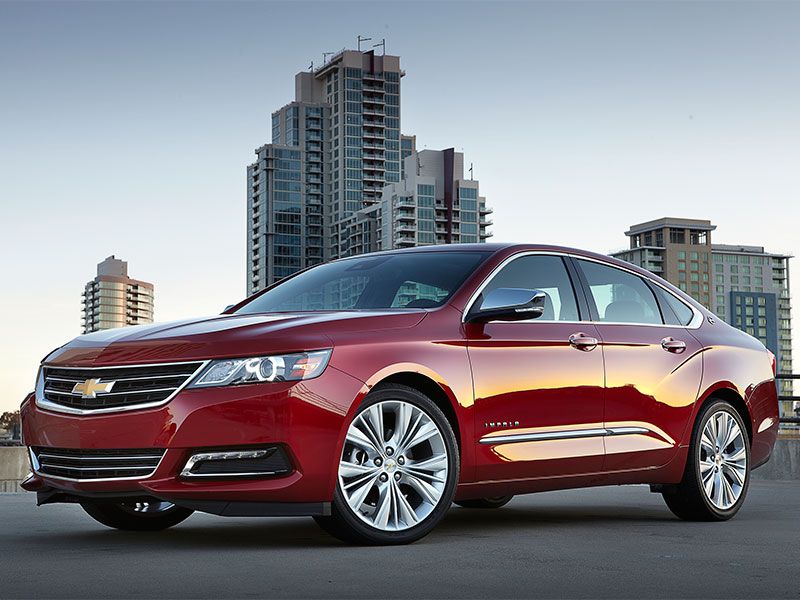 2016 Chevrolet Impala LTZ hero shot ・ Photo by Chevrolet
It's been two years since Chevrolet redesigned the Impala, and it's still a little hard to get over what a nice car it has become - so we thought it was worth another road test and review. The previous-generation Impala offered space and comfort, the bare minimums we expect from a big sedan, but everything else was bland, bland, bland. The latest version of the Impala is anything but, and it's rather unfortunate that the old car—now known as the Impala Limited—is still being produced for rental-car fleets. I can only imagine how many traveling business folk might have their opinions of General Motors turned around if they had a chance to drive this beauty. 
Big-Car Basics
Reviewing a car is a matter of figuring out what that car should accomplish and then evaluating how well it meets its goals. For a big sedan like the Chevy Impala, the priorities are simple: I'm looking for a roomy interior and a smooth, quiet ride. (After all, if a buyer isn't seeking comfy stretch-out space, why not just buy a mid-size sedan?) The big-car biz is old hat to Chevrolet, and it's no surprise to find that the Impala offers lots of space in both front and back seats. 40" of back-seat legroom provides plenty of room to extend one's limbs, though the very tall might find rear seat headroom limited in Impalas equipped with a sunroof. Trunk space is generous at 18.8 cubic feet.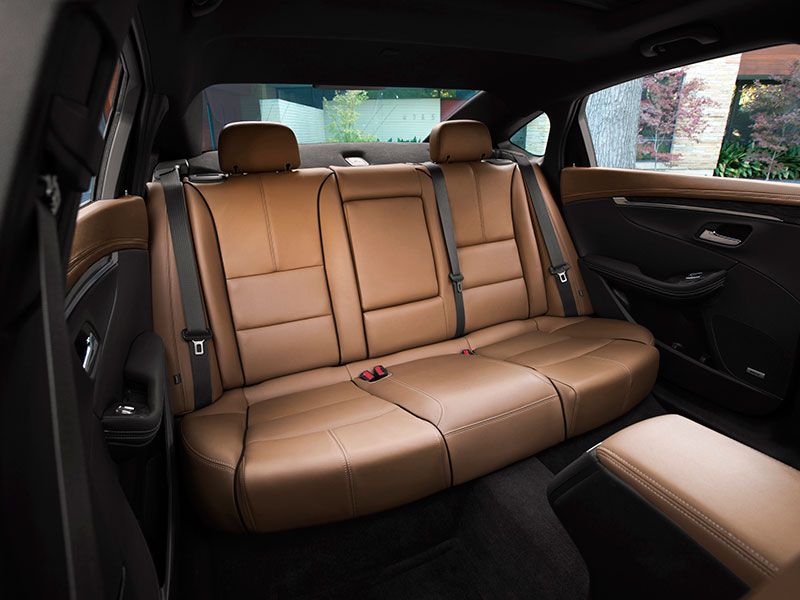 Photo by General Motors
It's all about the packaging.
But what sets the Chevy Impala apart is the way that space is delivered. The Impala isn't the only big car you can buy; among its competitors are the Ford Taurus, Dodge Charger, and Chrysler 300. These cars feature tall sides and narrow windows, and driving them can give one the feeling of holing up inside a fortress. Not the Impala: It feels open and airy, with plenty of glass all around, and in the opinion of this reviewer, that makes for a more pleasant drive. Space in a big car is expected; after all, the old Impala had plenty. More impressive is the way Chevy delivers that space. While the old rental-special Impala's interior was lined with cut-rate plastics, the new Impala shows a new-found appreciation for the alternatives. Real leather, fake leather, suede, chrome, and wood: All have found their way into some iteration of one Impala or another. The steering wheel is one of the stranger-looking ones I've seen, but the rubber-covered buttons that control stereo and cruise control functions sure feel good under the tips of one's thumbs.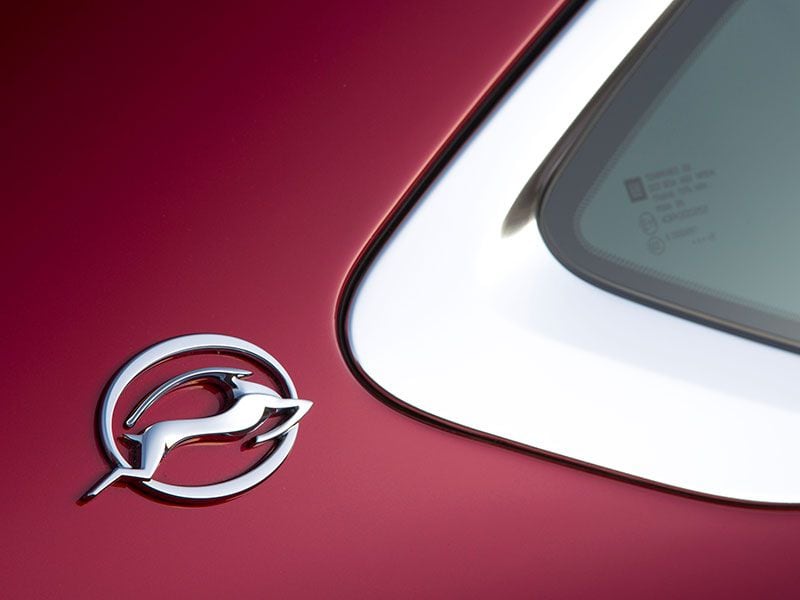 Photo by General Motors
Decor that Delights
Also impressive are the interior color choices. Even the base model Impala LS gets a light gray fabric on the seats and dash topper and lots of contrasting color trim to lighten up its black dash. Mid-level LT models offer the option of a monochromatic black treatment, but a beige-and-black combo is reserved for the top-of-the-line Impala LTZ. New for 2016 is a blacked-out "Midnight Edition" featuring metallic black paint and blacked-out trim and wheels, an aggressive combination that gives the Impala a delightfully sinister look. Chevrolet has also expanded the Impala's exterior color options: Last year's choices were limited to black, white, silver and dark blue, with an attractive red and iridescent pearl offered as extra-cost options ($395 and $995 respectively). For 2016, Chevrolet is adding grey and a couple of shades of green. It's pleasing to see that the Impala's formerly-somber paint palette is finally getting some brighter hues.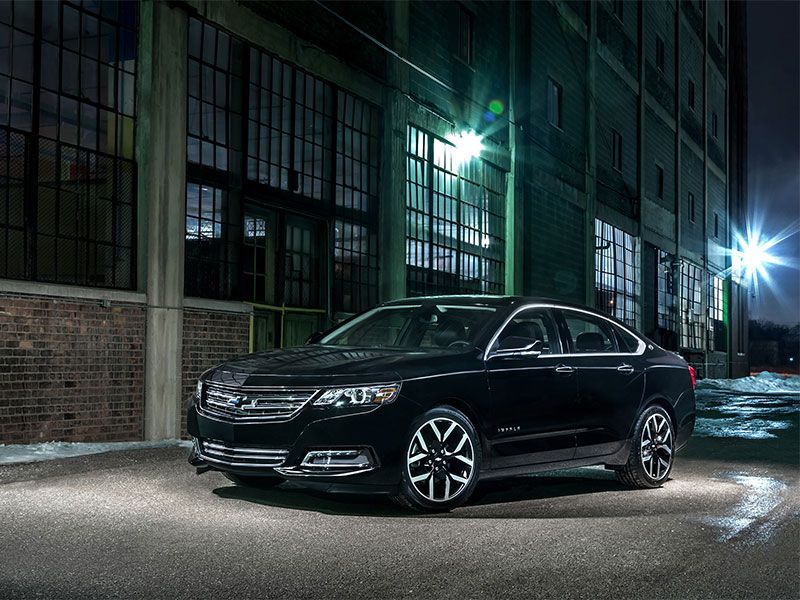 Photo by General Motors
Impressive infotainment
Back to the Impala's interior: I like simple and straightforward controls, so for me, the Impala is a delight, with dials and big buttons for the climate controls and Chevy's fantastic MyLink system for the touch-screen stereo and navigation systems. I've been a big fan of MyLink ever since it made its debut: Attractive graphics provide a pleasant background for big, easy-to-use icons, including a set atop each screen that makes it easy to switch between stereo, phone, and navigation systems. The Impala offers Apple CarPlay as of 2016, but Android users are still out of luck; Android Auto is not on the menu. At least some of them will be able to charge their phones with the Impala's new wireless charging pad. As with other GM products, the Impala offers subscription-based 4G LTE connectivity, allowing the car to serve as a wi-fi hot spot for laptops and tablets.
Photo by General Motors
Engine Choices
The Impala I tested was powered by General Motors' general-purpose workhorse, the 3.6 liter V6. Tuned for 305 horsepower, the 3.6 is a quick and quiet servant that delivers strong acceleration and reasonable fuel economy: The EPA rates it at 18 MPG city, 28 MPG highway, and 22 MPG combined. The Impala can also be bought with a 2.5 liter four-cylinder, which features an auto-stop system that shuts the engine down when the car is stopped (at stoplights, for example) and restarts it when you take your foot off the brake. I haven't had a chance to try the four-cylinder Impala; I liked this engine in the mid-size Malibu, but the Impala weighs around 800 lbs more. Though the four-cylinder's fuel economy is impressive—22 MPG city, 31 MPG highway, and 25 MPG combined—I'd probably stick with the V6.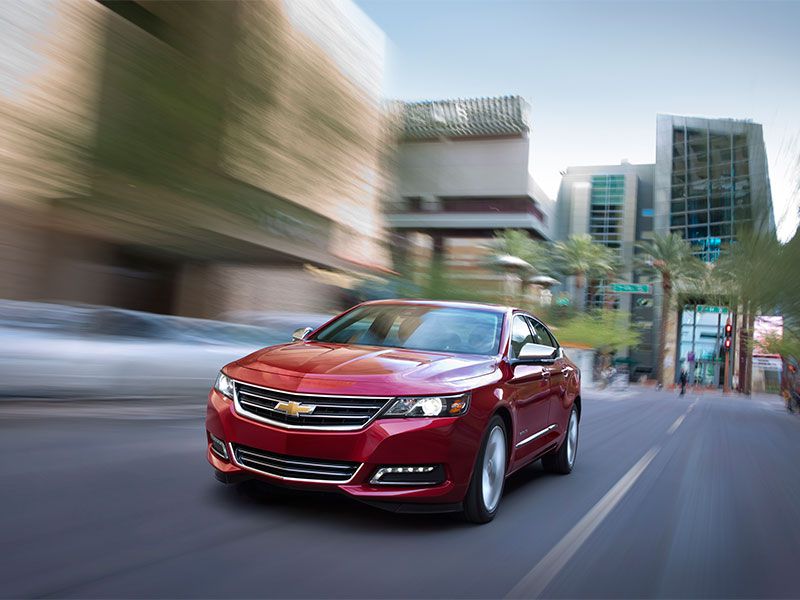 Photo by Chevrolet
Green Options
For those who want to go green, the Impala offers two interesting alternatives, both using the 3.6 liter V6. The FFV (Flex Fuel Vehicle) is E85-capable, useful if you live in a part of the country where this ethanol-based fuel is available. There's also a dual-fuel version that can run on either gasoline or compressed natural gas (CNG), a fuel that is very cheap and very clean. The bulky CNG tank takes up lots of trunk space, and range under CNG is a mere 119 miles, but the ability to run gasoline as well gives the bi-fuel Impala added flexibility for long trips.
Unfortunately, power for this engine is lower (260 hp versus 305) and fuel economy on gasoline is not as good as the gasoline-only V6: 17 MPG city, 25 MPG highway, and 20 MPG combined (and about 19 MPG on CNG). As I write this, CNG prices aren't much lower than gasoline, so the fiscal benefits to the ordinary consumer may be limited—but if you're looking to reduce your carbon footprint, or if you want to hedge against the possibility of higher gas prices, the CNG-powered car is worth a look.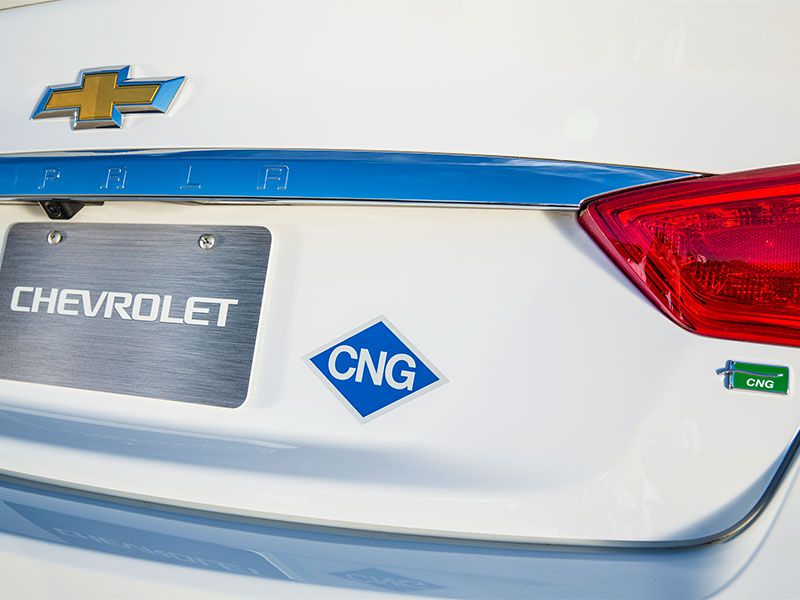 Photo by General Motors
An emphasis on safety.
Safety is a Chevrolet high point: Most of their vehicles offer ten airbags (a higher count than many high-end luxury cars) and the Impala is no different, with inflatable protection for the front passengers' knees, seat-mounted side airbags for both front and rear passengers, and side-curtain airbags for both rows. One safety feature that never gets enough press is OnStar, standard in all GM cars. If you get into a crash, OnStar automatically calls home for help, sending the car's location via its built-in GPS receiver. I've been unfortunate enough to see the system in action, and it is impressive: A few seconds after impact, a human being was on the car's built-in phone, asking if I was okay. Had I not been okay—or had I not been able to answer—the OnStar operator would have called emergency services and sent help to the car's location. Though OnStar still relies on cell service (and a somewhat working electrical system in the car), it uses multiple carriers and has a better chance of connecting than just a cell phone. More and more automakers are offering similar systems, but mostly in high-end luxury brands, and GM deserves credit for bringing it to the Impala and the rest of the Chevrolet brand.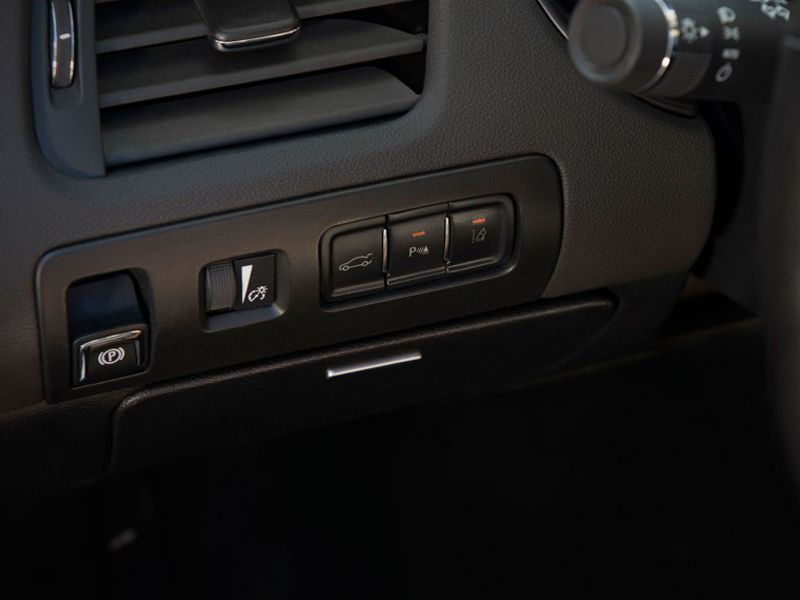 Photo by General Motors
Impala vs. the competition
Let's take a closer look at the competition. On the domestic side, we have the Ford Taurus, the Dodge Charger, and the Chrysler 300. You've heard my rant about limited visibility out of these cars, so there's no need to re-hash it. One clear advantage to the Dodge and Chrysler (which, though very different in appearance, are closely related under the skin) is that they offer more rear-seat space, and they are more performance-oriented vehicles with rear-wheel-drive and optional V8 engines. They also offer all-wheel-drive, which steals a march on the front-drive-only Impala. (That said, if you want a rip-roaring V8 sending power to the rear wheels, you should look at Chevrolet's muscle sedan, the SS.) From across the Pacific, we have the Toyota Avalon, a great all-rounder with a reputation for bulletproof reliability. Its infotainment system is more complex than the Impala's, but it does offer a hybrid option - a clear advantage. Kia offers the Cadenza, though it's a more luxurious car that might be better compared to the Impala's cousin, the Buick Lacrosse.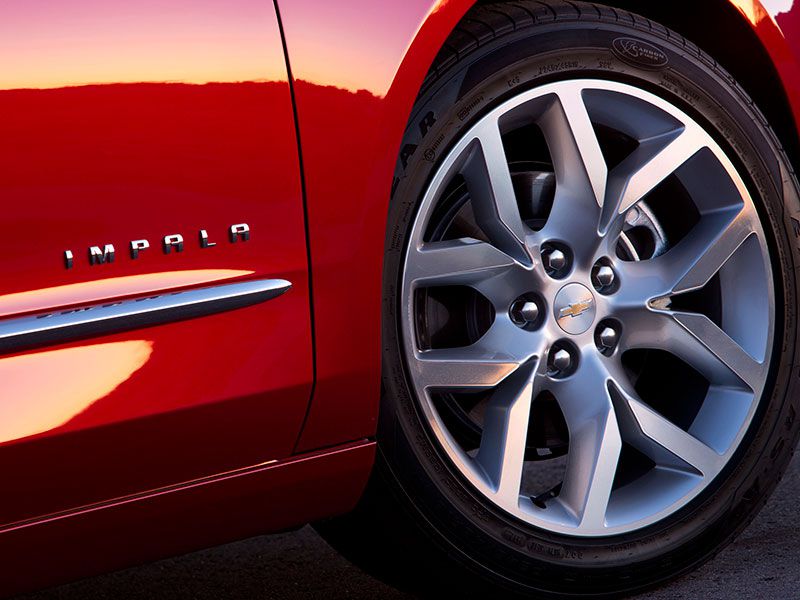 Photo by General Motors
Final Thoughts
Pricing for the Impala ranges from $27,970 for the basic LS up to $43,695 for a 2LTZ model with all of the options, including adaptive cruise control and navigation. Price-wise, that puts the Impala between moderately-equipped mid-size cars and lower-end luxury vehicles—a good place to be. After road-testing the Impala, I found that it offers the room and comfort we ask for in a full-size sedan, an attractive design, an impressive safety resume, good road manners, and a variety of nice-to-have options. All in all, it's an impressive car, one I wish more people (especially GM nay-sayers) had a chance to drive. Buyers who want stretch-out space and a comfortable interior. Folks who want a faster, sportier, or more fuel-efficient ride.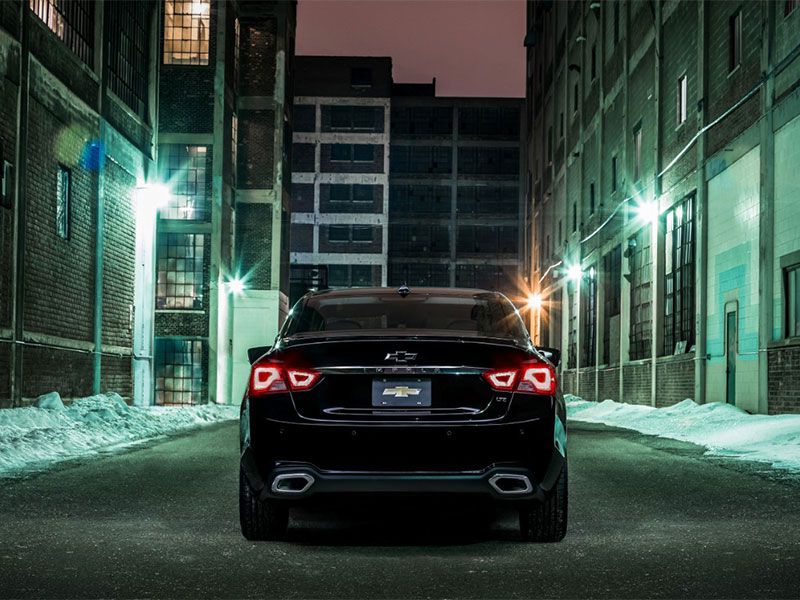 Photo by General Motors