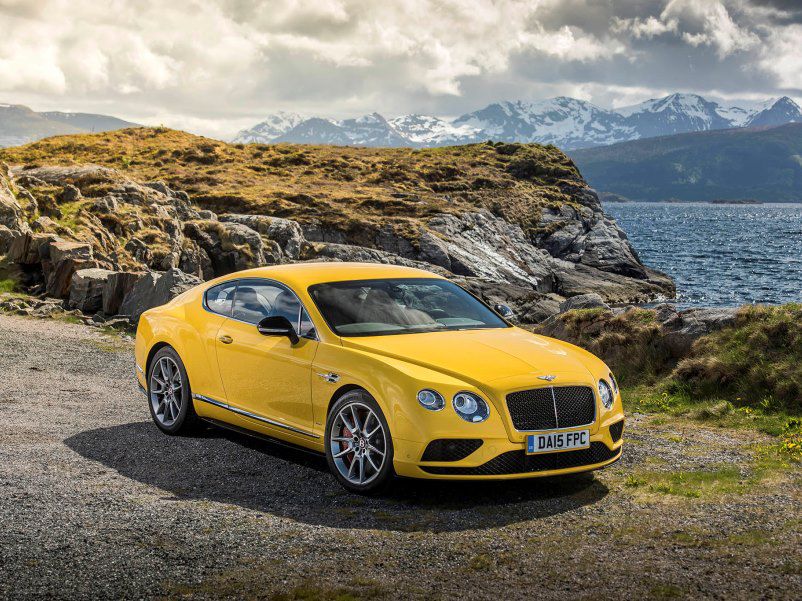 2016BentleyContinentalGTV8SFirstDrivemain
Trollstigen is a breathtakingly spectacular mountain road located on the western coast of Norway that climbs its way up a steep incline with nearly a dozen hairpin bends. Thousands of vehicles rush to make the slow serpentine trek when the road is free of snow during the summer months, stopping long enough to visit the summit's touristy gift shop, before turning around and descending from the granite peaks back into the lush green valley from where they originated.
It's a shame that the majority don't continue south on Norwegian National Road 63, towards Gudbrandsjuvet, as the remote and lightly traveled two-lane mountain passage is one of the best driving roads in the world — especially when one is behind the wheel of a 2016 Bentley Continental GT V8 S. Bentley's 2016 GT models arrive with a freshened appearance, more power, new innovative technology, and upgraded appointments, so the automaker brought me to this Scandinavian country, handed me the keys to a Monaco Yellow coupe, and pointed me towards twisty Trollstigen to sample the enhancements of the GT V8 S, the latest addition to the Continental GT family.
Affluent Player
Launched in 2003, Bentley's Continental GT quickly established itself as a prominent player in its affluent segment. By the time the second-generation successor was launched in 2011, the two-door Gran Touring model had become the best-selling Bentley of all time — more than 52,000 have been sold as of this year. All Continental GT models share the same front-engine platform and are offered as a two-door coupe or convertible, but each arrives with unique powertrains and appointments.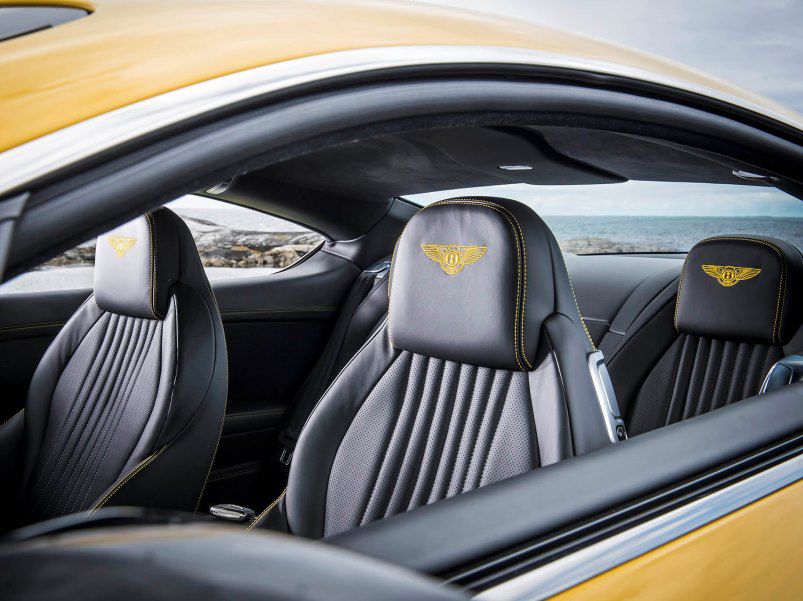 Design
The 2016 GT V8 S coupe debuts with a re-sculpted front bumper that emphasizes its more pronounced front fenders and smaller radiator shell. New bright chrome fender badges align it with the GT Speed models. There are new 20- and 21-inch wheels and the rear trunk has been tweaked for aerodynamics. The rear bumper also has new character courtesy of full-width chrome accents.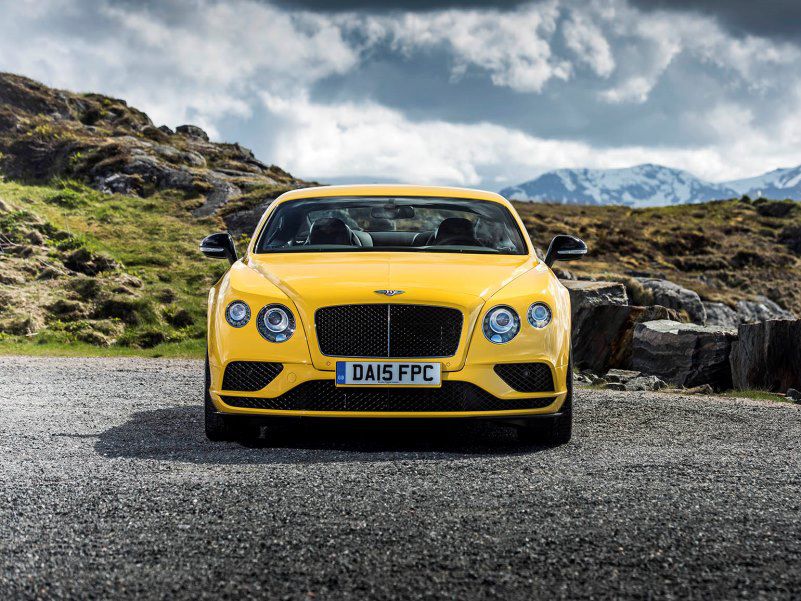 Comfort
Inside the cabin, occupants will find that the new driver's controls have improved ergonomically and have been designed with a more sporty flair — for instance, the gearshift levers now have tactile knurled-metal embellishments. The console features more bright work, and there are new dials and graphics on the instrument panel. Consider the improvements a modest modernization that bridges the gap until the GT undergoes its next complete redesign.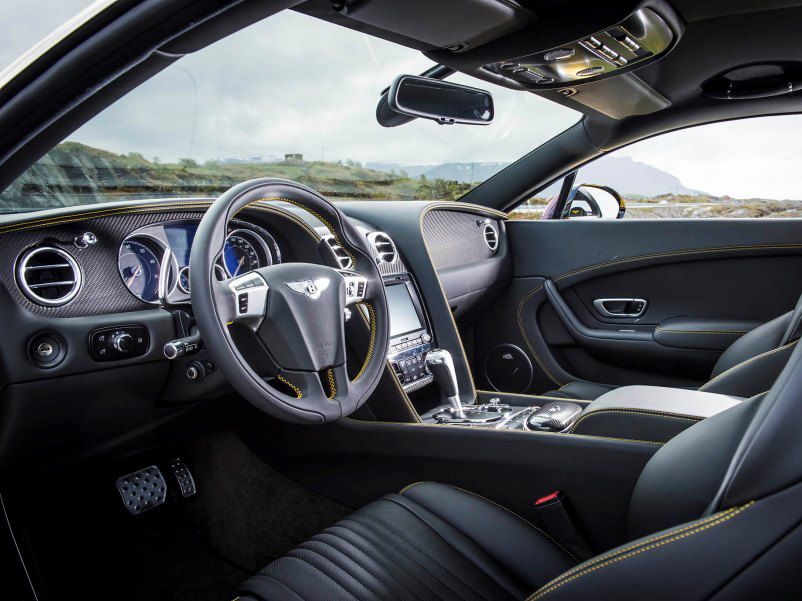 Technology and Innovation
New to the Continental GT is onboard WiFi for wireless connectivity to all handheld devices inside the cabin. This means the navigation system can use Google maps for imagery, and because that service is updated in real time, there is no need for dealer-installed updates. Complementing the hotspot technology are new USB ports, allowing passengers to charge their phones and tablets while they are being used.
Additional technology on my test vehicle included a 'Naim for Bentley' premium audio system, a digital television tuner (not offered in the States), and a wide-angle rearview camera; it's a must-have technology that, in addition to its safety benefits, also helps keep the rear bumper unblemished while reversing the big GT into a tight parking spot.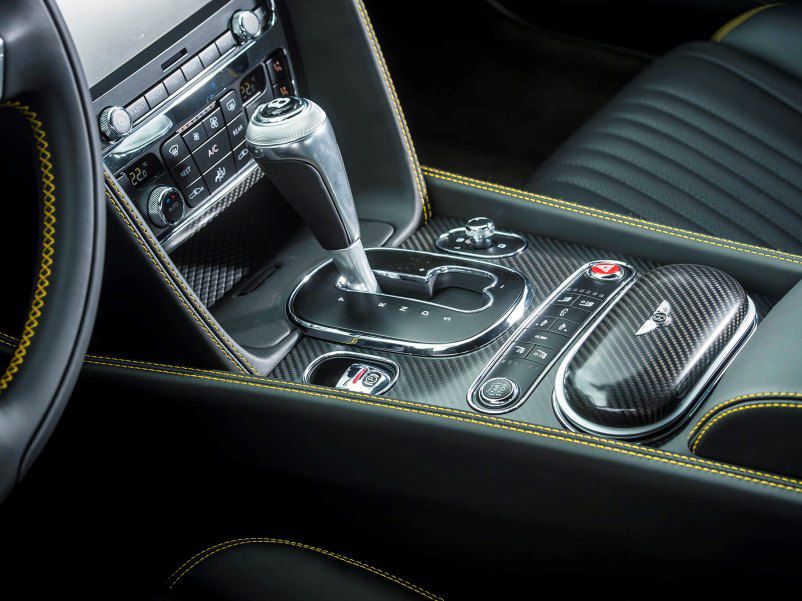 Under the Hood
The Continental GT V8 S validates its less than evocative badge with lots of performance. The twin-turbocharged 4.0-liter V8 under its bonnet (again, Yanks, a "hood") is no stronger than last year's version, but who can complain about a direct-injected engine rated at 521 horsepower and 502 pound-feet of torque? Power transfers through an 8-speed automatic transmission and standard all-wheel drive system, which can vary its torque distribution based on available grip and driving style, ensuring that the power is being used in the most efficient and safest manner possible.
According to Bentley, the GT V8 S will accelerate to 60 mph in 4.3 seconds and hit 100 mph in 10.3 seconds. However, the team over at Car & Driver instrument-tested the coupe and recorded 3.9 seconds and 9.2 seconds, respectively. Bentley, it seems, is displaying traditional British tact by avoiding boasts about such mundane matters as the tick of a stopwatch — though there was no lack of pride evident when a Bentley engineer said the 5,060-lb car can reach 192 mph. (I failed to test the claim.)
Standard brakes are sliding-piston front calipers over ventilated iron rotors; a similar setup is in the rear. Optional (and fitted to my sunshine-evoking beast) are cross-drilled carbon-ceramic rotors on all four corners, gripped by 8-piston front calipers and single-piston sliding rear calipers. The 20-inch open spoke alloy wheels on my vehicle were wrapped in 275/40ZR-20 rubber — a decent contact patch for the heavy car.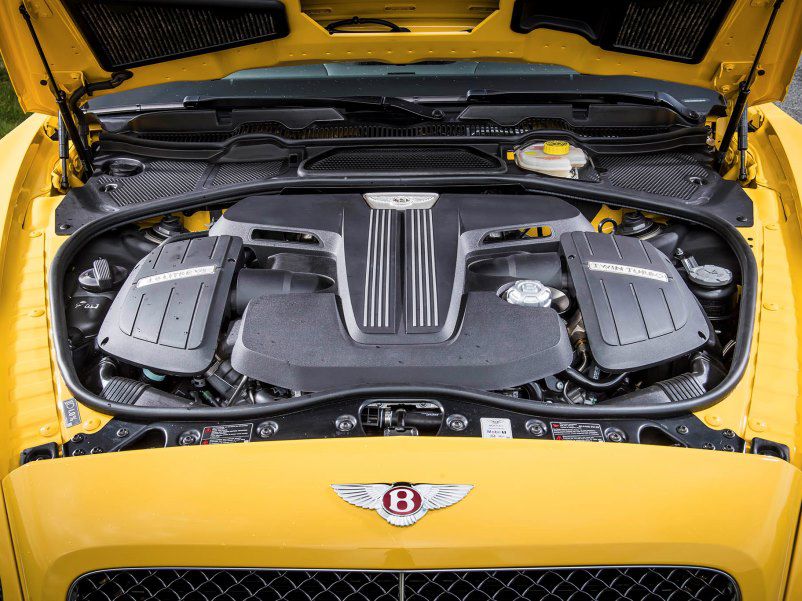 On the Road
Norway is a spectacular country to tour — even if you aren't wheeling a new Bentley up the Trollstigen. That meandering road is glass-smooth and bordered by sheer granite walls, and it seems to spill through the canyon like a river of asphalt. Driving along Norway's Atlantic coast in the bright yellow GT S V8 was spectacular, as it seemed the route, crafted with perfectly arched sweepers and smooth straights, was perfectly designed with this model in mind. Speed limits throughout the country are low (best to obey them, as a speeding ticket can result in a fine of 10 percent of your annual income and even jail time!), and traffic is nearly non-existent — I didn't see another car for many miles of the drive.
Despite lacking the kingly power of Bentley's 12-cylinder powerplant, the GT V8 S coupe is my preferred model in the Continental lineup. It is slightly lighter, a bit better balanced, and its 8-cylinder engine is eager to spin all the way to redline. Throw in its impressive exhaust burble, which is more pronounced this year, and the GT V8 S emerges as the "driver's car" in the model range.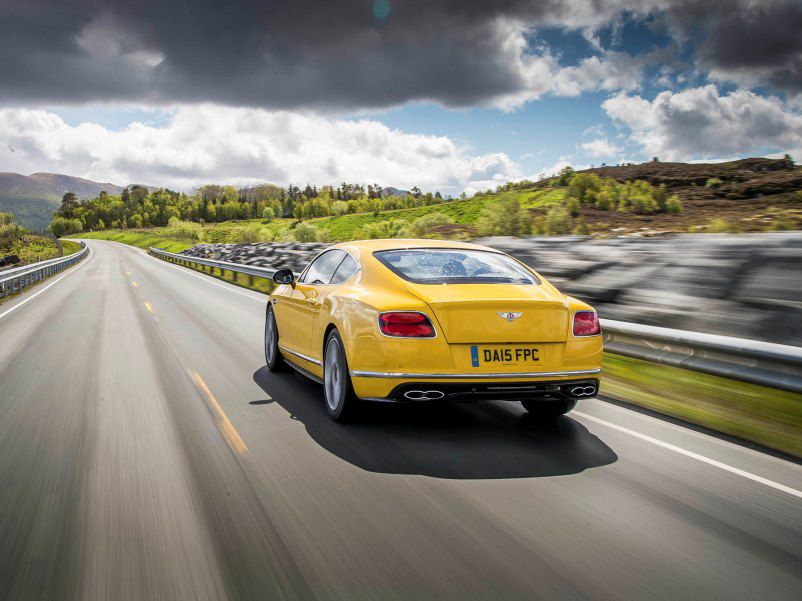 Size and Mass
Nobody will confuse the Continental GT for a lightweight sports car; its size and mass are impossible to overlook. Its doors are large and heavy, and outward visibility is restricted, especially around the side-view mirrors. And the tall front fenders often had me guessing where the car's corners ended. Nevertheless, the driving position is comfortable, and the cabin, swathed in natural tanned leather hides, exudes the odors of opulence.
Driving the big coupe leisurely is effortless. The Bentley reacts so smoothly and predictably to its buttery control inputs that passengers will hardly know they're underway. However, attack the accelerator, brakes and steering with aggression, and the GT V8 S comes to life with a total absence of British reserve. The GT's all-wheel drive prevents burnouts, but at full throttle the massive torque will pin occupants in their seats as the big tires pull mightily at the pavement.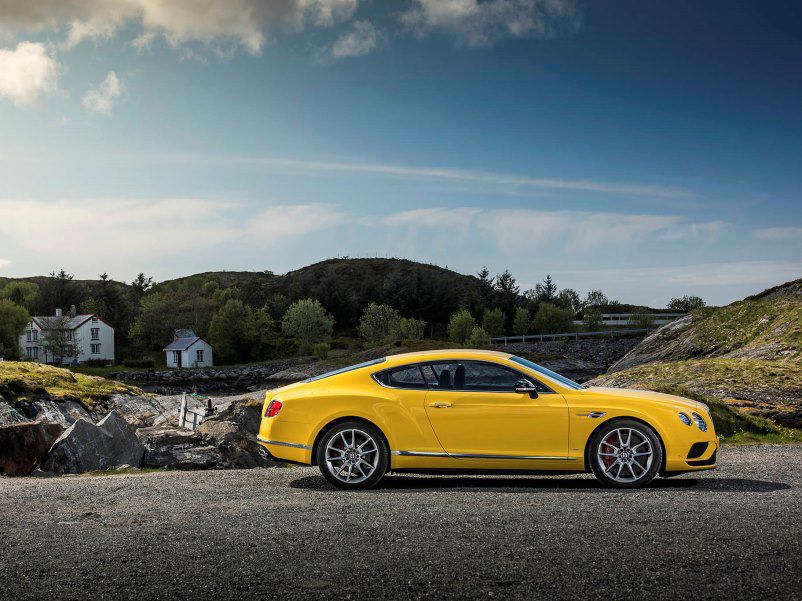 Great Driving Machine
The Bentley is very stable in the corners, and its Continuous Damping Control (CDC) adaptive self-leveling air suspension perfectly plants it on the road, but it is difficult to tell when the tires begin to run out of grip. Purely out of pleasurable curiosity, I pushed it hard in a half-dozen corners, but I had to back off when the nose started to run wider than my steering angle and threaten terminal understeer. It was easy to bring the nose back in line, but I'd need a closed racing circuit to provoke any oversteer out of the all-wheel-drive coupe.
At the end of the day, after several hundred Norwegian miles behind me, I climbed out of the cockpit as physically rested and relaxed as when I started, but my soul had been deeply stirred by the beautiful Scandinavian country and my automotive emotions inflamed by a great driving machine.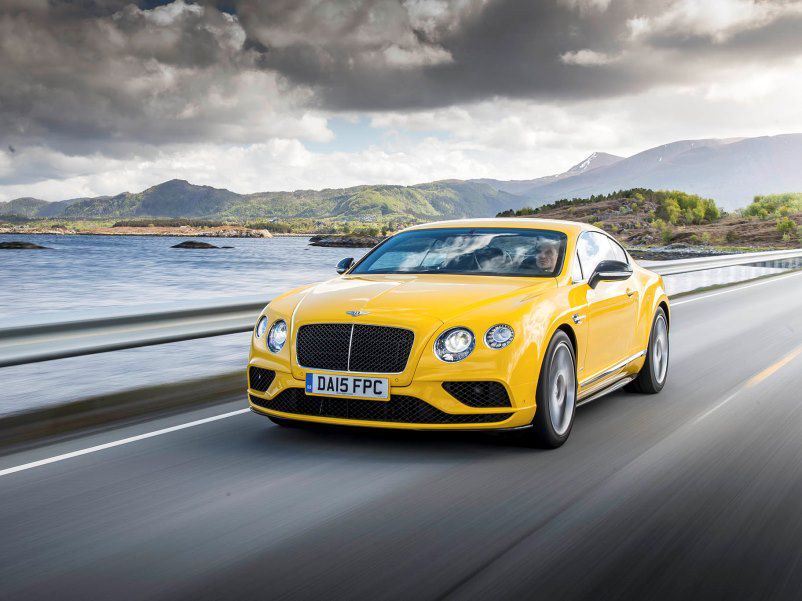 The Final Verdict
There are more than a handful of alternatives to the Bentley Continental GT V8 S, but there are only two close competitors. Comparison shoppers with deep pockets might explore the Rolls-Royce Wraith, while those on tighter budgets could look at the new Mercedes-Benz S-Class Coupe — of the three the Bentley cleanly splits the middle in terms of cost with a base price of $210,700.
It doesn't take a full day behind the wheel, or a trip to Norway, to realize why more than a half million owners have been drawn to the Bentley. For one, the coupe comes standard with everything you would want. And because it's handcrafted, not the product of an assembly line, the Bentley offers buyers an almost unlimited number of custom choices. Though the enhancements to the Continental GT for 2016 might be noticed by only a few closest to the brand, these discreet additions form another layer of polish to an already refined luxury coupe.