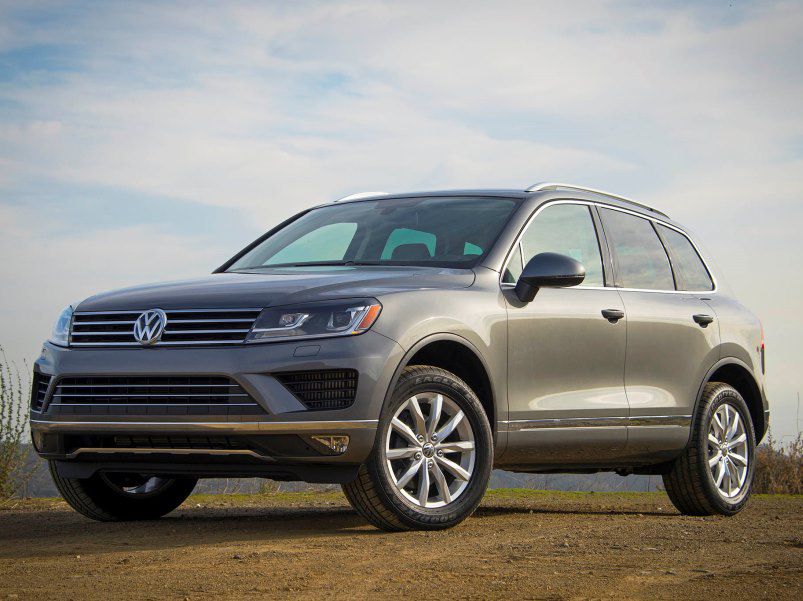 2015VolkswagenTouaregTDIReviewfrontclose
Arguably the most underappreciated premium mid-size crossover in showrooms today is the Volkswagen Touareg — blame its oversized round badge. Most often seen on the nose of an entry-level Golf, Beetle or Jetta, the "VW within a circle" represents a brand that has struggled for years to convince the North American car buyer that its flagship vehicles can compete on the same playing field as rival offerings, in this case, the BMW X5, Mercedes-Benz GLE (formerly known as the M-Class), and Volvo XC90.
Determined to maintain, if not increase, the competitiveness of its low-volume Touareg, Volkswagen has treated the 2015 model to a series of upgrades and enhancements for its mid-cycle freshening. These include new styling, redesigned interior switchgear, upgraded lights, and enhanced safety and driver assistance features. More than a bit curious to see how the Volkswagen compares to the others in the segment, I borrowed the keys to a new range-topping TDI model — with the popular turbocharged diesel engine — and took my family on an 800-mile road trip from Los Angeles to San Francisco and back.
Design, Comfort and Utility
It's likely that only owners of pre-2015 models will notice the year-over-year changes to the exterior of the Touareg — they are significant, but visually subtle. Up front is a grille with four chrome slats, new headlights (with integrated LED daytime running lamps), a re-sculpted bumper with redesigned foglights, and, for what it's worth, a new "solid" Volkswagen logo. The rear has new standard LED taillamps, enhancements to the bumper, and that revised logo. Complementing the design tweaks are new wheels and exterior colors, and though the freshening is restrained, it is effective is giving the Touareg a contemporary look.
The cabin has been tweaked to move the crossover further upmarket. Upgrades for the new model year include a new headliner color, new interior lighting (red to white), new wood trim, enhanced switchgear, and stainless steel pedal covers. Overall the layout is very traditional and ergonomically sound — I really like the oversize analog tachometer and speedometer — and though the infotainment screen is operated by touch, there are plenty of physical knobs to make most changes without taking the eyes off the road. Fit and finish is excellent, as has been the case with nearly all late-model Volkswagen models, and materials are every bit as good as the aforementioned premium brands.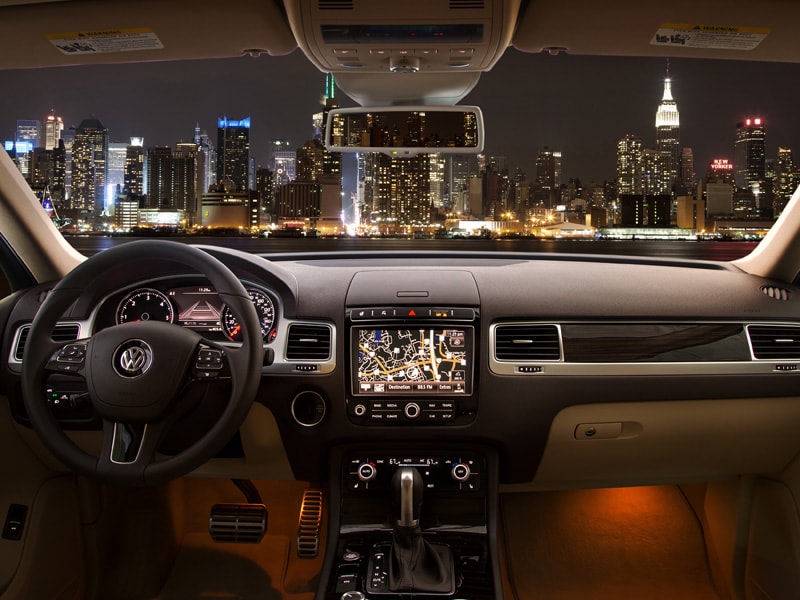 Second Row Seating
Passengers in the second row will be pleased, as even those over six feet tall will find generous head-, shoulder- and legroom — one benefit of not having a third row to steal space. The second seats recline a bit, or split/fold 60/40 to improve cargo capacity. The trunk is beautifully carpeted on all sides — no hard plastic to mar — and shaped to maximize luggage capacity (vertical walls). My only complaint has to do with the spring-loaded retractable cargo cover, which occasionally released from its extended position (when bumped by an arm or hand) and violently snapped back into its reel.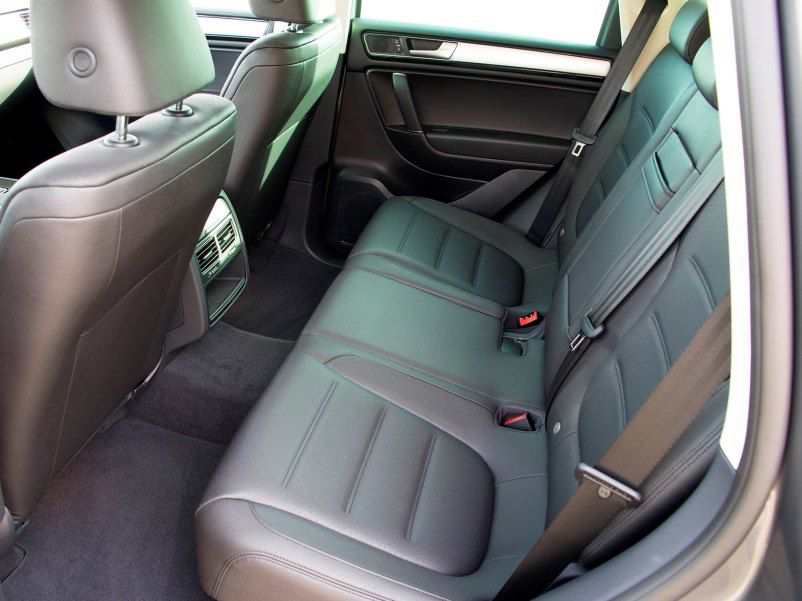 Technology and Innovation
Volkswagen knows that consumers have an insatiable appetite for technology, so much of this mid-cycle massage focused on innovative equipment. Standard additions include a premium touchscreen audio system and bi-xenon headlights, and the new Automatic Post-Collision Braking, a system that firmly applies the brakes after a collision to prevent a secondary collision.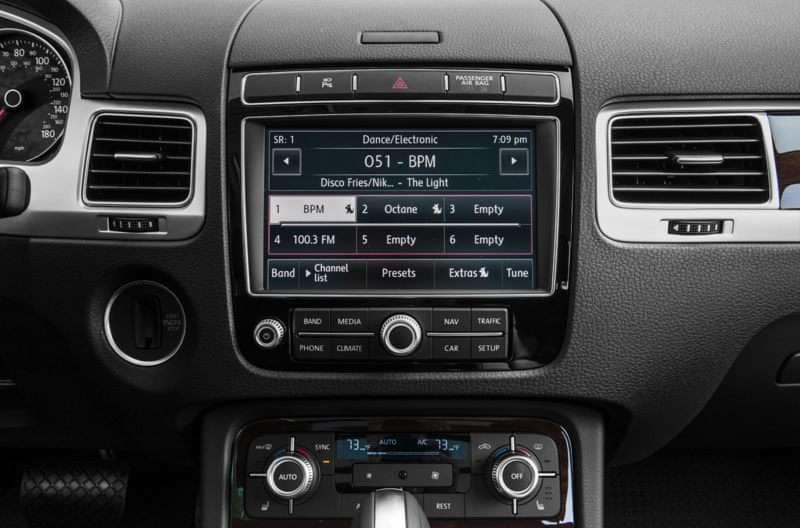 Active Safety Systems
Premium models, such as the TDI I am driving, are offered with Front Assist, which provides autonomous emergency braking; Side Assist, to watch blind spots; Lane Assist, to help keep the driver between the painted stripes; and Adaptive Cruise Control (ACC). I really like ACC, especially on road trips; it greatly reduces the workload, but, unfortunately, on the open highway the ACC on the Touareg doesn't follow the vehicle ahead tightly enough (even on its closest setting), which has other drivers constantly cutting in front of the Volkswagen — it is frustrating.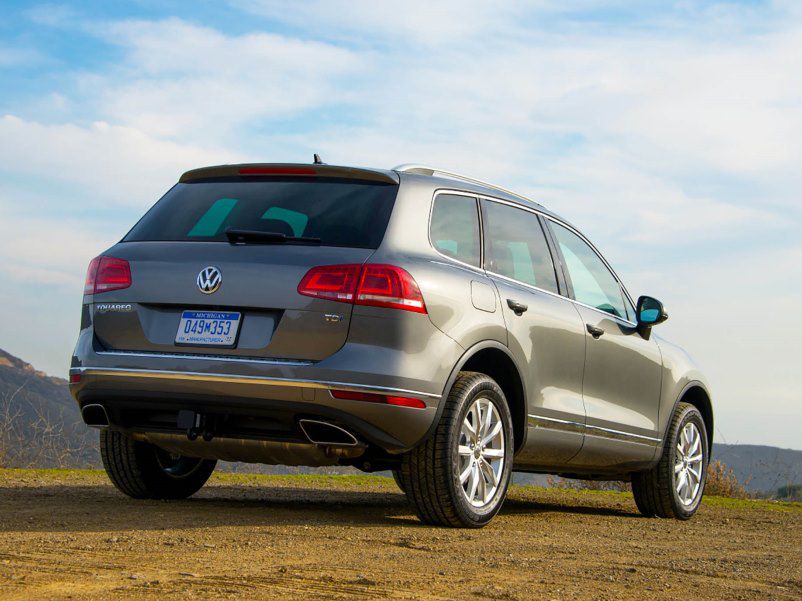 Under the Hood
There are three different powertrains offered on the 2015 model, which basically carry forward unchanged from last year. Standard models are fitted with a naturally aspirated 3.6-liter V6, while the premium Hybrid models display innovative sophistication with a supercharged 3.0-liter V6 and electric motor.
While there are strong arguments for both of the aforementioned choices, my recommendation is the TDI's efficient turbocharged 3.0-liter V6, which develops 240 horsepower and 406 pound-feet of torque on diesel fuel. The muscular engine (shared nearly unchanged with the more expensive Audi Q7 TDI and Porsche Cayenne Diesel) earns EPA ratings of 20 mpg city and 29 mpg highway — impressive numbers for a vehicle that tips the scales at 4,919 pounds. A standard eight-speed automatic transmission and permanent 4Motion all-wheel drive put the power to the pavement, snow or dirt, with impressive precision.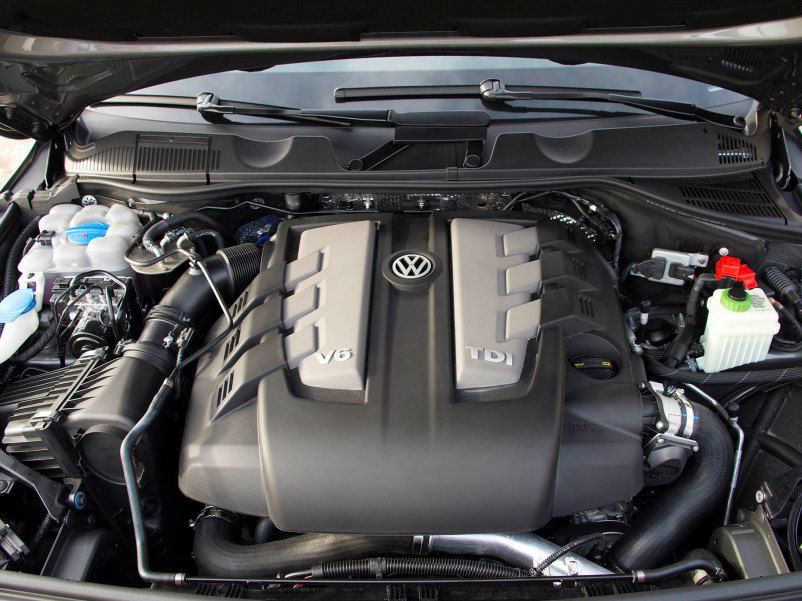 Suspension and Wheels
Other mechanical goodies include four-wheel independent suspension with fixed-rated dampers, and oversized brakes boasting multi-piston monobloc calipers — braking, even with a 7,716-pound trailer, is a non-issue. The TDI arrives with attractive 20-inch wheels wrapped in meaty 275/45R20 all-season rubber (the vehicle in the gallery is wearing the smaller standard wheel/tire package).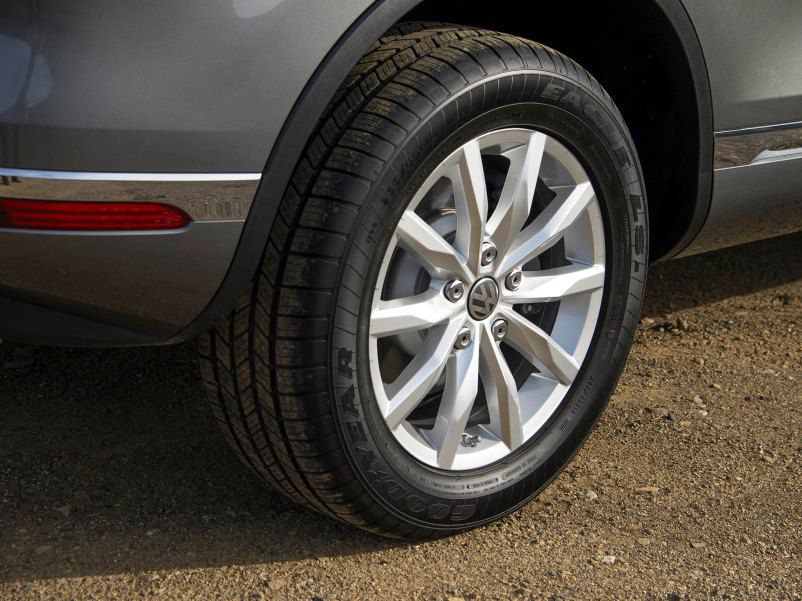 On the Road
In typical European fashion, the ride is firm and well controlled. Many in this segment are offering adaptive damping, which raises the price and complexity, but the Touareg seems to get along just fine without it as it rides smoothly and comfortably. When cornering, the big SUV benefits from those wide tires and a broad-shouldered stance, resulting in excellent handling for a vehicle of this size and mass. The GLE and XC90 don't handle as well as the Touareg, but the X5 is tuned to carve a canyon with more precision.
The cabin is quiet, and if there is almost no road or tire roar, a hint of wind rushing by the side glass reminds you the vehicle is underway. Sound levels are very low, equaling or bettering the more expensive rivals. Any unwanted noises are easily drowned out by the premium Dynaudio sound system, which sounds great.
Acceleration is strong; the sprint to 60 mph takes about seven seconds. The eight-speed slushbox is geared well at the low end for plenty of punch off the line — but only after a momentary wait for the turbo to spool. But the diesel engine's real strength is torque — it pulls like an ox and gobbled up San Francisco's steepest streets as easily as I scarfed down a Ghirardelli dark chocolate bar. Though it's hardly slow on the open road, rural highway passing is about the only time more horsepower might be useful.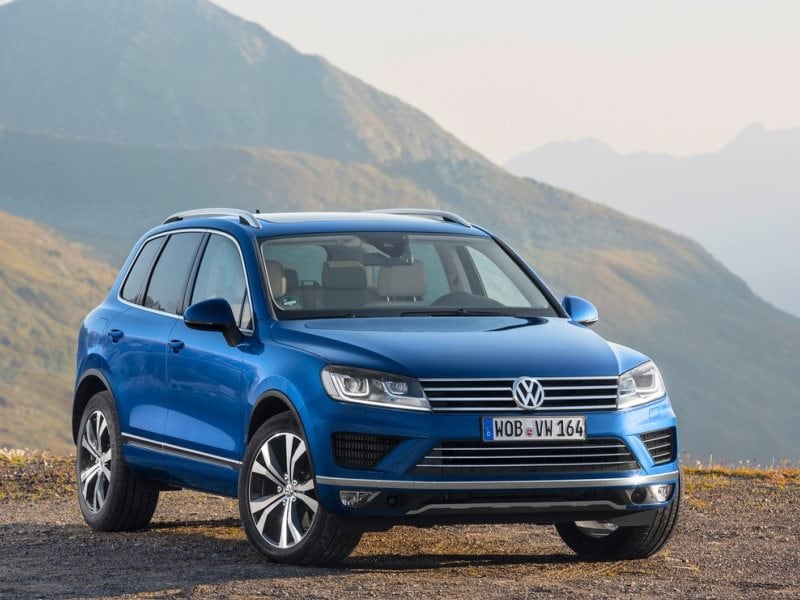 Fuel Economy
Overall my trip to the Bay Area and back delivered 26.6 mpg, including the city driving. Even better, my highway fuel economy, with the cruise control set at just less than 80 mph, was revealed to be 30.1 mpg on the vehicle's trip computer. Factoring in the Volkswagen's massive 26.4-gallon fuel tank, highway range easily exceeds 650 miles per fill-up — reason alone to opt for the TDI over its gasoline or hybrid siblings.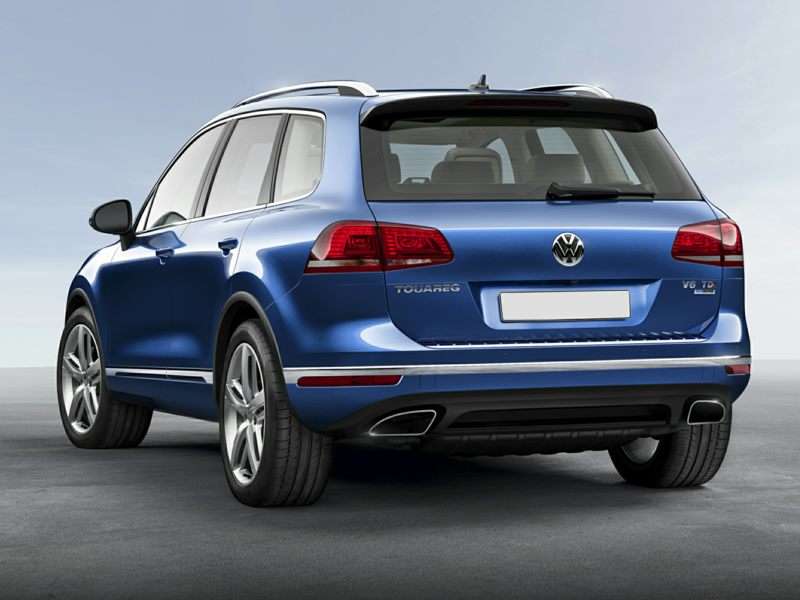 Off-Road Prowess
A few days after my trip, I attended "Droptops and Dirt," an off-road event hosted by Southern California's Motor Press Guild. There, I had the opportunity to drive the identical Touareg over a challenging mountainous dirt and rock course (sharing paths with Jeep Wranglers and Land Rover Range Rovers). Despite lacking a low range or air suspension, the Volkswagen attacked every obstacle with nonchalance, easily crawling its way over everything the trail could throw at it. As it did on the hills of San Francisco, the diesel's torque gave it goat-like climbing capabilities and the suspension never bottomed out.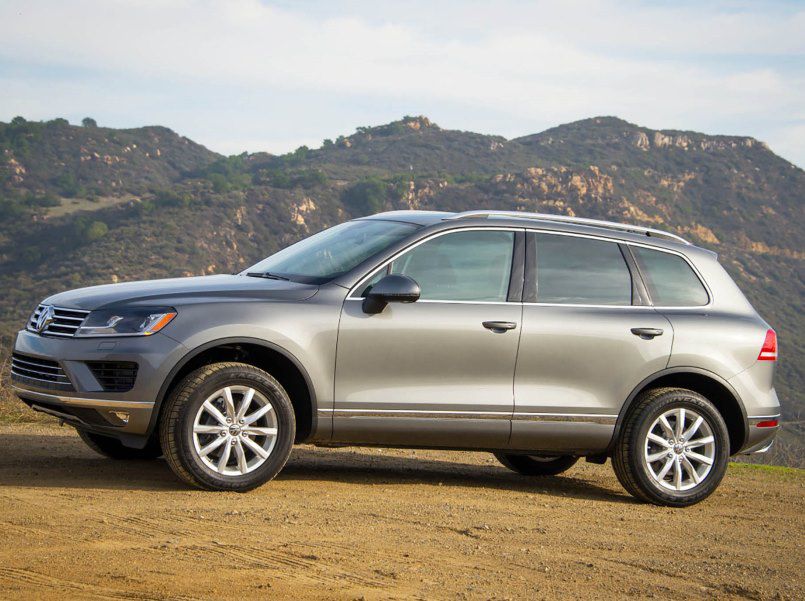 The Final Verdict
A week with the freshened 2015 Volkswagen Touareg TDI left no doubt in my mind that it is worthy of challenging all others in this competitive segment in terms of build quality, technology and ride. I really enjoyed the time behind the wheel, as did my wife and family in the passenger seats. High on the list of "likes" are its styling, driving dynamics, passenger cabin, engine torque and fuel efficiency. My "dislikes" include the above-mentioned submissive adaptive cruise control, and a curious lack of USB charge ports in the vehicle to satisfy today's overabundance of personal electronics.
I put the Touareg on the highly recommended list — a better choice than most in the $60,000 premium segment — keeping in mind that it takes a bit of self-confidence to ignore that classic, and very familiar, round badge.