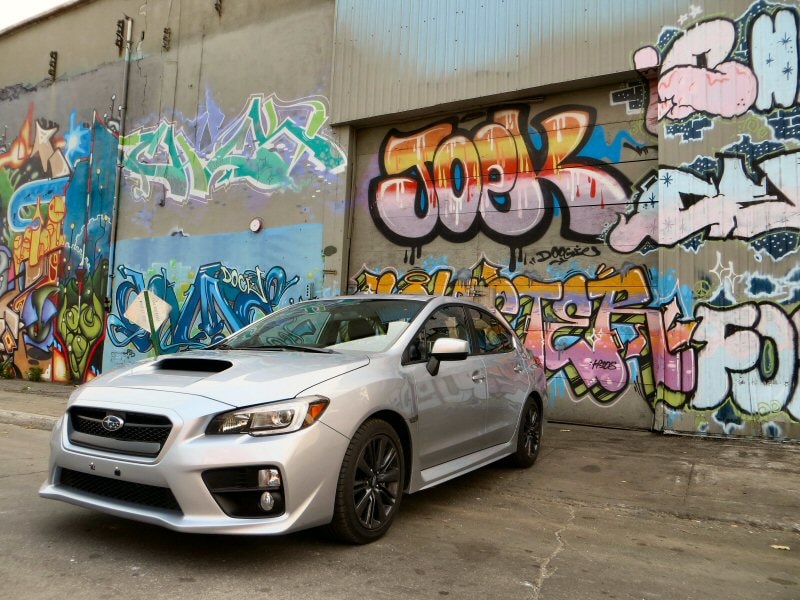 2015 Subaru WRX ・ Photo by Benjamin Hunting
The 2015 Subaru WRX has been a long time coming.  Ever since Subaru took the risk of importing its rally-based compact performance car at the dawn of the new Millennium, the gamble has paid of in spades by attracting young shoppers seeking a fun and affordable ride.  Of course, to truly appreciate the WRX of that era one had to overlook its rougher edges - particularly in the ride quality and interior design department - but it seemed a small price to pay for such a potent package.
Flash-forward more than a decade and the market for small and fast cars is a very different place.  Subaru is far from the only game in town, and with luxury brands bringing their own upscale compacts and even subcompacts into play it was clear that the WRX needed to step up its game to stay competitive and continue to expand sales beyond its core demographic.  I'm happy to report that the 2015 Subaru WRX isn't just the best-driving version of the small sedan to have reached American dealerships, but that it's also the most comfortable and well-executed edition in every crucial department.  The WRX is all grown up but it hasn't left its wild streak behind, which is the best possible combination for this turbocharged all-wheel drive terror.
2015 Subaru WRX Review: Models and Prices
The 2015 Subaru WRX offers three different trim levels, with the base model starting at an MSRP of $26,295.  For that initial outlay you get cruise control, power windows an door locks, automatic climate control, 17-inch rims, a leather-wrapped steering wheel and shift knob, an LCD display perched on the dashboard, HD radio, a CD player, Bluetooth connectivity, a split folding rear seat, and a rearview camera.  The Premium trim (MSRP $28,495) introduces a spoiler on the trunk, a sunroof, heated seats, fog lights, and a windshield defrosting system, while the Limited ($29,995) adds LED headlights, a power driver's seat, and leather upholstery front and rear.  The vehicle I drove for a week was a Subaru WRX Premium with no options, which brought the total price of my tester to $28,495.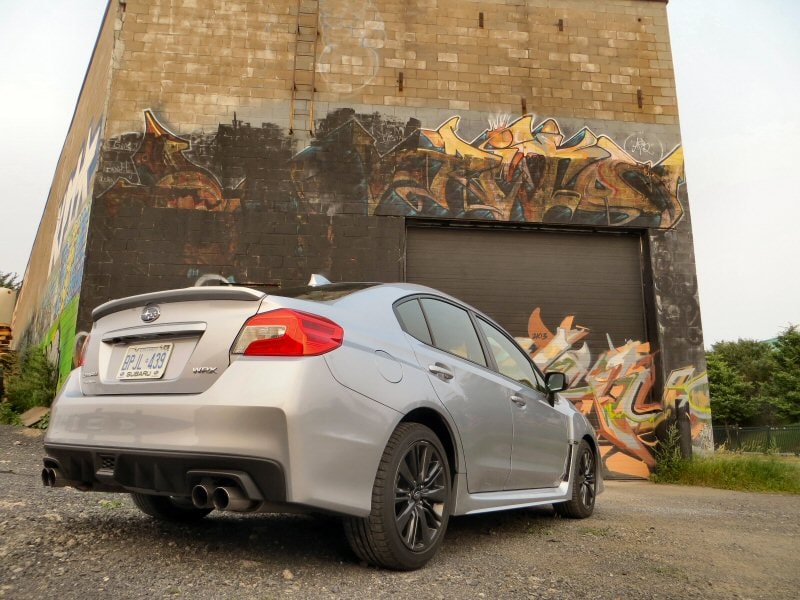 Photo by Benjamin Hunting
2015 Subaru WRX Review: Design
The 2015 Subaru WRX is a completely new design.
Although for a time it seemed as though Subaru might break the WRX away from its Impreza roots and give it a unique platform to better leverage its performance credentials, financial considerations prevented the beautiful concept we saw at the New York International Auto Show in 2013 from becoming a reality.  Instead we have a WRX that borrows substantially from the looks of the standard Impreza sedan, at least in terms of its overall shape.  The end result is a car that is somewhat more anonymous than past performance sedan efforts from Subaru, although the addition of wider, slitted front fenders, an aggressive front fascia, a hood scoop, quad exhaust tips and a unique diffuser at the rear clearly identify the car as a WRX.  More troubling than the normalized styling of the Subaru is the absence of a hatchback model: cost-cutting forced the automaker to choose between a razor-sharp sedan platform or a pair of good, but not as-good-as-they-could-be sedan and hatch options.  Given that the five-door WRX represented 50 percent of sales, it will be interesting to see what the fall-out from this decision looks like in the second year of the car's lifecycle.
Although the 2015 Subaru WRX's outside might not be as flashy as we are accustomed to seeing, its cabin has been given a substantial refresh that finally elevates it to the point where owners no longer have to make any excuses.  Gone is the pedestrian look of past interior efforts and in its place is a contemporary design trimmed in carbon fiber-style plastics, leather, and classy bright work.  The plastics used on the doors and the center console no longer feel sourced from the lowest bidder, and although the leather boot around the shifter refused to stay nestled snug to the top of the stalk, I detected no other fit or finish problems throughout the passenger compartment.  It's huge improvement for Subaru, and one that is much appreciated.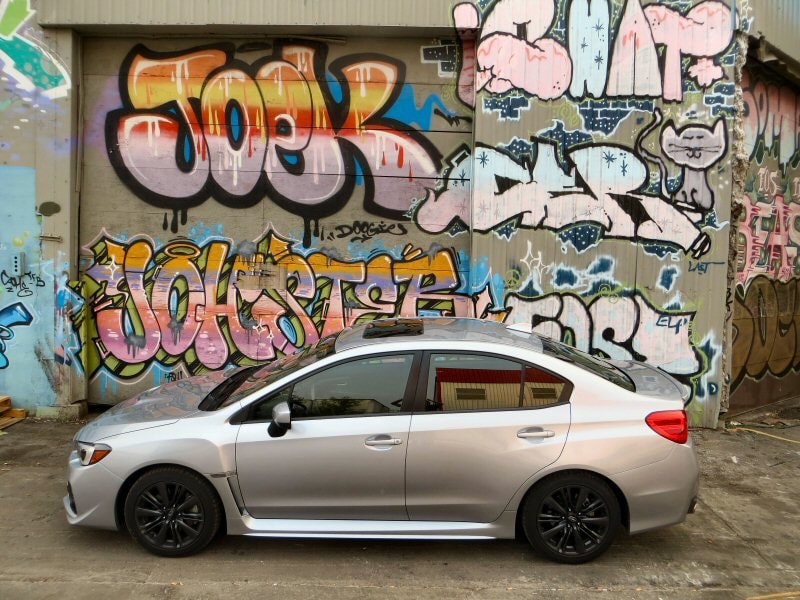 Photo by Benjamin Hunting
2015 Subaru WRX Review: Comfort and Cargo
The 2015 Subaru WRX is an all-new design.
The 2015 Subaru WRX is not meant to stand as a luxury car, nor does it really have any premium leanings outside of its promise of performance.  That being said, for the current model year Subaru has made sure to introduce a more compliant personality into the WRX's day-to-day character that was simply missing from past editions.  What this means from a practical standpoint is that the sedan's ride and interior noise level have been improved to the point where it's difficult to detect the Subaru's stiffened suspension and sticky summer tires when driving at urban commuting speeds.
The Subaru WRX's seats have also been massaged to the point where their thick side bolsters hug, but don't crush your thorax, especially as you get in and out of the car's front two positions.  In the rear there's a decent amount of leg room to be had, and folding down the back seat provides a solid complement of cargo space to the trunk's 12 cubic feet.  It's not nearly as practical as the five-door WRX once was - or the existing Ford Focus ST currently is - but it'll do in a pinch.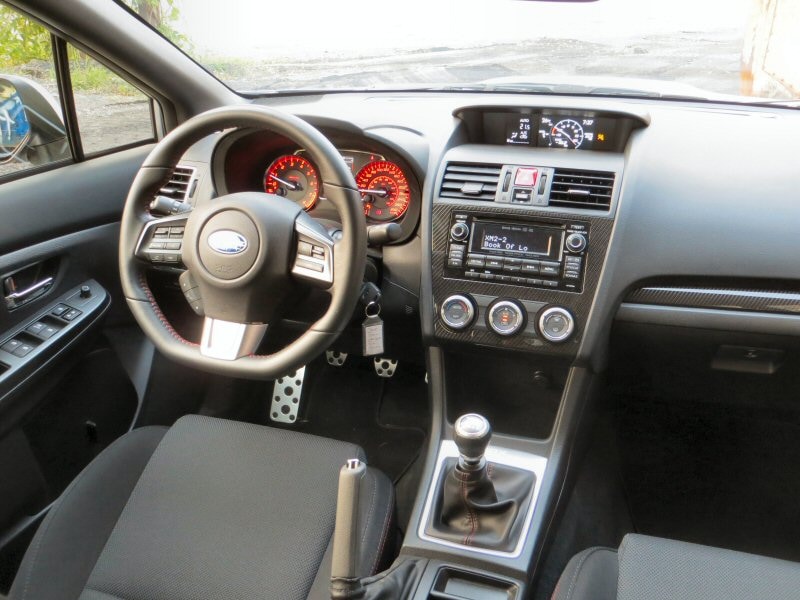 Photo by Benjamin Hunting
2015 Subaru WRX Review: Features and Controls
The 2015 Subaru WRX debuts a new set of features and controls.
An improved touchscreen navigation is now available.
An LCD multi-function display sits at the top of the dash on all models.
The 2015 Subaru WRX doesn't deviate too far from the established Subaru performance playbook when it comes to gauges, features, and controls.  Everything you'd want in a compact car is here - including power windows and door locks, cruise control, a trip computer, and automatic climate control - and there are a few extras thrown in to boot.  Like the Impreza the WRX now offers an LCD screen at the top of the dash that can cycle through and display a long list of vehicle data, including a digital boost gauge that's cool, but realistically too far from the driver's line of site to be practical.  The car's steering wheel also offers a number of buttons and switches to interact with the stereo and cruise control.
There remains one enormous flaw in the Subaru WRX's feature set, and that's its entry-level stereo.  Unless you order the car's optional navigation system, which offers a touchscreen audio interface along with higher quality speakers, you are stuck with an absolutely terrible stereo whose dual-line interface makes it difficult to tell what radio station you are listening to, let along assist you in pairing your Bluetooth phone.  Sure, the larger LCD screen on the dash can pick up some of the slack when it comes to media display, but that means you have to sacrifice either the boost gauge or some other readout to simply see the name of the artist, channel, and song you are listening to all at the same time.  It's the worst part of the WRX's interior and it's screaming for replacement.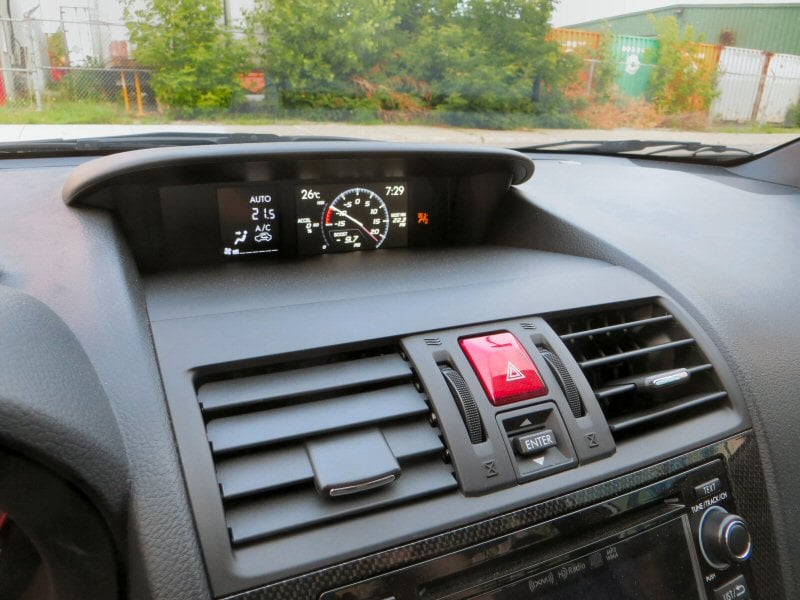 Photo by Benjamin Hunting
2015 Subaru WRX Review: Safety and Ratings
The 2015 Subaru WRX does not introduce any new safety equipment.
Despite its face-lifted platform and mechanical refresh, the 2015 Subaru WRX doesn't jump on the safety technology train.  That's not to say that the compact sedan is somehow unworthy of your confidence in an accident - the car features the extensive use of high strength steel, and Subaru has a reputation for excellent crash safety - but does mean that you won't find active features such as blind spot monitoring or lane keeping assistance.  What does come with the WRX?  A full complement of airbags including a driver's knee airbag, plus electronic stability control and traction control.
2015 Subaru WRX Crash-Test Ratings:  The Subaru WRX enjoys a Top Safety Pick rating from the IIHS, but has yet to be crash tested by the NHTSA.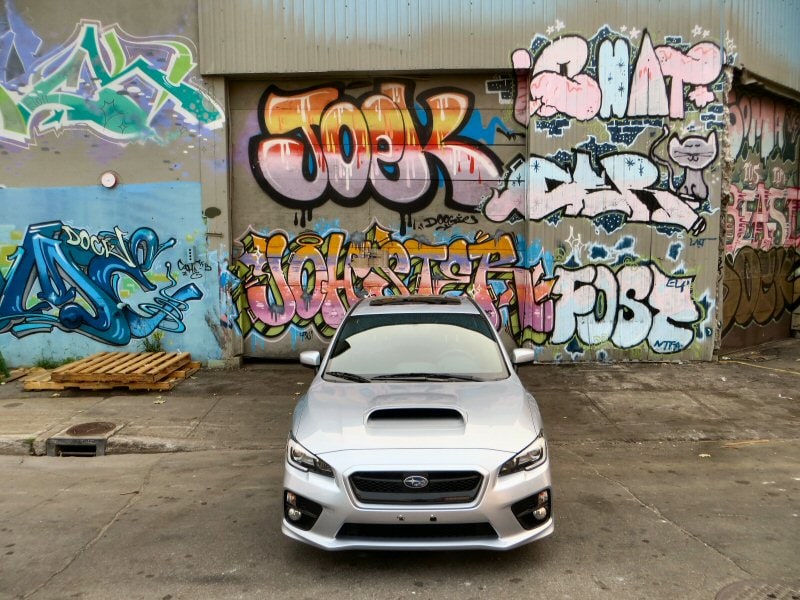 Photo by Benjamin Hunting
2015 Subaru WRX Review: Engines and Fuel Economy
The 2015 Subaru WRX gains an all-new 2.0-liter turbocharged engine.
A CVT becomes available for the first time with the sedan.
A six-speed manual transmission is now standard equipment.
The 2015 Subaru WRX debuts a 2.0-liter turbocharged four-cylinder engine that replaces last year's 2.5-liter mill.  Sourced from the Subaru Forester XT, the WRX motor has been tuned to provide 268 horsepower and 258 lb-ft of torque, which is a boost of only three horses and 11 lb-ft of twist compared to the 2014 edition of the car.  Transmission-wise the Subaru WRX makes two big updates, including the installation of a fresh six-speed manual in place of the older model's five-speed, and the inclusion of a continuously-variable automatic gearbox (with launch control) on the options list.  Fuel mileage for the WRX is up for 2015, showing as 21-mpg in city driving and 28-mpg on the highway (an increase of two and three miles per gallon for each respective measure).  All-wheel drive of course remains standard with the car.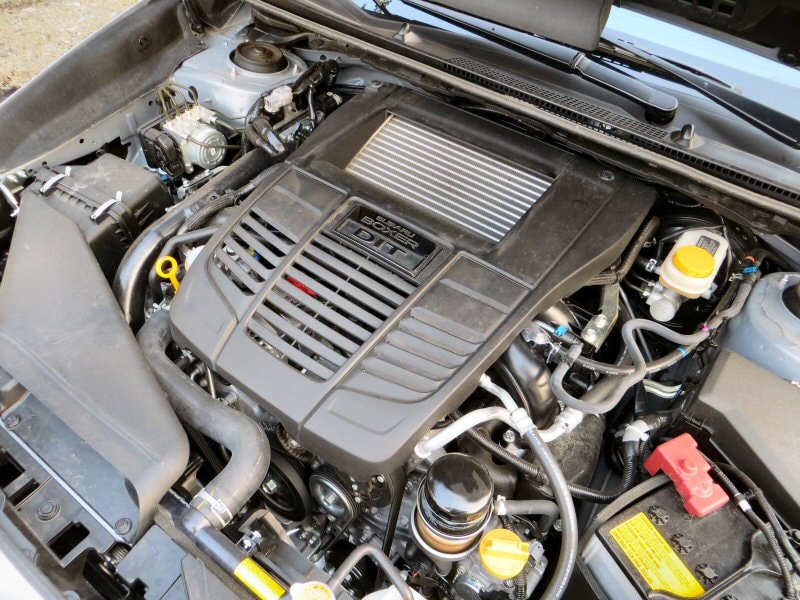 Photo by Benjamin Hunting
2015 Subaru WRX Review: Driving Impressions
The real challenge faced by a car like the 2015 Subaru WRX is serving both its practical and performance masters without overly compromising in either direction.  A big part of the WRX's appeal is its promise to deliver a livable daily driving experience while still pasting a huge smile onto your face on twisty weekend roads or the local quarter mile drag strip.  Past versions of the car were definitely quick in a straight line as well as nimble from apex to apex, but it was largely at the expense of a civilized ride at more responsible speeds.
The 2015 Subaru WRX's new chassis has largely erased any of the rough character that might have had past performance sedan shoppers hesitating before dropping a deposit on the turbocharged model.  In a word, the WRX's low-speed manners are sublime, with only a hint of rough road penetrating the car's cabin.  Yes, the aggressive shocks, lowered springs, and stiff platform that make for the Subaru's more direct driving experience are present and accounted for, but the WRX doesn't remind you with every passing yard that it's chomping at the bit to be launched over a flat-table jump on a gravel logging road.
Which you could definitely do, if you wanted to - at least, if you've got a garage full of spare front clips.  What I mean to say is that the new 2.0-liter engine offers smoother and more spirited acceleration than the engine it replaces, especially when considering the improved ratios offered by its six-speed manual transmission.  The gearbox itself is a cut above the departed five-speed unit, which featured vague shifting as standard equipment: selecting the next cog with the sixer is a slop-free experience that significantly enhances the car's fun factor.  Add in the vehicle's viscous-coupled center differential that offers up a 50:50 torque split and you've got a winning four-seasons formula.  Handling is further improved for 2015 by way of a torque vectoring system up front that rotates the car more aggressively on turn-in by activating the inside wheel's brake.
Returning back to the daily grind, the 2.0-liter's broad torque delivery also makes the redesigned Subaru WRX a pleasure to drive in urban traffic.  No longer do you sit and wait for the rush of power that comes at around 3,000 rpm once the Subaru's turbocharger kicks in - now you get at more usable throttle response when puttering from stoplight to stoplight, which helps to further hone the sedan's commuting chops.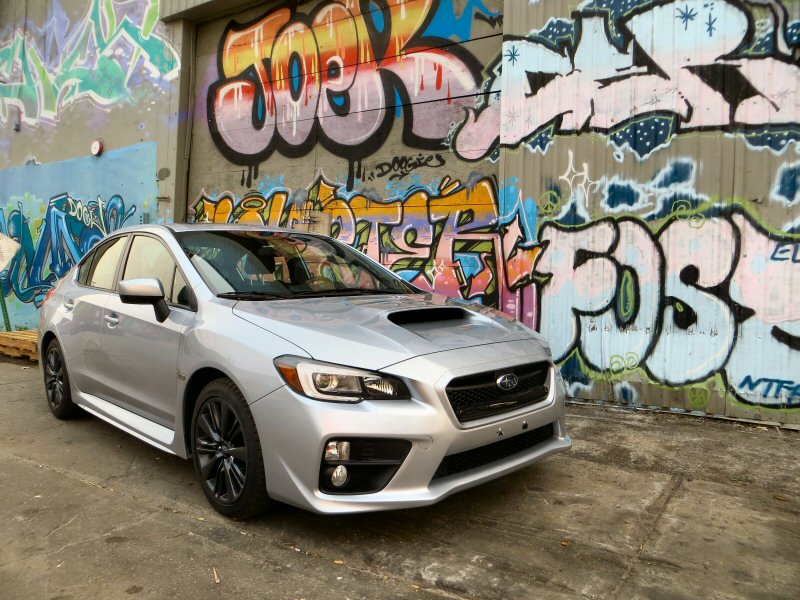 Photo by Benjamin Hunting
2015 Subaru WRX Review: Final Thoughts
The 2015 Subaru WRX is good enough to make me almost forget that there won't be a hatchback, it's entertaining enough to drive to make me forgive its distinctly sub-par stereo system, and it's secure enough, from a crash test perspective, to gloss over its lack of active safety equipment.  This is as close as the WRX has ever come to being a no-compromise, fun-to-drive sedan that doesn't take you over its knee and lavish your posterior with lashes if you make the mistake of trying to pilot it every day.  For 2015 the car has graduated from finishing school with honors, and if that were Subaru's only accomplishment with the WRX it would certainly be enough to keep that vast majority of its fans content.  The fact that it's also the best-handling, and easiest-to-drive-quickly edition of the turbocharged sedan to have ever gone on sale here in the U.S. just feels like a bonus.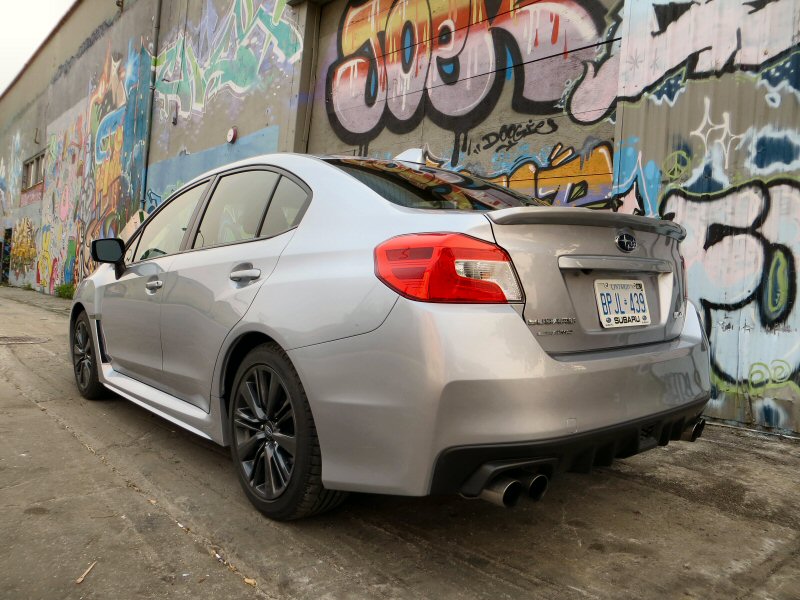 Photo by Benjamin Hunting
2015 Subaru WRX Review: Pros and Cons
Pros:
Quick and fun driving experience
Improved interior materials and design
Broader torque band from new 2.0-liter turbocharged engine
Six-speed manual is much better than last year's five-speed
Handling is significantly improved
Standard all-wheel drive
Affordable pricing 
Cons:
No more hatchback option
Terrible base stereo system
No launch control for manual transmission cars
Styling is not quite as aggressive as it was in 2014
Subaru Canada supplied the vehicle for this review.
Photo by Benjamin Hunting