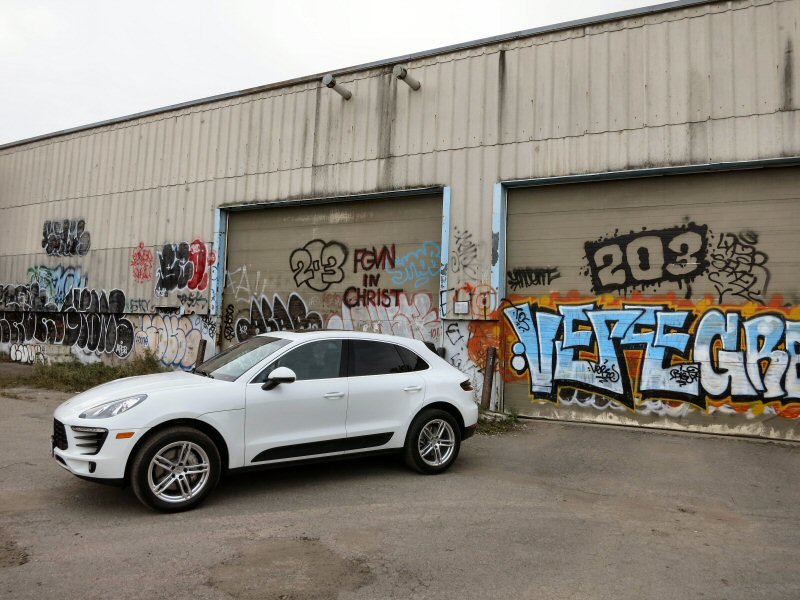 2015 Porsche Macan S ・ Photo by Benjamin Hunting
I don't know why it took Porsche over a decade to introduce a second SUV.  After all, the company's financial fortune has been inextricably linked to the Porsche Cayenne since it first debuted as a 2003 model, with sales of the five-passenger 'ute eclipsing that of all other Porsche offerings and making possible expensive supercar projects like the Carrera GT and the Porsche 918 Spyder.  One would have though that a second, smaller SUV would mark the natural progression of Porsche, both fiscally and product-wise, into a more well-rounded automaker.
Regardless of the reasons for the delay, the 2015 Porsche Macan S (and its Turbo sibling) is now here - and it's quite good.  So good, in fact, that if you really care about driving, but have also convinced yourself that your lifestyle demands an SUV, then you should take a long, hard look at the Macan.  And then probably buy one.
Models and Prices
Picking up the tab for a 2015 Porsche Macan isn't all that painful, as the compact SUV assumes the Cayenne's former spot as the least expensive Porsche offered in the United States.  The base Macan S starts at an MSRP of $49,900, and includes features such as a power tailgate, dual climate control, power windows and door locks, leather seats with power adjustments up front, Bluetooth connectivity, HID headlights, an automatic engine start/stop system, heated side mirrors, 19-inch rims, and a CD player.  The Macan Turbo is considerably more expensive (MSRP $72,300), and aside from its mightier engine adds heated front seats, a surround sound audio system with satellite radio, a navigation system, extended leather upholstery, LED fog lights, more aggressive exterior styling, and an adaptive suspension system.
The vehicle I drove for a week was a 2015 Porsche Macan S with a number of options added to the equipment list.  As with most Porsche models, ticking off too many boxes can quickly inflate the price of a particular vehicle: my tester featured the Infotainment package (navigation, satellite radio, HD radio, online services), the Premium package (parking sonar with rearview camera, adaptive headlights, heated seats front and rear), and a panoramic sunroof.  This made the total window sticker for my Macan S approximately $57,000, which is quite reasonable considering you can easily spend tens of thousands of dollars - no exaggeration - customizing the SUV.  My favorite Macan option?  A painted key, for $365.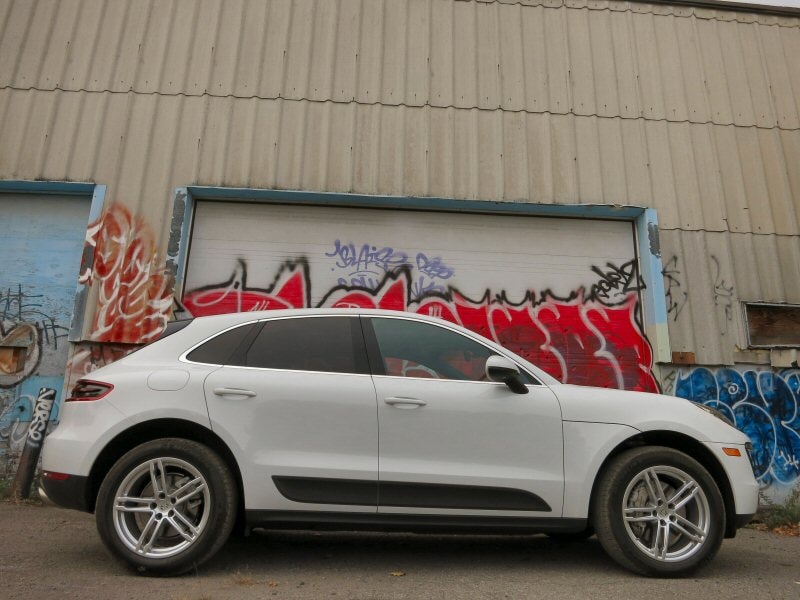 Photo by Benjamin Hunting
Design
The 2015 Porsche Macan S is an all-new design.
The 2015 Porsche Macan S is named after the Indonesian word for 'tiger,' but you'd be hard-pressed to see any jungle cat in its Teutonic flanks, as this SUV is pure Porsche through and through.  You'll also strain your eyes looking for similarities between the Audi Q5 and the Macan S, for even though both vehicles share a similar platform Porsche has cribbed only the wheelbase and a few other aspects of the more affordable people mover's design for its own compact hauler.  The end result is a pleasing combination of the Cayenne's broad, yet still curvy front fascia and a fair approximation of the 911 coupe's sloping roofline and wide rear haunches.  It's not a stand-out, in terms of sex appeal, but the Macan S is quite handsome and attracted a fair share of compliments during our time together.
The passenger compartment of the 2015 Porsche Macan S hews close to the company line, with the dashboard and center console presenting a veritable facsimile of the larger Cayenne's feature set and design.  This is both good and bad, depending on how you look at it: there's no question that the scattering of buttons on the console appear overwhelming at first glance, but at the same time gauge presentation is neat and well-organized and there's an overall classiness that rises above the sterility that occasionally threatens such clinically-assembled interiors.  You'll notice the leather on the door pulls and panels, as well as on the dash, and you'll appreciate it every time you touch it.  The large panoramic sunroof that came with my tester also added a sense of space to the compact Macan S' environs.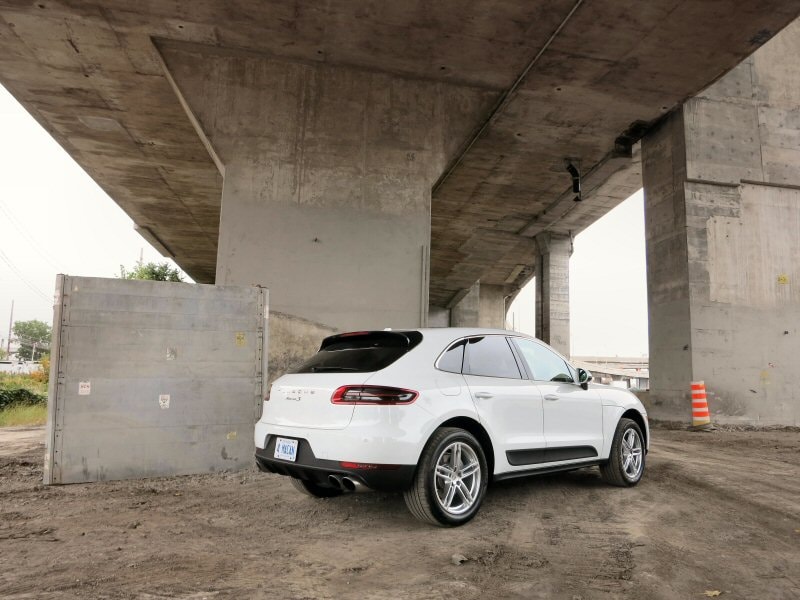 Photo by Benjamin Hunting
Comfort and Cargo
The 2015 Porsche Macan S is an all-new design.
The 2015 Porsche Macan S balances sport and luxury, which means that there are plenty of comfort-oriented options available should you choose to hog-wild with leather on the options sheet.  However, I'd venture that even the base seats and surfaces in the Macan S are sufficient for the average premium shopper, with only the absence of standard heated thrones making me consider the need for additional equipment.  I found the view through the Macan S' windshield to be sufficiently commanding, which helped balance out the smaller aperture at the rear, and the seats themselves were quite supportive even on longer drives.
Rear seat room in the 2015 Porsche Macan S isn't generous, but it's far from pinched, and children of all ages will easily fit inside the SUV's second row.  Average-sized adults will also have an OK time back there, unless they happen to be positioned behind a giant at the wheel.  There are 18 feet of cargo room available between the seatback and hatch, a figure which expands to 53 cubes with the back row folded flat.  This isn't as competitive as some smaller crossovers priced well below the Porsche, but for a stylish and sport-oriented model like the Macan S it's enough to be practical.  I hauled home a few larger than normal items from Home Depot without any issue inside the SUV's trunk.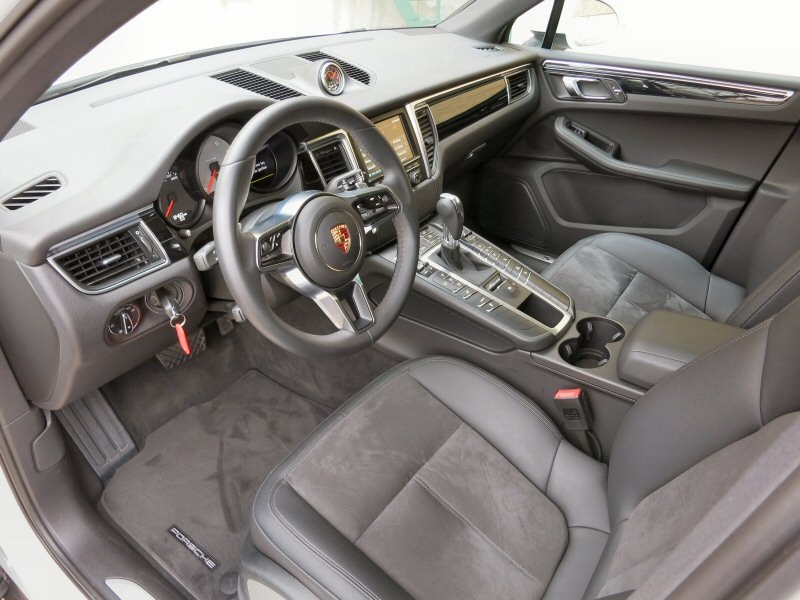 Photo by Benjamin Hunting
Features and Controls
The 2015 Porsche Macan S is an all-new design.
I already mentioned the button-strewn console that serves as the 2015 Porsche Macan S' command center, but it's worth discussing again in greater detail, since for some people this will be a make-or-break aspect of their enjoyment of the SUV.  There are roughly 30 possible buttons you can cram into the area surrounding the shift knob, depending on how many options you have installed, and this design conceit has now proliferated its way across the entire Porsche lineup.  You do get used to the position of certain controls (although HVAC functions are confusingly hidden at the top of the console, in addition to spreading out along its sides), but it's initially intimidating and was the first thing any passenger commented to me about the Macan S after getting inside.
I have nothing but praise for the 2015 Porsche Macan S' gauge cluster, however, which features a central tachometer book-ended on one side by an analog speedometer and on the other by a multi-function LCD panel that can double some of the functionality of the center stack's touchscreen (including a spiffy-looking navigation display).  The rest of the Macan S' controls are fairly straightforward, although I would have liked to have the cruise buttons on the steering wheel rather than hidden on a stalk to the left of the steering column.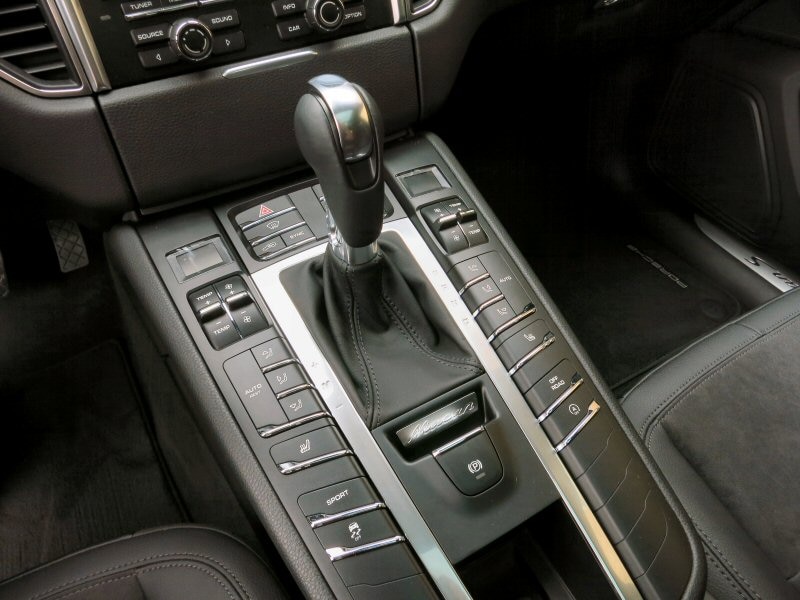 Photo by Benjamin Hunting
Safety and Ratings
The 2015 Porsche Macan S is an all-new design.
The 2015 Porsche Macan S comes standard with dual forward airbags, side impact airbags up front, forward knee airbags, and side curtain airbags that deploy along the entire length of the vehicle.  You also get electronic stability control and traction control free of charge.  If you are looking for more advanced safety features, then you can order optional gear such as a blind spot monitoring system, a lane departure warning system (that can also actively keep the SUV between the lines) and a frontal collision warning system with automatic braking capability.
2015 Porsche Macan S Crash-Test Ratings:  The Porsche Macan S has yet to be crash tested by the IIHS or the NHTSA.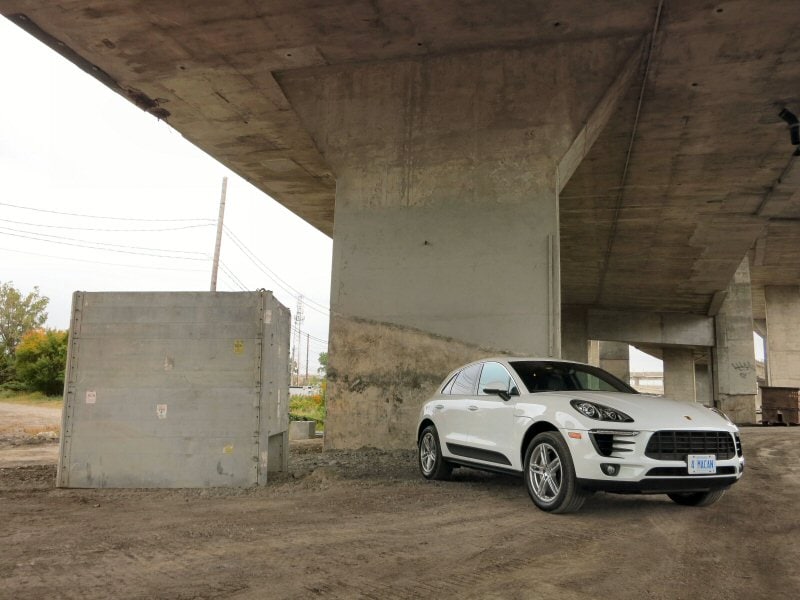 Photo by Benjamin Hunting
Engines and Fuel Economy
The 2015 Porsche Macan S is an all-new design.
The 2015 Porsche Macan S features a 3.0-liter V-6 that makes use of a turbocharger to generate 340 horsepower and 339 lb-ft of torque.  If you are looking for a gutsier motor then you can find it in the Macan Turbo, which boosts the displacement of its turbocharged V-6 to 3.6 liters in order to produce a hefty 400 horses and 406 lb-ft of torque. 
A seven-speed dual-clutch automated manual transmission is standard with either engine, as is all-wheel drive, and fuel economy for the Macan is listed at 17-mpg city and 23-mpg highway for both models despite the power difference The real surprise for the Porsche suv, however, is its towing capacity, which sits at just under 5,300 lbs - an outlier amongst compact SUVs at any price, but especially unusual for a high performance nameplate.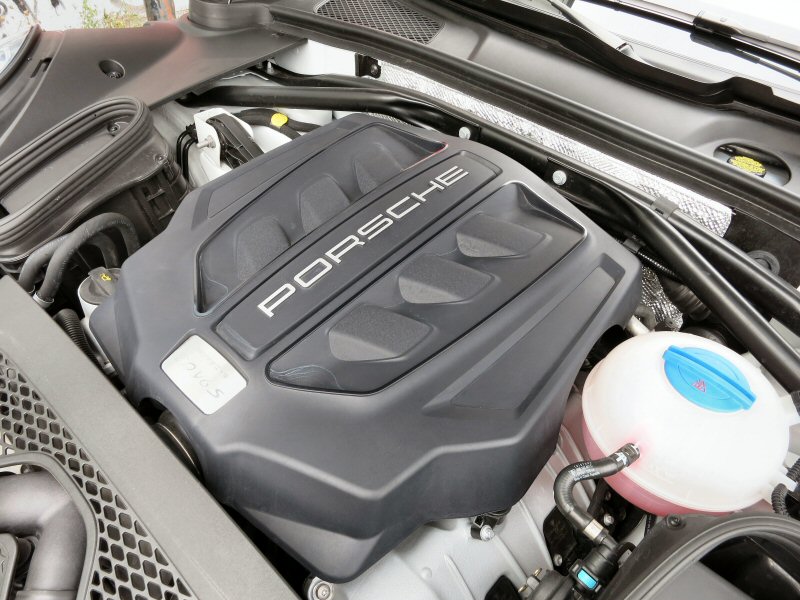 Photo by Benjamin Hunting
Driving Impressions
The 2015 Porsche Macan S is much quicker than it really should be given its tall riding suspension system and 4,395 lbs of curb weight.  I don't just mean in a straight line, either, for while the Macan S is willing to propel itself to 60-mph in a respectable five seconds flat, the vehicle is also surprisingly docile when thrown into a corner at triple-digit speeds.  Most SUVs that claim 'sporting DNA' are more hype than hyper, but the Macan S legitimately embodies the high level of handling capability that has become inextricably associated with Porsche.  Could you take it on a track?  Probably, although no one in the sport-utility vehicle's target demographic would ever even consider doing so.  Still, that high performance legitimacy should provide at least a modicum of shielding from the same Porsche purists who lambasted the original Cayenne as a cold, calculating money-grab.
Moving away from the philosophical underpinnings of the 2015 Porsche Macan S and turning towards what really matters, it's also impressive that the SUV doesn't ask owners to sacrifice a comfortable ride in the pursuit of a nimble chassis.  My Macan S didn't offer an adjustable suspension system or even a selectable ride height - both options that are available with the vehicle - but it still kept calm and composed when not cutting an apex.  Power delivery, although swift, is similarly unexciting as the Macan S doesn't overwhelm the senses on throttle application but simply delivers a steadily building wave of forward motion. 
You'll want to set it to Sport mode and do a brake-boost to warm up the snail under the hood for maximum launch - I was caught sleeping at a light by a lowly Volvo determined to snag my lane - but in any driving situation you'll be rewarded by extremely quick shifts from Porsche's PDK automated manual transmission technology.  The same all-wheel drive that makes a boosted launch so effective is mostly transparent during normal driving, with the front wheels receiving power only when leaving the line or when slippage is detected.  I didn't have the chance to sample the Macan S in an off-road situation, but there's enough ground clearance under the SUV to at least handle a rutted road or two on your way to the fish camp or cottage.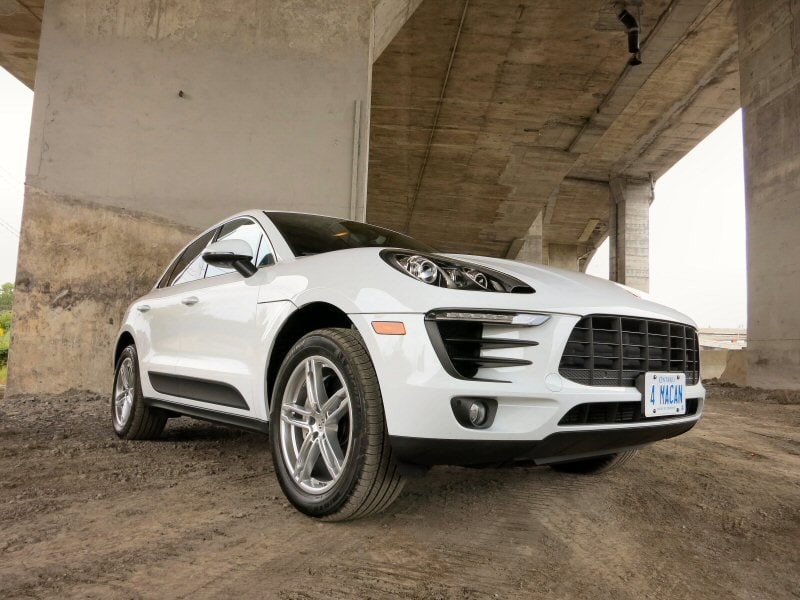 Photo by Benjamin Hunting
Final Thoughts
The 2015 Porsche Macan S is the real deal: a performance SUV that features a balance between power and handling that few other luxury models can boast.  It's also a relatively practical option for a small family given its split folding rear seat and decent passenger room.  Is it the most spacious SUV that $50k can buy?  Definitely not, but if you're tired of having your mind numbed by the disconnected driving experiences offered by most sport-utility models, then the Macan S is a breath of fresh air.  While the $72,000 Turbo model seems like overkill - both financially and in terms of performance - a no-option Macan S is a very appealing alternative to parking a Lexus or an Infiniti in the driveway.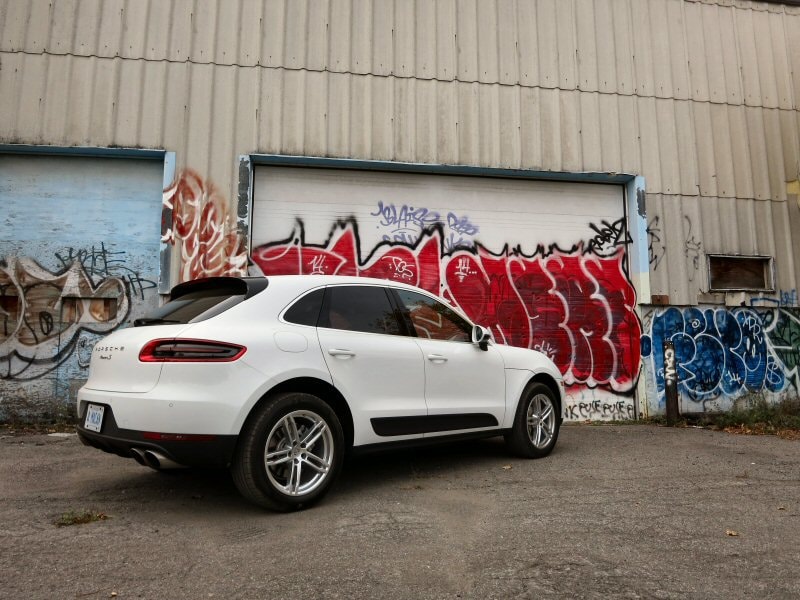 Photo by Benjamin Hunting
Pros and Cons
Pros:
Quick and nimble for an SUV
Well-priced in base trim
Comfortable in daily driving
More stylish than the larger Cayenne
Standard all-wheel drive
Excellent PDK transmission
Cons:
Adding options quickly escalates the sticker price
Button layout can be confusing
Not as much interior room as a similarly-priced mid-size SUV
Fuel efficiency is below average.
Porsche Canada supplied the vehicle for this review.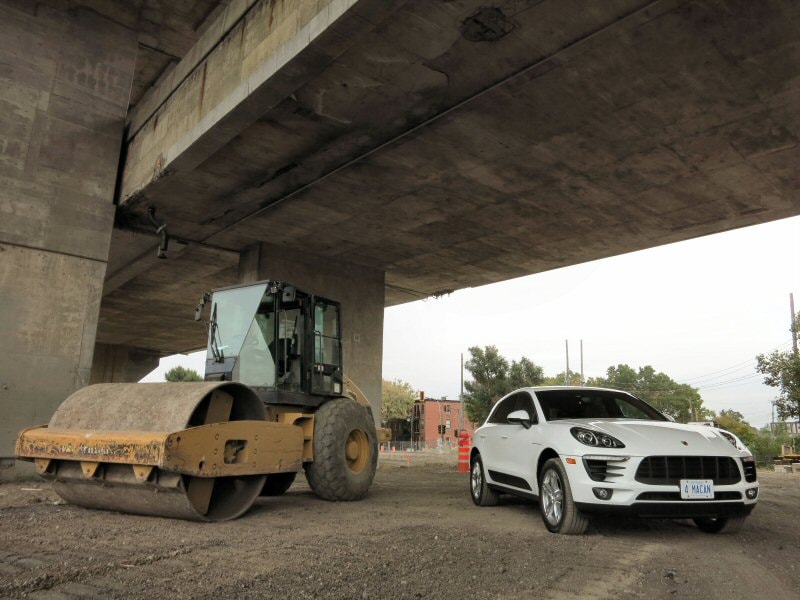 Photo by Benjamin Hunting