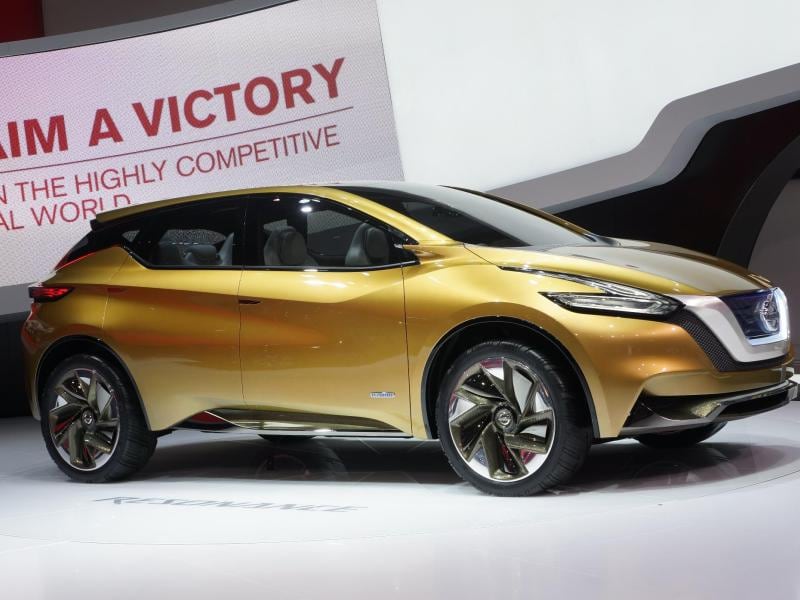 Photo by Newspress USA
The 2015 Nissan Murano is expected to debut later this year with some fairly radical design cues, many of them, according to the brand, inspired by the Resonance crossover concept shown at the 2014 North American International Auto Show in Detroit. But while customers have no doubt heard that kind of boasting before, and from across the industry, this time there does seem to be some truth to the matter. In fact, the company is making the appearance of the 2015 Nissan Murano one of its key selling points, partly by providing an insider's look at the design process.
That's the mission of a short film now available online at the Nissan YouTube channel, in which aerodynamics engineer Masaaki Arai and sculptor Sadatoshi Kitano provide behind-the-scenes insight on creating the 2015 Nissan Murano (with subtitles). The former, for example, talks about efforts to lower the coefficient of drag of the 2015 Nissan Murano to a mere 0.31, which is lower than that of sports cars like the SRT/Dodge Viper, while the latter discusses evolving the appearance of the current model to ensure that the new one, despite its dramatic styling, remains instantly recognizable as a Murano.
The party line from Nissan senior vice president and chief creative officer Shiro Nakamura: "At Nissan, design is our brand promise, a promise that pulls people into our vehicles where they will be treated to an exciting driving experience. As the first of our new concept-based production vehicles coming to market, Murano sets our new standard."
In terms of timing, the automaker currently is putting the final touches on improvements to its manufacturing complex in Canton, Miss., where the 2015 Nissan Murano will be the first model from the nameplate—and ninth from the company—to be assembled in the United States.
Added John Martin, senior vice president, Manufacturing, Supply Chain Management and Purchasing for Nissan North America: "Bringing Murano production to Canton is a key component of our plan to build more than 85 percent of our U.S. product lineup at our plants here in North America, as well as to increase vehicle exports from our U.S. plants. Canton employees are looking forward to building the all-new Murano alongside the other outstanding cars and trucks that they build in Mississippi today."