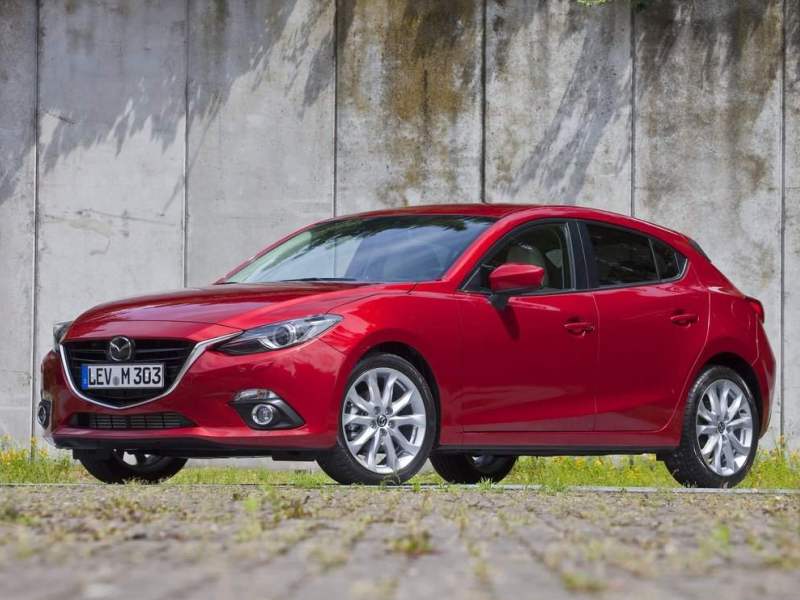 2014 mazda mazda3
Mazda's fleet-wide fuel-economy ratings have been gaining altitude ever since the launch of its current-generation compact, now represented at dealerships by the 2015 Mazda Mazda3, and that continues to pay off in terms of EPA rankings, too: According to the agency's recently released report on "Light Duty Fuel Economy Trends," Mazda is the most fuel-efficient automaker in the United States.
Now, that No. 1 position covers the 2013 model year, the most recent one for which complete data is available, but Mazda does currently top the early leaderboard for the 2014 model year—and led the industry for the 2012 model year, too. The preliminary top-five list looks like this:
Mazda—28.8 mpg
Honda—27.6 mpg
Subaru—27.5 mpg
Nissan—26.8 mpg
VW—26.7 mpg
Said Jim O'Sullivan, president and CEO for Mazda North American Operations: "Mazda has never been one to rest on its laurels, continuing to work hard, innovate and engineer vehicles that offer class-leading fuel economy in nearly every segment it competes in."
Which brings us back to the 2015 Mazda Mazda3 that is the most fuel-efficient vehicle in the lineup for the most fuel-efficient automaker in the country. Backed by the brand's exclusive SKYACTIV technologies, the 2015 Mazda Mazda3 sedan can achieve EPA grades of up to 30 mpg city/41 mpg highway/34 mpg combined, and that's with an automatic transmission. The SKYACTIV approach, which eschews hybrid and electric technologies to reach more customers, also helps the Mazda6 mid-size sedan post an EPA line of 28/40/32 and enable the CX-5 to reach 26/35/29; that 35 mpg highway rating remains the high-water mark for crossovers of any kind in this country, including hybrids.
Added O'Sullivan: "Because the internal combustion engine is still used in more than 90 percent of the cars and SUVs sold in North America today, we chose to focus on perfecting both the operation and performance of the engine, as well as all the other systems and components that affect efficiency. Offering this technology—at an affordable price—to every consumer will help to improve our overall environmental impact."
(Note: Mazda also led the industry in terms of adjusted CO2 emissions in the 2012 and 2013 model years, and is on track to do so again for 2014 with a preliminary mark of 309 g/mi.)