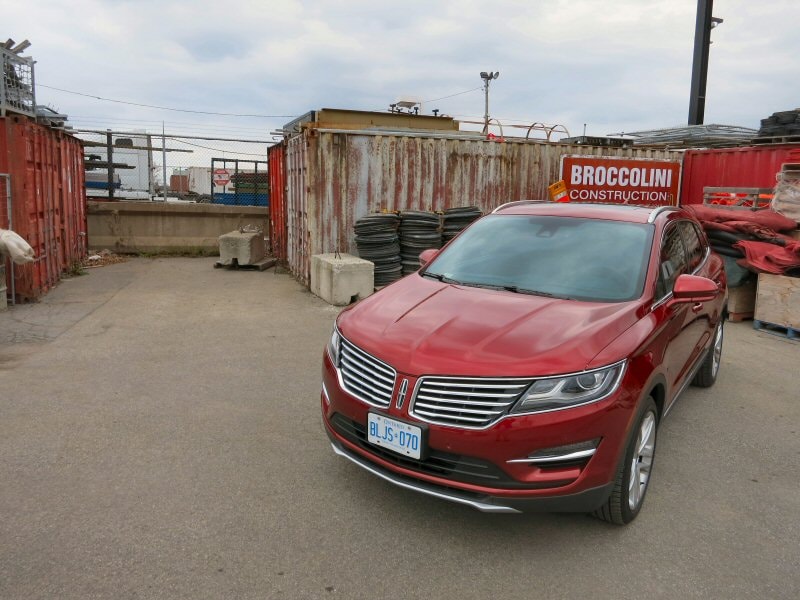 2015 Lincoln MKC ・ Photo by Benjamin Hunting
It's a long, hard road back to gaining the respect of luxury customers who have largely forgotten the brand, but the 2015 Lincoln MKC shows that it could very well be a journey worth making for the often-overlooked domestic automaker.   This compact crossover isn't the thinly-veiled FoMoCo product with a splash of leather that many have come to expect from Lincoln's people-mover division - rather, it's a fully-realized model of its own that uses Ford's platform expertise as a jumping-off point, rather than a final destination.  Along the way, the MKC manages to deliver the kind of performance and practicality that make it a legitimate competitors with the likes of the Acura RDX and the Lexus NX, giving Lincoln a foothold in the entry-level premium crossover space.
2015 LincolnMKC Review: Models and Prices
The 2015 Lincoln MKC offers a trio of trim levels to choose from.  Base Premiere editions of the MKC (MSRP $33,100) feature power front seats with heaters, imitation leather covers, and a memory setting for the driver, keyless entry and ignition, dual automatic climate control, the MyLincoln Touch infotainment system, parking assistance and a rearview camera, satellite radio, heated mirrors, tinted windows, HID headlights, and 18-inch rims.  Moving up to the MKC Select (MSRP $39,695) grants you a larger motor and all-wheel drive, genuine leather upholstery, a few more adjustments for the driver's seat, power-folding mirrors, and Lincoln's ambient interior lighting system, while the MKC Reserve (MSRP $46,630) installs additional active safety gear, ventilation for the front two seating positions, a link to the MyLincoln Mobile app that allows you to communicate with the car's various systems via your cell phone, a navigation system, hands-free opening for the crossover's power tailgate, a panoramic sunroof, an adaptive suspension system, and power adjustments for the steering wheel.
The 2015 Lincoln MKC that I drove for a week came in Reserve trim, and it also featured a number of options: the Technology package (adaptive cruise control, self-parking, extra safety equipment), 19-inch rims, the Climate package (heated rear seats, heated steering wheel, automatic high beam headlights, rain-sensitive windshield wipers), aluminum interior trim, and a THX surround sound audio.  This inflated the price of my tester by roughly $8,000, bringing its total MSRP to $47,875.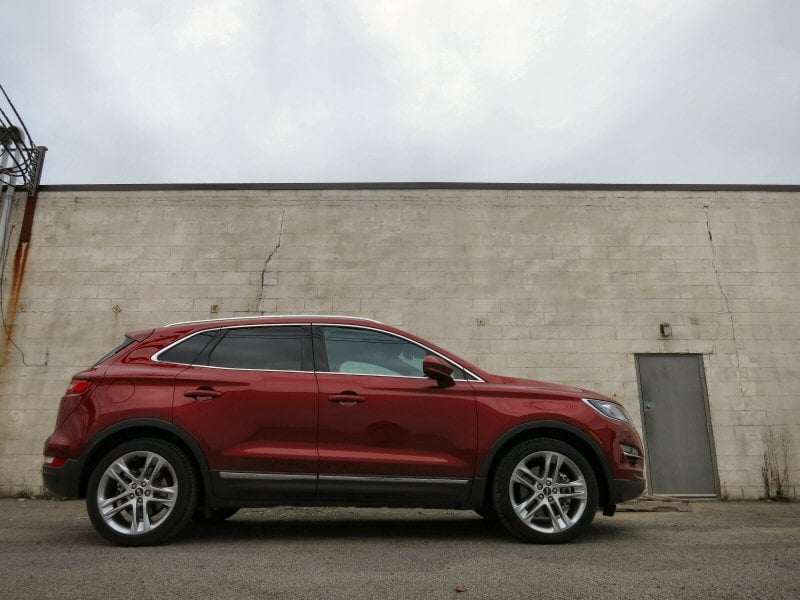 Photo by Benjamin Hunting
2015 LincolnMKC Review: Design
What's New:
The 2015 Lincoln MKC is an all-new design.
Seen head on, the 2015 Lincoln MKC embodies every one of the styling cues that have been grafted on to its similarly-badged brethren.  First and foremost this means the baleen-style dual grille and ribbed hood, along with the sculpted headlights and LED running lights that have come to define Lincoln's leading impression.  Turn to the rear of the crossover and the MKC displays solid-bar taillights that stretch from one fender to the other, with L I N C O L N spelled out just below the hatch glass.  It's a handsome package all around, and one that resembles the Ford Escape on which it is based on when seen in profile - and even then, the MKC still isn't a dead-ringer for its more affordable cousin.
The Lincoln MKC's passenger compartment sees even greater differentiation from its Blue Oval roots.  In fact, I couldn't find all that much in common between the Escape and MKC's interior trappings, with the latter adopting a floating center stack, unique center console, and new heating/cooling vent placements and touchscreen mounting position.  Even the gauge cluster receives its own special treatment.  Moving past control surfaces, the materials used throughout the Lincoln - while not entirely without a few harder edges - are a cut above the Escape's in both quality and appearance.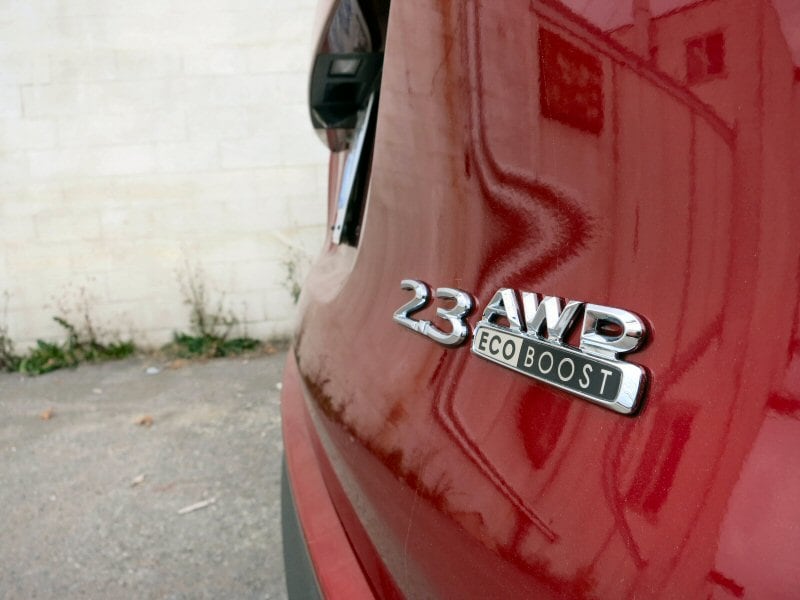 Photo by Benjamin Hunting
2015 LincolnMKC Review: Comfort and Cargo
What's New:
The 2015 Lincoln MKC is an all-new design.
I don't intend to spend this entire review comparing the 2015 Lincoln MKC to the Ford Escape, because I honestly don't think there's going to be all that much cross-shopping between the two vehicles.  Part of that suspicion has been cemented for me by the fact that luxury is not merely a marketing ploy for this compact crossover - it actually manages to deliver the goods at a more mature and sophisticated level than even the Escape's well-equipped Titanium trim level.  The MKC's cabin is remarkably quiet at all speeds, and its continuously-adjustable suspension does an excellent job of soaking up road insults and grooved pavement.  Combined with the leather offered by my Reserve-trim tester, I found the Lincoln to be at least as premium-feeling as the also-new-for-2015 Lexus NX - if not slightly more so.
crossovers typically have to be practical as well as comfortable, even in the luxury segment, and in this respect the Lincoln MKC continues to provide a respectable performance.  The vehicle's second row gets a bit snug if you're stuck behind taller front seat passengers, but it will be fine for parents hauling around their younger children, which is the target demographic for compacts like the MKC.  Cargo room checks in at 53.1 cubic feet in total with the rear row folded forward, which is significantly smaller - 15 cubes fewer, in fact - than what's available in the better-proportioned Escape.  While it's a useful amount of space, I am disappointed to see Lincoln continuing the trend of shrinking the utility of its shared crossover platforms that began with the full-size MKT.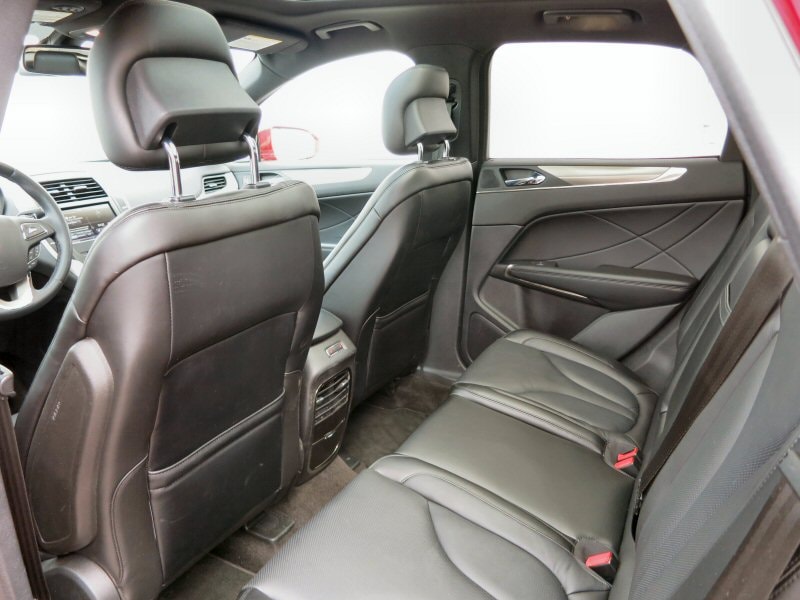 Photo by Benjamin Hunting
2015 LincolnMKC Review: Features and Controls
What's New:
The 2015 Lincoln MKC is an all-new design, but carries forward much of the switchgear found in other Lincoln models.
The 2015 Lincoln MKC's control surfaces are dominated by two of the brand's trademarks: the MyLincoln Touch system and the push-button transmission panel integrated just to the left of the vehicle's dash-mounted LCD screen.  MyLincoln Touch aggregates most vehicle functions - climate control, entertainment features, Bluetooth communications, and navigation - and offers a touchscreen interface that combines with SYNC voice commands for fairly versatile interaction.  You also get a volume knob, a tuning knob, a seek button, and two rows of climate buttons so you can quickly access key functionality without having to take off your gloves.  While the system isn't as responsive as it really should be, and despite some on-screen icons being too small to easily push while driving, the usability of MyLincoln Touch has come a long way since it was first introduced.
The buttons-instead-of-shifter transmission controls actually make a lot of sense from a space savings perspective, because it opens up room in the center console for additional storage and a cleaner overall look.  I question the logic of placing the engine start/stop button at the base of the design, however, especially since it's identical in shape and feel to the P R N D S buttons just above it.  Yes, I am alluding to the fact that I accidentally turned the MKC off while attempting to shift it into Sport.  No, I'm pretty sure I'm not the only one to have had this happen to them.
One other intriguing / gimmicky feature to be offered with the 2015 Lincoln MKC is its self-parking system, which will now not just steer the crossover into a parallel spot or 90-degree slot, but also steer you out when it's time to leave.  I've rarely been able to get the auto-park to properly sight and lock-in to a parking spot, but the steer-out function did work for me without any issue.  I honestly don't think it's a necessary feature - its existence paints a sad picture of atrophying driver skills across the board - but it does perform as advertised.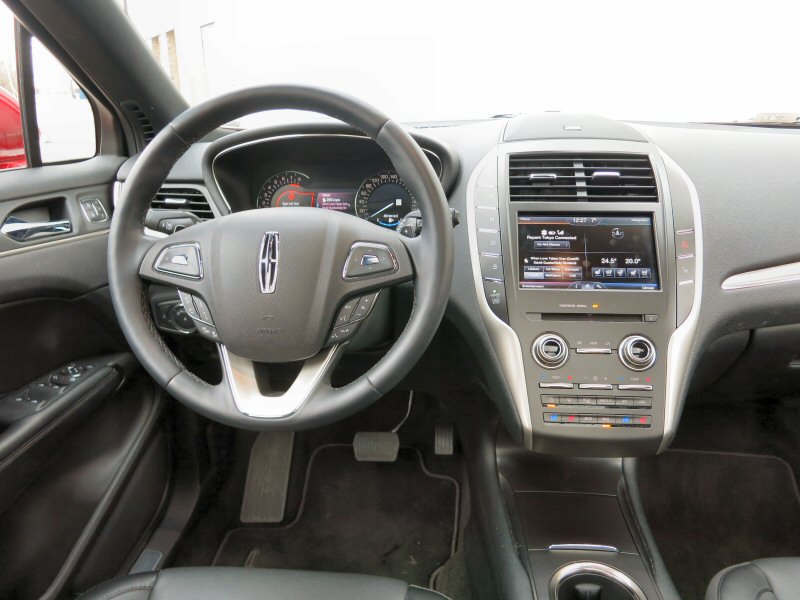 Photo by Benjamin Hunting
2015 LincolnMKC Review: Safety and Ratings
What's New:
The 2015 Lincoln MKC introduces a strong suite of available safety features.
The 2015 Lincoln MKC is the automaker's first compact crossover ever, and there's a lot to like about the depth and breadth of safety equipment that can be ordered with the vehicle.  Standard with the MKC are dual forward airbags, seat-mounted side impact airbags up front, side curtain airbags that run the entire length of the crossover's cabin, and a knee airbag for the driver.  You also get electronic stability control and traction control to complement the Lincoln's all-wheel drive.  Optional gear offered with the MKC includes a blind spot monitoring system, a forward collision detection system, adaptive cruise control, and a lane departure warning and lane keeping system that can nudge the SUV back onto the right path should your attention falter while out on the highway.
2015 Lincoln MKC Crash-Test Ratings:  The NHTSA has awarded the Lincoln MKC four out of five stars in crash test safety, while the IIHS rates the crossover 'Good' in every crash test category except for the small front overlap test, where it received a score of 'Poor.'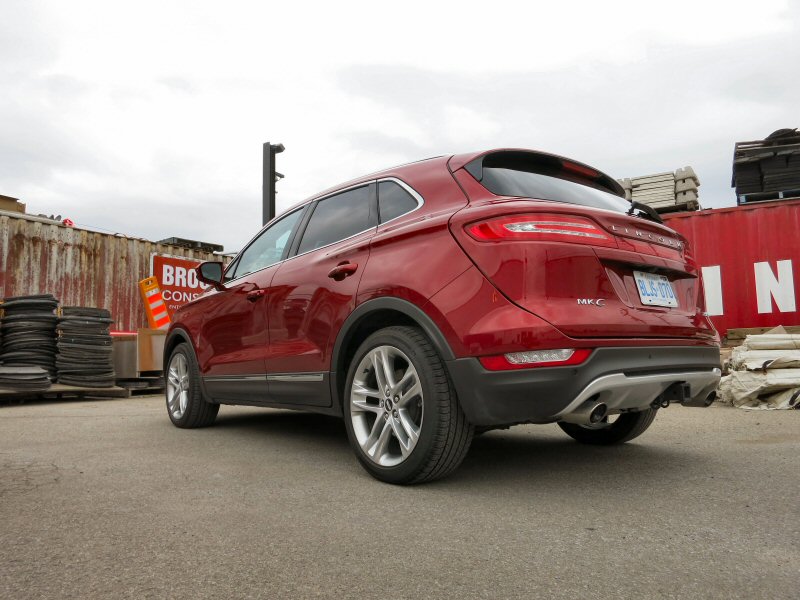 Photo by Benjamin Hunting
2015 LincolnMKC Review: Engines and Fuel Economy
What's New:
The 2015 Lincoln MKC marks the introduction of a 2.3-liter EcoBoost four-cylinder turbo to the brand.
The 2015 Lincoln MKC starts out with a 2.0-liter turbocharged EcoBoost four-cylinder as its base engine, and this unit provides 240 horsepower and 270 lb-ft of torque - stout figures that represent the top-of-the-line output of its Ford Escape platform-mate.  Helping the MKC push past the Escape is the presence of an optional 2.3-liter EcoBoost four-cylinder engine, also turbocharged and capable of producing 285 horses and 305 lb-ft of twist.  It's the first implementation of this motor for the Lincoln brand, although it can also be found motivating the new 2015 Ford Explorer and the redesigned 2015 Ford Mustang.
Transmission choice is restricted to a single six-speed automatic, and all-wheel drive is optional for the entry-level engine and bundled free of charge with the 2.3-liter mill.  Fuel mileage for the smaller of the two EcoBoost motors is rated at 20-mpg in city driving and 29-mpg on the highway, while the AWD 2.3-liter's consumption shows as 18-mpg around town and 26-mpg highway.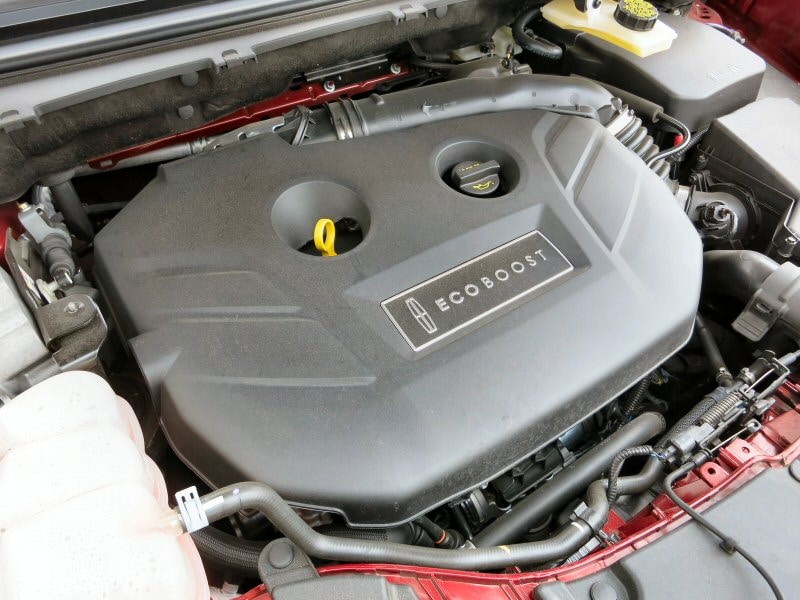 Photo by Benjamin Hunting
2015 LincolnMKC Review: Driving Impressions
The 2015 Lincoln MKC has seen its chassis and drivetrain tuned to provide the kind of confident, just-this-side-of-sporty driving experience that sells thousands of SUVs for rivals like Lexus.  Forget taking on the Germans - while the MKC might be as quick in a straight line as the BMW X3 xDrive28i, it's not intended to offer thrilling cornering capability or outstanding steering feel.  Instead, Lincoln has turned out a crossover that feels worthy of the premium price being paid for the privilege of parking it in your driveway.
It starts with the MKC's 2.3-liter power plant.  Although I very much enjoyed driving the 2.0-liter EcoBoost in the similarly-sized Escape, there's no question that the additional grunt offered by the larger turbo four goes a long way towards widening of the (crucial) performance gap between the two vehicles.  The EcoBoosted engine's 285 ponies are a perfect match for the Lincoln's mission statement, which is to expertly haul the kids and maybe a hatchful of soccer balls around town without ever feeling like it's straining to complete the task.  A surprise snowstorm during my time with the MKC also demonstrated the surefootedness of the crossover's all-wheel drive system, which performed admirably despite the vehicle not being outfitted with winter tires.
Another pleasant aspect of motoring around in the 2015 Lincoln MKC has to do with the accommodating demeanor of its suspension system.  Not quite as buttoned-down as the base Lexus NX, but certainly more compliant than the rough-riding NX F Sport, Lincoln's answer to the compact crossover question is a pleasure to drive long distances and is just nimble enough to pick through urban traffic without feeling an excess of body movement while abruptly changing lanes.  Credit goes to the vehicle's adaptive suspension system in artfully absorbing potholes and sudden shifts in direction.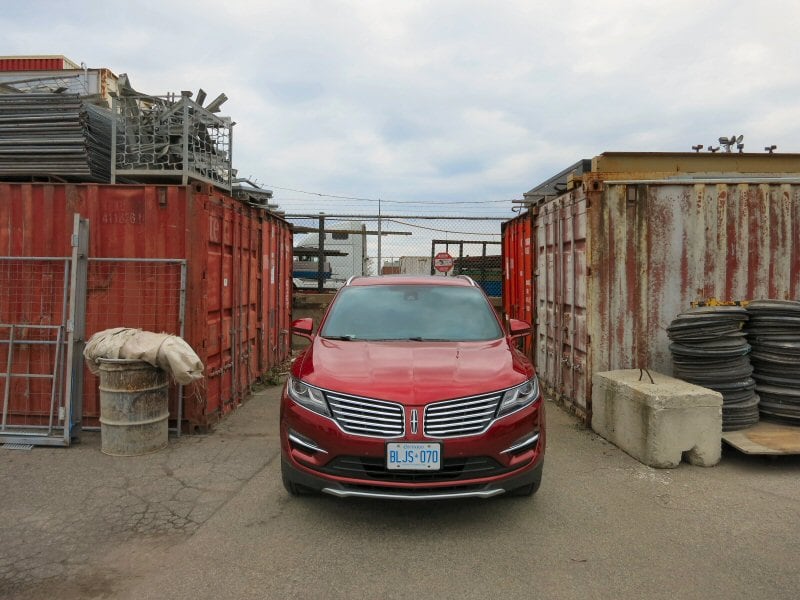 Photo by Benjamin Hunting
2015 LincolnMKC Review: Final Thoughts
To build a strong foundation, you've got to start at the bottom and work your way up.  The 2015 MKC gives the brand a fighting chance to persuade entry-level luxury buyers to get behind the wheel of a Lincoln product and begin spreading the good word about the crossover's many positive attributes.  The key for Lincoln will be to ensure that the follow-up to the MKC - be it a sedan, a crossover, or an SUV - continues to walk the same path of building a separate identity outside of Ford's seemingly inescapable product development reach.
Small crossovers are hot right now, and the Lincoln MKC is as good as any similarly-priced competitor aimed at the wallets of young families who's outgrown their four-door daily drivers.  While that might seem like faint praise, the style, power, and comfort embodied by the MKC indicates that the glimmer of hope that was last year's re-designed MKZ sedan could eventually break into a promising dawn for the wayward brand.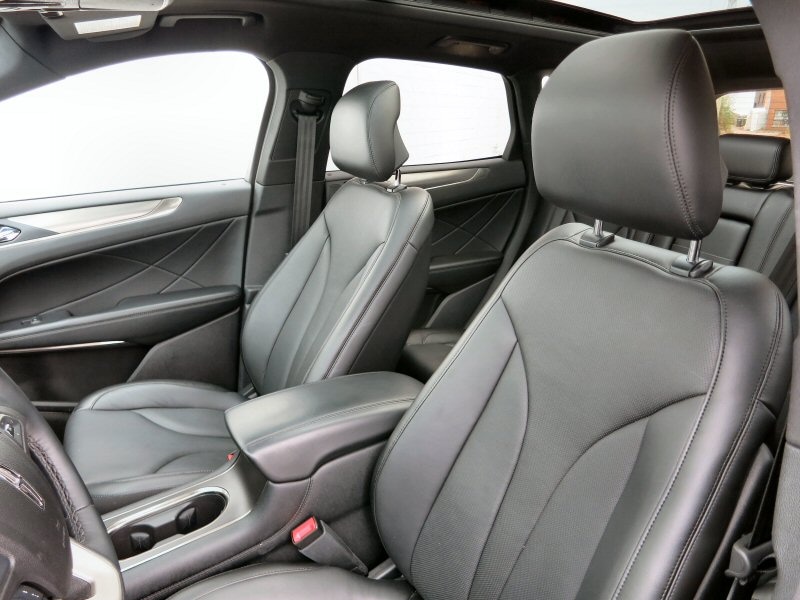 Photo by Benjamin Hunting
2015 LincolnMKC Review: Pros and Cons
Pros:
Great-looking styling.
Comfortable, high-end interior.
Available all-wheel drive.
Excellent power from 2.3-liter EcoBoost engine.
Cons:
Cargo area smaller than it really should be.
Options can easily add $10,000 to the MKC's starting price.
Real-world fuel mileage for 2.3-liter engine yet to be established.
Back seat can feel small for taller individuals.
Ford Canada supplied the vehicle for this review.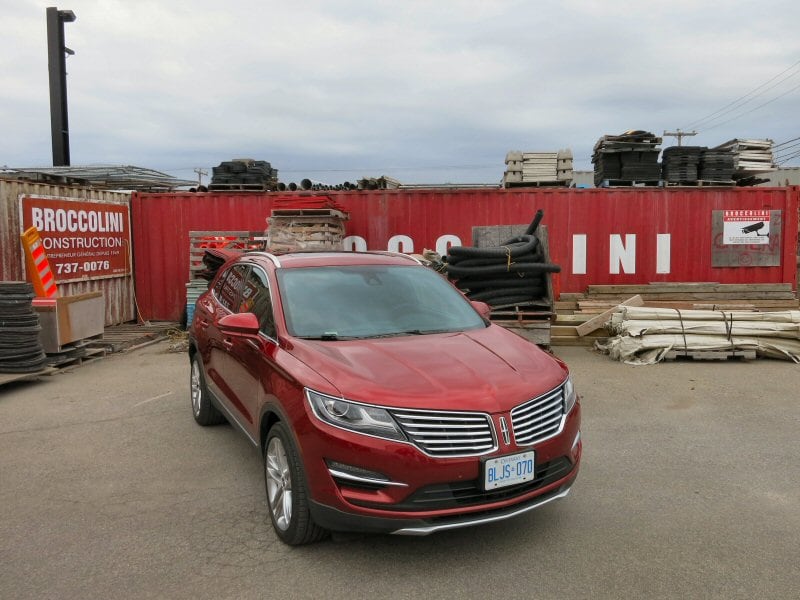 Photo by Benjamin Hunting