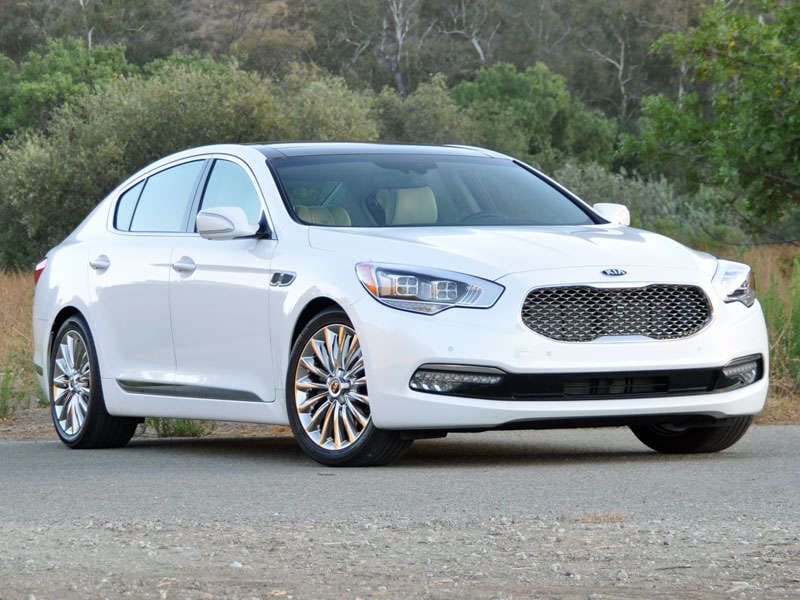 2015 Kia K900 Luxury V8 Snow White Pearl Front Quarter Right ・ Photo by Kia
Must a luxury car wear a luxury badge? Based on my week driving the new 2015 Kia K900, the answer is most emphatically no. But here's the thing. When I said this to my wife, who also writes about cars, she asked me this: "What happens when a K900 buyer needs to go the dealership for service? Do they get red carpet treatment like the Lexus dealer provides? Or do they get the same experience as the guy driving the ratty decade-old Sorento in the next lane?"
Good question, and the after-sale experience definitely matters when you're dropping 60 grand on a new full-size luxury sedan. And thanks to complimentary service and maintenance for the first three years or 37,500 miles of Kia K900 ownership, buyers are certainly headed back to the dealer following a purchase. But what will they find when they get there?
I asked Kia for clarification around dealer training and customer treatment. James Hope, Kia's national manager of product communications, provided the following highlights of K900 ownership benefits: 
VIP call center and roadside assistance hotline staffed by agents with the authority to expedite resolution of K900 owner issues
Personalized scheduled maintenance reminders and appointment scheduling through a Certified Premium Specialist
Complimentary loaner vehicle during service or repair, typically in the form of a Kia K900 or Kia Cadenza (when available)
Complimentary car wash and vacuum following service
Is that enough? It all depends on the dealership, and whether or not it chooses to go above and beyond the basic requirements. If the dealer doesn't, it's not the K900's fault, because this is one impressive luxury car.
2015 Kia K900 Review and Quick Spin: About Our Test Car
Kia launched the new K900 in Luxury V8 trim, which starts at $60,400 including the $900 destination charge. My test car was painted Snow White Pearl with White Nappa leather, a color combination that I cannot recommend, especially if you have kids. Not that the Black Nappa leather would necessarily stay cleaner, but the white leather shows ev-er-y-thing.
To this, my K900 added the VIP Package, which includes an overhead surround view monitor display, a heads-up display, a full 12.3-inch LCD instrumentation display, and what Kia calls an Advanced Smart Cruise Control system. My recommendation would be to save the $6,000, as only the heads-up display offers any genuine value.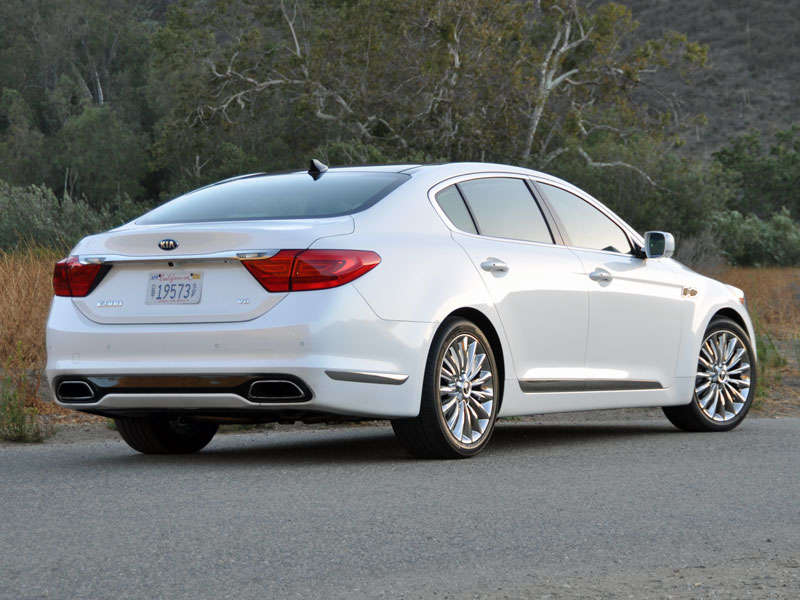 Photo by Christian Wardlaw
2015 Kia K900 Review and Quick Spin: Styling and Design
My 75-year-old father came by the house while I had the K900, remarked upon what a good looking car this Kia is, and pointed right at the decorative fender vents while referencing a 1950's-era Buick Roadmaster. Funny enough, I also think the K900 is an appealing car, but unlike my dad I think it would be even more appealing without the fender decoration.
Kia also needs to better integrate the K900's front camera, used to inform the car's various high-tech features. Seemingly clipped onto the webbed-mesh grille like a little boy's Sunday-best tie, the execution reeks of afterthought. Otherwise, the car's exterior detailing is tastefully executed.
The K900's interior is artfully rendered, easily making the grade for what a luxury sedan must be. As for surfaces, finishes, and materials, they're mostly acceptable for this class. Kia could choose a more elegant typeface for lettering, and some elements of the cabin reveal the K900's inherent value equation. For example, when I grabbed the rearview mirror to make adjustments, the plastic housing creaked under the pressure of my grip. That's simply not going to cut it in this price class, Kia.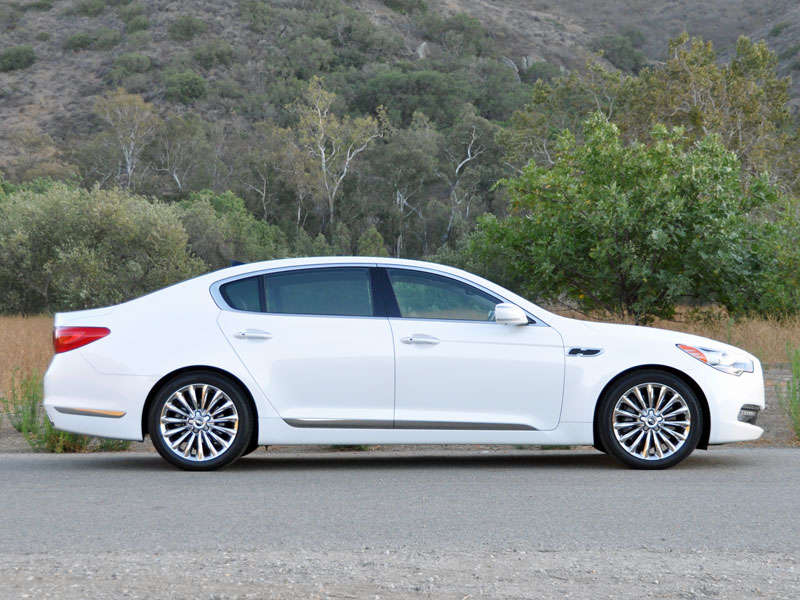 Photo by Christian Wardlaw
2015 Kia K900 Review and Quick Spin: Comfort and Quality
If you're going to take a road trip, this is the car to drive, because the Kia K900 Luxury V8 is incredibly comfortable. Everyone sits on premium Nappa leather upholstery, while the driver enjoys a 16-way power adjustable seat with an extendable cushion that stretched to completely support my thighs. There's so much legroom in the back seat that the front passenger can easily recline without crushing the right rear occupant's legs.
My test car also had heated and ventilated front and rear seats, and a triple-zone automatic climate system with rear controls located on a fancy center armrest panel. The rear seats offered a power reclining feature, power lumbar adjustment, head restraints with adjustable lateral supports that doubled as first-class pillows, and sun shades for the rear window and rear side windows to cut glare and add privacy. Alternately, by powering open the suede panoramic sunroof shade, rear passengers can enjoy a terrific view of the K900's surroundings.
Seriously, if you're going somewhere in a K900, you might prefer to ride in the back rather than up front.
As for trunk space, the K900 provides 15.9 cubic-feet of it. That's not much given the size of the car and how utterly suited it is to cross-country travel, but at least the cargo space is nicely finished in order to prevent scuffs on your Hartmann luggage.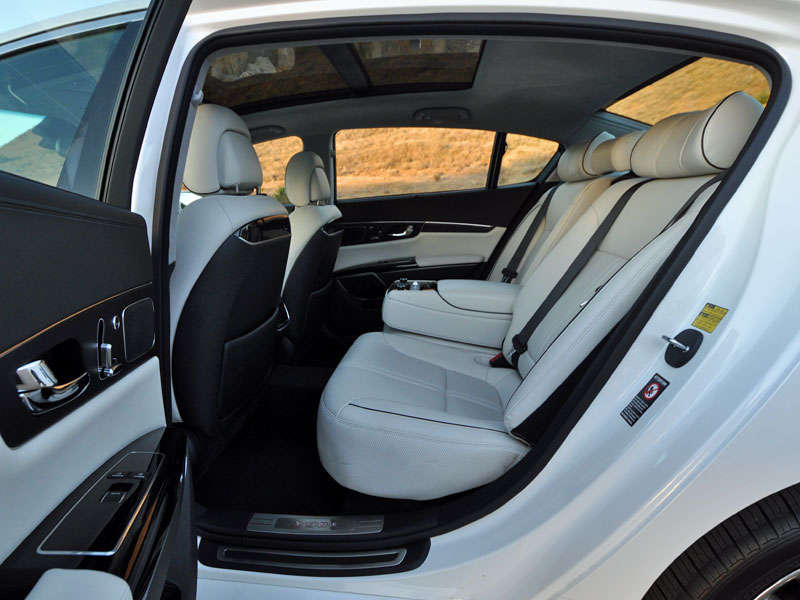 Photo by Christian Wardlaw
2015 Kia K900 Review and Quick Spin: Features and Controls
As you would expect, the Kia K900 Luxury V8 is absolutely loaded with features, and as is true of any vehicle loaded with features, it is a challenge to simplify and group the controls in a logical and intuitive fashion. Kia gets the basics right, but more attention to detail is necessary.
The gear selector mimics a BMW, while the infotainment controls are similar to an Audi. A large 9.2-inch display screen shows plenty of information but isn't touch-sensitive, and the wide-angle reversing camera is rendered in a small, unexpectedly low-resolution viewer.
The Audi-esque infotainment controls appear to be designed and located for aesthetics rather than practical use, and could benefit from greater differentiation in terms of colors, topography, and button placement. Other controls seem to be placed in haphazard locations, like the lane departure warning system's activation button. These are examples of the reasons why, despite spending hundreds of miles behind the K900's wheel, I never quite got used to where everything was and how it worked.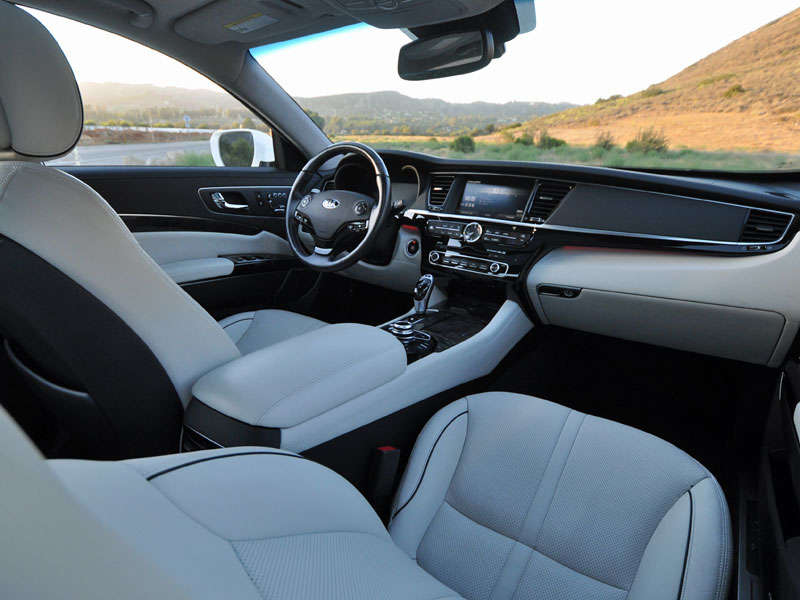 Photo by Christian Wardlaw
2015 Kia K900 Review and Quick Spin: Matters of Safety
Refreshingly, the Kia K900 does not offer autonomous driving technologies. There are numerous monitoring and warning systems, but none of them take control of the vehicle if the driver ignores them. I like that.
My Luxury V8 test car had a blind-spot detection system, a rear cross-traffic alert system, and a lane departure warning system, each working as advertised. Adaptive LED headlights helped to illuminate around dark corners, and the UVO eServices smartphone pairing technology supplies free 911 Connect service that automatically dials out to emergency rescue personnel as long as a paired smartphone is inside of the vehicle when the airbags deploy.
Additionally, my K900 had an Advanced vehicle safety Management system that can identify when a collision might occur and warns the driver with an audible alarm, then a visual warning, and then tightens the car's Pre-Safe Belt system prior to impact. In heavy traffic, I activated this technology, and it works.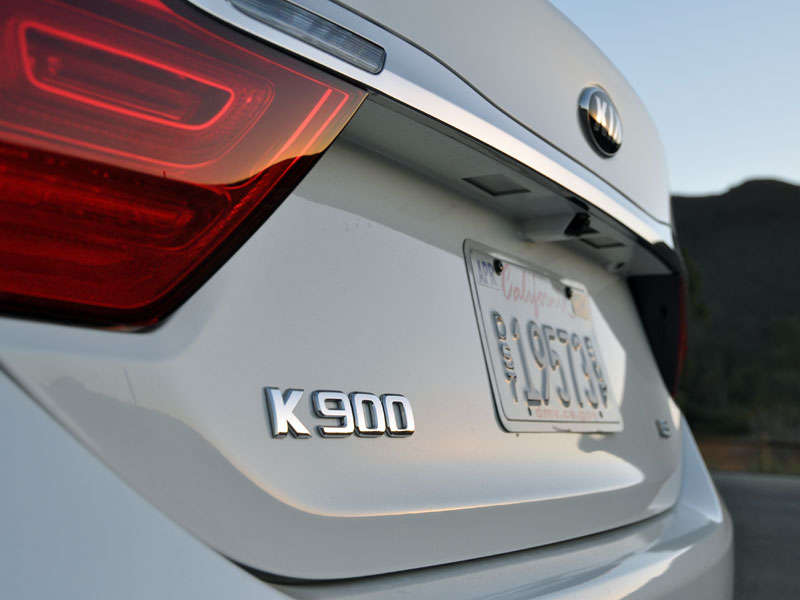 Photo by Christian Wardlaw
2015 Kia K900 Review and Quick Spin: Driving Impressions
While sluicing down the Mulholland Highway portion of my regular test loop in the Kia K900, I was thinking about resto-mods, cars that look like classics on the outside but are thoroughly modern under the sheetmetal, imagining that an old 1960s cruiser with such a treatment might drive just like Kia's big luxury car.
It rolls, it dives, it squats, it lunges, and when pitched hard into roughly paved corners the steering column bucks and vibrates in the driver's hands, but the K900 remains unfailingly glued to the pavement and even in 90-degree temperatures the brakes prove utterly faithful under duress. These latter traits don't make the K900 fun to drive, but they certainly inspire confidence.
Around town, this Kia is utterly composed, and is clearly calibrated for upper-class Korean executives who are chauffeured, preferably undisturbed, whilst napping. As a result the K900 is whisper quiet, and is designed so that the driver can gently tip into the throttle for effortlessly smooth launches, and can bring the big Kia to a gracefully smooth stop. The 8-speed automatic transmission shifts unobtrusively too, the entire car wafting across a city, enveloping occupants in a cocoon of silence broken only by a few unexpected creaks within the cabin, or the excellent 17-speaker Lexicon premium audio system.
Getting onto the freeway, K900 occupants surf a 420-horsepower, 5.0-liter V-8 swell that urgently builds to a gorgeous crescendo. Out on the highway, the K900 effortlessly hoovers concrete, easily exceeding whatever the posted speed limit might be. It glides over the road, quelling outside sources of noise, easily passing slower traffic.
Three driving modes are available – Eco, Normal, and Sport – providing subtle variations in powertrain calibration, steering effort levels, and gauge cluster information. Sport is appropriate for sporty driving, but otherwise the car maintains higher revs and guzzles more gas in this mode. I selected Eco for the coastal, rural, and highway portions of the my test loop, and didn't feel as though I suffered for it aside from steering that proved a little bit too light and vague.
Kia does need to refine the so-called Advanced Smart Cruise Control system, though. It brakes too abruptly while trying to maintain the selected following distance, and it didn't seem to see a slower motorcyclist ahead of me while threading curves on Pacific Coast Highway.
The steering also feels like a work in progress. In addition to the aforementioned bucking and vibrating, it sometimes feels too light and loose, almost disconnected, especially in Eco driving mode. Most of the time, though, it mimics the heft and syrupy feel of a Jaguar.
Finally, don't expect to get great gas mileage. The EPA rates this car to return 15 mpg in the city and 23 mpg on the highway, for a combined-driving total of 18 mpg. I averaged 16.9 mpg during my week behind the wheel, in a relatively even mix of city and highway driving.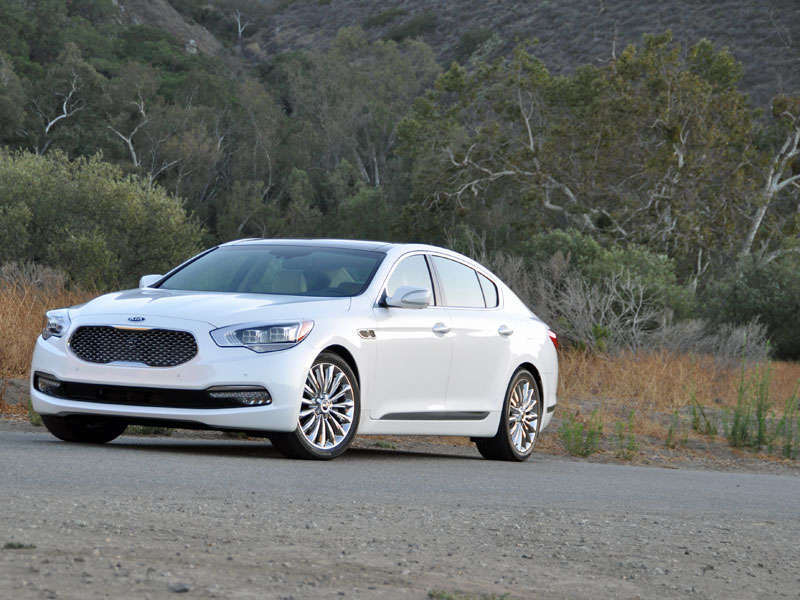 Photo by Christian Wardlaw
2015 Kia K900 Review and Quick Spin: Final Thoughts
The K900 represents an excellent effort by Kia to craft a genuine executive-class luxury sedan. Yes, there are a few details to iron out, and aside from whether or not dealers will roll out the red carpet for K900 owners it remains to be seen if wealthy car buyers will pay Audi A6, BMW 5 Series, or Mercedes-Benz E-Class money for what is clearly a class-above automobile festooned with Kia badges.
If they decide that driving a lesser car equipped with a premium emblem is more important than saving a pile of cash, don't blame the K900. As I asserted at the start of the review, this car is impressive.
Kia provided the 2015 Kia K900 for this review
2015 Kia K900 photos by Christian Wardlaw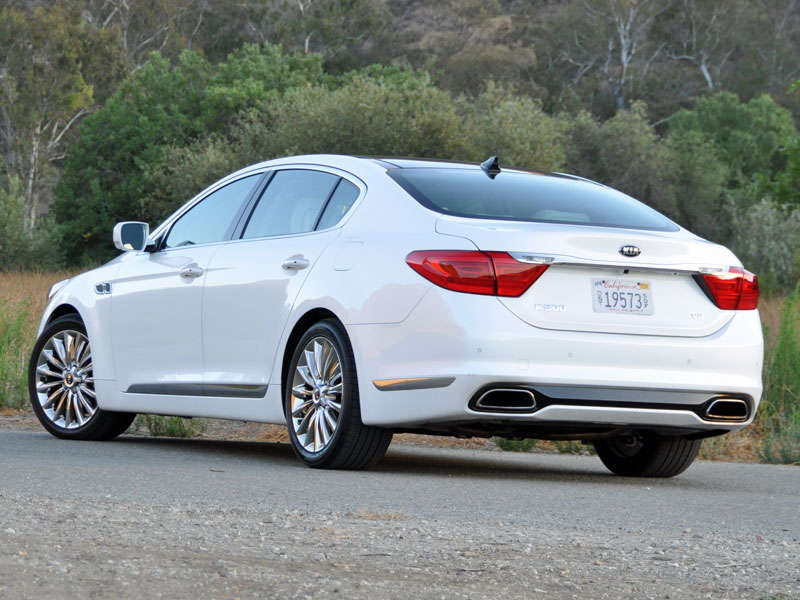 Photo by Christian Wardlaw