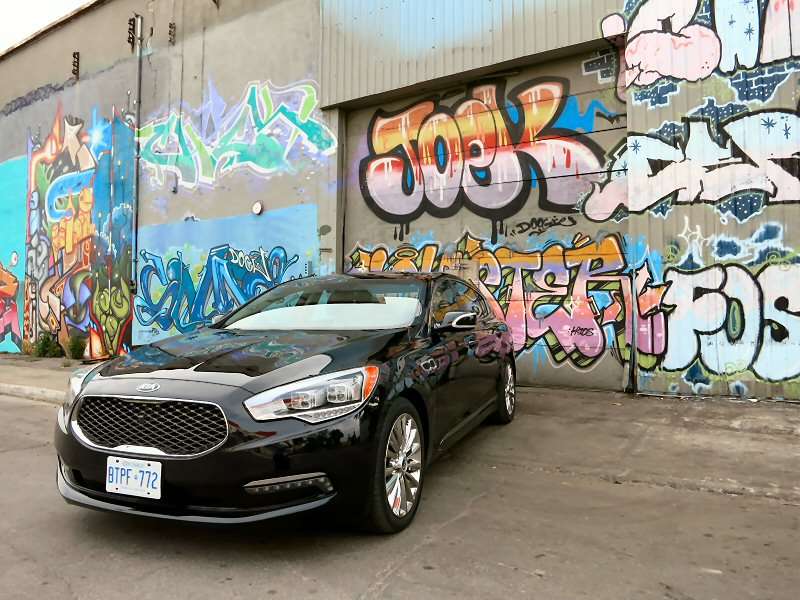 2015 Kia K900 ・ Photo by Benjamin Hunting
We live in an upwardly mobile world, at least in terms of consumer purchasing habits.  The Kia K900 seemingly represents the ultimate automotive expression of this desire to translate purchasing power into a lifestyle upgrade: an uber-luxury car built for the bargain set but without cutting any corners along the way.
If only it were that easy.  While the full-size Kia K900 certainly embodies most, if not all of the qualities sought after in a high-end sedan, it faces an uphill battle to be accepted amongst traditional luxury buyers more used to having the masses frozen out of this particular segment by high price tags rather than invited in with a firm handshake the way that Kia has done.  Overshadowed by the hoopla surrounding the K900's approachable window sticker is the unshakeable fact that this car is at least as good as many, and better than some, of its German and Japanese rivals
2015 Kia K900 Review: Models and Prices
The 2015 Kia K900 is currently only available in a single rear-wheel drive, eight-cylinder model starting at an MSRP of $59,500 (although a less expensive, six-cylinder edition is on sale right now in Canada, and will eventually be offered in the U.S.).  It might seem unusual for a car whose window sticker crests $60k to be lauded for its affordability, but in a segment where the next-closest competitor (the Lexus LS 460) stands more than $10,000 taller and similarly-equipped European fare cracks the $100k barrier, the K900's price is unusual to the point where most luxury fans begin to get suspicious.
The Kia K900's standard gear includes heated and cooled leather seats (with heaters for rear seat occupants as well), 19-inch rims, a panoramic sunroof, three zones of automatic climate control, a navigation system with a 9.2-inch LCD display, power windows and door locks, front view and rear view cameras, HD and satellite radio, Bluetooth connectivity, a power rear sunshade, and a number of active safety features.  My tester was also equipped with the VIP package which provided additional adjustments for the front seats along with adaptive cruise control, a bird's-eye view camera system, additional safety equipment, ventilated and reclining rear seats, and a head-up display.  The total MSRP for the vehicle I drove for a week came to $65,500.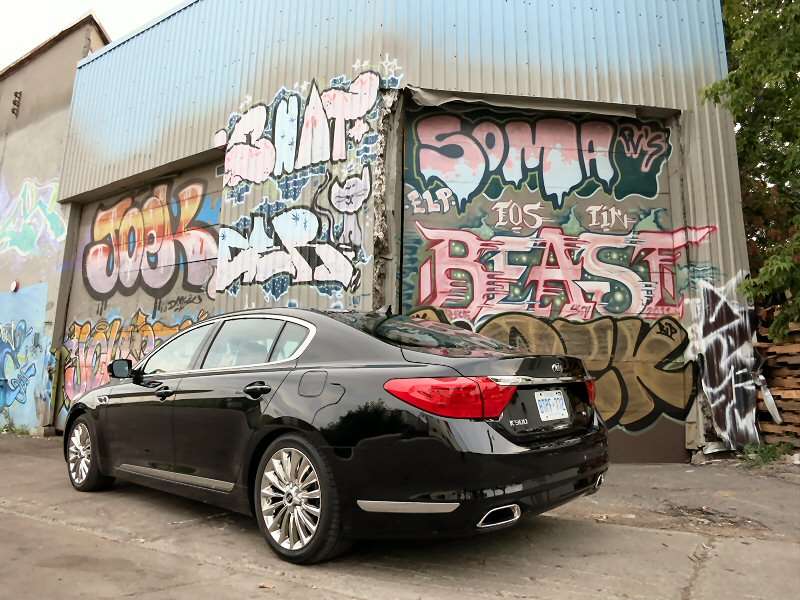 Photo by Benjamin Hunting
2015 Kia K900 Review: Design
The 2015 Kia K900 is an all-new design.
Although the 2015 Kia K900 is a fresh model for North America, it's been on sale in other parts of the world under a variety of names since 2012.  Nevertheless, the large sedan manages to look quite modern and fits in comfortably when in the company of designs like the Audi A8 and the BMW 7 Series.  The Kia K900's initial impression is one of mass, as its long hood, large rear door openings, and wide, muscled fenders take up a lot of visual real estate.  What you next notice about the K900 is much more impressive: the details that have been painstakingly worked into the car's sheet metal and glass.  I had several passengers marvel over the Kia's LED headlights for example, which draw the eye both day and night by virtue of their many discrete, yet harmonious elements, and I appreciated the car's mirror-mounted puddle lamps that welcome the driver as he or she approaches by folding out and illuminating.  I could personally do with the vents notched into the front fenders just ahead of the door, but they do strike a tone echoed by few of its competitors.
The interior of the 2015 Kia K900 feels sufficiently lavish without crossing the line into caricature.  Although more is more in the luxury sedan world – particular for full-size models – the temptation to go overboard must be studiously avoided, especially with first-time efforts like the K900.  Kia has studiously apprenticed at the knee of major players like the Mercedes-Benz S-Class and produced a cabin that, with a few exceptions, comes across as worthy of the premium mantle that has been foisted upon it.  There's nice wood trim on the dash, steering wheel, and console, high quality leather wrapping the seats and armrests, an advanced LCD gauge cluster, and ultra-silent operation of features like the panoramic sunroof.  Only a thinness of the hides covering the upper door panels gives away the K900's more palatable price point.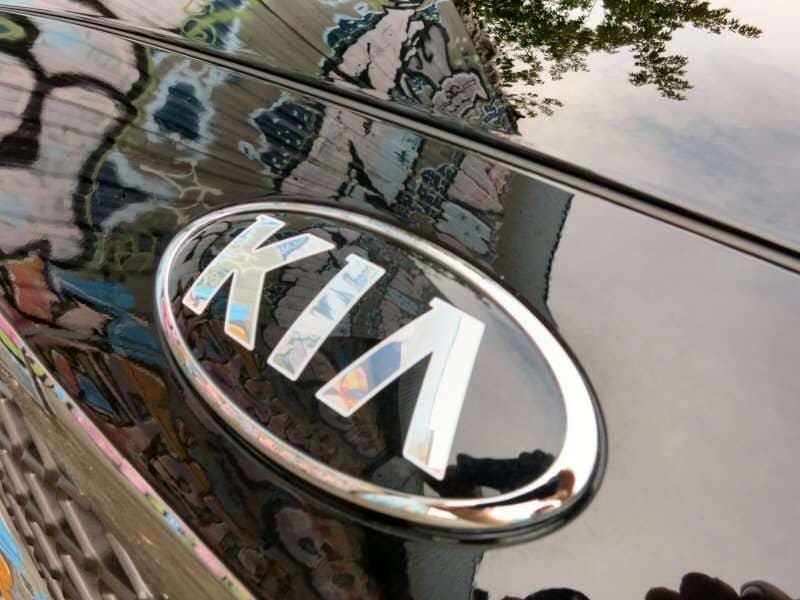 Photo by Benjamin Hunting
2015 Kia K900 Review: Comfort and Cargo
The 2015 Kia K900 is an all-new design.
The 2015 Kia K900's gargantuan exterior dimensions are fully-reinforced from any of its seating positions, front or rear.  Driver and forward passenger are treated to supportive and supple leather thrones that are seemingly infinitely adjustable by way of a door-mounted controller, while those riding behind the front two positions can achieve similar lean-back by way of the controls set into the fold-down center console (which also offers climate and sunshade features).  It's a massive cabin, especially at the rear, and it's backed by a respectable 15.9 cubic feet of trunk space topped off by a deck lid that opens and closes at the touch of a button.
One thing that is missing from the K900's passenger compartment are the set of fold-down trays for backseat riders that are offered by its platform-mate, the Hyundai Equus sedan (there's also a lack of rear-seat entertainment in the form of LCD screens or passenger-specific controls like one would find in the Equus).  I can't help but feel that this was by design as part of an effort to better differentiate the Kia, yet there's still a sense that at least some concessions to passenger diversion should have been included.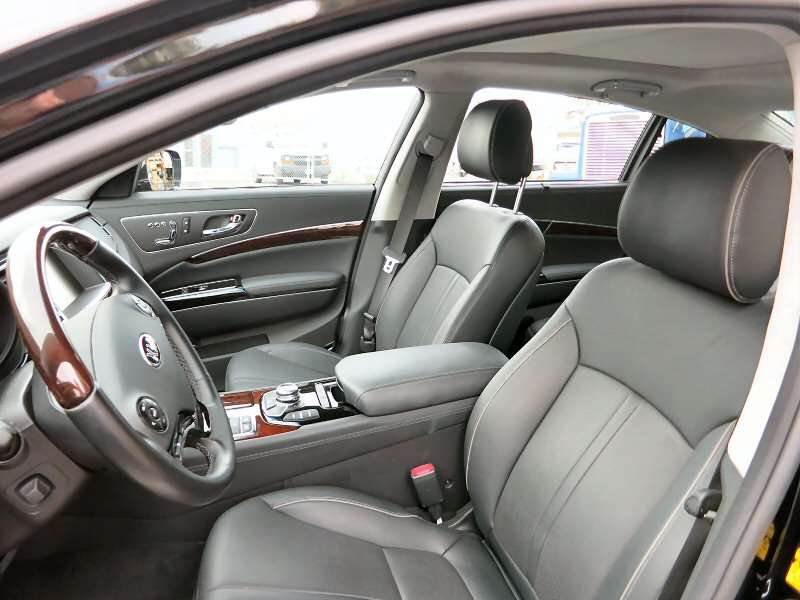 Photo by Benjamin Hunting
2015 Kia K900 Review: Features and Controls
The 2015 Kia K900 is an all-new design.
The 2015 Kia K900's switchgear manages to take a few familiar elements – the car's large LCD navigation screen and console-mounted rotary controller bring to mind the smaller, yet similar Hyundai Genesis sedan – and garnish them with unique functionality (additional menu navigation buttons beside the main dial, a gauge cluster that dramatically switches appearance when the car is put into Sport mode) to create a personality all its own.  This helps keep the K900 in the family without giving one the impression that you're riding in the mere twin of another existing model.
For the most part it's pleasant experience accessing the Kia K900's various luxury accoutrements, but one area where I wish more had been cribbed from the Genesis was the rotary controller's responsiveness.  Want to quickly scroll through radio stations or presets?  Sorry – you are going to have to do it one-click-at-a-time, and if you're not careful you'll over-shoot your desired broadcast and have to go back and find it.  You also can't program in a radio preset if it's already in there somewhere farther down on the list, because the K900 only lets you scroll through your selections in numerical order by station, not preference.  No jumping from comedy to hip-hop in this G-ride.  These particular behaviors made certain aspects of the infotainment system more frustrating to use than they really should have been.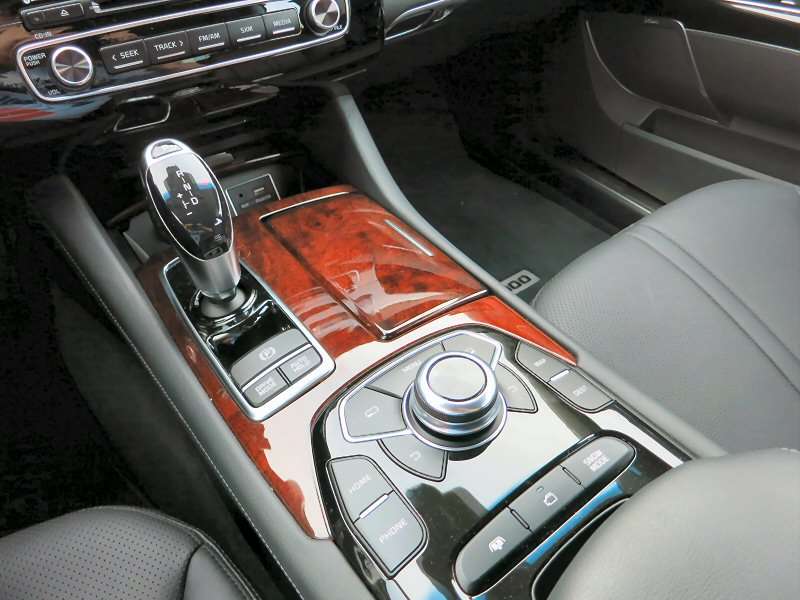 Photo by Benjamin Hunting
2015 Kia K900 Review: Safety and Ratings
The 2015 Kia K900 provides a full suite of standard and optional active safety features.
The 2015 Kia K900 comes with seat-mounted side impact airbags front and rear, dual forward airbags, side curtain airbags that run the full length of the passenger compartment, electronic traction control and stability control, and a suite of telematics features available via the telematics portion of the car's Uvo interface.  Eight-cylinder cars also feature a blind spot monitoring system, a lane departure warning system, and a rear cross-traffic detection system.  My VIP-package model was further outfitted with a frontal collision warning system.
Kia – and Hyundai – have tuned their shared blind spot monitoring feature to be quite sensitive, to the point where the warning beep continued to squawk at me long after it was safe to complete a lane-change.  Another semi-irritating aspect of the blind spot monitor is that it can take up space in the head-up display, canceling out your next turn instruction should there happen to be a car beside you on the freeway.  Given that the K900 already has the warning lights in the mirrors to prime you before the chime that goes off, this additional warning seems of dubious value. 
The Kia K900 has yet to be rated for crash safety by either the NHTSA or the IIHS.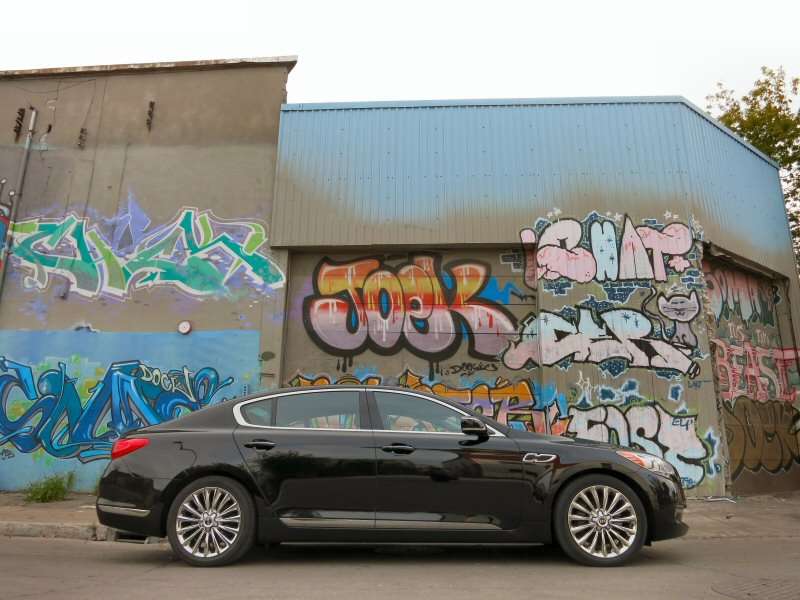 Photo by Benjamin Hunting
2015 Kia K900 Review: Engines and Fuel Economy
The 2015 Kia K900 is the first eight-cylinder model from the brand.
The K900 also debuts rear-wheel drive, another first for Kia.
Existing stock of the 2015 Kia K900 features a 5.0-liter V-8 engine as its only available power plant.  Capable of producing 420 horsepower and 376 lb-ft of torque, the K900's engine is matched with an eight-speed automatic transmission that sends output exclusively to the sedan's rear wheels.  Fuel mileage for the Kia is listed at 15-mpg in city driving and 23-mpg on the highway.
When it arrives the six-cylinder Kia K900 will feature a 3.8-liter mill good for 311 horsepower and 293 lb-ft of twist.  Fuel mileage is expected to improve by three and four miles per gallon for each respective measure, as compared to the V-8.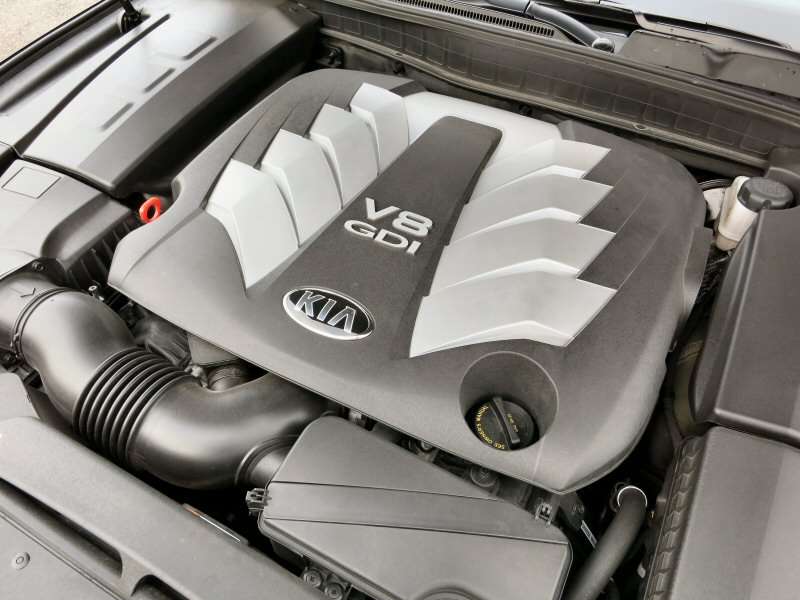 Photo by Benjamin Hunting
2015 Kia K900 Review: Driving Impressions
The 2015 Kia K900 offers a surprising amount of bite given its not-insubstantial bulk.  Floor the sedan's 5.0-liter V-8 – or even just roll into the power with a steady foot – and the K900 moves forward with confidence and just the hint of a snarl.  In fact, squealing the tires is easily achievable in the Kia, a fact which quickly teaches you to be more gentle than you thought was necessary when applying the throttle.  Having driven the same engine in an all-wheel drive version of the Genesis – a smaller car whose output was muted by four-wheel locomotion – I was taken aback by how willing the Kia felt when it came time to pull away from the pack.
The Kia K900 becomes even more responsive once the drive mode select button is used to access the sedan's Sport mode, a feature that stiffens its steering and programs in a more aggressive shift algorithm for its eight-speed automatic.  That being said, I found that Normal or Eco mode were good enough for me – better, even, as they accented what I liked most about the K900: its ride.
Kia has made sure to dial up the comfort level of the K900's suspension system rather than attempt to transform the full-size monster into a sport sedan.  Although lacking the air suspension that can be had with the Hyundai Equus, the result is a superlative ride that floats when it needs to but never completely slips the surly bonds of earth in a manner that feels uncontrolled.  The K900 drives 'big' yet it's not a brute, featuring a grace unexpected in such an affordably-priced luxury car and one that I found extremely pleasant in both my daily slogs across town and when pouring the Kia's eight-cylinder output down the highway.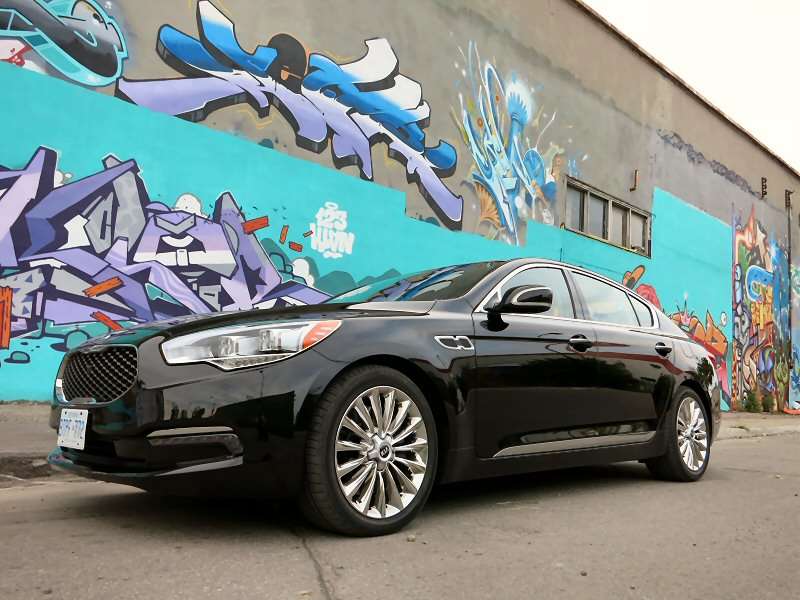 Photo by Benjamin Hunting
2015 Kia K900 Review: Final Thoughts
A favorite game amongst automotive cognoscenti is to punish the perceived over-reach of car companies attempting to broaden their horizons.  The 2015 Kia K900 is a very good full-size luxury sedan that draws almost even with the Equus and the Cadillac XTS and surpasses options like the Lexus LS 460, admirably serving fans of large four-door vehicles tired of paying out the nose for the badge on the hood.
Nevertheless, one underestimates the drawing power of an established logo at one's own peril.  Mercedes-Benz is essentially doing the same thing that Kia is doing in North America, only in reverse: filling the low-end of the market with Silver Star-wearing sedans that command a premium despite only tenuous claims to luxury in the same vein as their larger siblings.  Why Mercedes-Benz gets a free pass while Kia fights a stronger tide towards acceptance indicates just how useful brand equity is to premium car companies, and how hard it is to change the mindset – and buying habits – of modern vehicle shoppers.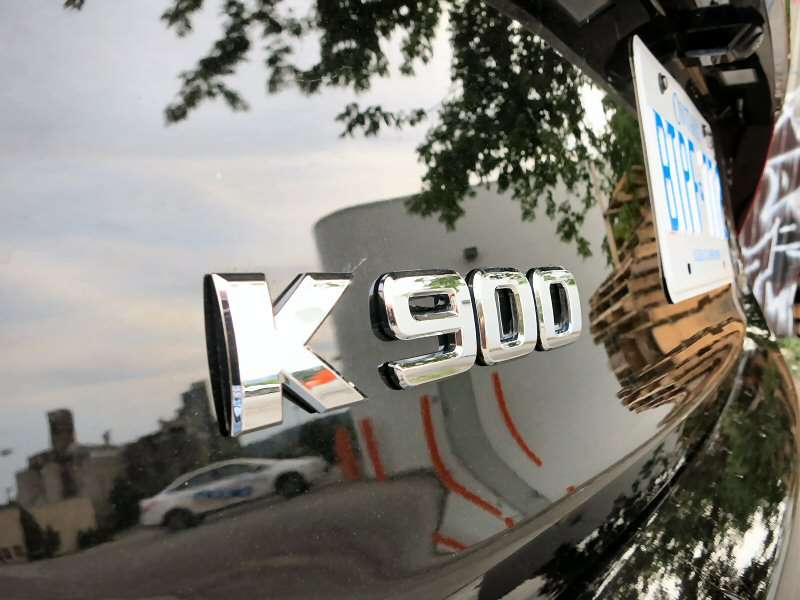 Photo by Benjamin Hunting
2015 Kia K900 Review: Pros and Cons
Pros:
Smooth, comfortable ride
Powerful V-8 engine
Excellent eight-speed automatic transmission
Enormous and well-appointed passenger compartment
Long list of standard features
Affordably priced compared to the competition
Cons:
Balky rotary controller for infotainment interface
No all-wheel drive option
No rear-seat entertainment
Fuel mileage is concomitant with the K900's size
Kia Canada supplied the vehicle for this review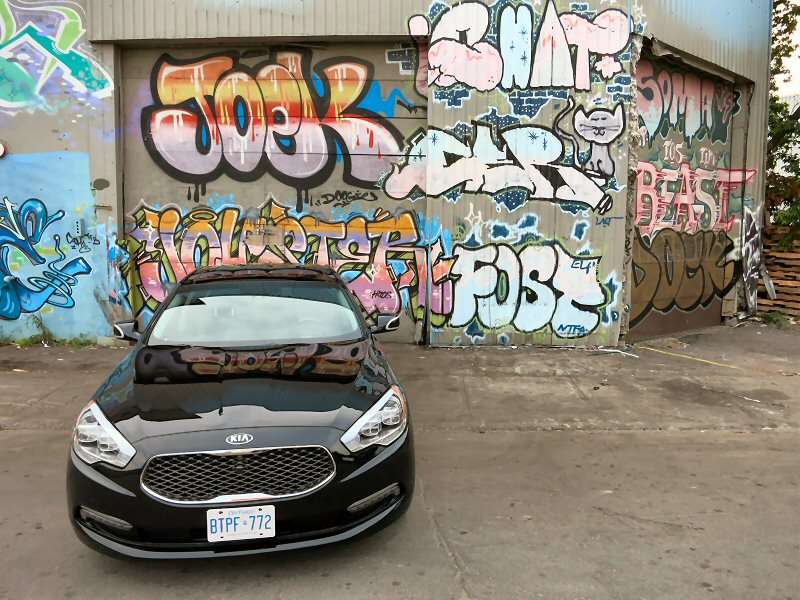 Photo by Benjamin Hunting