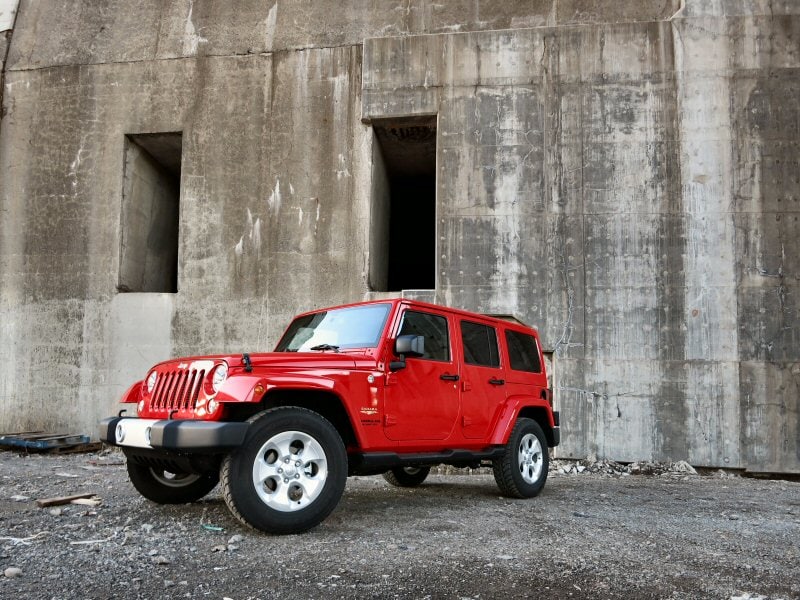 2015 Jeep Wrangler Unlimited Sahara ・ Photo by Benjamin Hunting
Before stepping into the showroom to buy the rugged 2015 Jeep Wrangler Unlimited , ask yourself this simple question: do you plan to go off-road?  I don't mean occasionally backing down a boat ramp, or wading through a snow drift or two before the city plows make it down your street in the evening - I'm talking about weekends full of mud, rivers, and the kind of terrain that would make a burro think twice about its chosen vocation.
If you answered 'yes,' then by all means pursue your acquisition of the Wrangler Unlimited with my unreserved blessing, as you'll find no better tool for dealing with Mother Nature's less convenient topography.  If, however, you're more attracted by the Jeep's image and style, then you might want to read on to discover if it's a good fit for your actual driving needs, or whether you should consider a similar but more accommodating rival such as the Nissan Xterra or the Toyota 4Runner in its place.
2015 Jeep Wrangler Unlimited Sahara Review: Models and Prices
The 2015 Jeep Wrangler comes in base two-door and four-door (Unlimited) body styles.  Breaking the Wrangler Unlimited down further reveals three primary trim levels, starting with the Sport (MSRP $26,585) which offers features such as tow hooks front and rear, manual windows, door locks, and mirrors, a CD player, air conditioning, a folding rear seat, cruise control, 16-inch wheels, and a soft top.  Moving up to the Wrangler Unlimited Sahara (MSRP $$32,395) introduces power accessories with keyless entry, 18-inch alloy rims, body-color fender flares, automatic headlights, a more robust suspension system, a slightly nicer interior, satellite radio, and a leather-wrapped steering wheel and shift knob. 
The Wrangler Unlimited Rubicon (MSRP $35,495) takes things on a more hardcore off-road bent with its electronically-locking Dana 44 front axles front and rear, aggressive final drive gearing, 17-inch rims with 32-inch rock crawling rubber, air conditioning, leather-wrapped steering wheel and shift knob, power windows and door locks, and an electronically-disconnecting front swaybar.  In addition, the Rubicon enjoys a different (still standard) four-wheel drive system as compared to that which comes with both the Sport and the Sahara.  There are also a number of 'special edition' Wrangler Unlimited models - Willys Wheeler, Freedom Edition, X - that make subtle changes to appearance or equipment levels.
My test vehicle was a 2015 Jeep Wrangler Unlimited Sahara outfitted with a removable hard top, a five-speed automatic transmission, automatic climate control, heated front seats, the Uconnect vehicle interface, an Alpine stereo system with subwoofer, and the Connectivity package (Uconnect voice commands, Bluetooth connectivity).  The total price of the Sahara model that I drove for a week came to $39,580.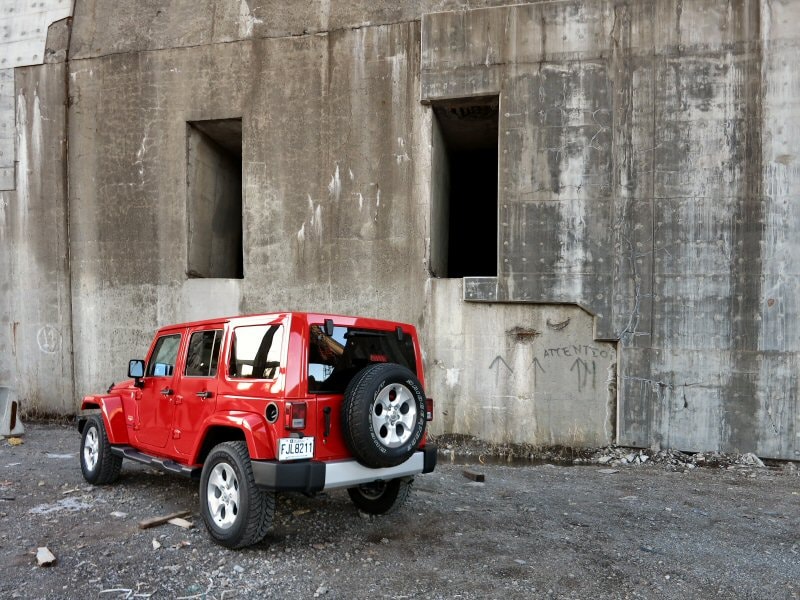 Photo by Benjamin Hunting
2015 Jeep Wrangler Unlimited Sahara Review: Design
The 2015 Jeep Wrangler Unlimited Sahara is unchanged for the current model year.
If you've seen any Wrangler built during the last two decades then you will be familiar with the shape of the 2015 Jeep Wrangler Unlimited Sahara.  This stretched four-door version of the traditional Wrangler design manages to avoid looking awkward with a second set of doors set behind the main openings, and in fact the extended wheelbase has proven to be a draw for buyers who felt the original version of the SUV was a bit too stubby-looking to be taken seriously.
You'll immediately notice that almost all of the Wrangler Unlimited's body work has a purpose: exposed hinges for the doors (which can be removed, along with the hard top that came with my tester), no fuel door (just something else to get torn off on the trail), and functional snaps to keep the hood in place (who needs the complexity of an in-cabin release cable?).  The hard top looked great on my tester and helped to keep the arctic chill out of the passenger compartment during the sub-zero weather I experienced while driving, and it's a clear style upgrade over the fun, but somewhat clunky soft top that is standard with the Jeep.
The interior of the Jeep Wrangler Unlimited Sahara is similarly function-first, with easy-to-clean fabric seats, a basic dashboard, and grab handles galore to be found throughout the cabin.  Style is more of an afterthought than a guiding force in the Wrangler Unlimited's passenger compartment, but the spartan nature of the Jeep's design is part of its appeal.  This is the kind of SUV you hose out, not take to the detailers, and that's reflected by the simple nature of the vehicle's personality.  That doesn't mean it's absent if any 'details,' however: a case in point is the little Wrangler silhouette climbing a rockpile that's hidden in the lower right corner of the windshield blackout.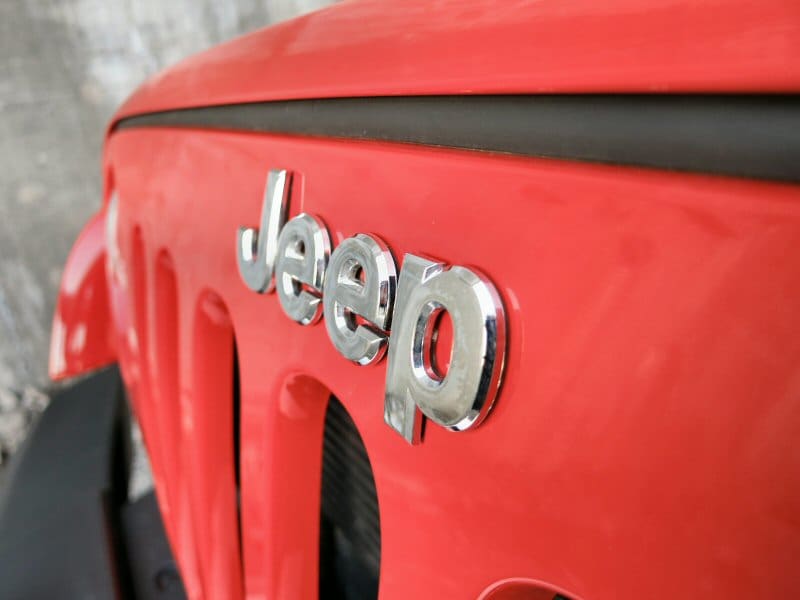 Photo by Benjamin Hunting
2015 Jeep Wrangler Unlimited Sahara Review: Comfort and Cargo
The 2015 Jeep Wrangler Unlimited Sahara is unchanged for the current model year.
One of the best aspects of the 2015 Jeep Wrangler Unlimited model is the enhanced practicality that comes from elongating its wheelbase and improving cabin room.  The second row of seating inside the Unlimited is adult-friendly and respectably comfortable, with one word of warning: the second set of doors attached to the Wrangler are quite small, which makes it somewhat of an adventure to pull yourself up and inside the cabin.
Accessing the cargo area is easier with the hardtop installed as compared to the soft top, with the tailgate swinging out of the way and the rear glass tilting up in two easy steps.  My only concern is that the tailgate creates a barrier between the you and the sidewalk when parked, meaning you have to walk around it while loading or unloading.  Given that the spare tire is mounted on the lower half of the tailgate, this might be by design to facilitate a side-of-the-road tire change and keep you out of traffic, but day-to-day it's a hassle to deal with.  There's lots of room back there to take advantage of, with the cargo area measuring just over 70 cubes with the rear seats folded and a very helpful 31.5 cubic feet with the back bench in people-moving position.  This is a huge improvement over the two-door Wrangler's maximum 55.8 cubic feet of storage space, and very competitive when compared against similarly-sized SUVs.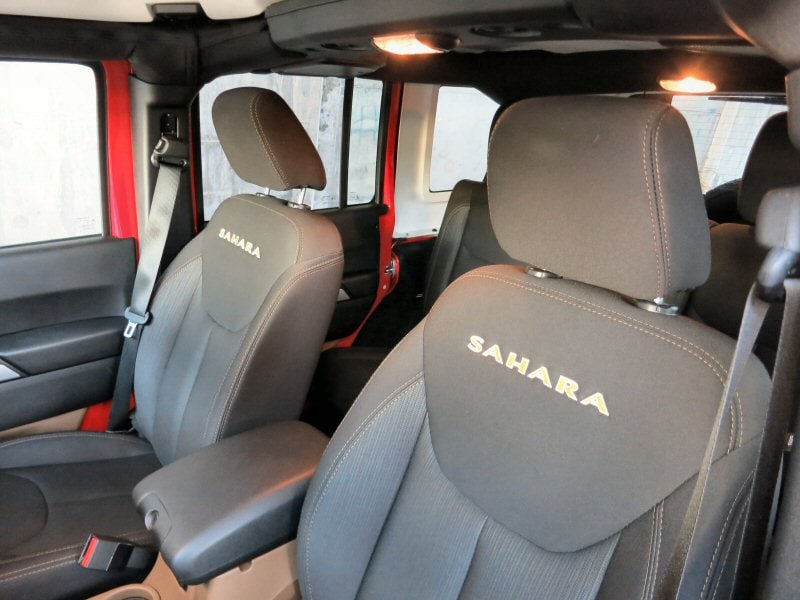 Photo by Benjamin Hunting
2015 Jeep Wrangler Unlimited Sahara Review: Features and Controls
The 2015 Jeep Wrangler Unlimited Sahara now includes a set of Torx tools to make it easier to remove the top and doors.
The 2015 Jeep Wrangler Unlimited carries over its feature set from the year before, which is fairly simple.  I was happy that my Sahara tester came with optional automatic climate control, and the seat heaters are a must-have for anyone in a cold climate, but the rest of the SUV comes across as sufficiently basic, from the floor shifter for the four-wheel drive system to the last-generation (but still useful) optional Uconnect touchscreen infotainment system.  The Alpine audio system sounded great and included speakers in a few new locations that will be appreciated by Jeep fans, and most controls are buttons or large dials that are easy enough to manipulate while wearing gloves.  I was frustrated with the lack of lighting inside the Wrangler Unlimited, however, especially under the dash where it's impossible to read the previously-mentioned four-wheel drive shift knob once darkness falls.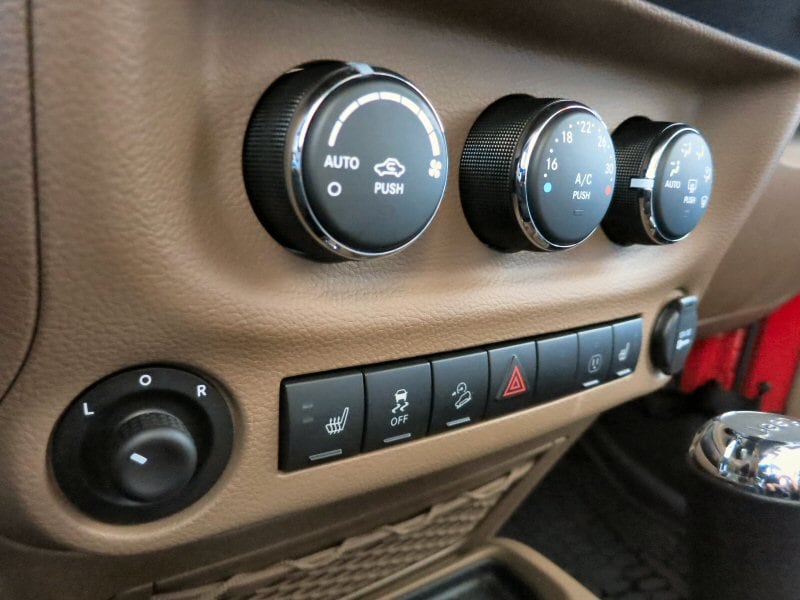 Photo by Benjamin Hunting
2015 Jeep Wrangler Unlimited Sahara Review: Safety and Ratings
The 2015 Jeep Wrangler Unlimited Sahara does not introduce any new safety equipment.
'Basic' is a word I'm over-using to describe the 2015 Jeep Wrangler Unlimited Sahara, but it fits so well - especially when it comes to safety gear.  Take a step back to the 90s inside the Wrangler Unlimited's steel safety cage, which comes standard with only a pair of forward airbags as secondary restraint devices.  You can order an optional pair of side impact airbags, which in light of crash test data provided by the IIHS would seem to be a necessary buy.  Stability control and traction control are included with every version of the Wrangler Unlimited, but there's no active safety equipment to be had with the SUV.
2015 Jeep Wrangler Unlimited Sahara Crash-Test Ratings:  The IIHS rates the Jeep Wrangler Unlimited 'Good' in moderate overlap front testing, but 'Marginal' in side impact and head restraint / seat performance in a crash when the side impact airbags are not installed.  The NHTSA has only rated the SUV in the rollover safety category, where it scored three out of five stars.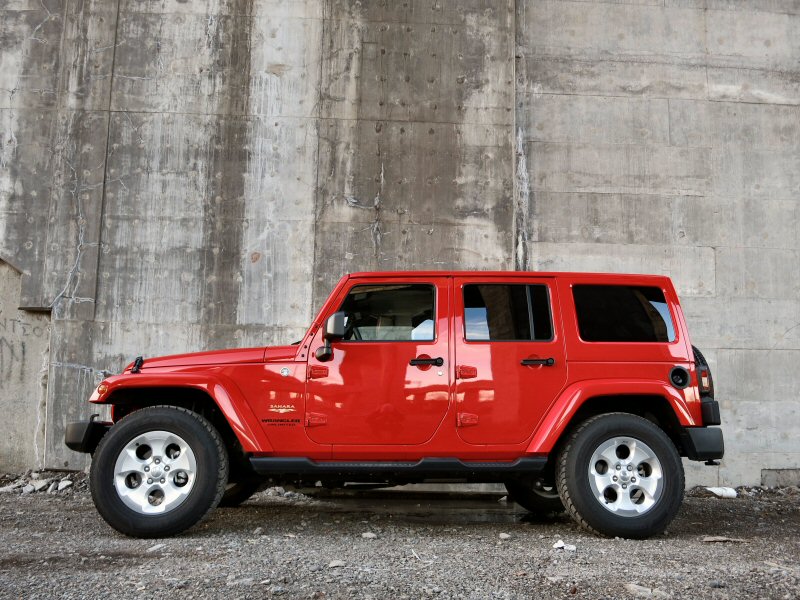 Photo by Benjamin Hunting
2015 Jeep Wrangler Unlimited Sahara Review: Engines and Fuel Economy
The 2015 Jeep Wrangler Unlimited Sahara carries over last year's drivetrain.
Every version of the 2015 Jeep Wrangler Unlimited (and even the two-door Wrangler) comes standard with the same 285 horsepower, 3.6-liter V-6.  Also capable of producing 260 lb-ft of torque, this unit is mated to either a six-speed manual transmission or a five-speed automatic that in turn send power to a standard four-wheel drive system.  As mentioned when discussing the various Wrangler Unlimited trim levels, the Rubicon gains a four-wheel drive transfer case with ultra-low-range gearing to help facilitate rock crawling.  Fuel mileage for the Unlimited is listed at 16-mpg city and 21-mpg highway, subtracting a single mile per gallon from the latter figure when the automatic transmission is specified.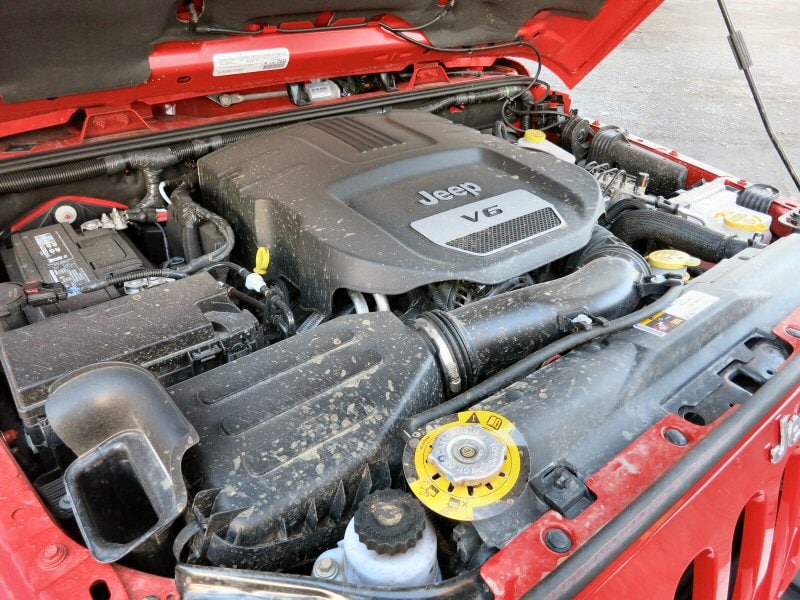 Photo by Benjamin Hunting
2015 Jeep Wrangler Unlimited Sahara Review: Driving Impressions
The 2015 Jeep Wrangler Unlimited is a hardy off-road beast, and I've had ample opportunity in the past to sample just how rugged and well-built this SUV is when you're beating on it as hard as possible miles from the nearest road.  My week with the Wrangler Unlimited was spent exclusively within city limits, which means I'm going to talk a lot more about the Jeep's weaknesses than its strengths. 
Perhaps the least impressive part of the Jeep's driving experience is its steering, which is at best disconnected and at worst prone to wandering at highway speeds - so much so that you have to continually provide input through the wheel to keep the SUV tracking straight.  This has a lot to do with the big, knobby tires wrapped around its 18-inch rims, as well as the basic nature of any vehicle saddled with a solid front axle design that prizes strength over agility.  Combine all of this with the Wrangler Unlimited's restrictive turning radius and you've got a challenging daily driver in an urban environment.
You're also going to be dealing with a bit of a rough ride from the trail-ready suspension package.  I personally didn't find the Wrangler Unlimited all that harsh, even over broken pavement, but it's far from the same level of comfort and control that you'd get from a more modern crossover.  A major bonus of the Jeep's lifted chassis, however, is the ground clearance that comes with it: a blizzard that hit Montreal mid-week had no appreciable impact on the Sahara's ability to go from A to B.
I'd like to further expound on what a terrific snow-and-ice machine the Jeep Wrangler Unlimited was during my time behind the wheel by pointing out that not once during the entire, horrifically-slippery week did I ever have to engage the vehicle's four-wheel drive system.  Anyone who's ever told you that a rear-wheel drive truck wasn't safe in the winter simply never learned how to properly drive for the conditions (and probably didn't have the right set of cold weather tires installed).  Even after two solid days of freezing rain, the Wrangler Unlimited was poised and completely controllable on unplowed roads.  My only real complaint was the inability to completely turn off the SUV's stability control system and have some fun kicking the tail out: while traction control can be easily disabled, stability control is there to stay (albeit with a wider margin for error when the TC is offline).
A five-speed automatic is a dated gearbox for a 2015 model, but the smoothness and strength of the Jeep's 3.6-liter V-6 made up for the lack of forward ratios.  Despite its weight, the Wrangler Unlimited's acceleration won't have anyone whipping out a pocket watch when merging onto the highway, and I never really found myself wishing for more power.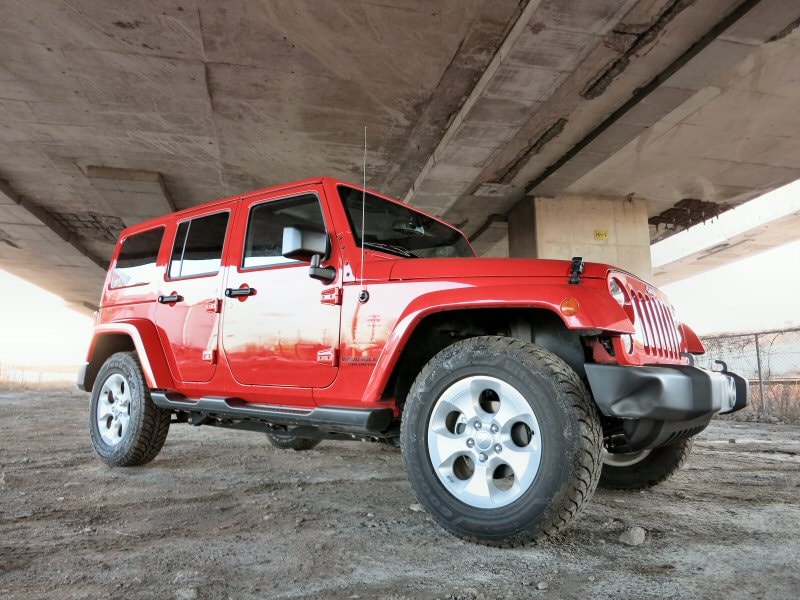 Photo by Benjamin Hunting
2015 Jeep Wrangler Unlimited Sahara Review: Final Thoughts
Do I have you convinced yet?  Objectively, the 2015 Jeep Wrangler Unlimited Sahara is an all-star when it's time to get dirty, but more of a reserve player as a commuter or family ride.  From a passion perspective, the Jeep nation is a strong one that has pushed overall Wrangler sales to new highs in recent years, riding of a wave of desire for the classic styling and outdoorsy image projected by perhaps the last true all-terrain ride available in America.  It's clear that the Wrangler Unlimited's legions of fans could care less about its rough-and-tumble character around town, and if you count yourself in their number and go into Jeep ownership with your eyes wide open (and searching for the nearest muddy pasture or rocky pass), then you'll find plenty to like about this SUV.  If you're looking to be coddled by a modern family conveyance, you'll want to consider your options more carefully.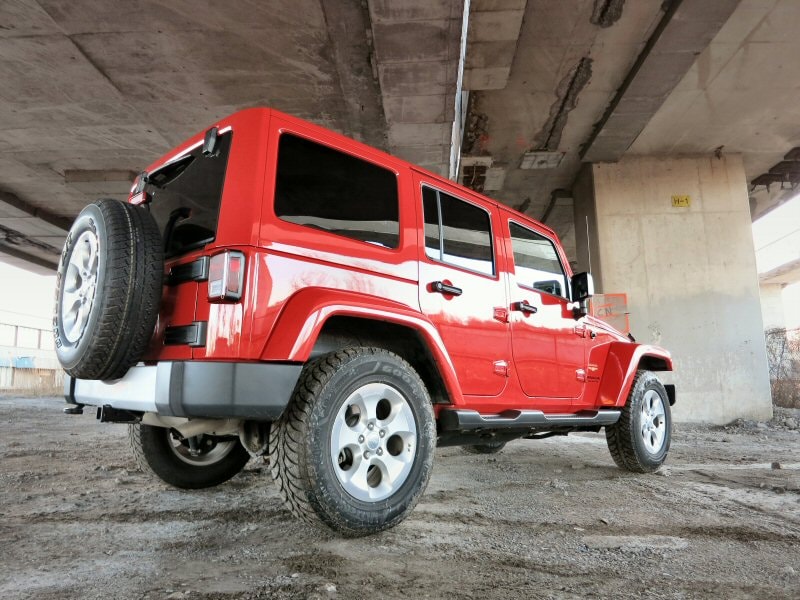 Photo by Benjamin Hunting
2015 Jeep Wrangler Unlimited Sahara Review: Pros and Cons
Pros:
Looks the part of the off-road warrior
Walks the walk of the off-road warrior
Strong V-6 engine
Excellent stability in the most slippery of conditions
Good passenger and cargo room
Affordable
Cons:
Thirsty at the fuel pump
Small second set of doors makes it a squeeze to access the rear row
Disconnected, wandering steering
Rough ride compared to other SUVs
Few modern conveniences inside the cabin
Very basic, unrefined chassis
Chrysler Canada supplied the vehicle for this review.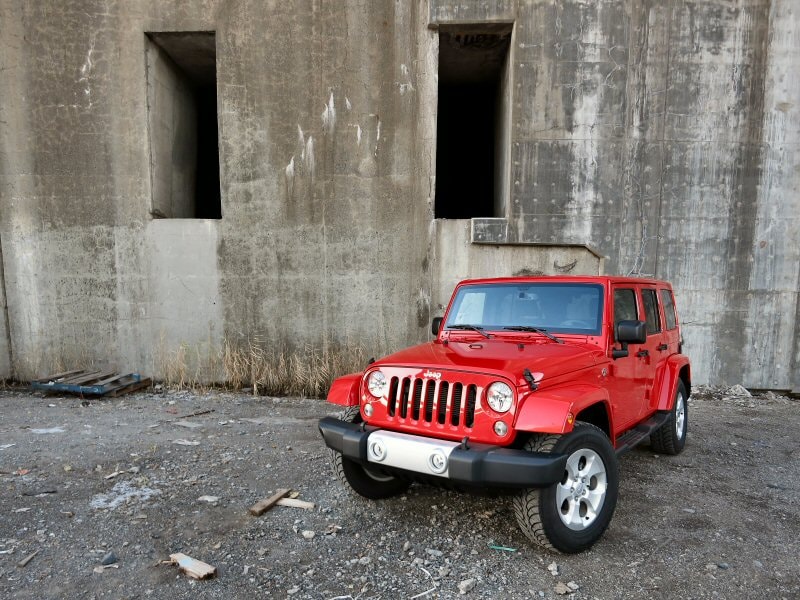 Photo by Benjamin Hunting