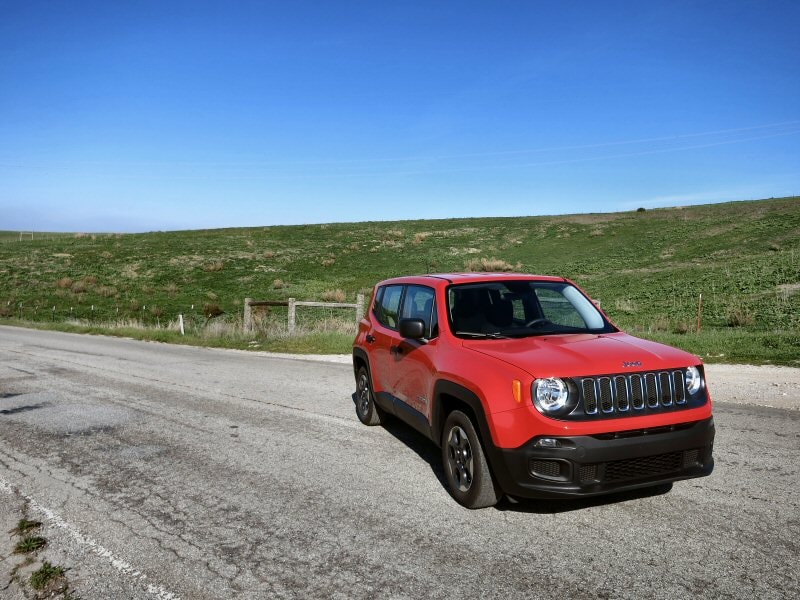 2015 Jeep Renegade ・ Photo by Benjamin Hunting
It's been a long time since Jeep's fielded a winner in the small SUV segment, but as of 2015 it's on the verge of having two. Hot on the heels of the well-received Jeep Cherokee compact people mover comes the even smaller Jeep Renegade, a brand-new addition to the family that promises to erase the bad memories associated with names like Compass and Patriot – monikers that received not a single mention this past week at the Renegade's official coming out party in San Jose California.
What better way to bury the past than underneath the wheels of a subcompact SUV that stands apart from its segment-mates? The 2015 Jeep Renegade has been designed to go where no other cute 'ute would dare while simultaneously looking like nothing else at its on the market. A Jeep through-and-through, the Renegade offers enough crossover appeal to snag style-focused shoppers alongside the legions of brand-faithful who will whole-heartedly embrace this practical, and affordable, SUV.
Everybody Loves A Box
An enormous aspect of the 2015 Jeep Renegade's appeal is its diminutive, box-like shape. Wearing the classic upright Jeep lines that bigger brother Cherokee controversially abandoned, the Renegade is the SUV equivalent of comfort food for starving traditionalists: it comes with the big and blocky wheel wells, vertical seven-slot grille, round 'searchlight' headlights, and generous ground clearance needed to tie the vehicle to the iconic Wrangler. Happily, there's also fresh visual flair to latch onto, including cool x'd-out square taillights (meant to evoke old-school jerry cans strapped to the original Willys) and an available set of unique removable 'My Sky' roof panels that provide semi-open air motoring you won't find in any other small SUV. Like all Jeeps, the Renegade is also loaded with hidden 'Easter eggs' inside and out, including a tiny proto-Wrangler climbing up the windshield's bottom black-out as well as speaker covers stamped to resemble the vehicle's own front fascia.
Much of the Renegade's pleasing design simplicity extends to its cabin, which is basic in the pleasant, rather than cost-cutting sense of the word. It's clear that this Jeep is intended to be budget-friendly, but after spending most of the day inside the of the entry-level Sport trim I never had the impression that I was missing out on quality by spending less cash. Cloth seats and arm rests present themselves well (and feature hidden Jeep logos sewn into them), and while there's plenty of plastic crowding the dashboard, door panels, and center console, it complements the rugged image of the Renegade rather than accentuating its price point.
If you want to move beyond the barebones entertainment system offered by the base model you can cycle up through Latitude, Limited, and off-road oriented Trailhawk models, with the latter's $26k MSRP ensuring you never stray too far from the Sport's sub-$17,995 starting price. Two versions of Chrysler's solid Uconnect touchscreen interface can be installed in the Renegade (measuring five and six-and-a-half-inches, respectively), and you can also get a nice LCD gauge cluster that looks classy while offering useful vehicle, trip, and entertainment information directly in front of the driver.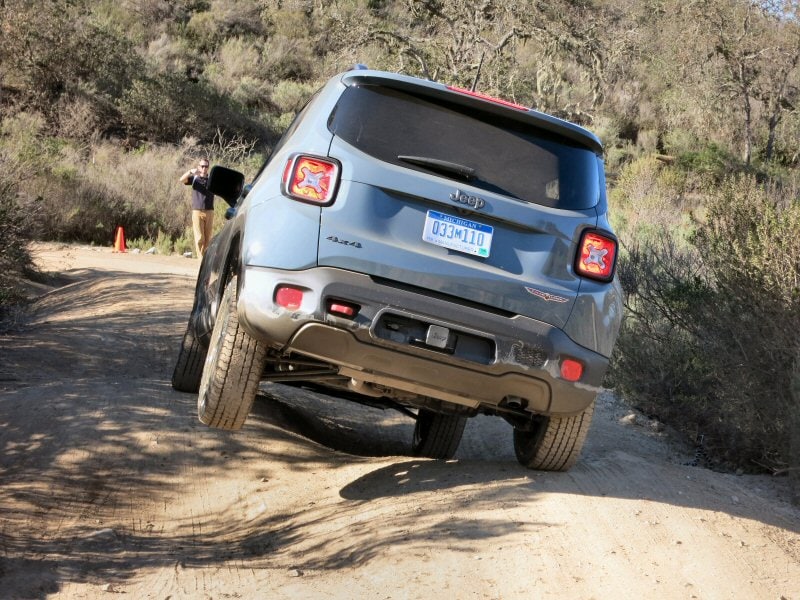 Photo by Benjamin Hunting
Two Distinct Drivetrains
The 2015 Jeep Renegade takes a unique approach to organizing what you'll find under the hood. Standard on Sport and Latitude models is a 1.4-liter, turbocharged four-cylinder engine borrowed from corporate parent Fiat (whose platform engineers played a substantial role in helping make the Renegade a global product). With 160 horsepower and 184 lb-ft of torque on tap at a respectably low rpm, it's easy to see why Jeep elected to make a six-speed manual the only gearbox available with this motor: although quite capable in day-to-day driving, you have to constantly stir things up with your right hand to ensure you've got the correct ratio selected for the task at hand. I found myself frequently moving between second, third, and fourth gear at speeds below 40-mph, with fifth and sixth reserved exclusively for flat-and-level cruising. Any automatic attempting to keep up with the turbocharged Renegade's powerband would simply be shifting far too often for anyone's comfort.
Optional across the board, but standard with Limited and Trailhawk models, is the same 2.4-liter 'Tigershark' four-cylinder engine that can be found in products as diverse as the Cherokee and the Chrysler 200. Rated at 180 horses, it's positioned as an upgrade over the 1.4-liter but it actually delivers nine fewer lb-ft of twist, which makes it more of a wash on paper. Out on the road there's something to be said for the Tigershark's smoother behavior at higher engine speeds, but truth be told there's not a huge performance difference between the two drivetrains. Some of the blame for this parity can be laid at the feet of the 2.4-liter's standard nine-speed automatic, a transmission that refused to kick down an adequate number of steps when attempting to pass on the highway, requiring a second punch of the throttle to move from ninth to fourth gear in a bid to gather the requisite momentum. Official fuel efficiency numbers have yet to be nailed down, but Jeep is promising better than 30-mpg on the highway for each engine.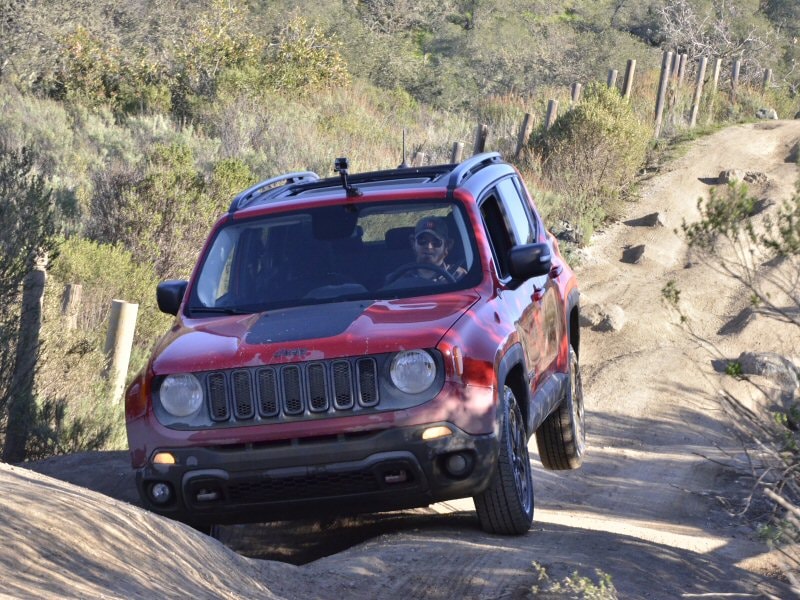 Photo by Daniel Rufiange
Four-Wheel Drive, Asterisk
Subcompact SUVs like the 2015 Renegade aren't typically celebrated for their off-road prowess, but this is a Jeep we are talking about here so it's simply not an option for product planners to leave the 'Trail Rated' badge on the shelf. Still, the 'Active Drive' four-wheel drive system available with all versions of the vehicle is somewhat of a step back from what Jeep fans will be used to. Nominally a front-wheel drive vehicle until wheel spin is detected, Active Drive's power transfer system uses a clutch to engage the rear wheels within 500 milliseconds and shuttle torque to the back axles to preserve stability. Trailhawk models receive their own Active Drive Low system that includes a 20:1 crawl ratio in first gear when the Renegade's Selec-Terrain system is set to 'Rock' (other choices include Auto, Snow, Sand, and Mud).
Several turns behind the wheel of the Trail Rated Trailhawk well off the beaten path proved that Jeep's commitment to the Renegade's 'go-anywhere' image is more than just lip service. While there was much groaning of unibody and gnashing of electronically-controlled differentials, the little SUV three-wheeled its way across elephant humps, clambered over rocks, leveraged its descent control system down a 30% grade, and forded 12-inches of water with no further complaint. With 8.6-inches of ground clearance, think of the Renegade Trailhawk as an occasional off-roader rather than a dedicated bushwhacker, and you'll get the right idea.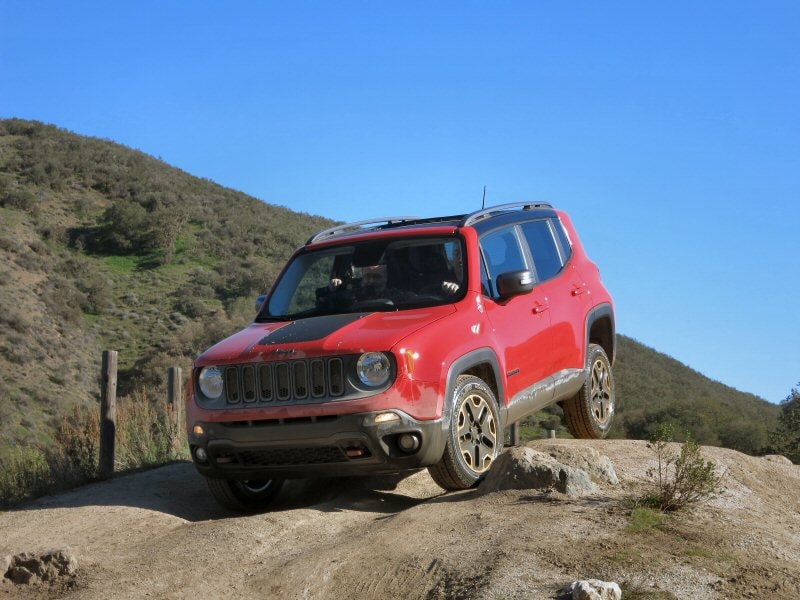 Photo by Benjamin Hunting
Civilians Welcome
The 2015 Jeep Renegade makes hay with its off-road image, and rightly so, but the reality is most potential Renegade buyers won't ask the SUV to tackle anything more challenging than an icy driveway. I'm happy to report that the all-terrain capabilities baked into the vehicle don't compromise any aspect of its daily driving character. The vehicle's electric power steering was precise enough for this type of utility-focused ride, while interior noise insulation and suspension tuning kept even highway jaunts pleasant and calm. Second row passengers won't be nearly as pleased with their fate in the Renegade, however, as it's fairly tight behind the first two positions. Making up for it is 50 cubic feet of total cargo space with the rear row folded forward, a ratio that should push young families up into the Cherokee while steering the smaller Jeep towards an audience of single adventurers and image-conscious young couples.
Another factor working in the Jeep Renegade's favor is that it has no real competitors in its class. Every other subcompact people mover is working so hard to polish its car-like crossover game that no manufacturer seems to have stopped to think whether there might be room for a sport-utility vehicle in this growing niche. Unique, affordable, and practical, the 2015 Renegade stands alone as yet another bold move from the brand that invented the SUV.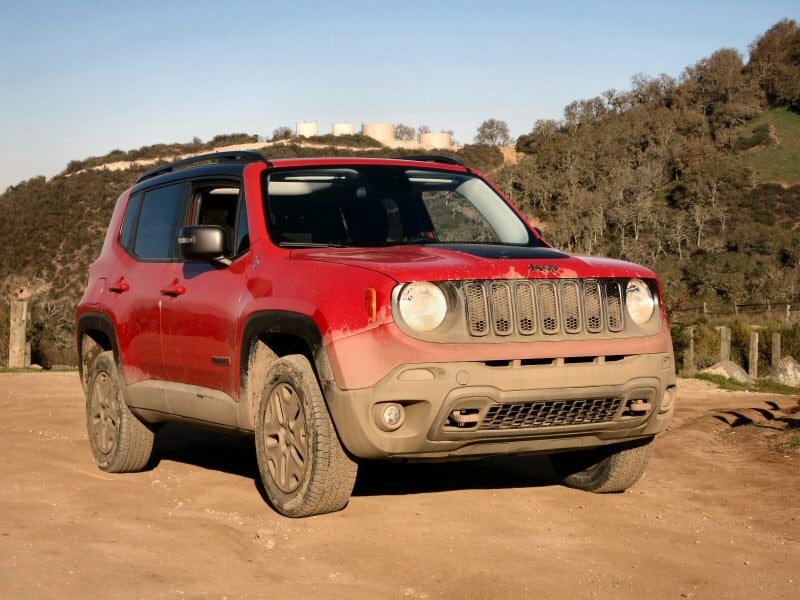 Photo by Benjamin Hunting