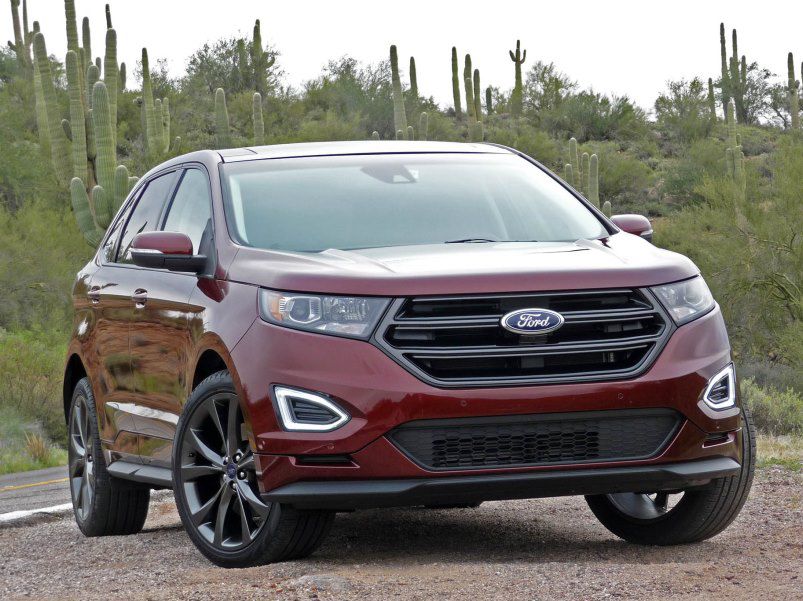 2015FordEdgeSport2
With the moniker "Edge" spelled out on its liftgate, Ford's stylish midsize crossover draws a line in the sand. Someone had to. Depending on how you count them, there are nearly 100 sport utilities and crossovers on showroom floors at this minute, and many more are on the way. The segment is a noisy place where upwards of 30 brands compete for your dollar, so it's easy to get drowned out in the cacophony of capaciousness unless the message is clear and compelling. Some horribly conflicted breeds, like the Honda Crosstour, may die out, while others, such as the Nissan Juke, continue to defy all odds by surviving outside the petri dish.
Meanwhile, the 2015 Ford Edge formula is simple: Be muscular but well-groomed, like a bouncer in a tux. And don't let practicality get in the way of style. No roof racks, skidplates, running boards or knobby tires here. A vestigial third-row seat or mommy mirror? Fuggetaboutit. The Edge is urban chic with a big slanted nose, prominent three-bar grille, fast windshield, strong shoulders and bulging fender flares, complemented by a raised driving position and some of the most aggressive-looking rims in the 'hood. You want factory-installed bad-boy Dubs on a crossover SUV? Edge has them. Ear-melting, seismic subwoofer? Um…that you'll have to install yourself.
Seven Year Itch
Since its 2007 introduction, Ford's Edge has proven to be a strong seller among mainstream-priced car-based five-passenger midsize crossovers such as the Hyundai Santa Fe Sport, Nissan Murano, Toyota Venza, Chevrolet Equinox, and GMC Terrain. And it's been a key part of Ford's crossover/SUV lineup that includes the compact Escape, retro-look Flex, seven-passenger Explorer, and truck-based full-size Expedition and Expedition EL. For 2015, the Edge SE, SEL, and Sport trims return, while Titanium replaces Limited in the lineup.
To keep its edge, the 2015 version gets a complete makeover, switching to the current Fusion sedan's CD4 platform. That arrangement is good, as it offers benefits — namely the sedan's strut front suspension and a new integral-link rear suspension with aluminum bits as well as a lighter, stiffer body structure courtesy of increased use of high-strength steel.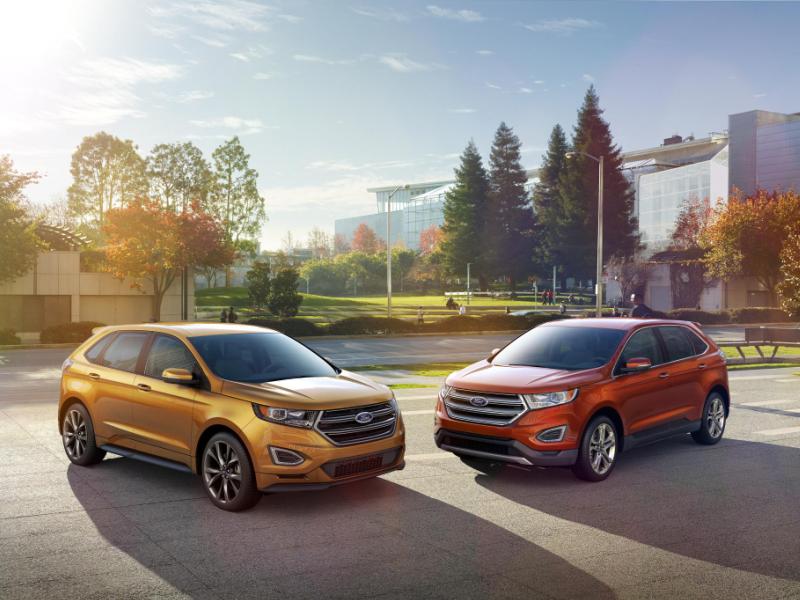 Longer and Taller
The Edge has grown a bit, too. The compact Escape stretched a few inches with its 2013 redo, and Explorer is out there in almost full-size territory, so there was room for the 2015 Edge to expand. Length is up nearly four inches and the new Edge stands 1.3 inches taller, resulting in greater headroom, rear-seat legroom and cargo volume.
A larger canvas on the 2015 model also means volumized styling. The added length allows for an even faster windshield and swoopier liftgate angle. The Edge's Taurus-inspired hexagonal grille and headlamps sweep into a massive visor that has an uncanny similarity to the Hyundai Santa Fe Sport's visage, but I demur. Creased shoulders along the doors and a sculpted hood show Escape influences. And at the rear, a full-width racetrack LED taillamp design that wouldn't look out of place on a Dodge Durango adds a parting flourish. Like I said, volumized.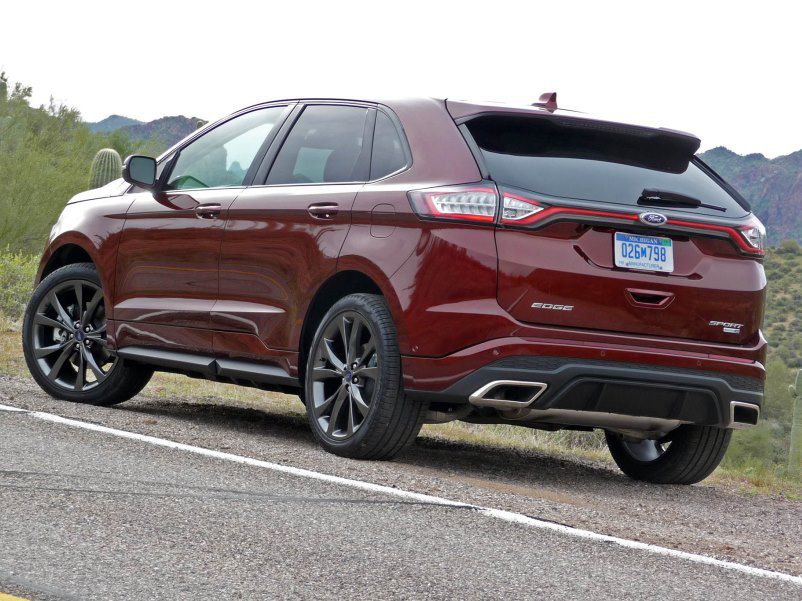 Inside Job
If the new Edge's exterior is shouting, its interior is exercising newfound powers of persuasion. The cabin shows glimmers of craftsmanship. Ford's upped the quality of materials inside. Overall, the interior is more sculpted (although not as expressive as, say, Santa Fe or Murano), less of a cut and paste job from the corporate parts bin. The Edge's front seats are comfortable and supportive, door trim panels are scalloped and well-padded, and there's ample evidence of French stitching on the seats, door panels, console and steering wheel. Thoughtful storage solutions in addition to the glovebox and console compartment abound, too, with a coin box to the left of the steering wheel, an open shelf behind the console, a covered cubby under the center stack with iPod and USB ports, and the ever-necessary pistol box atop the dash. The hi-res dash display is colorful and attractive, although the tach is too small to be useful at a glance.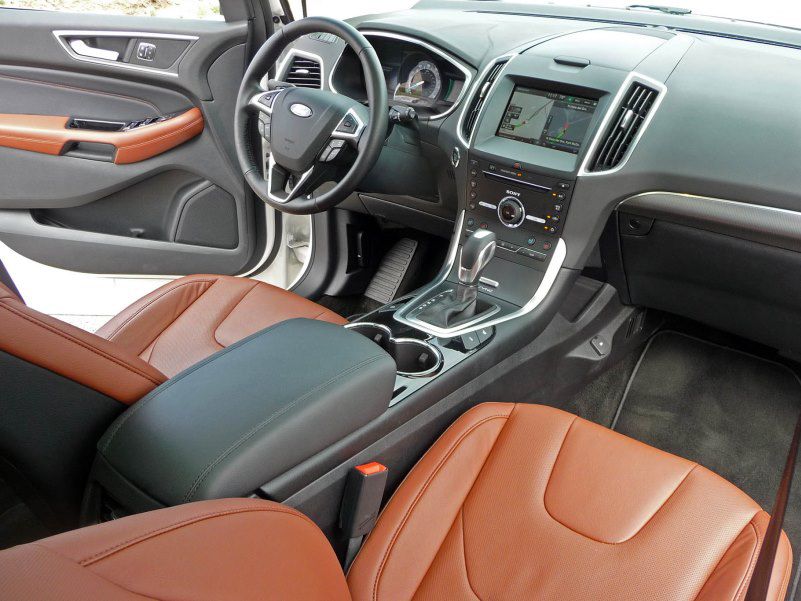 Infotainment
The MyFordTouch system that tanked Ford's J.D. Power scores and Consumer Reports ratings in recent years returns on Titanium and Sport trim, but as with other newer Ford designs the glitchy capacitive touch controls have been augmented by two columns of dedicated center-stack buttons for climate control and other functions. The very useful Ford SYNC system for hands-free in-car connectivity to phones and MP3 devices is standard on all models, however the long-awaited SYNC3 update doesn't arrive until 2016 models and won't be backward compatible for the 2015s.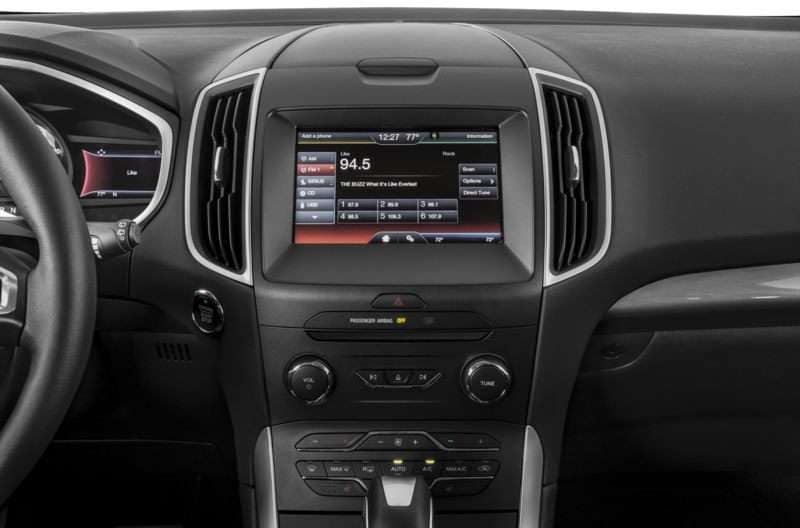 Tacking on the Tech
Technology fans have a lot to look at in the new Edge. Ford's expanded its Active Park Assist system, which will steer you into a parallel parking spot (you still have to operate the transmission, accelerator and brakes), to also steer you out of a parallel parking spot or maneuver you into a perpendicular parking spot. Just take your hands off the wheel, watch the center stack screen, follow the commands, and don't forget to brake! If you have trust issues, maybe skip this feature.
A full array of driver-assistive technologies are also available in the 2015 Edge, including adaptive cruise control with collision sensing and brake support, blind-spot monitoring, rear cross-traffic alert and a lane-keeping system (the kind that alerts you but doesn't try to pull the steering wheel out of your hands). Some Edge features, such as a 180-degree front camera with washer and a hands-free liftgate, are so brilliant they should be on all cars.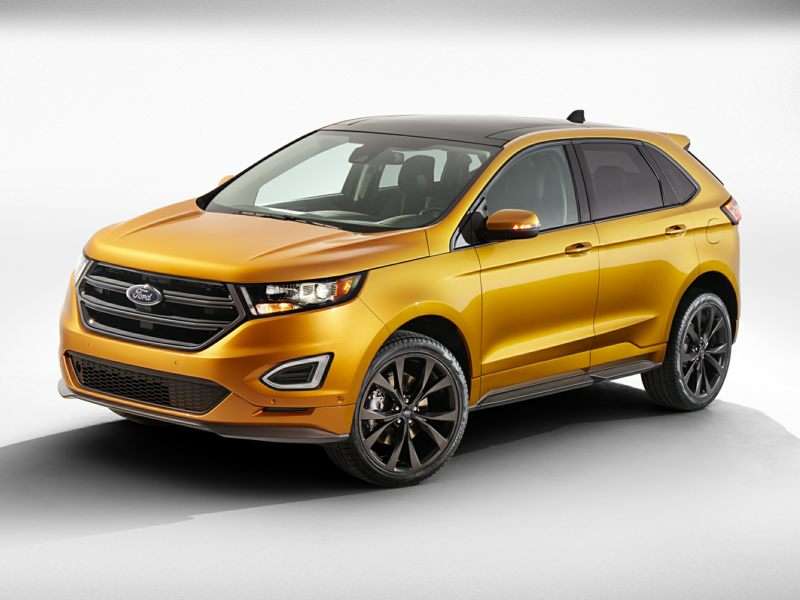 Under the Hood
The 2015 Edge's powertrain lineup gets overhauled. A new twin-scroll version of last year's optional 2.0-liter EcoBoost four-cylinder turbo is now standard on the SE, SEL, and Titanium. The new 2.0-liter turbo, while no road rocket, is rated at 245 horsepower and 275 lb.-ft. of torque, up slightly from last year. There's no turbo lag under acceleration thanks to the twin-scroll design. It's also whisper-quiet. How much of that is due to the acoustic windshield glass (also acoustic front door glass in the Titanium model) and extra-vigilant sealing in the engine compartment and elsewhere is debatable, but it's a premium experience. The revamped 2.0-liter four-cylinder is now rated to tow up to 3,500 pounds, and it can be optioned with Ford's intelligent all-wheel drive. Despite the new Edge's lower curb weight and aerodynamic measures such as grille shutters, the front-drive 2.0-liter's EPA estimates actually drop a bit from 21 mpg city/30 mpg highway in 2014 to 20 mpg city/30 mpg highway in 2015. But turbocharged four-cylinder engines in large, heavy SUVs must be gently driven anyway to avoid falling far short of those EPA estimates in real-world driving. Meanwhile, last year's base 280-hp 3.5-liter V6 becomes an extra-cost option for the SE, SEL, and Titanium.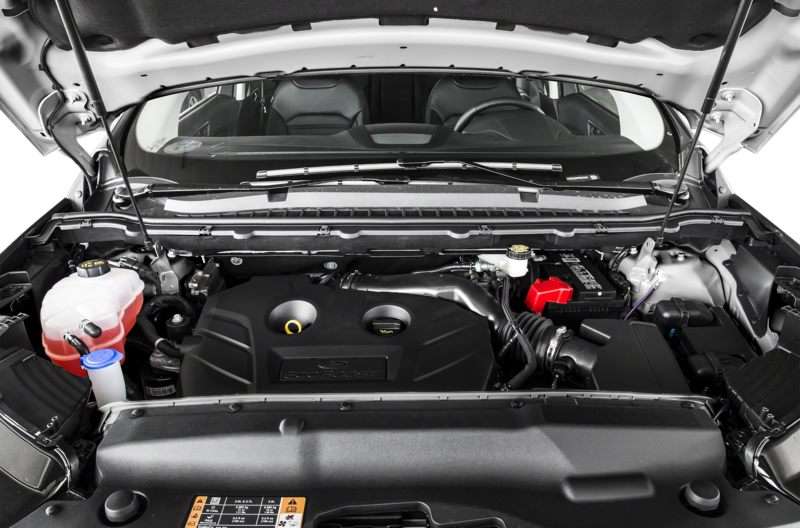 More Power
The other new mill is a 2.7-liter twin-turbo EcoBoost V6. Standard on the Edge Sport, this V6 is a transverse-mounted version of the 2.7-liter twin-turbo in the much bigger, heavier Ford F-150 pickup. With 315 horsepower and 350 lb.-ft. of torque on tap (the same as last year's naturally aspirated 3.7-liter V6 in the Sport) under the hood, acceleration is brisk, and it's accompanied by a nice, deep-throated wail. Active noise cancellation gets rid of the unpleasant low-frequency sounds such as engine drone when cruising at low rpm and amplifies the throatier intake sounds when accelerating. The paddle-shift-capable six-speed automatic delivers quick-clipped, torque-managed upshifts and imperceptible downshifts. Same deal as the new 2.0-liter EcoBoost on EPA estimates, though: While the new 2.7-liter EcoBoost twin-turbo is a full liter smaller in displacement than last year's naturally aspirated 3.7-liter V6 Sport engine, its fuel-economy numbers are no improvement.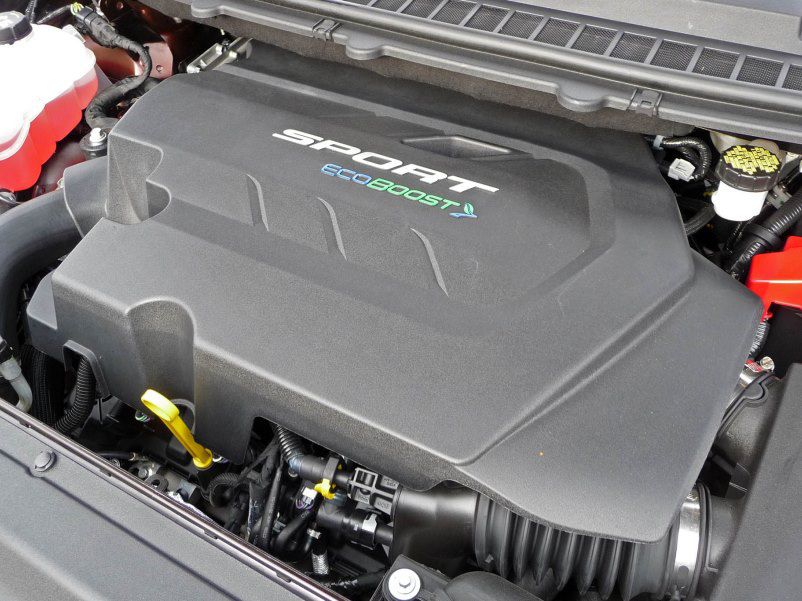 On the Road
The new Edge benefits from its fresh car-based underpinnings and drives like a bigger, taller Fusion. That's a good thing. Surprisingly, the Edge's electrically boosted power steering has an organic feel, lighter and quicker than many crossovers in its class, because Ford has found a way to reduce the annoying body roll the previous Edge suffered from during cornering. Ride motions are well damped and fairly plush on the SE, SEL, and Titanium. And the brakes are linear in feel and easy to modulate, starting with good top-of-pedal response.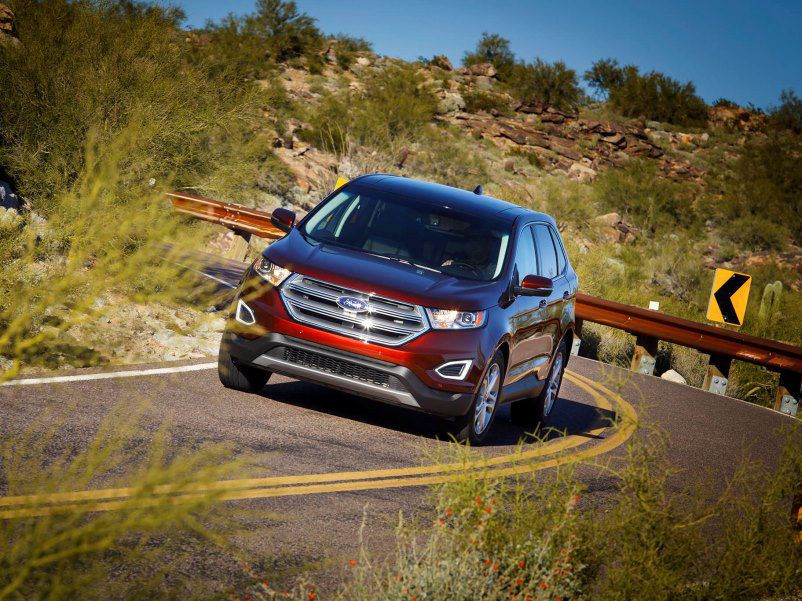 Conclusion
The Edge Sport, with its stiffer springs, anti-roll bars, monotube rear shocks and optional 21-inch rubber, feels almost Audi-like — ready to stretch its legs when making time and planted and balanced on twisty sections of road, but never harsh or jouncey. Add in the melodic engine sounds of the Sport's twin-turbo 2.7-liter V6, and you have an Edge that begins to live up to its name.