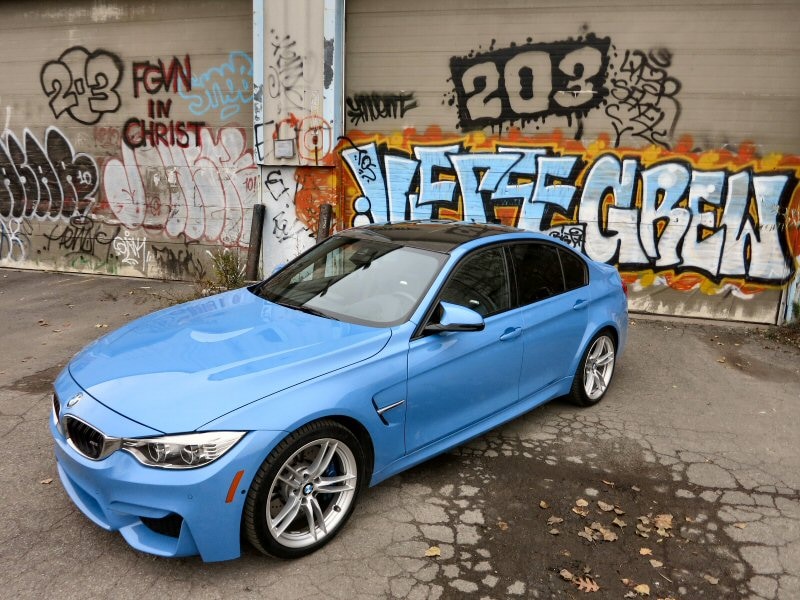 2015 BMW M3 ・ Photo by Benjamin Hunting
The 2015 BMW M3 drives home a seldom-spoken truth concerning the recent class of European high performance cars: for the last five years or so, the Germans have switched from building sport sedans to cranking out muscle cars.  Witness the M3's switch to prodigious turbo power, its focus on straight line speed, and its reliance on a host of electronic nannies to create a bludgeon that hammers the corners together on the track as quickly as possible instead of delicately carving them with the precision of a scalpel. 
The new BMW M3 represents a retro-American take on what a 'sport sedan' should offer, filtered through Teutonic technical prowess that has, in the end, produced the perfect car for our modern era: fast while demanding little of the driver, and comfortable while insulating occupants from its high performance leanings on the commute to and from work.  In this respect, the M3 is in good company, as it joins vehicles like the Mercedes-Benz C63 AMG, the Audi RS5, and the Cadillac CTS-V that help us forget about dulled reflexes via a heaping helping of horsepower.
2015 BMW M3: Models and Prices
The 2015 BMW M3 starts at an MSRP of $62,000 and comes in a single model.  Naturally, there's a long list of options that can be added to the sedan, but standard gear includes features such as an 'active' rear differential, 18-inch rims, rain-sensitive windshield wipers, power mirrors, windows, and door locks, keyless entry and ignition, adaptive HID headlights, power adjustable sport seats up front, leather upholstery all around, heated front seats, a USB port, Bluetooth connectivity, dual automatic climate control, the iDrive interface, dynamic cruise control, a navigation system, the BMW Apps online feature, a CD player, and HD radio.
My test vehicle was additionally outfitted with Yas Marina Blue Metallic paint, Black Extended Merino leather, a dual-clutch automated manual transmission (more on that later), the Executive package (heated steering wheel, head-up display, satellite radio, enhanced keyless entry, headlight washers, rearview camera, parking assistance), a Harman Kardon surround sound system, and the Driver Assistance Plus package (additional active safety gear, plus speed limit information projected onto the head-up display).  The total MSRP for the M3 I piloted came to $73,100.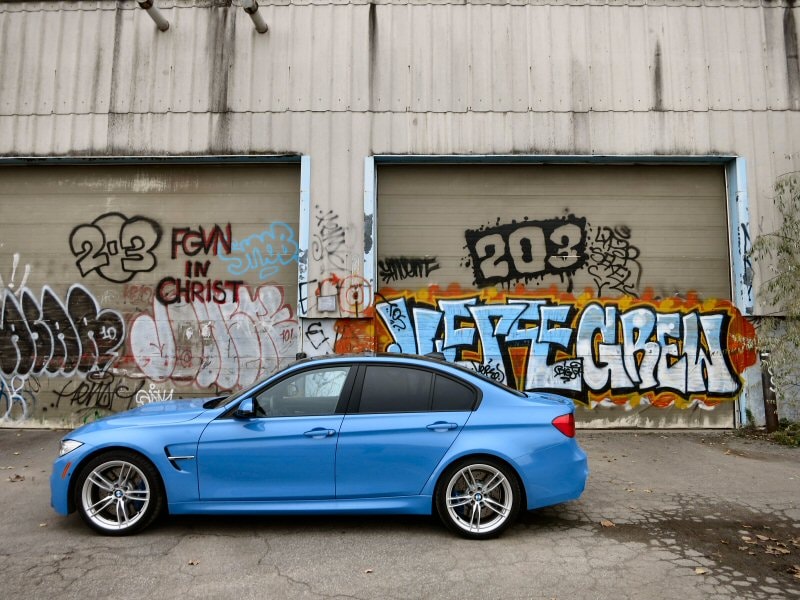 Photo by Benjamin Hunting
2015 BMW M3 Review: Design
What's New:
The 2015 BMW M3 is all-new for 2015.
The M3 borrows its general shape from the 3 Series sedan, but makes several stylistic changes inside and out.
There's no question that the 2015 BMW M3 immediately stands out from the 3 Series sedan that it is based on, with a long list of visual cues hinting at the malevolent performance that lurks underneath its muscular metal skin.  Or should I say 'metal and carbon fiber,' because the vehicle's entire roof panel has been formed out of the lightweight, uber-strong material (combined with plastic) in a bid to keep its curb weight from surging past the 4,000 lbs mark (it sits at 3,600 lbs in total). Joining in this effort is the M3's aluminum hood, which features a bulging power dome, which matches well with its aero-friendly front fascia and trunk-mounted rear spoiler.  Each corner also sees the car's fenders flared out to accommodate its wide rubber and aggressively-stanced wheels.  My test vehicle featured a very pleasing blue-hued paint job that further indicated its special place in the BMW family, and I was regularly complemented on the color by passengers and passers-by alike.
The BMW's passenger compartment never lets you forget you're riding in an M car, whether it's the thick M-branded steering wheel, the M logo on the shifter, or the illuminated M3 badges carved into the front passenger seats.  The interior doesn't diverge all that much from the 3 Series playbook, although there's considerably more carbon fiber trim to be found throughout, along with the required sport seats up front.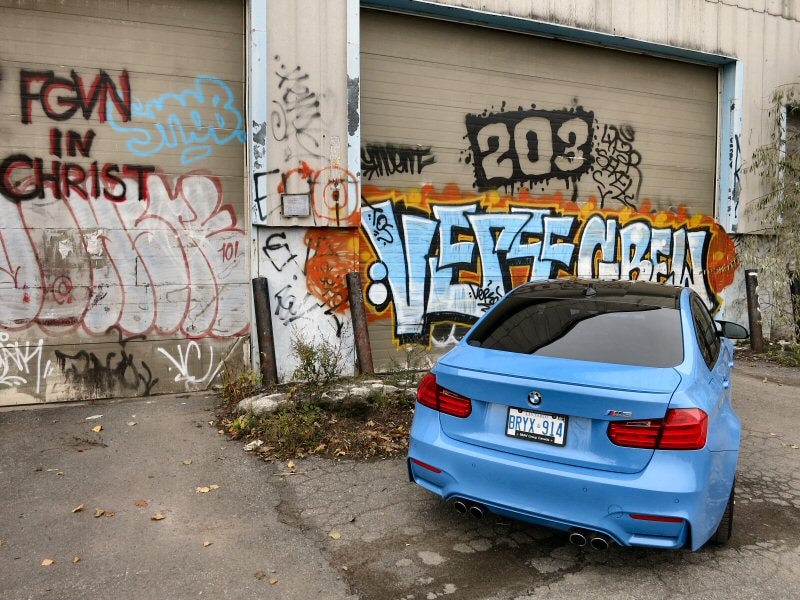 Photo by Benjamin Hunting
2015 BMW M3 Review: Comfort and Cargo
What's New:
The 2015 BMW M3 is all-new for 2015.
Given that the 3 Series is already such a strong option as an entry-level luxury car, the 2015 BMW M3 had a lot to work with in creating a very livable daily driver that just happens to be ultra-fast.  The biggest difference, comfort-wise, between the M3 and the standard 3 Series is the set of sport seats mounted up front, which feature full power adjustment along with inflatable side bolsters that do their best to remind you that you aren't quite at your ideal weight as expressed by a group of German ergonomics experts.  The rear of the sedan is spacious given its size, and the M3's trunk is generous and can be expanded via the folding of the back bench to facilitate the transportation of over-sized items.
One area where the BMW M3 lags behind lesser lights like the 335i and 328i is in suspension comfort.  While the sport sedan might run rings around its brethren on a road course, out on the street there's a decent amount of rowdiness transmitted into the passenger compartment by the stiffly-tuned shock absorbers and lowered springs.  It won't shake you up, but it lacks the smoothness some luxury buyers crave.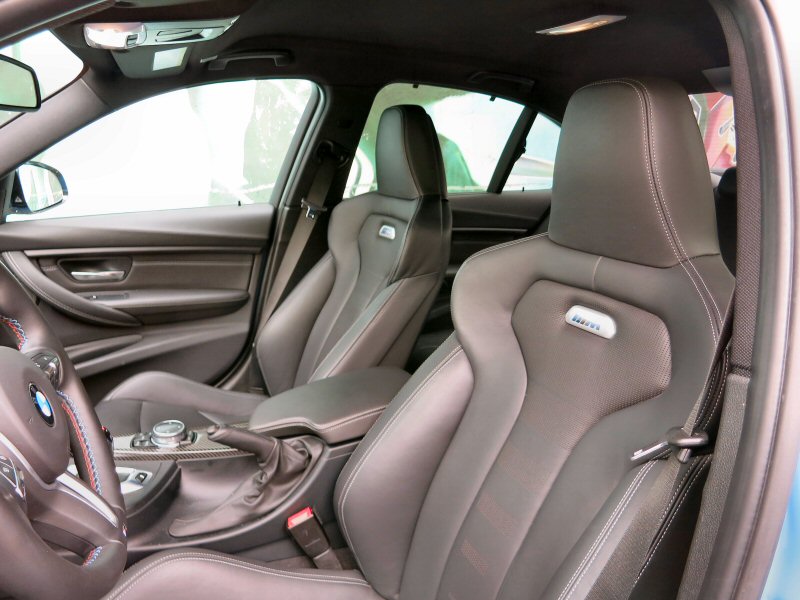 Photo by Benjamin Hunting
2015 BMW M3 Review: Features and Controls
What's New:
The 2015 BMW M3 is all-new for 2015.
As expected, the 2015 BMW M3 provides access to a range of equipment that can't be had in other 3 Series models.  I was impressed by the special head-up display bundled with the car, which when set to M mode offered up one of the best digital tachometers I have ever had the pleasure of using.  The M3's previously-mentioned steering wheel also provided a pair of M buttons that could be programmed to instantly activate and deactivate customized chassis, transmission, and drivetrain settings, which was useful when dispatching a next-lane annoyance at a stop light or quickly turning off traction control for a bit of sideways fun.
Something I didn't enjoy about the BMW M3's feature set was its push-button start system – or rather, the ignition button's behavior when turning off the car.  As with many other BMW products, pushing the button once turned off the engine but left the car's systems and stereo 'on,' which meant having to push it a second time in order to fully shut it down.  Unless, of course, your foot was on the brake when you hit the button again, in which case the motor fired to life.  There were several times during my week with the car that I walked away from it only to realize that it wouldn't lock and was in fact still running, which was frustrating to say the least.  Why does turning off a BMW have to be a two to three step process, when almost every other car does it right with a single button push?
  b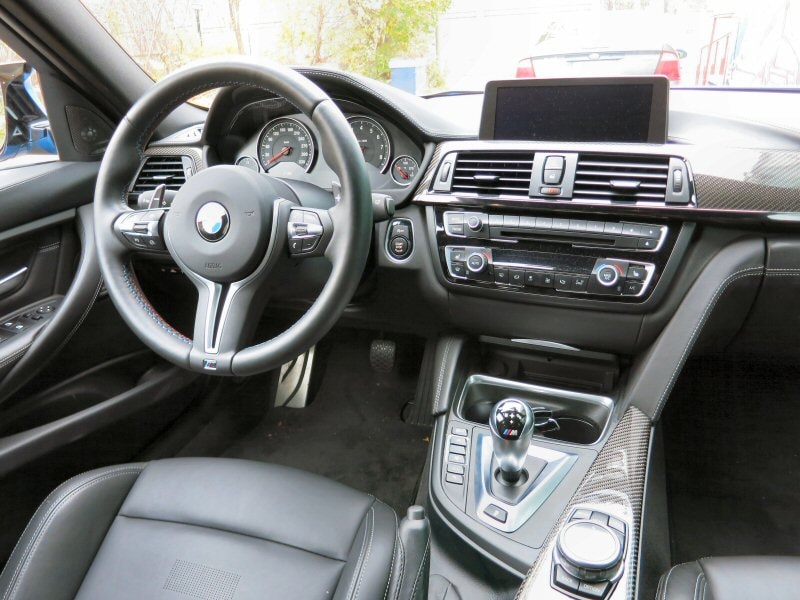 Photo by Benjamin Hunting
2015 BMW M3 Review: Safety and Ratings
What's New:
The 2015 BMW M3 adds a number of active safety features to it equipment list.
The 2015 BMW M3 comes with the standard array of airbags, including dual forward airbags, side impact units mounted to the front seats, and side curtain airbags that run the entire length of the passenger compartment.  Knee airbags are also in the picture for the M3, and multi-stage traction control and stability control are standard.  Additional active safety equipment that can be had with the car includes a collision warning system, a blind spot monitoring system, and a lane departure warning system.
2015 BMW M3 Crash Test Ratings: The NHTSA has rated the BMW M3 five stars for overall crash protection, while the IIHS scores the sedan 'Good' in every important crash test category except for front small overlap collisions, where it ranks 'Marginal.'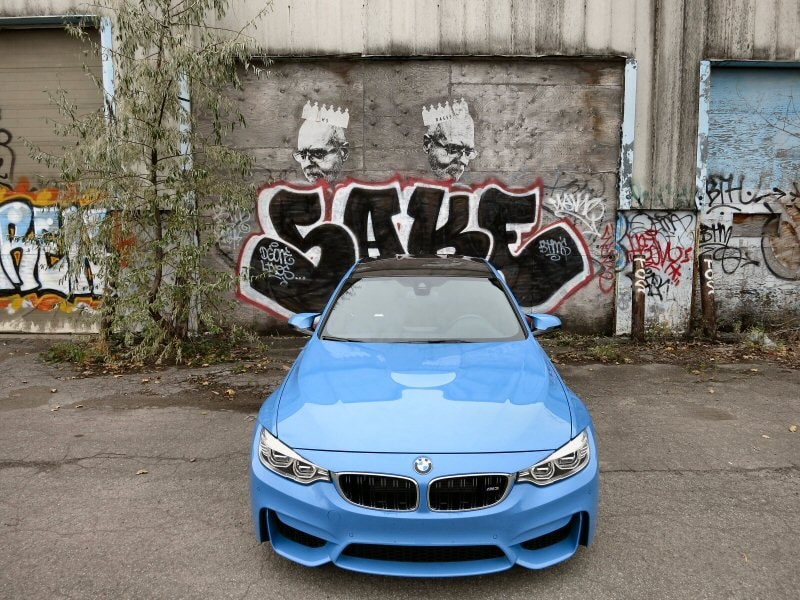 Photo by Benjamin Hunting
2015 BMW M3 Review: Engines and Fuel Economy
What's New:
The 2015 BMW M3 introduces a twin-turbo six-cylinder engine in place of the previous model's V-8.
A revised version of the brand's seven-speed dual-clutch automated manual transmission is also outfitted to the M3.
Gone is the last generation M3's rev-happy eight-cylinder engine, and in its place the 2015 BMW M3 sports a 3.0-liter twin-turbo straight-six that produces 424 horsepower and 406 lb-ft of torque.  For those of you keeping score at home, that's 111 lb-ft more than was available from the departed V-8.  BMW claims that this twin-turbo six – the first to have ever been outfitted to an M3 – is unique to the car, but the motor shares more than a little DNA with similar 3.0-liter units found throughout the company's line-up.  That won't matter to most people, but it's bound to irk a few purists.
A six-speed manual transmission remains standard with the sedan, and the M3 introduces an updated version of its seven-speed dual-clutch automated manual, an option that offers an array of customizable parameters and also includes a manual shift mode (activated by steering wheel-mounted paddles).  This was the gearbox that was outfitted to my tester. Fuel economy for the BMW M3 is listed at 17-mpg in city driving 26-mpg on the highway, and the car features an automatic engine start/stop system that is fortunately very easy to disable.
Photo by Benjamin Hunting
2015 BMW M3 Review: Driving Impressions
The 2015 BMW M3 is very, very fast, but not in the same tradition that has guided the model since its original inception at the end of the 1980s.  Whereas previous M3s delivered chassis tuning intended to facilitate communion between the driver and the road, the 2015 edition strives instead for something different, and that's all-out performance at any cost.
One of the tolls paid for the BMW M3's new take-no-prisoners strategy is the utter isolation of the driver from the outside environment.  This is accomplished in several ways, starting with the uncertain responsiveness of the seven-speed dual clutch automated manual transmission when left in automatic.  Even with the shifts set to their quickest, and most direct mode (one of three settings associated with the gearbox alone), the M3 had a habit of unpredictably holding certain ratios longer than others, as well as a requiring varying degrees of throttle input to initiate a simple kick-down.  In manual mode things weren't much better: grab a lower gear and you're treated with a skeptical delay by the BMW's electronic minders until they collectively determine that it's safe to seek out higher revs.  Puttering around at lower speeds I even experienced bucking from the tranny in first and second gear, especially when the weather turned cold, which detracted from the driving experience.
The BMW M3's electric power steering is also somewhat of a let-down, for while one can adjust the level of resistance provided by the wheel (again, choosing from three separate settings), there's no real sensation of being in touch with the front half of the car's suspension when driving quickly.  This insulation continues with the car's suspension tuning, which does an exceptional job of holding the road but doesn't really impart anything other than confidence in the process.
Although it might not recall the lithe and limber sedan of old, the 2015 BMW M3's twin-turbo engine gives it the grunt it needs to overpower many complaints about the previous two issues.  It's clear that this car's selling point is its lighting speed (0-60 in 3.9 seconds), and while this speaks again to the muscle-oriented nature of current luxury sport sedan design, it's still an impressive accomplishment for a four-door car.  V-max is limited to 155 miles per hour, and the M3 pulls hard all the way up to that point without any worry about running out of breath – the 18 psi being pumped into its twin cylinder banks makes quite sure of that.  You can easily light up the BMW's back tires should you feel the urge to party like it's 1969, but with its traction control and its electronic limited-slip differential engaged the M3 rockets forward with very little momentum lost to wheel spin.
I only wish that the BMW M3's designers had as much faith in the sonic properties of the car's six-cylinder engine as they did in its performance potential, for in place of the pleasing whoosh and whistle of a powerful forced induction motor I was instead presented with a simulated amalgam of what an eight-cylinder M3 might sound like, played through the car's speaker system.  This made me sad.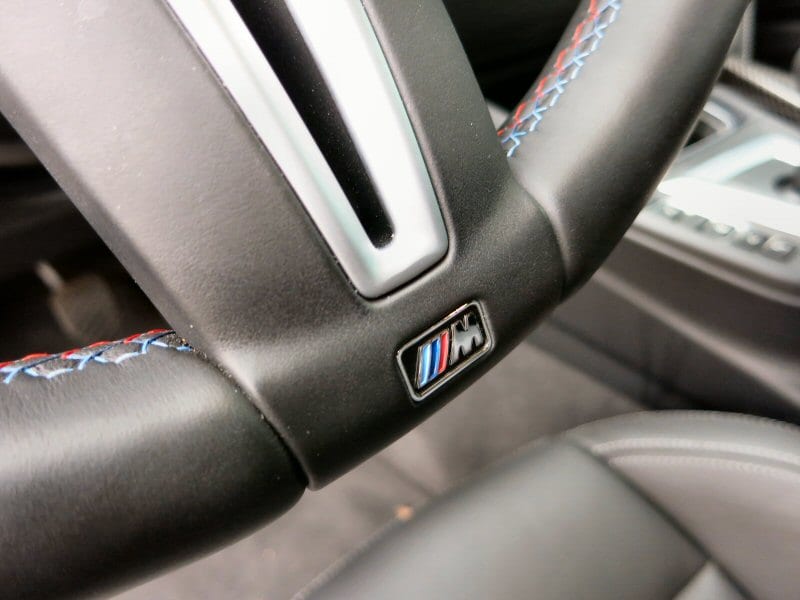 Photo by Benjamin Hunting
2015 BMW M3 Review: Final Thoughts
The 2015 BMW M3 is a comfortable four-door daily driver that will post up impressive lap times and crush the quarter mile, all without asking the person in the left front seat to get too involved.  Gone is the finely-honed chassis-and-power-plant team of previous M3s that required a deft hand and well-choreographed feet to wring out maximum fun and in its place is a more homogenous 'high performance experience' that is wickedly quick in the same way a 50 pound sledgehammer hits wickedly hard.  Having fully entered the modern era, BMW has constructed a car that is competitive with its rivals, but absent of any true passion.  Like a professional dancer whose toe-shoes are packed with Novocain, the M3 knows the steps but can't feel the stage under its feet.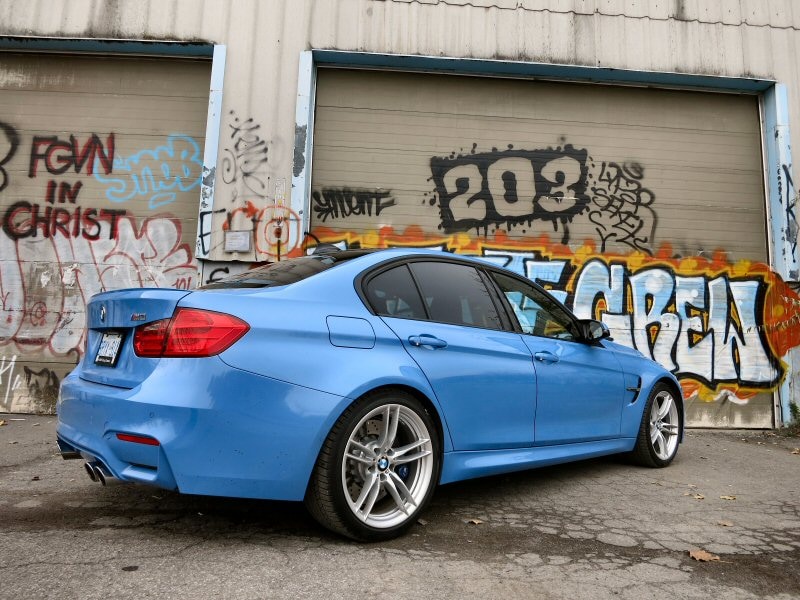 Photo by Benjamin Hunting
2015 BMW M3 Review: Pros and Cons
Pros:
Very fast
Slick styling compared to standard 3 Series
Comfortable and practical on a daily basis
An excellent tool for turning in quick lap times
Reasonably priced compared to the competition
Cons:
Does not engage the driver
DCT transmission is balky and unpredictable
Fake engine noise is lamentable
The least passionate M3 to date
BMW Canada supplied the vehicle for this review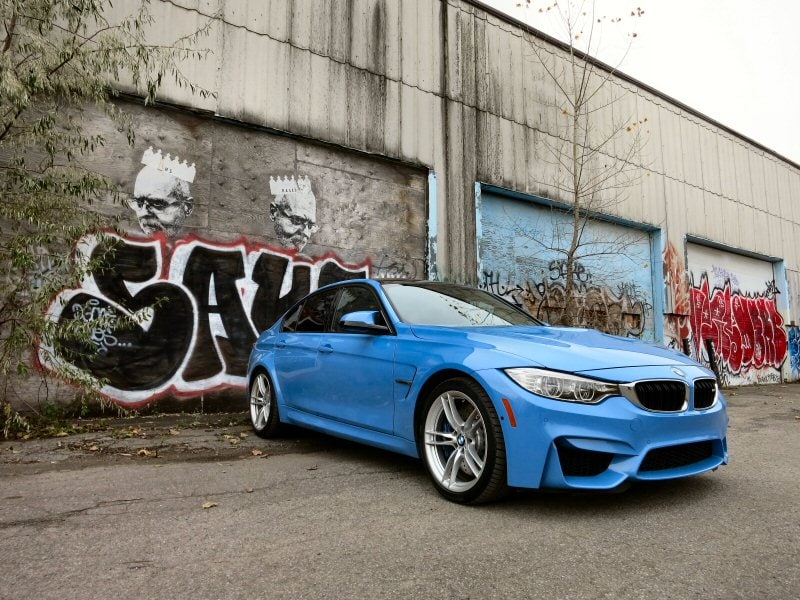 Photo by Benjamin Hunting