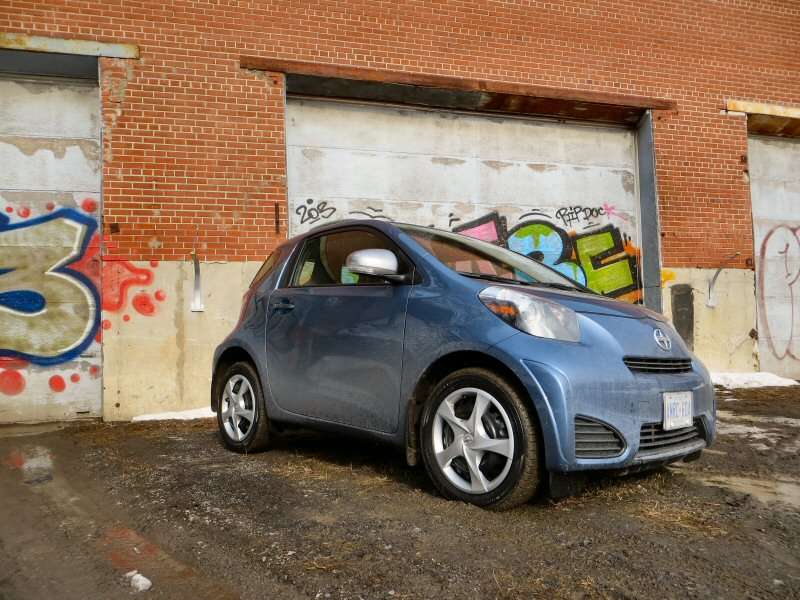 2014 Scion iQ ・ Photo by Benjamin Hunting
Tiny. Economical. Full-on drift machine.  One of these things is not like the other when describing the 2014 Scion iQ, but each of them is accurate.  This was my surprising discovery when handed the keys to an iQ one snowbound winter weekend, an experience that had me walking away from the pint-sized coupe with a renewed respect for the merits of lightweight engineering and a fast-engaging parking brake.
Most assume that the 2014 Scion iQ is intended to appeal to a subset of shoppers who want the smallest possible vehicle to drive in an urban environment.  The iQ certainly fits the profile, with vestigial second row seating better suited to hauling home groceries than adults - or even children - and a footprint that has more in common with a Radio Flyer than a subcompact hatchback.
But you see, it's exactly that super-short wheelbase that gives Scion it's claim to drifting glory.  With its wheels pushed out to the corners, this Scion iQ is more roller-skate than automobile, demonstrating a willingness to switch ends that is reminiscent of a 70's disco arena rat or Mr. Toad's Wild Ride.  Indeed, one carefully-timed yank of the console-mounted parking brake - a feature not even the new Chevrolet Corvette Stingray can lay claim to - combined with cranking the steering wheel all the way to the left or the right, and the iQ skitters sideways like it's been hit by an 18-wheeler running a red light.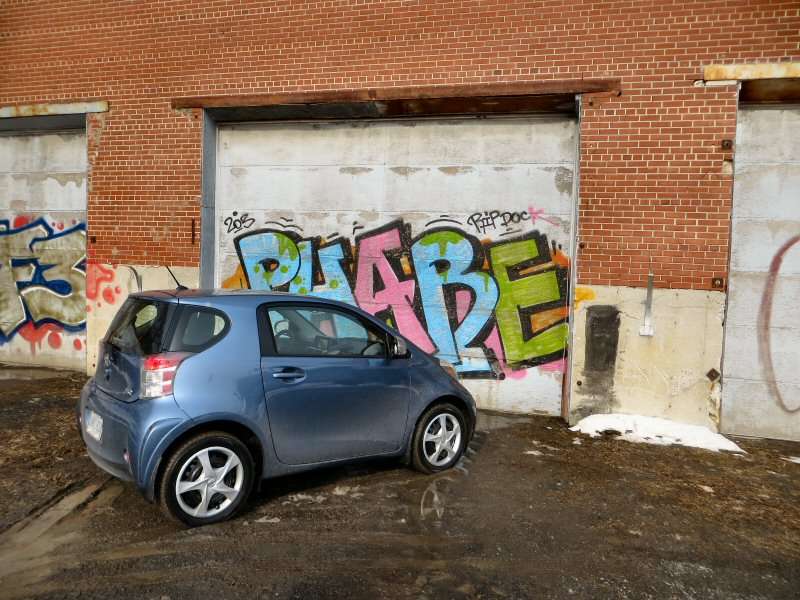 Photo by Benjamin Hunting
There's definitely an asterisk that one must append to any description of the 2014 Scion iQ that involves implies nimble thrill-ride status: it's completely gutless.  Well, perhaps that's being harsh - better to say that the continuously-variable automatic transmission yoked to the car's 1.3-liter, four-cylinder mill does its best to choke 94 horses and 89 lb-ft of torque before they ever make it to the pavement.  The iQ was definitely not built for speed, so what is the secret ingredient to having fun behind the wheel of this little city car? 
Low traction conditions.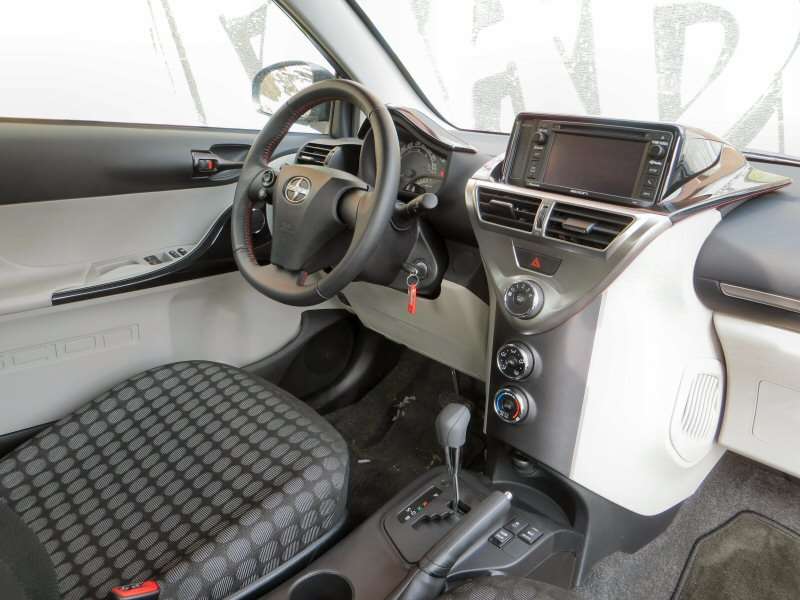 Photo by Benjamin Hunting
Removing friction from the driving equation exposes the Scion iQ's exceptional willingness to swap ends with itself in a completely controlled fashion.  There's very little you can't do with the iQ in a snowy parking lot - park it 180-degrees backwards, spin a figure-eight across several rows of iced-over spots in one go, or even maintain a full-power drift with the rear wheels locked while traversing the entire length of the lot itself.  In short, in a big, open area, or around the tight confines of a go-kart track, this nimble Scion demonstrates just how much of a blast a lightweight, squared-off chassis can be.  Providing Mother Nature cooperates with winter weather conditions, of course.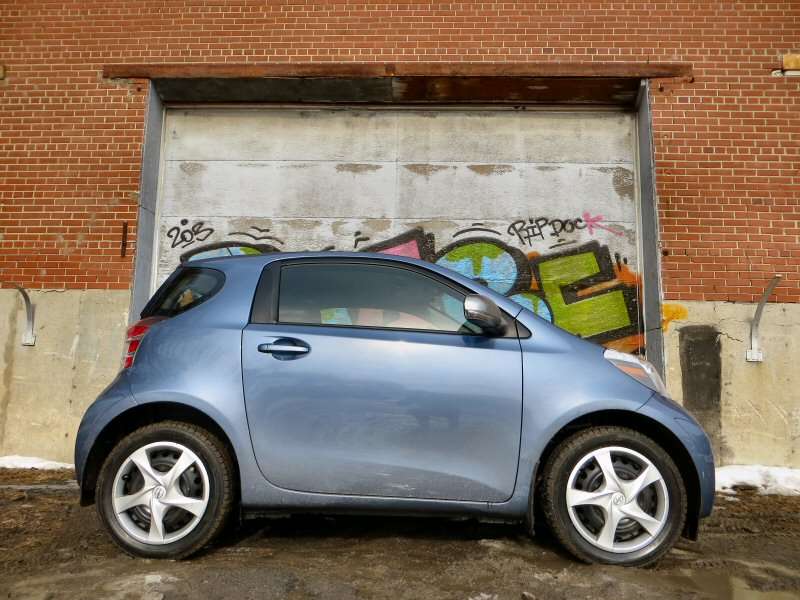 Photo by Benjamin Hunting
Will we ever see the 2014 Scion iQ smashing through snowbanks or skidding across the surface of a frozen lake in the form of a Scion TV commercial, hard rock pumping in the background and hipsters wearing winter gear filming every power-slide on their iPhones?  Probably not - but that doesn't mean I can't dare to dream of the day when Scion builds the Release Series Drift edition of one of their least-likely performance cars.  Until then, I'll take the condescending stares from FR-S owners as I sit beside them at red lights, and ignore the drag race challenge from the Smart car in the other lane, secure in the knowledge that if it starts to snow, I'm going to be the one with the smile on my face.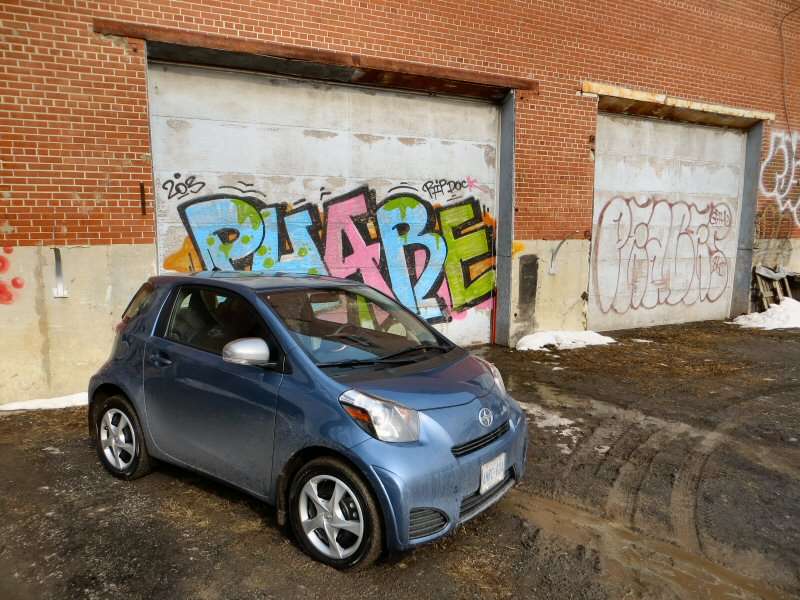 Photo by Benjamin Hunting