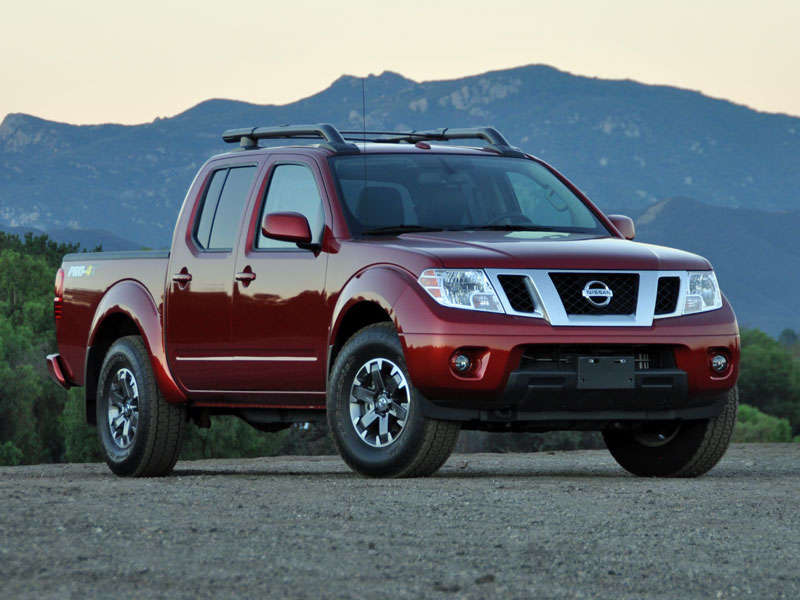 2014 Nissan Frontier Crew Cab 4WD PRO-4X Lava Red Front Quarter Right ・ Photo by Christian Wardlaw
The Nissan Frontier is one of the three remaining small pickups for sale today, competing against the Honda Ridgeline and the Toyota Tacoma. In case you hadn't noticed, most car companies no longer build a smaller truck, and that's because modern full-size trucks are just as fuel efficient, or even more fuel efficient, than trucks the size of the Frontier.
Still, not everybody wants a larger truck, and that's the primary reason Nissan still makes the Frontier. Well, that and the fact that it's now a decade old and quite profitable to continue to build. Let's take a closer look at one of the only compact trucks you can still buy.
2014 Nissan Frontier Review and Quick Spin: About Our Test Truck
My test truck was a fully loaded, Lava Red, Frontier Crew Cab PRO-4X, which is the off-road-ready version of Nissan's small truck. The Frontier PRO-4X includes skid plates, off-road performance shocks, a locking rear differential, and because my truck had the automatic transmission, hill descent control and hill start assist. Special 16-inch aluminum wheels are also part of the PRO-4X treatment, and they're wrapped in P265/75R16 B.F. Goodrich Rugged Trail tires.
To this, my test truck added the optional Luxury Package ($2,650), which includes leather seats, an 8-way power driver's seat, a 4-way power front passenger's seat, heated outside mirrors, a power sunroof, a roof rack with cross bars, and a NissanConnect infotainment system with navigation, Bluetooth music streaming capability, a text messaging assistant, and more. The cargo bed extender and a trailer hitch ran an extra $580, and floor mats were $135, bringing the sticker price to $36,315.
Think that sounds expensive? You ought to check prices for an equivalently optioned full-size truck.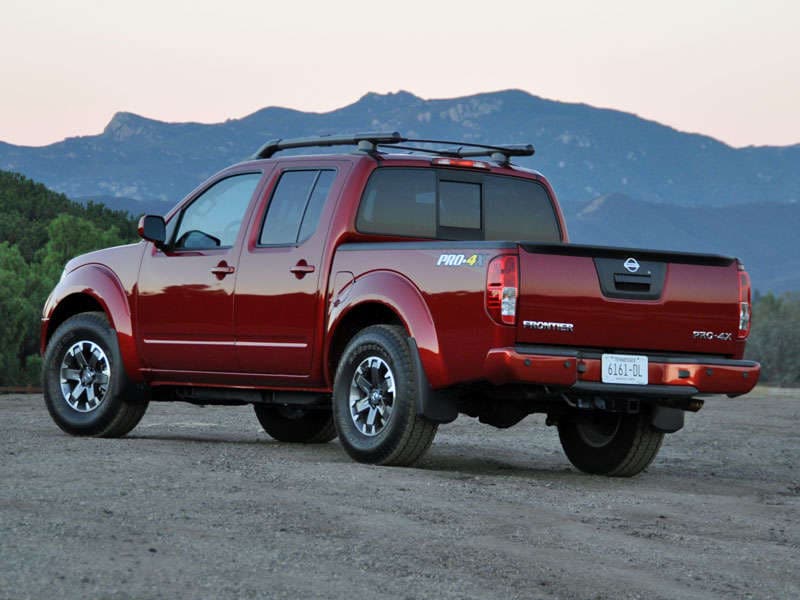 Photo by Christian Wardlaw
2014 Nissan Frontier Review and Quick Spin: Comfort and Cargo
I find the Frontier comfortable, but I wish the upper part of the door panel was made of soft material, and I'd prefer the PRO-4X model's standard cloth seats to the stiff optional leather. Unfortunately, the leather is included in the package that adds the useful NissanConnect infotainment system, a power driver's seat, and the handy roof rack atop my test truck.
One way to increase payload capacity is to leave people at home, and since the Frontier Crew Cab's rear seat isn't exactly spacious, convincing family or friends that's its better to stay behind shouldn't be too hard. I'm not the smallest of men, and I do fit in the Frontier's back seat, and the soft front seatbacks sure help, but I wouldn't want to find myself stuck back there for any significant length of time. If you don't need the rear seat for people, you can flip the bottom cushion up to create decent vertical storage room, or you can fold the seat down to create a flat area for items you'd rather carry inside of the truck.
You might be forced into doing that anyway, given that the Frontier Crew Cab's cargo bed measures just 59.5 inches in length, half an inch short of five feet long. The optional bed extender helps accommodate longer cargo, though, like maybe even a dirt bike, and my test truck had both a factory spray-in bedliner and a Utilitrak bed channel system with four adjustable tie-down cleats.
Notably, when you exit the truck after dark, the rear bed light comes on automatically, making it easier to see at night. Lock the doors with the remote, and the light shuts off, or times out on its own.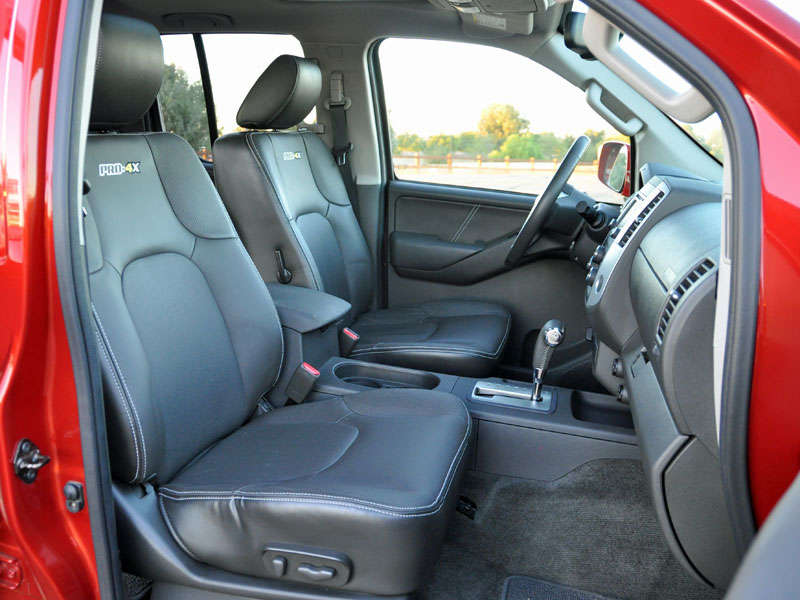 Photo by Christian Wardlaw
2014 Nissan Frontier Review and Quick Spin: Features and Controls
As befits the truck's mission, the Nissan Frontier's interior is really simple and easy to understand and use, and majority of the controls are generously labeled and sized. If you need to shift into 4-wheel-drive, doing so is as easy as twisting a knob.
My Frontier test truck had the optional NissanConnect infotainment system, which includes voice recognition technology, a navigation system, Bluetooth streaming audio capability, a text-messaging assistant, and a number of mobile applications. The system's 5.8-inch touchscreen is rather small, but the virtual buttons are responsive and Nissan provides knobs and buttons for primary functions.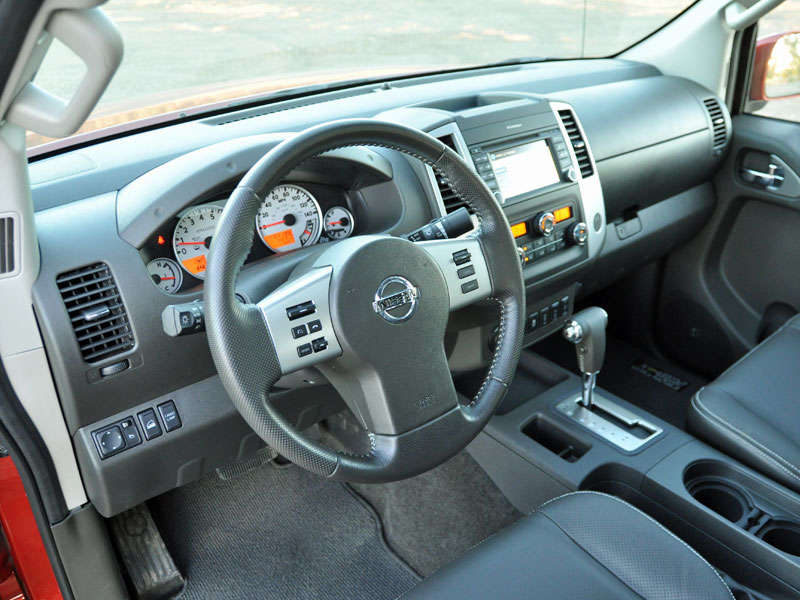 Photo by Christian Wardlaw
2014 Nissan Frontier Review and Quick Spin: Safety Matters
The hands-free text-messaging assistant that's included with the optional NissanConnect infotainment system might just be the most sophisticated safety feature on the Frontier, unless you're counting the available reversing camera. Otherwise, the Frontier clearly shows its age on the safety front, lacking modern technologies that are available on full-size pickups.
As far as crashworthiness is concerned, and in light of the truck's decade-old engineering, the Frontier performs remarkably well in tests conducted by the Insurance Institute for Highway Safety (IIHS). The IIHS gives the Frontier a "Good" rating for moderate overlap frontal impact, side impact, and roof crush protection, and an "Acceptable" rating for how the seats and head restraints protect in a rear-impact collision. The Frontier has not been assessed in the latest IIHS small overlap frontal-impact crash test.
Beyond this, you might want to consider getting the 4-wheel-drive model if for no other reason than the National Highway Traffic Safety Administration (NHTSA) claims it improves the Frontier's ability to resist a rollover accident. With 4WD, the truck gets a 4-star rating in this regard. With 2WD, the rollover resistance rating is 3 stars.
Besides, it's not like you're going to save a bunch of money at the pump by going with the 2WD model.
Photo by Christian Wardlaw
2014 Nissan Frontier Review and Quick Spin: What's Under the Hood
Nissan offers two different engines for the 2014 Frontier. The King Cab S and SV models are equipped with a 152-horsepower, 2.5-liter 4-cylinder engine. All other Frontiers have a 4.0-liter V-6 engine making 261 horsepower at 5,600 rpm and 281 lb.-ft. of torque is at 4,000 rpm. That's plenty of punch, and the Frontier's 5-speed automatic transmission is geared to feel frisky right off the line.
Dip into the well of power too often and with too much enthusiasm, though, and you'll find it impossible to hit the EPA's official fuel economy ratings. My test truck should have returned 15 mpg in the city and 21 mpg on the highway, but I averaged 14.6 mpg in a mix of driving. This really underscores why small trucks aren't very popular anymore. They no longer get better fuel economy than full-size pickups.
They also can't tow as much weight, or haul as much stuff. My Frontier Crew Cab 4WD test truck's maximum towing capacity measured 6,100 pounds, and the maximum payload measured 1,078 lbs. Basically, that means I could put four guys my size in the cab, and not much more than a few bags of Jonny Cat in the bed.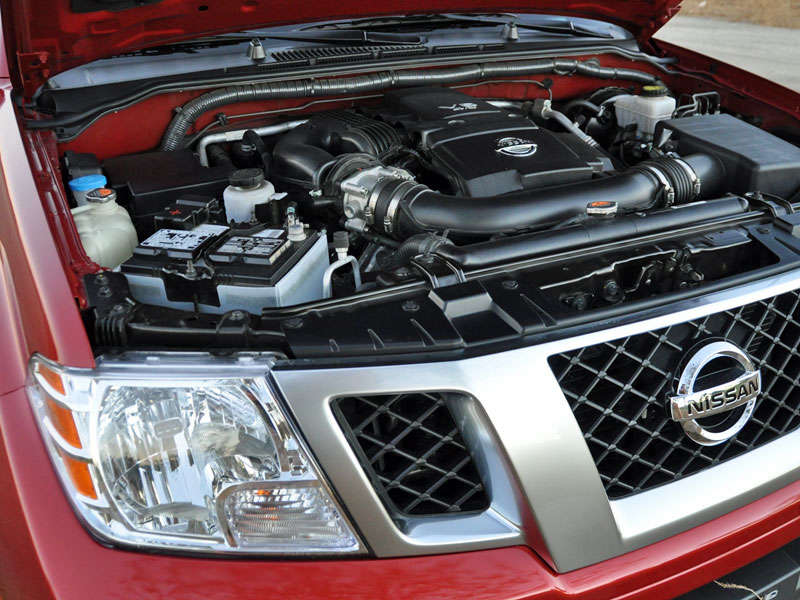 Photo by Christian Wardlaw
2014 Nissan Frontier Review and Quick Spin: Driving Impressions
I'll be right up front with you. I didn't put the Frontier PRO-4X into 4WD, and not because I didn't want to. Rather, I didn't need to, not where I could publicly and legally drive this truck within a reasonable driving distance of home. And given California's dire drought, it wouldn't take much more than a single spark to start a raging brush fire anyway, so I thought it best to stay out of the bush.
That leaves me to talk about how the Frontier drives on pavement. It drives like a truck. Which is something some people like, but lots of people don't.
The engine provides enough power for climbing hills and merging into traffic, feeling powerful and torquey at all times. It flew up a long freeway grade at 80 mph without a problem, and effortlessly shrugged off the local mountain topography. Not once did I find myself wishing for more power.
In terms of ride and handling, the Frontier drives pretty much as expected. It can be stiff, jittery, and bouncy over certain kinds of pavement, corners are best taken with care mainly because the tires give up grip early, and the steering is on the slow side. I had no complaint with my test truck's brakes, though on a roasting hot day they did grumble a bit on a mountain descent.
If wind noise bothers you, don't get a Frontier with the roof rack. Unfortunately, it comes with the Luxury Package, and it howls like a hurricane on the highway. That Nissan pairs it with a power sunroof is rather humorous.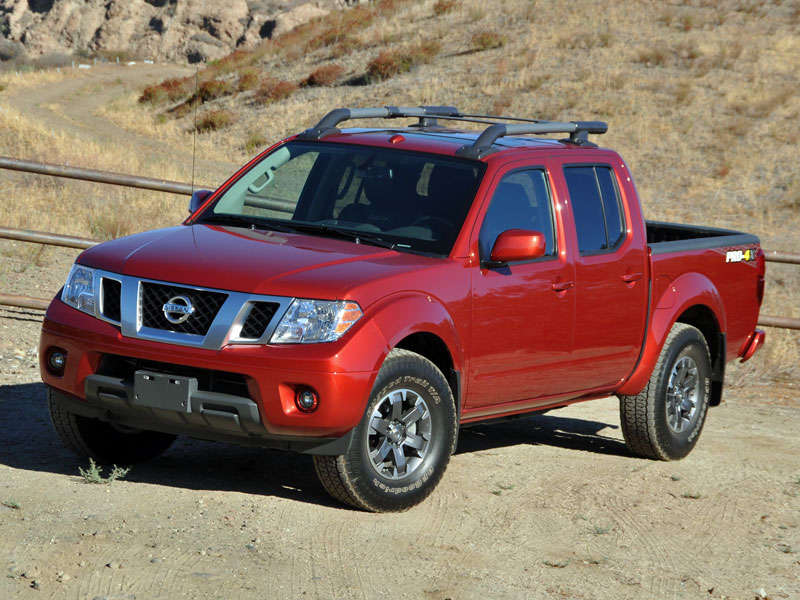 Photo by Christian Wardlaw
2014 Nissan Frontier Review and Quick Spin: Final Thoughts
I like the Nissan Frontier. I think it's the best-looking truck in its segment, its got a terrific engine, and the combination of the cargo bed enhancements and the roof rack give it a remarkable degree of utility.
However, as I write this review, it's the summer of 2014, and General Motors is about to introduce a couple of serious competitors to the Nissan Frontier. The completely redesigned 2015 Chevy Colorado and 2015 GMC Canyon models are set to go on sale any day now. I haven't driven either of the new trucks, but given the Frontier's advanced state of age, it's a good bet the Chevy and GMC are going to give Nissan's geezer a run for the money, and that's going to translate into very appealing deals on the rugged and reliable Frontier until Nissan gets around to redesigning it.
Would a discounted Frontier be worth buying? That all depends on what you value, but even after 10 years on the market, this compact truck remains compelling. Nevertheless, it is in need of a complete redesign, like, yesterday.
Nissan provided the 2014 Nissan Frontier for this review
2014 Nissan Frontier Crew Cab PRO-4X photos by Christian Wardlaw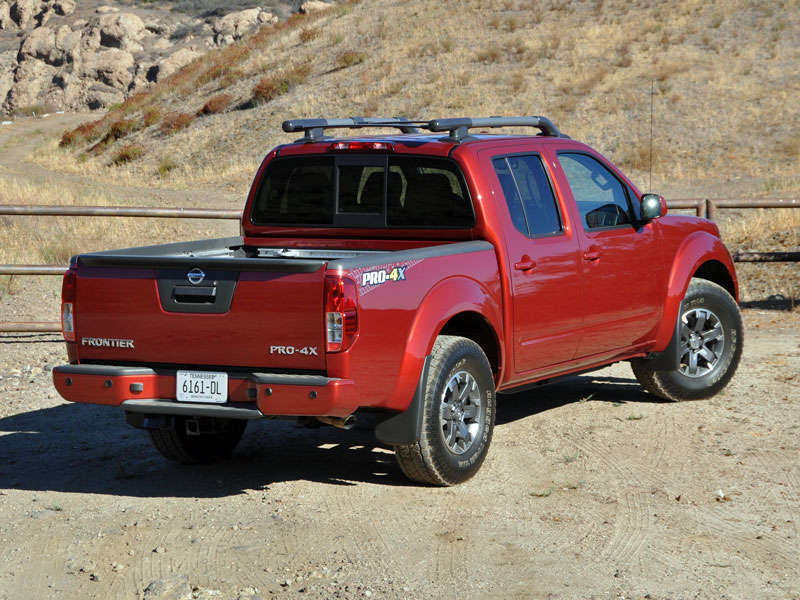 Photo by Christian Wardlaw