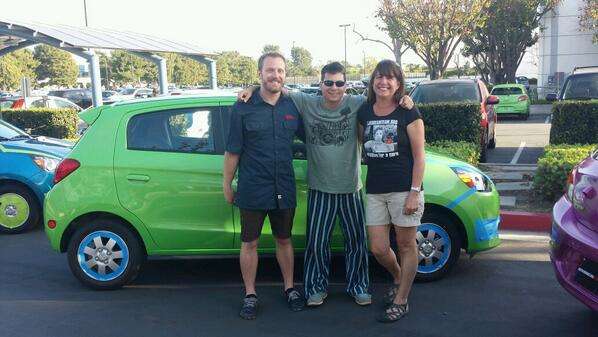 Sure, the 2014 Mitsubishi Mirage showcases some nifty EPA grades, posting a line of 37 mpg city/44 mpg highway/40 mpg combined with its continuously variable transmission. And that slips only slightly, to 34/42/37, with a five-speed manual transmission. But what about its efficiency performance in the real world?
That's actually still unknown, but when a trio of media members recently hypermiled from Las Vegas to Mitsubishi's U.S. HQ in Cypress, Calif.—a distance of 275 miles—the top mark was an incredible 74.1 mpg. According to About.com's Aaron Gold, who was behind the wheel of that hyper-efficient 2014 Mitsubishi Mirage: "I never figured I'd come in over 70 MPG! All three of us kept our speeds down; I think keeping my eyes way down the road, planning ahead and avoiding sudden changes of speed was what gave me the edge. Truth be told, the car made it pretty easy."
The other two Mirage motorists, including Autobytel's own Joni Gray, tied with an average fuel-economy rating of 68.5 mpg.
The short report from Gray: "Mitsubishi found a creative way to tout the 2014 Mirage's gas mileage potential while rewarding some very good charities in the process. Although I came in tied for 2nd place with 68.5 mpg, I must defer to Aaron Gold's diabolical planning and rule-bending, which is what hypermiling is all about. He obviously wanted it more than I did and for that, I commend him."
Also, in addition to providing the 2014 Mitsubishi Mirages and gasoline for the "Extreme MPG Hypermiling Challenge," Mitsubishi provided contributions to the drivers' charities of choice: Gold earned $1,500 for the National Multiple Sclerosis Society, Gray was awarded $500 for the TJ's Dream Team to support brain cancer research, and the final challenger, Mike Austin of Popular Mechanics,steered his donation to the Wounded Warrior Project.
With an MSRP of $12,995, the 2014 Mitsubishi Mirage has begun to find some early traction among sub-subcompact shoppers, while also earning third-party awards from the likes of Cars.com, the Automotive Science Group and the American Council for an Energy Efficient Economy.
Be sure to check back with Autobytel.com in the near future, too, for more about the 2014 Mitsubishi Mirage and the automaker's hypermiling challenge entitled "Extreme MPG." The event will be featured both in an upcoming episode of the nationally syndicated Cars.TV and first-hand coverage from Gray.