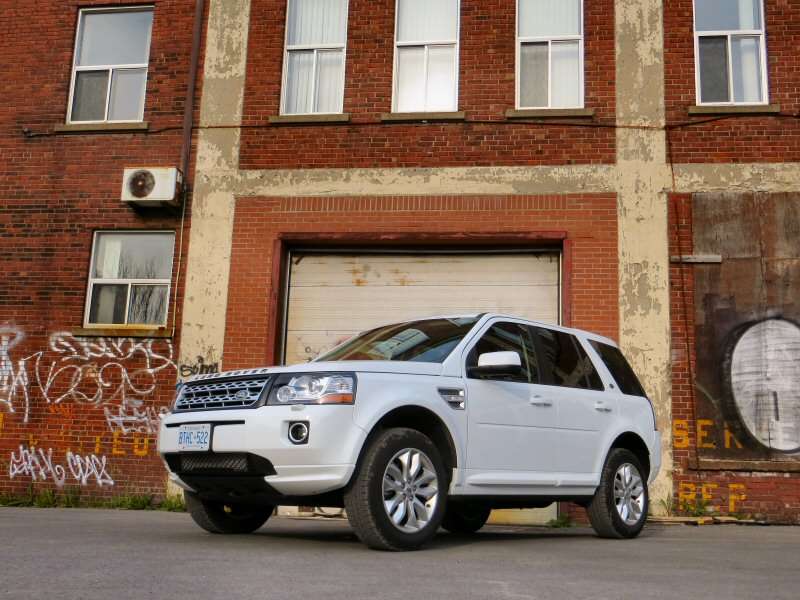 2014 Land Rover LR2 ・ Photo by Benjamin Hunting
The 2014 Land Rover LR2 represents the most affordable way to park the luxury SUV brand's white-and-green logo in your driveway.  This entry-level role typically splits opinions on a particular model, with one group of premium shoppers delighted at the chance to get behind the wheel of a Land Rover for a relatively affordable price, and another scoffing at the idea that the off-road brand could realistically package its unique blend of comfort and utility at such a low price point.
The Land Rover LR2, however, offers compact SUV fans a sub-$40k people mover that's comfortable, posh, and useful.  While not overwhelmingly upscale compared to other Land Rover models, the LR2 still delivers the features and understated styling that many premium buyers are looking for, and it does so while still offering a much higher level of off-road capability than any other European or Japanese sport-utility option - including the BMW X3, the Mercedes-Benz GLK-Class, and the Acura RDX.
2014 Land Rover LR2 Review: Models and Prices
The base 2014 Land Rover LR2 (MSRP $37,525) offers a healthy level of standard equipment, including rain-sensitive windshield wipers, leather seats with power adjustments up front, parking assistance, tinted windows, dual automatic climate control, 18-inch rims, Bluetooth connectivity, a seven-inch LCD touchscreen, a panoramic sunroof, keyless entry and ignition, and a pleasant Meridian stereo system.  Stepping up to the HSE trim (MSRP $40,025) introduces a rearview camera, memory settings for the driver's seat, and HID headlights, while the HSE LUX edition of the LR2 (MSRP $42,625) bundles in a surround sound audio system, additional adjustments for the two front seats, and the brand's top-tier leather upholstery.
The vehicle I drove for a week was a 2014 Land Rover LR2 HSE LUX that also came with the Climate Comfort package (heated seats, steering wheel, washer jets, and windshield), satellite radio, and a navigation system.  This made my SUV a full-load vehicle topping out at $46,125.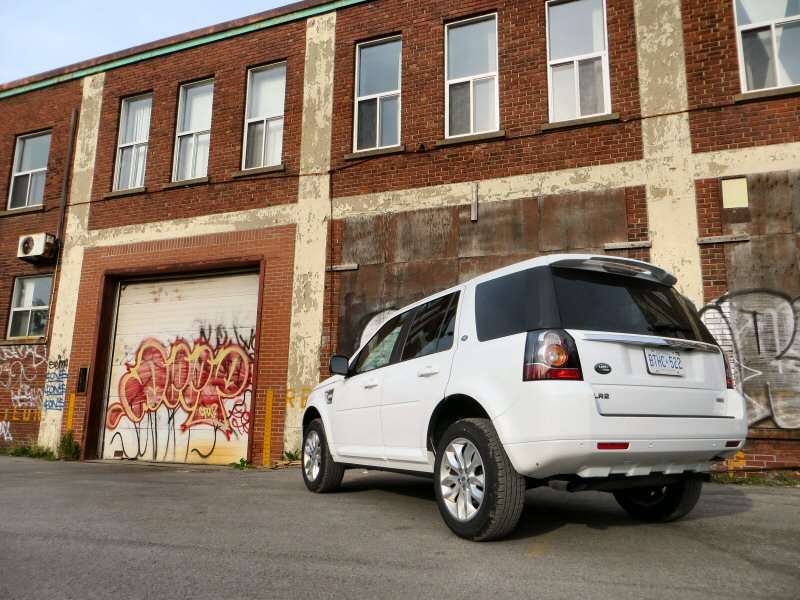 Photo by Benjamin Hunting
2014 Land Rover LR2 Review: Design
The 2014 Land Rover LR2 does not add any new design elements after 2013's refresh.
The 2014 Land Rover LR2 is the oldest design in the SUV-maker's lineup, but it's one that has held up quite well over the years.  You'll notice differences between the simple, box-like shape of the LR2 compared to its larger Range Rover and Range Rover Sport cousins - particularly up front and at the rear hatch, where it lacks the same level of detail as its pricier peers - but its purposeful shape, tall greenhouse, and ample ride height give it a dependable look that exemplifies its useful nature.  The LR2 is no styling standout, but it's a clean design that doesn't sacrifice practicality in the name of flash, making it the polar opposite of the similarly-sized Range Rover Evoque with which it shares its platform.
Inside, it's more of the same: classic presentation with a nod towards traditional luxury staples like leather seating and trim, and a function-first gauge display that will be instantly familiar to Land Rover fans.  The softer hides on the HSE LUX edition LR2 that I drove felt sufficiently upscale, although the control surfaces and buttons used on the SUV's dash were a little more mid-market that I expected them to be.  The center console, too, felt like it belonged in a more affordable vehicle.  Around back, the LR2's cargo area is nicely carpeted, a detail that is occasionally overlooked by sport-utility builders.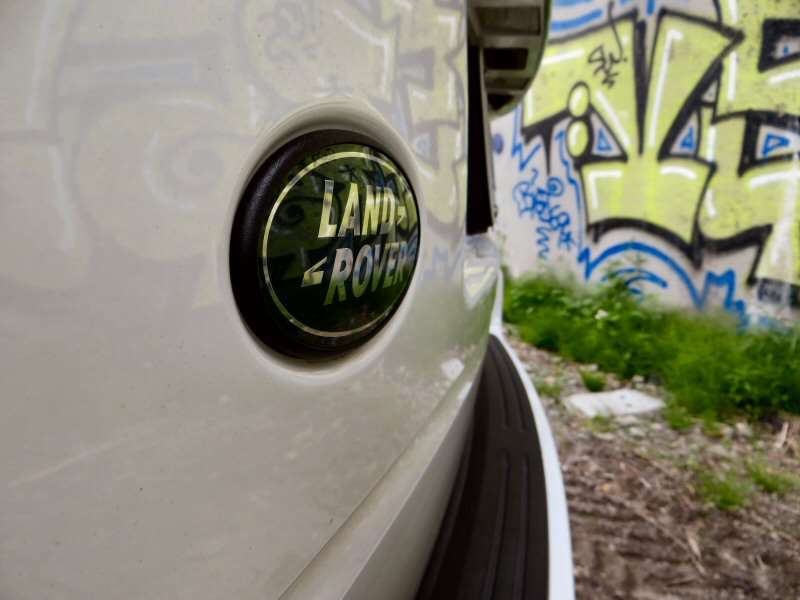 Photo by Benjamin Hunting
2014 Land Rover LR2 Review: Comfort and Cargo
The 2014 Land Rover LR2 does not introduce any new comfort or cargo features.
I've already mentioned the supple feel of the 2014 Land Rover LR2's leather hides, and it must also be pointed out that the seats themselves provided a very high and quite comfortable position from which to command the compact SUV.  The second row of accommodations inside the LR2 are adult-friendly despite the vehicle's small exterior dimensions, but what really stands out is the vehicle's ability to schlep cargo.  I picked up a nearly eight-foot screen door with the Land Rover, and after folding down its rear seats I had no problems sliding it in for home delivery.  I also move a number of long planks with the vehicle, moving the front passenger seat as far ahead as possible so as to accommodate plus-sized wood and joists with ease.  Appearances can be deceiving, and the LR2's nearly 60 cubic feet of total interior storage space is much more versatile than it at first seems.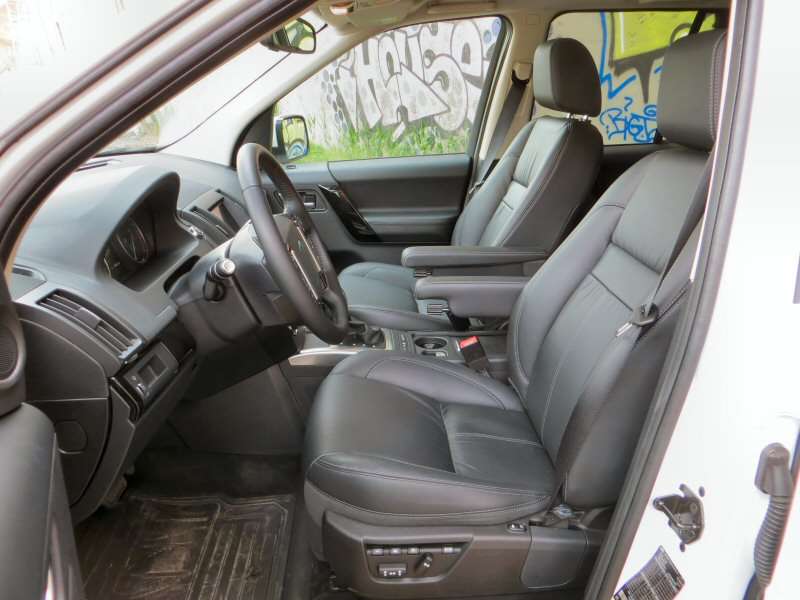 Photo by Benjamin Hunting
2014 Land Rover LR2 Review: Features and Controls
The 2014 Land Rover LR2 introduces a new LCD touchscreen.
Surround sound audio is also now in the options mix.
The 2014 Land Rover LR2 keeps things simple in terms of its control surfaces.  On the steering wheel you've got big buttons for accessing your Bluetooth phone along with a couple of controllers that handle the small display screen mounted between the analog tachometer and speedometer, and the entertainment system, respectively.  There's an analog clock found on the center stack, which also contains dials for stereo volume, track/radio station selection, and dual climate controls (which for whatever reason can't be automatically synced).  You also get locking/unlocking buttons on the stack, too, and at the top of the entire arrangement sits a seven-inch LCD touch screen.
The LR2 now benefits from the same infotainment interface logic that graces most of Jaguar/Land Rover's other products, and it's an easy to understand system that responds well to touch commands.  The home screen provides you with shortcuts to often-used functionality (stereo/phone/nav), and digging around its various sub-menus covers all of the vehicle customization bases.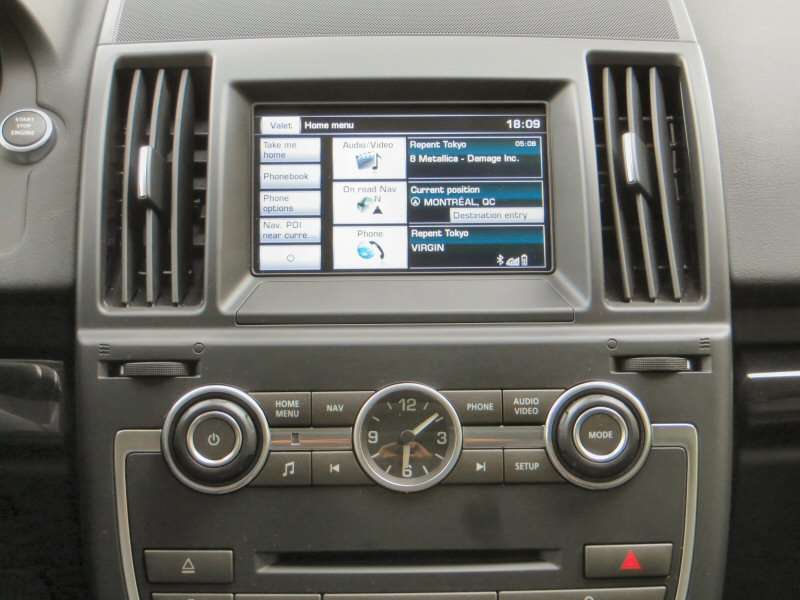 Photo by Benjamin Hunting
2014 Land Rover LR2 Review: Safety and Ratings
The 2014 Land Rover LR2 does not introduce any new safety features.
The 2014 Land Rover LR2 comes standard with dual forward airbags, side impact airbags up front, side curtain airbags that run the entire length of the passenger compartment, and a knee airbag for the driver.  It also offers electronic traction control and stability control, as well as a hill descent control feature.  What you won't find with the LR2 are any active safety features such as a blind spot monitoring system or forward collision warning, and it's here that the Land Rover starts to show its age compared not just to its compact luxury rivals, but also its stable mates.
The Land Rover LR has yet to be crash tested by the NHTSA or the IIHS.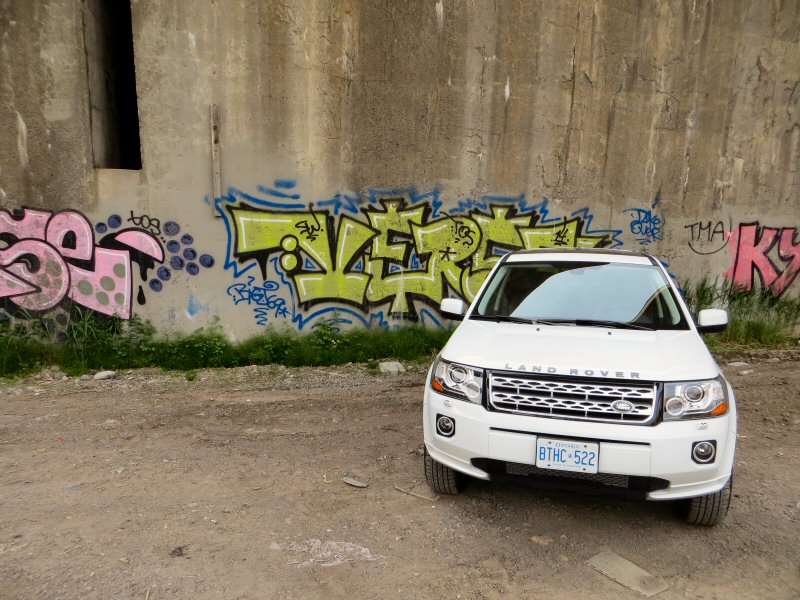 Photo by Benjamin Hunting
2014 Land Rover LR2 Review: Engines and Fuel Economy
The 2014 Land Rover LR2 retains last year's only engine option.
The 2014 Land Rover LR2 comes standard with a 2.0-liter, turbocharged four-cylinder engine, a unit that is matched with a six-speed automatic transmission that allows for manual control over gear changes if desired.  A total of 240 horsepower and 250 lb-ft of torque are on tap from the four-cylinder motor, and fuel mileage for the LR2 checks in at 17-mpg city and 24-mpg highway - not terrible numbers for a vehicle that comes with standard, full-time four-wheel drive.  I saw about 15 miles per gallon in almost exclusively city driving with the SUV during out time together, which is on par with other real-world figures from similarly-sized luxury 'utes I have sampled.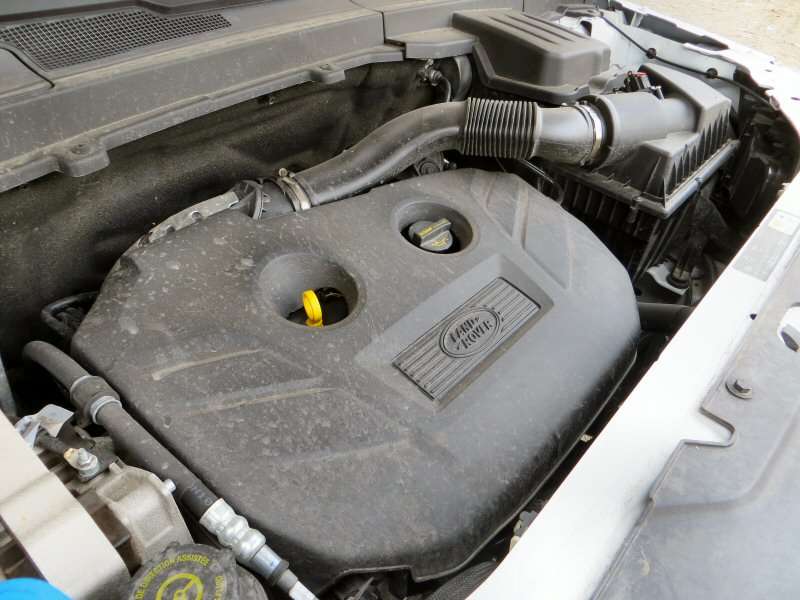 Photo by Benjamin Hunting
2014 Land Rover LR2 Review: Driving Impressions
The 2014 Land Rover LR2 succeeds in its mission of providing stately, comfort-oriented transportation for families on the go.  Although handling for the LR2 couldn't be classified as nimble, due to its tall center of gravity and not inconsiderable weight, it's certainly on par with what one would expect from a luxury SUV, smoothly taking corners at reasonable speeds and providing a decent turning radius that was quite useful when navigating tight urban streets.  The vehicle's suspension was also adept at tuning out the harsher aspects of whatever pavement I happened to be roaming over, which in Montreal can include potholes the size of manhole covers and alleys where the original cobblestones are showing through the asphalt.
Surprisingly, the Land Rover LR2's confident mannerisms continue once the road disappears and you find yourself fording streams, splashing through mud pits, or clambering from one rocky trench to another.  I say 'surprisingly' because few expect a compact luxury SUV to display any type of off-road prowess past being able to handle a rutted road on the way to the lake house, but the LR2 goes above and beyond that particular mission statement to provide full-spectrum four-wheel drive chops.  Credit goes to the vehicle's Terrain Response feature, which allows its engine, transmission, and four-wheel drive to be customized for various surfaces (including sand, snow, and gravel).  I've driven the LR2 in water halfway up its doors and emerged from the other side of the pond no worse for wear: if you're looking for a genuine off-roader, there's not a single other small luxury SUV under $50,000 that can match the Land Rover.
Power is important in the premium segment whether you are on or off the beaten path, and the 2014 Land Rover LR2 comes through here, too - but with one caveat.  The LR2's turbocharged four-cylinder engine is certainly stout enough to provide the kind of acceleration needed to deal with modern traffic, but there's noticeable lag from the time you push down on the accelerator and the moment that power is delivered by the slow-spooling turbo.  This can be frustrating when trying to move off quickly from a stop, and keeps the Land Rover from feeling as sporty as many of its competitors.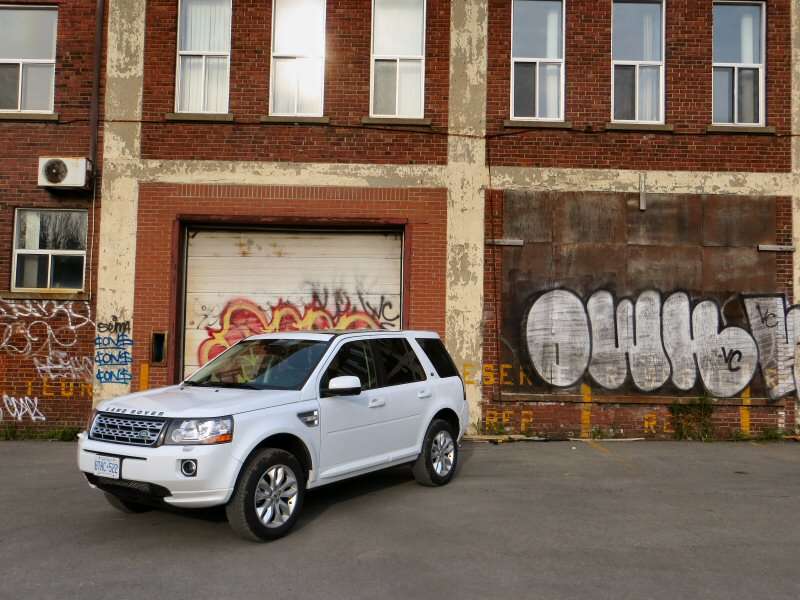 Photo by Benjamin Hunting
2014 Land Rover LR2 Review: Final Thoughts
The 2014 Land Rover LR2 is a fine family choice for anyone seeking a traditional luxury SUV that will fit comfortably into their active lifestyle.  The LR2 truly shines when taking into account its exceptional off-road capabilities, where it truly has no peer in its class.  Few, however, will ever sample the Land Rover's rock-crawling ways, which means that it's worth noting the sport-utility vehicle's usable cargo space, pleasing ride, and classic styling.
The Land Rover LR2 is also somewhat of a bargain, even when fully loaded.  A BMW X3 with all-wheel drive starts about $3,000 north of the LR2's base sticker, and once you've optioned it out to match the Land Rover you're past the $50k mark.  The same is true of the Mercedes-Benz GLK (which, admittedly, provides more power but none of the off-road capability, and doesn't even offer leather as standard equipment).  Of course, almost any other premium compact SUV will offer the availability of modern active safety technologies that the LR2 does not: it's up to you to decide how important these features are before making your purchasing decision.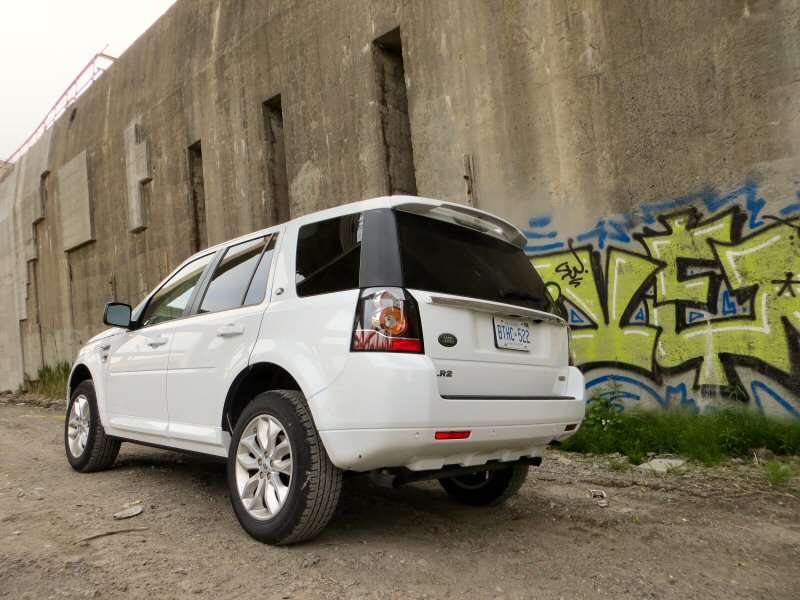 Photo by Benjamin Hunting
2014 Land Rover LR2 Review: Pros and Cons
Pros:
Exceptional off-road capability
Comfortable ride
Affordable luxury pricing
Classic styling
Useful cargo space
Cons:
Turbo lag reduces the fun when accelerating
No active safety equipment available
Interior controls can feel a bit plain
Power is down compared to many compact luxury rivals
Jaguar Land Rover Canada supplied the vehicle for this review.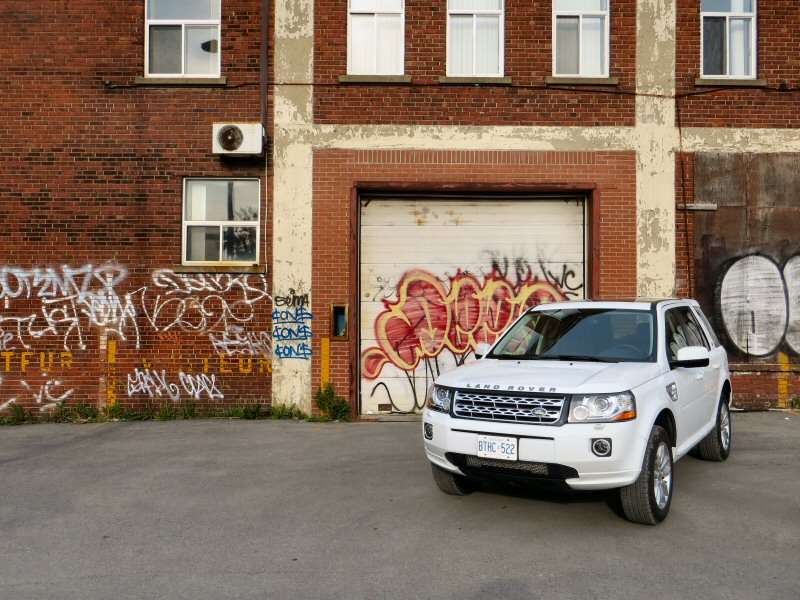 Photo by Benjamin Hunting