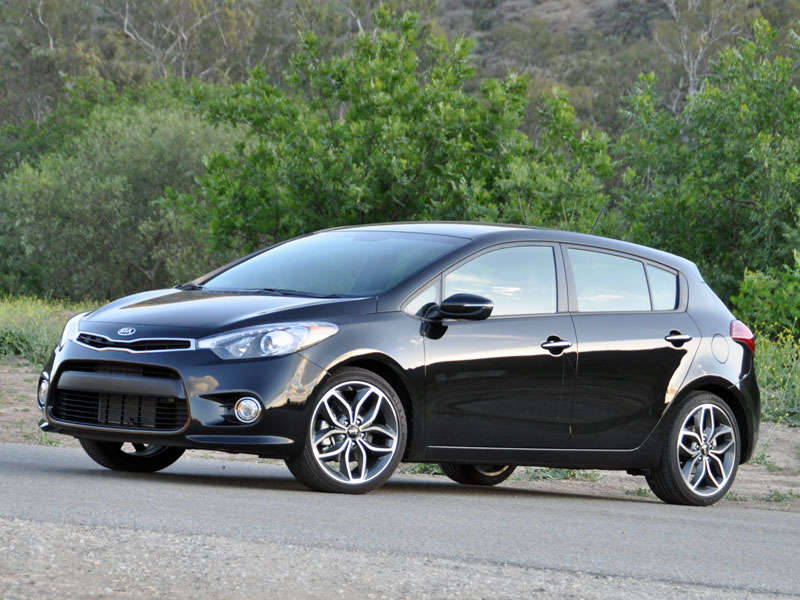 2014 Kia Forte5 SX Aurora Black Front 3/4 Turbocharged Engine ・ Photo by Christian Wardlaw
Why does everybody want a sedan? I don't get it, especially when a 5-door hatchback like the 2014 Kia Forte5 is so dang practical. Heck, this Kia is even stylish, especially in turbocharged SX trim. Yet small car buyers overwhelmingly choose a common 4-door sedan body style when selecting an affordable and fuel-efficient set of wheels. They don't know what they're missing.
Kia and its corporate sibling Hyundai are the only car companies to sell compact cars in 2-door coupe, 4-door sedan, and 5-door hatchback configurations, ensuring that the Kia Forte and Hyundai Elantra offer something for everyone. The Forte5 is Kia's hatchback, and it goes head-to-head with the Ford Focus, Mazda 3, Mitsubishi Lancer Sportback, Subaru Impreza, and Volkswagen Golf.
Having spent a week with the SX model, which is equipped with the exact engine that it needs, I would have no reservations about recommending one, with a single significant exception.
2014 Kia Forte5 SX Review and Quick Spin: About Our Test Car
Kia sells the 2014 Forte5 in EX and more powerful SX trim levels, and my test car is the SX model painted Aurora Black with black cloth seats, black leatherette seat bolsters, a 6-speed manual transmission, and not a single option. It didn't even have floor mats. The price tag came to $21,700, including a destination charge of $800, but excluding the $1,000 rebate available in my zip code.
How does that compare to other fun-to-drive 5-door hatchbacks? It's more than a less powerful Focus SE Sport and less than a more powerful Focus ST. It's less than a Mitsubishi Lancer Sportback GT, but more than a Subaru Impreza 2.0i Sport Premium equipped with standard all-wheel drive. A Mazda 3s Touring and a Volkswagen GTI are thousands of dollars more expensive than the Kia. Oh, and I'm talking about the Forte5 SX model here. You can get the EX model for as little as $20,500. Seems to me that the Kia is priced right.
Floor mats and a cargo mat will add $210 to the bottom line, and an automatic transmission runs a grand. Beyond that, Kia offers a handful of accessories and a couple of option packages. But even when fully optioned, the Forte5's price barely rises above a basic Volkswagen GTI. And I'm talking about the old GTI, not the new one.
The Forte5 can be optioned with a Premium Package ($2,200 – leather, 10-way power adjustable and ventilated driver's seat, heated front and rear seats, heated steering wheel, power sunroof, auto-dimming rearview mirror with HomeLink) and a Technology Package ($1,800 – navigation, HD Radio, dual-zone automatic climate control, Supervision gauges, 4.2-inch information display, HID headlights). Put every upgrade on the Forte5 SX model, and the window sticker reads $27,420.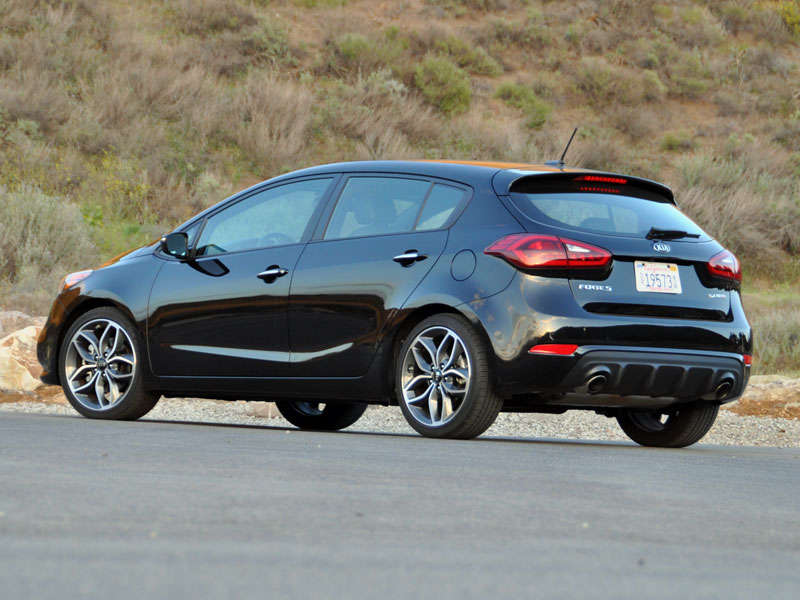 Photo by Christian Wardlaw
2014 Kia Forte5 SX Review and Quick Spin: Styling and Design
Like nearly all of the modern Kia models, the Forte5 possesses great looks, but I'm not that crazy about the flower petal 18-inch wheel design on my test car. In addition to these wheels, the SX is equipped with LED fog lights to go with LED running lights, and around back there's an unmistakable rear LED lighting signature that the SX shares with the EX. Illuminated door handle pockets glow at night, and the Forte5 SX includes perimeter approach lighting to help you avoid stepping in puddles.
Kia takes a conservative but classy approach to the Forte5's cabin, which employs appealing interior materials in terms of tone and texture, combined with soft touch material on the dashboard and door panels. The levels of quality are impressive for the price point, and the Forte's tasteful detailing easily ranks as class-above. My SX test car's sturdy metal pedals wouldn't be out of place in a German luxury sport sedan.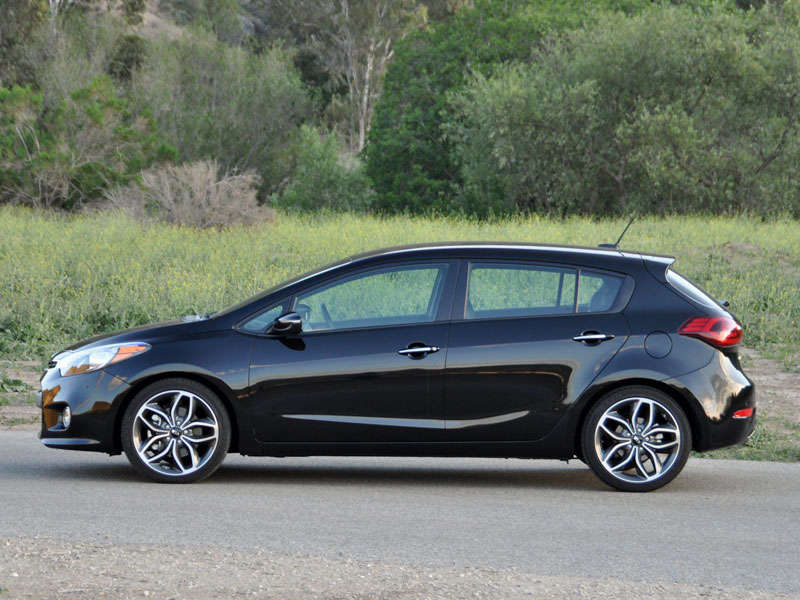 Photo by Christian Wardlaw
2014 Kia Forte5 SX Review and Quick Spin: Comfort and Cargo
Thanks to manual seat height adjuster and a tilt/telescopic steering wheel, it is really easy to get comfortable in the Forte5. The steering wheel is pleasing to grip, and wrapped in soft, smooth leather, and the upper door panels are covered in padded material. A sliding center console armrest helps, too, though when I position the driver's seat for my comfort, it is too low to be of any use. A ratcheting-style armrest, like the ones Audi uses, would be terrific.
The front passenger's seat does not offer height adjustment, but is nevertheless comfortable. It offers excellent thigh support and plenty of legroom, but the occupant does sit a bit lower than might be preferred. These same traits characterize the rear seat, which provides generous space for legs and feet, as well as a center armrest with cupholders. Hard plastic front seatbacks possess the potential for discomfort if people in front recline and people in back are tall.
Options designed to improve comfort include heated front seats, heated rear seats, a heated steering wheel, a ventilated driver's seat, and 10-way power adjustment for the driver. These items are contained in the Premium Package, along with leather upholstery.
The point of buying a 5-door hatchback is to increase the vehicle's utility, and to that end the Forte5 offers a generous trunk that can be expanded thanks to a 60/40-split folding rear seat. Kia says cargo space measures 23.2 cu.-ft. behind the rear seat, stacked to the roof and including the hidden storage bins under the cargo floor.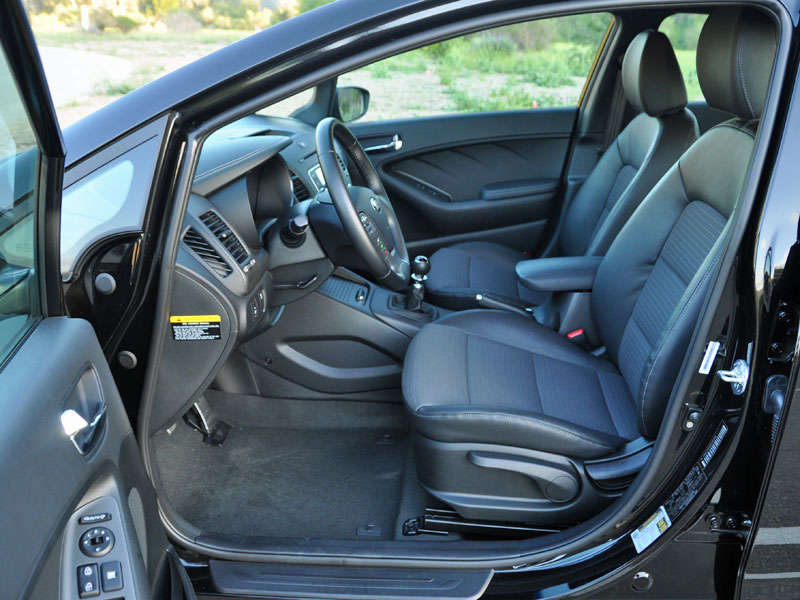 Photo by Christian Wardlaw
2014 Kia Forte5 SX Review and Quick Spin: Features and Controls
Kia clearly knows its target audience, and installs its UVO (Your Voice) eServices technology as standard equipment in every 2014 Forte5 model. Bluetooth connectivity and music streaming, a USB port, an auxiliary audio input jack, and satellite radio are also standard, while a navigation system, voice command technology, HD Radio, and SiriusXM services are optional for both the EX and the SX. Smart Key passive entry is standard for the SX and optional for the EX.
With UVO eServices, the Forte5 is equipped with 911 Assist technology, which activates when the airbags deploy to speed rescuers to the scene of the accident. This suite of features also includes easy access to roadside assistance, the ability to monitor and schedule vehicle service, and a parking minder feature that helps you to remember where you parked. Add the optional navigation system, and SiriusXM real-time traffic and weather are included for a limited time.
Kia makes the Forte5 really easy to use. Flush-mounted buttons and good-size knobs are clearly marked and located exactly where the driver expects to find them. The SX model's Supervision instrument cluster and its 4.2-inch Thin Film Transistor display screen provide outstanding clarity, and at night they glow white while other switchgear is illuminated in red, similar to an Audi.
I had no trouble pairing my iPhone to the UVO system, or streaming music. Kia thoughtfully supplies a covered storage bin forward of the shifter, one that contains the USB port and auxiliary audio jack, helping the Forte5's owner to keep prying eyes off expensive electronics.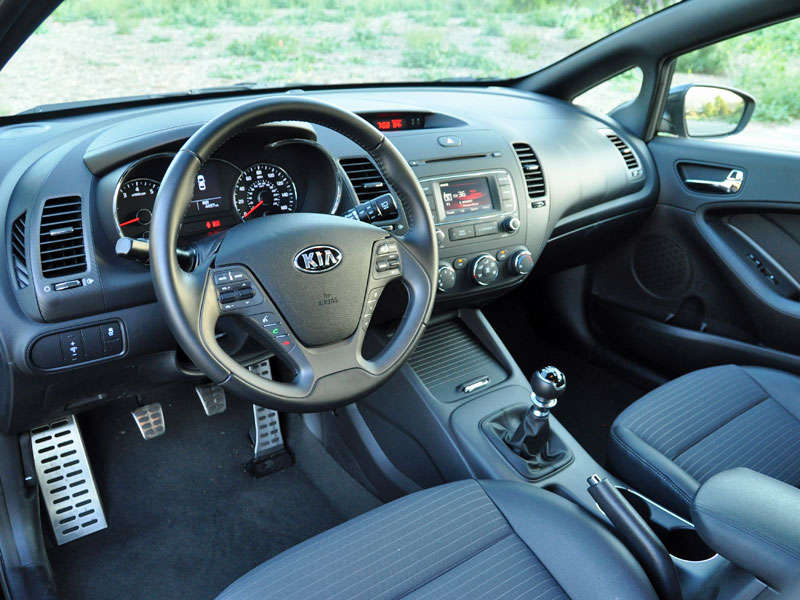 Photo by Christian Wardlaw
2014 Kia Forte5 SX Review and Quick Spin: Safety Matters
While the Kia Forte5 is equipped with a standard reversing camera and UVO eServices 911 Assist technology, features that are nice to have on an affordable car like this one, there is a problem when it comes to the Kia's ability to protect its occupants. And this is the only reason I would recommend that someone interested in buying a Forte5 might want to consider a competitor instead.
In testing conducted by the Insurance Institute for Highway Safety (IIHS), the Forte Sedan earned the top rating of "Good" in four out of five assessments. In the fifth, the new small overlap frontal-impact test, the Forte received the lowest rating of "Poor."
If you understand that it takes years to engineer a new car, and if you consider that the IIHS announced the new small overlap test after the Forte's design and underlying structure had already been frozen for production, then you might be willing to forgive the car for its "Poor" rating. What's tough to understand is the Forte's mediocre performance in government crash tests, the standards for which have not changed since the 2011 model year.
According to the National Highway Traffic Safety Administration (NHTSA), the 2014 Forte5 earns a 4-star overall rating. Why didn't this brand new car get a 5-star rating? In the frontal-impact test, the Forte earned a 2-star rating for its ability to protect the front seat passenger. In all other tests, the car gets a 4-star or a 5-star rating.
Seriously. There is no good excuse for that.e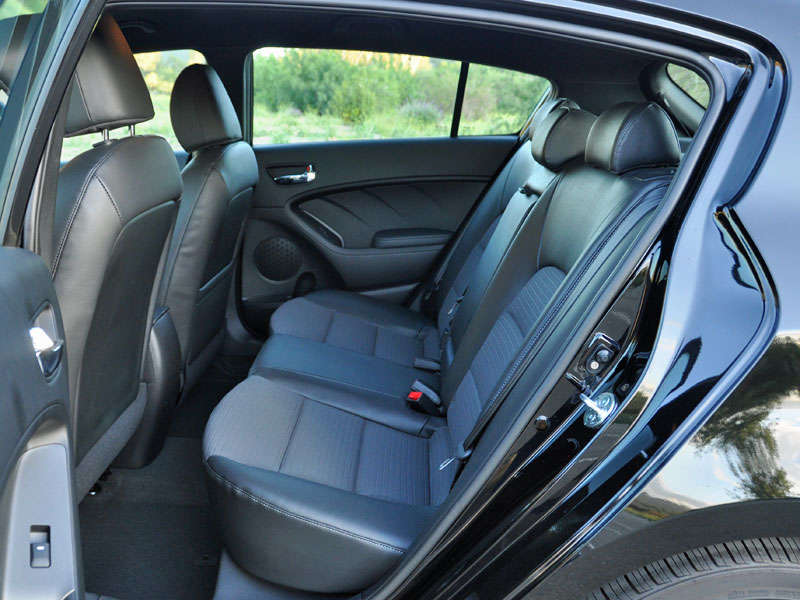 Photo by Christian Wardlaw
2014 Kia Forte5 SX Review and Quick Spin: Driving Impressions
It's too bad the Forte flunks its crash tests, because this is a fun car to drive. Without having driven them back-to-back, I'll say that a Forte5 SX is about as entertaining as a Ford Focus, a Mazda 3, or a VW GTI, and the turbocharged, direct-injected, 1.6-liter 4-cylinder engine is a big reason why.
Making 201 horsepower at 6,000 rpm and 195 lb.-ft. of torque from 1,750 rpm to 4,500 rpm, the Forte SX's engine provides plenty of power across a broad portion of its rev range. This engine doesn't eagerly whoosh to extra-legal speeds in the same way that Volkswagen's excellent turbocharged 2.0-liter engine does, and the Kia's engine whines in audible fashion, but the Forte SX sure feels zingy enough to put a smile on a driver's face.
A 6-speed manual gearbox is standard, with a 6-speed automatic transmission available as an option. The automatic is equipped with shift paddles for a more engaging driving experience. Regardless of transmission choice, the Forte5 SX is rated to get 21 mpg in the city, 29 mpg on the highway, and 24 mpg in combined driving.
In a genuinely surprising turn of events, I managed to exceed the combined rating of 24, coming in at 26.6 mpg. Normally, my real-world fuel economy experience with Kia products puts me well under the EPA city rating.
Speaking of cities, the Forte5 SX behaves in a refined fashion in urban environments, quiet, able to squirt through traffic, its composure cracking only when the simple torsion beam rear axle crashes over potholes or pavement heaves. Kia does need to refine the manual gearbox, though, which is notchy and sometimes difficult to get into Reverse gear. The clutch take-up is also rather vague. Neither issue makes the car difficult to drive, but they do reflect a lack of precision and refinement.
On the highway, the Forte5 SX cruises at 80 mph without a problem and scooted effortlessly up a mountain grade, but plenty of wind and road noise makes its way into the cabin. Crosswinds quickly reveal the steering's on-center disconnectedness and artificiality, too.
Equipped with Flex Steer, the Forte5's driver can choose between Comfort, Normal, and Sport modes. I spent lots of time cycling between them, and decided that I preferred the Comfort setting in nearly all situations. On the freeway, it provides a lighter and more natural feel just off-center, making it easy to fine-tune inputs. In the city, it is easier to twirl for taking corners and zipping into parking slots. By comparison, with the Normal and Sport settings the steering firms up too much as the driver steers, and in Sport actually resists the driver's attempts to make minor corrections, such as when crosswinds buffet the car.
The Sport steering setting works best on a twisty road, and when I tossed the Forte5 down one that descends from about 1,700 feet of elevation to sea level, the added steering heft felt appropriate. In combination with the SX trim level's sport-tuned suspension, 18-inch wheels and tires, and larger ventilated front disc brakes, the Kia proved itself remarkably capable. Still, nothing about how the car communicates with the driver inspires speed. Instead, the Forte5 SX's commendable handling and braking talents are discovered entirely by accident.
It sure would be nice if Kia would install an independent rear suspension in this car, but I'd rather they spent the money fixing the crappy crash-test ratings. I will say this, though. The Forte5's brakes supplied excellent pedal feel and response, and did not fade a bit under severe punishment. Can't say that about many Volkswagens that I've driven.Ki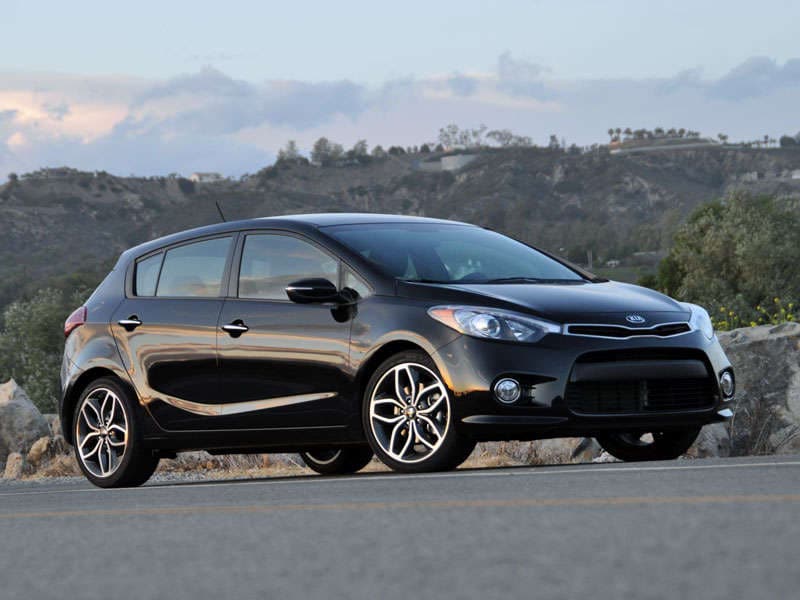 Photo by Christian Wardlaw
2014 Kia Forte5 SX Review and Quick Spin: Final Thoughts
There are three things that Kia needs to fix to make the 2014 Forte5 one of the best cars in its class:
Take a look at what Honda did to make the 2013 Civic excel in NHTSA and IIHS testing, and apply those engineering solutions to the Forte.
Keep working on those fuel economy numbers. Mazda's SkyActiv engines are the benchmark.
Continue to fine-tune the steering. Mimic what Ford does in the Focus.
If Kia can get these three elements right, the Forte factory might not be able to produce enough of these stylish, practical, value-laden, and otherwise impressive small cars.
Kia provided the 2014 Forte5 SX for this review
2014 Kia Forte5 SX photos by Christian Wardlaw
Photo by Christian Wardlaw