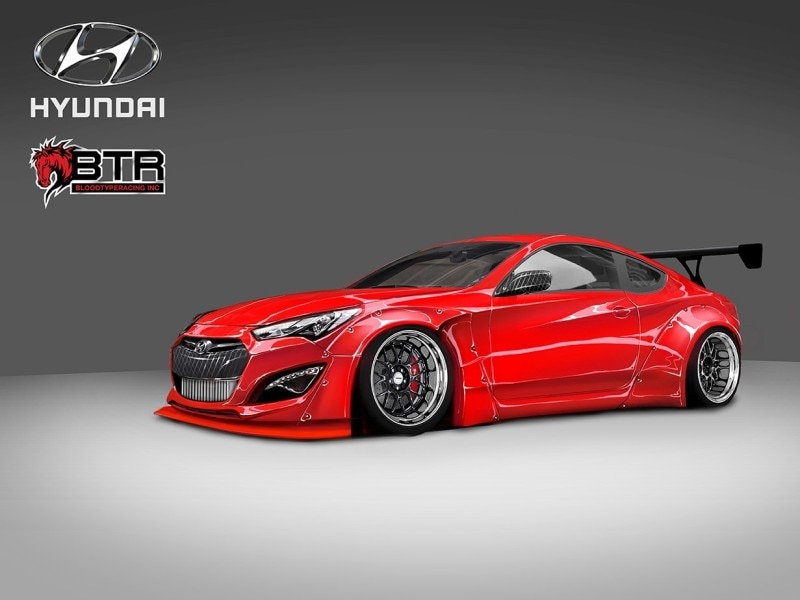 2015 hyundai genesis coupe
Wearing a candy red finish and packing a sweet new performance upgrade, Blood Type Racing's 2014 Hyundai Genesis Coupe was previewed recently just ahead of its upcoming SEMA debut. The car will then get a real-world premiere on November 4, during Hyundai's official press conference for the 2014 Specialty Equipment Market Association show in Las Vegas.
Said Sam Lee, product manager for Blood Type Racing Inc.: "Our focus on this vehicle was to build on the impressive performance abilities of the Genesis Coupe and help the growth of the aftermarket tuner community. It's easy to add lots of power to an engine, but we engineered all other aspects of the vehicle—cornering and handling, stopping power, and visual appearance—to complement the massive horsepower we're now getting from the engine. We've engineered a true, total package Genesis Coupe."
Of course, that package does indeed add a massive amount of power to the 2014 Hyundai Genesis Coupe. Starting with the four-cylinder, turbocharged engine that's standard on the 2014 Hyundai Genesis Coupe, the Blood Type team deployed a new, higher-performance turbocharger, re-sleeved and bored out the engine, and installed a full range of go-fast goodies—including a nitrous system—to send more that 800 hp to the rear wheels. But as Lee pointed out, the comprehensive reworking of the 2014 Hyundai Genesis Coupe didn't stop there.
Also in the mix are a wide-body kit designed by Kei Mura, a custom GT rear wing, Sabelt racing seats, Toyo tires and 19-inch two-piece WORK wheels, nifty OLED Revel gauges, a modified MXP dual exhaust, and the ol' much much more.
Customers should note that the car further serves as a sort of a swan song for the turbocharged 2014 Hyundai Genesis Coupe, since the 2015 model will drop that powerplant and only offer a naturally aspirated 3.8-liter V6 that makes 348 hp and 295 lb.-ft. of torque. With that unit and an MSRP of $26,750, the 2015 Hyundai Genesis Coupe began arriving in dealerships earlier this year.