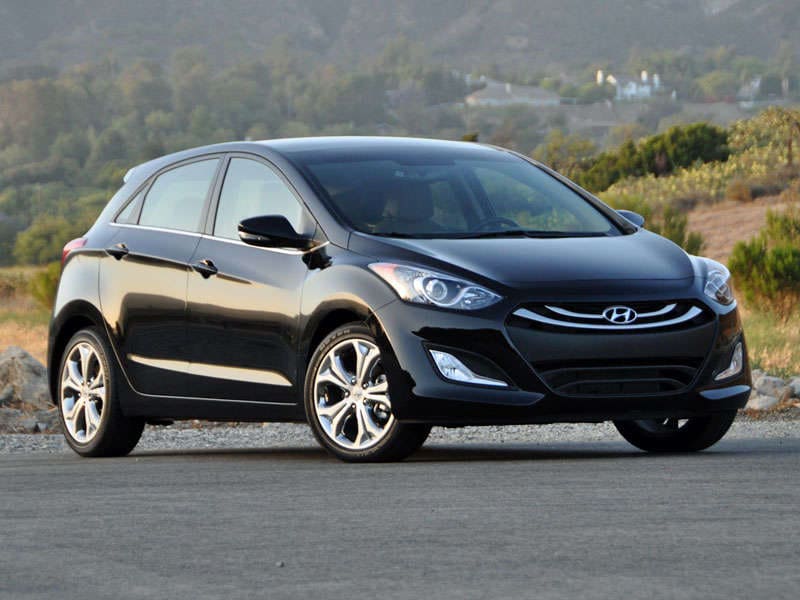 2014 Hyundai Elantra GT Black Noir Pearl Style Package Technology Package Front Quarter Right ・ Photo by Christian Wardlaw
This is one of three vehicles that wear an Elantra nameplate. You're probably familiar with the popular sedan, the car that brought genuine style to the compact car class when it went on sale a few years ago. You may have even seen the Elantra Coupe, which looks very similar to the sedan but has just two doors. But this GT 5-door hatchback? It's a bit of a rarity.
Having now spent a week shuttling my family in this car, it deserves more consideration than it gets. But only for the right reasons, and having fun while driving isn't one of them. Let's take a closer look at the 2014 Elantra GT.
2014 Hyundai Elantra GT Review and Quick Spin: About Our Test Car
Based on a European model called the Hyundai i30, the Elantra GT has a shorter wheelbase, a shorter overall length, and a taller roofline than the Elantra coupe and sedan. And, of course, it has a more practical 5-door hatchback body style.
Prices start at $19,560 with the standard manual transmission. Add an automatic for a grand more, and if you install the Style Package, the Technology Package, and floor mats, you'll have something like my test car, which wore a window sticker reading $26,485.
Choose the Style Package ($2,550), and the Elantra GT adds a number of appreciated extras including perforated leather upholstery, a power driver's seat, a leather-wrapped steering wheel and shift knob, a sport-tuned suspension, upgraded 17-inch aluminum wheels, a keyless entry system with push-button starting, and more. Among the additional upgrades, Hyundai's Blue Link connectivity and services technology supplies numerous useful features that are detailed in a section that follows.
Upgrade to the Tech Package ($3,250) for a navigation system, a panoramic glass sunroof, dual-zone automatic climate control, a reversing camera, and automatic headlights. Additionally, the Elantra GT can be fitted with several dealer-installed options. Check all the boxes, and the car costs $27,595, including a destination charge of $810.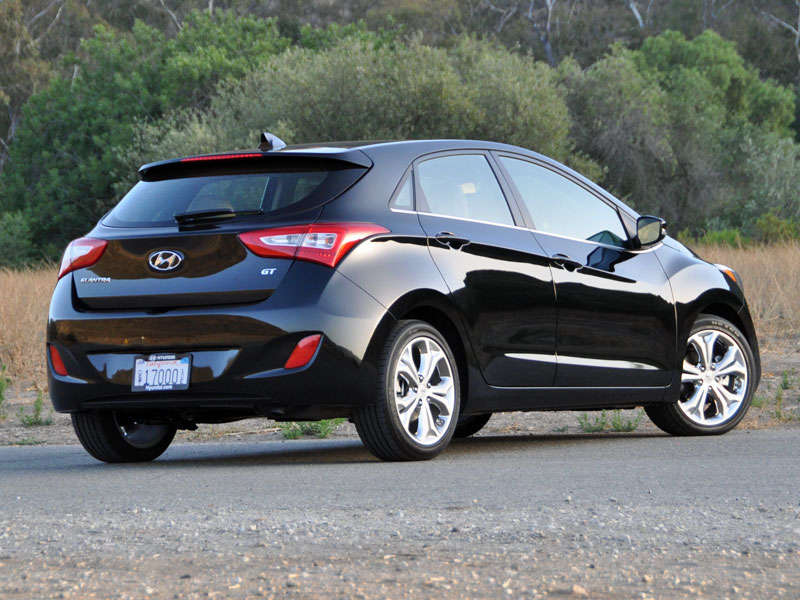 Photo by Christian Wardlaw
2014 Hyundai Elantra GT Review and Quick Spin: Styling and Design
Every version of the Elantra looks good, featuring flowing, almost sensually swollen bodywork that takes Hyundai's Fluidic Sculpture design language to the extreme. An Elantra grabs attention, outlandishly styled in an entirely appealing way. I think it will be tough for Hyundai to improve upon the current model's appearance with the next-generation of this popular compact car.
Based on the Elantra GT pictured here, the only thing I'm not crazy about is the odd chrome inserts on the upgraded 18-inch aluminum wheels. They look like costume jewelry, and are sure to suffer blemishes in short order. Better would be a premium finish of some kind, one applied to the entire wheel.
Take a look around the Elantra GT's interior, and it looks and feels surprisingly and convincingly upscale. My test car's two-tone black-over-tan color scheme really helps, as does the solid-feeling switchgear and soothing blue and white lighting at night. Get the optional Style Package for perforated leather upholstery and robust aluminum pedals; Berber-style floor mats are a dealer-added option. My test car also had a huge, panoramic glass sunroof with a slick split retractable screen.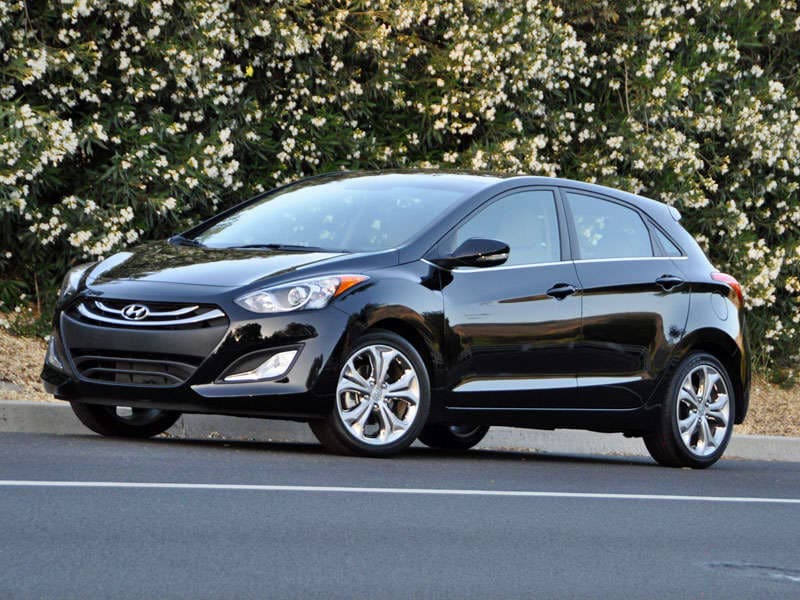 Photo by Christian Wardlaw
2014 Hyundai Elantra GT Review and Quick Spin: Comfort and Quality
You sit up nice and high in the Elantra GT, almost level with people in crossover suvs if that's how you choose to position the available power driver's seat. The seat itself is firm and supportive, the optional leather looks and feels good for this price point, and Hyundai provides soft places on the upper door panels and sliding center console armrest to improve comfort. Outward visibility is excellent, too, and the driver's side mirror has an embedded blind-spot mirror, helping to merge onto expressways or change lanes for passing.
The Elantra GT's back seat is roomy and comfortable for adults, supplying good thigh support, legroom, and space for feet. The front seatbacks are hard plastic, though, so watch knees and shins when getting in or out.
Because the Elantra GT is a 5-door hatchback, practicality is in good supply. Pop the hatch to reveal 23 cu.-ft. of illuminated cargo space, though it sure looks smaller than that number might suggest, especially when you load some luggage. Hyundai measures to the rear glass and roof, but still. Fold the rear seats down, and this car swallows 51 cu.-ft. of cargo, which seems accurate. To swing the lid shut, use the sturdy handle on the hatch.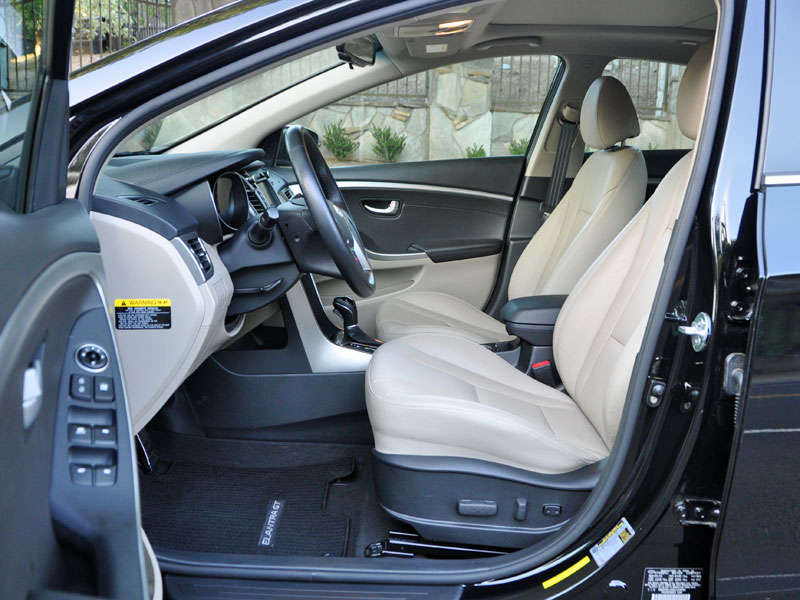 Photo by Christian Wardlaw
2014 Hyundai Elantra GT Review and Quick Spin: Features and Controls
Most small cars put all of the controls right where you expect to find them, and the Elantra GT is no exception. If you can't find what you're looking for at a glance, or figure out how to operate it within seconds, you might be the problem and not the car. The only complaint I have is that I kept accidentally re-setting the trip computer with my right thumb knuckle when gripping the steering wheel in the seven-and-five position.
Why drive like that? It's my shoulder joint pain, you see, and…well, that's not what you're here to learn.
My Elantra GT test car came with the optional Style Package, which equips the car with Blue Link connectivity and services, as well as the optional Technology Package, which adds a navigation system with a 7-inch color touch screen. I found the screen to offer outstanding resolution and clarity, and for the most part was extremely responsive to inputs. Even in bright sunlight, glare was minimal. Better yet, knobs and buttons for operating primary audio functions and to select menus flank the screen.
It is really easy to pair a smartphone to Blue Link, and the system offers a number of terrific features. Check Hyundai's website for all the details, but my favorites are the Automatic Collision Notification service, the SOS emergency service, and the car finder mobile app. Got teenagers in the house? Blue Link provides a curfew alert, a speed alert, and geo-fencing capability to keep the kids close to home…and to get them home on time.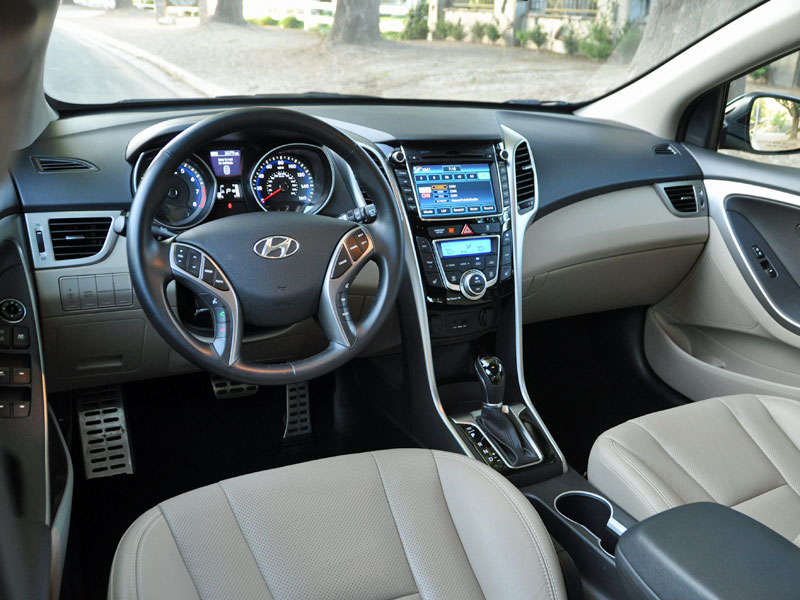 Photo by Christian Wardlaw
2014 Hyundai Elantra GT Review and Quick Spin: Safety Matters
In addition to the Blue Link technology that's included with the Style Package, the Elantra GT's tailgate-mounted Hyundai badge rotates to deploy the reversing camera. That's cool. What's not cool is you've gotta spend a total of $5,800 on option packages to get it. Hyundai does, however, include a driver's knee airbag at the car's base price.
As far as crash tests are concerned, the Insurance Institute for Highway Safety (IIHS) has not assessed the Elantra GT's ability to protect occupants in a crash. The National Highway Traffic Safety Administration (NHTSA) has tested the Elantra GT, and gives the car a 5-star overall rating.
Photo by Christian Wardlaw
2014 Hyundai Elantra GT Review and Quick Spin: Driving Impressions
When I read the marketing copy for the Elantra GT that appears on Hyundai's website, I wondered if anyone at the ad agency had ever driven this car. Despite claims that this "performance car" is "genuinely fun to drive," the Elantra GT is not very exciting.
Hyundai is trying, though. This year, the Elantra GT gets a new, more powerful engine, a 173-horsepower, 2.0-liter 4-cylinder that replaces last year's 148-horsepower, 1.8-liter 4-cylinder. The added oomph sure is appreciated, but as a result of the engine swap, fuel economy drops from 30 mpg in combined driving to 27 mpg. I got 27.1 mpg on my test loop, so it appears that the EPA's estimate is in the right neighborhood.
Here's the question, though: Is this reduction in fuel economy worth the added power? I'd say no. What this car really needs is a turbocharged engine, like the one you can get in a Kia Forte5 hatchback.
Nevertheless, the Elantra GT's new engine provides decent power when you punch it, but most of the time it demonstrates a lack of energy and it sounds unhappy when revved. The 6-speed automatic transmission doesn't help, either, proving slow to downshift when the driver requests more power. And that's with the Active Eco system turned off. Turn the Active Eco system on and the car feels downright sluggish and dull-witted.
Once you've acclimated to these characteristics, the Elantra GT is agreeable enough to drive, but I found myself regularly wishing for a more engaging experience. Y'know, something along the lines of what a torque-rich turbocharged engine might provide.
The steering and suspension tuning don't help to quicken the driver's pulse, either. Equipped with a Driver Selectable Steering Mode that offers Comfort, Normal, and Sport settings, my favorite was Comfort because it felt the most natural on center, offered the least amount of off-center resistance, and allowed me to fine-tune input with greater precision. Switching to Normal, or even heavier Sport settings just added artificiality to the equation.
Hyundai says the Elantra GT has a sport-tuned suspension, but I found it too soft to qualify for such a description, as it allows too much motion over dips and bumps in the pavement and generally feels busy or bouncy rather than solidly connected to the road. Body roll is well controlled, though, and the GT can be tossed into a corner with reasonable confidence. Grip from the 17-inch 215/45 Nexen EcoDriving series tires ultimately proves limited, though.
Now, when driven in the real world, in traffic, or on the freeway, or through mall parking lots, or along suburban boulevards, any of which might suffer infrequent maintenance to the barest of minimum standards, the Elantra GT comes across as a comfortable, refined, almost upscale small car that easily handles just about any task you've got.
But is it sporty, or fun? Not so much.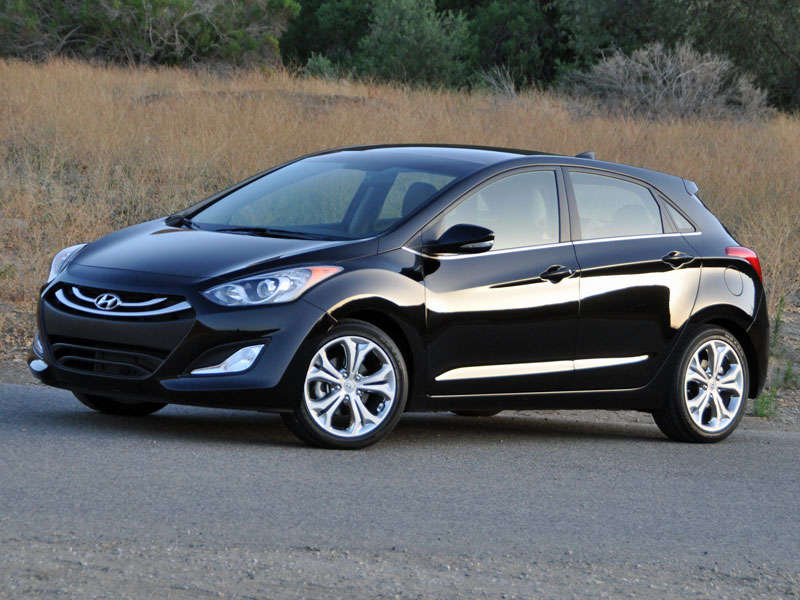 Photo by Christian Wardlaw
2014 Hyundai Elantra GT Review and Quick Spin: Final Thoughts
If you ignore the marketing hype, what you have in the Hyundai Elantra GT is a roomy and comfortable commuter car that gets decent gas mileage and offers the added practicality of a 5-door hatchback design. It looks good inside and out, too, comes with a terrific warranty, and according to J.D. Power, leads its class in terms of quality.
There are lots of good reasons to buy an Elantra GT. Having fun while driving isn't one of them.
Hyundai provided the 2014 Elantra GT for this review
2014 Hyundai Elantra GT photos by Christian Wardlaw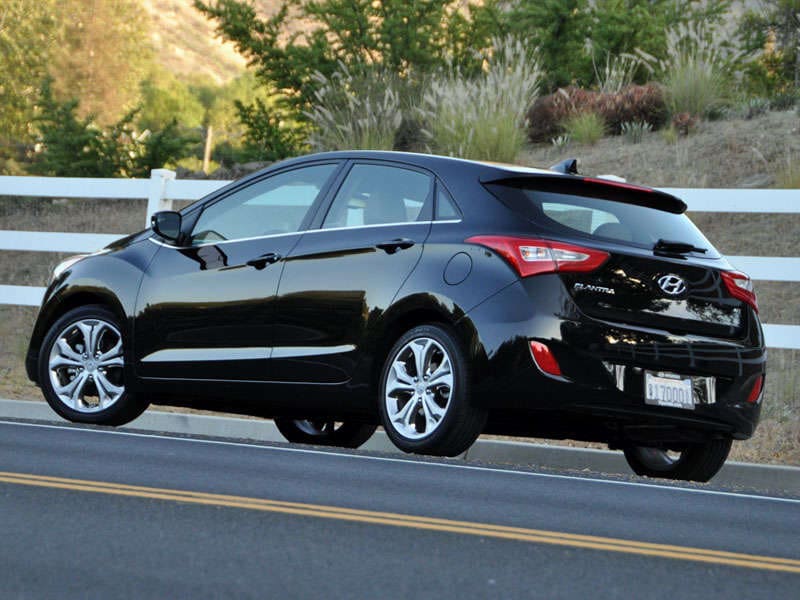 Photo by Christian Wardlaw