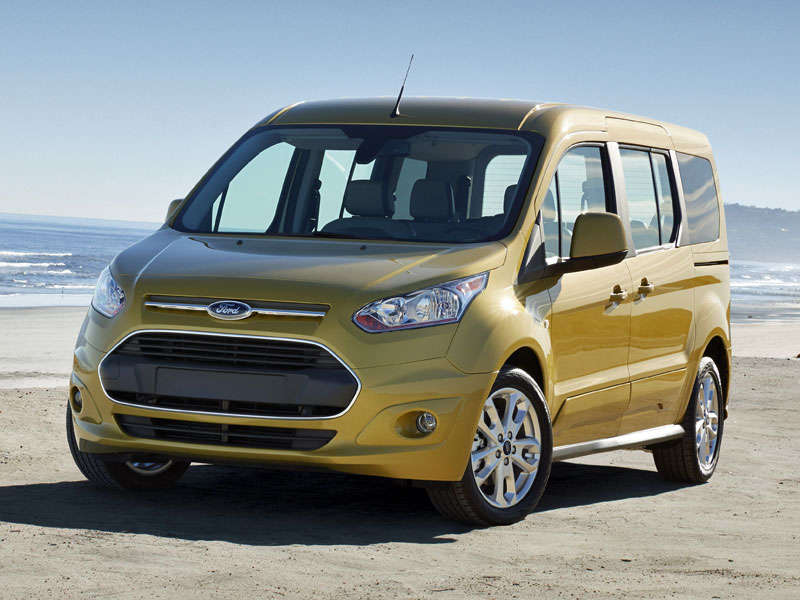 Driving through Beverly Hills in a Solar Metallic 2014 Ford Transit Connect Wagon covered with '#unminivan' decals attracts plenty of attention on a blistering hot Friday afternoon, even in jaded L.A. The hashtag reflects two things. First, Ford views the new Transit Connect Wagon as an alternative, perhaps even as an antidote, to a traditional minivan. Second, Ford is aiming this vehicle right at what it calls "impassioned indies," young moms and dads who know what Twitter is and aren't afraid to use it.
Yet, as I EcoBoosted my way down Sunset Boulevard, threading traffic thanks to a turbocharged 4-cylinder engine, I was thinking that with the new 2014 Transit Connect Wagon, Ford is actually resurrecting the minivan. After all, there's nothing 'mini' about a Chrysler Town & Country, Dodge Grand Caravan, Honda Odyssey, Kia Sedona, Nissan Quest, or Toyota Sienna, is there? The only true minivan available today is the Mazda 5, which looks too much like a flamboyantly grinning circus clown to be taken very seriously. Rather than reject the 'minivan' moniker for the marketing of the Transit Connect, perhaps Ford ought to embrace it.
On second thought, scratch that. No self-respecting impassioned indie would want to drive one of those conformist mommy-mobiles.
2014 Ford Transit Connect Wagon First Drive: What is It?
So here's the pitch, Gen Y free-thinkers. You've shacked up with somebody, and now you've either got a kid or you've got a kid on the way. You need space. You need functionality. You need a set of wheels that works in an urban setting. And you want a low price combined with great fuel economy in a safe, durable family vehicle that isn't just like what everybody else is driving.
If that describes you, then Ford thinks you'll like the Transit Connect Wagon.
So what is this thing, exactly? It's a small van, available with a short or a long wheelbase, and with 5-passenger or 7-passenger seating. Based on the Transit Connect commercial cargo vehicle, but with a nicer interior, the Transit Connect Wagon is bigger than a Mazda 5 but smaller than every other so-called minivan on the market. Ford calls this a "white space" vehicle, one that fills a gap in a segment where it can attract customers and mine sales that no other car company seems interested in capturing, and the automaker says that consumers think it has cool European design while dealerships are eager to get this vehicle onto their lots.
Having spent a few hours poking, prodding, and driving the new Transit Connect Wagon, I can better understand that.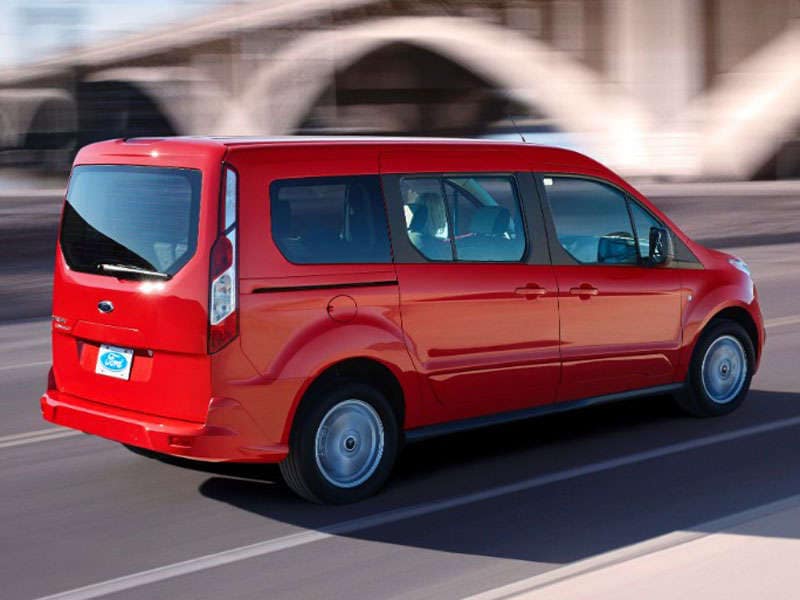 2014 Ford Transit Connect Wagon First Drive: Model Lineup
Roll into your local Ford store, and you're going to find the XL long-wheelbase (LWB – $25,000), the XLT short-wheelbase (SWB – $24,525), the XLT LWB ($26,525), and the Titanium LWB ($29,000), all sourced from a factory in Valencia, Spain. Unless you're a fan of drab, charcoal-gray bumpers and trim that screams 'cheapskate,' you'll want to skip the XL model and get into the XLT or Titanium model.
There's more substance to the XLT than just body-colored bumpers. It also includes carpeting, dark tinted privacy glass, cruise control, and Ford's MyKey technology, which makes it possible to program certain seat belt usage, stereo volume, and speed restrictions in order to encourage teenaged drivers to drive more responsibly. A reversing camera is also standard for this model, along with heated side mirrors, upgraded instrumentation, second-row power windows featuring one-touch operation, and a child observation mirror allows the driver to see each of the rear seating positions. This version of the van also has nicer wheel covers and fog lights.
The Titanium model sits at the top of the lineup, equipped with leather seats, a leather-wrapped steering wheel, dual-zone automatic climate control, rear climate control, and Sync connectivity with dual USB ports. The driver's seat features 6-way power adjustment, and both front seats are heated. A set of aluminum wheels dresses up the exterior, and the Titanium model also features automatic headlights, cornering fog lights, power folding exterior mirrors, and rain-sensing wipers.
Depending on the model selected, options include a panoramic glass roof, MyFord Touch with navigation, a QuickClear electric windshield defroster, aircraft-style overhead storage bins, a cargo net, and a trailer-towing package. Appealing 17-inch aluminum wheels are available for the XLT and Titanium models, leather is optional for the XLT, and the Ford dealer can install remote engine starting and a rear entertainment system.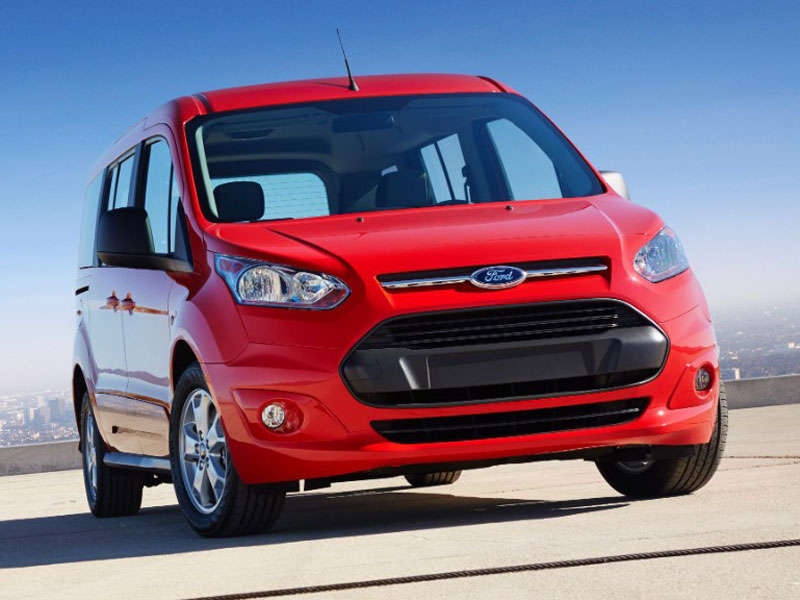 2014 Ford Transit Connect Wagon First Drive: Styling and Design
Let me give you three pieces of advice about the new Ford Transit Connect Wagon. First, upgrade to the XLT model for the body-color bumpers and trim, the tinted rear glass, and the reversing camera. Second, install the optional 17-inch aluminum wheels, which help to better balance this van's tall-roofed, slab-sided proportions. Third, don't pay attention to how this vehicle looks on the Ford website's configuration tool. It's more appealing in person.
While the Transit Connect Wagon might look large in photos, dimensionally it is smaller than all minivans except the Mazda 5. Compared to a Ford Explorer, the Transit Connect Wagon LWB is 2.2 inches taller, 6.1 inches narrower, and 7.4 inches shorter in length. That means it is easy to park wherever you might need to park it.
Form follows function with this vehicle, and there's no escaping its box-on-wheels design. Clearly, this van's buyers will be confident, practical, independent-minded people who like to buck convention and stand apart from the crowd. From that perspective, unusual paint colors like Solar, Burnished Glow, and Midnight Sky make perfect sense. Don't worry. There are eight 'normal' colors, too.
Inside, the Transit Connect Wagon's dashboard strongly resembles those of the Ford Escape, Fiesta, and Focus. That means style is sometimes emphasized over usability, and that the overall look is busy rather than simple. In my brief experience driving this van, I found the automatic climate control knobs too small for my stubby, dry fingertips to easily grasp, and the speedometer too difficult for my aging, dry eyeballs to read. But then, I'm not the young, trendy, hipster dad that Ford is targeting with the Transit Connect Wagon.
There's no shortage of connectivity in this van, especially if you choose the top-of-the-line Titanium trim. Dual USB ports are located in the center console, and this version includes Sync Bluetooth connectivity. MyFord Touch is optional for the XLT and Titanium, equipping the van with a color touchscreen display, a navigation system, audible text messaging technology, Pandora Internet radio, and Sync Services with 911 Assist.
Storage is no problem, either. In addition to lots of bins and cubbies, an overhead storage shelf is located above the front seats, a storage well is located under the front passenger's seat, and buyers can opt for unique aircraft-style overhead storage bins in the main cabin.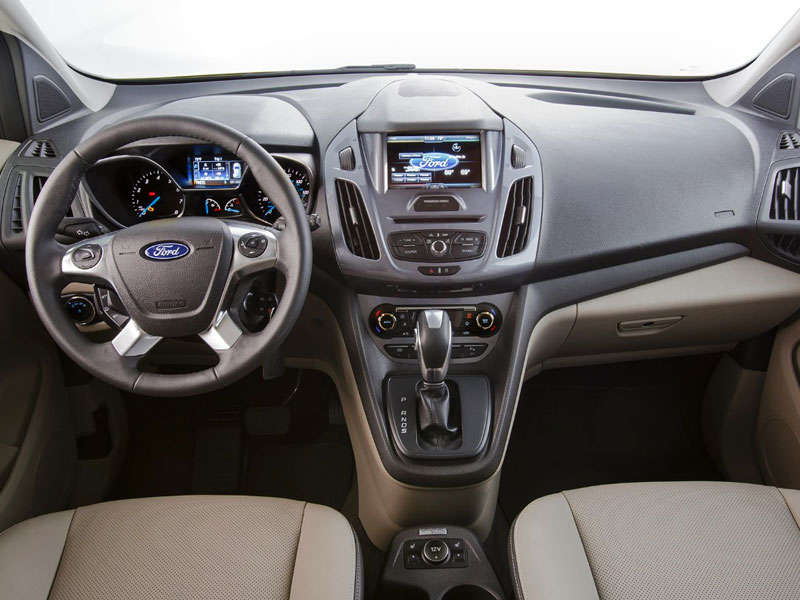 2014 Ford Transit Connect Wagon First Drive: Comfort and Configuration
Credibly seating up to seven people in three rows of seats, the Transit Connect Wagon provides enough comfort for everyone, achieving a key goal for this vehicle. There is, however, room for improvement.
Thanks to a 6-way power driver's seat and a tilt/telescopic steering wheel, the Transit Connect Wagon supplied a terrific driving position, giving me the ability to sit tall behind the wheel with an excellent view out. My right knee rested on the side of the transmission console, though, and it did not take long for it and the hard plastic trim to disagree.
Slide one of the sliding side doors open (power sliding doors are not available), climb into one of the second-row seats, and you'll find yourself sitting up really tall on a firm, comfortable cushion that provides impressive thigh support and lots of foot room under the front seats. Yet, the Transit Connect Wagon's second-row setup represents compromise in many respects.
The seat's fixed location places it too close to the front seat backs, making legroom snug for taller adults and meaning that children in forward-facing child seats will kick, kick, kick the front seats as your impassioned indie family motors on down the road. It would really help if the seat could slide a few inches to the rear. Ford does plan to offer a Taxi Package to cab companies, one that mounts the second-row seat five inches further back in the vehicle to provide extra room for passengers. I'd suggest they make this setup available to the general public, too.
Another compromise with the second-row seat design is that the seatback angle is fairly vertical and the seats cannot be reclined for greater comfort. Personally, I like this setup as it forces occupants to adopt proper posture, but we Americans sure do like to slouch, don't we?
I also noticed that the Transit Connect Wagon's Lower Anchor and Tethers for Children (LATCH) anchor locations are quite close to one another. If you're planning on carrying children who still require child safety seats, you'll want to make sure you can strap one down without any problems before using this van for kid hauling duty. Speaking of shuttling children, I suggested that Ford might want to offer manual rear side window shades for the Transit Connect Wagon, despite the fact that the XLT and Titanium already have dark tinted privacy glass, in order to better protect babies' sensitive eyes from piercing sunlight.
Get the long-wheelbase model, and the Transit Connect Wagon includes a 50/50-split third-row seat. Here, legroom is generous but foot space is tight. They recline, too, but this essentially puts the occupant's headrest inches from the rear window, which isn't advisable for safety concerns.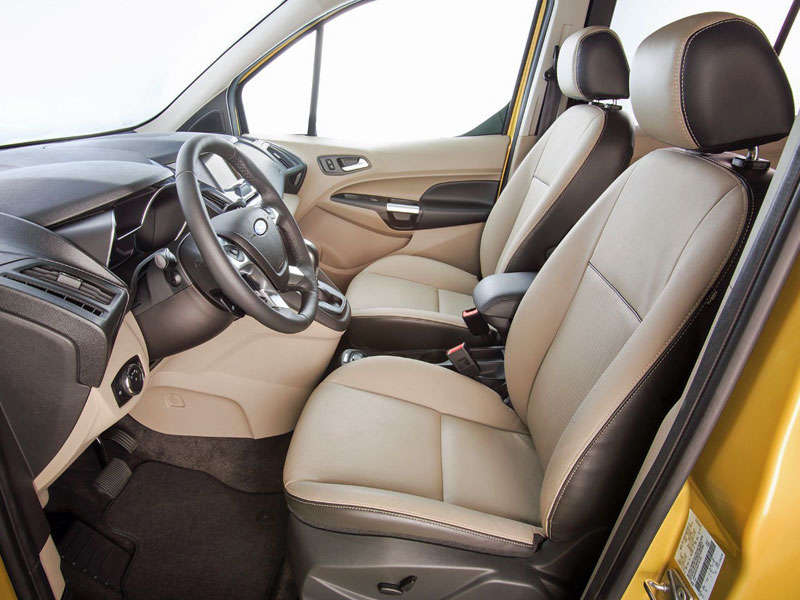 2014 Ford Transit Connect Wagon First Drive: Cargo Capabilities
One really good reason for buying a Ford Transit Connect Wagon is its cargo carrying capability. The rear seats fold flat and the load floor is remarkably low, making it easy to slide heavy things into and out of of the van. Plus, the front passenger's seat offers fold-flat capability, allowing the Transit Connect Wagon to carry long items with the rear liftgate closed.
In short-wheelbase format, cargo volume measures 46.9 cu.-ft. behind the rear seat and 77.1 cu.-ft. behind the front seats when the rear seat is folded down. In long-wheelbase format, space grows to 58.9 cu.-ft. behind the second-row seat and 104.2 cu.-ft. behind the front seats. These measurements put the Transit Connect Wagon midway between a Mazda 5 and other minivans. Unfortunately, the process of folding the seats is rather laborious, and you've gotta use some muscle to get them locked securely into place.
Swing-out cargo doors are available for the Transit Connect Wagon, but when they're closed they obstruct the driver's rear visibility to a notable degree. If you don't require this type of door design, go with the liftgate and its large rear window.  Keep in mind, though, Ford doesn't offer a power rear liftgate even as an option, and getting this one closed isn't easy.
Using a center-mounted strap on the inside of the liftgate, you grasp and swing it shut, but you must release the strap early to get your arm out of the way. I gave it everything I had in an effort to completely close the liftgate with one swing, but it was no use. Every single time I needed to plant my palm on the outside of the liftgate to slam it shut. That is going to produce two things: dirty hands, and handprints all over the back of the van.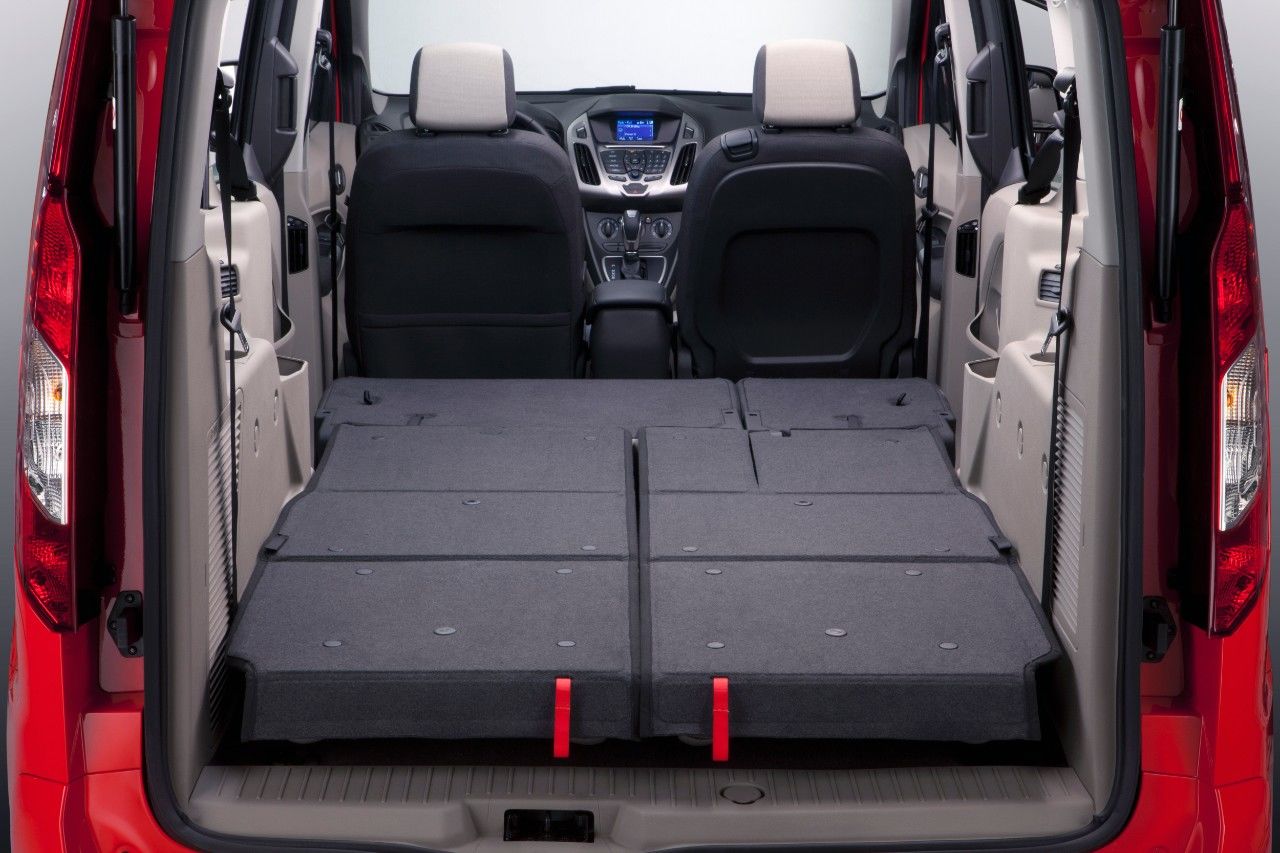 2014 Ford Transit Connect Wagon First Drive: Safety Matters
The target buyer for the Transit Connect Wagon likely cares about safety, and Ford earns an overall rating of 5 stars for this van's crash protection, according to the National Highway Traffic Safety Administration (NHTSA). Frontal-impact protection levels for the driver and front passenger rate 4 stars, rollover resistance rates 4 stars, and the van delivers 5-star side-impact protection in all assessments. That's pretty good crash protection, though the jury remains out as far as whether or not the Insurance Institute for Highway Safety (IIHS) might nominate the Transit Connect Wagon as a "Top Safety Pick."
All 2014 Transit Connect Wagon models are equipped with blind-spot side mirrors to help the driver see vehicles traveling in adjacent lanes. Ford's MyKey technology and a reversing camera are optional for the XL trim level and standard for the XLT and Titanium models, and parking assist sensors are optional for all three versions of the Transit Connect Wagon.
Ford makes its Sync connectivity available for the XL and XLT, and installs it as standard equipment for the Titanium. Sync includes 911 Assist, which automatically dials emergency service personnel when the van's airbags deploy in order to speed rescuers to the vehicle's location. This service is free, but does require that a paired smartphone is aboard the van at the time of the collision.
I asked Ford representatives if they were planning to offer a blind-spot information system for the Transit Connect Wagon, and they replied that this useful safety feature is on its way, to arrive at a later date.
2014 Ford Transit Connect Wagon First Drive: What's Under the Hood
Designed for global audiences and sold all around the world, the Transit Connect Wagon is constructed with mechanical and structural components that are designed to serve severe duty everywhere from Hanoi, Vietnam to Highlands Ranch, Colorado.
A 2.5-liter 4-cylinder engine is standard for all Transit Connect Wagon models, making 169 horsepower and 171 lb.-ft. of torque. Get the short-wheelbase model, and you can upgrade to a turbocharged 1.6-liter EcoBoost 4-cylinder engine generating 178 horsepower and 184 lb.-ft. of torque. Each is paired with a 6-speed automatic transmission that delivers power to the van's front wheels. Additionally, the Transit Connect Wagon can tow up to 2,000 pounds and can carry up to 1,270 lbs. of payload, figures that Ford claims are best-in-class as the van is launched.
When the time comes to visit a gas station, Ford's Easy Fuel capless fuel filler design makes it a little easier to top off the tank. Fuel stops won't happen as frequently as a traditional minivan, though. According to the EPA, the standard 2.5-liter 4-cylinder engine returns 20 mpg in the city, 28 mpg on the highway, and 23 mpg in combined driving. Official ratings indicate that the optional 1.6-liter EcoBoost engine is more fuel efficient, to the tune of 22 mpg in the city, 29 mpg on the highway, and 25 mpg in combined driving.
I tried each powertrain, negotiating heavy Los Angeles traffic the majority of the drive, and I got 19.8 mpg from each engine.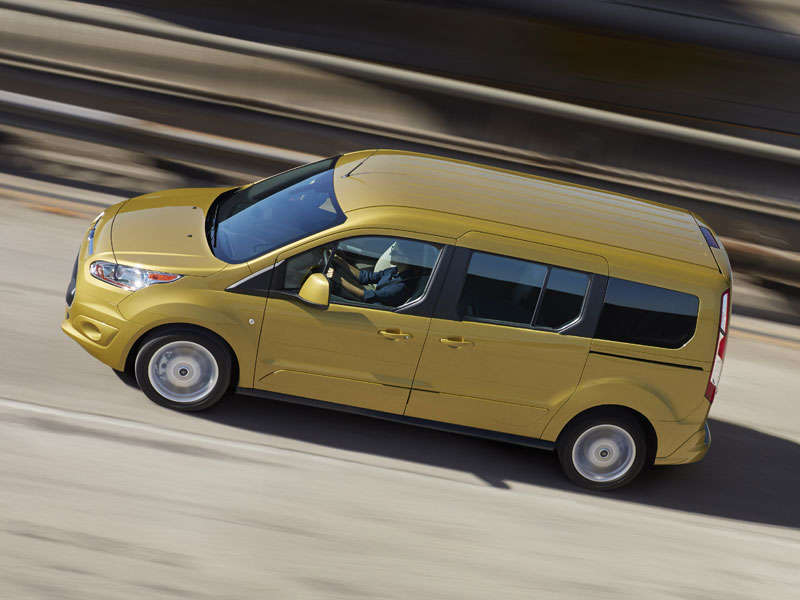 2014 Ford Transit Connect Wagon First Drive: Driving Impressions
Fridays in Los Angeles mean traffic, and plenty of it. Ford's driving route kept me on city streets, suburban boulevards, and coastal highways, all clogged with people checking out early to start a sun-drenched spring weekend.
Exiting parallel parking in a tight alley, the Transit Connect Wagon instantly proved the benefits of its smaller dimensions, effortless steering, reversing camera, and parking sensors. Taking a left across a busy city street was no trouble thanks to large windows and excellent visibility, and the van's 6-speed automatic transmission made good use of the turbocharged EcoBoost engine's power as I lane-shopped mid-day traffic across trendy West L.A.
Based on the same global platform that serves as the basis for the Ford Focus, the Transit Connect Wagon's suspension is taut and firm, and the handling is nimble, but you can't escape an ever-present aural and tactile connection to the road surface. While the optional 17-inch aluminum wheels and lower-profile tires give the van a better look, they also produce additional noise and a stiffer ride. The long-wheelbase model with 16-inch wheels delivers a much better ride quality, though it remains rather loud.
On-center steering feel is excellent, and effort levels weight up in heavy fashion off-center, a trait Ford purposely dialed in to help with trailer stability when towing. Crisp, responsive, and fast, the steering includes torque-vectoring control, and is administered using a thick wheel that features perfectly sized handgrips in the 10 o'clock and 2 o'clock positions. Parking this van is no problem, either, especially when equipped with the optional parking sensors.
Front and rear disc brakes are standard, and the pedal provides quick response, a firm feel, and excellent levels of feedback. At first, they felt a little too sensitive, but it didn't take long to acclimate to their immediate nature or to appreciate how they've been calibrated.
I'll admit that I really enjoyed the EcoBoost engine that's optional for the short-wheelbase model. It is responsive, and makes the van quick. However, unless you live in a high-altitude region like Denver, the standard 2.5-liter 4-cylinder is entirely agreeable for city and highway driving. In fact, based on the urban route that I traveled, I would have trouble justifying the extra expense of the EcoBoost engine, especially considering that it didn't really return better gas mileage during my time behind the wheel.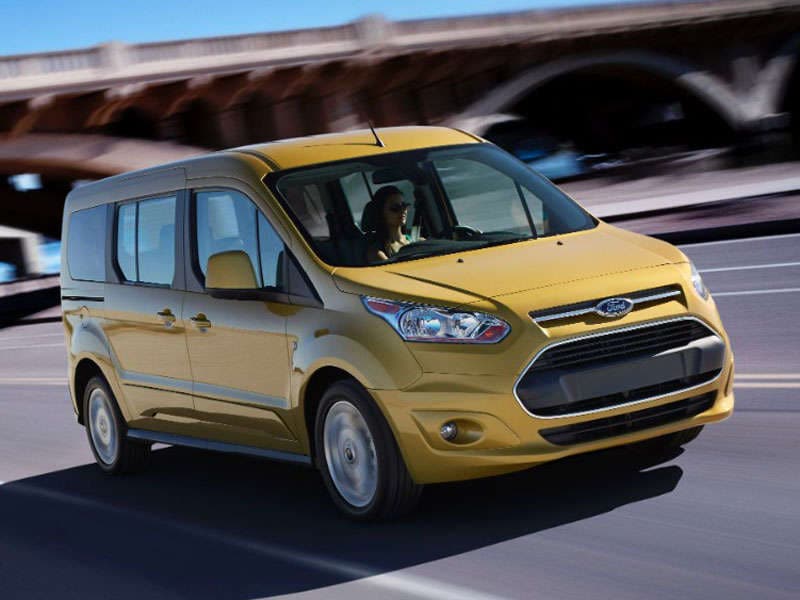 2014 Ford Transit Connect Wagon First Drive: Drawing Conclusions
During Ford's presentation to assembled reviewers, I heard the phrase "surprise and delight" multiple times. Am I surprised and delighted by the Transit Connect Wagon? Yes, I am. I truly did not expect to find a passenger vehicle based on a commercial van to be nearly this palatable for personal use. It's actually fun to drive, it's pretty comfortable, and it's got lots of interior room combined with plenty of functionality.
Where I remain unconvinced is in terms of value. A Mazda 5 with leather and all the trimmings is priced lower than the least expensive version of the Ford Transit Connect Wagon. The most popular version of the Honda Odyssey is not much more expensive than a Transit Connect Wagon Titanium with every upgrade.
Ford has wisely positioned its entry between the two in terms of size, equipment, and price, and is pitching it as a quirky alternative to a traditional minivan. If you're the type of person who is drawn to vehicles that are different, I certainly wouldn't steer you away from this one.
Ford invited Autobytel to participate in a ride-and-drive event to facilitate this article
2014 Ford Transit Connect Wagon photos provided by Ford Motor Company