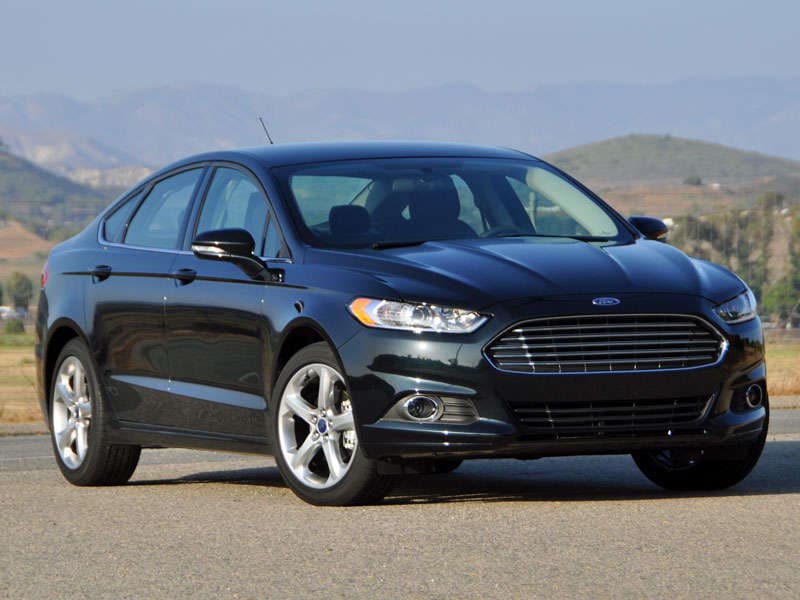 2014 Ford Fusion SE Appearance Package Dark Side Metallic Paint Front Quarter Right ・ Photo by Christian Wardlaw
One of the best-selling midsize family sedans in America, the 2014 Ford Fusion is a case study in how to build a car people will buy. The aptly named Fusion blends style and sophistication with value and practicality, all whipped together with safety, efficiency, and innovation. As a result, the Fusion trails only the Honda Accord, Nissan Altima, and Toyota Camry in sales within the midsize sedan segment, each of those competitors leaning heavily on long-standing reputations for reliability to drive customers to showrooms.
Guess what. The Fusion is reliable, too. Or at least it was, until it was redesigned for 2013 and people started complaining about the MyFord Touch infotainment system. That's not a reliability problem as much as it is a design problem, and it's not a design problem as much as it is an owner familiarity problem. First read the manual, then use the latest version of MyFord Touch for a while, and you'll acclimate. Maybe.
Given the Fusion's popularity, and because it received a new engine choice for the 2014 model year, I figured it was time to pile my wife and kids aboard for another look. We're still enamored with the Fusion, because it is a terrific car. However, we'd like it lots more if Ford would address one small detail that makes a big difference in terms of family harmony.
2014 Ford Fusion Review and Quick Spin: About Our Test Car
For this evaluation, I wanted to check out the new turbocharged, 1.5-liter 4-cylinder EcoBoost engine that debuts for 2014. Ford sent me the most popular version of the 2014 Fusion, the SE trim level with an automatic transmission and a starting price of $25,555*.
To this, my test car, dipped in new Dark Side metallic paint, had the SE Appearance Package ($985 – fog lights, rear spoiler, 18-inch aluminum wheels, leather-wrapped steering wheel, Charcoal Black EcoCloth seats with red stitching). Add to this a set of rear inflatable seat belts ($190), a navigation system ($795), and the MyFord Touch Technology Package ($1,100 – Sync connectivity, MyFord Touch with 8-inch screen, dual-zone automatic climate control, reversing camera), and the sticker price of my test car came to a remarkably reasonable $28,625.
You won't pay that much, of course. At a minimum, you'll negotiate a deal at invoice, then apply the current rebate, and then pay for the rest. As I write this review, Ford is offering a $3,000 rebate on the 2014 Fusion SE, or buyers can finance for 60 months with a no-interest loan and still get a $1,500 rebate. Currently leasing one of the Fusion's direct competitors? They'll toss in another grand to sweeten the pot.
Trust me. It's not going to be hard to get a killer deal on a new Fusion. Ford clearly wants more Accord, Altima, and Camry owners to switch allegiance.
* Includes a destination charge of $825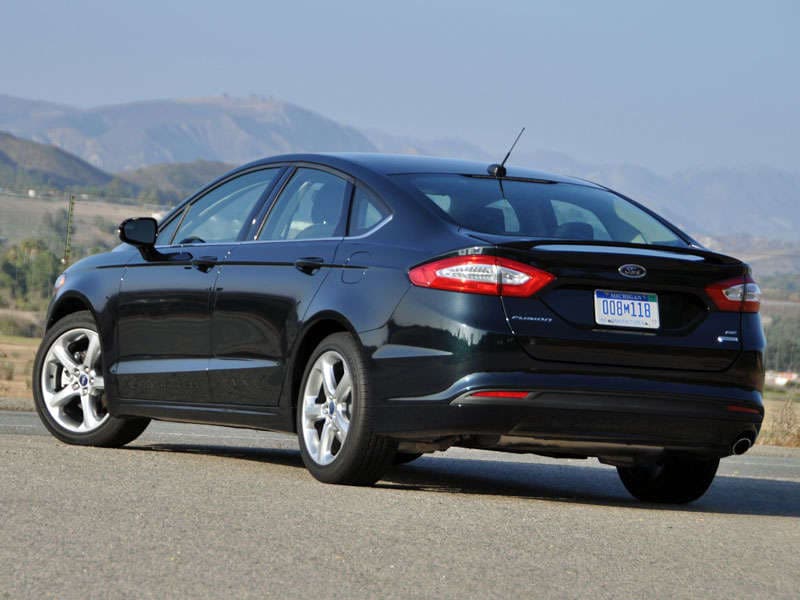 Photo by Christian Wardlaw
2014 Ford Fusion Review and Quick Spin: Styling and Design
Styling is one reason to like the Fusion. This is a good-looking car, attractive from every angle, and the 18-inch wheels that are included in the SE Appearance Package are appealing and easy to clean. The paint on my test car is a new-for-2014 color called Dark Side which, depending on the quality of the light and the time of day, can look black, dark blue, or dark green. I happen to like it, but I can understand why some people might prefer to get a mainstream color.
Inside, it's not hard to see where Ford needed to save pennies to keep the Fusion's sticker price reasonable. The silver plastic accents look just like silver plastic, but the piano black trim definitely classes the place up. Ford could have done a better job of matching the pillar cover trim to the headliner, and the glove box door's gloss level stands in sharp contrast to the upper portions of the dashboard and door panels. Overall, though, the Fusion's interior is modern in appearance and upscale in flavor, and my test car's EcoCloth seat fabric proved both comfortable and easy to clean.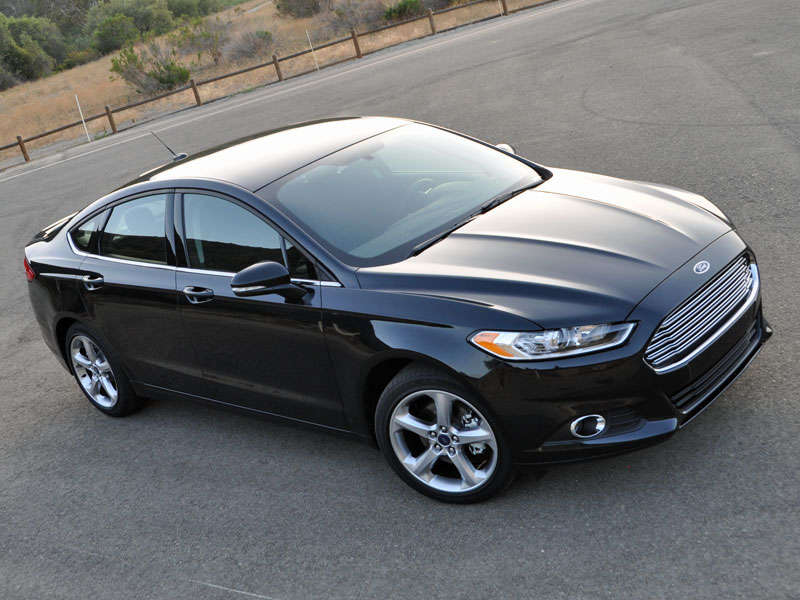 Photo by Christian Wardlaw
2014 Ford Fusion Review and Quick Spin: Comfort and Cargo
My test car had a 10-way power driver's seat and a tilt/telescopic steering wheel, so finding a proper driving position was easy. Despite rather wide windshield pillars and the Fusion's sleek, low-slung roofline, outward visibility is good, helped by large side mirrors that include separate blind spot mirrors for easier lane reference.
No matter how much money you have to spend, though, you can't get a height adjuster for the front passenger's seat, and because it sits so close to the floor and so low in relationship to the dashboard, neither my wife nor I wanted to ride in it. Plus, it was harder to hoist our middle-aged selves out of the car. Having spent a week and nearly 500 miles behind the wheel, many of them covered with my family aboard, it is this lack of a front passenger's seat height adjuster that would most likely cross the Fusion off of our own consideration list. I'd strongly recommend that Ford install a standard manual height adjuster for the SE trim level, and offer a 10-way power adjuster for the top Titanium trim level.
The Fusion's back seat offers decent legroom and space for feet; the bottom cushion is angled to deliver thigh support even for taller people; and air vents help rear seat passengers to keep their cool. My test car had the available inflatable rear seat belts, an affordable option that adds a little extra cushion in a collision. Note, though, that my 5-year-old could not buckle this kind of seat belt herself, requiring mom and dad to lean in and wrestle the larger and thicker belt into the bigger latch alongside the base of her booster seat.
Pop the Fusion's trunk lid to access 16 cubic-feet of space. I would urge buyers to get the available cargo net, because on two different occasions smaller items placed in the trunk wound up wedged into the corners near the rear seat backs. To expand cargo capacity, the rear seats fold down in a 60/40 split, and while there's a rear center armrest, Ford doesn't supply a pass-through in order to accommodate four passengers and longer items, such as skis.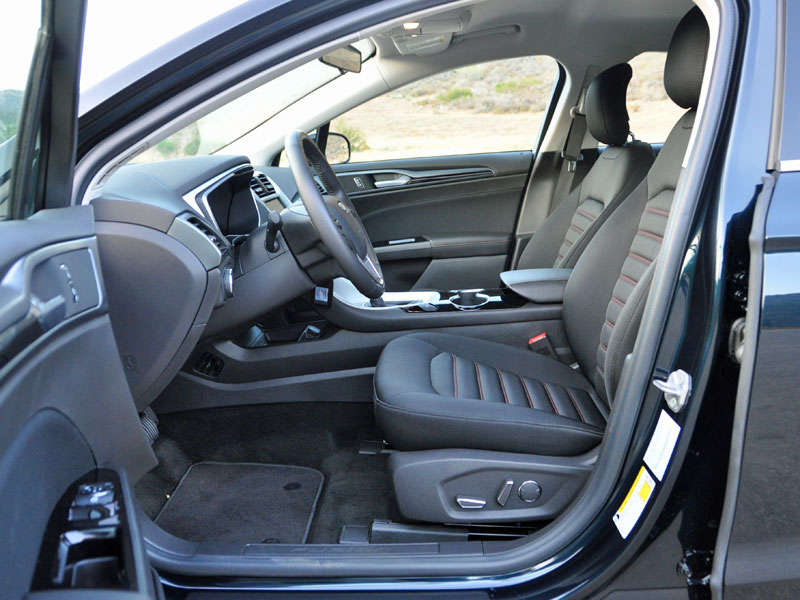 Photo by Christian Wardlaw
2014 Ford Fusion Review and Quick Spin: Features and Controls
Either Ford has improved its MyFord Touch infotainment system, or I've gotten the hang of using it, or both. Based on my experience in this example of the Fusion, this technology is better than ever, more responsive to inputs and rendered with greater logic and simplicity.
It sure helps that the Fusion is equipped with separate power/volume and tuning knobs for controlling primary stereo functions. Thanks to simple and speedy smartphone pairing, I easily connected my iPhone to the system, and Ford also makes it obvious how a driver can quickly delete a phone from the system's memory. These upgrades, combined with responsive touchscreen buttons that worked well despite my dry fingertips, make fingerprints my most significant complaint about this iteration of MyFord Touch.
When MyFord Touch is added to the Fusion, the car also gets a touch-controlled climate system. It works well enough, and sure presents a clean appearance, but I still prefer old-fashioned buttons and knobs that can be operated without looking away from the road.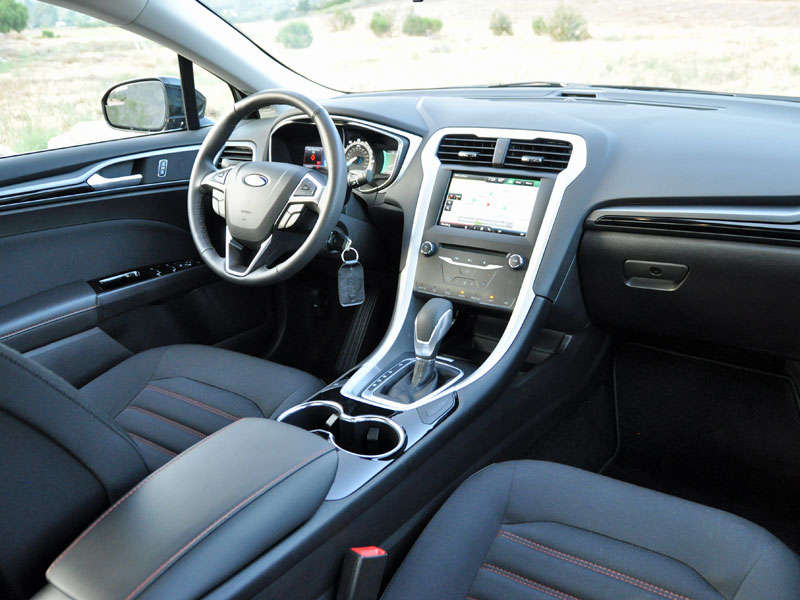 Photo by Christian Wardlaw
2014 Ford Fusion Review and Quick Spin: Safety Matters
The rear inflatable seat belts I mentioned earlier are just one of many safety features available for the 2014 Fusion. The car's Sync smartphone pairing system includes 911 Assist, which activates following airbag deployment to speed rescuers to the scene, as long as a paired phone is inside of the car at the time of the collision. Additional safety features include a reversing camera, a blind-spot information system with cross-traffic alert, a lane departure and lane keeping aid system, and a forward collision warning system.
In crash tests conducted by the National Highway Traffic Safety Administration (NHTSA), the 2014 Fusion earns an overall rating of 5 stars, but in the side-impact test the car gets a disappointing 3-star rating for driver protection. The Insurance Institute for Highway Safety (IIHS) doesn't find the same weakness in the car, giving it a "Top Safety Pick" rating. The Fusion's optional forward collision warning system is rated as "Basic," though, so it appears that Ford has some work to do in improving it.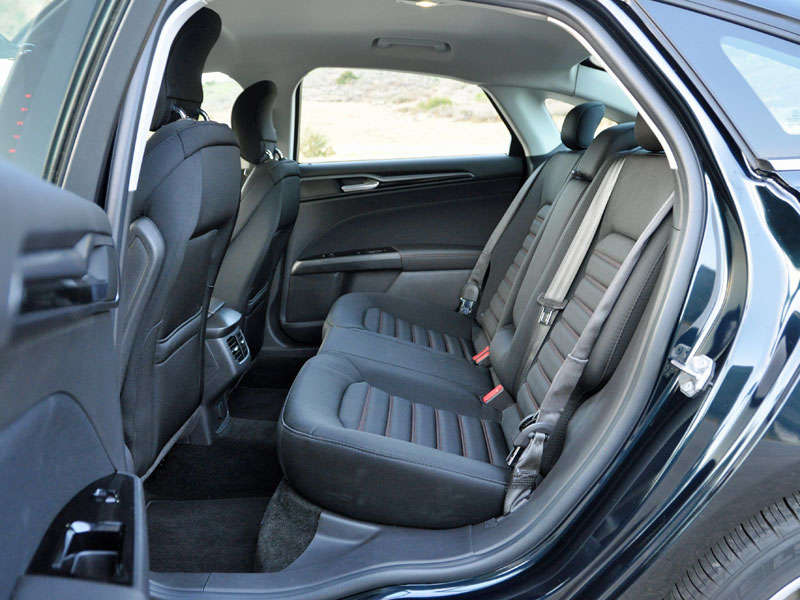 2014 Ford Fusion Review and Quick Spin: Driving Impressions
Though the Fusion was redesigned just last year, Ford replaces the 1.6-liter EcoBoost 4-cylinder engine with a new 1.5-liter EcoBoost 4-cylinder engine in SE models with an automatic transmission. If you buy the SE with a stick shift, you'll still get the slightly bigger 1.6-liter EcoBoost 4-cylinder.
Why the change? The Fusion is sold all around the world, and in some places cars with engines larger than 1.5 liters face heavier taxes. By putting the 1.5-liter engine into Fusions sold in the U.S. as well as in those sold in other regions, the automaker benefits from economies of scale while skirting the taxation issue in global markets. Basically, it's a smart business decision.
Don't worry. You're not suffering a penalty here. In fact, when burning regular fuel, the new 1.5-liter actually makes four extra horsepower for a total of 181, albeit at slightly higher engine rpm. It makes 185 lb.-ft. of torque, too, one lb-ft. more than last year, but torque peaks higher than it used to, now at 4,350 rpm compared to 2,500 rpm for the previous engine. A 6-speed automatic transmission is standard with the 1.5-liter EcoBoost engine, featuring a Sport mode and manual shifting via a dissatisfactory rocker button on the shifter.
Automatic stop/start technology is, but my test car did not have this upgrade, which bumps the combined driving fuel economy rating from 28 mpg to 29 mpg. During a week of driving, I averaged 23.5 mpg, and while less than half of my test miles were covered on freeways, I expected better.
Generally speaking, the Fusion is delightful to drive. The least appealing dynamic trait – at least when equipped with the 1.5-liter EcoBoost engine – is momentarily sluggish acceleration from a stop, what is often referred to as turbo lag. To the engine's credit, once revs climb just a little bit, the engine generates enough torque to spin the wheels if you're not careful. And to the transmission's credit, if you shift down into the Sport driving mode, the Fusion definitely feels more lively if not genuinely fast. Still, you're going to want to give yourself extra room when turning into the flow of traffic, or when turning across traffic.
Suspension tuning is on the soft and absorptive side, but the car never feels disconnected, and though both lateral and vertical body motion is evident, it is expertly damped. Body roll is properly controlled, too, making it fun to toss the Fusion into a turn, and my test car's 235/45 18-inch tires gripped well without howling in discontent. The brakes are quick to respond and easy to modulate, too, and Ford's electric steering is among the best in the business. In the Fusion, you can't tell the difference between it and a traditional hydraulic setup.
Aside from the turbo lag issue, and somewhat lazy transmission shifting when in Drive rather than Sport mode, the Fusion's dynamics are remarkably refined and capable. It's not a sport sedan, but it sure is a terrific daily driver.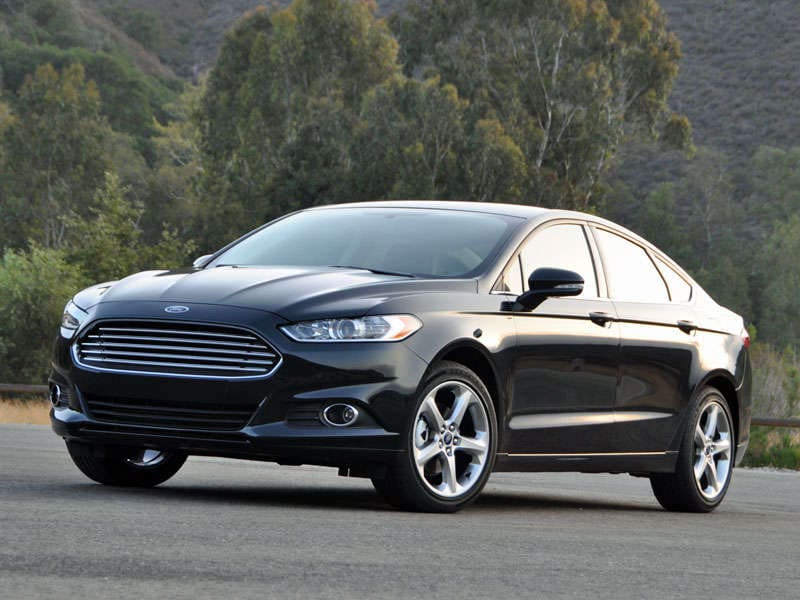 Photo by Christian Wardlaw
2014 Ford Fusion Review and Quick Spin: Final Thoughts
I think the 2014 Ford Fusion is a terrific car, one rightly deserving the critical praise it receives, as well as the uptick in sales that Ford and its dealers are enjoying. I'd be inclined to spend extra for the Fusion Hybrid to get better fuel economy, or to upgrade to the more powerful 2.0-liter EcoBoost engine to get improved performance, but this SE test car represents the crossroads where value, performance, and efficiency make sense for most Americans.
Ford provided the 2014 Fusion SE for this review
2014 Ford Fusion SE photos by Christian Wardlaw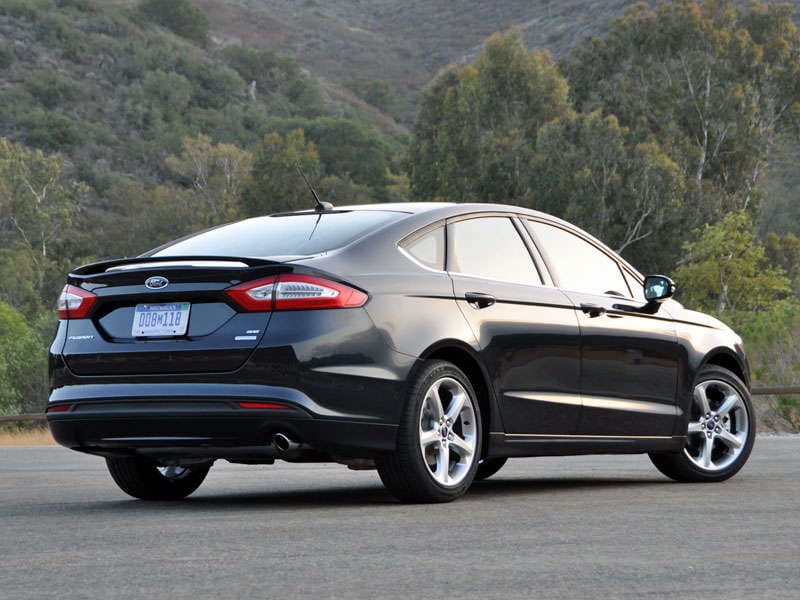 Photo by Christian Wardlaw