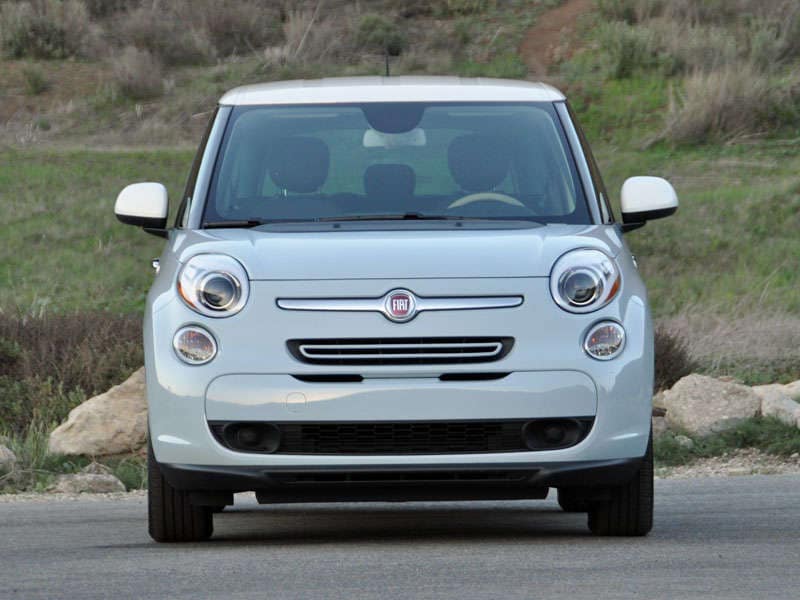 Italy is a passionate, visceral country known for beautiful people producing beautiful things. The landscape, the architecture, the art, the fashion, the language, the cars…wait a sec. Let me amend that. The sports cars, the wine, the food…you get the point. If you've ever been, you just can't wait to go back, because Italy makes you feel gorgeously alive.
So then, how to explain the baby blue roller skate wearing Fiat 500L badges that sat in my driveway for a week? If the Great Saturn Debacle at General Motors taught car company executives anything, it's that you can't launch a brand with a small car and then offer nothing but a small car. So after all of the excitement surrounding the return of Fiat and its cute little Cinquecento (500) model, everyone asked: "OK, what else ya got?"
The 2014 Fiat 500L is the answer to that question.
2014 Fiat 500L Review and Road Test: Models and Prices
The 2014 Fiat 500L is available in trim levels called Pop, Easy, Trekking, and Lounge. Prices start at $19,995 including an $800 destination charge. Unfortunately, the 500L Pop is only available with a manual transmission. If you don't know how to operate a clutch pedal, you need to spend extra for the 500L Easy ($21,195) and then get the 6-speed Euro Twin Clutch Transmission ($1,350).
Add a more rugged appearance to the 500L by selecting the Trekking model ($22,395), which is also available with the Euro Twin Clutch Transmission. This version of the car features SUV styling cues and different wheels, along with a couple of unique paint color choices. At the top of the lineup sits the 500L Lounge ($25,195), which includes the Euro Twin Clutch Transmission. Load this model up with all the extras, and the price rises to $29,195.
I tested the Easy model, painted Blu Chiaro (light blue) with an optional Bianco (white) roof. However, since my sample was produced, Fiat has revised the way it packages options for the 500L, and so duplicating my car using the Fiat website is impossible. Suffice it to say that the car in the photos came to $24,445, and included a Euro Twin Clutch Transmission, a Uconnect 6.5-inch touchscreen infotainment and navigation system, a reversing camera, rear parking assist sensors, a Beats premium audio system, a dual-zone automatic climate control system, and a number of additional minor upgrades.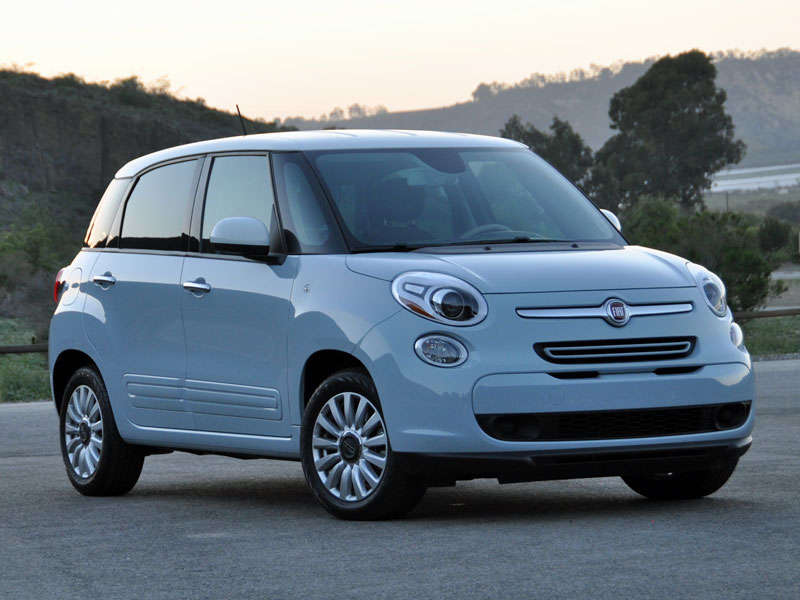 2014 Fiat 500L Review and Road Test: Design
When it comes to the Fiat 500L, you either like the way it looks or you don't. If you think it's stylish and reflective of your personality, then you're probably going to love nearly everything about the 500L – even its quirks. If you don't like the way it looks, you're not even going to put this multi-purpose vehicle on the consideration list, so the quirks won't matter.
Whether or not I like the 500L's styling is irrelevant. Let's just say I can appreciate it for being unique, different, and functional. I will, however, comment on the aluminum wheel design used for the Easy and Lounge models. First, they look like hubcaps instead of alloys. Second, it is a total pain in the you-know-what to clean them. Third, the fins stick out and are susceptible to curbs. Put it all together, and this car is a great candidate for aftermarket wheels.
My 500L Easy's black-and-beige 2-tone interior had a fabric upgrade compared to the basic Pop model, one with attractive and distinctive striated patterns on seats. The driver and front passenger faced a dashboard featuring appealing materials and both metallic and piano-black accents, producing a look that is classier and more upscale than might be expected. Stylish, even. But then, this is a Fiat.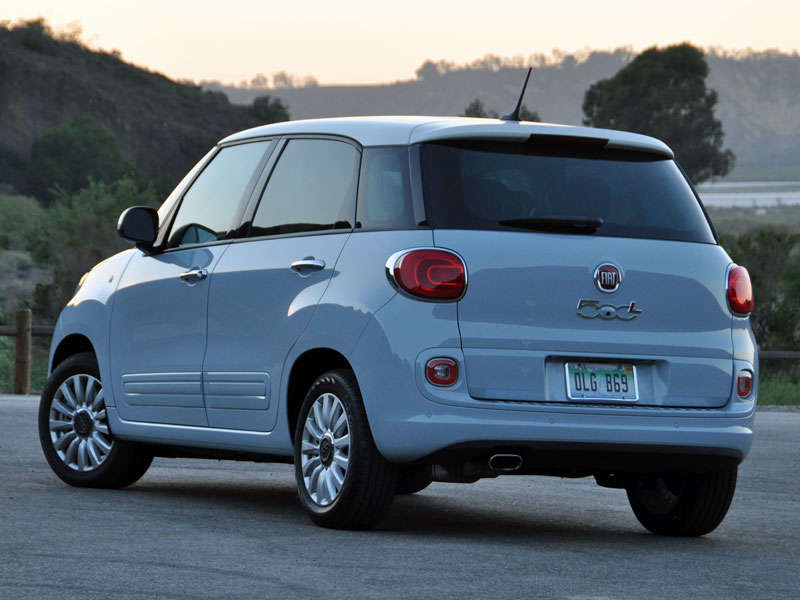 2014 Fiat 500L Review and Road Test: Comfort and Cargo
500L has lots more space for people and cargo than a regular FIAT 500
Think a Fiat can't be roomy inside? Check out this 500L model. It's got lots of cargo room and it's got lots of rear seat room. What it doesn't have, unfortunately, is lots of front seat room.
Given the amount of space dedicated to rear seat occupants, Fiat can afford to give the 500L two things that it desperately needs. The first is more front seat track travel for greater front seat legroom. The second is larger front seat cushions that provide better thigh support.
As it stands, the front seats are adequate, sitting up nice and tall and providing an excellent view forward due to the 500L's unique "wrap-around" windshield treatment. But when I drive the 500L, my legs are bowed outward at the knees, producing an increasingly uncomfortable driving position as time and miles accumulate. After a couple of hours behind the 500L's stylish steering wheel, I was looking for just about any excuse to get out of this car in order to stretch my legs.
Comfort is not a problem for people sitting in the 500L's rear seat. I'm a big guy, and this car supplies a bunch of legroom, foot room, and headroom, and probably has no trouble accommodating three passengers across. The seat itself sits nice and high with an excellent view out, and it's super easy to get into and out of this vehicle. If you've got kids or pets, though, I'd recommend against my test car's black-and-beige fabric. After a week and 600 miles of serving as my family's transport device, there were gray shoe smudges everywhere.
There are a few other things to know about the 500L's back seat. First, there's a 3-prong, 115-volt power outlet located at the bottom of the center console. Second, the seatback is not a 40/20/40 folding design, precluding the ability to carry four people and a set of skis. Third, the available center armrest offers a single cup holder. The only other spots to stash a drink are within half-hearted attempts at bottle holders in the door panels, and little trays located by the power window switches that probably won't work for a juice box but could hold a juice bag. I don't recommend that, though. That's a good way to gunk up the power window switches.
The 500L's cargo area is shaped like a cube, and holds 22.4 cu.-ft. of your stuff if you remove the cargo cover. Fold the rear seats down, and according to Fiat the 500L has 68 cu.-ft. of space, which is on par with small crossover suvs such as the Ford Escape.
It's been a very long time since Fiat sold Americans a car that can carry a family, but you're going to want to make sure the kids are older, because getting a stroller into a 500L ain't easy. I had lots of trouble getting my daughter's compact folding stroller into the trunk, even when it was empty. But I'll tell you this much: it fits fine lengthwise across the floor of the rear seating area.
The 500L's cargo floor panel can be placed in a higher position with storage beneath, which is handy on some occasions. You can also remove the cargo cover, but due to its odd shape that's extremely difficult to do unless the rear seatbacks are folded first, which isn't practical if you've got child safety seats strapped into the car via the LATCH anchors.
Once you get everything into the trunk, it's time to close the hatch. Make sure you grip the assist handle underhanded, because if you don't, the tailgate threatens to snap your wrist when you close it.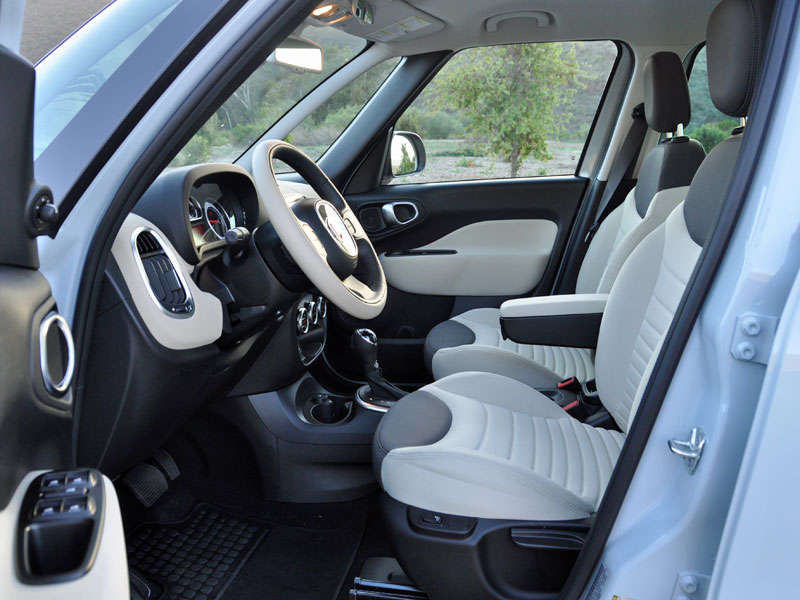 2014 Fiat 500L Review and Road Test: Features and Controls
Free Uconnect 6.5 infotainment and navigation
Free reversing camera
Free reversing sensors
While supplies last
Given how wacky the Fiat 500L's exterior looks, it might be surprising to discover that the interior possesses the potential for universal appeal. From the Uconnect infotainment system with its 6.5-inch display, high-resolution graphics, and useful primary knobs and buttons, to the large rotary dials for the climate control system, the 500L's conventional layout and intuitive switchgear is a blessing. There's nothing odd about it, aside from the giant parking brake lever chewing up space between the seats that could otherwise be dedicated to a storage console of some kind.
As far as upgrades are concerned, the 500L Pop is not offered with options. Easy and Trekking are similarly equipped, the latter with a more rugged appearance, and can be optioned with numerous "collections" of extra-cost features including dual-zone automatic climate control, heated front seats, a panoramic sunroof, color and trim upgrades, audio system enhancements, and more. The 500L Lounge is equipped with most of these features plus leather seats, and can be optioned with the sunroof, larger 17-inch aluminum wheels, and special trim treatments.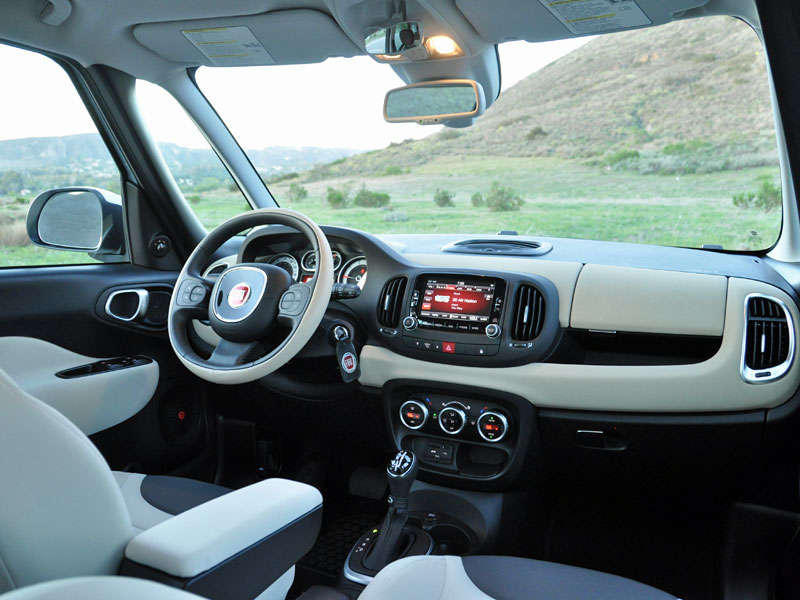 2014 Fiat 500L Review and Road Test: Safety and Ratings
Ever so briefly, a "Top Safety Pick"
Aside from a driver's knee airbag, blind-spot mirrors, a reversing camera and rear parking assist sensors, the Fiat 500L is light on safety-related equipment. What this car could use is Uconnect Access technology, which offers a 911 Assist feature as well as voice texting capability.
In crash tests performed by the Insurance Institute for Highway Safety (IIHS), the 500L earns the best rating of "Good" in four of the five assessments, a performance that briefly gave the car a "Top Safety Pick" rating shortly after it went on sale. Then, the IIHS changed the requirements for a "Top Safety Pick" rating for 2014, and because it hasn't performed the new small overlap frontal-impact test on this Fiat, the 500L no longer qualifies for the accolade.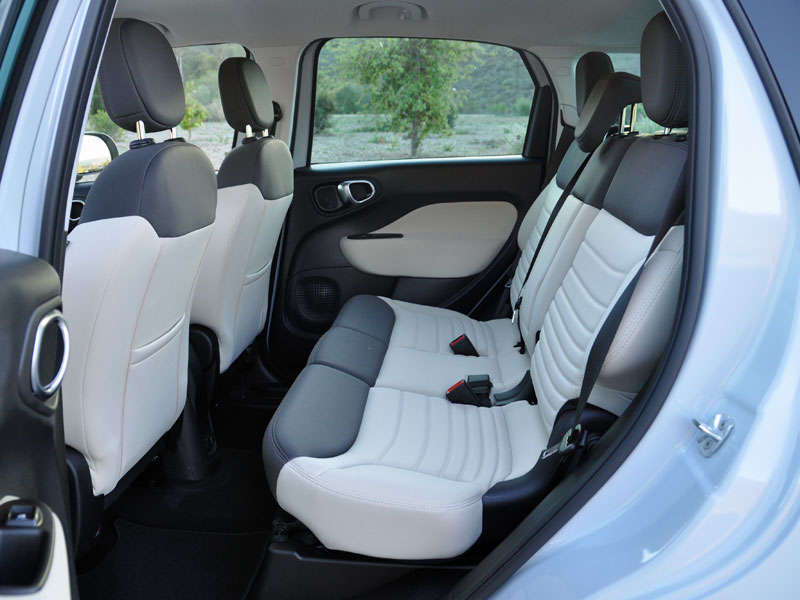 2014 Fiat 500L Review and Road Test: Engines and Fuel Economy
Turbocharged engine from 500 Abarth is good
Optional 6-speed Euro Twin Clutch Transmission is not
Powered by the same engine that Fiat installs in the performance-tuned 500 Abarth model, the 500L is equipped with an impressive little turbocharged, 1.4-liter 4-cylinder making 160 horsepower and 184 lb.-ft. of torque. Of course, in this model the engine has an extra 691 pounds to lug around, and that's before you pile people into the back seat. Nevertheless, thanks to the torque peaking between 2,500 rpm and 4,000 rpm, the heavier 500L still feels energetic.
In all versions except the Lounge model, a 6-speed manual gearbox is standard equipment. You might want to stick with the stick, because the optional 6-speed Euro Twin Clutch Transmission is not terribly refined and serves as a constant source of irritation with the car.
Here's the deal. This optional transmission is an automated manual gearbox. To the driver, it works like a conventional automatic transmission, in that you select Park, Reverse, and Drive and you don't need to worry about operating a clutch. Behind the scenes, though, it works like a manual gearbox, producing different behavior than a driver might expect. For example, with the 500L's Euro Twin Clutch Transmission there's a delay as the transmission engages once you get off the brake and onto the gas, it hesitates a little between gears, and it rolls backward on hills once the hill-hold feature disengages, this latter characteristic turning the 500L into quite the amusement ride for my children on our sloping driveway.
If you understand and acclimate to these characteristics, then this type of transmission, which is becoming increasingly common as one way to improve fuel economy, won't bother you much. I don't have any problem with automated manual transmissions, in general. But the one in this car regularly feels confused about what it should be doing at any given time. Worse, if you decide to take matters into your own hands, the shift pattern is counterintuitive, requiring a tap up to downshift, and a tap down to upshift. Fiat supplies no paddle shifters, either.
Does it help to deliver good gas mileage? Not in my experience, compared to official fuel economy estimates. In the EPA's fairy-tale land, my 500L should have gotten 24 mpg in the city, 33 mpg on the highway, and 27 mpg in combined driving. I averaged 25.5 mpg, despite the fact that the majority of the miles driven were on the freeway.
Ah well, maybe the value of Fiat's free maintenance plan would help make up for the shortfall, providing no-charge service stops for the first three years or 36,000 miles of ownership.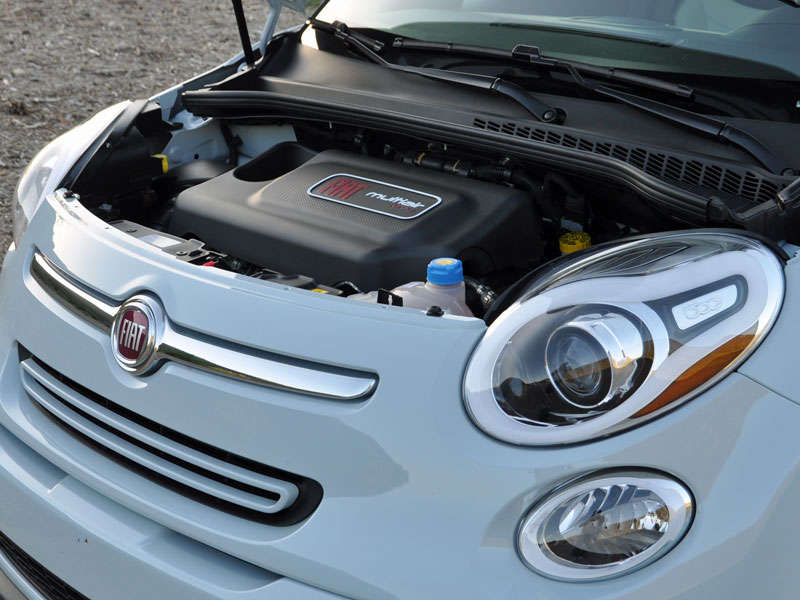 2014 Fiat 500L Review and Road Test: Driving Impressions
As I like this Fiat's turbocharged 1.4-liter 4-cylinder engine. It's not as refined as a 2.0-liter turbo from Volkswagen, louder and less subtle about how it builds power, partially a function of its narrower torque curve. Compared to a turbocharged 1.4-liter from General Motors, though, this one never feels flat-footed, like you caught it off-guard and taking a nap.
The twin-clutch automated manual transmission is a liability, though. It regularly behaves in a confused manner, delaying downshifts, delaying upshifts, hanging between gears, taking its sweet time to engage a gear, allowing the car to unexpectedly roll backwards. If there were a discernable pattern to its behavior, the driver could simply acclimate, but there's not.
Dynamically, the 500L's steering and suspension are the highlights. Fiat dials the right amount of low-speed ease and higher-speed heft into the steering, and it's easy to whip this car into empty parking spaces and around corners. The wheel rim itself is not as comfortable to grip as it could be, despite the soft and smooth leather, because of odd seam locations.
The 500L's suspension is fantastic, providing a firm connection when you want it while soaking up terrible pavement with a remarkable degree of sophistication. Even over the worst sections of concrete, the 500L felt exceptionally composed, isolating occupants from the nastiness at the road surface.
Bend the 500L into a fairly tight curve at speed and the body rolls, feeling as though it is loading the weight onto the forward outer wheel. That lends the car a feeling of athleticism, but the front tires are already overwhelmed thanks to a 61/39 front-to-rear weight distribution, and as a result the P205/55R16 Continental ContiProContact tires squish and squeal early.
If you're not careful, the 500L's brake pedal proves super sensitive, and it's easy to accidentally brake too hard while in traffic. In other circumstances, it feels very natural, and during one panic stop on a fast-flowing L.A. freeway that suddenly came to a standstill, the 500L's brakes proved easy to modulate right on the threshold of engaging the ABS.
Speaking of driving on the freeway, like lots of European cars, the 500L easily cruises at extra-legal speed, feeling rock solid at 85 mph. On the highway, the cabin is quieter than expected, too.
There's one other thing I need to mention; the 500L's panoramic windshield design is pretty terrific. Whether I was negotiating busy city intersections full of pedestrians, or flinging the car down a mountain road, this design provided remarkable forward visibility. Those slim front pillars are weird, yes, and they take getting used to, but this solution is so much better than having a fat pillar that blocks the view.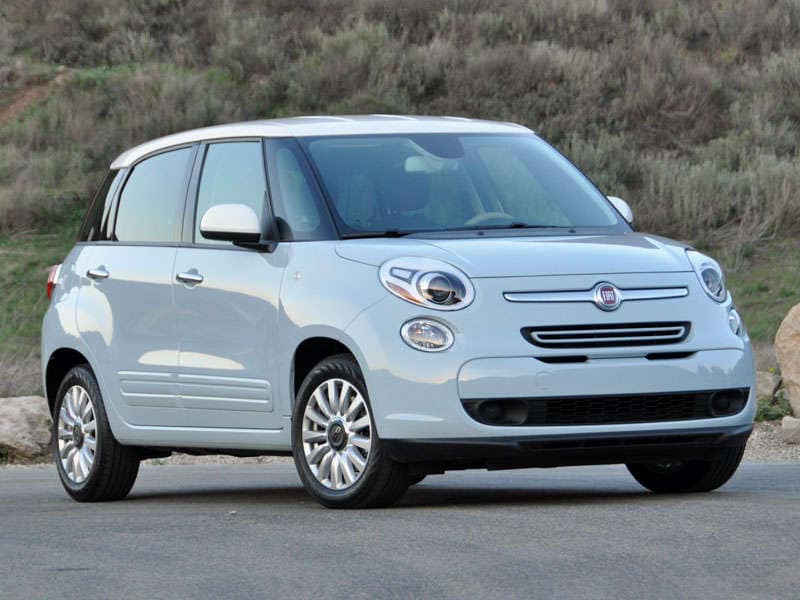 2014 Fiat 500L Review and Road Test: Final Thoughts
There is merit to the 2014 Fiat 500L, starting with the fact that it's different from what everyone else drives. But this car also represents an acquired taste, because it has lots of quirks that are hard to accept unless you absolutely love it otherwise, and for whatever reason.
So, what does that mean? If you're drawn to the 500L for its design or heritage, then put it on the consideration list. If you're not, there's nothing here that's going to help you to overlook the strange styling, the odd details, or that relentlessly irritating transmission.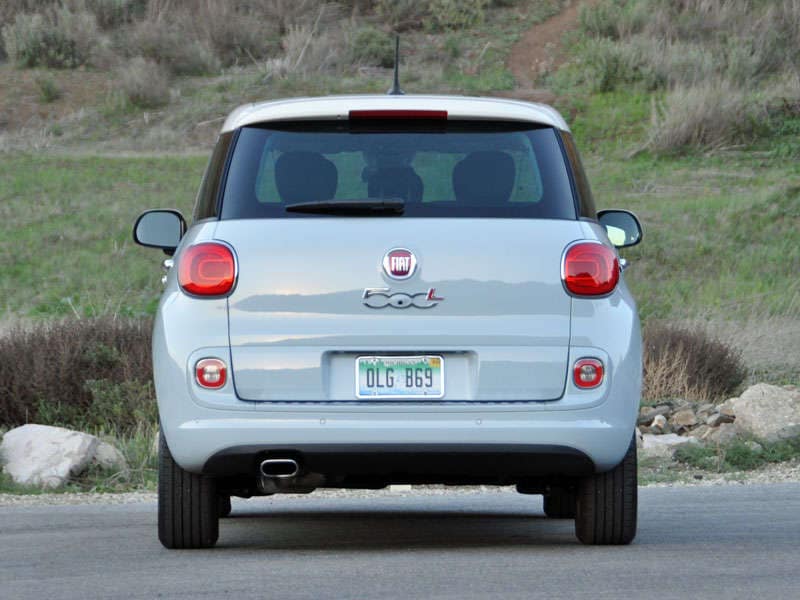 2014 Fiat 500L Review and Road Test: Pros and Cons
Lots of room for people and stuff
Fun turbocharged engine
Engaging driving dynamics
Uconnect 6.5 infotainment system
Good crash-test ratings
Free scheduled maintenance
Excellent outward visibility
Love it or hate it design
Euro Twin Clutch Transmission
Cramped driving position for taller people
Observed fuel economy nowhere near EPA ratings
Fiat supplied the vehicle for this review
2014 Fiat 500L Easy photos by Christian Wardlaw