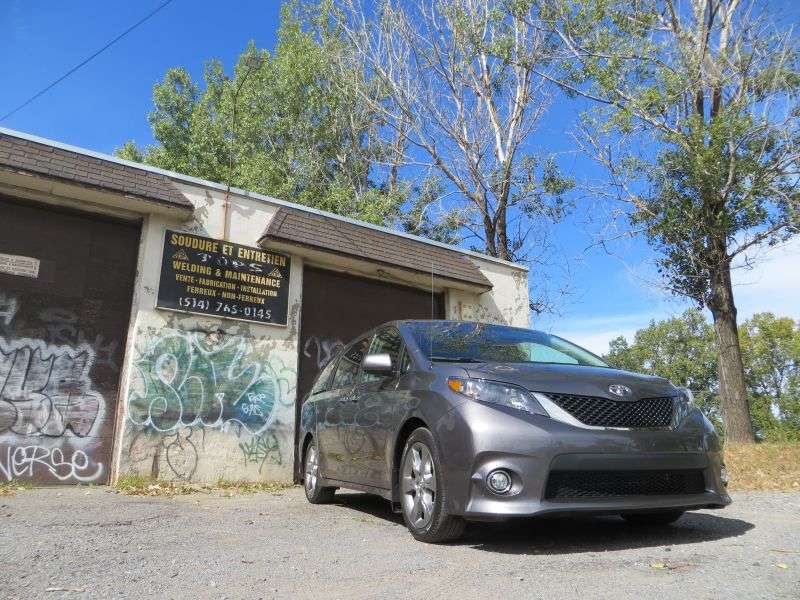 There is really only ever one reason to get behind the wheel of a minivan: because you absolutely need to.  That hasn't stopped legions of automakers, however, from working on various schemes to convince potential buyers that these utilitarian vehicles have something to offer besides their immense practicality.
The 2013 Toyota Sienna SE is a minivan in exactly this vein, a people mover that attempts to go above and beyond its roomy interior and reasonable fuel mileage to satisfy drivers seeking a bit more excitement on their way to hockey practice with a full load of youngsters.  One would assume that the slalom takes place after everyone has been dropped off, because the chaos caused by flying sticks and confused children would no doubt distract from the task of avoiding pylons or turning in lap times at the local road course.
Really, the Toyota Sienna SE dresses up the looks of the stalwart minivan to make you feel not so bad about piloting an automobile that is so rigorously task-specific and anti-fun.  That's not such a bad thing, as long as the numbers on the window sticker add up and you're not just paying for an image that is entirely manufactured in the form of a glossy brochure and a televised ad campaign.  There aren't many vans left out there now that crossovers have decimated their ranks, so the remaining faithful – Toyota, Honda, Chrysler, and Kia – are doing their best to stand out as much as possible.
2013 Toyota Sienna SE Review: Models and Prices
Speaking of numbers, here's the one that's most relevant to this conversation: $33,725.  That's the price one pays to park the 2013 Toyota Sienna SE in the driveway, and it represents a premium of $7,145 over the base model Sienna minivan.  Surely, paying nearly a third more for the SE edition must bring with it a substantial upgrade in features, and in some ways this is true.  The Sienna SE provides power sliding side doors and a power tailgate, steering wheel controls for its satellite radio-equipped entertainment system, tinted windows, three zones of automatic climate control, a sliding second row of seating, power adjustment for both front buckets, Bluetooth connectivity, and a rearview camera hooked to the van's small LCD screen.  It also upgrades seating capacity from seven to eight.
These are nice to have features, but they are essentially identical to the LE edition of the van that is priced just below it.  Where the 2013 Toyota Sienna SE stands out is in the looks department thanks to its revised exterior styling and its big 19-inch rims.  It also gains a few interior trim tweaks as well as a stiffer suspension system, vinyl seats, and a leather-wrapped steering wheel.  The Sienna SE I drove for a week also came with a moonroof, bringing the total sticker to about $34,500.
I don't have enough space here to iterate through the entire list of Sienna models, but suffice to say that if you thought $33,725 was a big leap over the entry-level minivan's price then you don't even want to look at the top-tier Sienna Limited's MSRP of over $40,000.  There are those out there who want luxury in a minivan and are willing to pay for it, and Toyota is far from the only automaker out there keen to get in on the high end van action.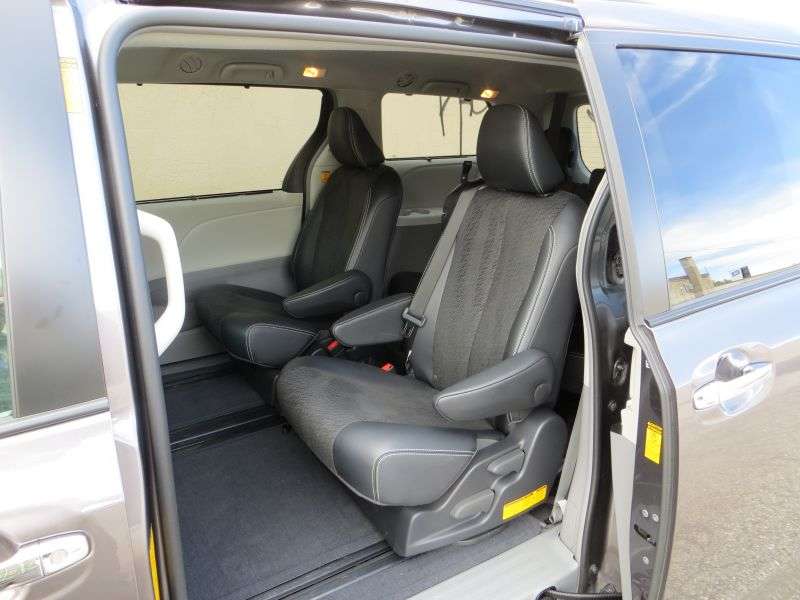 2013 Toyota Sienna SE Review: Design
The 2013 Toyota Sienna SE provides an all-new sporty look for the Sienna's family-friendly shape.
The 2013 Toyota Sienna SE aims to attenuate the conservative, dowdy image projected by the bulbously shape of modern minivans, and in that respect it does a very good job.  The Sienna SE is honestly an attractive package of harder angles and racier sheet metal, starting up front where a mesh grille has been substituted for the van's standard fare.  Foglights in the bumper peek out from a fairly aggressive fascia that curves around the sides of the Sienna to meet up with rocker skirts and stylish 19-inch rims.  Oh, and there's a spoiler sticking off the back of the roof, too, but don't worry – it's more 'prim' than 'Pep Boys.'
Unfortunately, it appears as though the 2013 Toyota Sienna SE's interior design team didn't share the tasteful enthusiasm of its exterior stylists.  The SE's token acknowledgement of its racier leanings is a swath of dashboard trim that looks like carbon fiber but which very clearly isn't carbon fiber at all.  The rest of the van's passenger compartment is Sienna status quo, which means many hard surfaces that are about as appealing to the eye as they are to the touch.  The SE  is still operating under the same function-first philosophy that guides the base model, which means its cabin's trappings aren't quite as welcoming as those of some of its competitors (especially considering its price).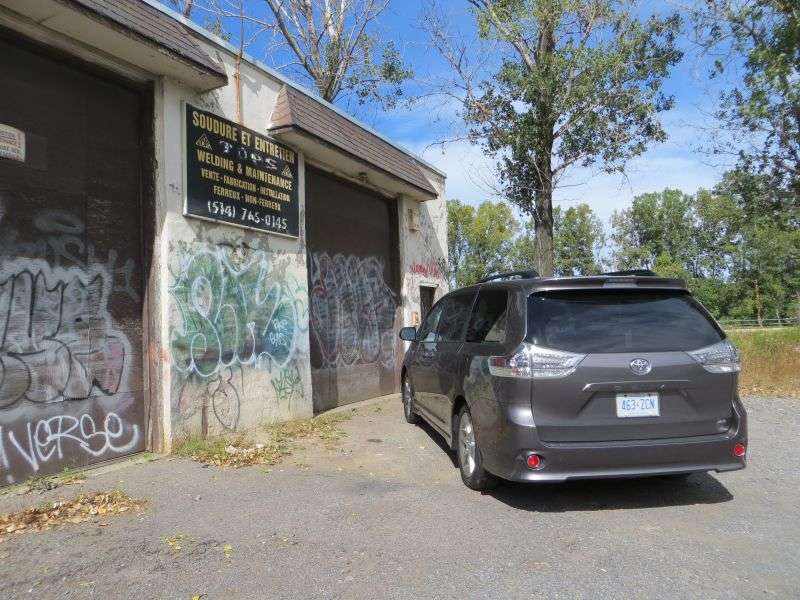 2013 Toyota Sienna SE Review: Comfort and Cargo
The 2013 Toyota Sienna SE matches the previous year Sienna's comfort and cargo features.
There's really no faulting the immensely practical nature of the 2013 Toyota Sienna SE.  With 150 cubic feet of cargo space available inside the minivan there are few items that this useful behemoth can't transport in complete safety and security.  The Sienna SE's tall roof and wide tailgate – not to mention the convenience of its sliding side doors, which operate by remote control and function perfectly even when fighting against gravity at an upward angle – accommodate both people and their associated gear with considerable skill.
The three rows of seating that come standard with the 2013 Toyota Sienna SE are also quite comfortable, even all the way at the back where leg room is preserved via the ability to slide the second set of accommodations forward or backward as needed.  I did have issues with a rattling third row seat, however, after I folded it into the floor and drove around without the cover of cargo.  Incidentally, the Sienna's eighth spot is located in the gap between the two captain's chairs that compose the second set of seats – a hole that can be plugged via the jump-seat that is strapped to the wall in the minivan's cargo area.
It's important to note that while the third row folds flat, the middle row has to be removed from the van in order to fully realize the Sienna's cargo potential.  It's a two-person job, which had me pining for the Stow 'n Go folding feature offered by both Chrysler and Dodge.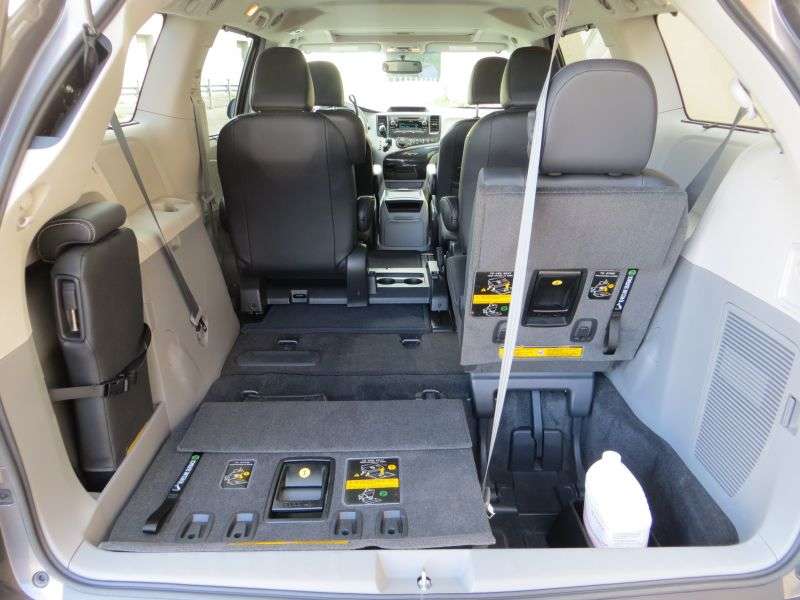 2013 Toyota Sienna SE Review: Features and Controls
The 2013 Toyota Sienna SE does not introduce any new features or controls.
The 2013 Toyota Sienna SE doesn't really shine when it comes to features list, especially for a $33,000 van.  Functionality isn't in question – the Bluetooth connection works rapidly and effectively, I can program my radio presets with ease (although it would have been nice if the buttons aligned better with the green LCD indicators on the multi-line radio text display), and the seats have front and back, and side to side.  But… that's it, really.  No heaters for second row occupants, no fancy vehicle information screen past the very basic display sitting at the top of the dash, no touchscreen or voice-controlled entertainment gear.  Just you, your family, the radio, and the road ahead.  If you want something more glamorous, you're going to have to shell out more money and opt either for an options package or a higher trim level – the SE doesn't deliver.  Compare this to offerings from say, Chrysler at the same price point, and you might start to get envious of your domestic-driving neighbor as the miles pile up and attention spans grow ever shorter in the cheap seats.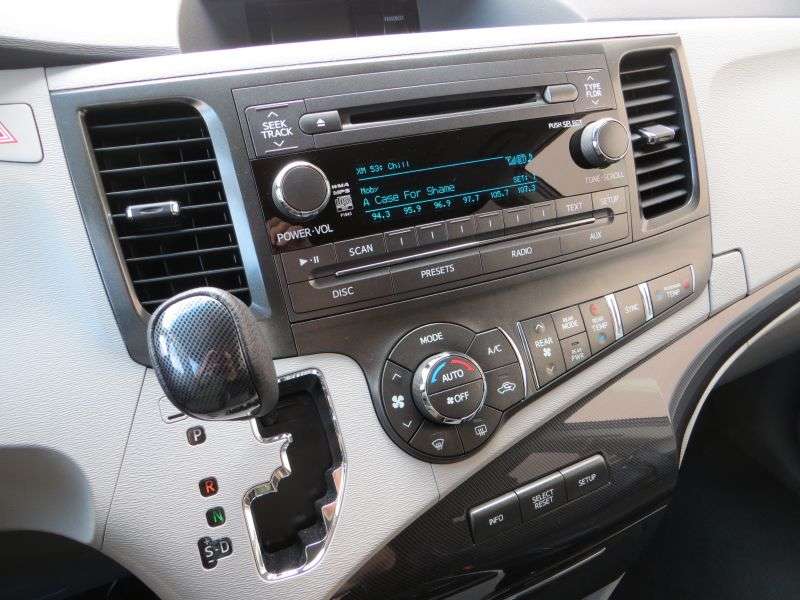 2013 Toyota Sienna SE Review: Safety and Ratings
The 2013 Toyota Sienna SE does not introduce any new safety equipment.
The 2013 Toyota Sienna SE offers a full complement of airbags, including dual forward units, seat-mounted side impact airbags, a knee airbag for the driver, and side curtain airbags that deploy along the entire length of the passenger compartment.  Electronic traction control and stability control are also standard, but don't look for too many advanced safety features like blind spot monitoring – the Sienna Limited has access to a collision warning system, but no other version of the minivan is so lucky.
2013 Toyota Sienna SE Crash Test Ratings: The Toyota Sienna SE has been rated a Top Safety Pick by the Insurance Institute for Highway Safety due to its performance in independent crash testing.  The NHTSA has rated the Sienna four out of five possible stars in its own crash safety tests.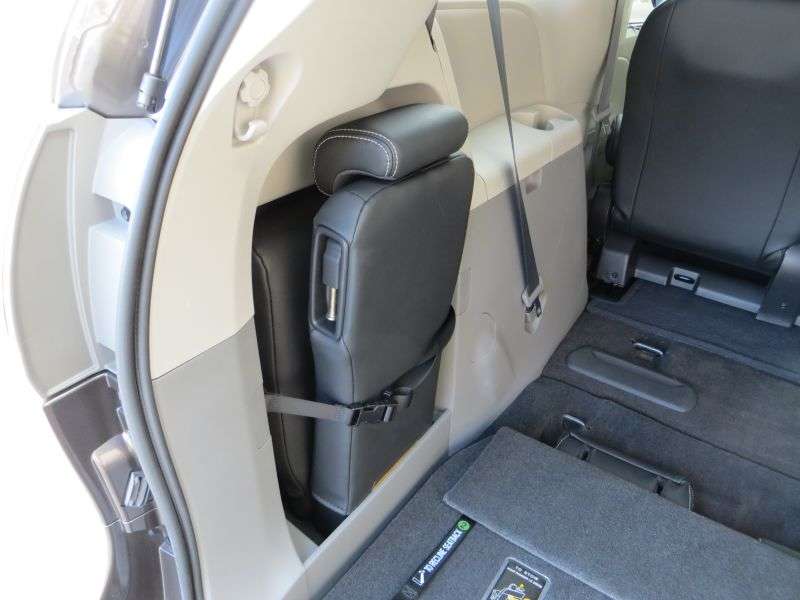 2013 Toyota Sienna SE Review: Engines and Fuel Economy
The 2013 Toyota Sienna SE does not introduce any new drivetrain options.
Despite its sporty leanings, the 2013 Toyota Sienna SE does not make any changes to the six-cylinder engine that is standard with all versions of the minivan.  The 3.5-liter unit produces the same 266 horsepower and 245 lb-ft of torque as it does in the base Sienna L, very respectable numbers that allow the vehicle to reach 60-mph in the neighborhood of 7.5 seconds.  A six-speed automatic transmission is included with the Sienna SE, but the sporty trim level excludes the option of all-wheel drive, which is one of the Toyota minivan's most attractive features.
Fuel mileage for the Toyota Sienna SE is listed at 18-mpg in stop and go driving and 25-mpg during highway cruising.  I saw about 20-mpg during my time with the van, which seemed reasonable given a mostly city driving cycle.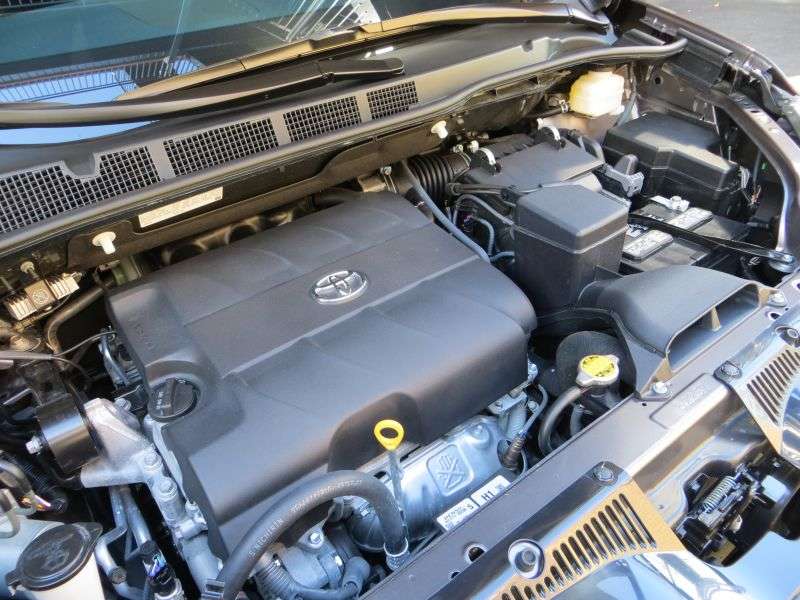 2013 Toyota Sienna SE Review: Driving Impressions
The 2013 Toyota Sienna SE is not a sporty minivan.  Regardless of the small improvements in stability and cornering roll that its different suspension system has to offer (and the increased grip of its 19-inch tires), the Sienna SE doesn't come close to providing anything resembling an engaging driving experience.  It's a large, heavy front-wheel drive vehicle that is relatively quick in a straight line – which is something I liked when merging, or when punishing Miatas for being the exact opposite of what I was piloting – but it's certainly no canyon carver.
None of what I wrote above is in any way a criticism of the Sienna SE, because as I have alluded to throughout this review, Toyota has put together this particular flavor of its popular minivan to sell the sizzle, not the steak.  The Sienna SE is all about appearances, which is perfectly acceptable because along the way the Japanese automaker has in no way compromised any of the good things about the big people mover.  I was enamored of the Sienna's ride quality, its perfectly acceptable (but in no way exciting) steering, and its good fuel economy, and I found myself completely relaxed while driving the van through traffic.  .  I was pleasantly surprised by just how well the vehicle's sportier suspension preserved the Sienna's compliance, with no harshness transmitted to the driver over rough roads.  It's a well-tuned vehicle despite its sport pretensions, not because of them, and for that Toyota deserves praise.
One thing that I found puzzling about the 2013 Toyota Sienna SE, however, was its transmission.  I was able to move the dash-mounted shifter over into Sport mode, which had no real effect on the vehicle's acceleration but which did seem to hold engine revs for longer than when the minivan was left in Drive.  The weird part was that each and every time I shifted into Sport, the vehicle's digital gear indicator told me I was in fourth.  Every.  Single. Time.  It didn't matter whether I was completely stopped or cruising along at 60-mph – a '4' would shine back at me from the LCD display.  If I downshifted manually, then the ratio would change accordingly, in sequence, which created a very weird case of cognitive dissonance between the Sienna SE's ECU and the reality bubble it occupied as interpreted by my merely human senses.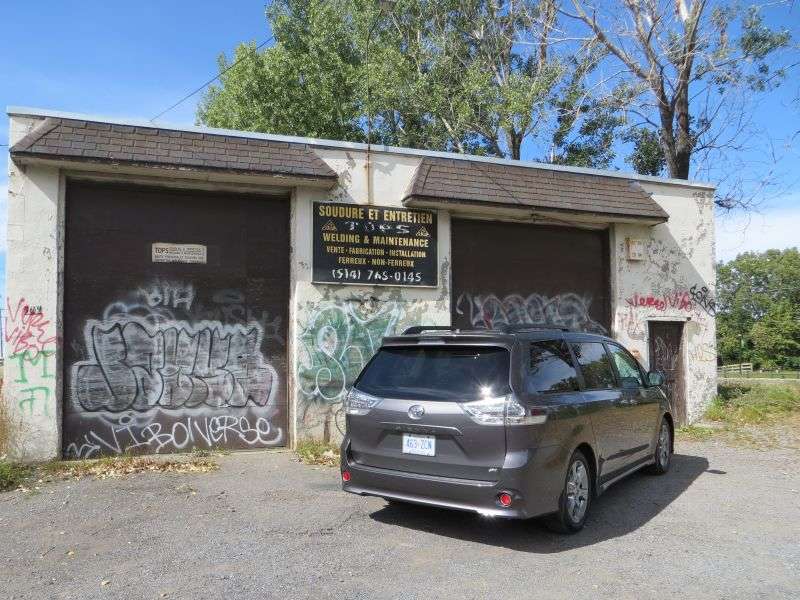 2013 Toyota Sienna SE Review: Final Thoughts
The 2013 Toyota Sienna SE is a good-looking minivan that in no way compromises the exceptional functionality of the vehicle's original concept.  At the same time, it asks buyers to spend a not-insubstantial sum of money while under-delivering in the features and quality department.  I might not have expected it to be fast, but I definitely assumed that the Sienna SE's interior trappings would at least match the careful presentation taken with its exterior styling treatment.  This was not the case.
If you find yourself intrigued by the SE's alluring looks, do yourself a favor and drive the Honda Odyssey or the Chrysler Town & Country immediately before or after your visit to a Toyota dealership.  You owe it to yourself to see what else is out there for $33,000 before deciding if this is the minivan for you.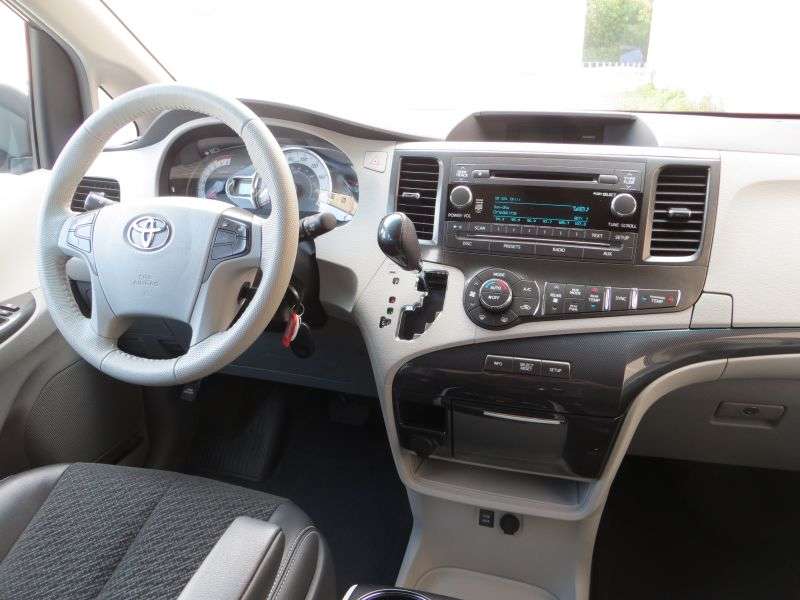 2013 Toyota Sienna SE Review: Pros and Cons
Attractive styling
Spacious interior
Good power at all speeds
Comfortable ride and smooth suspension
A very practical vehicle
Priced like a premium van, but doesn't offer premium features
A lot of hard plastic throughout the interior
The Sienna SE is advertised as fun to drive, but it's not
No all-wheel drive option with SE trim.
ToyotaCanada supplied the vehicle for this review