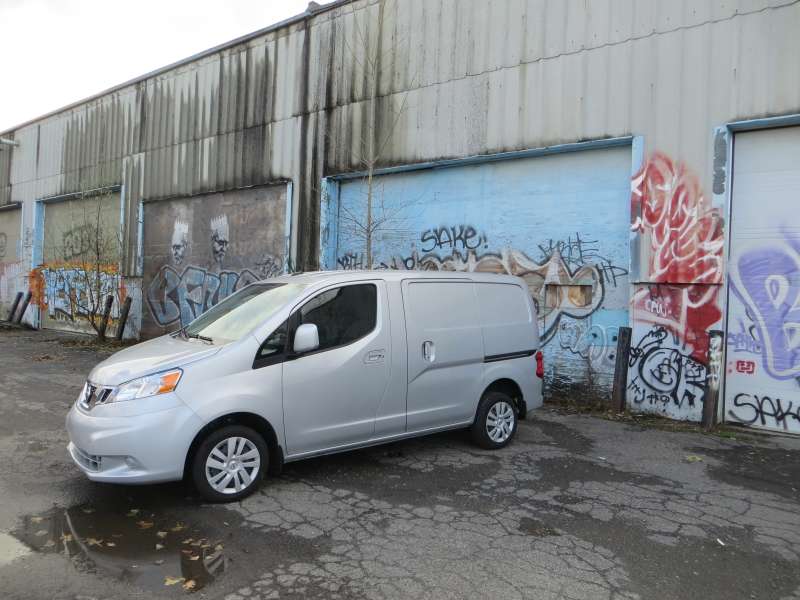 Little vans are suddenly a big deal, as automakers trample all over each other to fill their showrooms with compact cargo and passenger models that are far more efficient than traditional box-on-frame designs.  The 2013 Nissan NV200 is one of the most recent additions to compact cargo van party (joining examples like the Ford Transit Connect and the Ram C/V), and in fact will be lending its platform to General Motors so that Chevrolet can get in on the action with a small Chevy hauler of its own (the Chevrolet City Express) next fall.
Commercial vans like the 2013 Nissan NV200 cargo edition that I had the chance to sample for a week can't be evaluated using the same criteria one would apply to a passenger car.  After all, this type of vehicle is a function-first model aimed at buyers who plan on it earning its keep day in, day out.  Despite its utilitarian aim, however, the Nissan NV200 holds up remarkably well in daily driving and has the potential to shift the balance of power in the urban van market away from the ageing dinosaurs that have dominated it for far too many years.
2013 Nissan NV200 Review: Models and Prices
The 2013 Nissan NV200 cargo van comes in two trim levels.  The base NV200 S (MSRP $19,900) comes standard with a CD player, a pair of speakers, 15-inch steel wheels, power windows, and an aux input to line in your MP3 player or phone.  That's it, that's all - remember, this is a fleet-oriented, entry-level van we're talking about here.  Upgrading to the NV200 SV (MSRP $20,980) installs niceties such as keyless entry and the requisite power door locks, as well as tie-downs in the back for lashing cargo to the floor.
As with most commercial vehicles, Nissan complements the NV200's blank-slate trim levels with a number of options and accessories designed to customize the vans to meet the needs of each specific customer.  This means you can easily add features such as Bluetooth connectivity and rear door windows to either model, with the SV getting the edge in packages: the Exterior Appearance package includes body-hue bumpers, mirrors, and door handles, as well as wheel covers, and the Technology package provides a navigation system, satellite radio, a USB port, Bluetooth, a touchscreen, and a rearview camera.
The test vehicle I drove came in SV trim and was equipped with the Technology package.  This pushed the sticker price to a very reasonable $22,790.
2013 Nissan NV200 Review: Design
The 2013 Nissan NV200 is a brand new model.
The first thing you might notice about the 2013 Nissan NV200 is just how little it resembles the larger Nissan NV full-size van, due to the fact that while the NV borrows its platform from the Titan pickup, the NV200 benefits from its own unique front-wheel drive chassis.  This means saying goodbye to the jutting snout of its larger sibling in favor of a more aerodynamic (well, as much as a panel van can be, really) visage.  The sloping front fascia offers enough distance between the important mechanical bits and the encroaching outside world to prevent insurance heartbreak, yet still looks very modern.  It's a face that any business would be proud to slap a logo on.  The sides and rear of the van are straight up-and-down sheet metal with no style pretension whatsoever, communicating that the NV200 works for a living.
What is there to say about the design of the 2013 Nissan N200's truncated, two-passenger cockpit other than that it's put together out of hard-wearing plastic and offers good sight-lines to the front and sides of the vehicle.  The exterior mirrors are well placed and provided enough coverage of the lanes adjacent to the van that I never felt anything less than confident behind the wheel.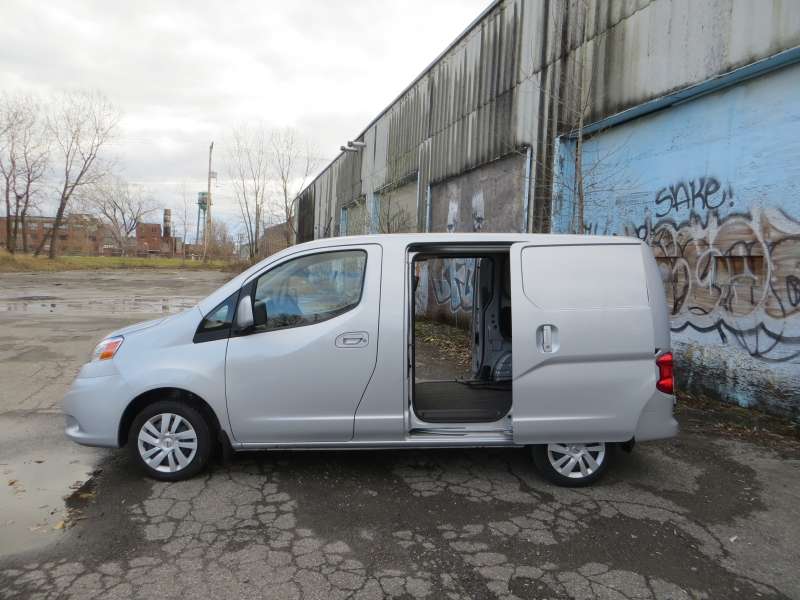 2013 Nissan NV200 Review: Comfort and Cargo
The 2013 Nissan NV200 offers 122.7 cubic feet of cargo space.
40/60 split rear doors can open to 90 and 180 degrees
Load capacity tops out at 1,500 lbs.
Can handle pallets of 40x48 inches.
The 2013 Nissan NV200 features a longer body when compared against versions of the van sold in Europe and Asia, a tip of the hat to the perceived needs of space-hungry American contractors.  It was also a necessity to stay competitive with the current crop of small and mid-size cargo cans available in the United States, as even with its stretched sheet metal the NV200's 122.7 cubic feet of interior volume falls short of the Ford Transit Connect (135 cubic feet) and the converted Ram C/V minivan (144.4 cubic feet).  Buyers will also note the absence of ready-made cargo management or tracking features available directly from the factory, which puts the vehicle at a disadvantage when compared against the Transit Connect or a few full-size cargo vans.
Of course, it's not the size, it's how you use it, and in this regard the Nissan N200 makes a compelling case.  What I liked most about the NV200 as I stuffed it to the rafters with steel-and-wooden shelving and other assorted pieces of furniture was just how easy it was to maneuver cargo into and out of its steel sarcophagus.  Sliding doors on each side allowed me to lean in or stand at the front of the Nissan's cargo area in order to guide items into place, and the wide opening at the rear of the van (and the ability to fold the doors flat against the side of the vehicle) ensured ease-of-access even when backed into a tight alley. 
Up front, driver and passenger are treated to supportive seats that won't tire out your backside at the end of a full day's work.  There's not much in the way of creature comforts in the NV200, which is fine - especially considering its price point - but I would have liked heaters to keep my rump roasted on cold mornings.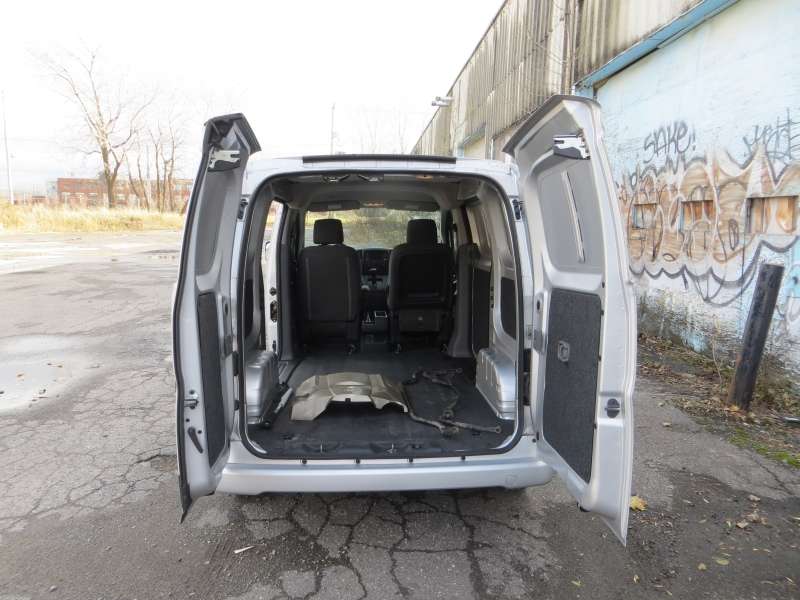 2013 Nissan NV200 Review: Features and Controls
The 2013 Nissan NV200 offers a surprisingly robust feature set for its market position.
The 2013 Nissan NV200 is targeted at fleet buyers and small business owners, but while that might suggest the absence of fancy things like leather upholstery, it doesn't mean that mod cons are ignored completely.  In fact, the NV200 tester that I drove was equipped with exactly the kind of options one would want in a delivery vehicle: an easy-to-use touchscreen navigation system that also came with hands-free Bluetooth voice controls.  This made it simple to find the pick-up point for the load of furniture I stuffed in the rear of the cargo van, and it also let me stream music wirelessly to the admittedly basic two-speaker stereo instead of being held hostage to FM or satellite radio bands.  The 5.8 inch LCD screen additionally houses the display for the van's available backup camera, another nice-to-have feature when driving a vehicle without rear glass.
Everything else inside the Nissan NV200 is with easy reach of the driver, which is a boon for busy folk making their daily rounds.  I would have liked a center console of some kind in order to store pens, clipboards, and other assorted loose items, but at the very least there's a pair of cup holders.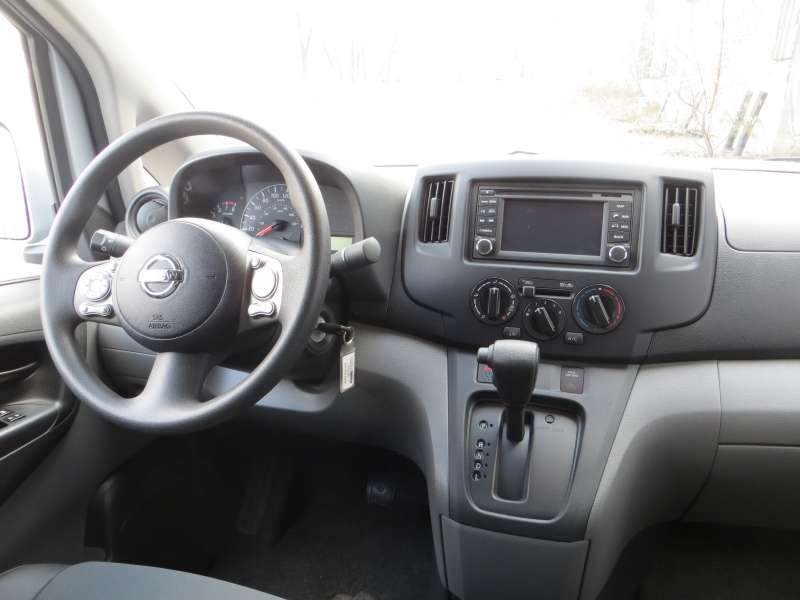 2013 Nissan NV200 Review: Safety and Ratings
The 2013 Nissan NV200 doesn't debut any new safety features for the segment.
The 2013 Nissan NV200 only offers two passenger places, but it still comes with side curtain airbags, side impact airbags, and dual forward airbags to keep everyone safe in the event of an accident.  Rear drum brakes are a fact of life in the commercial segment, but ABS is standard, as is electronic traction control and stability control.
2013 Nissan NV200 Crash-Test Ratings: The NV200 has yet to be crash tested by either the NHTSA or the IIHS.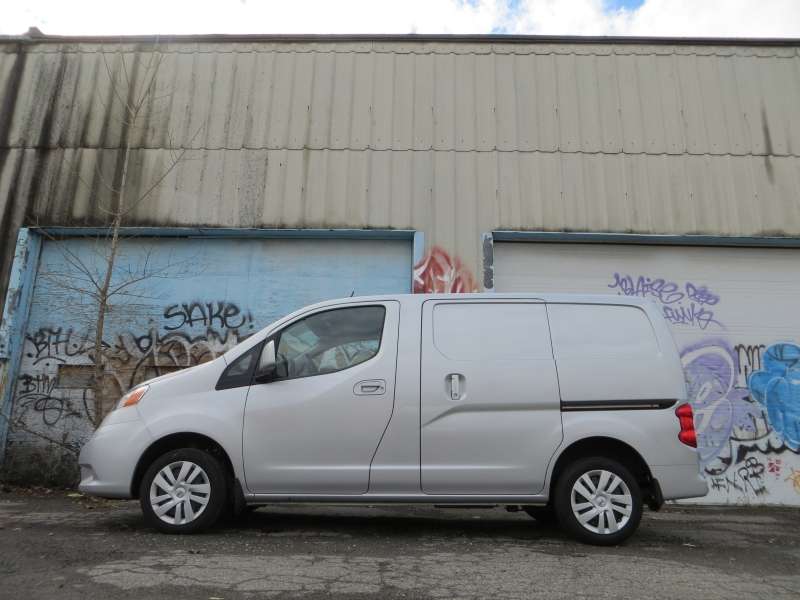 2013 Nissan NV200 Review: Engines and Fuel Economy
The 2013 Nissan NV200 debuts a four-cylinder engine and a CVT.
The 2013 Nissan NV200 is intended to offer economical operation for business and fleet owners, and a big part of that equation is its four-cylinder drivetrain.  The vehicle's 2.0-liter motor sends 131 horsepower and 139 lb-ft of torque to the vehicle's front wheels by way of a continuously-variable automatic transmission.  The CVT is a key component in keeping the NV200's fuel consumption on the frugal side, with the EPA reporting 24-mpg in stop and go driving and 25-mpg on the highway.  I saw 21-mpg in mostly city driving, which is really not bad for such a practical vehicle.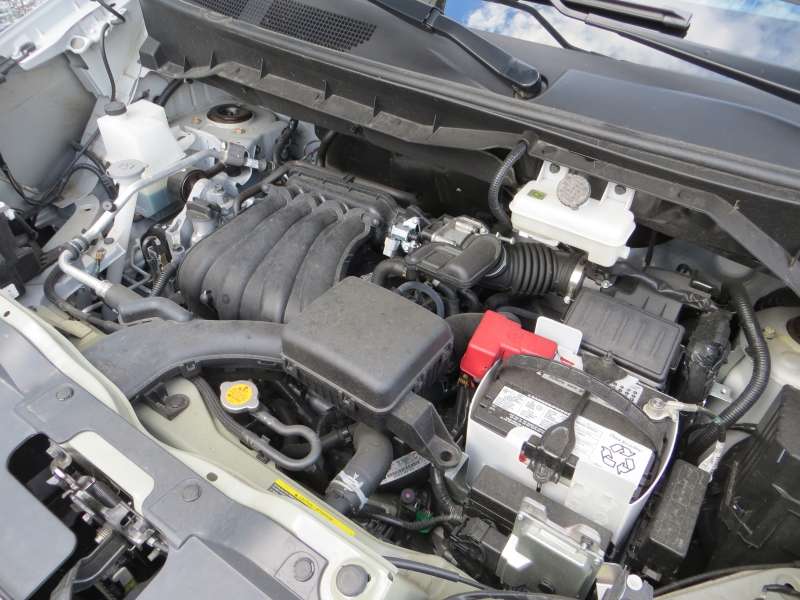 2013 Nissan NV200 Review: Driving Impressions
The 2013 Nissan NV200 surprised me by being better than it had to be in terms of driving experience.  Let's be clear: this is a cargo van, and as such it will never set anyone's heart on fire racing down a cone slalom or lighting up the quarter mile.  That being said, the rapidity with which the NV200 is willing to accelerate, even when filled to the rafters with cargo, makes it hard to believe there's less than 140 lb-ft of torque sitting under its hood.  Nissan has long been a master a tuning continuously-variable automatic transmissions to deliver the kind of real-world performance that customers are used to from traditional torque converter designs, and while the NV200 is a bit buzzy at high revs, it's responsive enough to throttle inputs to make up for it.
Kudos must also be given to the Nissan NV200's chassis engineering team as the vehicle boasts an extremely tight turning radius.  I was able to execute U-turns on a typical boulevard street with ease, which is a characteristic any commercial driver who has ever been pinned in by traffic or poorly parked cars will appreciate.  I also had no issues navigating the NV200 through the narrow alley behind my home and into its nightly parking berth.  My only real complaint about the NV200's handling has to do with its steering feel, which is more vague than what would be acceptable in a passenger car but still acceptable for a commercial model.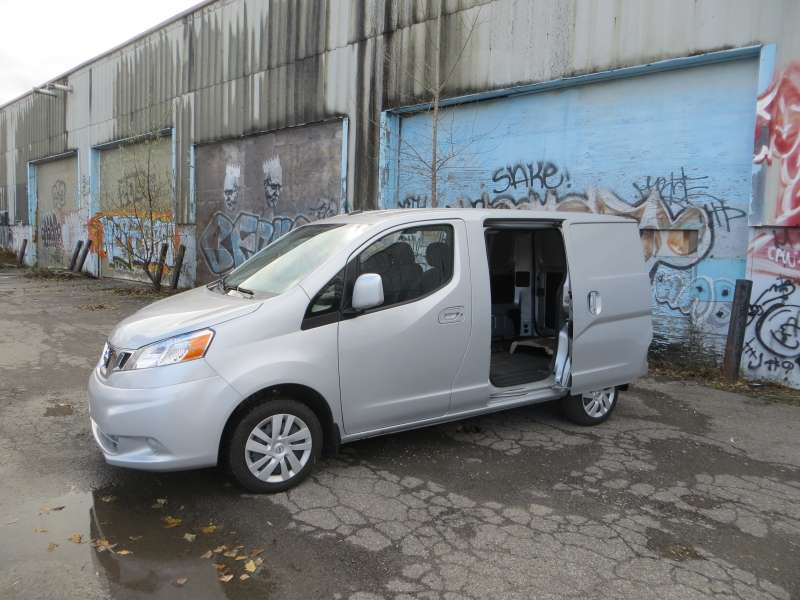 2013 Nissan NV200 Review: Final Thoughts
The 2013 Nissan NV200 is proof positive that it's possible to innovate in a market space that has long been abandoned by major players due to a perceived lack of customer interest.  The vehicle is useful, a pleasure to drive, and easy on the eyes.  As gas prices rise, populations move back into urban areas, and business owners take a hard look at how to meet their transportation needs without spending more than they absolutely have to, it would seem that the age of the full-size cargo van may be nearing its end.  There's simply no argument in favor of a big van when delivery sizes warrant a smaller form factor, and with appealingly low pricing and frugal fuel consumption as their trademarks, vehicles like the Nissan NV200 should prove increasingly popular.
2013 Nissan NV200 Review: Pros and Cons
Pros:
Affordable pricing
Fuel efficient
Practical cargo capability
Good CVT transmission
Availability of navigation and backup camera
Nimble handling in tight areas
Surprisingly quick
Cons:
Not as large as its compact cargo competitors
No tall-roof option available
No advanced cargo tracking or vehicle tracking options offered from factory
No cargo management beyond basic tie-downs available from factory
Nissan  Canada supplied the vehicle for this review.