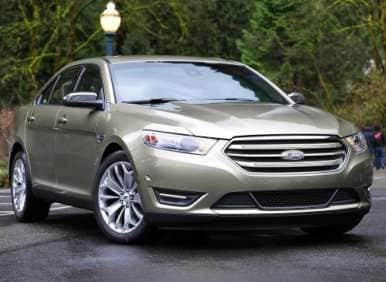 The 2013 Ford Taurus is the Blue Oval brand's flagship full-size sedan, and it is about to receive a new four-cylinder engine option that will sit alongside its standard 3.5-liter V-6 on the order sheet.  The Taurus isn't being paired with just any four-banger, however - the automobile is gaining an EcoBoost, turbocharged 2.0-liter unit that delivers 240 horsepower and an appreciable 270 lb-ft of torque.
2013 Ford Taurus: Why It's Important
Ford is facing a field of full-size competitors that are increasingly turning to four-cylinder engines as a way to squeeze out additional fuel mileage and appeal to drivers who need the extra passenger and cargo space that a large car provides, but who aren't interested in paying a penalty at the gas pump to get it.  The Ford Taurus EcoBoost four-cylinder delivers fuel economy figures of 22-mpg in stop and go driving and 32-mpg on the highway, which represents a three mile per gallon boost over the base V-6 for each rating.  These are exactly the kind of numbers that draw mileage-conscious drivers into showrooms.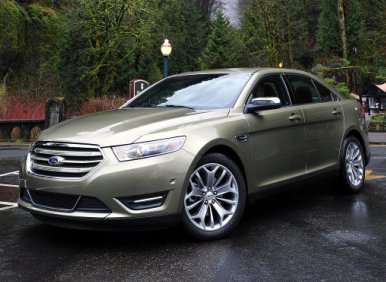 2013 Ford Taurus: Why We Like It
We were given the chance to sample the 2013 Ford Taurus with the four-cylinder EcoBoost engine on a drive from Ottawa, Ontario to Calabogie Motorsports Park.  The route we took saw us encounter a wide variety of different driving situations, including two-lane highways, rolling hills, and tight rural roads.  The EcoBoost Taurus performed admirably in all contexts, with the turbocharged four-cylinder at no point making us feel like we had anything less than the full power of a V-6 waiting underneath the gas pedal.  Acceleration was smooth and linear without a hint of lag, and perhaps even more impressive was the fact that the EcoBoost engine displayed none of the rough run-to-the-redline behavior that we have come to expect from small displacement motors asked to move heavier automobiles.  In fact, we heard nary a peep from under the hood of the nearly 4,000 lb Taurus, with only the occasional downshifting from the vehicle's six-speed automatic transmission telegraphing the fact that four, not six cylinders were getting us where we wanted to go.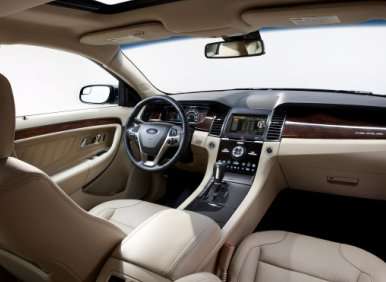 2013 Ford Taurus: Is It Worth The Price?
Ford is asking $995 for the privilege of driving home with an EcoBoost four-cylinder engine motivating your new Taurus.  The motor will be available across the entire range of Taurus trim levels - minus, of course, the Taurus SHO, which maintains is twin-turbo V-6 drivetrain.  Conservatively, at current fuel prices the fuel mileage benefits alone would pay for the option in less than four years, which means that the extra sticker shock of the EcoBoost option is really not as significant as it might at first seem. 
Will buyers pay more for a smaller engine in a full-size car?  Ford appears to be gambling that the answer to that question is yes.  It's certainly been proven that drivers are comfortable with paying a premium for a more efficient automobile, which is perhaps a better perspective on the Taurus Ecoboost four-cylinder's viability.