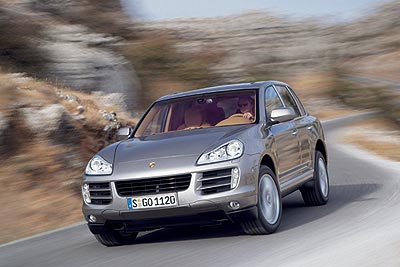 Porsche Cayenne – 2008 First Drive: Massive and powerful, its horn tips rounded to prevent bullfighting trainers from being gored, the hulking bovine stared at the mud-caked 2008 Porsche Cayenne Turbo that had stopped in its pasture and the silly American snapping photos from its driver's seat. Itself massive and powerful, the Cayenne Turbo was not red, but if the bull charged I was not worried. I had 500 horsepower and four-wheel-drive at my disposal with which to outrun the beast. Thus, the Cayenne's purpose became clear. This is the Porsche designed to be all things to all people, so long as those people can afford the price of entry. Thanks to significant modifications for 2008, it succeeds.
The Basics: Origins
On August 20, 2002, the first Porsche Cayenne rolled off the assembly line in Leipzig, Germany. Announced four years prior and debuted amid controversy, the Cayenne quickly became the best-selling model in Porsche's lineup, paving the way for the development of the Cayman and upcoming 2009 Panamera, and funding regular updates to the Boxster and 911. A necessary evil? Perhaps. But the truth is that, for the most part, the Cayenne is immensely capable at what it was designed to do and, in being so, stays true to Porsche's performance roots.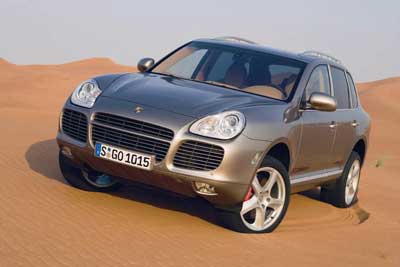 The Basics: Model Mix
Porsche offers its SUV in three flavors: Cayenne, Cayenne S, and Cayenne Turbo. The Cayenne is the standard model, equipped with a V6 engine and a six-speed manual transmission. It is well equipped, blessed with the same driving dynamics as its more powerful and more expensive brethren, save outright acceleration and at-the-limit handling. The Cayenne S adds a significantly more powerful V8 engine and standard Tiptronic automatic transmission, larger wheels, bigger front brakes, and a seat memory package. Turbo models get another giant dollop of horsepower and torque, along with Porsche Active Suspension Management (PASM), red brake calipers, bi-xenon headlights, heated seats and steering wheel, DVD navigation, and a Bose audio system.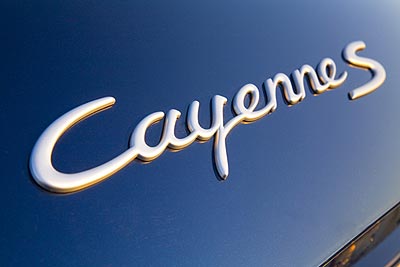 The Basics: Pricing
So, what's it gonna cost to get into a 2008 Porsche Cayenne? If you can live with the V6 engine and manual transmission, your wallet will be lighter by $44,295 including the $895 destination charge, an increase of 2.8 percent over 2006. The V8-powered Cayenne S rises to $58,795, and the Cayenne Turbo jumps to $94,595. In Porsche tradition, a long list of options ranges from should-be-standard metallic paint and a six-disc CD changer to the new Porsche Dynamic Chassis Control (PDCC) and 21-inch Sport wheels. Don't forget that the standard Cayenne comes with a manual; a Tiptronic automatic sets buyers back about $3,000.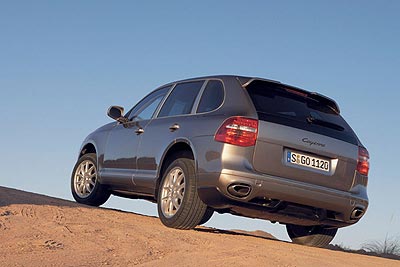 What's New: Outside
To help distinguish the changes under the sheetmetal for 2008, Porsche has tweaked the Cayenne's styling – though even a trained eye might have trouble discerning the differences. Most dramatic is the redesigned front end, which sharpens the Cayenne's visage the same way a facelift might a Hollywood has-been. Other changes include reshaped taillights that appear to have melted onto a restyled rear bumper and minor body updates. New wheel designs enhance the look, and every Cayenne now comes with a standard power tailgate.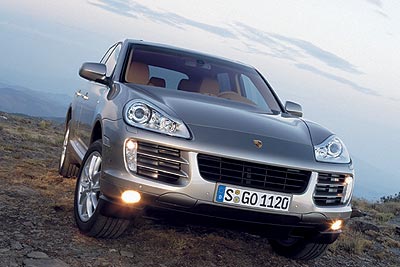 What's New: Inside
If it appears that changes are few on the outside of the 2008 Porsche Cayenne, it's even harder to tell the difference from the cabin – at least when the SUV is sitting still. Porsche now offers an optional entertainment system for rear seat passengers, and there's an available load area management feature with integrated floor rails and a partition net. A new Black/Chestnut Brown natural leather option and XM satellite radio are also available for 2008.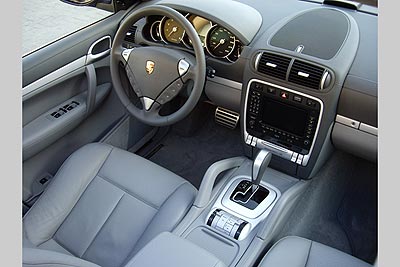 What's New: Under the Hood
The big news for 2008 is direct injection. All three engines benefit, delivering more power, more torque, and better fuel economy. The VW-based 3.6-liter V6 makes 43 more horsepower and 44 lb.-ft. more torque than the previous 3.2-liter V6. Acceleration to 60 mph takes less than eight seconds with the Tiptronic automatic, and 7.5 seconds with the manual. The 4.8-liter V8 pumps 385 hp and 369 lb.-ft. to all four wheels, up 45 and 59 respectively, accelerating to 60 in 6.4 seconds. The Turbo's twin-turbocharged 4.8-liter V8 is blessed with 500 hp and 516 lb.-ft., increases of 50 and 56, resulting in a 4.9-second blast to 60 on the way to a 171-mph top speed.
What's New: Technology
Offered as an option with the Porsche Active Suspension Management (PASM) system, Porsche Dynamic Chassis Control (PDCC) is a set of active anti-roll bars that under normal driving conditions can eliminate body roll to improve handling, stability, and comfort. PDCC can also de-couple the anti-roll bars to maximize wheel articulation when off-roading, improving traction. Other new features include Dynamic Curve Lights which help illuminate around corners at night, rollover sensors that automatically activate the curtain airbags and seatbelt pre-tensioners in certain accidents, and updates to the standard Porsche Stability Management (PSM) system which includes brake pre-loading, off-road ABS, and Trailer Stability Control. Finally, every Cayenne gets a "Sport" mode for more aggressive powertrain response.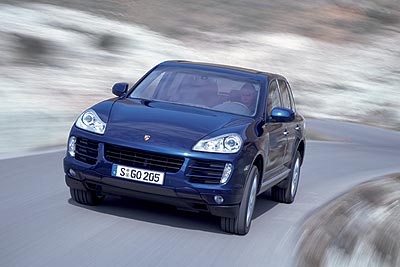 Driving: Test Cars and Location
We sampled three versions of the 2008 Porsche Cayenne, including a V6 with the standard six-speed manual transmission, a V8-powered S model, and the muscular Turbo – each equipped with the new PDCC system. Our testing was conducted on high-speed four-lane highways, narrow two-lane country roads, harrowing lane-point-five mountain routes, and two-track cross-country trails blanketing the Andalusian region of southern Spain near Cadiz and Jerez. If you haven't been, imagine central California from the ocean to Interstate 5 but with historic , or "white towns," dotting the local hilltops.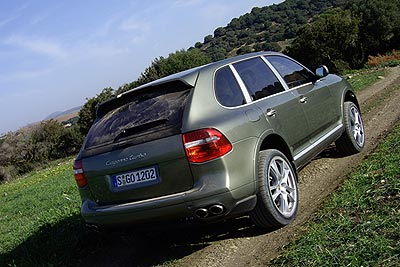 Driving: Engine Performance
The Porsche Cayenne Turbo is a terrific choice, if you can afford it. Effortlessly whooshing to extra-legal speeds on request, the Cayenne Turbo is a four-wheel-driven rocket and with the powertrain's "Sport" mode engaged throttle and transmission response is instantaneous. Those who can barely afford the base Cayenne won't be disappointed by the new and improved V6 as long as outright acceleration isn't a priority. The popular Cayenne S represents a perfect middle ground, balancing the budget with the need for speed. No wonder it's the best selling model in the lineup.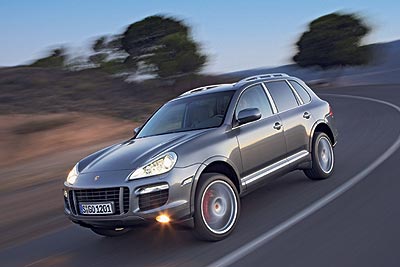 Driving: Transmission Performance
Most Porsche Cayennes come with a Tiptronic manual-shift automatic, but about five percent arrive in the States with a stick. It's easy enough to use, but throws are a bit long, engagement is a bit rubbery, and the clutch is a bit heavy. The Tiptronic shifts softly under normal driving conditions, but when "Sport" mode is selected it responds sharply to lightning-quick engine response. I didn't like using the Cayenne's shift buttons on the steering wheel, preferring to select my own gears by tapping the console shifter up or down.