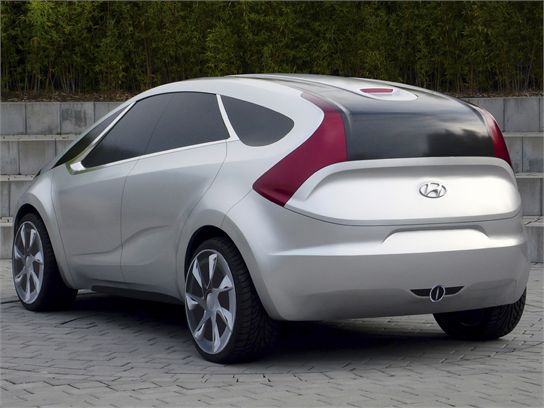 Some concepts are cars that may actually go into production and others are simply playgrounds for designers to try out new ideas. The i-Mode is definitely of the latter, but like they say, don't knock it 'til you try it... and Hyundai definitely tried a few things here. Playing with unconventional seating arrangements, odd exterior lines and dabbling in diesel technology, there is definitely some potential for some of these experimental applications. 
In the Hyundai HED-5 "i-Mode," the one factor that matters most is the diesel technology. Hyundai has made it clear with the introduction of the Genesis sedan that they are going after the Germans in a big way and the 2.2-liter R Diesel engine with 2-stage turbocharging is another salvo launched into the Fatherland.  The new engine puts out 212 horsepower and 340 lb.-ft. of torque which equates to 96 horsepower per liter. Hyundai claims that puts the R engine in the same class as any leading German automaker.
The word attractive does not come to mind. The inverted wing windows fore and aft, expansive posterior, and the odd lines sculpted into the hood and side panels are... unconventional... in the same way that a blind date's appearance is "interesting." But we are sure it has a nice personality.
With high-grade leather and a front passenger seat that swivels, the interior of the Hyundai HED-5 i-Mode Concept is designed for comfort and conversation for six sans luggage in this egg-shaped cocoon. Fully integrated infotainment features allow users to connect to the web, play games, watch movies and make video calls while on the road. As is the trend with so many concepts nowadays, colored translucent panels fill the cabin with mood lighting, in this case blue, adding to the relaxed and elegant atmosphere. See, it is what's on the inside that counts.
Hyundai says, "The focus for this year's concept car is a combination of visionary styling with future technologies and advanced eco-dynamics. It lead to a 6-seater monocab study that incorporates high-tech materials, a world premiere seating concept and state of the art communication solutions into a completely new vehicle impression. The i-Mode is an innovatively styled, eco-friendly and socially adaptive vehicle. The imposing mono-volume architecture provides an invitation to travel, explore and relax within the concept of moving cocoon."
We like that Hyundai has set their sights high and are looking to give German automakers a run for their money and the 2.2-liter R Diesel engine with 2-stage turbocharging is another step in the right direction. As renowned car designer Giorgietto Giugiaro predicted 30 years ago, one box design is the direction the auto industry is headed. With every auto on the road eventually evolving to indistinguishable oblong eggs, the frontiers to conquer will be engine efficiency and interior design. Hyundai has made progress on both of these fronts as well. So, while we like it as a study partner, we won't be asking it to the prom any time soon.
By Vernon Heywood
Photo credit: Hyundai