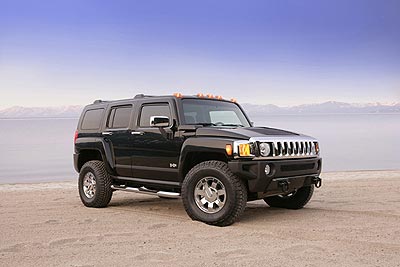 Hummer H3 – Photo Gallery: With news about large SUV backlash and volatile fuel prices, one could logically conclude that the past couple of years have been difficult for Hummer. Yet, as luck or possible foresight would have it, Hummer had launched the smaller, relatively efficient H3, a rugged-looking midsize SUV that landed on the radars of those looking for a more compact rendition of brawn. It now constitutes the majority of Hummer sales. Unfortunately, the H3 shares its working parts with the Chevy Colorado, including its lackluster five-cylinder engine. However, 2007 ushers in a more powerful 3.7-liter version that puts performance on the livable side of mediocre.
Hummer H3 - Powertrain
Like certain Chevrolet Colorado and GMC Canyon trims with which it shares its architecture, the Hummer H3 draws power from a five-cylinder engine (thankfully, the Chevy and GMC's four-cylinder is not offered on the H3). Last year, that equated to 3.5-liters with 220 horsepower and 225 lb.-ft. of torque. Not bad, until you consider the H3's 4,700-lb. curb weight. Sensing a need for better performance, the 2007 H3 (and Colorado/Canyon twins) soldiers on with a five-shooter, though displacement has been bumped up to 3.7 liters with 242 now being the magic number for horsepower and torque. Transmission choices include a standard five-speed manual or an optional four-speed automatic.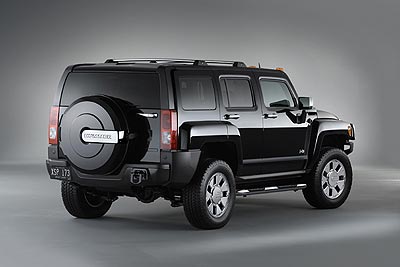 Hummer H3 - Base
With a $590 destination charge factored in, an entry-level 2007 Hummer H3 dubbed the Base model starts at $29,995. In addition to the updated engine and five-speed manual tranny, five bucks shy of 30 grand buys air conditioning, keyless entry, 16-inch alloy wheels, OnStar, a four-wheel drive system with a two-speed transfer case, and a nice selection of power features. Those willing to spend a bit more can opt for side-curtain airbags ($495), upgraded audio systems ($325 - $845), a huge power sunroof ($950), as well as wheel and exterior styling packages ($400 - $900).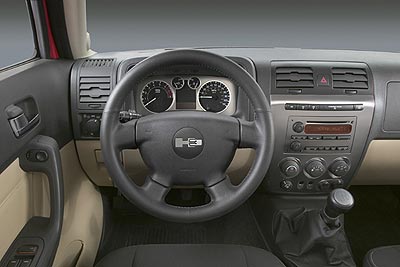 Hummer H3 - Adventure
In addition to features found on the H3 Base, the Adventure trim includes 16-inch chrome alloy wheels, a locking rear differential, and an off-road suspension system. Prices start at $32,070 (including $590 destination), though climb quickly with the addition of multiple options, one of which is a navigation system coupled with upgraded audio that sells for $2,145.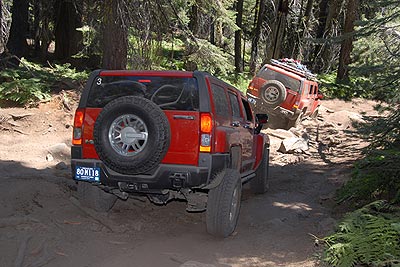 Hummer H3 – Luxury
As its name suggests, the 2007 Hummer H3 Luxury, which starts at $33,225, offers standard amenities not found on its lesser siblings. Among them are heated, power-adjustable front seats; leather upholstery; a Monsoon sound system including a subwoofer; and a leather-wrapped steering wheel. Options mirror those of the H3 Base and Adventure, with the exception of the Off-Road Suspension Package that carries a price of $1,375. Essentially, this adds components that are standard on the Adventure trim, including the rear locking differential and beefed-up suspension.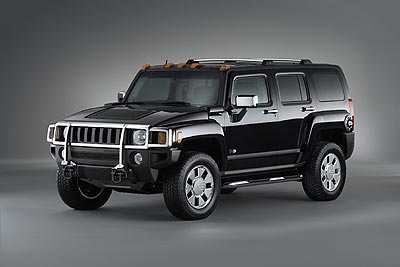 Hummer H3 – H3X
Seated atop the H3 trim ladder is the H3X, with a base price of $38,135 (including the $590 destination charge), that is significantly more expensive than the other H3 models. Hummer justifies the lofty sticker by lathering the exterior with chrome accents (door handles, side steps, grille guard, roof rack, mirrors, and wheels), bolting in a body-color rather than chrome grille, filling the wheel wells with 18s instead of 16s, and, well, that's about it. Is that worth a surcharge of almost $5,000? You be the judge.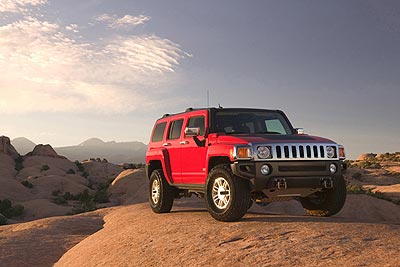 Hummer H3 – Driving
Despite the added power, the 2007 Hummer H3 still feels sluggish. Combine that with the five-cylinder engine's inherent coarseness, and one must wonder why a smooth V6 with more power and similar efficiency couldn't be hired for the job. Planting the H3's throttle begets a lackluster response, while the automatic transmission is relatively smooth, although the shifter is easily bumped from Drive to Neutral. Pilots of the H3 will no doubt notice the truck's poor visibility and ponderous handling (heightened by our H3X tester's 18-inch all-terrain tires). To its credit, the H3 offers comfortable front buckets, and braking, while prompting plenty of nose-dive, is sure and effective.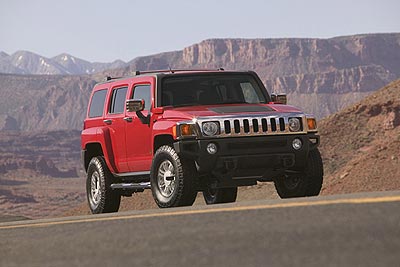 Hummer H3 - Specs
Test Vehicle: 2007 Hummer H3 Engine Size and Type: 3.7-liter five-cylinder Engine Horsepower: 242 at 5,600 rpm Engine Torque: 242 lb.-ft. at 4,600 rpm Transmission: Four-speed automatic Curb Weight, lbs.: 4,700 EPA Fuel Economy (city/highway): 15/19 mpg Length: 186.7 inches Width: 74.7 inches Wheelbase: 111.9 inches Height: 73.7 inches Max. Payload, lbs.: 1,150 Max. Towing Capacity, lbs.: Ground Clearance: 9.1 inches
Photos courtesy of General Motors