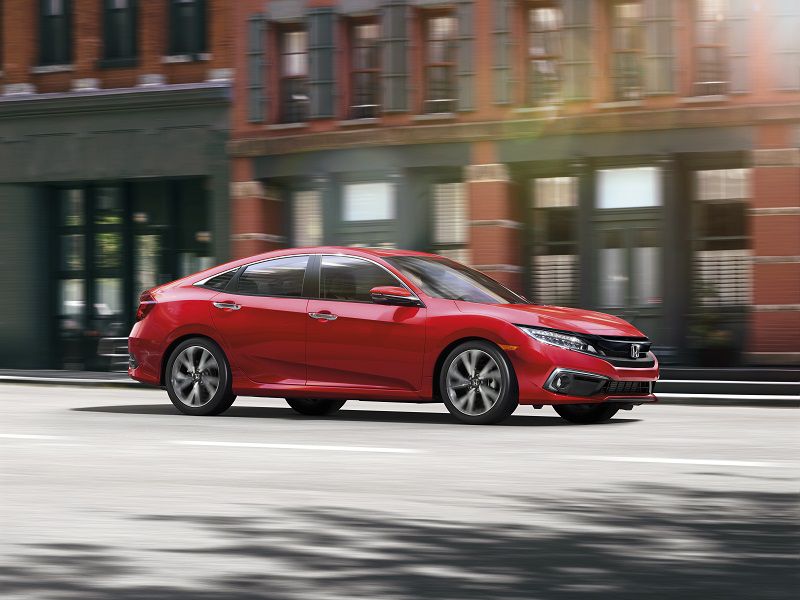 2019 Honda Civic Sedan Red Side Profile ・ Photo by Honda
It used to be true that a turbocharger on any car indicated a performance model, but that's not necessarily the case in the modern era. Now it's more common for automakers to use turbocharging to improve fuel economy as well as acceleration. Using a turbo allows an automaker to get the power output of a larger engine while burning less gasoline overall.
Today, turbochargers are commonplace in economy cars as well as high-horsepower applications. To take a closer look, here are 15 cars that come with turbochargers as factory equipment.
2019 Audi A3
The 2019 Audi A3 is typical of many compact sports sedans today, using a 2.0-liter turbocharged engine to produce 186 horsepower in its basic form, or up to 220 horsepower based on performance programming.
The A3 sedan is available in front-wheel drive with a seven-speed dual-clutch automatic transmission or with Audi's legendary rally-bred Quattro all-wheel-drive paired with a six-speed dual-clutch automatic. In addition to its turbocharged drivetrain, the Audi A3 offers buyers European luxury with high-grade interior trim and advanced technology, including Audi's 12.3-inch "Virtual Cockpit" display screen.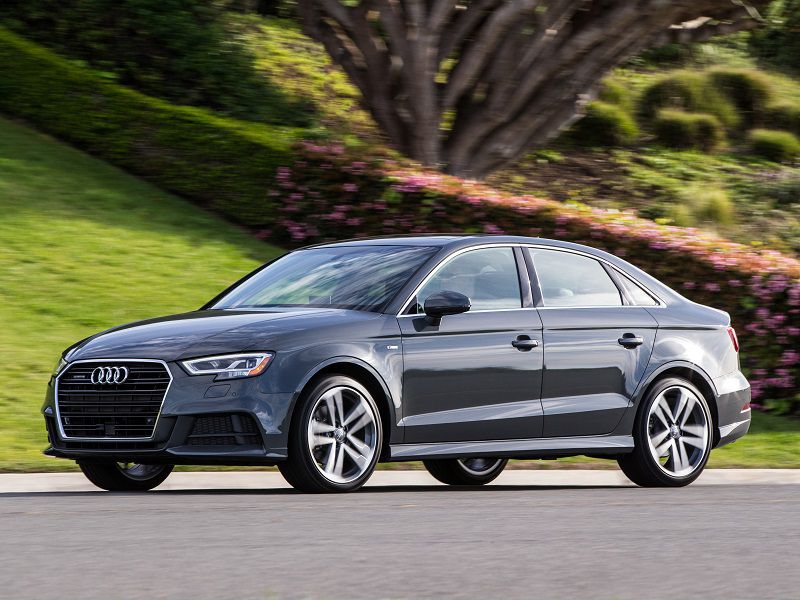 Photo by Audi
2019 BMW 230i
Another small luxury car that uses a 2.0-liter turbocharged engine is the 2019 BMW 230i. The 2 Series is a two-door compact coupe design that uses BMW's twin-scroll turbocharger to squeeze 248 horsepower out of its engine.
Power is passed to the rear wheels through an eight-speed automatic transmission or a six-speed manual. BMW buyers demand technology as well as performance, and they get it with the 230i. The 230i offers advanced tech features such as launch control with the automatic transmission and a four-mode driving dynamics control system to maximize handling response.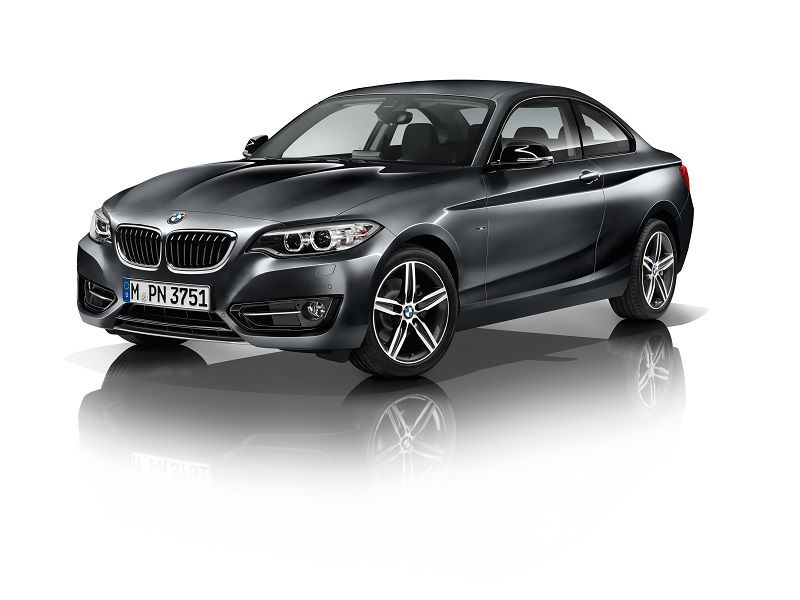 Photo by BMW
2019 Chevrolet Camaro
The 2019 Chevrolet Camaro comes standard with a 2.0-liter turbocharged engine good for 275 horsepower and 295 pound-feet of torque. That engine is paired with a six-speed manual transmission and limited slip rear-wheel drive in the 1LS two-door coupe, while an eight-speed paddle-shifted automatic transmission is optional.
The Camaro has always been about performance, and Chevy understands its buyers very well. Every Camaro receives a sport suspension, performance exhaust, and an eight-way power driver's seat. If that's not enough, consider adding the Performance Enthusiast package, which includes a suspension lowering kit and red accent trim.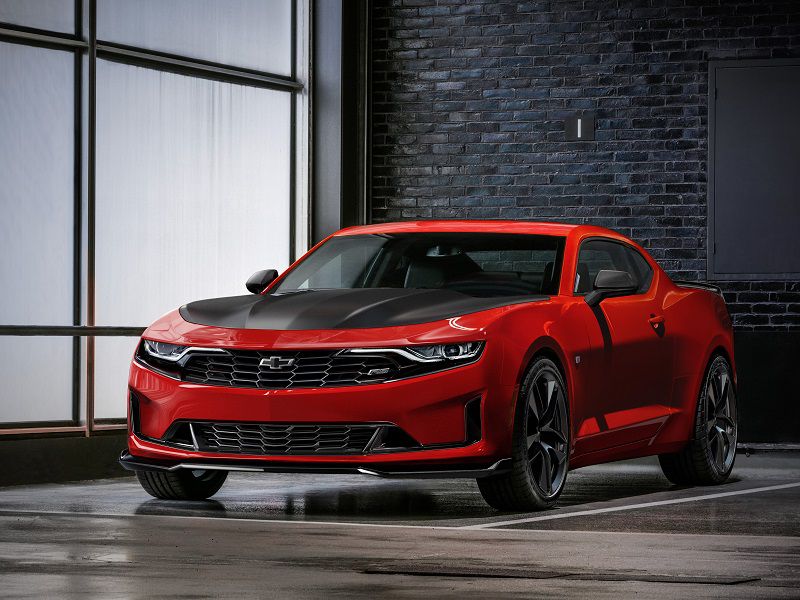 Photo by General Motors
2019 Ford Fiesta ST
Ford has announced the end of the subcompact Fiesta hatchback, but the final year of Ford's pocket rocket is a good one. The 2019 Ford Fiesta ST comes with a direct-injected and turbocharged 1.6-liter EcoBoost four-cylinder engine rated for 197 horsepower and 202 pound-feet of torque, and a six-speed manual transmission.
The front-wheel-drive Fiesta ST merits your attention because it's just about the fastest and most nimble hot hatch you can buy. Get this one while you still can.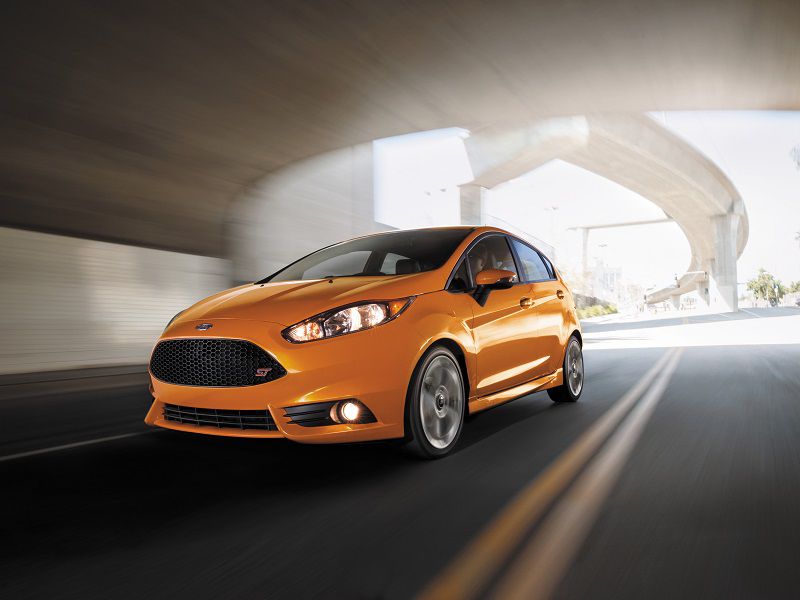 Photo by Ford
2019 Honda Civic
Among the most popular compact economy cars on the market, the 2019 Honda Civic offers a 174-horsepower 1.5-liter turbocharged engine on mid-level trims and higher. Honda pairs this engine with a continually variable transmission to make the best use of available torque and horsepower.
As part of an upper-level trim package, the turbo engine adds features like Honda's innovative LaneWatch blind-spot viewing system, which displays an image of the right-side blind spot when you activate the turn signal. For utility and economy, it's hard to make a better choice than the Civic.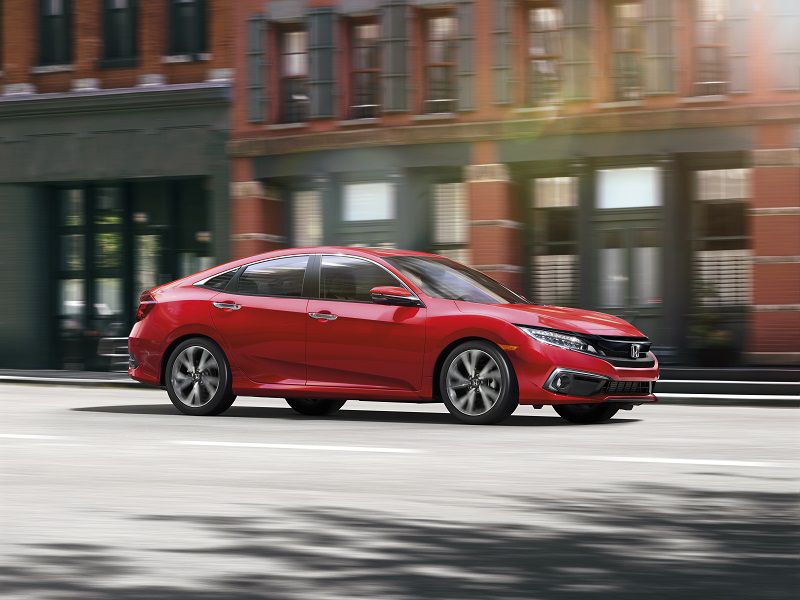 Photo by Honda
2019 Hyundai Veloster
Three trim levels of the newly redesigned 2019 Hyundai Veloster small hatchback offer turbocharged power. All turbocharged Velosters use a 1.6-liter 201-horsepower engine. Transmission choices include a six-speed manual and Hyundai's seven-speed EcoShift dual clutch gearbox. With three turbocharged trims to choose from, you can get the Veloster Turbo with a cloth, leather, or combination interior depending on your budget.
The Veloster is considered a quirky choice because of its unusual three-door arrangement, but its focus on dashboard technology gives this car a standout advantage among sport compact buyers looking for a bargain.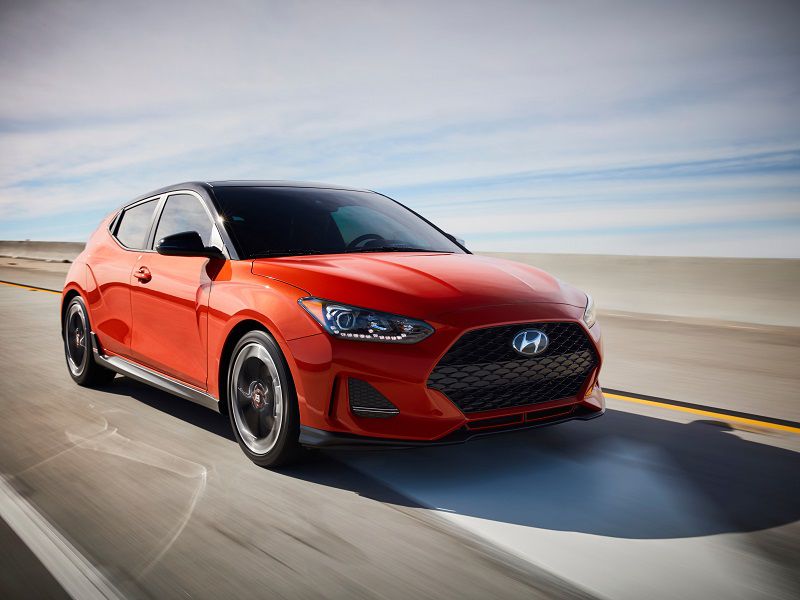 Photo by Hyundai
2019 MINI Cooper
Both the 2019 MINI Cooper and Cooper S subcompact hatchbacks feature turbocharged engines. The base Cooper comes with a 1.5-liter 134-horsepower engine featuring BMW's TwinPower twin-scroll turbocharger for a broad power range. The Cooper S model raises the stakes to 2.0-liters and 189 horsepower, or 228 horsepower with the John Cooper Works package. That's enough to get from 0-60 in just 5.9 seconds. Transmission choices include a six-speed automatic or six-speed manual.
The entire MINI line is known for its sporty handling, along with surprisingly large and usable interior space. Are you ready for this much fun?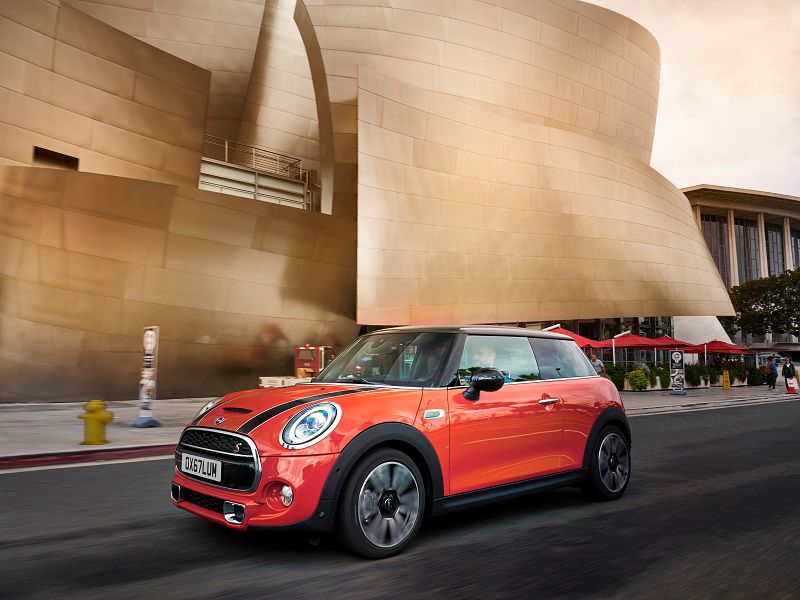 Photo by MINI
2019 Nissan Altima
The 2019 Nissan Altima is Nissan's mid-size family car, newly available with an innovative 2.0-liter variable compression turbo engine rated at 248 horsepower. The Altima is loaded with family- and commute-friendly features such as heated seats.
Advanced tech is also available, such as Nissan's Advanced Drive Assist head-up display. This option projects key information onto the windshield to keep the driver's attention on the road. Nissan's next-generation ProPILOT Assist is also available, and it offers gentle assistance with steering in highway environments. If you're looking for a functional family sedan with turbo performance, Nissan's got you covered.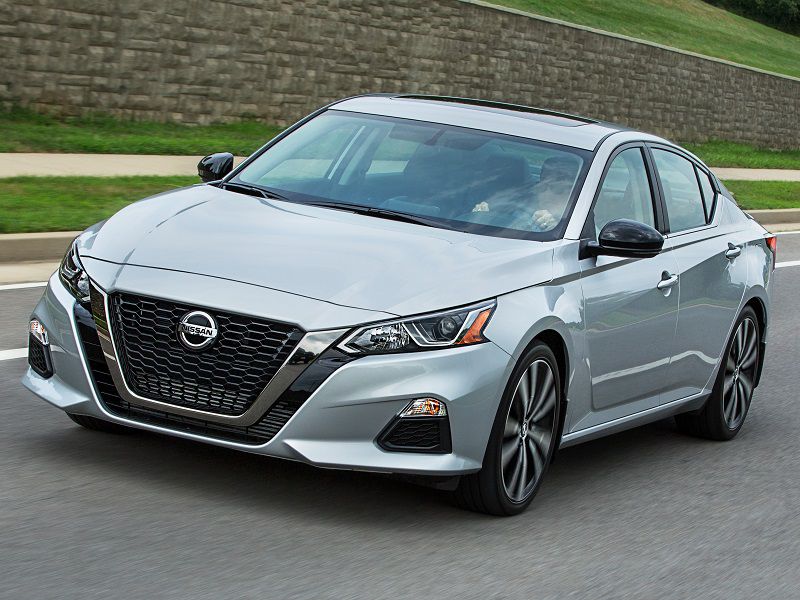 Photo by Nissan
2019 Subaru WRX
Subaru was among the first economy automakers to offer turbocharging on a wide range of models, and the 2019 Subaru WRX is a veteran leader in the performance sport compact world. Subaru's horizontally opposed four-cylinder engine design achieves 268 horsepower in the turbocharged WRX.
Buyers can choose from a six-speed manual transmission or an optional Sport Lineartronic continuously variable driveline. All WRX trims feature Subaru's symmetrical all-wheel drive at no additional cost. Drivers who choose the automatic transmission further enjoy Subaru's Variable Torque Distribution system, which makes winter driving a breeze.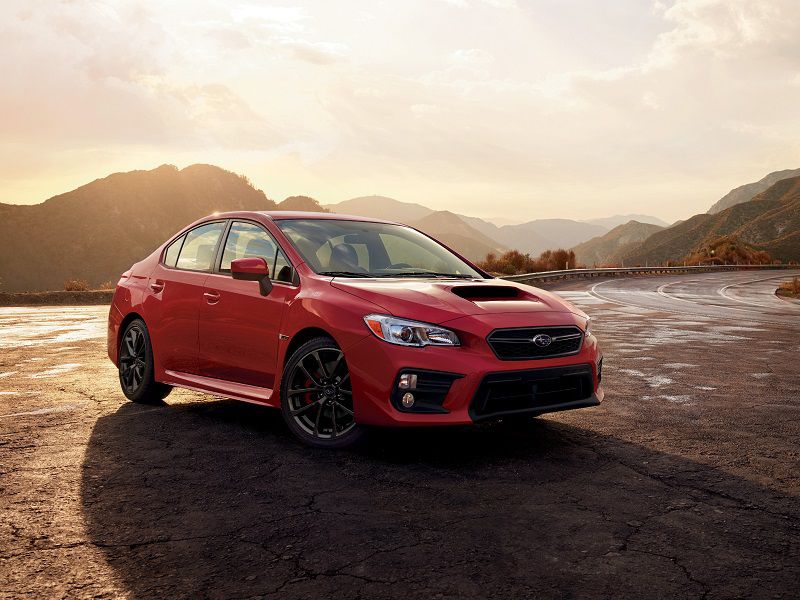 Photo by Subaru
2019 Volkswagen Golf GTI
The 2019 Volkswagen Golf GTI is the heir to a long line of development. In fact, no compact performance hatchback has been on the market longer. VW uses its turbocharged 2.0-liter TSI engine to deliver up to 220 horsepower. Drivers can choose between a six-speed manual or six-speed DSG automatic with Tiptronic and Sport modes.
The secret of the GTI is how much cargo it can carry: up to 53.7 cubic feet, which beats even some SUVs. The VW GTI can be your turbo sports car as well as an economical commuter vehicle and a cargo hauler.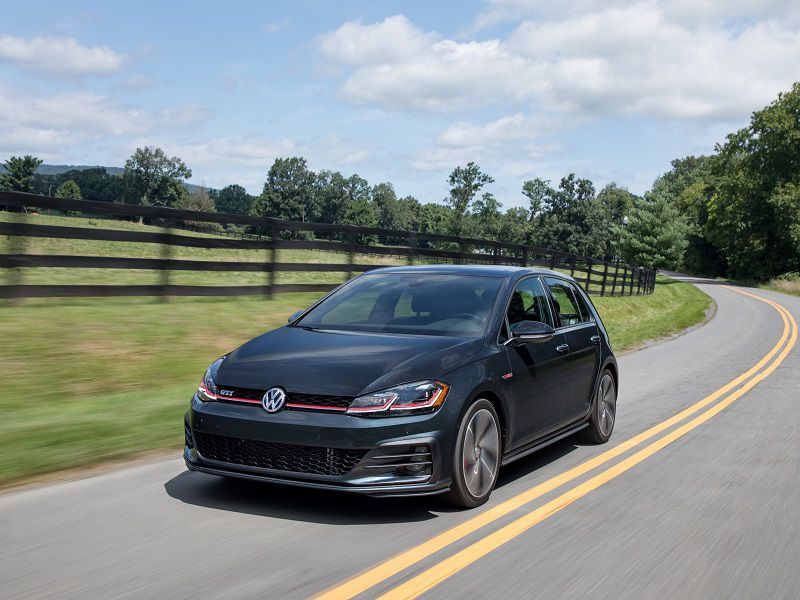 Photo by Volkswagen